Typical as it might seem, but when you're in Japan, it is of absolute importance that you have a bowl of ramen. There's no better way to enjoy it than to have the real deal on its home turf. It is, after all, the iconic dish of Japan (not counting sushi of course).
Of all the different regional specialities, Kyushu is the birthplace of the ramen we know best – tonkotsu ramen. Also known as Hakata ramen, this unique style of ramen is characterised by its collagen-rich and milky broth that's made by boiling pork bones at a high temperature for a long period of time.
Fukuoka, in particular, is also best known as one of Japan's "Big Three" ramen centres. So while you're likely to find a few chain tonkotsu ramen shops elsewhere, these are the particular seven hidden (and not so hidden) gems of Kyushu that are definitely worth the trip. If you've got a week in Japan, that's the perfect amount of time to savour a different bowl of ramen a day! And trust us, even after that ramen extravaganza, you're sure to still want more.
1. Hakata Issou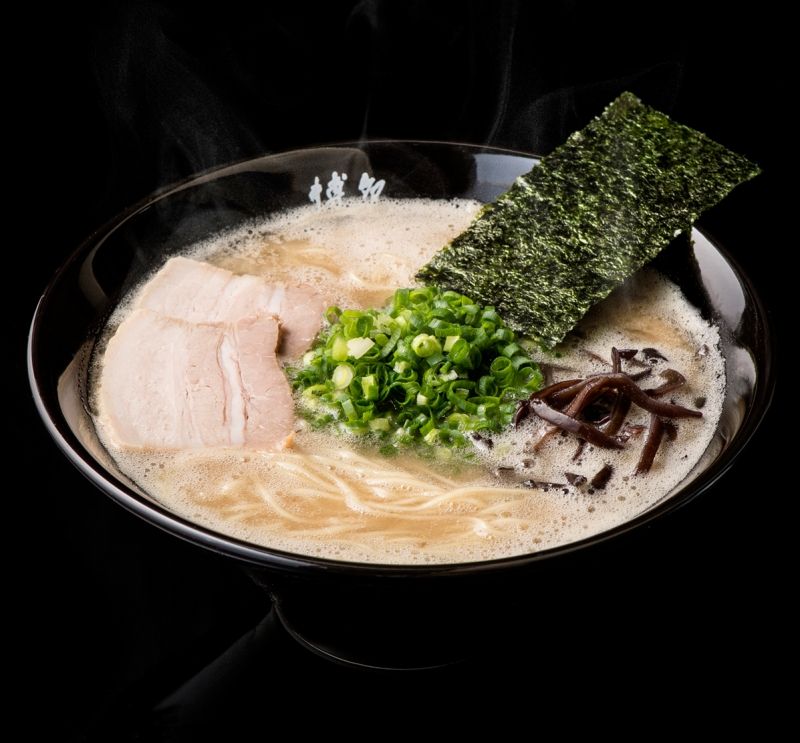 Image credit: Hakata Issou
It would be a sin to talk about tonkotsu ramen without mentioning the most popular tonkotsu ramen restaurant in Kyushu, if the incredible queue outside the storefront is anything to go by.
Like most speciality shops, their menu only serves up a single type of tonkotsu ramen with additional toppings and side dishes. Affectionately known as "pork bone frappucino", their signature broth is utterly silky, frothy and creamy without being overpowering or oily. It's so mild and easy to eat that you don't realise that you've finished your meal until the last drop of soup is gone.
It's located just outside Hakata station, so you're sure to find it without any problem! As mentioned earlier, Hakata Issou is not Hakata Issou without its long snaking queue, so we'd recommend going earlier to avoid disappointments.
Address: 3 Chome-1-6 Hakataekihigashi, Hakata Ward, Fukuoka, Fukuoka Prefecture 812-0013, Japan
Contact: +81 92-472-7739
2. Karamenya Masumoto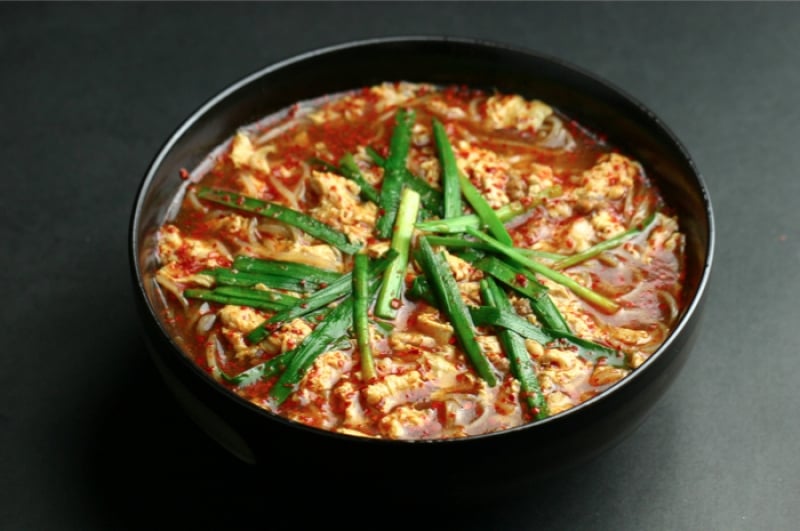 Image credit: Karamenya Masumoto
Spiciness is usually not associated with Japanese cuisine, so Karamenya Masumoto is quite one of a kind. Rather than the usual noodle type, their speciality is their konjac noodles which gives an added bounce and chew to the noodles. The soup is made from garlic, Chinese chives, minced meat and you guessed it, chilli pepper. The result is a bowl that smells so potent, yet leaves you salivating before you even dig in. Karamenya Masumoto offers 10 different spice levels for you to choose from, so for those looking for a challenge, go straight for level 10. We promise you won't regret it.
Address: 174-1 Tsuchida Shinbeppuchō, Miyazaki-shi, Miyazaki-ken
Contact: +81 985­89-2585
3. KENZO Cafe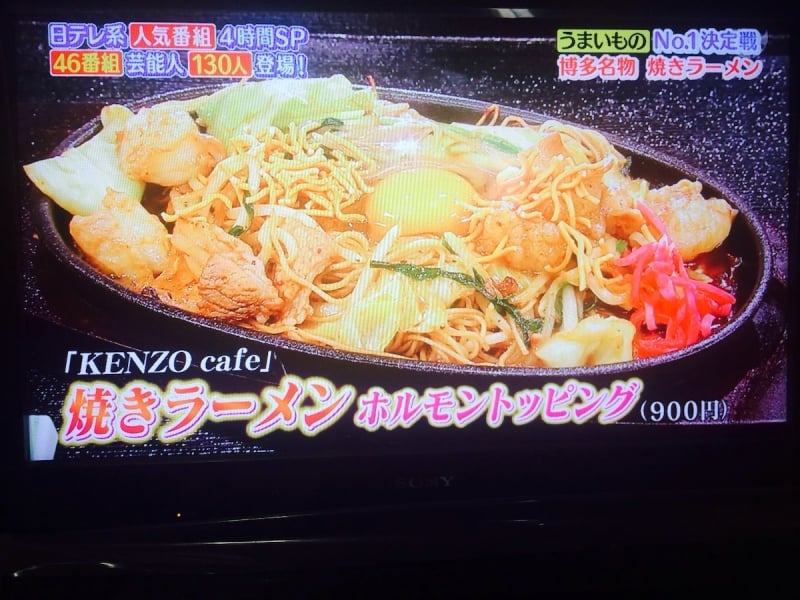 Image credit: KENZO Cafe
If you're looking for an authentic yatai(food cart) experience but don't know where to start, KENZO cafe is the perfect place to soak up the traditional yatai atmosphere.
Unlike most restaurants in Fukuoka's city centre, KENZO cafe's tonkotsu ramen comes at an incredible steal for just 490yen per bowl! That doesn't mean that they skimp on quality or quantity; each bowl is generously filled with soup that's been meticulously prepared.
They also offer another type of original ramen that's exclusive to KENZO cafe called yaki (grilled) ramen. Think of it as a combination of yakisoba and ramen, with the flavours of tonkotsu elevated in this dry noodle mix – it's apparently a big hit with celebrities.
Address: 2-16 Kamikawabatamachi, Hakata Ward, Fukuoka, Fukuoka Prefecture 812-0026, Japan
Contact: +81 92-262-5373
4. Yururi
Image credit:

Yururi
For the health conscious, Yururi offers a lighter alternative to the usual tonkotsu base. The soup is made only from the bones of specially bred Miyazaki pigs and less salt than regular recipes. This enhances the sweetness and the richness of the broth, which lends a very clean and simple taste.
It is because of its simplicity that makes Yururi rather popular among the ladies. Served alongside a generous helping of green onions and boiled eggs, it makes for a satisfying meal without being too heavy. If you're still hungry, you can add on a bowl of rice to soak up the rest of the soup too, and it's free of charge!
Address: 1 -1-8 Ōtsukadainishi Miyazaki-shi, Miyazaki-ken
Contact: +81 985-89-5004
5. Kokutei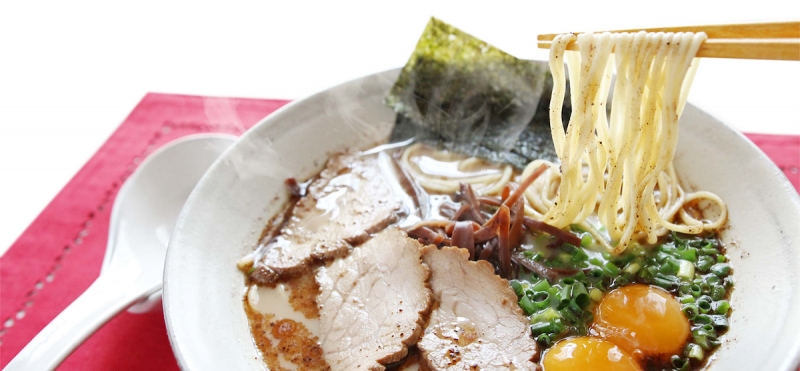 Image credit: Kokutei
Kokutei is undeniably one of the most popular ramen joints in Kumamoto. Established in 1957, this family favourite is perhaps the best representation of Kumamoto-style tonkotsu ramen. Rather than the thin Hakata-style noodles, they feature slightly thicker noodles that allow for the soup to cling on. Word of caution: This place is not quite a first date spot as they don't hold back when it comes to ladling on black garlic oil!
Of the different variations of ramen they serve, the most well-received is their ramen with egg. It's served with green onions, cloud ear fungus, roasted pork fillet, boiled sprouts and two gorgeously orange fresh yolks. The bowl comes really well together to give a burst of flavour with every bite you take. It's one you can't miss out on.
Address: 2 Chome-1-23 Nihongi, Nishi Ward, Kumamoto, Kumamoto Prefecture 860-0051, Japan
Contact: +81 96-352-1648
6. Sanpei Ramen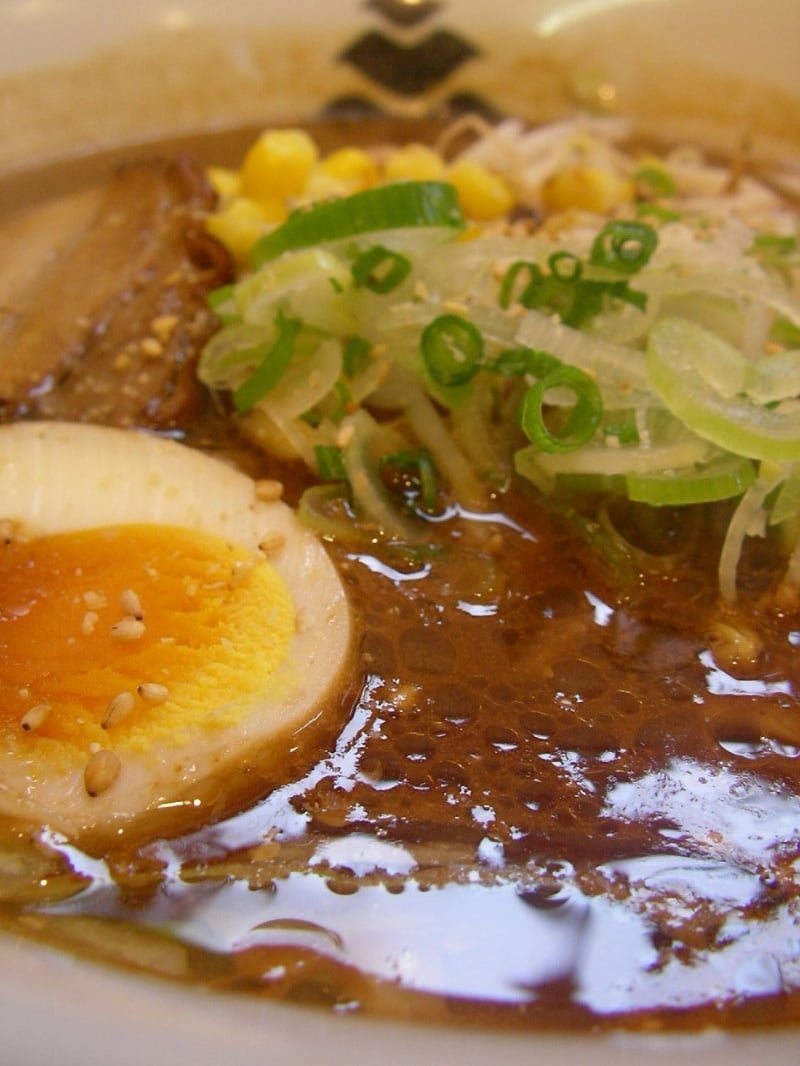 Image credit: Hajime Nakano
Sanpei Ramen is dedicated to serving you a taste so unique you wouldn't be able to find anything similar elsewhere. Here, they specialise in black miso ramen, made from specially ordered miso and barley miso from Kyushu before meticulously blending it with kurobuta pork, brown sugar and black sesame from Kagoshima. Mixed with tonkotsu soup and left overnight, the resultant broth is extremely flavourful with incredible intensity.
For an even more sinful experience, you can ask to add lard to it, which adds another layer of richness that just coats the roof of your mouth and makes the bowl of noodles all the more lip-smackingly good. You can also add torono (grated yam) for a refreshing twist.
Address: 15-13 Terukunichō Kagoshima-shi, Kagoshima-ken
Contact: +81 99-210-7888
7. Ganso Hakata Mentaiju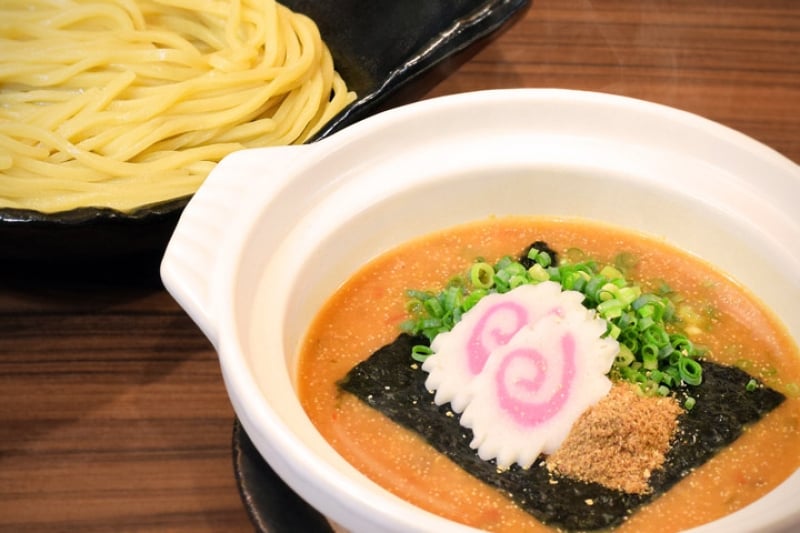 Image credit: Ganso Hakata Mentaiju
A shop that's one-of-a-kind, Ganso Hakata Mentaiju offers another one of Fukuoka's specials packaged together with ramen – Mentai Nikomi Tsukemen. The ingredients are carefully cooked for a long period of time to create a thick dipping sauce that's just bursting full of mentaiko (spicy cod roe) goodness. If you love all things mentaiko, you can't visit Fukuoka without coming here at least twice.
The level of spiciness of the mentaiko can also be chosen, each level specifically tailored to match up to the savouriness of the mentaiko without overpowering or overwhelming it. Apart from a bowl of thick chewy noodles, they also serve it alongside a bowl of white rice to allow you to best enjoy the flavours.
Address: 810-0002 Fukuoka, Chuo Ward, Fukuoka, Japan
Contact: +81 92-725-7220
Is your stomach grumbling yet? Grab a bowl of ramen while you plan for your next trip to Japan!
Also read: 5 Reasons Why Hakone Is The Perfect Holiday All Year Round