The December holidays are just around the corner, and many of us are probably (read: definitely) already dreaming about our next getaway. And with the alignment of school holidays together with the usual clearance of annual leave, there's really no better time to start planning a family holiday.
Where to go, however? There are not many places that are capable of pleasing each family member, no matter the age. While many may opt to go on a group tour just for the convenience of it, it's really not that hard to D.I.Y. your own family trip. In fact, it'll give you the freedom and flexibility to cater your itinerary – just the way you like it!
In fact, why not plan an escape to Korea, a country which will transform into a dazzling winter wonderland come December? Snow, especially to those who reside in hot tropical countries, withholds a certain enigmatic quality that is basically sheer magic. Bookmark this D.I.Y. 10-day Korea itinerary, and you'll be all set for a fun-filled winter family holiday – sans all that pre-planning headache.
Day 1-3: Seoul
Make your way to Seoul, the dynamic capital of Korea! Revel in that blast of cold air that hits your face once you step out of the airport doors; remember to bundle up once you get off the plane, and watch as the kids start to theatrically blow smoke out of their mouths. This is definitely something you won't get in our tropical homeland! However, before you can start exploring the city proper, here are a few things to take note of:
Where to stay in Seoul
Do note that you should book your accommodation before you arrive. There are many places to stay at in Seoul, but we recommend staying in Myeongdong! Myeongdong is basically located at the heart of the city; from rows of cosmetic shops to multiple street food stalls, this district has something for everyone.
How to get from the airport to Myeongdong
Just think: the parents will be tired after that long flight, plus you'll have to deal with multiple pieces of luggage. With that in mind, we recommend either taking a) the Airport Limousine Bus, or b) a taxi. The Airport Limousine Bus offers a spacious and comfortable option that will bring you right to Myeongdong. A one-way bus ticket on Bus 6015 costs about KRW15,000 (~SGD18). Tickets can be purchased at the ticket booths just outside the 1F Arrivals gate, and the bus departs from either exit 5B or 11B. If you're travelling in a big group, however, taking a taxi might be more worth it. Plus, the taxi will bring you right to the doorstep of your accommodation!
Once you get to your accommodation, don't be tempted to start exploring Myeongdong right away. The shops here open till late, so keep all your shopping and feasting for later! Now, depending on what time your flight gets in, you can either choose to go sightseeing or, head straight to City Hall to enjoy one of winter's most delightful activities – ice skating.
Lace up your skates, and take a whirl at one of Seoul's many ice skating rinks! Take your pick from the one at Olympic Park (Olympic Park or Mongchontoseong Station), Grand Hyatt (Hangangjin Station), Korea University (Anam Station), and more. The best of the lot, however, is the one in Yeouido Hangang Park (Yeouido Station). Besides an ice rink, the park boasts a sledding slope and a 'snow playground'. Zip around the ice rink, make a grinning Snowman, and warm up with a cup of mulled wine after. Should you get hungry, the park is also home to an eclectic food market containing multiple food trucks.
If you have the time to sightsee before or after your ice-skating escapade, take in some of Seoul's iconic sights – Gyeongbokgung Palace and Bukchon Hanok Village, plus top it all off with a jaunt around Seoul's hipster district, Insadong. To warm yourselves up, visit the famous Tosokchon restaurant (located just a short walk from Gyeongbokgung Palace) for a heartwarming bowl of Samgyetang (ginseng chicken soup). All these can be reached from Gyeongbokgung Station or Anguk Station. If you can't squeeze this into your first day, leave it for your second or third!
At the end of the day, go back to Myeongdong and shop to your heart's content! The streets are packed with shops and street stalls. Dig into some steaming Gyeranppang (egg bread) or meat skewers as you hunt for the best bargains. Many of the cosmetic shops often give out free samples, so feel free to take as many as you please, and lug them back to your accommodation after.
The next day, do some sightseeing if you didn't have time for that the day before. You can also consider going for a tour of Changdeokgung Palace's Secret Garden (Anguk Station), or go up N Seoul Tower (near Myeongdong Station) for a panoramic view of the city. For some great photo opportunities, bring the entire family to Iwha Mural Village (Hyehwa Station), a restored enclave peppered with vibrant murals. Kids will especially love the one depicting various Marvel characters!
Perhaps one of Seoul's best hidden gems, Dream Forest is a wonderland for both adults and kids alike. Your family will be able to easily spend a couple of hours, or even an entire afternoon, exploring this place! Here, you'll find various hiking trails, a deer farm, Children's Gallery, a water park, as well as an art gallery complete with a 45-degree observation tower. K-drama fans, you'll also be delighted to know that Dream Forest was the filming location of popular drama, 'Iris'. To get there, take Bus 9 or 11 from Miasageori Station (Exit 1), or Bus 147 from Dolgoji Station (Exit 3).
For dinner, head to one of Korea's traditional markets for an authentic Korea meal. We recommend Gwangjang Market (Jongno 5-ga Station) or Tongin Market (Gyeongbokgung Station), where you can dine amidst locals.  Feast on a variety of Tteokbokki (Korean rice cakes), Haemul Pajeon (seafood pancake), Japchae (sesame oil noodles), and Gimbap (rice rolls filled with meat and vegetables). Should you choose to visit Tongin Market in the day, do try out its unique 'lunchbox' concept where you can choose your food from different vendors.
After dinner, head to Lotte Sky Tower (Jamsil Station) for a panoramic view of Seoul. Feel on top of the world and gaze down on a sea of twinkling lights. The Lotte Sky Tower is newly opened, and opened its doors only in April 2017. Being the world's third highest observatory, the Lotte Sky Tower has already broken three Guinness World records – it has the world's highest glass-floored observation deck on the 118th floor, the fastest double-deck elevator coined the 'Sky Shuttle elevator', as well as an elevator that covers the longest distance. The Sky Shuttle elevator goes up to a speed of 600 metres per minute, making a ride in the elevator a thrilling experience in itself!
On your third day, wake up early and head to Noryangjin Market (Noryangjin Station) for some bustling action. The sheer size of the market might be daunting for some, but this only means that you'll be nothing but spoilt for choice. Most of the stalls sell a dazzling variety of seafood; all of you can pick what you feel like eating, choose the method of cooking (or even have it raw as sashimi), and head to an adjacent restaurant to enjoy your meal. The perks of visiting with the whole family is that you'll have the liberty to order a large variety of food, and slowly sample them all!
Afterwhich, have an afternoon of wholesome family fun and watch a live show! Choose between 'NANTA', a hilarious culinary show, or 'The Painters:HERO', a highly innovative show revolving around painting. Don't worry about the language barrier; each show is non-verbal, and engages mime, dance, and body language to communicate the story. In other words, both these shows can be enjoyed by everyone – no matter the age or nationality. The NANTA theatre is located in Myeongdong itself, while the "Painters:HERO" theatre is located near Jongno 3-ga Station.
At night, shop till you drop at Dongdaemun, a shopping district that literally never sleeps. Don't get too carried away, however – it's time to take to the slopes the very next day!
Day 4-5: Alpensia Ski Resort
There's so much to explore in Seoul but, after all, the highlight of any winter family trip is the SNOW. Make your way to Alpensia Ski Resort, a resort located in Pyeongchang. 2018 marks the arrival of the Winter Olympics & Paralympics, so there's really no better time to visit! Alpensia Ski Resort is one of the key competition venues, so gear up and step into the shoes of an Olympic athlete – even if it's just for a day or two.
This resort is extremely popular with families due to its close proximity to Seoul – Pyeongchang can be reached via a 100-minute direct KTX train ride. Otherwise, there are straight buses from Incheon and Gimpo Airport, as well as from multiple locations in Seoul – Myeongdong, Dongdaemun, and Sports Complex Station. You can choose to visit the resort on a day trip, but we recommend spending the night to enjoy the winter wonderland in all its splendour.
Here, you can choose to try different winter sports like skiing and snowboarding. If any of your family members haven't tried skiing before, don't worry. The resort offers ski lessons  for those who either want to pick up the skill, or polish their skills further. There are also different slopes that cater to different skill levels, so just pick the one you're most comfortable with! If the parents aren't keen to get in on the action, they can easily choose to relax and watch as a bystander.
Enjoy two days simply reveling in the magnificent white vistas. Now, this is what winter is all about! Alternatively, you can also check out other ski resorts such as Pyeongchang Phoenix Park, Jeongsan High1 Ski Resort, YongPyeong Resort, as well as Daemyung Vivaldi Park Ski World. All of these ski resorts are located in Gangwon/Pyeongchang, allowing you to gain insight into what's to come in 2018. For more information about the 2018 Winter Olympics and Paralympics, read more here.
Day 6-7: Nami Island + Petite France + Garden of Morning Calm
Known as the filming location of 'Winter Sonata', Nami Island is an absolute dream in winter. If you're lucky, you might be able to feast your eyes on a thick blanket of snow! Even if snowfall is scarce, your family can still engage in a game of hide and seek along the avenue of towering trees, or take lots of photos with the various ice sculptures littered around the island. Should you get cold, there are little outdoor fireplaces scattered all around, so all you have to do is huddle around one and you'll warm right up!
You can either take a ferry, or a zipline (the kids will love this!) to Nami Island from Gapyeong Station. However, we recommend buying a ticket for the Gapyeong Tour Bus (6,000 won (~S$7) per pax), that will bring you to multiple locations in the area! The bus departs from Gapyeong Station and goes to Nami Island, Petite France and the Garden of Morning Calm – precisely the places suggested in this itinerary.
From Nami Island, take the last bus to Petite France. Petite France is a darling little French village inspired by the novel, 'The Little Prince'. The village is lined with French-style buildings offering French cuisine, clothing and souvenirs. To add to the fun, there are 8 different chops hidden around the village! Collect all, and you'll be rewarded with a surprise gift from the tourism information counter. Stay a night in one of the village's guest houses and quite literally, live out a fairytale.
The next morning, take your time to trawl the various alleys, and delve into the village's multiple nooks and crannies. It's a pop of colour everywhere you look, and you'll never be short of photo spots! In the late afternoon, hop on the bus again to the Garden of Morning Calm.
The Garden of Morning Calm is a treat in the day, but it magically transforms into a glittering extravaganza once night falls. Every winter, the Garden of Morning Calm plays host to the biggest lighting festival in Korea, where approximately 30,000 lights cover almost every available surface. Make sure that your family arrives before the lights turn on – it's truly a spectacle to behold. See if all of you can hunt down the more iconic light structures: a giant bear, Cinderella's carriage, and Santa's reindeer.
At the end of the day, make your way back to Seoul, where your family and you will stay for the rest of your trip.
Day 8: Lotte World
Lotte World (Jamsil Station) is one destination in Seoul that is truly for everyone. A theme park, department store, folk museum all-in-one, there's plenty here that will keep every member of the family entertained. Kids will have the time of their lives at the indoor Lotte Adventure, as well as the outdoor Magic Island, theme parks. It's basically Disneyland, the Korean version. There's also an aquarium to visit, if you have time to spare!
Parents, on the other hand, can snap up bargain goods at the giant department store located on the premises. End off the day by congregating at the ice rink, which is one of the finest in Korea. There's a plethora of shops surrounding the rink, so parents are also able to look on whilst enjoying a nice cup of coffee. It's the perfect family day out!
Day 9: Korean Folk Village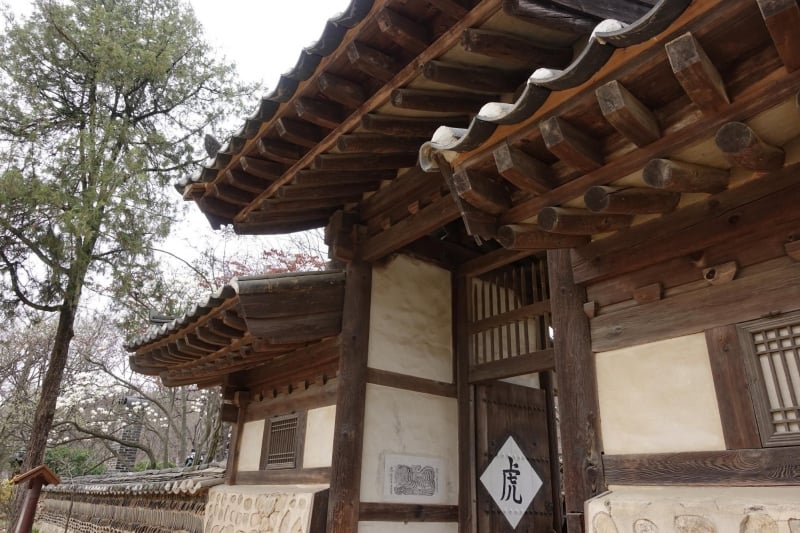 A recreation of the late Joseon period, the Korean Folk Village offers visitors a rustic experience like no other. A collection of traditional houses and farming enclaves, the Korean Folk Village will allow your family to have a taste of what life was like back in the good old days. The village seems a little like a theme park of sorts, with actors enacting 'life scene experiences', such as traditional dyeing, silk-thread reeling or iron hammering.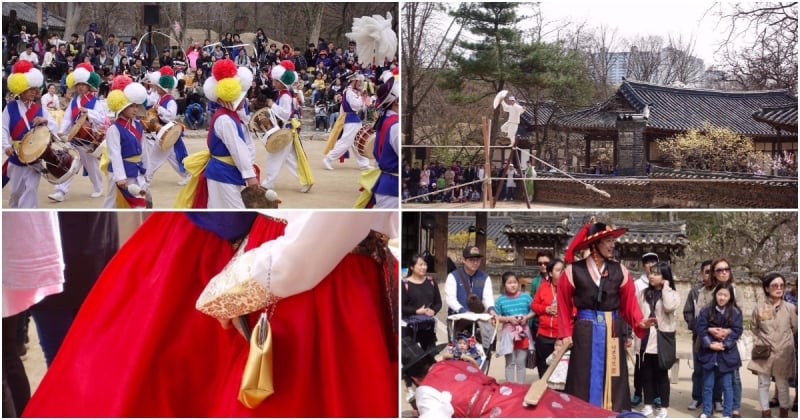 Whilst exploring the compound with your family, do keep in mind the various performance timings:
Farmer's Dance and Music performance: 10.30am and 2pm, daily

Martial Arts on Horseback performance: 11.30am and 3pm, daily

Tightrope walking performance: 11am and 2.30pm, daily except Mondays

B-boy dance performance: 1pm and 3.30pm, daily
These performances go on daily without fail, except in the case of inclement weather. Do try to catch at least one to two performances during your visit; they're an absolute treat for the whole family. There's also a theme park within the Korean Folk Village itself, so let loose and have a whale of a time. For a more immersive experience, consider renting some hanbok (traditional Korean costumes) to explore the village in. They'll also make for great outfits for a family photo!
Day 10: Seoul
On your last day in Korea, take it slow and visit Norang Café (Seoul National University of Education Station)! Branded as a 'creative and nurturing play space for children and their parents', parents can indulge in lattes while kids can get their hands dirty with various arts and crafts activities! In fact, there's no age limit, so really anyone can take the opportunity to channel their artistic side. In addition, the café boasts a cute Lego corner, and a large black board for kids to draw on. The café also has an extensive menu of Western fare, perfect for parents to unwind at the end of a long trip.
If you have a night flight, spend the rest of your time at the Seoul Dynamic Maze (Jongno 3-ga Station)! This is how you can end your trip off with a bang – by getting the whole family to bond over an intricate series of obstacles and puzzles. There are 16 different challenges to be completed over the whole course, most of which include making your way through various obstacles. From navigating a rope labyrinth to finding your way out of a mirror maze, this is an activity bound to delight the whole family! If you can't get enough, drop by the Alive Museum or Poo Poo Land, all of which are located within the same area.
At the end of the day, pack all your bags and head back home, brimming with memories and photo keepsakes from the past 10 days spent with your family. If, however, you can't get enough, choose to extend your family trip with a few days in Busan or Jeju Island. We recommend an additional 2 days in Busan, where you can explore Gamcheon Cultural Village, Taejongdae National Park and Jagalchi Market, or an additional 4 days on Jeju Island soaking in the wonders of Mother Nature.
For more information on what you can enjoy in Korea with your family, visit Korea Tourism Organization's official website and Facebook page. Start planning your holiday to Korea with your family now, and you'll find that the experience will be absolutely priceless. Happy bonding!
---
Brought to you by Korea Tourism Organization (Singapore).