Picture this: you've just landed in Korea, bags collected and feeling all pumped up to take on the streets of Seoul. But this time, instead of having to get out the winter coat or fall jacket before you leave the airport, you can just walk right out.
Yes, we're talking about a trip to Seoul in the summer, instead of the more palatable winters and cherry-blossom-filled springtime that you may already be familiar with. Yet more and more travellers are discovering the joy in Korean summers — whether they're on their summer school stint or they've just decided to give it a shot.
And you should too! See historical palaces, theme parks and markets in a new light — one that's only available during summer. Read on for many more unique summer activities to look forward to in Seoul!
1. Get a nighttime view of Gyeongbokgung Palace
Gyeongbokgung Palace, popular amongst both locals and tourists, is said to give off a different atmosphere from that of during the day. This summer, you can truly take in the peaceful evening ambience at the palace as it'll be open for nighttime viewing.
The Gyeongbokgung Palace: Nighttime Viewing 2019 event takes place periodically from 27 Apr – 31 Oct 2019. Head to the palace to admire its stunning architecture under the moonlight, and history junkies can even enjoy an immersive look into the rich history and culture of the palace grounds!
Besides Gyeongbokgung Palace, you can also embark on a Moonlight Tour that runs in the summer at Changdeokgung Palace.
Address: 161 Sajik-ro, Sejongno, Jongno-gu, Seoul
Opening hours:
19 May – 1 Jun 2019; 7pm – 9.30pm (last entry at 8.30pm)
6 Jun – 29 Jun 2019; 7.30pm – 10pm (last entry at 9pm)
21 Jul – 3 Aug 2019; 7.30pm – 10pm (last entry at 9pm)
Closed on Tuesdays.
2. Go on a time tour along Cheonggyecheon Stream
Located in the middle of the city, the cooling Cheonggyecheon Stream is a popular spot in Seoul — especially during the summer. What livens it up even more during this season is the Cheonggyecheon Time Tour Market held on weekend nights from 5 Apr – 27 Oct 2019!
As part of a cluster of night markets that fall under the Seoul Bamdokkaebi Night Market, this one in particular will bring you back in time through a blend of traditional and modern activities and products being sold.
From steaming street food to unique handcrafted products, the market's offerings embody the spirit of Seoul. Enjoy summer nights by hanging out by the stream and taking a stroll along the exceptional variety of things to do at this market!
Address: Gwangtonggyo Bridge area at Cheonggyecheon Stream, 14, Seorin-dong, Jongno-gu, Seoul
Opening hours: 5pm – 10pm on Saturdays; 4pm – 9pm on Sundays
3. Smell the roses at Everland
The best rose festival in Korea is back this summer! Since 1985, the Rose Festival takes place at Everland each year from May to June. In a garden spanning 20,000m², visitors get to appreciate various kinds of flowers while enjoying a day at the amusement park.
Stop by the Mamonde Garden where roses bloom, located within the circle of the Venus Rose Garden! On weekends, you can catch the Pink Mime performance and admire the lovely pink stone statues, fitting of this year's theme 'Pink Sweets'. The shows are scheduled to take place every 20 minutes on Saturdays from 1.20pm to 6.20pm.
Stay till night time to catch exciting light shows like the Moonlight Parade and the Rose Music Lighting Show — an excellent summer activity since the crisp night air is generally cooler. What's better than a romantic night of good music and other entertainment with your loved ones?
Address: 199, Everland-ro, Cheoin-gu, Yongin-si, Gyeonggi-do
Opening hours: 10am – 10pm daily (Rose Festival runs from now until 6 Jun 2019)
4. Indulge in mouth-watering delicacies
Beat the heat with this quintessential summer snack, the ice cream bungeoppang (carp-shaped bread). It's a classic Korean street food adapted for the summer! Crispy on the outside and soft on the inside, this hot waffle snack is filled with yoghurt ice cream and a pocket of red bean or custard cream. The cherry on top is chocolate sauce and some delectable crunch!
This adorable iconic dessert will definitely make the cut on your Instagram, not to mention that it'll taste exceptionally satisfying in hot weather. Get your fill of ice cream bungeoppang at Cafe Aboong branches all over Seoul!
Address (for Ehwa branch): 10 Ewhayeodae 2-gil, Daehyeon-dong, Seodaemun-gu, Seoul, South Korea
Operating hours: 11am – 9pm daily
You've most definitely heard of naengmyeon (cold noodles), but have you tried kongguksu? Kongguksu refers to soybean broth cold noodles — a dish that switches it up from the regular Korean cold noodles. Over at Matjarang (맛자랑), they serve cold buckwheat noodles in a special soybean broth concocted from a mixture of soybean and other grains. Pair it with what Koreans eat best — kimchi — and you'll have the perfect meal to stave off the heat.
Address: 987-7 Daechi 2(i)-dong, Gangnam-gu, Seoul
Opening hours: 9am to 9pm daily
5. Participate in the activity that transcends all seasons: shopping!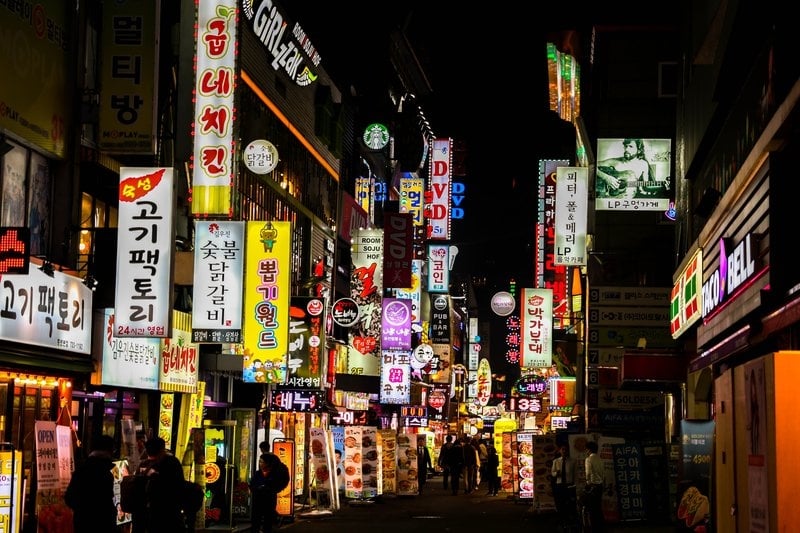 After all, what's a holiday to South Korea without shopping? Summer is one of the best times to go shopping in Korea, especially for those living in sunny Southeast Asia. There's no need to strip off layers of winter wear just to try on one shirt, and you'll get to acquire clothing perfect for the weather back home!
Seoul Summer Sale 2019
The Seoul Summer Sale is a summer shopping festival which offers amazing deals and promotions for foreign visitors in Seoul for the entire month of July. If you're travelling to Korea in July, don't forget to collect your discount card at Incheon International Airport when you arrive. This card is entirely free and grants you access to many places of interest such as amusement parks, dining options, and of course — shopping discounts!
Ewha Womans University Fashion Street
Ewha Womans University Fashion Street is known for its rows of stores selling affordable apparel, shoes and accessories that cater to the younger crowd. Not many may be aware, but one special thing about this fashion street is that they offer alteration services!
Moreover, this street is also a popular stop for their reputable hair salons. If you're looking for a complete makeover this trip, definitely visit this fashion street for the best deals.
Address: 52, Ewhayeodae-gil, Seodaemun-gu, Seoul
COEX Mall
If you'd like to seek shade from the sun while shopping, COEX Mall is your best bet. The largest underground shopping mall in Asia, it's a one-stop destination for all your shopping needs. This mall carries both local and international clothing brands, and there are plenty of dining options to choose from.
The magnificent (and free!) Starfield Library is located right in the center of the mall. Even if you're not planning to read, you can still gape at the extremely unique design of this library. Other popular tourist attractions here include the Kimchi Museum, COEX Aquarium, and the ASEM Plaza and Event Court where many performances and events happen throughout the week.
Address: Samseong 1(il)-dong, Gangnam-gu, Seoul
Opening hours: 10.30am –10pm daily
6. Chill out in the coolest cafes
Innisfree Green Cafe
If you love Innisfree why not head to their only cafe located right here in Seoul? The Innisfree Green Cafe situated in the heart of Myeongdong is an innovative extension of its beauty products.
Choose from the cafe's healthy selection of beverages and ice-cold desserts that'll give you the cooling-down you need. This cafe has no shortage of unique features — there's even a VR experience corner where you can interact (virtually) with celebrities Lee Min Ho and Yoona from Girls' Generation!
Address: 15 Myeongdong-gil, Myeongdong 1(il)-ga, Jung-gu, Seoul
Opening hours: 9am – 11pm daily
Peach Gray
Want to spend a therapeutic afternoon unleashing the Picasso in you? Discover your innate artistic talents while chilling at Peach Gray where all orders come with a set of watercolour paints, papers and a brush for you to showcase your creativity with colours.
It doesn't matter if you're an amateur, painters of all levels are welcomed here — so don't worry about getting judged for your work. If you need any inspiration for your masterpiece, there are always guidebooks lying around for you to browse through.
Address: 94 Songpa-dong, Songpa-gu, Seoul
Opening hours: 11am – 9pm daily
7. Experience traditional Korean spirit at the market
Gwangjang Market
Gwangjang Market, one of the oldest traditional markets in South Korea, is a great place to soak in the city's culture while having a taste of their traditional cuisine.
A specialty of the market that you should try is the bindaetteok, also commonly known as 'mung bean pancake'. It's a type of fried, savoury pancake made from ground mung beans, vegetables and meat. It won't be hard to spot a stall selling this delicacy, and don't forget to dip it in the soy sauce!
Makgeolli — a traditional alcoholic beverage made from fermented rice that you must try at the market! It has a milky appearance, and is somehow both smooth and fizzy when you drink it. This refreshing drink will definitely make a great beverage to help you cool down on a humid day. Pair it with the bindaetteok, the perfect snack to go along with this drink. Oh, they go so well together!
Address: 88 Changgyeonggung-ro, Jongno 4(sa)-ga, Jongno-gu, Seoul, South Korea
Opening hours: Most shops open from 8.30am – 6pm
Namdaemun Market
As the saying goes about shopping at Namdaemun Market: if you can't find it here, you probably can't find it anywhere else in Seoul. With a whole myriad of stores in this traditional market, it's a retail market by day, and wholesale market by night.
Kalguksu, which means "knife noodles" in Korean, is a noodle dish made of knife-cut wheat flour noodles served in a large bowl with broth and other ingredients. This dish is most commonly consumed in summer and the best ones are deemed to be from Namdaemun Market.
At the market, there is a 'Kalguksu Alley' where there is an entire line of stalls selling this dish, and locals usually eat it with a bowl of boribap. Boribap is a dish made of barley, rice, and vegetables. Join the Koreans for some kalguksu this summer!
Address: 21 Namdaemunsijang 4-gil, Hoehyeon-dong, Jung-gu, Seoul
Opening hours: Most shops open from 9am onwards
8.  Zipline down Nami Island
Nami Island is more than a romantic backdrop that you'd spot in Korean dramas all the time. Did you know that you can zipline there too?
As you glide down the zipline with the wind blowing against your face, you'll realise why it's one of the best summer activities you can do in Korea! Operated by the Namiseom Zip Wire, it is one of the longest and most famous zipline attractions in Asia. However, do note that they only take 200 riders to Nami Island everyday, so do leave early to secure your slot!
Address: 1024, Bukhangangbyeon-ro, Gapyeong-gun, Gyeonggi-do
Opening hours:  9am – 7pm daily; operating hours are subject to change depending on weather conditions, so please check before visiting
9. (BONUS!) Take a day trip from Seoul for a summer festival
Buyeo Seodong Lotus Festival
The Buyeo Seodong Lotus Festival takes place in July every year, celebrating the beautiful lotus flowers that bloom for summer. This festival places an emphasis on the significance of preserving these wild flowers and consists of exciting performances such as the Seodong Seonhwa Impact Show.
Besides these shows, there are also engaging activities to participate in such as the lotus flower origami classes, lotus flower soap-making lessons, and the lotus candle-making sessions.
You can also pop by attractions near the festival venue like the Baekje Wangneungwon (royal mausoleum) and the Baekje Historical Museum.
Address: 52, Gungnam-ro, Buyeo-gun, Chungcheongnam-do
When:  5–14 Jul 2019
Boryeong Mud Festival
Overcoming the heat in Korea does not always have to mean sitting in a cafe and chomping down on bingsoo. This summer, join in on the Boryeong Mud Festival and getting down and dirty in the mud. Year by year, this festival attracts locals and tourists alike from all over the world. You can take part in various activities such as mud wrestling, mud sliding, and of course, swimming in a big mud bath. This festival is also kid-friendly since there's a Mud Kid's Land for them to have a rolling good time in the mud.
Address: Daecheon Beach, 897-15 Daehae-ro, Sinheuk-dong, Boryeong-si, Chungcheongnam-do
When:  19–28 Jul 2019
Jeongnamjin Jangheung Water Festival
What better way is there to stay cool during summer other than soaking yourselves in the water-themed events held at the Jeongnamjin Jangheung Water Festival? This week-long festival offers a healing health camp, woodland woodcraft experience classes, and more. Take a weekend off to enjoy these splashing fun activities with your family and friends!
Address: 21, Jangheung-ro, Jangheung-gun, Jeollanam-do
When: 26 Jul – 1 Aug 2019
With all these in store for you at Korea this summer, it's time to pack up and have a good time on your visit to the Land of the Morning Calm!
To find out more about seasonal attractions in South Korea, visit Korea Tourism Organization's official website and Facebook page.
---
Brought to you by Korea Tourism Organization (Singapore).