Contributed by nuggetcation
I'm keeping my expectations low, I said to myself. Many say Jakarta is more or less like Metro Manila, so for me well, sights probably won't differ that much. Also, I really didn't know anything much about Jogja or Yogya. My friend just asked me to come with her, since she has been to Jakarta many times and would like to visit a new place usually frequented by Westerners for the marvellous temples the place is known for.
We landed at Jakarta last March 2, around 11:30 pm local time. Our plan was to hangout at the airport until our next flight from Jakarta to Jogjakarta which was on the following day at 5:50 am. We took our time to explore the airport, and from there, see how it compares to Manila's NAIA, since to begin with, many say Indonesia and the Philippines are comparable. Restaurant-wise, Soekarno Hatta is better than Ninoy Aquino, so we enjoyed trying out new Indonesian fare just to pass the time.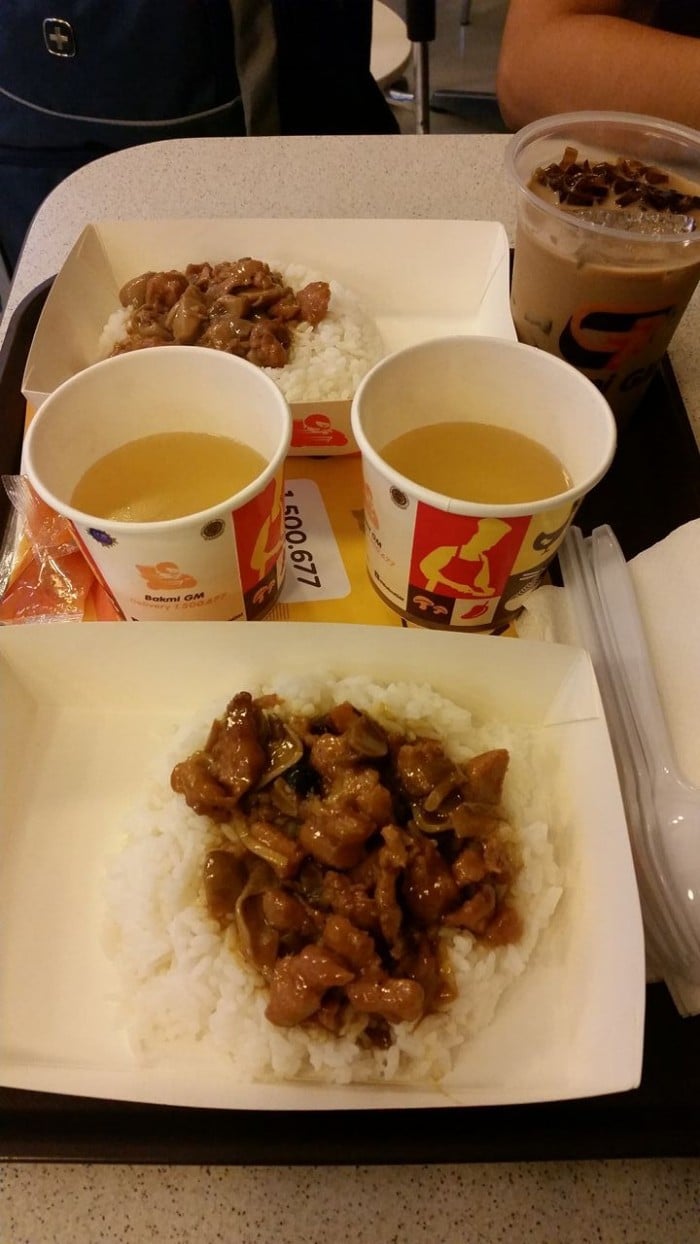 Bakmi at Soekarno Hatta Terminal 3
As soon it was time to proceed to the gate, at around 4:00 am, it was only then that we realised we have not checked-in yet (probably due to lack of sleep). My friend and I was approached by this man, who seemed to have understood our conversation in Filipino. He explained to us where we need to do self-service check-in, and we thought, "Whew thankfully, we had a 'kababayan' (fellow countryman) with us!". Being the typical Filipino tourist who is usually excited having kababayans all around, we were actually waiting for an opportunity to chat with him and ask about Jogjakarta. But then, once we were ready to board, he approached us and said that he was actually an Indonesian studying in Manila. Our people just look alike.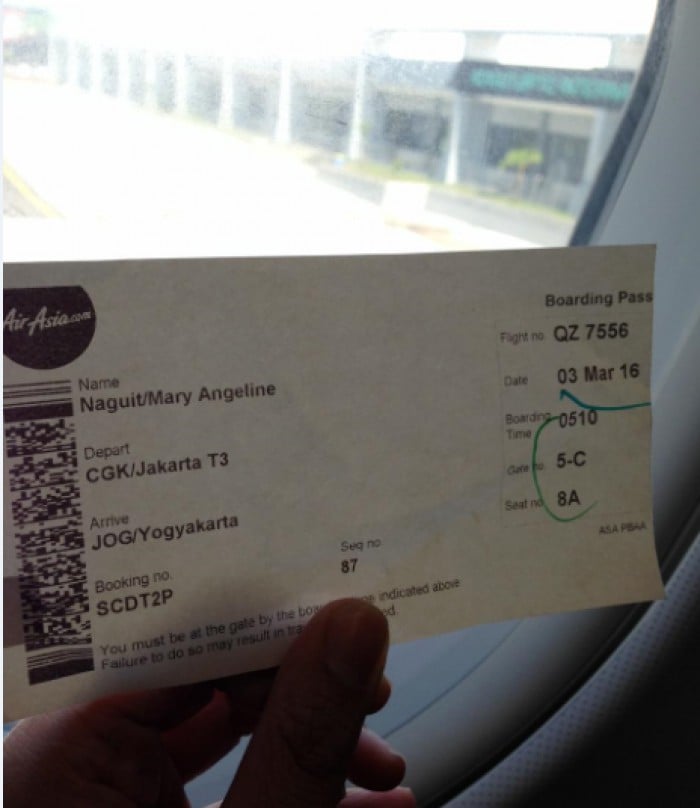 Boarding time at 5:10 am, but then changed planes at around 6:50 am
With some delay due to the need to change planes, we finally arrived at Jogjakarta Adiscupto International Airport at around 9:00 am, from the original target time of arrival of 6:50 am. We were greeted by the locals asking if we want a taxi, so I thought, "Definitely so Manila", which was okay. Being the cheapskates that we are, of course a cheaper option would be better. We took TransJogja, the local bus service, and for IDR 3,600 (USD 0.25), we landed at Malioboro after 1.5 hours of travel.
Prior to arrival, we booked a tour online via De Jong Travel and Tours. It is a private tour with an English-speaking guide and driver, and we were allowed to customise our tour. Though a bit more expensive than DIY or group tour, we opted for it because public transportation in Jogja isn't known to be as extensive as those in other places, and the places where we wanted to go are those which are probably not that known to tourists, but more by locals. We met Frans, our guide, at our hotel, Hotel Neo Maliboro. The lobby itself was already impressive, and hey, for around USD 40 a night for two with buffet breakfast, it was a steal! 3-star quality for the cost of a hostel.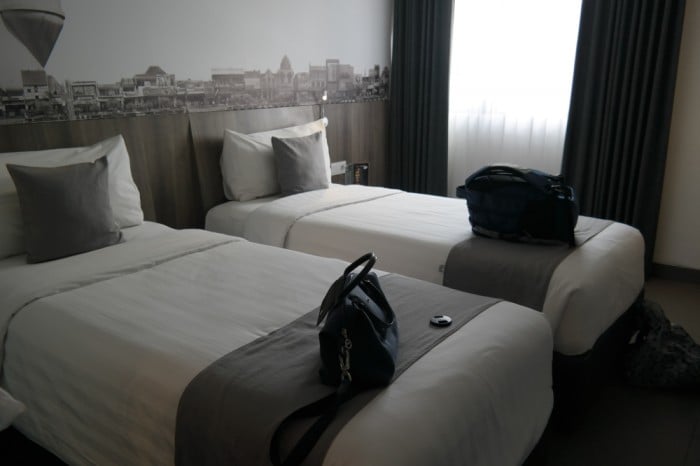 Our room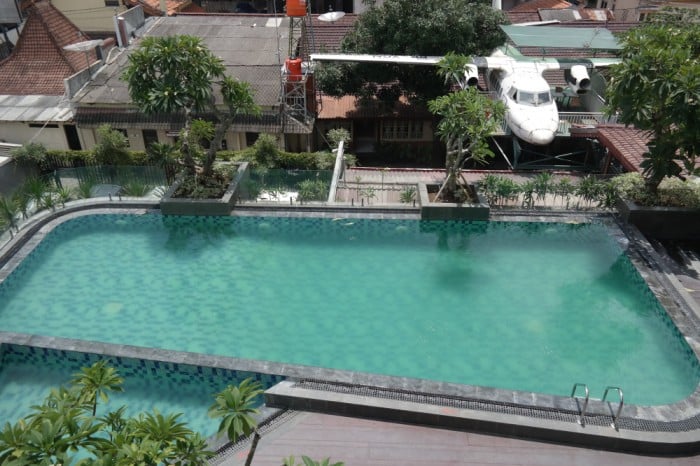 Pool with a Plane!
Also read: Exploring Jogjakarta in 3 Days and 2 Nights
Based on the itinerary we have created mainly via research from TripAdvisor, our guide made some suggestions too, to optimise the tour. Basically Day 1 is more of a culture crash course: visit a mosque, tour the Sultan Palace and Cyber Village, check the lesser known but beautiful temples, ending the day with Prambanan. Day 2 begins with Borobodur, followed by a visit to a Catholic church, beach and sand dunes, and a lot of foodtrip in between. Day 3 is more of a DIY trip, so we just walked around Malioboro for more food trip and souvenir shopping.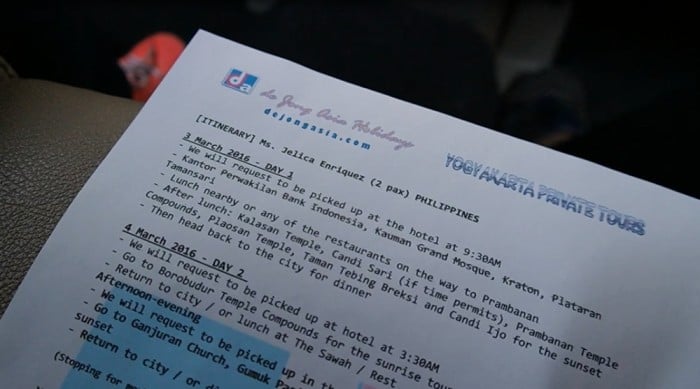 Our itinerary
Having visited other Asian countries, there is always this one huge place dedicated to royalty, and the Sultan Palace is Jogjakarta's representative. Entrance is IDR 15,000 (part of the tour package), with a tour guide (tips are encouraged). We toured the area for almost two hours, and it was a great starting point for this trip since much of the history basics have been provided. The museum also contained a huge collection of artifacts, from musical instruments, to batiks, to kitchenware. What struck me the most is the collection of various family trees, and that sultans usually had above 50 children from several wives. I guess they had no problems in terms of ensuring succession to the throne.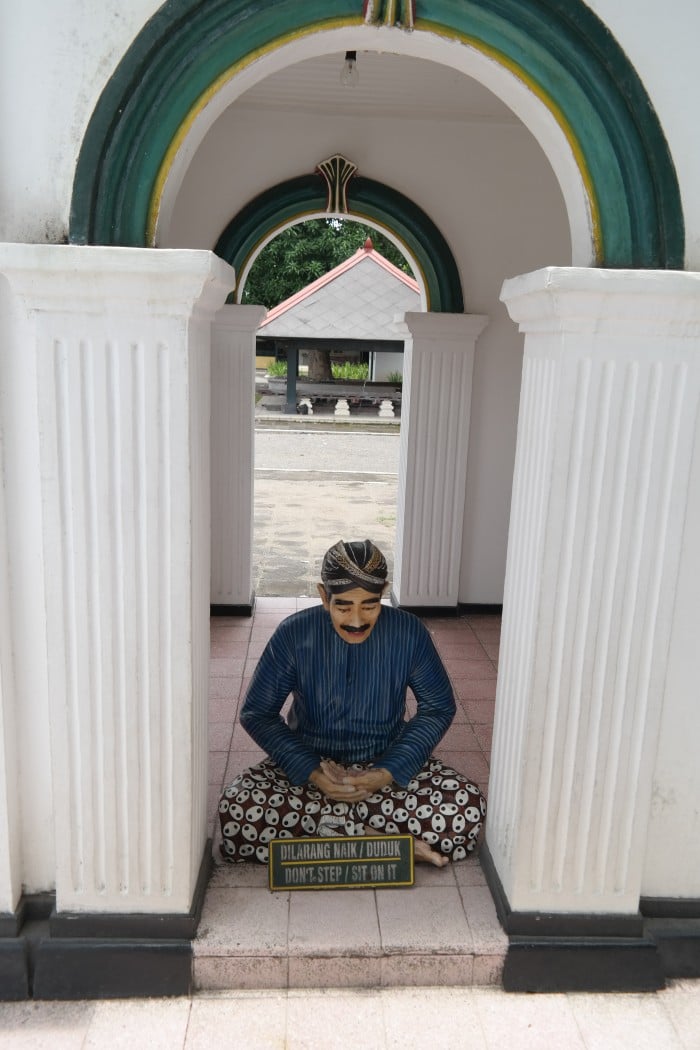 Palace guard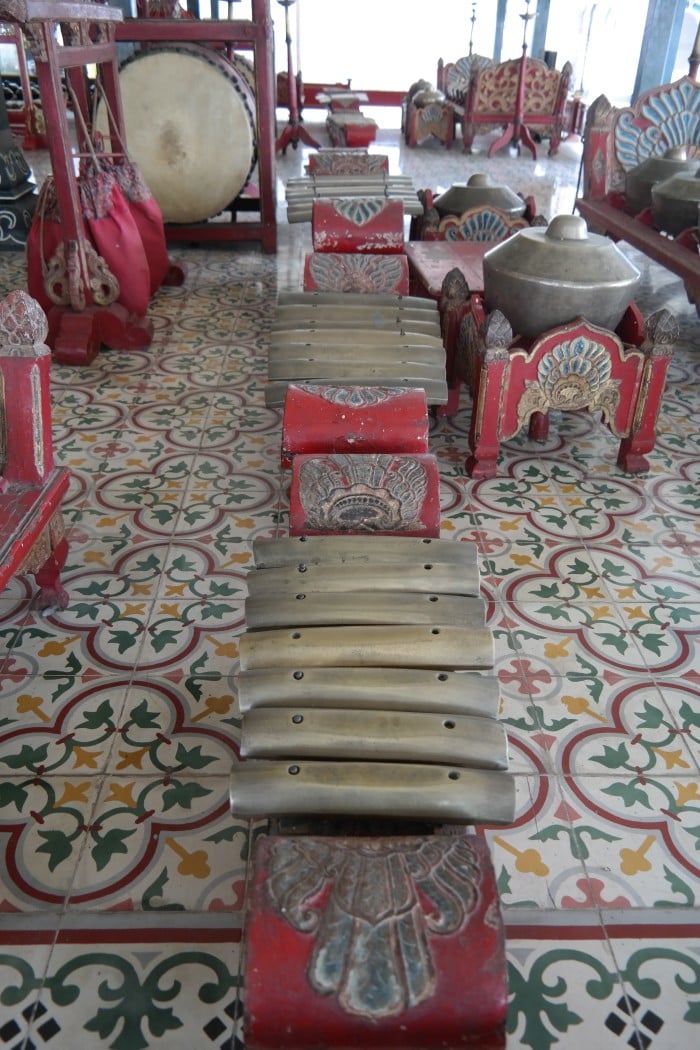 Traditional instruments over European-inspired tiles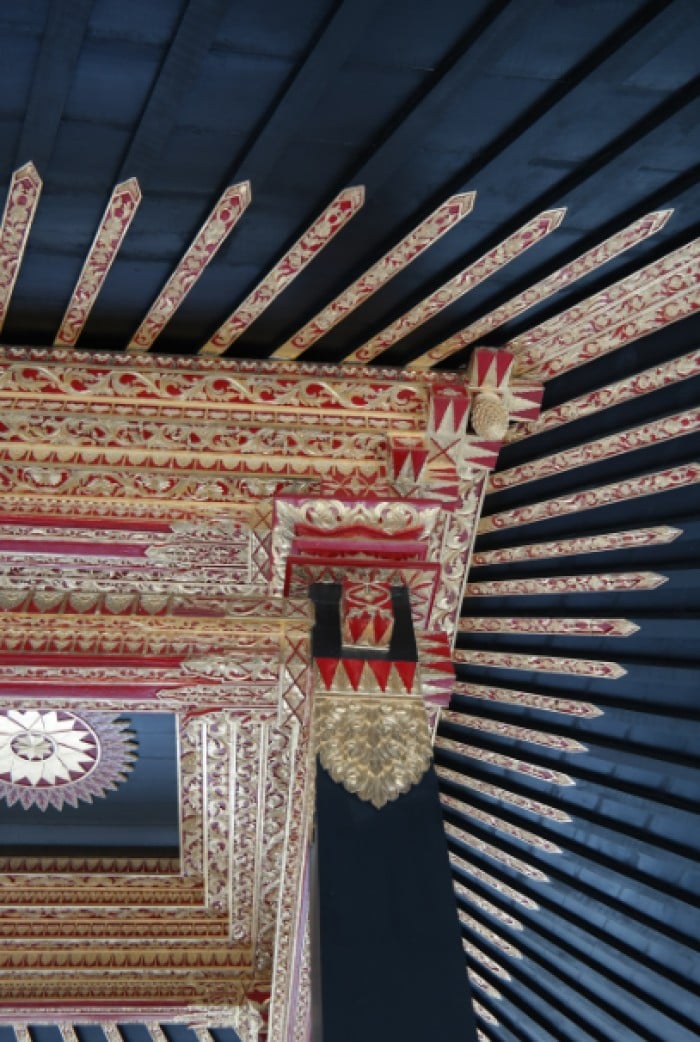 A lot of intricately designed ceilings
Quite tired from that tour but happy with all the new learning I got. "I'm starting to love this place now", I told myself. Frans then asked us what we wanted to eat, being the foodies that we are, we were game for anything! The first full meal that we had was at Suharti, the most famous place for Ayam Kremes, or Indonesian Fried Chicken. Here's a little trivia from Frans: The couple divorced, and the wife didn't want the husband to use her image as brand logo – it was common in Indonesia to have faces of owners as logos. Hence the original Suharti is the one with the wife's face on it. For me, it was the best fried chicken ever!
The original Suharti #LifeGoals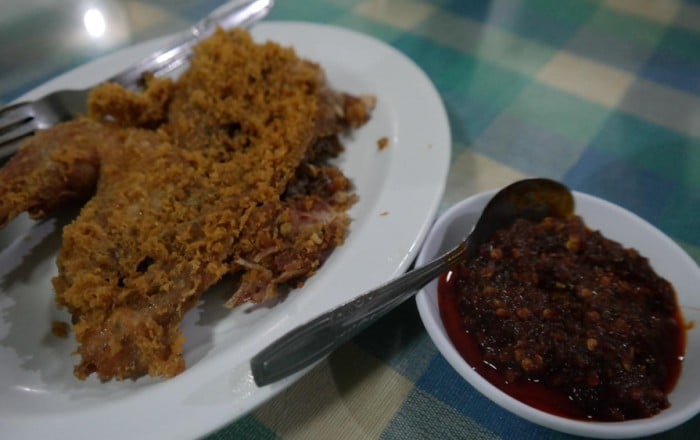 Ayam Kremes
With full stomach and happy face, we then proceeded to Taman Sari or Water Palace. The highlight of this area are the underground tunnels, which supposedly connects certain portions of Jogja as an escape route. To add, the palace is near to the Cyber Village, visited by Mark Zuckerberg. The Cyber Village is home to artists, and I was very impressed with the wall art all over. We just had to take the so-called "blogger shots".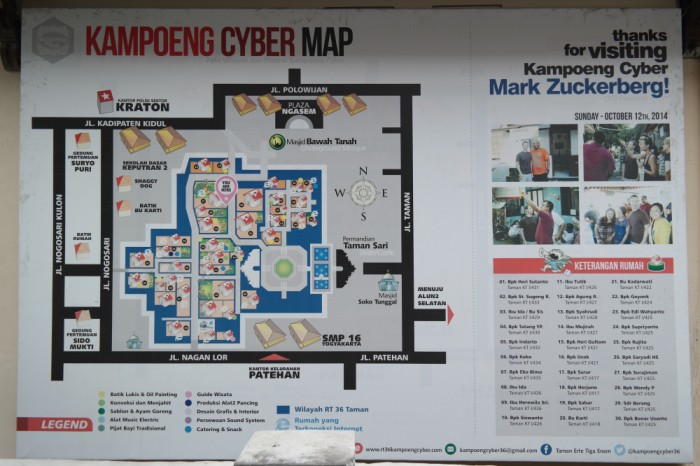 Cyber Village Map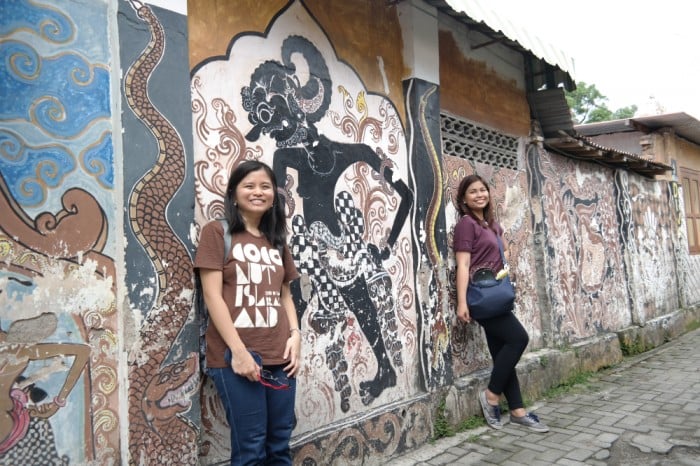 Blogger shot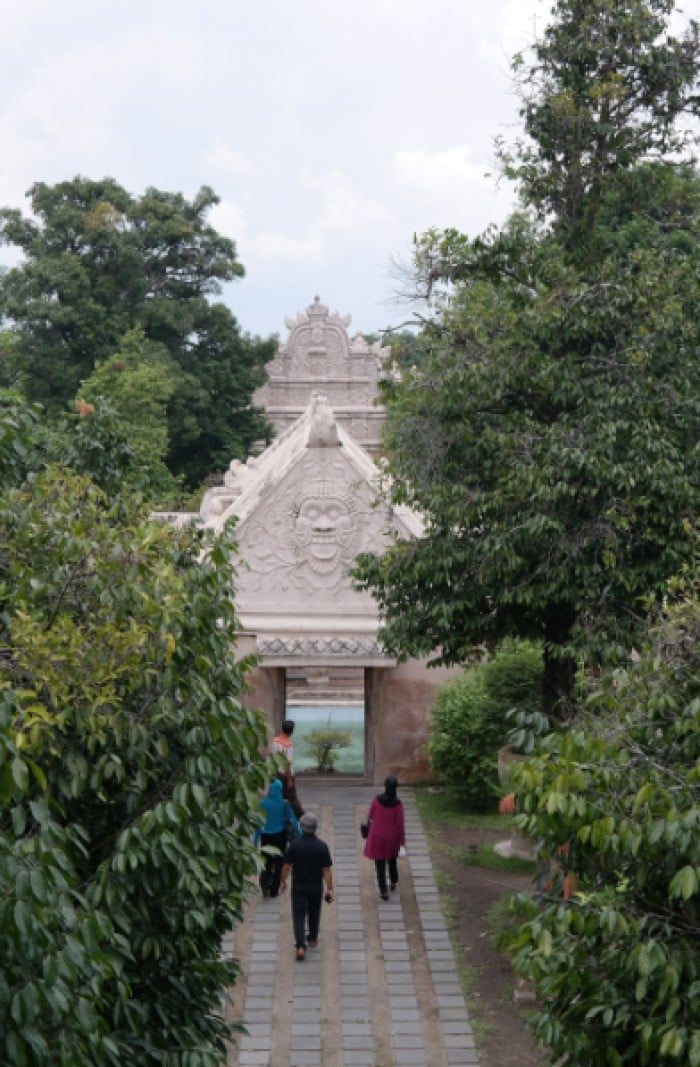 Entrance to Taman Sari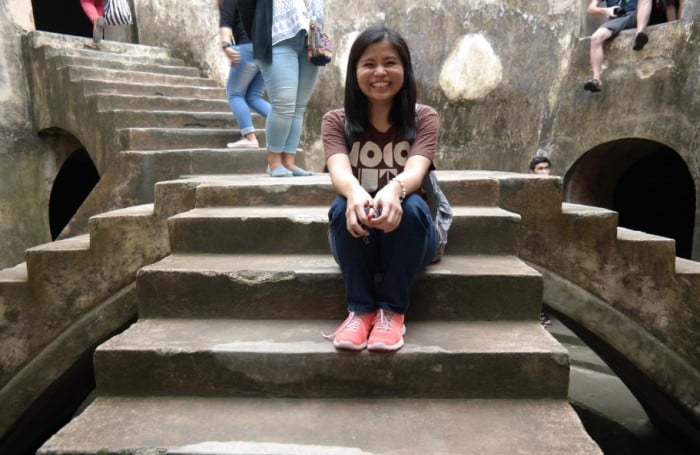 Strike a pose at the Underground Tunnel
Also read: 18 Reasons You Should Visit Indonesia
For the main event, we visited the UNESCO Heritage Site, Prambanan Temple, which is also the world's largest Hindu temple. Frans presented to us a short video prior to getting there, for us to understand a bit of its history. Prambanan is designed to have temples for each major Hindu god, with the three main temples dedicated to Brahman, Shiva and Vishnu. Today, the site also features the Ramayana ballet during several evenings in a week. As for the entrance fee, students get discounted rates, and my friend was lucky to have brought her ID!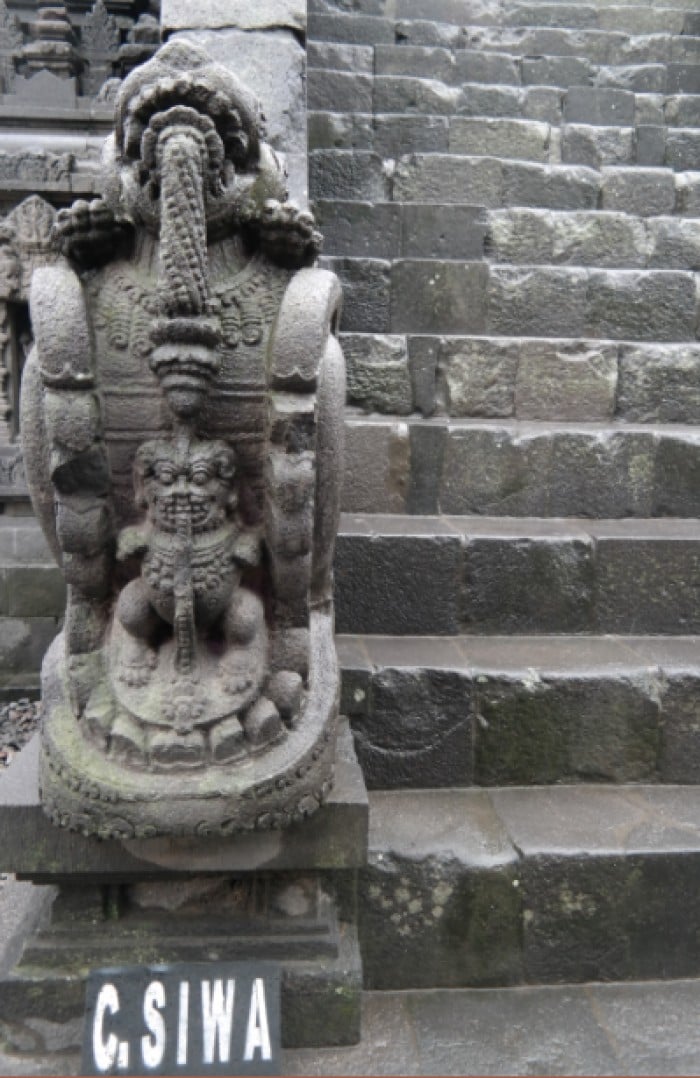 Shiva's Temple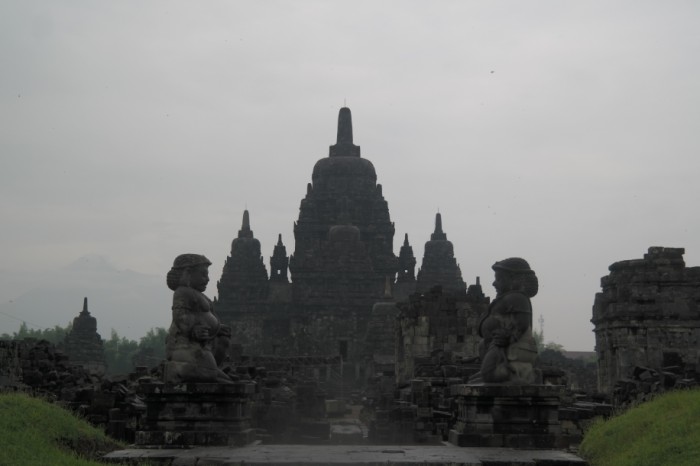 Candi Sewu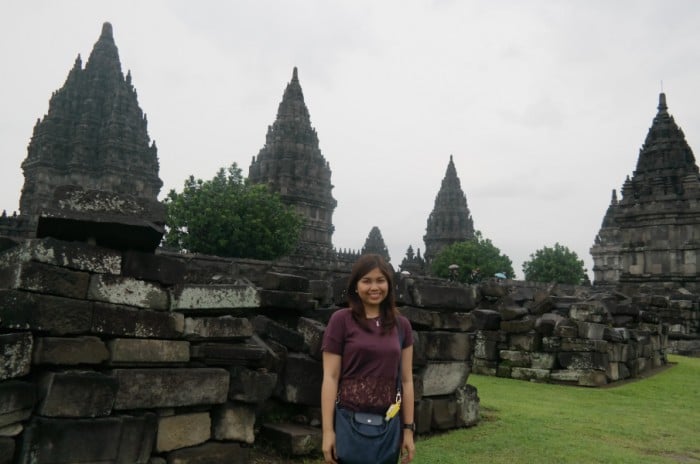 Open area near the temples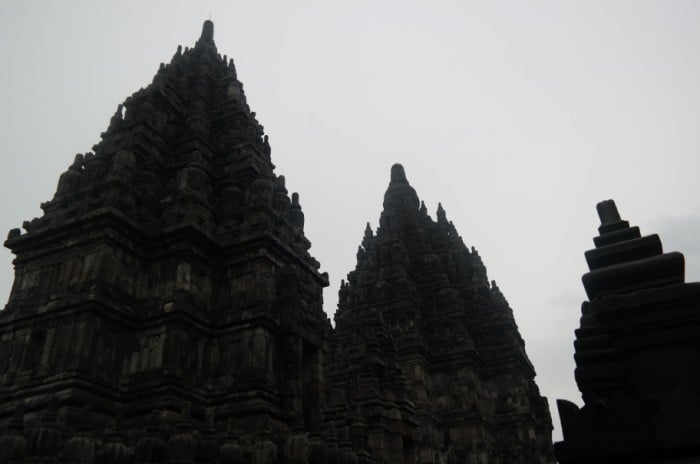 Temples up close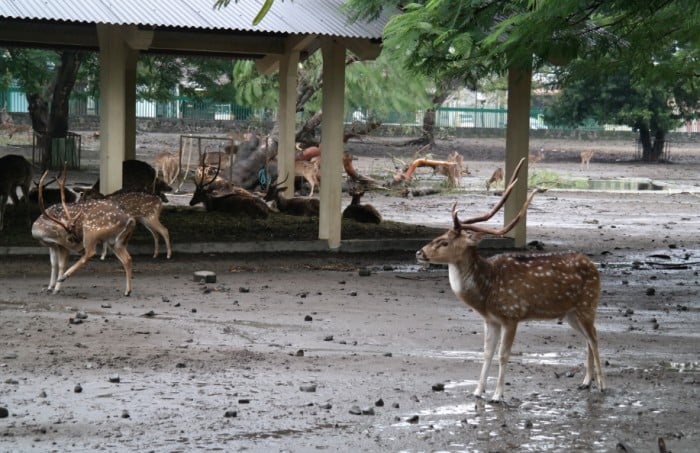 Deers in Prambanan Complex
We were in awe of the temples we have seen, and I think a couple of hours is not enough to see the entire complex. I was thinking that I could've read more about Prambanan and its history prior to visiting to further understand what this place had been through. As a quick stop prior to going back to Malioboro, we also visited Candi Ijo, the lesser known temple which supposedly had one of the best views of Jogja's sunset.
To cap off the day, we had dinner at a traditional restaurant. At first, I thought that we had to eat everything that they served, but it turned out that we only picked what we like then left the rest. We just needed to pay for what we consumed though everything was already on the table. Of course, we chose Beef Rendang, and other treats which are more for the adventurous ones, such as Deep Fried Lungs and Ox Tail Stew.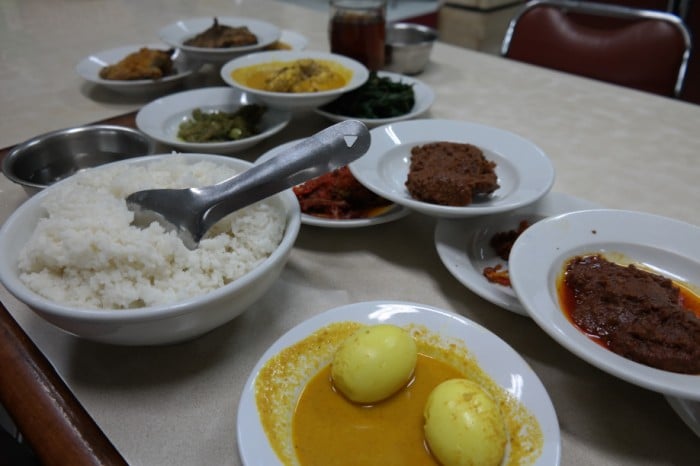 At least 10 dishes were served
Another day, and a new adventure awaits! Next stop is a UNESCO Heritage Site as well, the World's largest Buddhist temple, Borobodur. The architecture boasts of nine stacked platforms, several Buddha figures and stupas, or bell-shaped structures with buddhas inside. The original plan was to visit at around 4:00 am to see the famous sunrise, but since it rained the night before, Frans said that there is a very low chance of us seeing it, and to be practical, we can save more money by opting for the regular tour which is around USD 20, same price as Prambanan.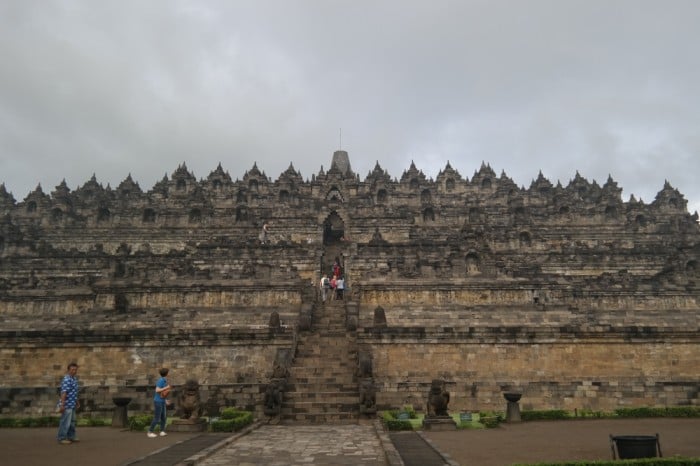 Borobodur Façade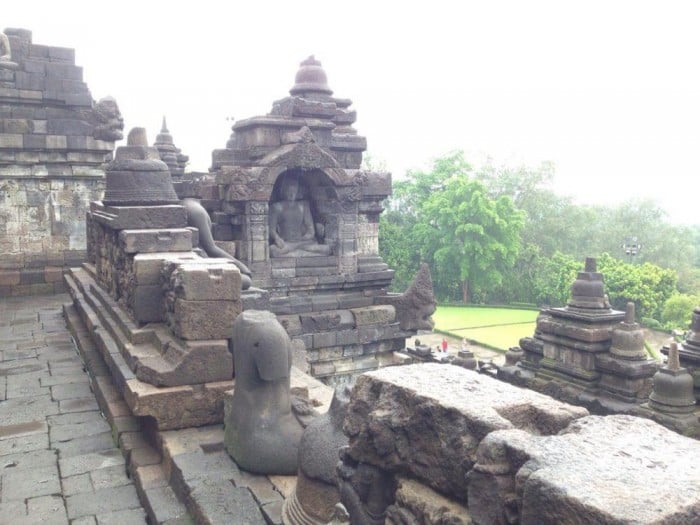 They say Europeans stole several Buddha heads to use it as an art piece instead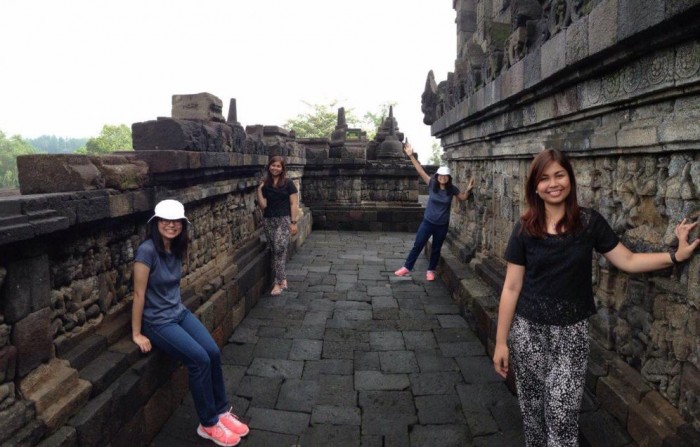 Great photo trick by Frans (no apps, pure skill ;-))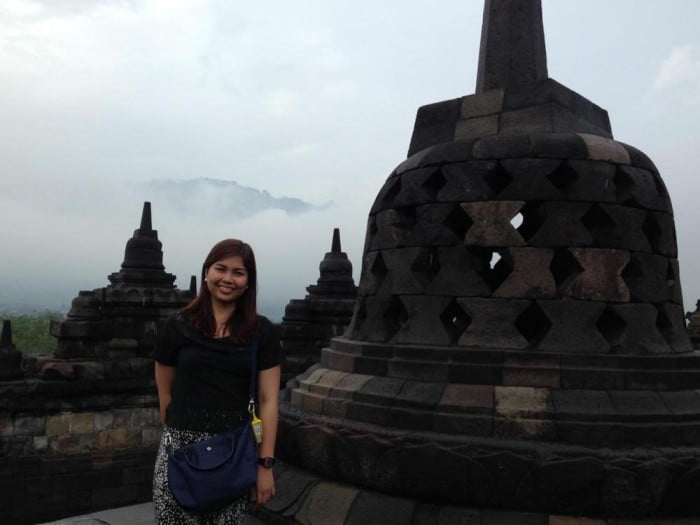 No sunrise? A sea of clouds instead! (Sea of clouds is not actually frequent here, but thanks to the rain the night before, we saw it.)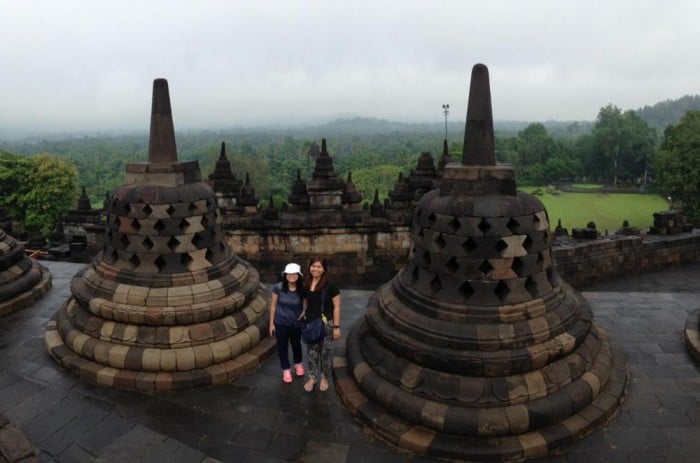 Jel and I between stupas
We were both mesmerised by the wonder that we saw. Though we saw it via the perspective of a tourist, being there felt sacred. At the top of the temple are Buddhist monks quietly meditating amidst the throng of people wandering around the place. I am amazed by their focus and dedication, creating their own quiet sanctuary, in a special place.
After Borobodur, we mostly did food trip, savouring several Indonesian local delicacies, traditional dishes, mostly from where the locals go. I guess that's another story, their food itself is as awesome as the places we have seen. To cap off this article, here is a breakdown of the cost:
| | |
| --- | --- |
| MNL-JKT-MNL (Cebu Pacific Promo) | PHP 3600 |
| JKT-JOG-JKT (Air Asia) | PHP 2800 |
| Philippine Travel Tax | PHP 1620 |
| JKT Airport Transfers | PHP 800 |
| JOG Hotel (2 nights) | PHP 1900 |
| JKT Hotel (1 night) | PHP 1300 |
| Souvenirs + Food | PHP 3000 |
| Private Car, Tour Guide, All Entrance Fees | PHP 5000 |
| TOTAL | PHP 20,020 for 4 awesome days! |
Starting off with very little expectations, I can say that what I saw, felt, ate and experienced greatly exceeded what I was looking forward to. And it's a great feeling!