From savoury delicacies to sweet treats, prepare to tick these ten iconic New York dishes off your bucket list next time you're in the city.
1. Bagels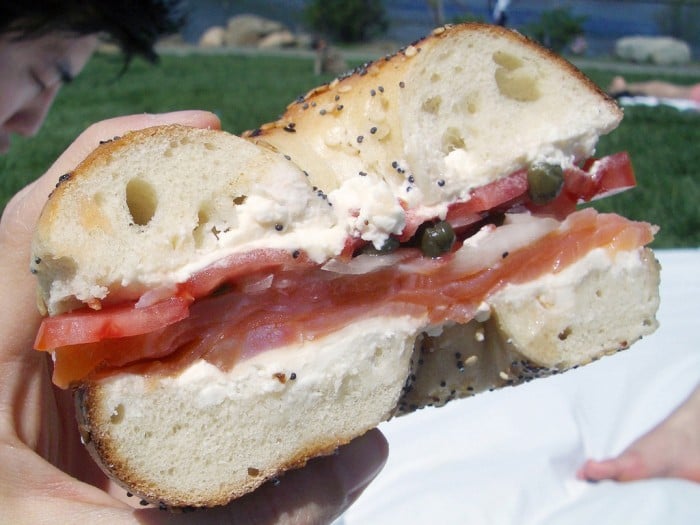 Image credit: bionicgrrrl
Crispy on the outside, dense and chewy yet tender on the inside. Don't leave New York without eating this traditionally Jewish hand-rolled bread. Bagel dough is shaped into a ring, boiled briefly in water then baked to achieve their glistening golden colour. Cream cheese and lox (cured salmon) is a popular and delicious bagel filling you'll be able to find easily. Or try a different variety like blueberry and cream cheese or yummy bacon and egg.
Try: Absolute Bagels, 2788 Broadway, New York, NY 10025
2. Eggs Benedict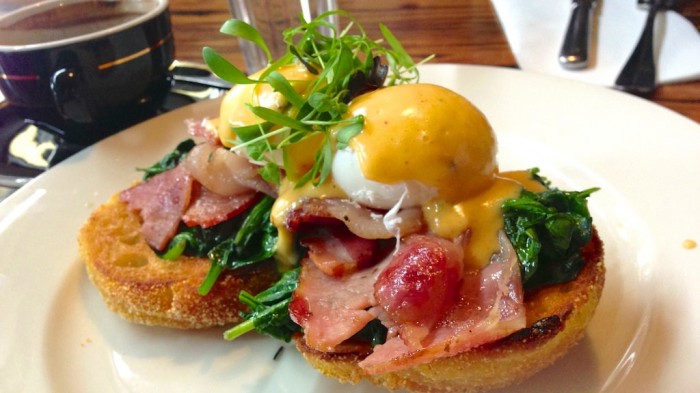 Image credit: Katherine Lim
This tasty brunch originated in New York, although who exactly invented it is sometimes disputed. Many claim that it was first eaten in the Waldorf Hotel when a Lemuel Benedict ordered the unique combination of foods in an attempt to cure his morning hangover. Toasted english muffins, mouthwatering bacon and a silky poached egg topped with hollandaise sauce. Eggs Benedict can now be found in many cities, but the one I tasted in New York is definitely the best I've ever had.
Try: Russ and Daughters Cafe, 127 Orchard Street, New York, NY 10002
3. Apple Pie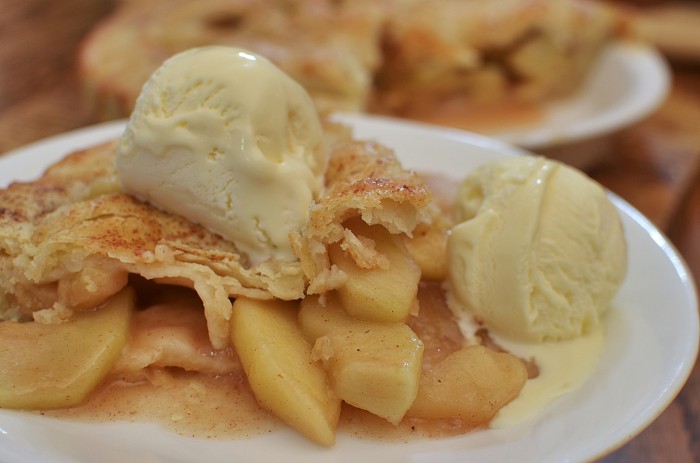 Image credit: jeffreyw
Apple Pie is the classic dessert and what better place to have it than in the Big Apple. Luscious apples cooked in a flaky pastry goes perfectly with a scoop of ice cream or fresh cream. You can also discover different takes on the traditional pie, including those with salted caramel, bourbon or even a walnut cream topping.
Try: Serendipity 3, 225 E 60th St, New York, NY 10022 – 1498
4. Steak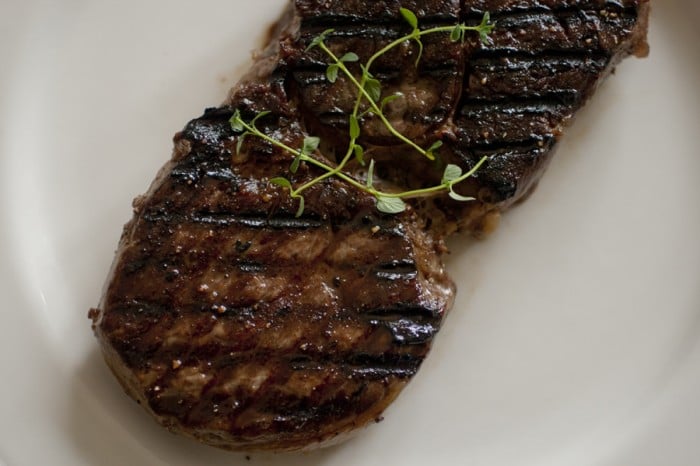 Image credit: with wind
From New York Strip to Porterhouse, steak lovers will always be able to find their preferred cut in NYC. The city has both old school legendary steakhouses and newer restaurants where prime beef is cooked to perfection. Pair it with a nice wine for the ultimate indulgence.
Try: Peter Luger Steakhouse, 178 Broadway, Brooklyn, New York, NY 11211
5. Waldorf Salad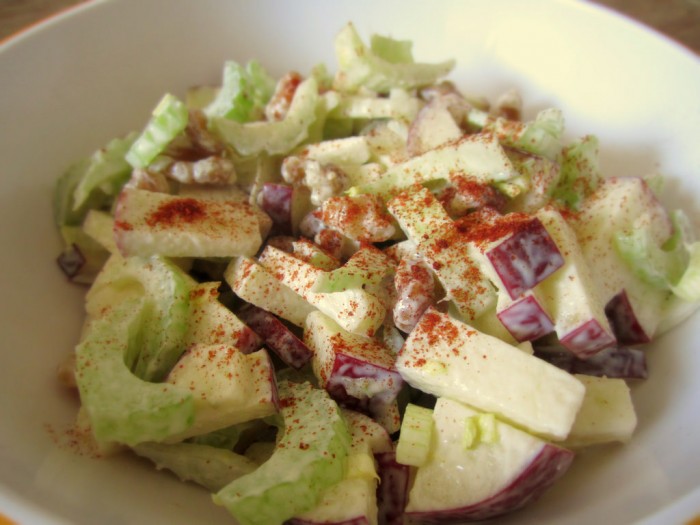 Image credit: Amy Ross
Made with apples, walnuts, celery and mayonnaise, this delicious fruity salad was first created at the iconic Waldorf Hotel (now the Waldorf-Astoria) over a hundred years ago. Over the years, variations of the salad have included the addition of grapes or the replacement of mayonnaise for yoghurt instead. Some might find the Waldorf Salad a little dated, but the combination of flavours in this simple dish are wonderful. The restaurant at the lobby of the Waldorf-Astoria continues to serve the salad. The portion is small here but it's still like tasting a little bit of history!
Try: Waldorf Astoria New York, 301 Park Avenue, New York, NY 10022
6. Reuben Sandwich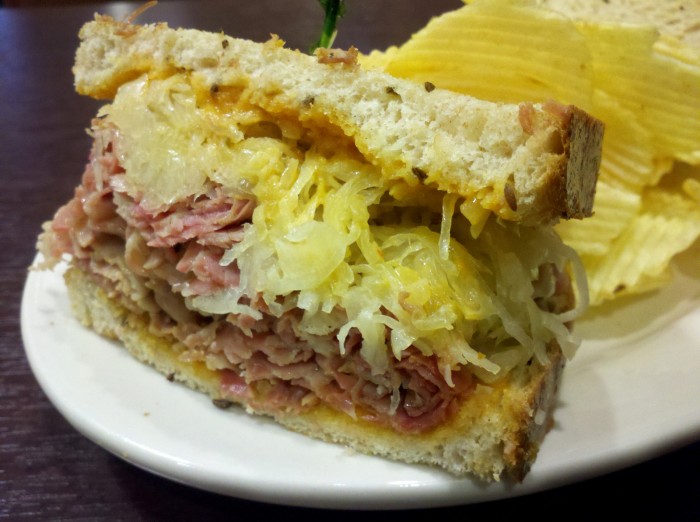 Image credit: Ntcrwler
The Reuben Sandwich is a deli favourite. Hot pastrami or corned beef, sauerkraut, swiss cheese and Russian dressing is piled into slices of soft rye bread. The result is pure deliciousness. It's so good that it's surprising the Reuben sandwich is not found more commonly in other countries. Eating the sandwich with a pickle and a hot coffee is the best.
Try: Katz's Delicatessen, 205 E Houston St, New York, NY 10002
7. New York Cheesecake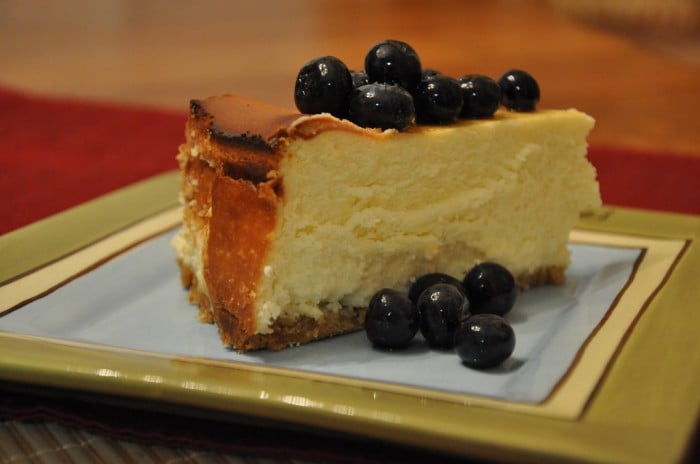 Image credit: Kimberly Vardeman
A New York-style cheesecake is rich, dense and creamy. For the filling, cream cheese is typically the main ingredient. The crust is often made from crushed graham crackers, but there can be variations. Some bakeries top their cheesecakes with scrumptious strawberries or blueberries. However it's served, the simple New York cheesecake is a great sweet treat to try in the city.
Also read: 8 Fun Things You Never Knew You Could Do in New York City
8. Burger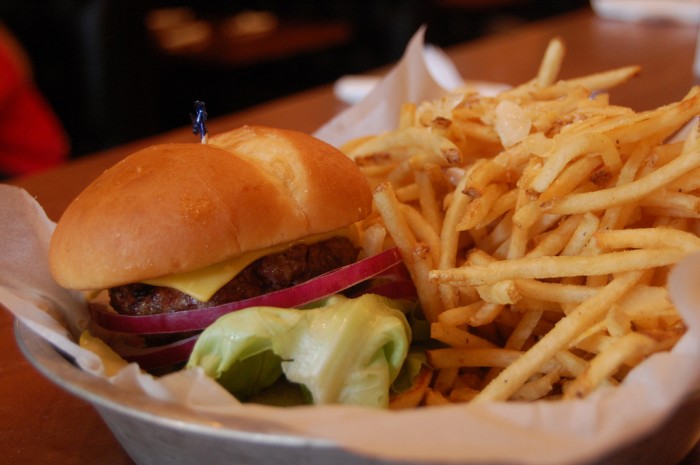 Image credit: stu_spivack
If you're on the hunt for the perfect burger, you'll have plenty to taste-test in New York. From succulent beef patties topped with melting cheese to chargrilled burgers with roquefort and Shake Shack's Shackburger there are lots to choose from. It's not all about the meat though, as new and interesting options for vegetarians appear more and more, using ingredients like mushroom, chickpeas, nuts and avocados.
Try: Superiority Burger (Vegetarian), 430 E 9th St, New York, NY 10009
9. Oversized Cookie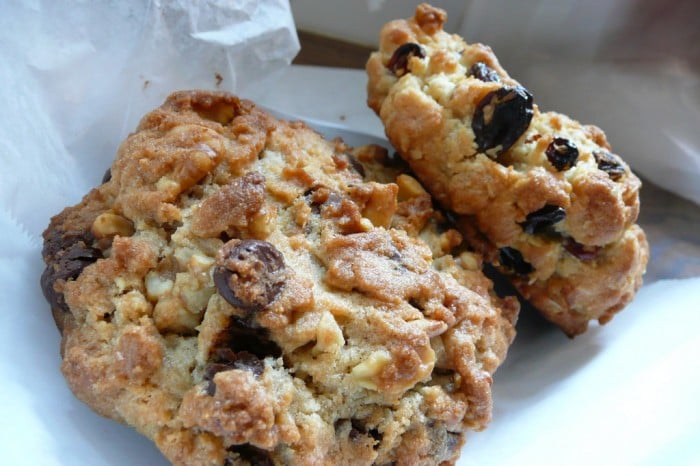 Image credit: angela n
There are so many excellent bakeries in New York. One of my favourite baked treats is the humble chocolate chip cookie. But since this list has clearly lost all hope of being healthy, I suggest the tempting and indulgent oversized cookie instead. With its crisp outer layer and soft chewy centre, it's an amazing snack or dessert.
Try: Levain Bakery, 167 W 74th St, New York, NY 10023
10. Pizza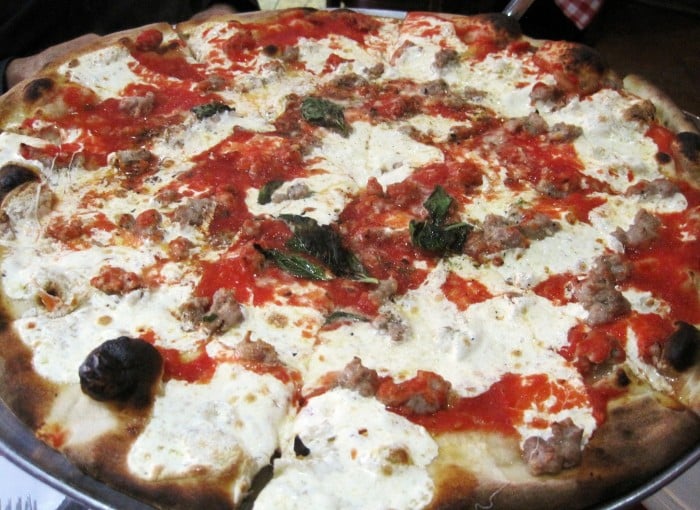 Image credit: apasciuto
Perhaps the most recognised food from New York is a slice of New York pizza. Known worldwide for its hand-tossed crust that is thin enough to fold into two, yet firm enough to hold its delicious melted toppings. The pizzas are often cooked in a brick oven and are usually reasonably priced too.
Try: Grimaldi's, 1 Front Street, Brooklyn, New York, NY 11201
Also read: 10 Reasons Why Everybody Wants to Go to New York
Have fun tracking down all ten of these iconic dishes!