Louisiana is a state with a rich history and culture, and there is no better way to experience it than by taking a road trip! Here are six of the most breathtaking places in Louisiana that you shouldn't miss during your travels. 
Make sure your car is good to go before you head out
Planning a road trip can be an exciting adventure. But before you hit the open road, there are a few things you need to do to make sure your car is in good condition.
Check your oil level and top off if necessary.

Check your tire pressure and tread depth.

Make sure all your lights are in working order.

Pack an emergency kit with flares, a first-aid kit, and a gallon of water.

Check your car insurance policy to ensure that you're covered for roadside assistance and rental car insurance. You want to make sure you have the best and

cheapest car insurance Louisiana

has to offer to make your trip the best it can be.

Plan your route carefully and be sure to take into account rest stops, gas stations, and potential detours. By following these simple steps, you can help ensure that your car is ready for the journey ahead.
Notable places in Louisiana
1. The French Quarter, New Orleans
The French Quarter of New Orleans is one of the most iconic and historic neighbourhoods in the United States. Founded in 1718 by French explorer Jean-Baptiste le Moyne de Bienville, the Quarter was the first permanent European settlement in what is now Louisiana.
Over the centuries, the Quarter has been home to pirates, privateers, soldiers, immigrants, artists, and musicians. Today, it is a vibrant and thriving community that honours its rich history while embracing the future. From its stunning architecture to its legendary nightlife, the French Quarter is a place like no other.
Also read: 12 Best Places to Celebrate Halloween Around the World
2. Plantation homes in Baton Rouge and New Orleans areas
The plantation homes along the Mississippi River in Baton Rouge and New Orleans offer a glimpse into the state's history.
These grandiose homes were once the centre of life for Louisiana's wealthy planters and their families. Today, many of these plantations are open to the public, and they provide a look at life in the antebellum South.
Visitors can tour the homes, stroll through the gardens, and learn about the plantation's history. For those who are interested in Southern culture and architecture, a visit to one of Louisiana's plantation homes is a must.
3. Lafayette (Cajun Country)
Looking for a fun and unique travel destination? Consider the city of Lafayette, otherwise known as Cajun Country. This vibrant city is home to a rich culture and history, delicious food, and friendly locals. There's something for everyone in Lafayette, so start planning your trip today!
One of the best things about Lafayette is the food. Cajun cuisine is world-renowned, and there's no better place to try it than in its birthplace. From gumbo and jambalaya to beignets and pralines, you'll find all sorts of delicious dishes to eat here. And don't forget to wash it all down with a refreshing mint julep!
Another highlight of a visit to Lafayette is the music. Cajun and zydeco music are integral parts of the city's culture, and you'll find live bands playing in clubs and bars throughout the night. Whether you're dancing or just tapping your feet along to the catchy rhythms, you're sure to have a great time.
4. Atchafalaya Basin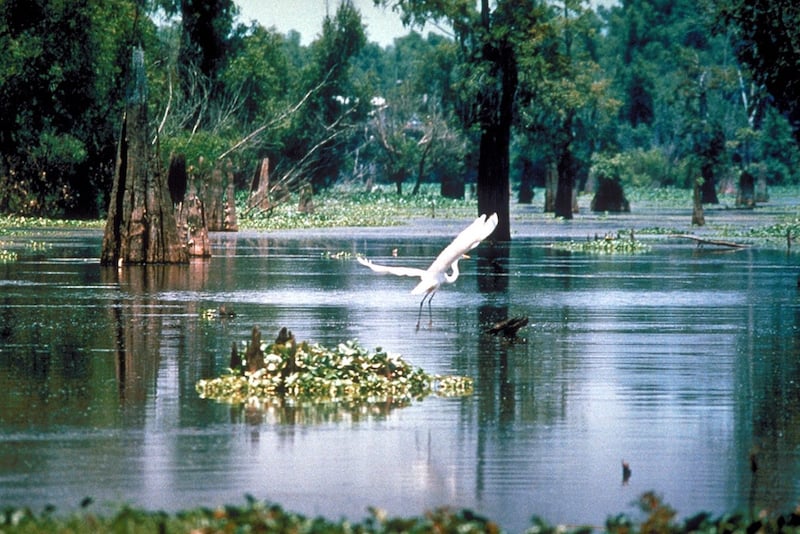 The Atchafalaya Basin is one of the most unique ecosystems in the United States. The basin is home to a diverse array of plant and animal life, including black bears, alligators, and rare birds.
Visitors can explore the basin by canoe or kayak, and there are also several hiking trails. With its cypress forests and bayous, the Atchafalaya Basin is a truly magical place. If you're looking for an adventure, be sure to add the Atchafalaya Basin to your list of must-visit places in Louisiana!
5. Alexandria Zoo, Alexandria
Alexandria Zoo is one of the best places to visit in the city of Alexandria. This zoo is known for its wide variety of animals, from lions and tigers to monkeys and birds. There are also plenty of activities for children, such as a petting zoo and a playground. In addition, the zoo offers educational programs that teach about the importance of conservation. As a result, a visit to the Alexandria Zoo is both fun and educational.
6. Kisatchie National Forest, Pineville
Nestled in the heart of Louisiana, Kisatchie National Forest is a nature lover's paradise. With towering pines, babbling bayous, and miles of hiking trails, the forest offers something for everyone. And while Kisatchie is best known for its scenic beauty, it also boasts a rich history and culture.
Visitors can explore the remains of a 19th-century fort, go on a ranger-led tour of an old-growth forest, or learn about the indigenous people who once called Kisatchie home. Whether you're looking for a day of adventure or a peaceful nature hike, Kisatchie National Forest is the perfect place to explore Louisiana's natural wonders.
Also read: The Best Scenic Drives in the World, According to Instagram
There are so many incredible places in Louisiana worth seeing! These are just a few of the many highlights that you won't want to miss on your next road trip through this beautiful state.