NATAS Holidays 2015, from 31st July to 2 Aug, will present the world to you in one setting. With a wide collection of travel specialists and tourism organizations, be prepared for a showcase of popular destinations around the world. The travel fair features a wide selection of travel deals that will cater to every type of traveller.
One thing to look forward to at NATAS Holidays is the freebies! Participating companies are luring travellers to their booths with not just great deals but also exciting freebies. Collecting freebies is very much part of the whole travel fair experience, so we decided to check out what's in store for the freebie-loving fair goers!
Cool experiences you can get at the fair:
Board a flight with Singapore Airlines or Air New Zealand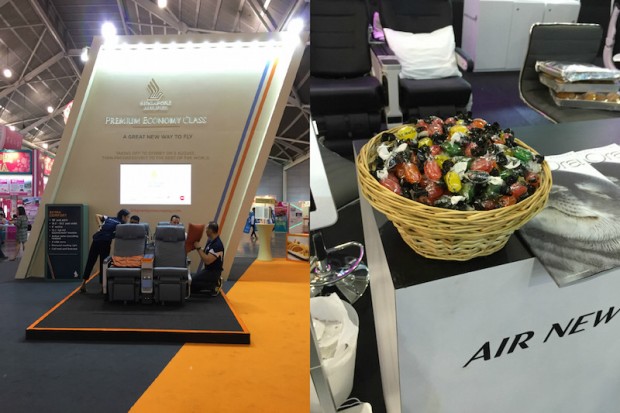 Who says playing make-believe is for babies? Play around with your imagination as you pretend to board a flight on Singapore Airlines or Air New Zealand! With take-off videos playing in the background, sitting on these airplane seats really make you feel as if you're physically on a plane. Air New Zealand has installed seats with a nine inch recline from the actual aircraft from economy and premium economy. Interestingly, the economy class seats allow passengers who have a whole row to themselves to lie down across flat, allowing you to have a similar experience to the Singapore airlines business class bed seats but under half the price! Air New Zealand even had their award-winning three course meals packaged behind their counter, so don't forget to drop by and experience an authentic flight experience on land.
Grab stationary and tourist maps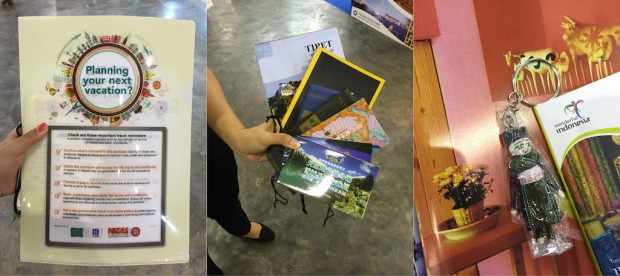 Most travel agencies display a couple maps and pamphlets on where to visit in the host country along with free pens! Make sure to grab them and mark down cool travel destinations using your free souvenirs, it'll leave you feeling like an explorer. Also file your brochures away in the free plastic folders they're handing out.
Snacks and food from around the world!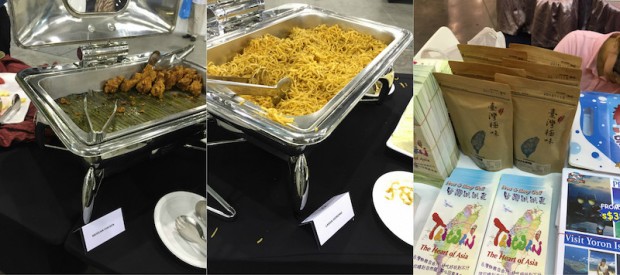 There's no way you can leave the travel fair with an empty stomach. From Mexican fried chicken to Laksa Goreng, the wide range of food offered at the food and beverage counter will give you a taste of the world. Other than the food-from-around-the-world-feast, stop by at individual travel agencies to steal a candy or two. Don't miss Taiwan Travel agency's booth – they're handing out sweet peanuts coated in crackers. Delicious.
Giveaways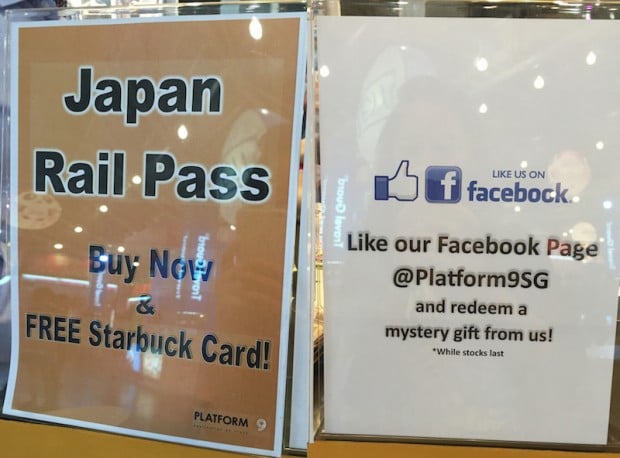 Travel fairs are home to free giveaways. For example, Platform 9, a leisure rail retail brand that offers rail passes in Europe, Japan and Taiwan are giving out mystery gifts to people who "like" their facebook page and share one of their facebook posts. Make sure to talk to their representatives about their unique railways travel packages that will take you through beautiful landscapes and sceneries. Rail holiday packages include the luxurious Eastern and Oriental rail, Rocky Mountaineer in Canada as well as the Trans-Siberian Railway that connects Russia and China.
Playgrounds!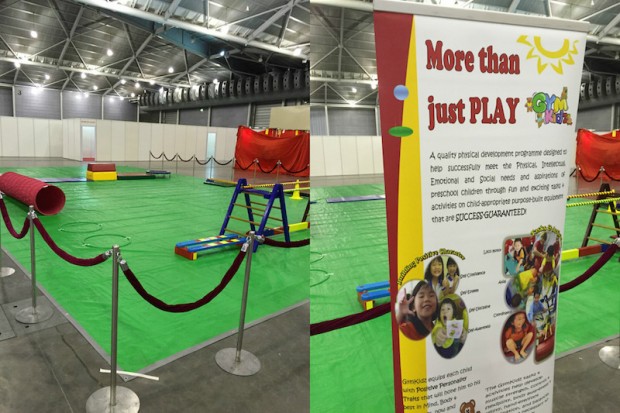 Last year, the NATAS fair had a horse; this year, they have a playground! For the first time ever, NATAS has decided to host a child-minding gym service, which will allow parents to leave their kids to experienced preschool caretakers. Although this childcare service doesn't quite fit the category for freebies at NATAS Holiday, GymKids cannot be ignored as $10 for 30 minutes is a great compromise considering all the extra deals you'll be grabbing in that amount of time without your kids screaming to go home.
Knowledge!
None of us are actually at the travel fair just to collect free things; what we're actually looking out for are the best, cheapest deals. But besides that, many travel agency representatives are from foreign countries. Now is your chance to ask some for insider travel tips!
Last time we checked, everyone loves free things. So drop by at NATAS travel fair for great travel deals (and awesome freebies).