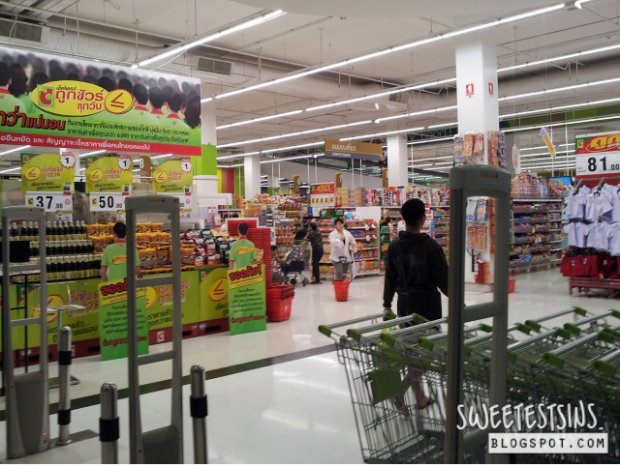 Whenever I travel, I make it a point to visit the drugstores, local traditional markets and supermarkets in the country. In Korea, we got Lotte Mart and in Bangkok, there's Big C Supercenter.
Since most people would choose to stay in the vicinity of Pratunam, the most convenient Big C Supercenter would be Big C Supercenter Rajdamri which is located directly opposite Central World.
Also read: 5 Must-Visit Markets in Bangkok
If you are not sure on which products to get, fret not because Big C has it all planned out for you!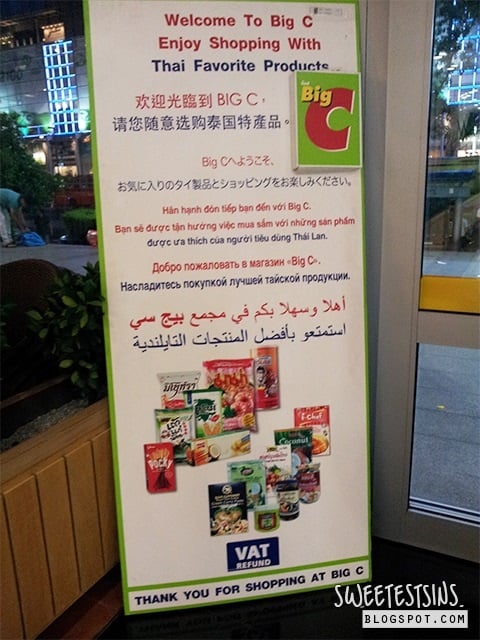 Big C Thai Favourite Products
1. Pad Thai stir-fry sauce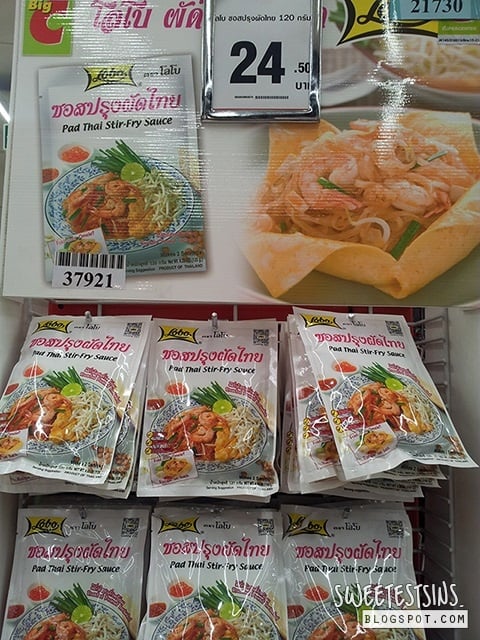 Pad Thai stir-fry sauce
Since I love Pad Thai and I enjoy cooking, this went straight into my grocery basket without much thought. Who wouldn't fancy whipping up some Thai food within minutes at the comfort of your own home? Plus, I haven't met anyone whom doesn't love Pad Thai!
Also read: 5 Must-Try Food Places in Bangkok
2. Thai milk tea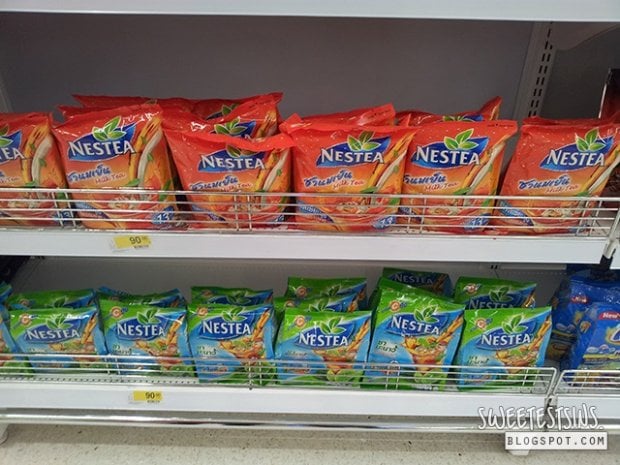 Nestea Milk Tea (Cha Yen)
When I saw this at Big C Supercenter, I almost screamed out loud. If you know me personally, I'm a big fan of Thai Iced Milk Tea. No matter how full I am, I will never fail to order a cup of Thai Iced Milk Tea whenever I have Thai food.
I always wondered how to make Thai Iced Milk Tea and I did try a couple of times but I didn't succeed. So without much hesitation, I picked a pack of Thai Iced Milk Tea and off it went into my shopping basket.
3. Tom Yum instant noodles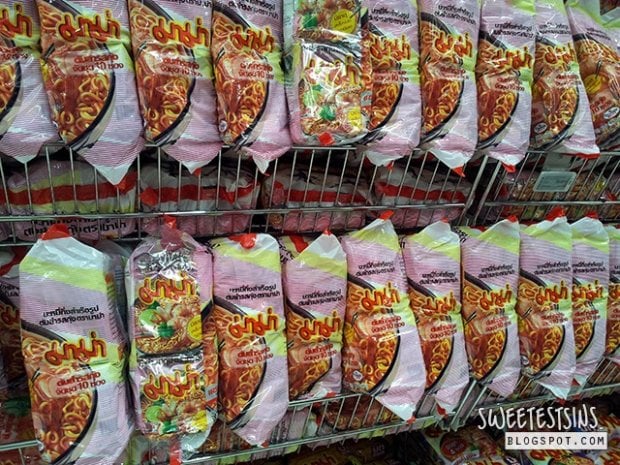 #1 best-selling Tom yum seafood instant noodles
Although I'm not a big fan of instant noodles, we saw many tourists crowding around the aisle where instant noodles were displayed and this staff from Big C Supercenter Rajdamri told me that the Tom yum seafood instant noodles is the number 1 best selling product, followed by Tom yum goong instant noodles.
4. Tom Yum Goong instant noodles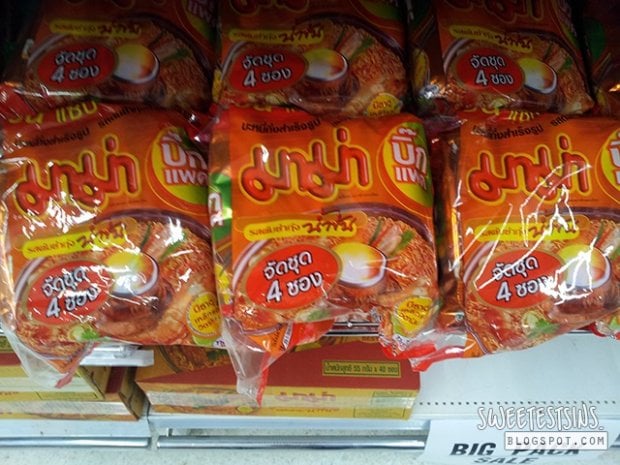 #2 best-selling Tom yum goong instant noodles
We picked up both the Tom yum seafood and Tom yum goong instant noodles and our conclusion is go for the Tom yum seafood one! We didn't really like the Tom yum goong instant noodles as we found the coconut milk taste too strong for our liking.
Also read: 15 Delicious Street Food in Bangkok
5. Pocky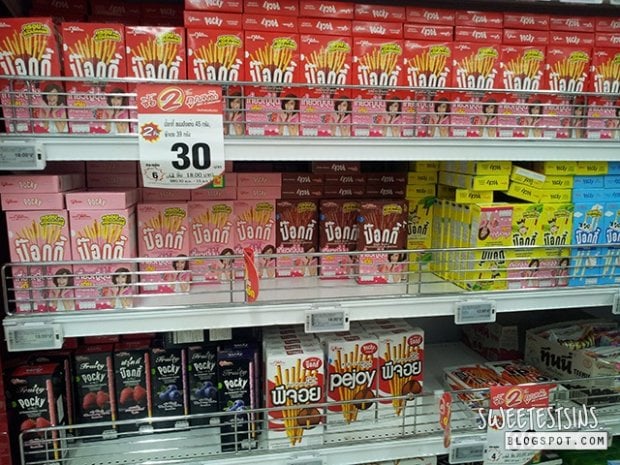 Pocky
I guess this needs no explanation. My favourite Pocky are the ones with blueberries and strawberries bits.
6. Pretz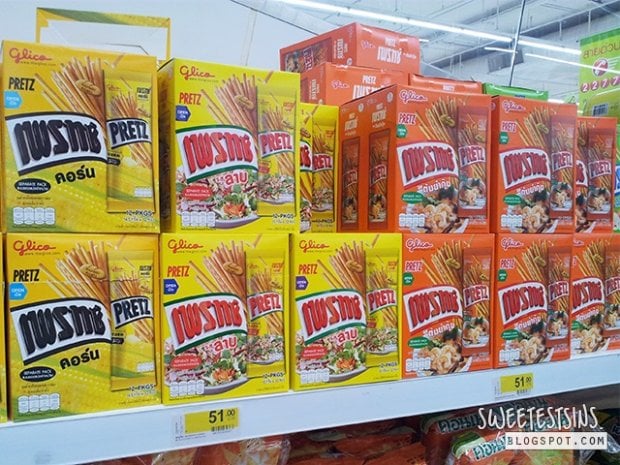 Pretz
Likewise for Pretz which doesn't require any further introduction since most of us are familiar with it. Do try the Tom yum flavoured ones. It's a hit with most ladies in my office. You can see them munching on it during tea-break.
Also read: Bangkok's Hipster Hangout: Talat Rot Fai
7. Lays potato chips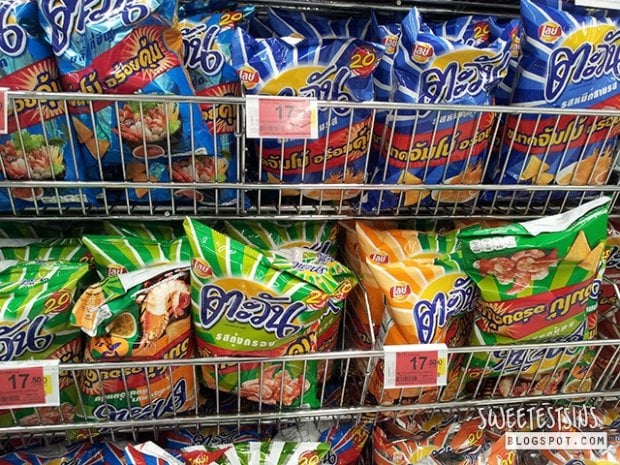 Lays potato chips
They have got flavours such as sweet basil, something different from our usual sour cream and onion, etc.
8. Wang wang rice crackers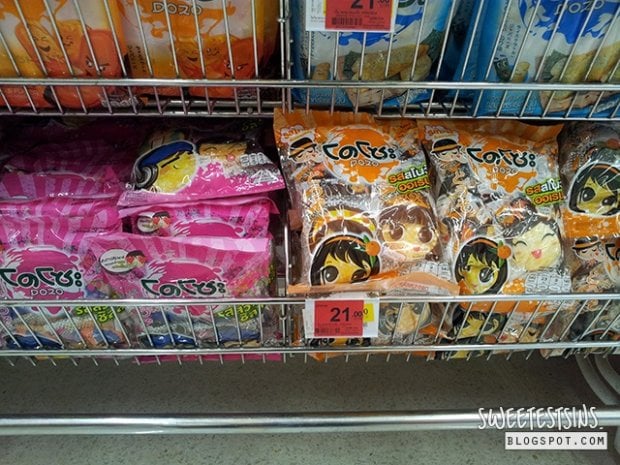 This is more affectionally known to us as Wang Wang Xue Bing. If you are into cutesy packaging like I am, this is definitely a must-buy because it's too cute to be missed! You will get what I mean if you check out the photos below.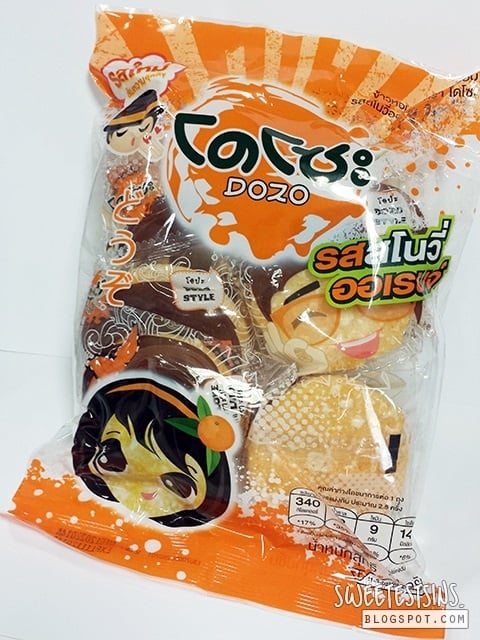 Aside from the food items featured above, I also came across some other interesting items.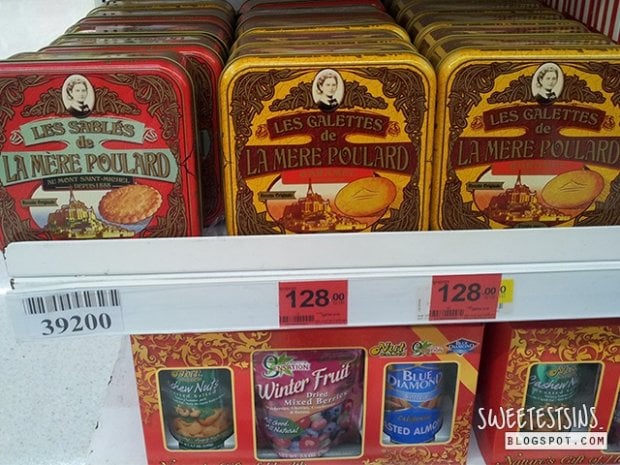 Rilakkuma fans alert! You will be in for a treat because there are so many Rilakkuma snacks available!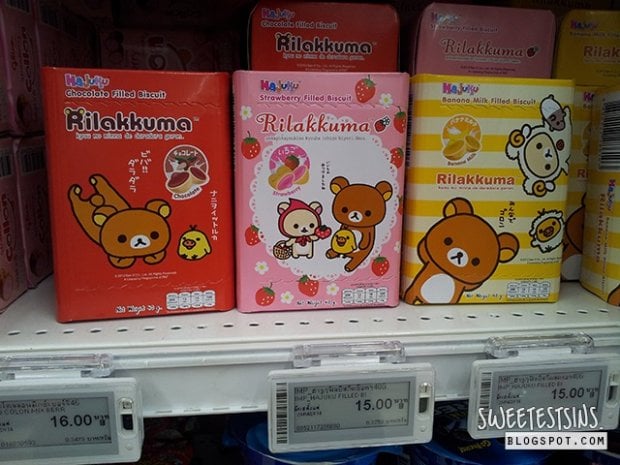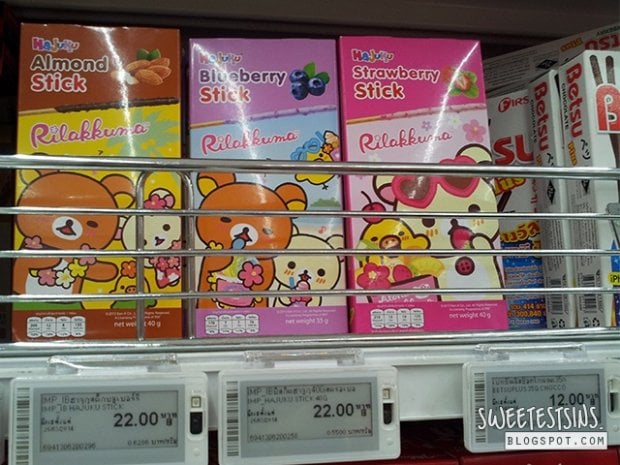 And if you're tired from all that grocery shopping, you will be pleased to know that there's a mini kiosk within Big C Supercenter Rajdamri itself that provides drinking water! How nice isn't it? I thought that was very thoughtful of them.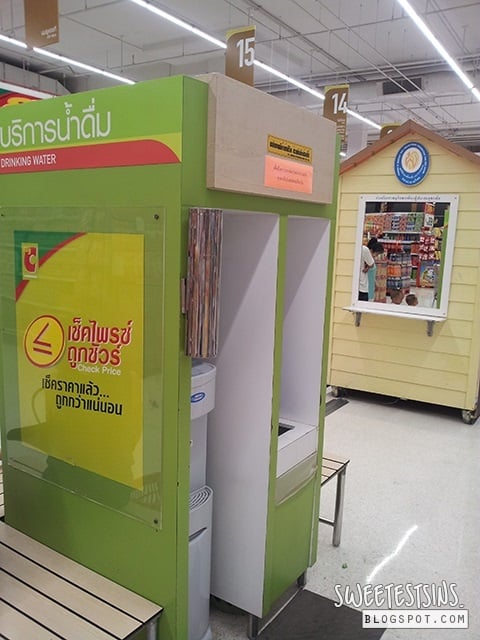 Drinking water kiosk at Big C Supercenter Rajdamri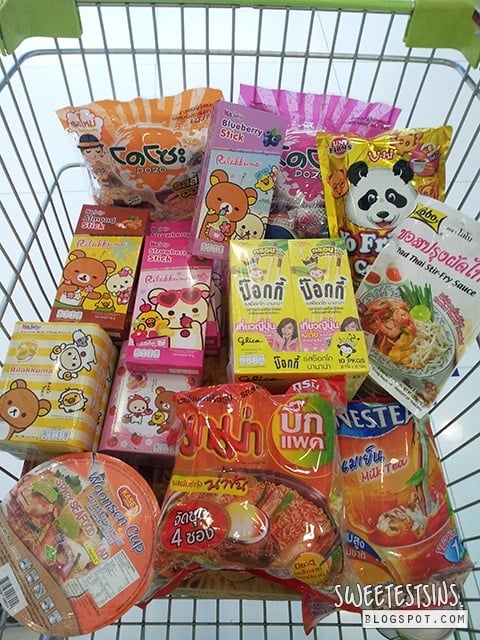 My Big C Supercenter haul!
Also Read: 8 Reactions When Visiting Bangkok For The First Time
On a side note, it is almost the end of the year again and this means the holiday season is nearing. I guess the best Christmas present for most of us, especially working adults like myself, would be a getaway trip. A lot of people think that travelling is heavy on the pocket but it need not be if you do your homework and know where to source for the best travel deal! Personally, I prefer to go on budget for both flight and accommodation. My personal favourites include Jetstar and Scoot for budget flight tickets and Agoda.com and Hotels.com for accommodation booking. This way, I can save more for shopping!
Also read: Extremely Useful Bangkok Travel Guide
As much as I try to travel light for overseas trips, I cannot live without my travel beauty essentials! They include facial wash, toner, moisturizer and sun block. I can do without makeup but certainly not so for skincare. For me, it's skincare over makeup anytime! Ending off this post with a travel skincare tip – When travelling to other countries during winter, be sure to pack along a cream-based moisturizer to prevent dry skin.
Also read: Cult Beauty Brands You Must Buy While Travelling Asia
Be sure to try any of these local treats when you visit Bangkok.
Contributed by SweetestSins.
For a chance to win a trip to Bangkok or other parts of Thailand, take part in the "Thousand Ways to Smile" contest! Share a picture that makes you smile, and stand a chance to win attractive prizes sponsored by Bangkok Airways and Thai Airways. Upload your picture to Facebook or Instagram, and don't forget to use the hashtag: #1000smilesthailand. The winners for January and February haven't been chosen yet, so what are you waiting for? Check out this website for more information and details!