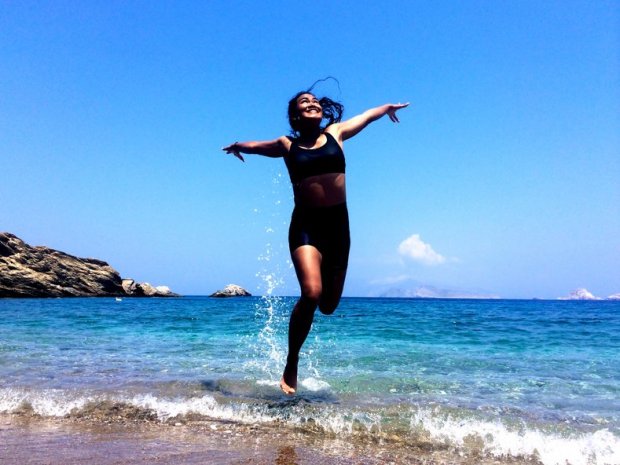 Image Credits: To the sexy model Rosazlin Rosli
My favourite island in Greece is Folegandros. "Fole… what?"
I'm starting to find a pattern where all my favourite travel spots are becoming rather unfamiliar-sounding. It is precisely because these places are not so well-known and pretty off-the-beaten track that I love them so much. So when in Greece, forget Santorini (how romantic can an island be when it is infested with tourists), and forget Mykonos (unless you're a party animal of course) and try to get yourself to one of these quiet, less popular islands to truly experience the Grecian island paradise. It may be a little less accessible, and hence will take more effort to get to, but it'll definitely be worth it.
Folegandros is a tiny island on the southern part of the Cyclades in the Aegean Sea. I went to Folegandros with my university buddies Rosazlin and Mae as part of our graduation trip this summer, ready for the sand, the sun and the sea.
What you'll find in Folegandros
#1: Beaches with pristine water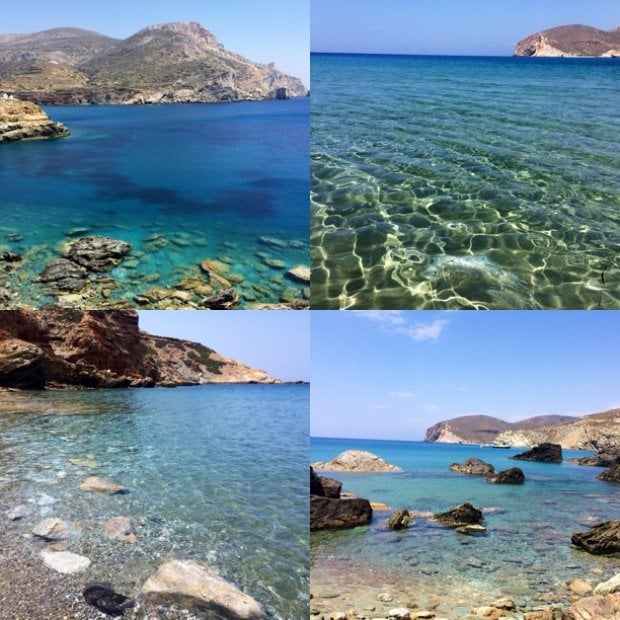 Past the barren, rock-strewn land and down the coast you will find pristine beaches with crystal clear waters. The one thing to do in Folegandros is to pack your water and sunblock, put on a pair of good shoes and head out for a hike along rugged terrain to the beaches. If you don't like the first beach you reach, just keep going. I can spend a week in Folegandros just beach-hopping every single day. Beach after beach after beach. Dips after dips after dips. All you need for a romantic getaway or a summer vacation just sprawling on the beach is right here in Folegandros.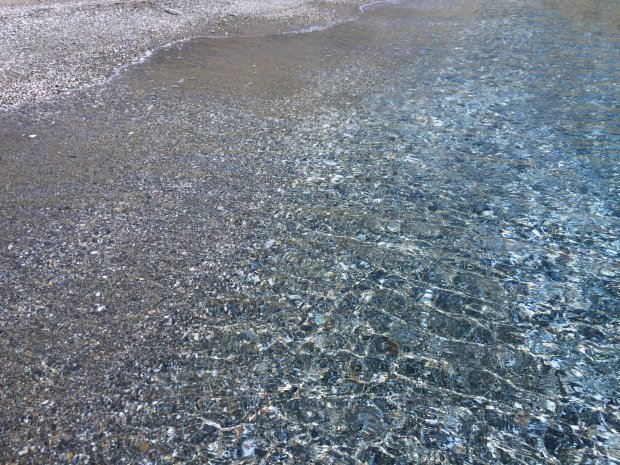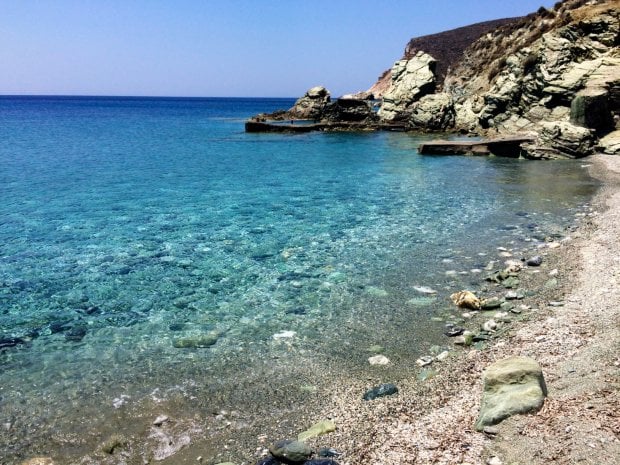 #2. Low human population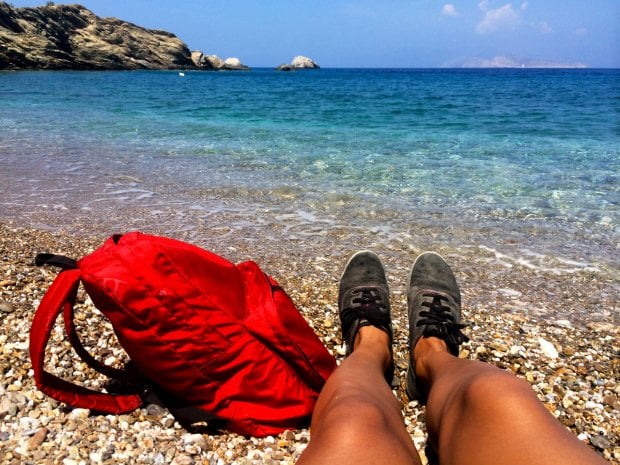 Still preserved from mass tourism unlike *cough cough* Santorini, Folegandros is a breath of fresh air. I can't tell you how nice it felt to have so much space and so few people around.
#1 + #2 = #3 Secluded, Sometimes Nude, Beaches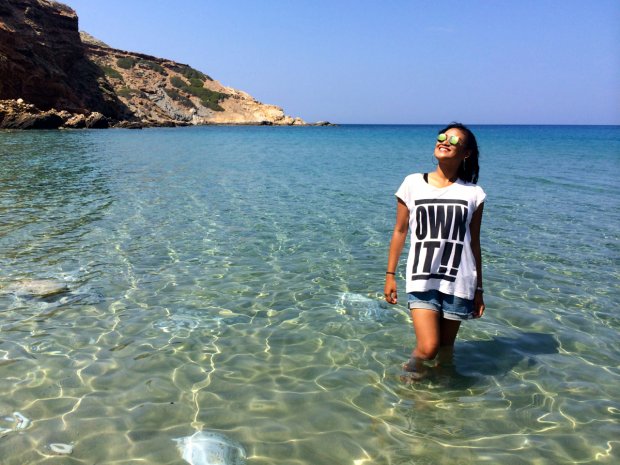 Image Credits: Rosazlin Rosli
It has always been one of my dreams to find a beautiful secluded beach and to have it all to myself, or with whoever I'm with. I've never actually had the luxury of that sort of blissful privacy, at least not until that day I hiked around Folegandros.
That was the day we found this little bit of paradise – a small cove with shallow, crystal clear water and fine sand that stretches all the way out into the deep blue sea. The best part: it was absolutely just us and not a single foreign soul was around. We had the most magical day just swimming in the perfect beach under the sun. The cove is along the hike from Chora, the little town we stayed in, to Angali. Seeing that there wasn't a name for it on the map, my friends and I decided to name it Paradise Cove, our little secret piece of paradise.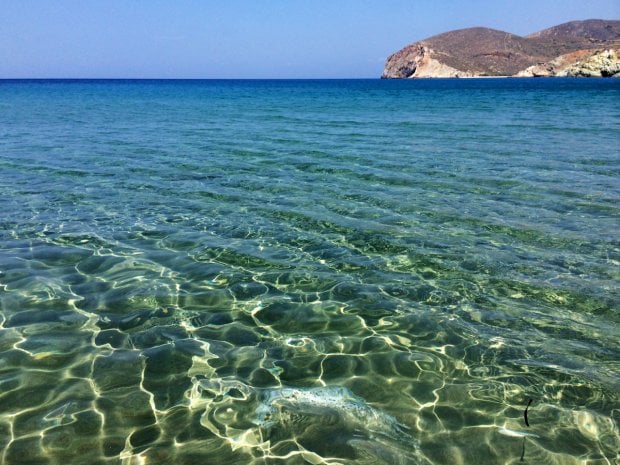 That was just the first beach we had to ourselves.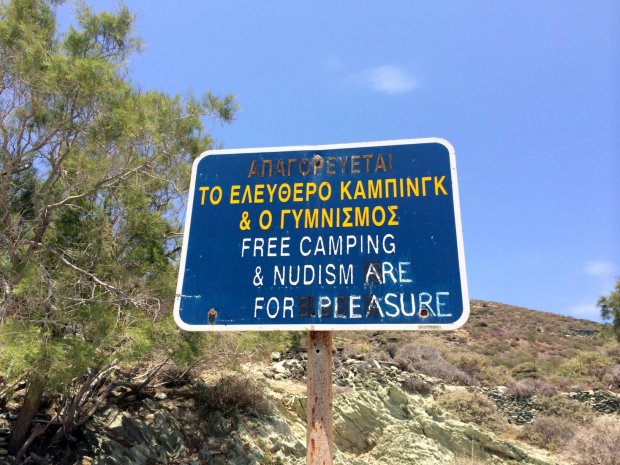 #4. Beautiful Sunsets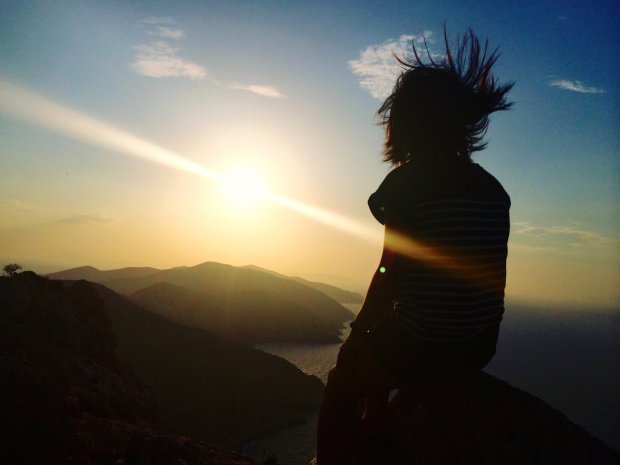 When in Folegandros, a must-do is to catch the beautiful sunset from the Church of Panagia on the hill. Bring some drinks along; you will want to have a nice drink while you view the amazing sunset and gaze at the beauty that seems to be the embodiment of all the beauty in the world. You won't miss the hill if you're staying in Chora, it is visible from just about anywhere in town.
#5. Matsata (Fresh pasta yums!)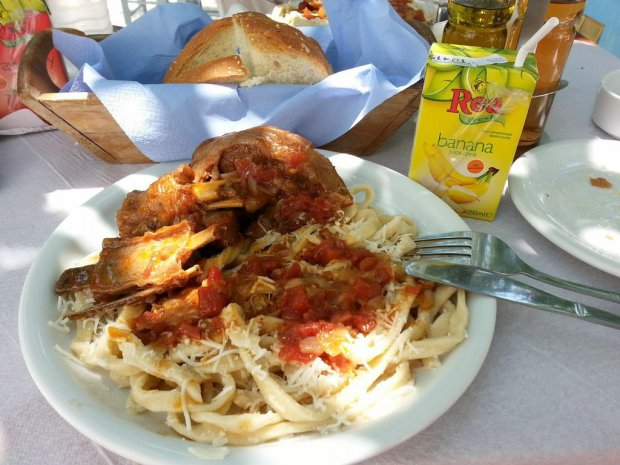 Image Credits: Kng Hwee Mae
Apart from the much raved about amazing scenery and beauty of this Greek island, another thing that has been the recipient of much praise is a local delicacy called 'matsata.' It is a type of thick pasta you can find served in plenty of restaurants in the island. Mae joked that her goat matsata tasted so fresh, it was as though the goat had just been grabbed off the land and slaughtered minutes before.
#6 Affordable hotels and #7 hospitable locals
My friends and I stayed in this place called Horizon Hotel, which has a great view of the sea, the houses in Chora, and the aforementioned church on the hill.  It'd only cost us €180 for three nights in a hotel room for three, with free breakfast. When you're a budget backpacker (we stayed in a hotel because there weren't any other alternatives), free breakfast is the magic word. I'll admit I'd even snuck jams from the free breakfast spread into my bag. Haha. Such is the life of a traveller on a tight budget!
To add to that, the owner of the hotel Irene, among many other locals we've met, is a gem! We absolutely adore her for she was so very helpful, and any request made will be promptly met with a great big smile. I would reckon that what had made my experience memorable—though some may cringe upon finding out—were the time spent sitting out along the cold porch as the sun went down, watching people head out for their fancy dinners, while we, on the other hand, were contented with our poor backpackers' dinner of cup noodles, sardines and eggs.
One last thing: Siesta Time in Greece!
3pm – 5pm is Siesta time in Greece, during which many locals take a short nap, and Folegandros is no exception. You will find most of the shops are closed when you roam around at that timing.
As such, my dear travellers, do remember that when in Folegandros:
Siesta time is sacred time, but beach time is all the time.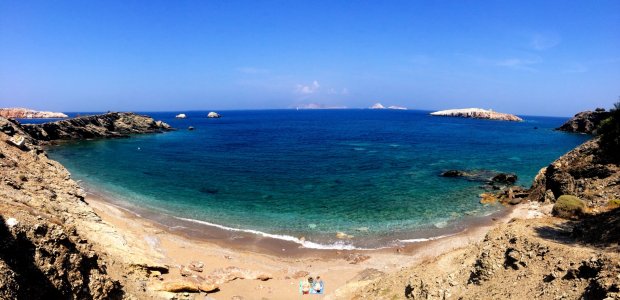 Disclaimer: By the way, I'm kidding about the 'forget Santorini' part I mentioned at the start. One does not simply go to the Greek islands and just forget Santorini. Santorini is gorgeous – there's no denying that. What I'm suggesting rather is to always, always mix your trip with something less conventional – nothing beats finding a hidden gem that seemingly no one knows about.
Start planning your summer vacation in Greece now! Maybe these Greek travel packages is just the thing you need.
Contributed by Hey Explorer.