With Bangkok being one of us Singaporeans' absolute favourite destinations to fly to for a weekend trip, I can only imagine the number of times some of us are there in a year— whether for shopping, or eating, or both. But what about those who have already tired of all that? There're only so many malls one can go to, right?! So why not try out some of these quirky activities the next time you're there, and give yourself a memorable Bangkok trip to regale your friends with!
Also read: What to do in Bangkok: A 3 Day Itinerary
1. Have a Beer Out of a Vintage Van Bar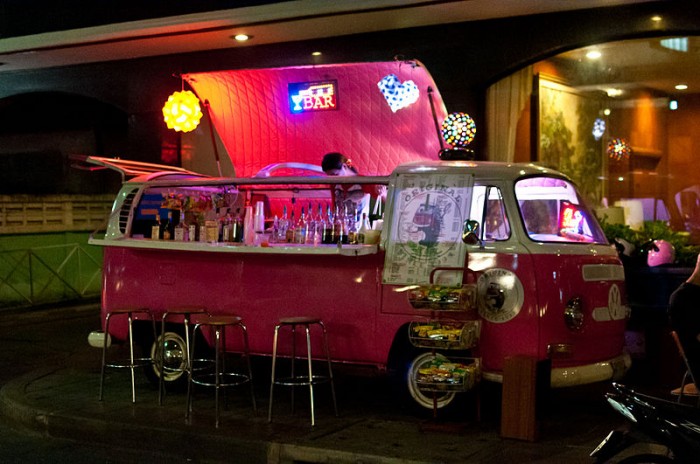 Image credit: Mark Fisher
Let's start easy and chill. After all that shopping, you're definitely going to want to wind down and chill to round off the day's activities. All the better if you can have a beer in hand! Why not take it one step further, and chill from the back of a retro Volkswagen bus? Head down to Sukhumvit Soi 11, or the hidden lanes off Khao San Road, where Bangkok's psychedelic and brightly-coloured mobile bars are concentrated. Fashioned from the backs of old Volkswagen buses, these bars are the consequence of Thais' creativity and entrepreneurial spirit. Some of these bars even brand themselves as sports bars — adding TV's so that their customers can watch a game and enjoy their drink at the same time! They're somewhat of a recent establishment in Bangkok. Despite been around for just over a decade, their popularity has only caught on in the past year or so, riding on the wave of all things retro. Trust us, this definitely deserves a spot on your itinerary!
Besides, you can have anything from a simple beer to cocktails such as mojitos and Singapore Slings. They come in various sizes too, with the largest ones aptly named "bucket", and are about 4-5 times the size of your usual drink. Way to kick off the night, eh?    
2. Have Dinner at Jok Toh Deaw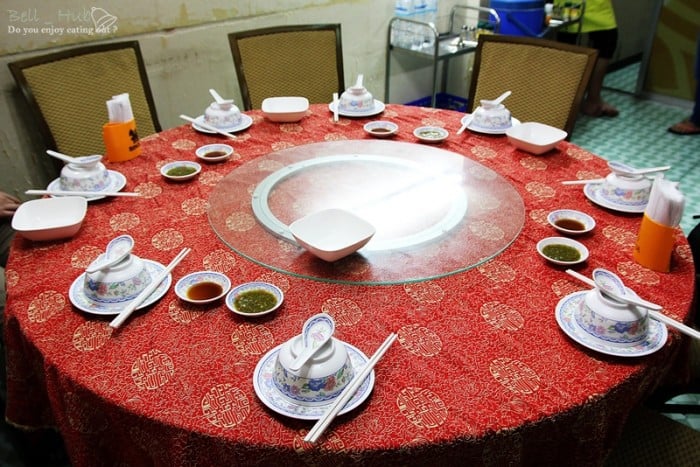 Image credit: Eating Adventure
What's so special about Jok Toh Deaw, you ask? Oh, nothing much, except that this unassuming Chinese restaurant in Chinatown only serves 1 table of 8 a day. Yep, you read it right – only 8 people get to eat here a day!
At a cool 10,000 baht per table, the chef sets the menu, and you either take it or leave it. The owner of the restaurant wanted this to be a place where diners can meet new people, enjoy great food, and engage in scintillating conversation—all in a wonderful night of laughter and merriment.  It's quite an idea, don't you think? If you ask me, I have no idea how the restaurant has managed to survive through the years. What I do know, though, is that to even set foot in the restaurant you might have to wait at least a month—the waiting list is just about that long. Start planning (way) ahead if you wish to secure a place!
3. Go on a Curated Food Tour in a Tuk-Tuk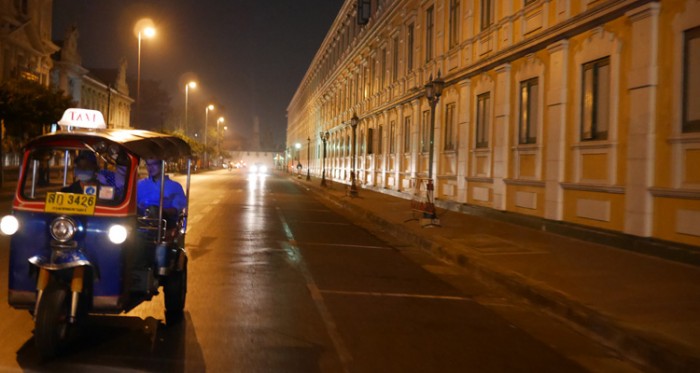 Image credit: Bangkok Food Tours
Are you a little 'sian' (bored) of all the "must-try" touristy eats so raved about by all your friends? I'm sure everyone has heard of (and seen, countless times, on Instagram) the Shibuya honey toasts, the roadside pad thai, and the coconut ice-cream. It's time to do something different and go on a carefully curated culinary adventure by Bangkok Food Tours! Locals will weave you on their trusty tuk-tuk sthrough and around the traffic and masses of people, bringing you to taste the town's best local favourites—pad thai, kao mun gai (chicken rice), mango sticky rice, etc. You'll also get to see the cooking process behind the delicious guay tiew kua gai (fried thick rice noodles with chicken), and have some beer at a secret dive, with purportedly one of the most fantastic views in Bangkok. Take lots of pictures as you whizz by iconic old-town landmarks or temples, and enjoy the different sights and perspectives that being in the back of a tuk-tuk accords you!
4. Enjoy a Massage by a Blind Masseuse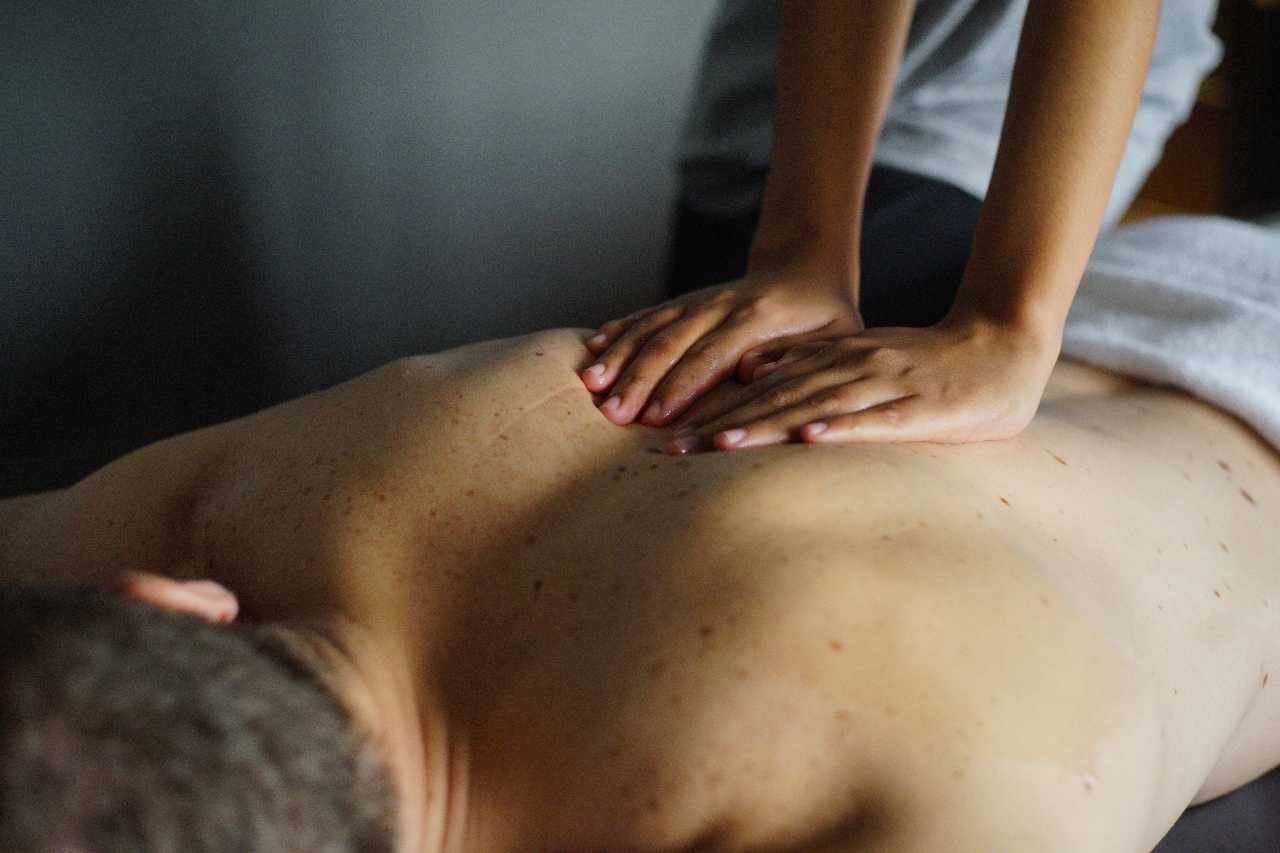 Image credit: Perception Blind Massage
Most of us also take the time out to enjoy a well-deserved massage while in Bangkok, because where else can you get a full body massage for a fraction of the price you'd have to pay in Singapore? Sweet! Instead of going to the parlour you often frequent, drop by any outlet that employs blind masseuses! You'd definitely enjoy your massage, seeing as how their sense of touch is heightened and incredibly attuned to your body's responses. Plus point: you'll be helping the less fortunate stand on their own two feet (or hands, in this case). Two birds, one stone. What's not to like?
A reminder: Do your research beforehand, and choose parlours which are more ethical – that is, that they pay living and fair wages to their employees; we wouldn't want them to be exploited! A good one to consider is Perception, which pays their therapists fair wages, and even provides them with accommodation.
5. Enjoy a Traditional Thai Puppet Show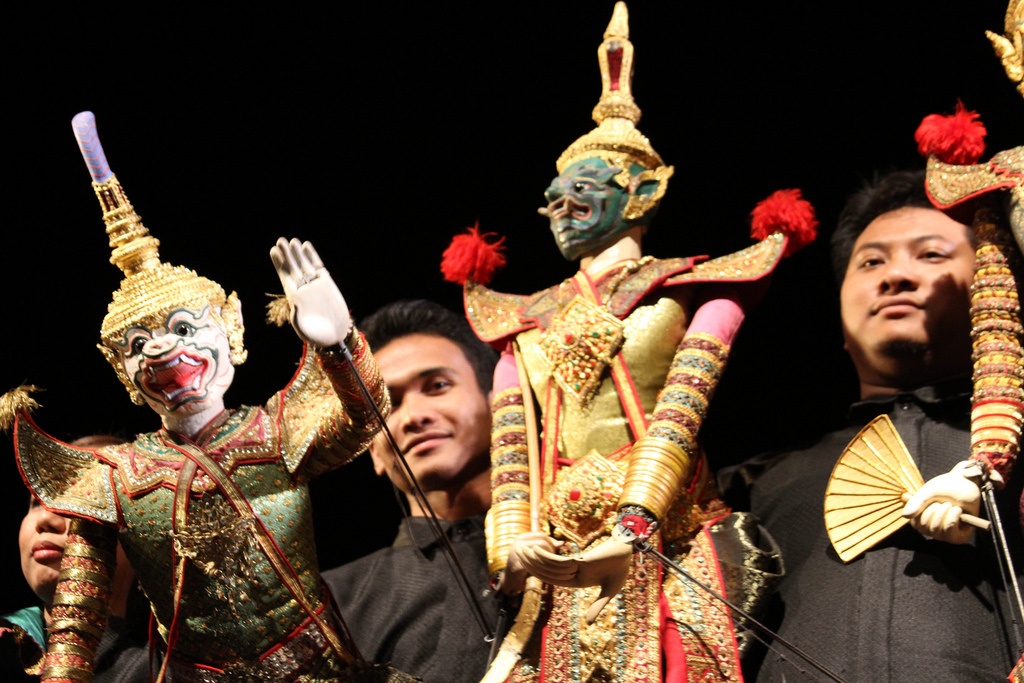 Image credit: Ryan Lackey
For some traditional cultural entertainment, pop over to the Aksra Puppet Theatre located near the Victory Monument in King Power Duty Free Complex. One of Bangkok's must-see attractions, puppeteers in full view of the audience jerk and pull on the strings of the beautiful meticulously-crafted puppets, bringing to life the characters of Thai folklore from yonder. Three puppeteers control 1 puppet, and together with stage direction and the elaborate set-up, the performances always wow and amaze their audience. Whether it is a traditional Thai martial arts scene or dances incorporating elements from all parts of Thailand, the experience is sure to be one you won't forget!
After the performance is over, walk through the Hall of Fame, where elaborate puppet displays and sandstone sculptures line the walls and ceiling of the palatial foyer. If you're hungry for a bite, you can always check out the international buffet offerings at the neighbouring Ramayana Restaurant!
6. Read the Afternoon Away at Min Buri Old Market Library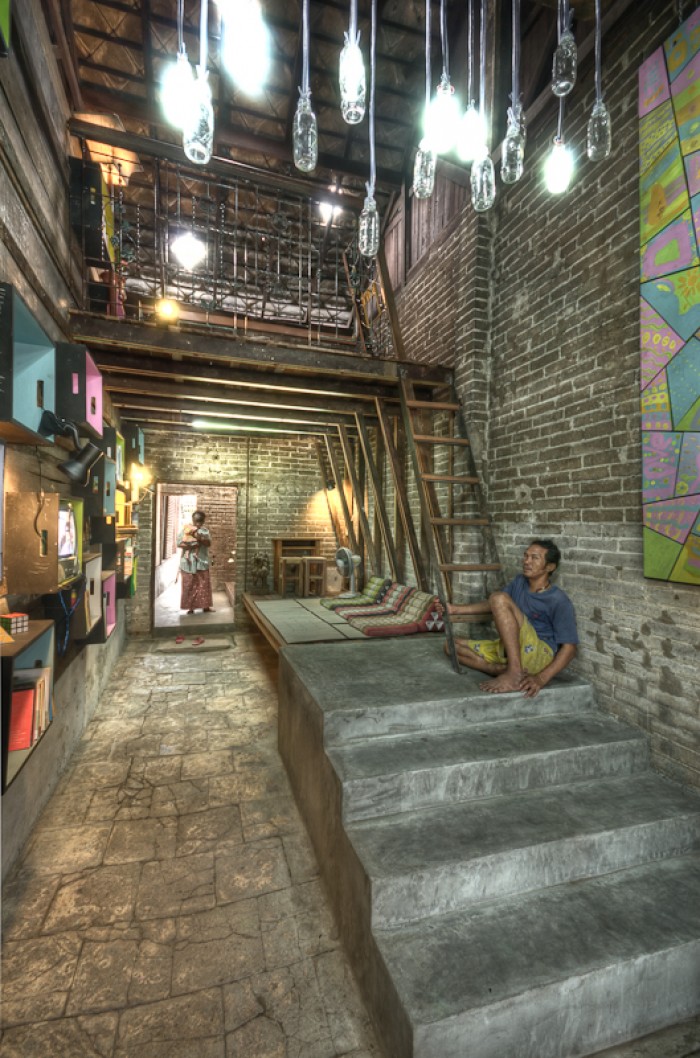 Image credit: Pasi Aalto
Get away from the hustle and bustle of Bangkok traffic, and rest your weary legs in a small library. Refurbished from a 100-year-old market building, the Min Buri Old Market Library is a pretty small library, with its interior measuring only 3 by 9 metres. A Norwegian non-profit organization, TYIN tegnestue collaborated with the community and used locally-sourced material to restore the building into a space for learning and reading, inspiring the slum-like area's residents to take charge of their own learning and betterment of their own fates. I imagine it'd be great to curl up in a nook of the cosy library, and read one of the book they have to offer, or better yet, chat with the locals and make a friend or two. Softly, of course!
7. Go Shopping at a Haunted House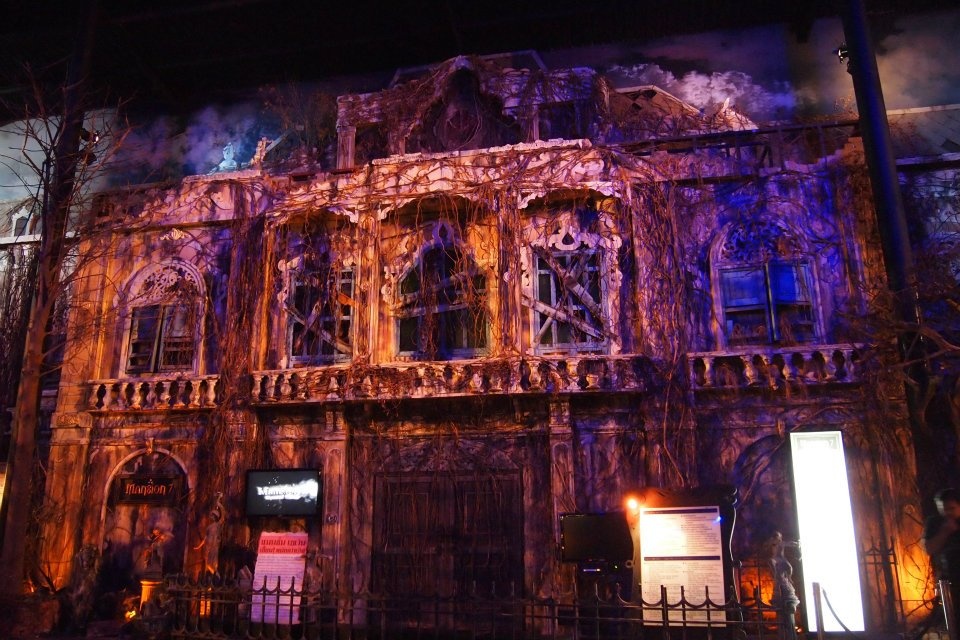 Image credit: Mansion7
Yes, I know, this article is supposed to be on things you can do when you don't want to shop. But give this (and me) a chance! You aren't going to experience this anywhere else! Except maybe on Halloween.
Okay no, I was kidding, the mall isn't actually haunted, it was just conceptualized and decorated that way. Mansion 7 is its name, and it comes with a dark legend of the death of the owner's daughter, and a "horrifying" shopping experience. The mall is open from 6pm onwards, although most shops don't open till later on in the evening to match its horror theme. The shops, restaurants, bars are also similarly themed, offering food such as blood type-matched som tam(papaya salad), black noodle pad thai and displaying decorations such as a child ghost in the gift shops! Add some creepy music, a blood red moon, and shrieks and screams of souls still trapped inside, and you get a mall that is every horror-lover's dream.
The horror does not stop there! There actually is a Haunted House within the complex, known as Dark Mansion Haunted Hotel, and you can go for the experience for a fee, so you don't even have to wait for Halloween. Visitors who've been in there say that it is truly scary and worth the 600THB (approx. SGD40)! And after the freaky experience, stop by at the few bars also located in the same mall. Calm your nerves, grab a drink, and chill out under the blood-red moon and haunting music.
I haven't been there myself, but to my horror-buff friends out there, why don't you take the plunge, and let me know if I should go scare my guts out? Go forth with courage, y'all!
8. Scale the Sathorn Unique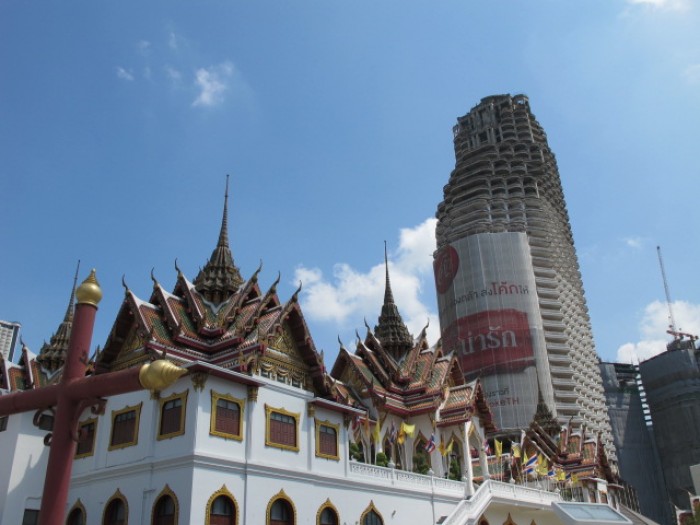 Image credit: john
Sathorn Unique, better known as the Ghost Tower to locals and tourists, is a 50-storey high building that was abandoned in the 1990s during the economic crisis. Once meant to be one of the most luxurious residences in Bangkok, it is now no more than a ginormous support for advertising banners.
It is believed that the building is haunted, and locals give it a wide berth. However, tourists do come here to scale the tower, either for the amazing views or to snag some serious bragging rights. As you do the vertical marathon, one sees all kinds of derelict ruins— bathtubs in the hallway, green sludge …the list goes on.
It's also a hard 30-minute hike up the floors, and no mean feat for those scared of heights. Persevere you dear souls, for once you reach the top, the views are phenomenal! Go in the late afternoon, so you can make it just in time to catch the sunset, and witness the golden rays of the sun wash the city of old and modern building in a soft orange light!
It also makes for very mysterious profile pictures, like this one: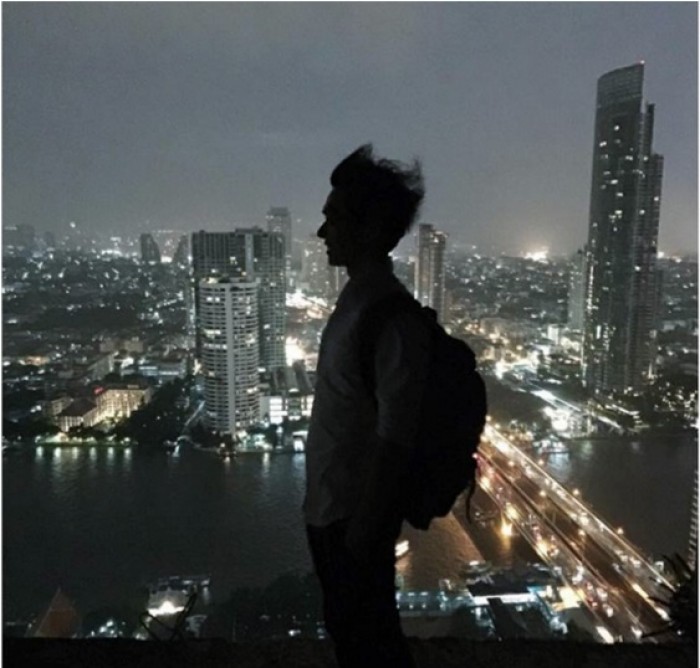 Disclaimer: Entering the grounds is illegal and dangerous. According to reports, the area has been closed off due to security and legal reasons. Entering the compounds will be at your own risk– don't say we didn't warn you!
9. Visit the Bangkok Corrections Museum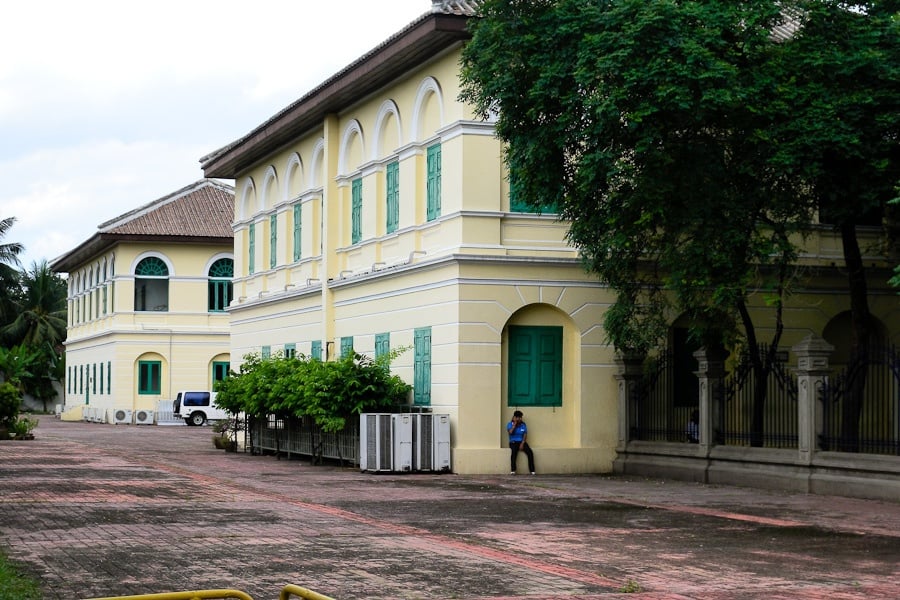 Image credit: Ian Fuller
Following in the vein of weird/freaky is the Bangkok Corrections Museum. Nah, it's not where students used to go to do their corrections of mistakes in their worksheets. The word "corrections" here is a nicer word for "torture". Gulp!
*Warning: Disturbing video below*
Located on the former site of a maximum security prison near the Chinatown area, the prison could hold up to 1000 inmates back in its active days. Today, it is a museum that showcases the various types of torture Thai inmates were subjected to over the many years, their lives in jail, and various execution methods. Human mannequins are used to illustrate how the torture devices and execution methods are used and carried out, resulting in a pretty gruesome, sobering experience. I'm talking about impaling of one's jaws, literally getting kicked about by elephants in a ball with sharp nails, or being forced to eat one's own flesh in a twisted self-cannibalistic execution manner. Eeeep. Definitely not for young kids and the faint-hearted!
There is no entry fee, though they do accept donations.
10. Learn about the Human Body at Siriraj Medical Museum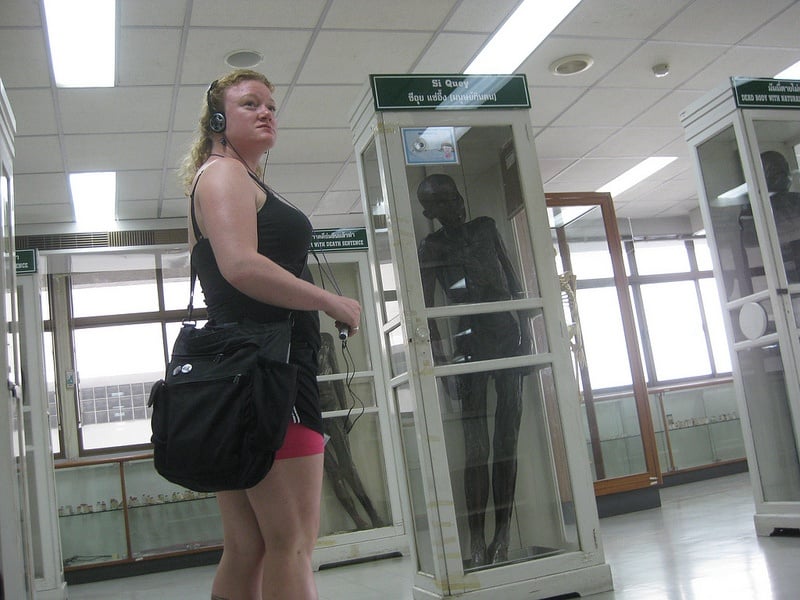 Image credit: David Hyatt
Nicknamed the Museum of Death, the Siriraj Medical Museum comprises 5 small medical museums—Pathological, Anatomical, Prehistoric, Parasitology, and Forensic Medicine—and is housed in the oldest hospital and medical school of Thailand. Not only is it open to medical students and schools for educational purposes, it is also open to the general public, making it one of the few places that allow open access to these specimens. So what can you expect to find here?
Well, besides the usual bones and preserved organs one might see in such a medical museum, this particular one has also preserved things like parasitic worms, pathological fetuses with congenital defects, and even a scrotum removed from a man afflicted with elephantiasis, a parasitic infection that causes extreme swelling!
The museum also includes the mummified corpse of modern Thailand's first known serial killer, who preyed on and ate children. His body is put on display to serve as a deterrent to others. *shudders* Not that most people would want to eat children, but y'know, just in case!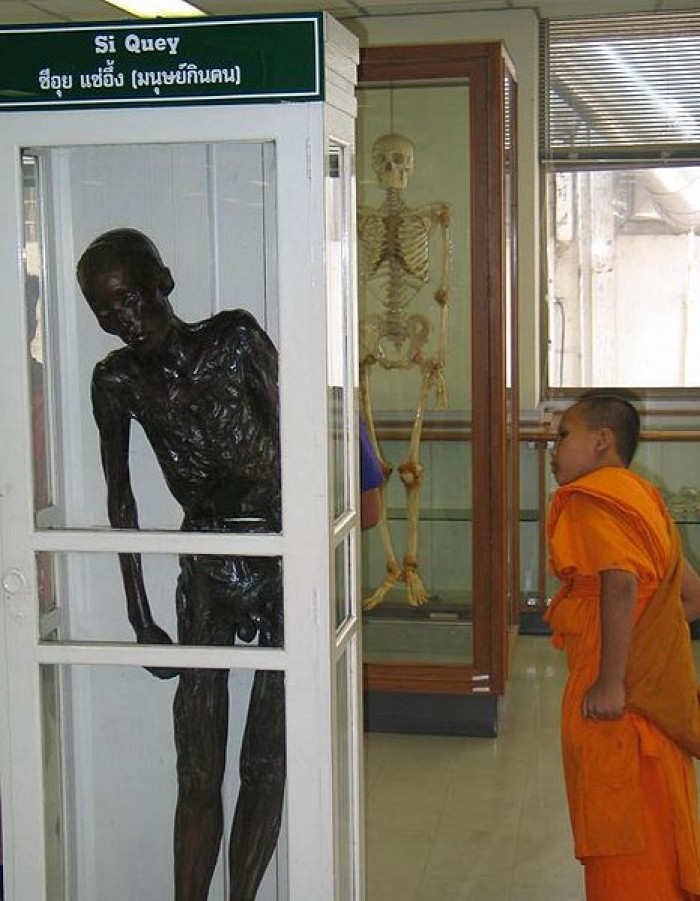 Image credit: Bobby
11. Take a turn about the Chao Mae Tuptim Shrine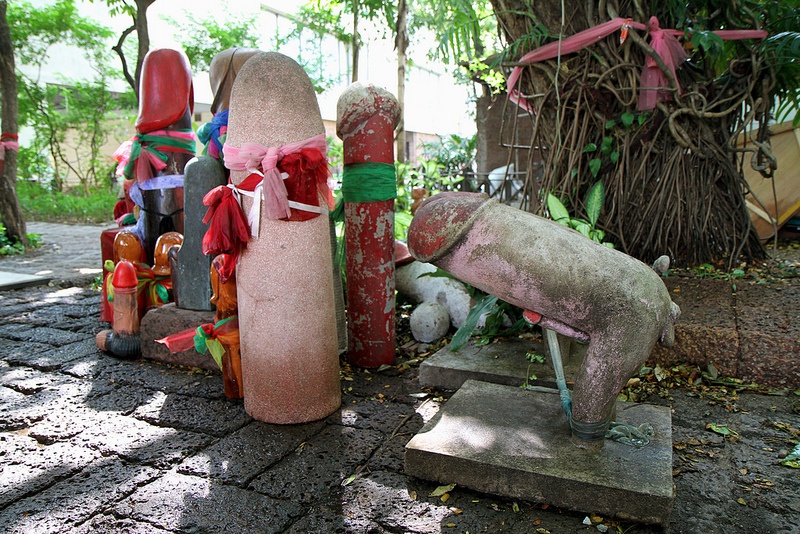 Image credit: Jason Eppink
Heads up all ladies and couples who've been trying hard for a baby, here is something you might want to consider! Tucked away under a tree in a corner of a carpark at Nai Lert Hotel is a shrine to the goddess Chao Mae Tuptim, whose name has been said to be derived from the Thai word for pomegranate(Taptim) and means fertility. Any guesses at what is offered?
Phalli. Also known as penises.
Goodness, of course they're not the real ones! Carved from stone or wood, some of them are taller than even an average human's height, while others, of varying sizes and colours, are placed around the shrine. These phallic carvings are offered to the goddess, along with other more conventional offerings like incense sticks, lotus and jasmine flowers. There's even one that measures 3 metres in height.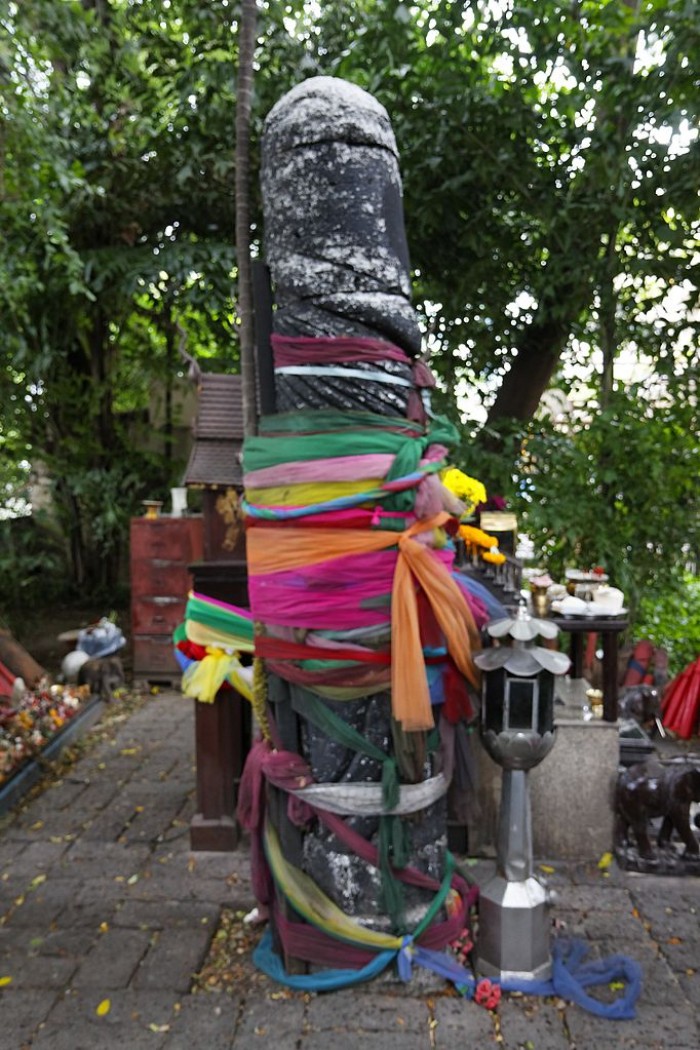 Image credit: Ddalbiez
It is said that many women hoping to get pregnant will leave a phallic offering here, and when they've succeeded in getting a baby they return to place another phallus carving. Judging from the number of phalli here, it looks like those women were pretty successful too!
12. Stay a night at the Bangkok Tree House
Or, if you're really into nature and all that, why not check into the Bangkok Tree House hotel? One of the few green hotels by the river in Bangkok, the 12-room Bangkok Tree House prides itself on being a eco-friendly establishment. They even have an A-Z green alphabet! To that effect, the hotel, located in Bang Krachao, Bangkok's green lung, is inaccessible by automobile. One can get to the hotel by boat, bike, or on foot.
Despite the inaccessibility, you don't have to worry that you'll be roughing it out, except for the occasional mosquito or two. The rooms, known as nests, are air-conditioned with modern toilet facilities, and there is Wi-Fi (Score! I knew you guys were just waiting for that). And speaking of those rooms, they're a sight to behold, and looking at pictures just makes me wish I were there right now.
I mean, you can literally sleep under the stars and wake up to birdsong:
Image credit: Bangkok Tree House
Or sleep on water: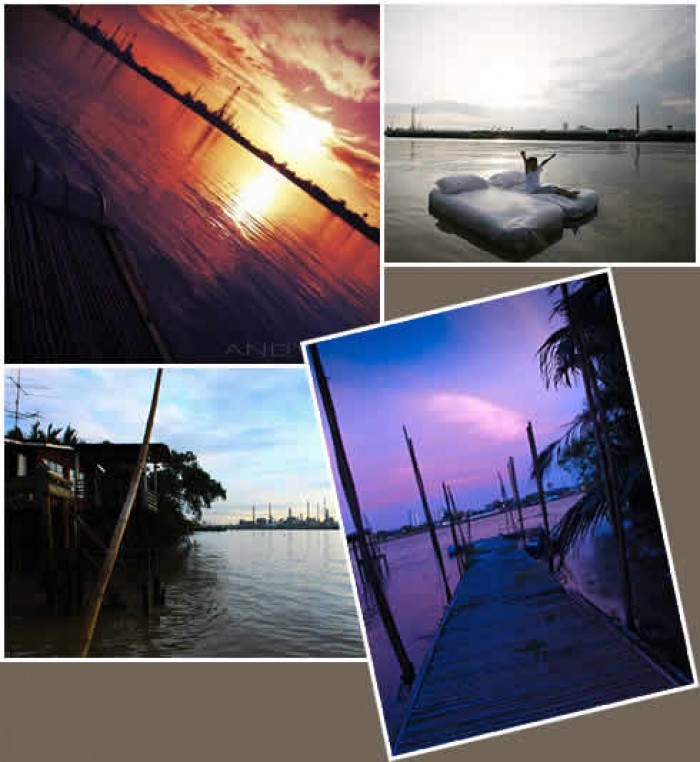 Image credit:Bangkok Tree House
Of course, they do have more conventional rooms with walls and a ceiling as well, and these rooms have private rooftops easily accessible via a staircase from your room.
In line with its green values, the hotel also promises to remove 1kg of trash from the Chao Phraya River for every booking made with them, and no plastic bottles are used on the premises. Eco-friendly, green, and amazing views to boot—what are you waiting for? Time to book those rooms!
Note: No smoking is allowed on the premises, so I'm sorry, those who can't do without their nicotine sticks will have to sit this one out.
Also read: The Bangkok Bucket List: 20 Challenges For Your Next Trip
So there you go—12 downright quirky experiences you can try out on your next visit to the City of Angels. Whether they're weird, cool or downright creepy, I sure hope there's something here for everyone! Which other quirky places have you stumbled upon in Bangkok? Let me know in the comments below!