Indonesia is a popular vacation destination that remains absolutely inviting to tourists all year round. Be it the white sandy beaches of Bali, the crystal clear blue waters of Bintan, or the interesting architecture and bustling city centre of Jakarta, the allure of this country is truly inexplicable. However, look beyond the idyllic beach paradise and financial heart of the country, and you will find a hidden gem that is often overlooked – the beautiful city of Yogyakarta!
Affectionately known as Jogja, Yogyakarta is located on the island of Java and can, in fact, be described as the cultural heart of Indonesia itself! It is well known for its traditional cultural landmarks such as temples, as well as its numerous mountains, forests and waterfalls where visitors can soak up the wonders of nature at every turn.
Sounds exciting, doesn't it? If you haven't been to Yogyakarta, worry not! Here's a list to get you started on what to see and do on your first trip, plus a fantastic deal to kickstart your adventure:
Book your flight to Yogyakarta with Expedia, and enjoy an
additional S$40 off flight+hotel packages
, or an
extra 10% off hotels
. What's more, AirAsia has a daily flight from Singapore to Yogyakarta – which means that your escapade can start literally
any day
of the week.
Craving for adventure?
*Terms and conditions apply.
1. Go temple hopping
There's no question about it – in Yogyakarta, visitors definitely have to include its stunning temples and temple ruins in their itinerary. Marvel at these architectural wonders, which evoke a certain sense of mystery and grandeur, and imagine the glory and splendour of their yesteryears. There are three to take special note of: Borobudur, Prambanan Temple, and Ratu Boko.
Borobudur
The Borobudur Temple is a stunning sight to behold. This 9th century Mahayana Buddhist Temple is the largest Buddhist Temple in the world, and is listed as a UNESCO World Heritage Site. It is thus little wonder that it is the most visited tourist site in Indonesia! This magnificent temple consists of stacked platforms, topped by a central dome and decorated with over 2,500 panels and 504 Buddha statues – 72 of which are used to encircle the central dome. Here, visitors can marvel at a fine example of traditional Javanese Buddhist architecture and Gupta art influences from India.
To avoid the crowds, opt for a sunrise tour, which will allow you to witness the magic of sunrise over the temple grounds shrouded in early morning mist – a simply astounding sight that will truly be etched in your memory forever.
Cost: IDR450,000 (~S$45.50) for non-Indonesian Adult
How to get there: Take a minibus as part of an organised morning tour, or hop onto a public bus at Jombor Bus Terminal that will bring you to Borobudur. The bus journey will last for approximately 60 to 90 minutes.
Prambanan Temple
Located not too far from Borobudur temple is another UNESCO World Heritage Site and temple – the Prambanan Temple, which is a 9th century Hindu temple dedicated to Hindu deities, Brahma, Vishnu and Shiva. The Prambanan is the largest Hindu temple site in Indonesia too! Stand in awe at the majestic, towering structures which resemble mini pagodas with their pointed design.
The style and architecture of the Prambanan Temple uses typical architectural designs with Hindu influences based on Vastu Shastra, which refers to a traditional Hindu style of architecture based on "science of architecture" theories from ancient India. The temple features include mandala temple plan arrangements and high towering spires. The entire temple was built to replicate the holy  mountain, Meru, which is believed to be the home of Shiva and the temple complex, to parallel the Hindu universe according to Hindu cosmology.
Come each evening from 7.30-9.30pm, go for a Ramayana Ballet performance which uses the Prambanan Temple as a captivating backdrop. Ramayana ballet is a traditional dance based on a Hindu epic of King Rama. The dance incorporates local Javanese culture, style and music so this performance is certainly a good way for one to experience the local arts culture. With over 200 professional dancers and musicians on the open air stage, watch the story of King Rama come to life before your very eyes in this enthralling performance! For performance schedules and ticket prices, click here.
Cost: IDR325,000 (~S$33) for non-Indonesian Adult
How to get there: Take the TransJogja bus service (no. 1A) from Malioboro Street directly to Prambanan. Alternatively, take a bus from the Ubulharjo bus station.
Ratu Boko
Although this isn't exactly a temple, another site that is still worth visiting is Ratu Boko, which is located on a plateau about a few kilometres south of the Prambanan temple complex. Locals named this archaeological site after King Boko, a legendary king from local folklore.
Its initial purpose still remains a mystery until today. Researchers first came to a conclusion that this site must have been a palace – due to the remains they excavated, which included stone pillars and other ornamented statues. After a Buddhist statue was unearthed, it was then thought to be a place with Buddhist influences. However, over the years, artefacts such as Hindu deities have been discovered as well. It was then converted to a defensive fortress used during various battles. Doesn't the site's multifaceted beauty simply make you want to visit? These magnificent ruins are definitely worth visiting! Do come here to catch the sunset behind the stone columns – it is truly an amazing sight.
Cost: IDR325,000 (~S$33) for non-Indonesian Adult
How to get there: Take the free shuttle service (that comes bundled with the combo entrance ticket) that runs between Prambanan and Ratu Boko.
The mornings are always best if you a) want a visit devoid of crowds and/or, b) prefer natural light for your photographs. Plan to stay somewhere near the temples to ensure that you're able to stake out that perfect sunrise spot! Book your flight to Yogyakarta with Expedia and enjoy:
Perfect for you to choose the accommodation that'd suit your travelling needs.
*Terms and conditions apply.
2. Hike up Mt. Merapi
Mount Merapi or Gunung Merapi is the most active volcano in Indonesia located on the border between Central Java and Yogyakarta. If you're up for an adventure, we recommend skipping the tourist crowds of sunrise at Borobudur, and taking it up a notch by watching the sunrise from the peak of lofty Mt. Merapi instead! Coupled with breathtaking and sublime scenic views, watch the early morning rays peek through and eventually spread across the horizon, emblazing everything in a soft yet fiery red and gold. This hike truly makes for quite the spiritual experience indeed!
Aside from that, you can also opt for the Merapi Lava tour which is a jeep tour to different areas such as the Museum Sisa Hartaku, translated to 'My Remaining Treasure Museum'. This museum showcases various artefacts related to the Merapi eruption in 2010. You'll also get to explore an old unused bunker! You can choose from short, medium or long routes for this tour; for a rough gauge, the short route tour ranges from 1.5-2 hours or so. Be sure to pack water, snacks, sunglasses and a sunhat – and you're all ready to go!
Cost: Differs with different tour guides, ~USD80/pax for 2 people (~S$109/pax)
How to get there: A tour is highly recommended for a hassle-free experience.
3. Hike to 'tree photo spots' at Kalibiru National Park
Whilst you're in Yogyakarta, set aside a day to take a day trip to Kalibiru National Park. Hike through the luscious green forests and marvel at the wonders of nature with every step you take. However, the best part of this National Park is not only the opportunity to enjoy nature but the other features along the trail that add excitement to your hike, such as ziplining, rappelling and hiking up to photo spots. The vantage point from a 'photo tree' or 'tree stage'  gives hikers a breathtaking view like no other. Plus, some of these are adorably shaped like little hearts!
Perched high above on a little platform, swing your legs off the edge and take in deep breaths as you marvel at the gorgeous panoramic view of the thick foliage, Menoreh Hills and Waduk Sermo (Sermo Dam) all stretched out before your eyes. Don't forget to bring your camera to snap some shots of this sweet view!
Cost: Entrance fee: IDR10,000 (~S$1.10); additional charges for adventure activities and photo spots from IDR10,000 to IDR35,000 (~S$1.10 to S$3.50)
How to get there: A popular option would be to hire a driver or a taxi for the day. Public transportation to the park otherwise involves multiple changes and multiple routes.
Sometimes we want all the adventure, sans the research. Trip planning can be a real headache! Well, we say save yourself all the trouble and book a Yogyakarta flight+hotel package with Expedia and
get an additional S$40 off
while you're at it.
AirAsia has daily flights to Yogyakarta, so there's nothing holding you back! What are you waiting for?
*Terms and conditions apply.
4. Race down Gumuk Pasir on your sandboard
Mention sand dunes and one would probably think of golden sandy stacks in the African Sahara or perhaps the Gobi Desert in Mongolia. But did you know that you can have just as much fun at the sand dunes called Gumuk Pasir right here in Yogyakarta? Yes, you read that right! Get your sandboards ready as you slide down the giant mounds of sand!
Don't worry if it's your first time because there'll be someone to guide you. The key to a smooth ride down is to apply some wax to the surface of your board before you go! There are also different 'routes' that you can sandboard down, so if you're not confident, just take the easy one on your first few tries. We also recommend going early in the morning or later in the evening when the sand isn't too hot. Make sure that you bring an extra shirt along as well since you will be covered in sand once you get to the bottom!
Cost: IDR90,000/hour for sandboard rental (~S$9.10), unlimited time ~IDR140,000 (~S$14.20)
How to get there: It's better to take a taxi or rent a car. From Yogyakarta, drive south toward Parangtritis until you reach the gate entrance of Parangtritis Beach. Instead of going through, take a right and turn left at Depok Beach. Go straight till you reach Gumuk Pasir.
5. Go underground cave tubing at Goa Pindul
Nature enthusiasts would definitely enjoy this one! If you love a good outdoor activity, then you should make a beeline to Goa Pindul caves, where you can go cave tubing. But wait! What is cave tubing, exactly? The idea is pretty straightforward actually – cave tubing involves touring a cave through riding a rubber tube down the water channels within the cave itself. Since the rivers running in the caves can come up to 15 metres deep, locals came up with a much more efficient, effortless (and fun!) way of exploring the cave via bobbing down the river course on these tubes! How's this for nature's lazy river?
On your cave tour, you'll get to come up close and personal with clusters of bats which reside within the caves, as well as get to examine gorgeous natural stalactite and stalagmite formations. Ticket fees are roughly priced at IDR45,000 (~SGD5) per person and this includes your helmet, rubber tube, life vest and rubber shoes plus an experienced cave tour guide who will help you navigate down the cave river! Don't worry, the waters are safe and so gentle, that even children are permitted to join in on this cave tubing experience!
We definitely recommend going in the morning at about 9-10am so the water is not too cold, and also to catch some rays of sun filtering through into the cave. This is definitely a spectacular sight and experience not to be missed!
Cost:  IDR45,000 (~SGD5)
How to get there: Transportation will be settled by your cave tour operators, who usually conduct a door-to-door pickup service.
6. Rappel down Jomblang Cave
If you'd like to take your nature adventures up a notch from cave tubing, then this is something you will look forward to! Descend into the bowels of the earth as you rappel down Jomblang Cave! Jomblang Cave is a vertical cave with a collapsed doline. This means that it was constructed from a geological process when the ruins formed a sinkhole, hence the cave has a wide mouth. This results in you being able to see the light spilling in from the bottom of the cave.
For this caving tour, the crew will guide you through the usage of rappelling equipment, as well as help you descend 60 metres off the cliff into the depths of the cave. When you reach the bottom, you'll witness the surprisingly calm serenity of darkness. Continue on your adventure by tracing the tunnels and other connecting caves, before emerging from Grubug Cave where you'll get to see and take photos under the 'light from heaven'! How enlightening is that?
Cost: IDR450,000 (~S$45.50)
How to get there: Transportation will be covered by the cave tour operators.
7. Hunt down bargains at Jalan Malioboro
For those who love shopping and basking in the local street market culture, head to Malioboro Road – Yogyakarta's major shopping street that is open round the clock. Here, you can browse for local trinkets, as well as handmade crafts like batik and jewellery and wares that you can take home as souvenirs for your friends and family. Be sure to look out for cheap deals and don't forget to put your haggling skills to good use!
Other than shopping for souvenirs, replenish your energy by sampling some local street snacks like kue putu (steamed rice flour cake with coconut and palm sugar) and onde-onde (a fried dough ball with green bean filling and rolled in sesame seeds), This is definitely the best place to try out different things at extremely affordable prices.
How to get there: Jalan Malioboro can be reached on foot from Stasiun Tugu (Tugu Railway Station).
8. Sample local cuisine
Finally, what better way to experience a foreign culture and lifestyle than through their cuisine? Ditch McDonald's and try out some of these mouthwatering local delicacies instead! These can be found in restaurants all around Yogyakarta, and sometimes even from street stalls along the roads.
Gudeg
Start your culinary journey with Gudeg, which is a traditional dish from Yogyakarta and Central Java. Gudeg is made from young unripe jackfruit that's been boiled for several hours in palm sugar and coconut milk. Spices like garlic, candlenut, galangal, teak and bay leaves are also added in order to give the dish more flavour and aroma, as well as to contribute to the reddish-brown tint of the dish. Gudeg is usually served with egg, chicken and rice to complete a local lunchtime meal.
Es Campur
Quench your thirst with Es Campur, which can be found at nearly every eating joint in Indonesia. From roadside vendors to humble pushcarts to restaurants – this icy cold and sweet dessert-like beverage is a definite favourite amongst the locals. Es Campur ingredients include grass jelly cubes, nata de coco, avocado, fermented cassava cubes, coconut milk, condensed milk, pandan syrup and shaved ice! Just think about slurping this up on a hot day… Ah, what could be better?
Nasi Pecel
Nasi Pecel is a Javanese rice dish where the main star ingredient is pecel, which consists of cooked vegetables and peanut sauce. Vegetables used are usually kangkong (water spinach), cassava leaves or long beans. It is also served with fried tempeh (a fried cake made of fermented soybeans) and rempeyek, a traditional Javanese cracker deep fried with other items like anchovies or peanuts. These side dishes and rice are used to mop up any leftover gravy when enjoying this delectable dish!
9. Channel your inner artist at Kedai Kebun Forum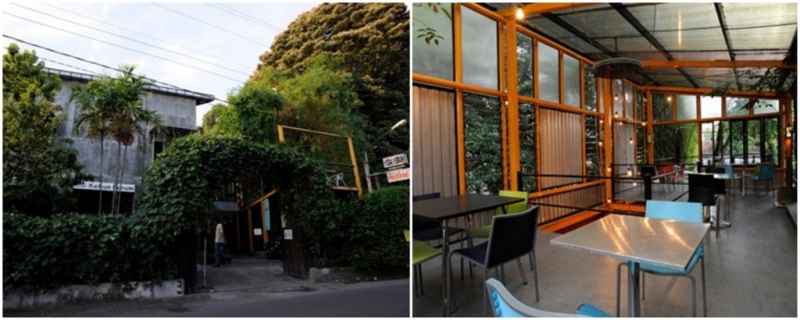 Strewn with temples, Jogja is often known for being the cultural gem of Indonesia. However, did you know that it is also the centre of a growing arts platform? To get a glimpse into this culture, head on over to Kedai Kebun Forum Art Space! Hidden behind an old banyan tree, minimalist fans will surely fall in love at first sight with the building's contemporary steel design and architecture. Step into art galleries and displays where you can enjoy local pieces or theatre performances. They even have film screenings as well! This place is the spot where budding artists and art lovers culminate, and has been endearingly termed as a prime social meeting place for Yogyakarta's enduring arts scene.
After you're done exploring, have tea or a light lunch at Kedai Kebun Restaurant, which is located at the building's veranda. Enjoy the botany on the restaurant's outdoor terrace which is situated by the art gallery and performance space. We can't think of a better place to have tea at where you can sit back, enjoy the good vibes and have a freshly brewed beverage along with a light salad or some traditional snacks!
P.S. It's also nearby the Monggo Chocolate factory, Yogyakarta's very own chocolate factory that sells uniquely flavoured chocolate bars such as chili, mango and nutmeg. These make for the perfect souvenirs to take back home.
Cost: FREE!
Address: Jl. Tirtodipuran No. 3, Yogyakarta, 55143
10. Take a rustic gondola ride at Timang Beach
You might not expect this to be on the list but that's exactly what sums up Jogja – a country with surprises around every corner. Timang Beach is a natural, white-sand beach located between Siung and Sundak beach. However, when you are here, don't just lie in the sun and frolic in the waves, but try out the famous beach gondola! This little cable cart is made of wood and attached to a rope pulley system, allowing guests to zoom across the choppy reef below.
Talk about pure exhilaration indeed! Brace yourself as you leave a cliff platform and have the wind whip your hair across your face, all whilst muffling your shouts of excitement (and perhaps, terror). In just a few seconds, you will reach the other platform – possibly drenched but definitely reeling from the wild ride! This is definitely an activity for the fearless at heart, but do take note that no insurance is covered for this ride. If this ride seems too daunting for you, you can also choose to walk across via the suspension bridge instead!
Feeling hungry after that adrenaline rush? Hop on over to the nearby Panjang island, where you can hunt for your own lunch at this lobster habitat.
Cost: IDR200,000 (~S$20.20)
How to get there: There is no public transport to the beach, so your best bet would be going on a day tour, hiring a local driver, or renting your own car/motorcycle.
So, there you have it – our ultimate list of things to see and do in Yogyakarta that'll guarantee you a smashing first visit. Besides satisfying both the nature lover and adrenaline junkie, a trip to Yogyakarta will also appeal to those who love to wander around historical monuments and landmarks. And with an additional S$40 off flight+hotel packages, as well as an additional 10% off hotels, when you book with Expedia, there's no better time to plan a trip. For more information, check out the My Great Escape campaign happening from now to 8 November 2017.
From temples and adventure activities to the picturesque splendour of nature, Yogyakarta is most definitely the place to be on your next holiday. Your next adventure starts NOW!
---
Brought to you by the Changi Airport Group.