When one dreams of a Balinese vacation, they will usually imagine themselves laying on the sands of a pristine beach on Nusa Penida or roaming through the picturesque paddy fields of Ubud. Little did they know that they can add soaking in a hot spring to their list of dream scenarios in Bali!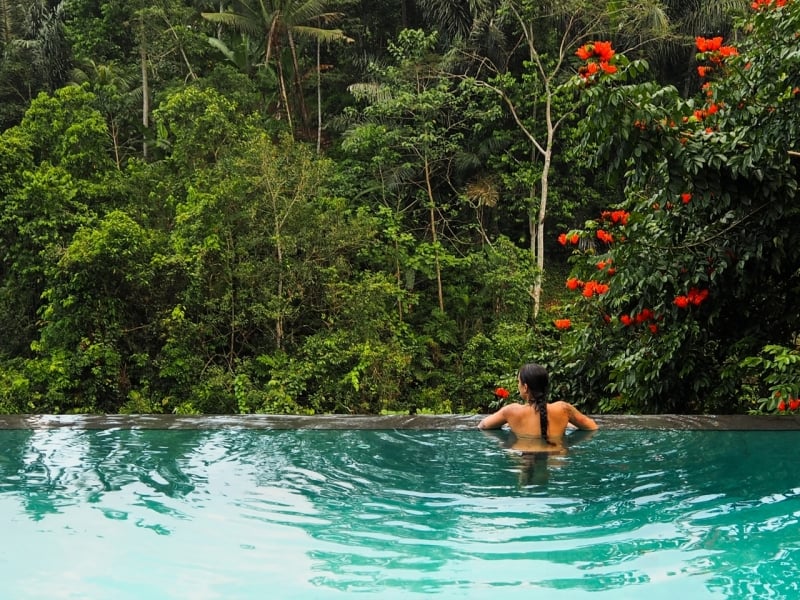 If you would like to make your dreams a reality, here are the top seven hot springs in Bali you've got to check out:
1. Batur Natural Hot Springs
Nestled in between two of Bali's famed volcanoes – Mount Agung and Mount Batur – Lake Batur offers breathtaking mountainous views anywhere you look. Put a hot spring next to the gorgeous body of water and you get a winning formula for total relaxation. Rejuvenate your senses at one of the many mineral pools at Batur Natural Hot Springs. The entrance fee even includes drinks, lockers, showers and towel for a hassle-free time.
Address: Toya Bungkah, Kintamani, Bangli
Opening hours: 7am – 7pm daily
Entrance fees: IDR150,000 (~SGD14.30)
2. Toya Devasya Hot Springs
Also located on the edge of Lake Batur, Toya Devasya Hot Springs brings you an all-encompassing hot spring experience. Being a full-fledged resort, opt to stay here for a couple of days where you can enjoy other facilities such as lodging and restaurants. You can look forward to a relaxing dip in the natural hot springs after a whole day of hiking, canoeing or cycling.
Address: Toya Devasya Natural Hot Spring & Camping Resort, Jalan Puri Bening (STA), Toya Bungkah, Kintamani, Bali, Indonesia 80652
Opening hours: 7am – 7pm daily
Entrance fees: IDR300,000 (~SGD28.60)
3. Penatahan Hot Springs
Known as Yeh Panes or Air Panas Penatahan by the locals, Penatahan Hot Springs is also close to a body of water. Instead of a lake, this set of hot springs are adjacent to the Yeh Ho river and are fed from the water which flows from Mount Batukara. With waters high in minerals and sulfuric content, the locals swear by its healing properties!
Address: Penatahan Village, Penebel, Tabanan, Bali
Opening hours: 7am – 7pm daily
Entrance fees: IDR10,000 (~SGD0.95)
4. Angseri Hot Springs
For those who crave to wash your troubles away in total isolation, Angseri Hot Springs is your best bet. Drift into your happy place at one of the private hot springs surrounded by beautiful rice paddies. When your assigned time is up, take a dip into the milky green public pools fringed with lush vegetation and a waterfall. Since Angseri Hot Springs is secluded, you might even have the public baths to yourself!
Address: Desa Angseri, Kecamatan Baturiti, Tabanan
Opening hours: Weekdays: 8.30am – 6pm, Weekends: 8am – 8pm
Entrance fees: From IDR10,000 (~SGD0.95)
5. Banyuwedang Hot Springs
Most visitors never consider venturing to the west side of Bali. One reason why you should head to the western parts of Bali is the Banyuwedang Hot Springs. With stunning views over the bay of West Bali National Park and the verdant backdrop of the mangrove forest, you're getting the best scenes of both the land and sea. Other than the views, the sulfuric waters known for its therapeutic properties will revitalise even the most tired souls.
Address: Jalan Raya Singaraja-Gilimanuk, Pejarakan, Gerokgak, Buleleng
Opening hours: 8am – 6pm daily
Entrance fees: IDR25,000 (~SGD2.40)
6. Belulang Hot Springs
Since the pools are fed from water heated deep within the Earth, the water temperature of Belulang Hot Springs can reach up to 40 degrees Celsius – some of the hottest spring water temperatures in Bali! Although the water has high sulfuric content, the usual sulfur smell can hardly be detected. The locals usually use these waters to cleanse themselves before visiting the nearby temple.
Address: Belulang Hot Springs, Desa, Mengesta, Penebel, Kabupaten Tabanan, Bali 82152, Indonesia
Entrance fees: IDR10,000 (~SGD0.95)
7. Banjar Hot Springs
The list wouldn't be complete without mentioning the most popular hot springs in Bali – Banjar Hot Springs! Surrounded by jungle-clad slopes dotted with exotic tropical flowers and water spilling out from the mouths of intricate stone-carved dragons, it's no wonder why both locals and tourists keep coming back to this spot. The spring water, with 26% sulfur content, is said to be perfect for healing skin diseases and other ailments.
Address: Jalan Banjar, Banjar district, Buleleng, North Bali
Opening hours: 8.30am – 5.30pm daily
Entrance fees: IDR20,000 (~SGD1.90)
In need of a long overdue break? Stop dreaming and head down to the Island of the Gods for some divine pampering at one of these seven hot springs soon!