Contributed by The Travel Debugger

Travelling to Korea for the first time last year was a dream come true for me and my wife. It was an experience that we will never forget. So good that we already booked our next flight to Korea December this year to experience Snow!
Many of us think that we need loads of money to travel in Korea. That is not entirely true because you can travel Korea on a budget. On our trip, we spent a total of PHP 22,649.82 including airfare and accommodation (but excluding shopping and souvenirs) per pax for 6 days. For me, this figure is just okay. It's not that high, but not that low either. This figure can definitely be lowered by following the tips I listed below. Just note that some of the items listed below are things we have done and would have done if given the chance again just to lower our expenses.
Also read: A Filipino Traveller's Guide to Visiting Korea for the First Time
Read on for the tips!
1. Airfare
Based on my observation these past few months, the airline that offers the cheapest rate from Manila to Incheon is AirAsia especially during promos. On our trip last September, we got round trip tickets at PHP 7,203 all-in (base fare at PHP 5,638 plus seat reservation fee, processing fee, baggage allowance) per pax. But on our future second trip, I booked a round trip flight at PHP 5,560 all-in (base fare PHP 4,340) which is cheaper than our first flight. However, they don't have direct flights to Busan. So if Busan is part of your Itinerary, then you can try Cebu Pacific if they have promos. In any case, you can just go by train from Seoul to Busan.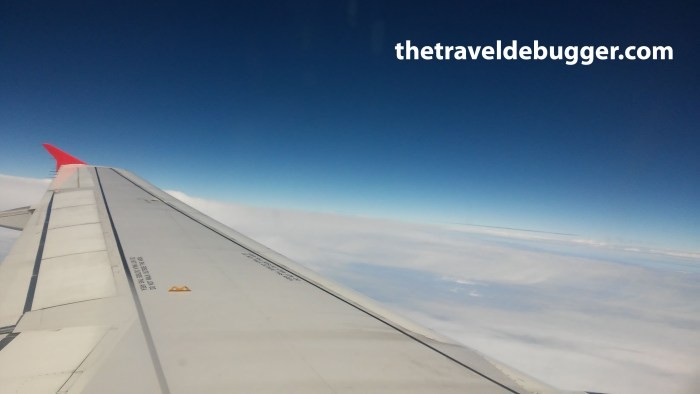 Aboard the Air Asia flight to Incheon
2. Accommodations
No need to book a posh hotel in Korea unless you really want to. But for budget travellers like us, a Hostel is fine (read our review of Zaza Backpacker's Hostel here). We initially planned to book in Airbnb (a much cheaper alternative) but since it was the height of the Mers-cov disease in Korea, we opted not to (better safe than sorry). Of course, there are other options like couch surfing, house-sitting, staying in relatives (if you have one in the host country) or staying at hostel dorms, but it all depends on your comfort level. For us, we wanted a little bit of privacy so we booked a private room with own toilet and bath.
Tip: You would need a multi-voltage travel adapter in Korea as their outlet has two round holes. Instead of buying one, you can just borrow one from your hotel/hostel. More details here.
Also read: Hip Luxury Hostels in Seoul under SGD 30
3. Get discount coupons
Before your flight to Korea, make sure that you've printed some of the promotions and discount coupons they offer to foreign nationals. Below are some of the links where you can print out these coupons. On our last trip we used discount coupons on entrance fees to Korean Folk Village and Petite France. We also didn't pay any rental fee on the pocket wifi. Here are some of the links. Enjoy!
Tip: In Myeongdong, there are lots of stores that give you freebies by just entering their establishment! So even if you are just window shopping, you can take a basket with a freebie in it.
4. Get T-Money or Seoul City Pass Plus
The T-Money is a transportation card used to pay for fares in subways, taxis, buses and even at convenience stores. When using T-money, the public transportation fare is KRW 100 cheaper than when paying in cash. The card costs KRW 2,500 but you can refund the remaining balance for a fee of KRW 500.
If you're going to take the Seoul City Tour bus to go Palace Hopping and Lotte World, then you must get the Seoul City Pass Plus card to avail some discounts. Its use is similar to the T-Money card, but offers discounts on some select attractions in Seoul. The card costs KRW 3000.
Tips: In Seoul, you usually don't need a taxi. All places are accessible by train and bus but be prepared to walk a little bit. Wear comfortable shoes.
If going to/from Incheon airport to downtown Seoul and you're taking the Airport Railroad Express, a good option for budget travellers (and not in a bit of a hurry) is to take the all-stop train. The all stop train only cost KRW 4,250 while the express train cost KRW 14,800. The time difference is not that much also as the all stop train travels at 56 minutes while the express is 43 minutes.
Also read: How to Travel Korea on a Budget
5. Sharing is caring
If you're travelling with someone, especially someone close to you and you're in a really tight budget, then consider sharing food between yourselves. Some dishes in Korea are good for two. Just check that some restaurants/eateries in Korea don't allow food sharing but most of them allow this.
For budget conscious travellers, it's also a good idea to bring some food with you in Korea like breads or canned goods. But of course, don't bring a lot as you have to enjoy their food too.
Also check if your hostel has free breakfast even if it's just bread or coffee. You can ask them if you can take some with you outside especially if you are touring early in the morning and have no time to eat in the hostel.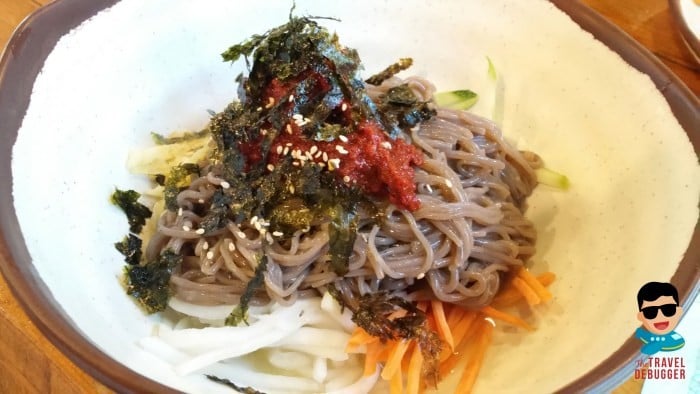 Cold Buckwheat Noodles for KRW 6,000 
6. Food is cheaper in non-touristy areas
Myeongdong is a tourist hub so prices of food there cost higher than other areas. If budget is a concern, walk a little bit away from the tourist spots and check if there are small eateries or street food there where locals eat. We found that university areas like Hongdae is cheaper.
You can check our Seoul Food Trip here.
Our review of Meat-ing BBQ Buffet restaurant in Hongdae here.
7. Palace hopping
If you will go Palace hopping i.e. to Gyeongbokgung, Changdeokgung (including Huwon Secret Garden), Changgyeonggung, Deoksugung, and Jongmyo, then it's better to get the Integrated pass that costs KRW 10,000 as opposed to buying the tickets individually which will cost you a total of KRW 14,000.
We didn't avail this since we only went to Gyeongbokgung Palace.
Click here for more details regarding the Integrated Pass.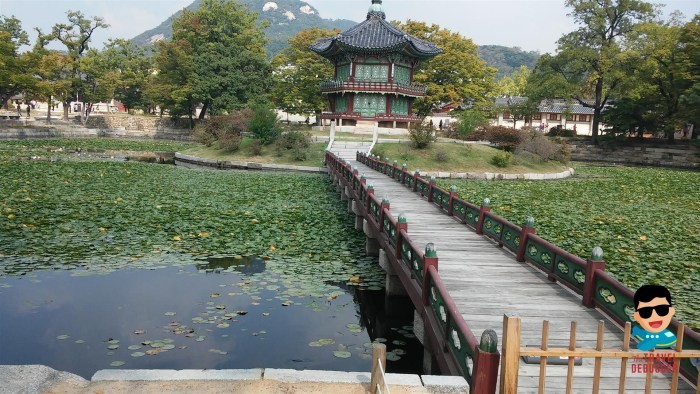 Hwangwonjeong Pavilion
Also read: Summer in Korea: Fantastic Things to Do During this Special Season
8. Go museum hopping
There are several museums in Korea that are not only awesome; they have free admissions too like the National Museum of Korea and War Memorial of Korea. Trust me, it's enlightening.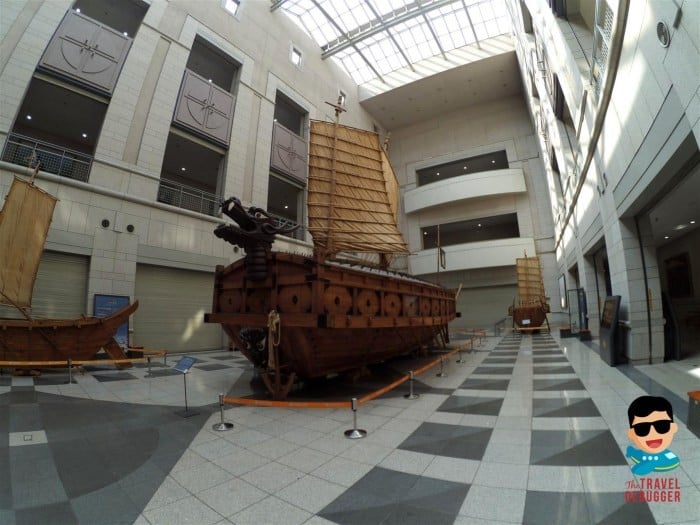 Admiral Yi Sun-Shin's Turtle Ship
9. Try the Hanbok dress for free!
There are spots in Seoul where you can fit Korea's traditional costume for free. In our case, we tried it in the vicinity of Gwanghwamun square.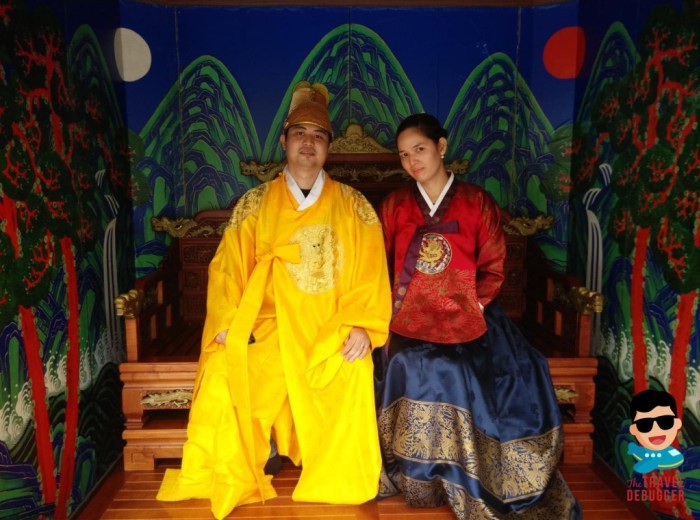 Hanbok Fitting Experience at Gwanghwamun Square
Some other places to try it for free:
Also read: 24 Fun Things to Do in Seoul on Your Very First Visit
10. Tips on shopping
You can find cheap clothes at Dongdaemun and Namdaemun market. We scored some tees there for KRW 2,000 only. You can find women's accessories and fashionable clothes at Ewha and Sinchon area. There are also cheap accessories and cosmetics in Myeongdong and in subways.
Shop shop shop… while me, I look look look for a chair.
For electronics, you can try Yongsan Electronics Market, though we didn't go there.
Lotte Mart is great for buying grocery items and food souvenirs.
Tip: If you're a guy like me and you are with your wife or girlfriend, always look for a chair or a coffee shop. Yes, shopping may take a while… hang in there my friend.
Also read: 12 Must-Buy Food Items from Korea's LOTTE Mart
11. The map is your best friend
It's a pain in the ass to get lost much more so to your wallets. So it's always better if you bring a map with you or download an offline map or just get connected to an online navigator app.
12. Buy some KRW and USD in your country
It's better to be prepared. In the Philippines, BDO has some good PHP-KRW rates but I think you have to be an account holder and exchange it in your branch of account (that's what they told us and that's what we did). But don't change your entire travel fund to KRW, and buy some USD too.
Also read: 3-Day Seoul Itinerary: What to See & Do
That's it! Hope this helps you in any way.