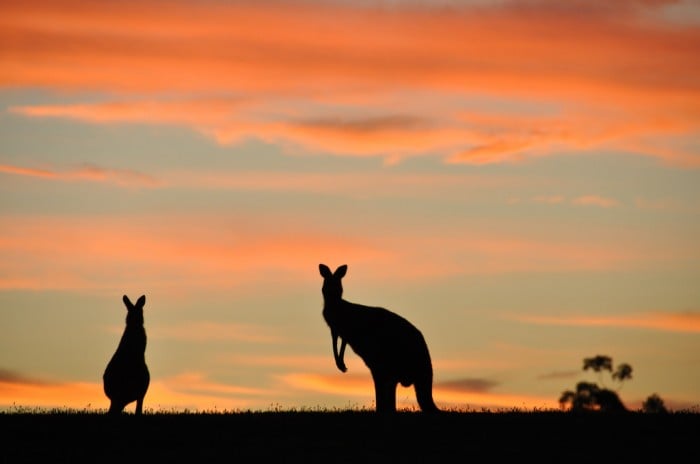 Image credit : Alan Samuel
Dandenong Ranges is a complete package of Australia's soil – from its native flora and fauna to the country's aboriginal connection, the ranges have multiple awe-inspiring attractions that continue to fascinate both locals and foreigners regardless of how many times they have driven down.
Also read: 3 Reasons to Visit Melbourne's Dandenong Ranges
Here's our pick of 10 attractions in the Dandenong Ranges, but we reckon you need more than a day's visit for sure!
1. SkyHigh Mt Dandenong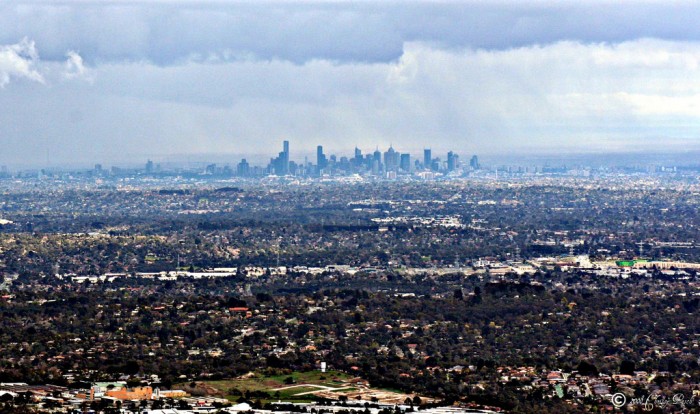 Image credit: Chrissy Downunder
If you're thinking of a good family outing while in Dandenong, or simply would like to capture the beauty of the Dandenong Ranges, it is best to kick-start your trip at SkyHigh!
At a height of 633 metres above sea level, you can catch the panoramic view from Port Phillip Bay and the You Yang Ridges to Mount Blackwood and Mount Macedon. You can also see fringes of Melbourne city set against the Brisbane ranges. Just hope the clouds don't descend to block your view, but nevertheless, the view is still spectacular. And if you are keen on witnessing a brightly lit version of this panorama, you can come after dusk!
But SkyHigh Mt Dandenong isn't only about the view! They are other activities to keep you busy. This includes an amazing SkyHigh Maze, which even adults can enjoy! The maze has four secret areas and every corner surprises visitors with beautiful sculptures and illusions, and even butterflies. But in fact, the maze is a horticultural beauty, immaculately maintained and well organised with Lilly Pilly as its main hedges. There are also climbers such as the native Wonga vine and climbing rose, Pierre de Ronsard. If you complete the maze – make sure you stamp your passports along the way as you discover all four secrets – you can become a SkyHigh maze master! Now that's a souvenir to keep!
Apart from the maze, there's the Giant's Chair, World Fountain, Australiana Tree and Percy Possum's House to admire, but do not leave without taking a stroll at the English Garden. From its sweeping lawns and canopy of Australian Blackwoods to its majestic variety of flowering shrubs and perennials, the garden boasts peace and tranquillity, and also loads of photo opportunities! There is also a gazebo at the far end of the garden set against a backdrop of roses, azaleas and liriopes.
Entry to the area is $6 per car!
2. Puffing Billy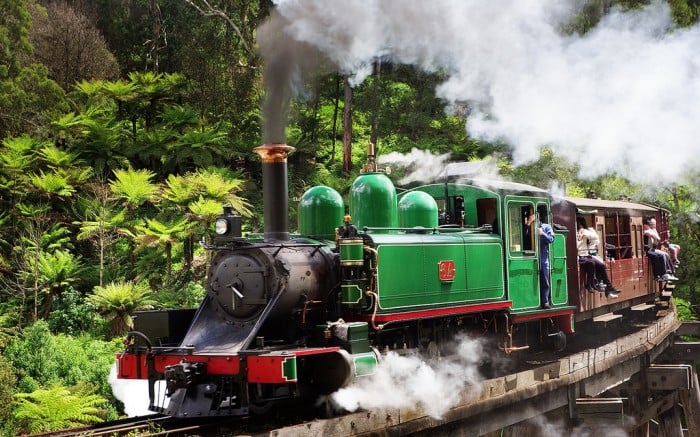 Image credit: ccdoh1
One of the finely preserved steam railways in the world, Puffing Billy is a century-old steam train that chugs along its original track – the 25-kilometre mountain trail from Belgrave to Gembrook. Its open sided carriages allow passengers to dangle their legs over and catch the stunning views of the beautiful forests and gullies of the ranges the train passes through. While there are first class options with fully enclosed dining carriages, the Puffing Billy experience is incomplete without taking in the spectacular sceneries of the surroundings, especially so if this is your first time on a steam train.
Image credit: michaelgreenhill
A few must-see landscapes: the stunning Sherbrooke Forest that is filled with native Mountain Ash trees, the tallest flowering hardwood in the world; the Trestle Bridge that is 12.8 metres high; the extensive view of Port Phillip Bay as the train approaches Menzies Creek; Lakeside situated in Emerald Lake that is not only great for family picnics but just to take in the picturesque view of the landscape; the Wright Forest that boasts tall and large strands of Stringy Bark and other eucalypt trees.
There are also themed night trains such as Murder on the Puffing Billy Express and Rhythm and Blues on Puffing Billy, among many others. Fares vary between children and adults, but there are family packages available!
3. Olinda Falls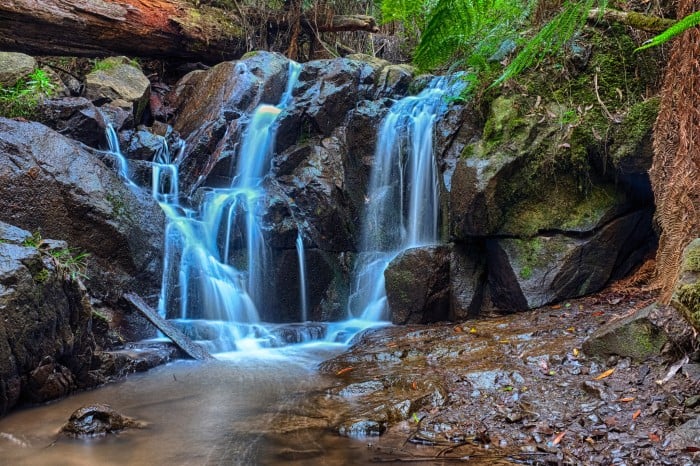 Image credit: r reeve
Located in Olinda Reserve, Olinda Falls may not be massive, but it is pretty enough to add to your experience at the Dandenong Ranges. The walk from Olinda Falls carpark (or the picnic ground) takes about 10–15 minutes, where after about 300 metres, you are given the option to visit the upper or lower falls viewing platforms. While the lower falls gives you the tranquil view of the falls, the upper platform will allow you to take in the natural landscapes all around the area.
And if you are lucky, you might spot a wallaby or a lyrebird!
4. Sherbrooke Falls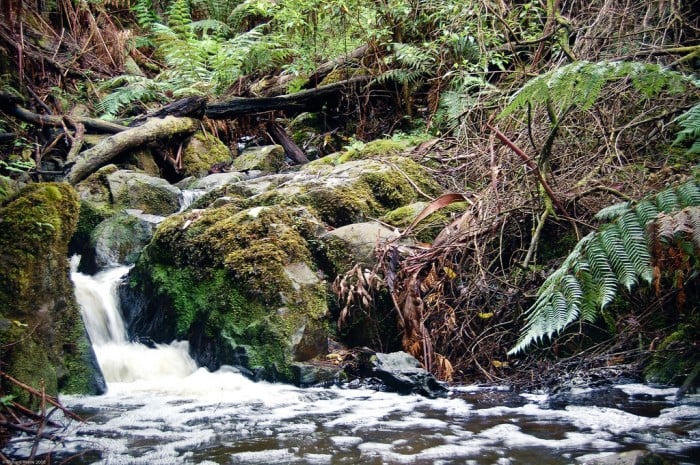 Image credit: r reeve
Another beautiful waterfall to catch is the Sherbrooke Falls, which is slightly larger than the one in Olinda, but is considered to be a renowned oasis amid the green landscape of the ranges. The walk to the falls begins at Sherbrooke Picnic Ground, and the path boasts mind-blowing sceneries of mother nature, including neat rows of the region's finest sassafras, and mountain ash trees. Apart from its flora, which can be up to 200 years old, you will be able to spot some beautiful fauna, such as the suburb lyrebird and the blue-winged parrot.
5. Cardinia Reservoir Park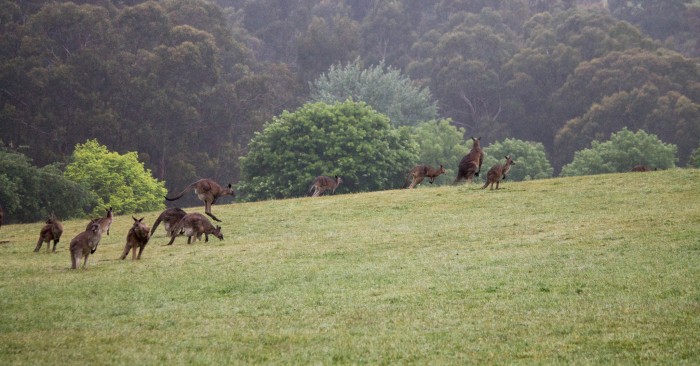 Image credit: Alan Samuel
Image credit: Chris Samuel
If you're thinking of having a relaxing family picnic on some grassland amid picturesque sceneries, and also don't mind some kangaroo friends, head to Cardinia Reservoir Park! Previously a water supply dam, the azure blue reservoir is massive. Catching the breath-taking view of the sunset at the reservoir viewing area will definitely be memorable.
There is a lot of space to lay your picnic mats in the park which also doubles up as kangaroo viewing area, so don't be surprised to see many people strolling around and snapping pictures of the cute animals. These kangaroos are wild and only come out to the park after sunset. They tend to hop away quickly when you come increasingly close. But do be careful if you are driving! They hop across the roads with no care at all, and they love to stop and stare at your gleaming high beam.
6. Grants Picnic Ground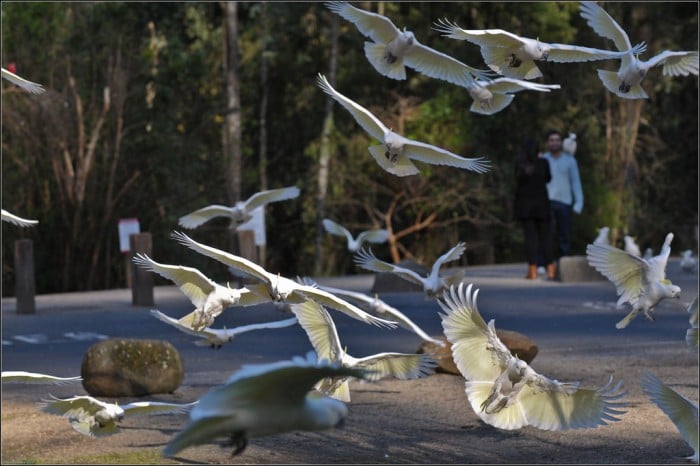 Image credit: r reeve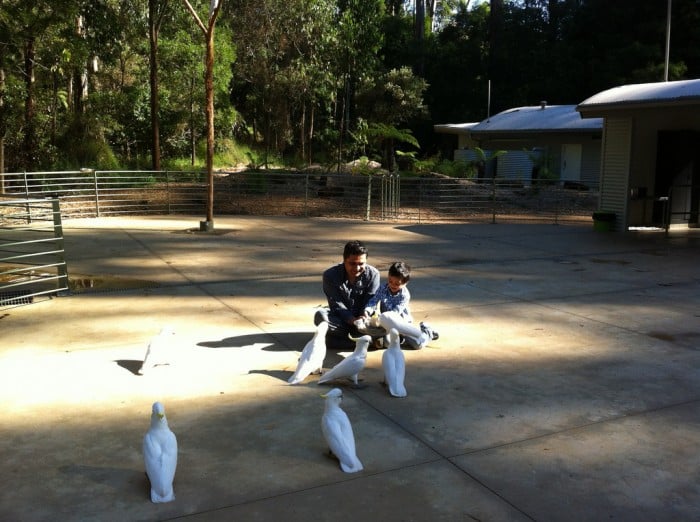 Image credit: Brian Yap
The Grants Picnic Ground is also a great picnic destination, also with some cute animals but this time, they don't hop. Instead, they fly. We're talking about cockatoos, rosellas and galahs that may just rest on your picnic table while you eat.
But if you're keen on feeding the birds, this is the best place to head down to! In fact, Grants on Sherbrooke, as the place is otherwise called since it is located in Sherbrooke Forest, is popularly known for its bird-feeding activities. In order to get into the feeding area that is enclosed with waist-tall railings, you will need to purchase a token at $11. This token includes a stainless-steel plate and seeds.
And behold! In less than two minutes, white cockatoos will be grabbing onto your plate, helping themselves to their snack. Some even land on your shoulders and arms. Beware of their claws scratching your skin!
7. National Rhododendron Gardens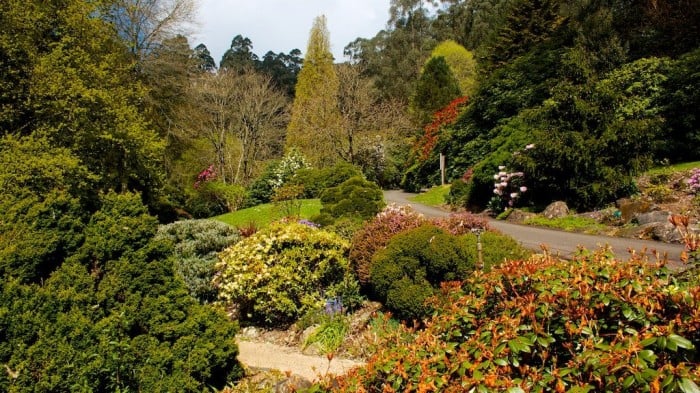 Image credit : Rene Cunningham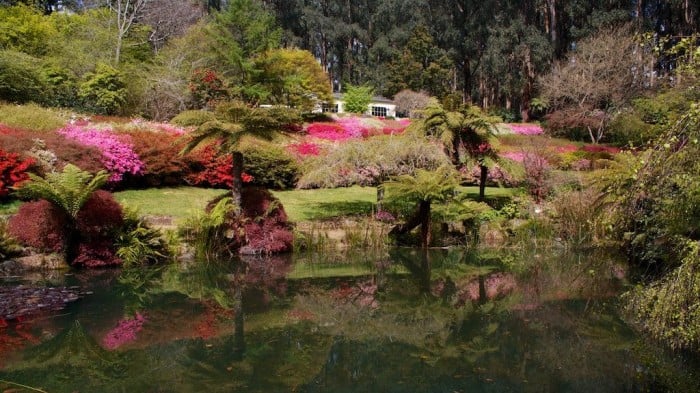 Image credit : Rene Cunningham
Proudly regarded as a horticultural jewel of the ranges, the National Rhododendron Gardens is charming, beautiful and memorable. It houses 15,000 rhododendrons spanning across an estimate of 550 species, and on top of the national collection of the rhododendrons, the garden is also home to 12,000 azaleas, 3,000 camellias, 250,000 daffodils, lupins, golden wattles, laburnums, proteas and cherry trees.
The Japanese Sakura can also be found in the garden. The Cherry Tree Grove brings the most revered Japanese Spring Festival to Melbourne in September each year – you don't even need to travel down to Japan! But this is just part of a larger wonder that awaits you at the National Rhododendron Gardens, and thank god no dollar has been tagged to witness such beauty!
8. Emerald Lake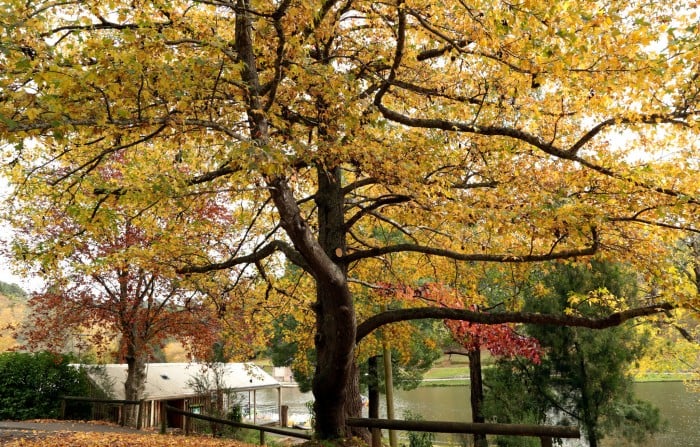 Image credit: Kim Wallis
Between Cockatoo and Belgrave lies the magnificent Emerald Lake, which you will also be able to catch while on the Puffing Billy steam train. If you're walking around on foot, there are numerous scenic attractions to capture as you trail along the walking tracks. There is huge picnic space with barbeque facilities and great playgrounds for your children. The outdoor activities are amazing too – you can choose to fish or enjoy paddle boat rides!
The Environment Centre is also a great place to visit if you're interested to know more about the flora and fauna in the park, and there is a live aquatic display installed as well!
Apart from that, the town of Emerald itself has many features such as a library, gift shops and cafes.
9. Williams Ricketts Sanctuary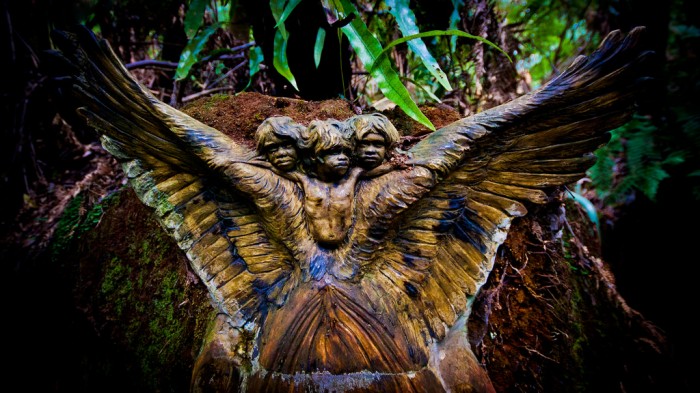 Image credit: Fernando de Sousa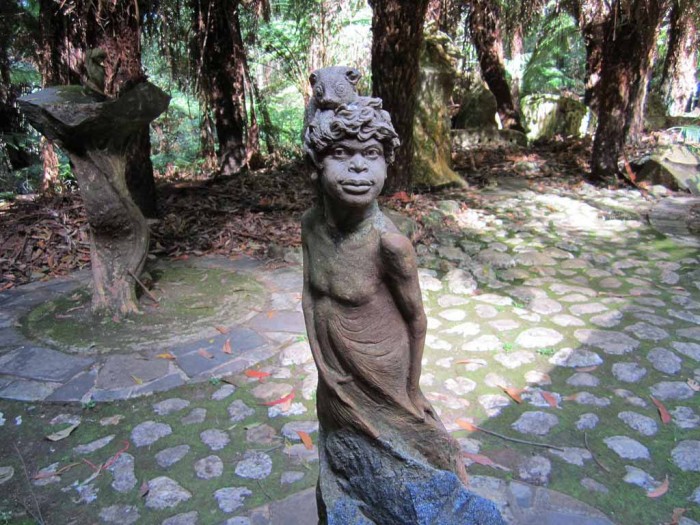 Image credit: Jupiter Firelyte
One of the most inspiring and tranquil places of the ranges, the Williams Ricketts Sanctuary is the brainchild of a famous explorer William Ricketts who had spent many years living with aboriginal people in central Australia. His purpose was to enact a place for quiet reflection and to replenish the spirit of the aboriginal connection in Australia. He believed immensely in the aboriginal philosophies, which most importantly emphasised the respect for mother earth and all things in the natural world.
Among the 92 major clay sculptures found in the sanctuary that depict how the aboriginal people engaged with earth in the pure forest setting, Ricketts also portrayed his feelings for the misappropriation of the natural environment at the hands of man.
The beautiful sanctuary is indeed worth a visit for a weekend getaway or day trip, and is free to enter.
Also read: Whirlwind Side Trips from Melbourne You Won't Regret Taking
10. 1000 Steps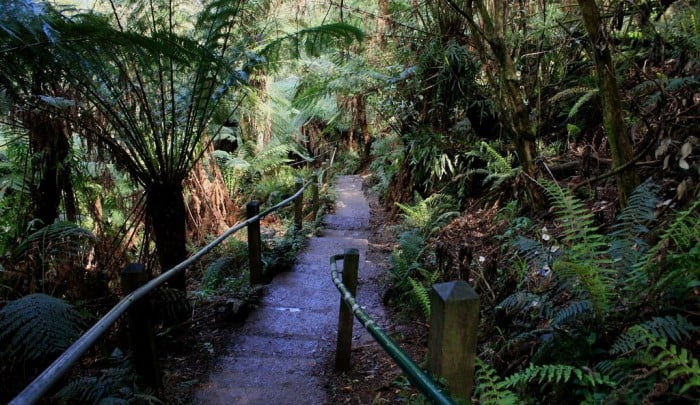 Image credit : Solo Roamer
As its name suggests, the highlight of this place is indeed its 1000 steps. But there is a little history behind it. Otherwise named as the Kokoda Track Memorial Walk, 1000 Steps was created in early 1900s as a memorial to 625 Australian soldiers who were killed on the real Kokoda track in Papua New Guinea during World War II, and was named as the "Golden Staircase" by the soldiers themselves.
You will need moderate physical fitness for this one as trudging up the 1000 steps is far from a piece of cake. The steps had been originally created using trunks of tree ferns along the wetter areas of the track but they have now been replaced by a safe combination of wooden steps and concrete overtime to keep the track functional during all weathers.
Make sure to be well attired – you need good shoes for this one, and don't forget to carry plenty of drinking water along!
Did we miss something impressive in the Dandenong Ranges? Please share with us – our thirst for wonder is endless!