Are you a traveller looking for a taste of Korea outside of the main cities? Look no further! The K-shuttle is a tour bus that offers a convenient way for you to journey through Korea and discover exciting destinations along the way.
Is the K-shuttle for you?
The K-shuttle is for travellers who would like a comfortable and hassle-free way to travel around the country. It brings them into the countryside without a need for rental cars or intercity buses. There is also no need to plan an itinerary, book accommodations or worry about getting lost. On top of that, a multilingual guide will be around to provide historical bites and be of assistance whenever needed.
In my opinion, the K-shuttle is especially suited for those visiting Korea for the first time and looking to experience some of the best attractions scattered around the country. It is also great for travellers that have never travelled outside of Korea's main cities like Seoul and Busan but would like an easy way to do so.
On my first visit to Korea, I had the opportunity to experience the K-shuttle tour first hand. I was invited to hop aboard their Western Course, and the three days I spent touring Korea on the K-shuttle was truly memorable. This comprehensive guide will cover all you need to know about the K-shuttle, from the routes and pricing to what you can expect on the tour.
Routes and pricing
Route: Circuit Course (KS401)
Duration: 5 days
Price: USD 599
Departure: Sundays & Fridays
Route: Seoul – Gongju – Buyeo – Jeonju – Gwangju (overnight) – Suncheon – Yeosu (overnight) – Jinju – Busan – Gyeongju (overnight) – Andong – Wonju (overnight) – Pyeongchang – Seoraksan – Seoul
Route: Western Course (KS201)
Duration: 3 days
Price: USD 399
Departure: Sundays & Fridays
Route: Seoul – Gongju – Buyeo – Jeonju – Gwangju (overnight) – Suncheon – Yeosu (overnight) – Busan
Route: Eastern Course (KS203)
Duration: 3 days
Price: USD 399
Departure: Tuesdays & Sundays
Route: Busan – Gyeongju (overnight) – Andong – Wonju (overnight) – Pyeongchang – Seoraksan – Seoul
What the package covers
This price covers transportation, tour guide, hotel accommodations (twin sharing), breakfast and admission fees to these attractions:
Tomb of King Muryeong

Gongsanseong Fortress
Buso Fortress
Goransa Temple
Gudeurae Cruise
Gwangju City Museum
Boseong Green Tea Plantation
Suncheon Ecological Park
Jinju Castle
Bulguksa
Andong Hanoe Village
Shinheungsa Temple
Extra costs
The K-shuttle tour price does not include lunch and dinner, nor does it include travel insurance. Also, it does not cover attractions not mentioned in the list above.
There is a peak season surcharge of USD 100 for KS401 and USD 50 for KS201 and KS203 for these departure dates:
10 July to 31 August

9 October
25 December
For a single room, there is a USD 70 (USD 80 during peak season) surcharge.
Attractions and activities
The K-shuttle brings travellers to a mixture of natural, cultural and historical attractions for a wholesome Korean experience. K-shuttle tours do not include shopping destinations. Here are some of the attractions I visited during my K-shuttle Western Course tour:
Tomb of King Muryeong, Gongju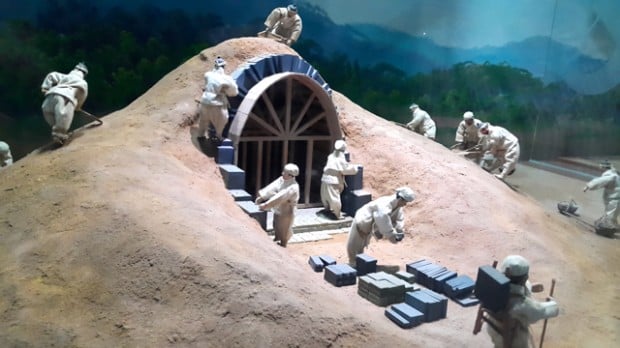 King Muryeong was the ruler of the Baekje Kingdom from 501 to 523. The accidental discovery of his tomb was a remarkable archaeological event, and it provided insights into life during the Baekje era. This site was recently inscribed as a World Heritage Site.
Gongsanseong Fortress, Gongju
The Gongsanseong Fortress, a castle atop a mountain, was built during the Baekje era and is another World Heritage Site. I thoroughly enjoyed the walk along the perimeter of the fortress, which provided scenic views over the city of Gongju.
Baekje Cultural Land, Buyeo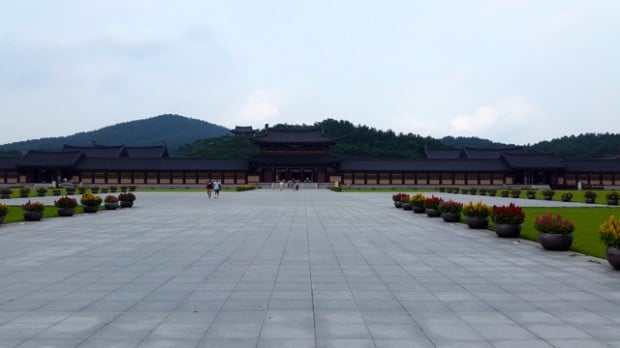 Not only is Baekje Cultural Land picturesque and a heaven for photography enthusiasts, it also displays the brilliance of the Baekje nation. Palaces, temples and pagodas can be found spread over a huge area, and visitors will walk out with a deeper appreciation of Korea's rich history.
Jeonju Hanok VIllage, Jeonju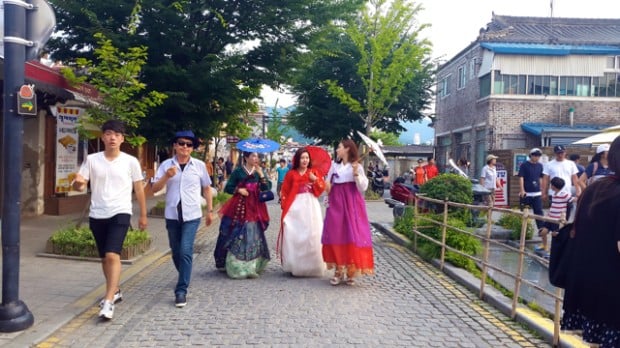 The Jeonju Hanok Village, which boasts hundreds of pretty traditional Hanok Houses, is one of my favourite destinations on the K-shuttle tour. Along the main stretch of road and beyond it, you can find a plethora of restaurants, teahouses and shops. Indulge in delicious street food while sightseeing, and keep a lookout for pretty Korean ladies donned in traditional costumes!
Boseong Green Tea Plantation, Boseong
While the stopover at the Boseong Green Tea Plantation was short, it was a truly enjoyable one. After devouring a cup of green tea ice cream, I took a walk along the plantation and took in the magnificent scenery.
May 18th National Cemetery, Gwangju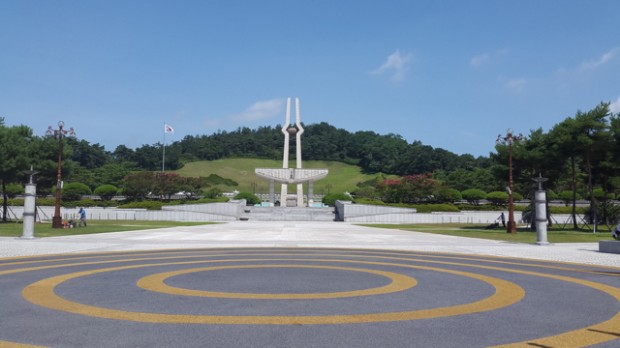 18 May 1980 is the peak of the Gwangju Democratisation Movement. On this day, pro-democracy students came into conflict with the military army in front of the gate of Chonnam National University. How do I know this? I watched an intriguing short film at this site, and I was moved by the persistence and bravery of the Gwangju community.
Suncheon Bay Garden Expo, Suncheon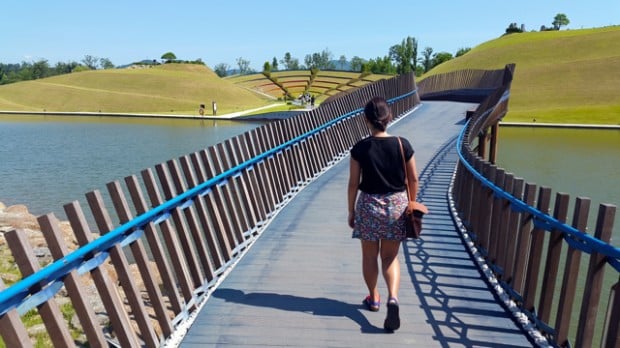 Yet another one of my favourite destinations on the K-shuttle tour, the Suncheon Bay Garden Expo is incredibly charming and a lovely place for a stroll. Photo opportunities abound, and I could have spent days exploring all the themed gardens, from Japanese and Thai to Turkish and German!
Jagalchi Market, Busan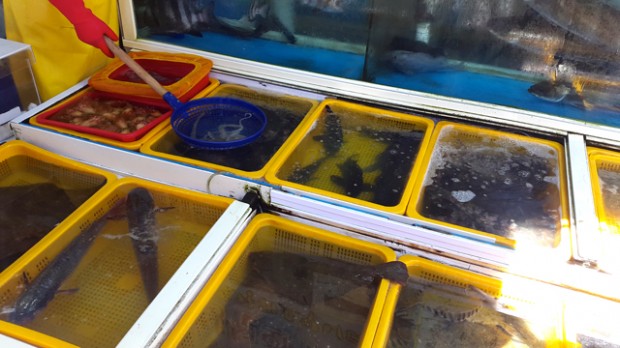 Jagalchi Market is Korea's biggest seafood market, and it is a must-visit for everyone in Busan. Take your pick of live seafood from the tank and have it on your dinner plate just a few minutes later!
What to expect on the K-shuttle tour
Comfortable bus
The size of the bus you'll be travelling on depends on the size of the tour group. While the K-shuttle website displays a 36-seater limousine coach, my group of 14 (including the driver and tour guide) travelled on a mini-bus instead. I have no complaints about the bus, as it was sufficiently comfortable!
Excellent tour guide
My excellent tour guide, Justin, was one of the reasons I had such an enjoyable time on the K-shuttle tour. He is eloquent, knowledgeable, funny and jam-packed with random talents, such as drawing cartoons, reading tarot cards (albeit with questionable accuracy) and singing the national anthem of various countries.
If required, the K-shuttle also offers interpreters who speak Chinese, Japanese or Russian.
Multinational group
The K-shuttle only accepts foreigners on their tour, and you can expect to mix and mingle with travellers from all around the globe. My group was comprised of a mix of travellers from New Zealand, Australia, Portugal and Singapore. The tour was very conducive for bonding, and the group felt like a temporary family.
At the end of the tour, Justin shared his work of art with us. How cute is this?! Thanks, Justin!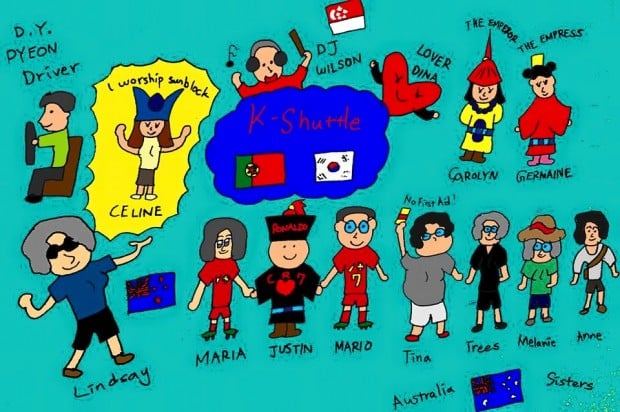 Flexible guided tour
Even though the K-shuttle is a guided tour, it is not a very rigid one, and to some extent, my guide allowed the group to determine the time we wanted to spend at the attractions. We also had different choices when it came to meals. On top of that, the "history lessons" came in digestible snippets, and we could always wander off and explore the attractions on our own rather than following the guide. This makes the K-shuttle quite appealing even to those (like me) who are usually averse to the idea of guided tours.
Comfortable hotel stay
My Western Route tour had two overnight stops, one in Gwangju and one in Suncheon, and I stayed in the Holiday Inn Gwangju (4 stars) and Sport Tourist Hotel Yusimcheon (3.5 stars). A point to note is that my second overnight stop was not in Yeosu, as stated in the itinerary, but Suncheon, and this is probably because it was peak holiday season and most hotels were fully booked.
The hotel stay definitely exceeded my expectations – the check-in was fast, the rooms were specious and high-speed Wi-Fi was available.
Additional information
Bus departure
The K-shuttle meeting point in Seoul is the parking lot next to Donghwa Duty Free Shop. The meeting time is 8 am, and the bus will depart at 8.30 am. Look out for your tour guide who will be holding a "K-shuttle" sign.
Getting there: Gwanghwamun Station, Seoul subway line 5, Exit 6.
Reservations and refunds
Reservations for the K-shuttle are required at least one week before departure. No tours run on Korea's Lunar New Year and Thanksgiving holidays. For cancellations at least one week before the departure date, a 90% refund is available.
Travelling with a child
Infants (under 24 months) can travel for free. Children (3 to 5 years old) who require an extra bed will be charged the adult price, and those without the extra bed will be charged 80% of the adult price. In the case where one adult and one child will be travelling together, the child will be charged the adult price.
How to book
You can book online at the K-shuttle website and make payment via credit card or real-time bank transfer.
This trip was made possible by Korea Tourism Organisation (Singapore Office).