No, not the Bandung drink! Bandung is a city in Indonesia, set amid volcanoes and tea plantations. Bandung is located about 770 metres above sea level, which makes it relatively cooler than other Indonesian cities – good news for those who cannot live without air-con. I was there in December, during its wet season and temperatures were between 22 to 28 degree celsius.
So yes, if Bandung is on your list, here things you definitely must do on your first visit.
1. Go on an outlet shopping spree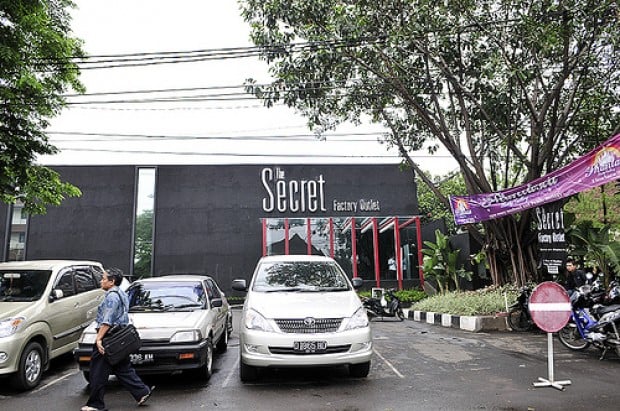 Image credit: Irwandy Mazwir
Bandung is well known for its outlet shopping for both women and men! Even Indonesians from neighbouring cities such as Jakarta, would flock to Bandung during the weekends to do their shopping. If you have started your research, you would have realised that you are spoilt for choice. To help you limit your choices, you may want to visit the more popular ones such as Rumah Mode Factory Outlet, The Secret Factory Outlet, Glow Factory Outlet and Heritage The Factory Outlet.
2. See the distinct blue waters of Kawah Putih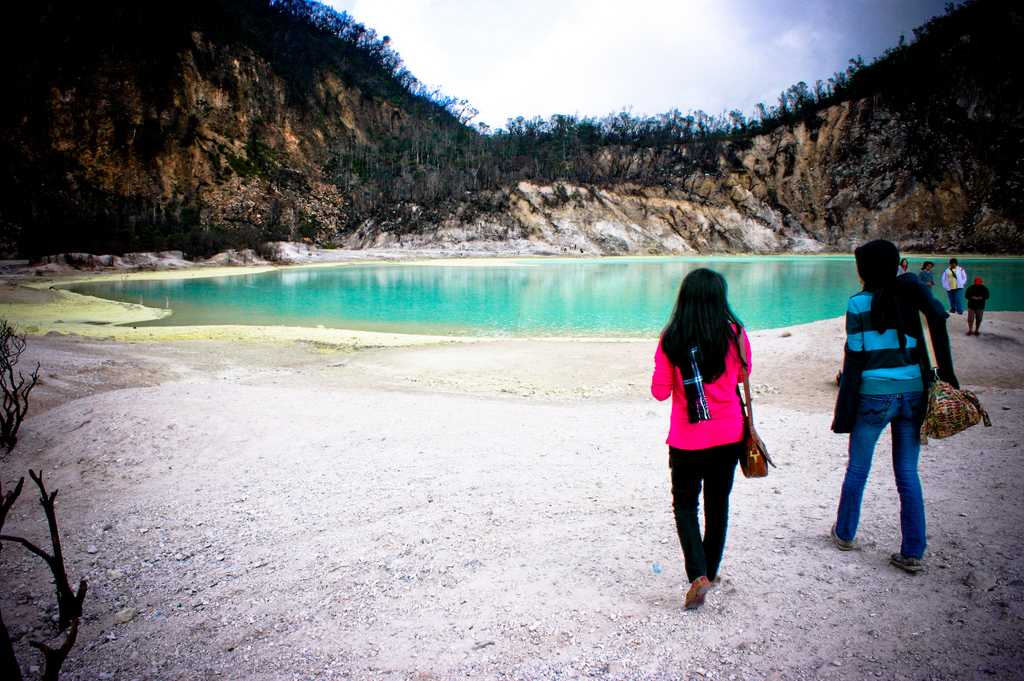 Image credit: Daniel Giovanni
Kawah Putih is a volcanic crater lake. With its distinctively blue waters and coupled with the smell of  sulphur, it is no wonder this lake is a beauty. If you are lucky, a white mist may serve as a backdrop in your photographs. A word caution here – the smell of sulphur is strong, so please try to avoid staying too long . Otherwise, please have a mask ready in your backpack.
3. Drive up the crater of Tangkuban Parahu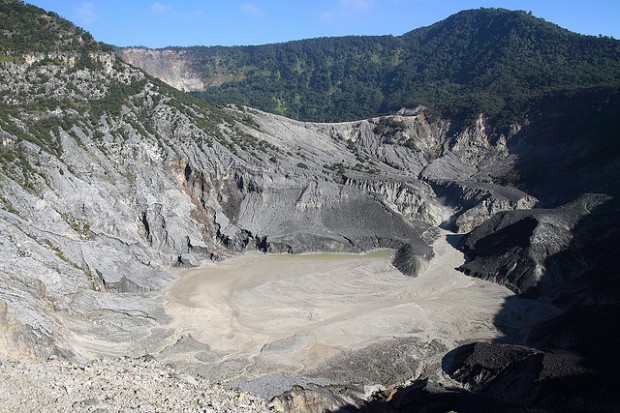 Image credit: Zul Rosle
Tangkuban Parahu is an active volcano, and it is the only crater in Indonesia where you can drive right up to the rim. This huge crater offers stunning views as you have the opportunity to walk round the crater and view it from various angles. If you are looking for souvenirs, there is a row of shops located in the area. However, as it is a tourist spot, please always bargain with the shop owners before making your purchases because prices are hiked. You will also have people approaching you claiming that they are licensed "tour guides" and that it is compulsory to hire a guide to see Tangkuban Parahu. Please do not be taken in, simply ignore and walk away from them.
4. Pick some strawberries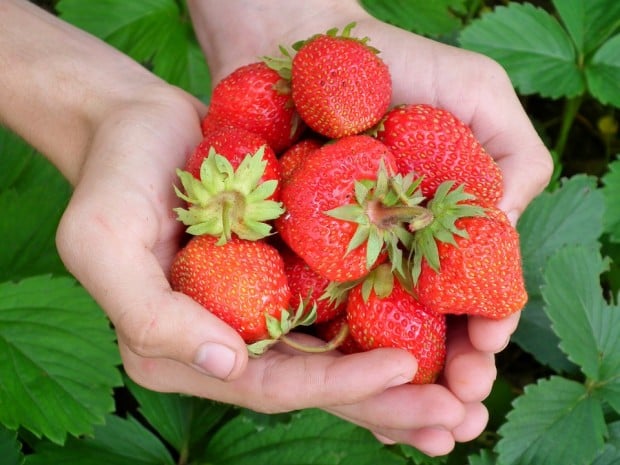 Due to Bandung's cool climate, strawberries are suitable to be grown in this area. There are numerous strawberry farms which you could visit to do some strawberry picking. You will need to pay an "entrance fee", and this comes with a basket for you to hold the strawberries and have some freshly squeezed strawberry juice. Personally, I would not recommend the strawberry picking because there is a 50-50 chance that you will be able to pick ripe strawberries. However, no harm stopping by for some strawberry juice!
5. Visit the Lembang floating market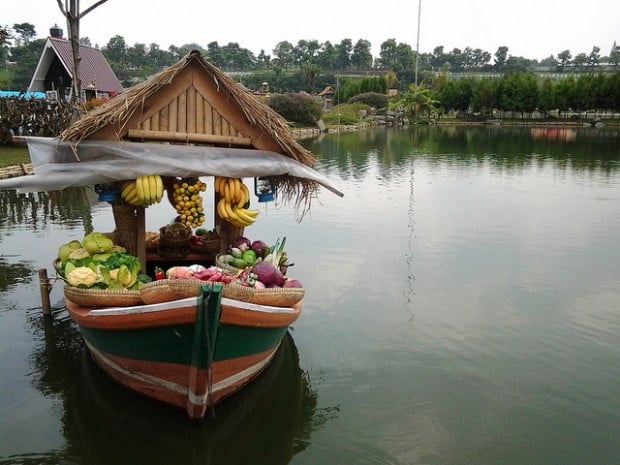 Image credit: Nerissa Chandra
If you have been to Bangkok's floating market, Lembang floating market is a lot smaller in scale. This floating market is a food centre with views of the lake, and stall holders are selling food on little boats. If you have extra time to spare, you may want to consider visiting this for a different experience.
Also read: 18 Reasons You Should Visit Indonesia
6. Dine with nature at Kampung Daun
Image credit: Edwin S
Kampung Daun is what I call "dining in nature". It is set in the middle of nature, which is quiet with traditional Indonesian music playing in the background. You will be dining in huts aka attap houses (perfect for dates and groups) which gives you the right amount of privacy without being "neglected" by the service staff. If you are looking for authentic Indonesian cuisine with a different dining experience, consider Kampung Daun.
7. Hang out at Li Sung Restaurant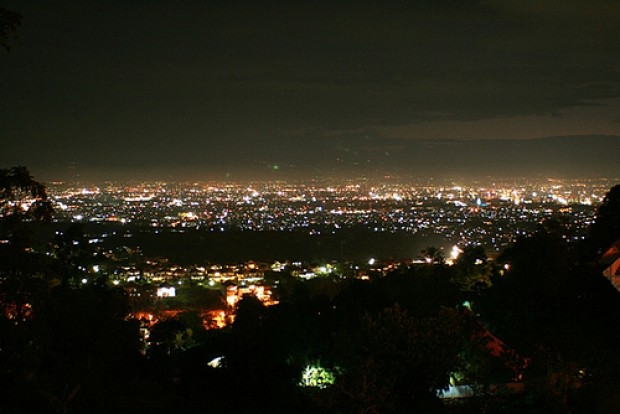 Image credit: Ridho Nur Imansyah
Fancy dining while admiring the views of Bandung? Go to Li Sung Restaurant. Located on top of a hill, Li Sung offers views of Bandung's skyline. The ambience of Li Sung is great because it is quiet and cool, and the structure is made of wood, which adds on to a rustic feel. The menu here offers both western and Indonesian cuisine. Alternatively, you could just stop by for a cup of coffee.
Also read: Bandung, Indonesia Activities and Attractions for the Adventure Enthusiasts
Tip: The best way to see Bandung is to hire a driver as driver fees are reasonably priced. Be warned that the drivers may ask for a tip but you are not obliged to give them even though they say that it is compulsory.