Contributed by Dominic Phua
Fall in love with being alive.
Life is shorter than you think. I've seen friends pass away suddenly. NS takes away your time and your freedom. And once it's taken away, you realise how important our lives are. Ever since I've completed my military service in June 2013, I've travelled to 21 countries in the past 6 months. Enjoying every bit of sweet freedom the world has to offer. Before getting suckered into the corporate rat race, before the burden of family and struggles of living in Singapore weigh down on you. Best do it now.
So, I've decided to write an article for you aspiring travellers to deviate from the norms of our robotic society. This article shares my experiences of traveling around South East Asia and Europe on a budget. Of course, it's not the best, and I'm sure people out there have better stories, but this is just a little something to help you get started out of boring Singapore and experience the world.
1. Thou needs money to fly
Of course. The deciding factor. These unavoidable things cost a bomb. Your entire trip should not cost more than double your flight tickets. Of course, book your flights early blah blah blah.
What I advice I can offer is to save money whenever you can for tickets. Check out the daily promotions being offered. For example in Southeast Asia, we have AirAsia, Tiger, FlyScoot and Jetstar. Always compare and contrast the prices with each airline. Subscribe to their mailing list for latest updates.
Save your money on in-flight meals by packing your own sandwiches before.
Try to carry a backpack to avoid check-in charges. If you know you have overweight bags, or more than one hand-carry, here's a tip: HIDE your bags somewhere first. GET your boarding pass (the person won't be able to check) and PROCEED to pick your bags up and board the plane without any check-in or penalties. Unless your bags aren't able to fit in the overhead compartments, most cabin crew wouldn't really care.
Of course, if you're taking an international carrier to Europe or America this all won't matter much. I spent $1080 for a straight 12hr Lufthansa flight to Frankfurt.
Most people travel by plane. But did you know that you can also travel by TRAIN? Did you know that it's possible to travel from SINGAPORE to LONDON by train?
I know of Singaporeans who have travelled via CARGO SHIP for a mere $50 to Darwin, Australia.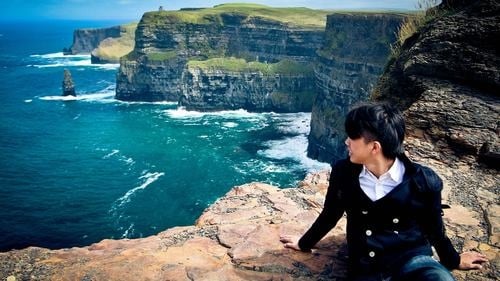 Cliffs of Moher, Ireland
2. Thou shalt try Country Hopping
This cost will eat you dry if you aren't careful. If you're planning to do a EuroTrip and deciding between taking trains or flying between countries, here is some advice you can consider:
1. Flying 
Definitely faster. Saves you valuable time on your holiday. Tickets may appear cheaper, but you HAVE to bear in mind that there are plenty of hidden costs. Getting to and fro from the airport will cost you money. Airports are usually located far away from the city centre. Consider Check-In costs. Unfortunately, for Ireland you'd probably have to fly. Look out for cheapest deals on RyanAir and Easyjet. Don't use Skyscanner. While it gives you the cheapest flights, it doesn't list down FLIGHT PROMOTIONS.
2. Trains 
This was how I travelled most of Europe. I bought the 15-Day in 2 Months Eurail Pass. $600. Well-worth the money. It takes you straight to the city centre. There are no hidden costs or surcharges for excess luggage. Book trains that don't need reservations as you need to pay a little extra for those. This website helped me so much.
Take overnight trains to save money on accommodation. Day trains allow you to see the scenic view of the countryside. Bear in mind that you can't use this to travel the UK and a number of countries in Eastern Europe.
Also read: Train Travel in Europe: One Way Tickets or Rail Passes?
3. Coach 
Getting around by coach is probably one of the cheapest ways to travel. Travelled from Inverness, Scotland to London, England for only $30. It cost me $30 to take an overnight bus from London to Paris instead of $180 to take the Eurostar Train.
4. Car Rental 
If you're confident, you can always rent a car and travel around. You can sleep in the car, saving you tons of money.
5. Rideshares
Join fellow travellers and hop in their car and split the costs with Blablacar.
6. Hitchhike 
The easiest way to get around Eastern Europe. I hitchhiked my way around Isle of Skye, Scotland because the buses were so expensive. Of course, it's easier if you're an attractive girl flashing your boobies (which I saw some doing).
Don't be scared to hitchhike. Think about it, they are probably just as scared of you as you are of them!
To summarise, there are many ways to get around Europe. You have to decide. If you aren't traveling to many countries (about 1-3), I would suggest flying. But if you're doing a bigger EuroTrip, a train pass would be the cheapest option.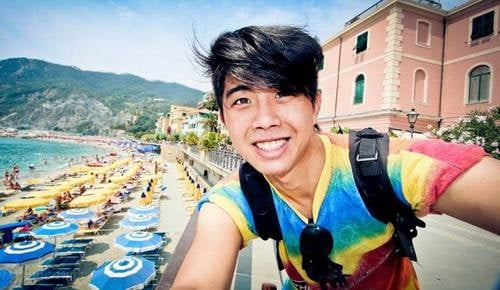 Cinque Terre, Italy
3. Thou shalt not spend on accommodation
Finding accommodation would be another big killer of your wallet. This is prevented by using Couchsurfing. Couchsurfing is an awesome platform where you get to meet different people from different nations. To sum it all up, you can either be a surfer or a host. Here is my profile.
I believe I am one of the more active local hosts in Singapore. Basically whenever a fellow traveller visits Singapore, I host them in my home, saving them money on accommodation. I share with them how to get around Singapore free and cheap, where the good food is, which attractions are worth it, and how retarded the Merlion is. All from a local Singaporean's point of view.
I've hosted people from Guatemala to Taiwan, from Sweden to Indonesia, people from all over the globe.
In the same way, in return, when one travels as a surfer, you send requests to potential hosts (with pleasant references by others). If successful, you get to stay with that person absolutely free. You also get to learn about their lives. You become more than just a tourist. You become a traveller.
Even if I could afford a hotel, I would still use CS. For example, in Cambodia, hostels were at $4/night, but I still Couchsurfed. And I got to know how to get around the country from a local. He told me where to go, and how to get around, even took me out for dinner and sent me to the bus station back to Thailand.
If any of you need help getting started on CS, just let me know. I hardly spent any money on accommodation for 6 weeks in Europe which saved me tons of money. Recently I just travelled to Macau and Hong Kong over the new year where I couchsurfed for 10 days straight in both cities. That alone saved me over $1000. (Hotels in Macau easily go for $200/night min.)
On a side note, if Couchsurfing fails and you still want to save money on accommodation, don't be afraid to be a hobo. I've spent many a night just huddling up in my jacket under some stairs in Scotland, on the beaches of Spain, outside someone's apartment/garden and also at train stations. I spent a night sleeping OUTSIDE the Colosseum in Rome. I've even spent a night in a phone booth in Hungary just to save money. #hobothingsivedone.
Just a little update: Of course, be careful WHERE you hobo. If you want to hobo, you also must hobo properly. Either hobo at places where there are people walking around (like outside attractions) or at super secluded places where nobody goes (eg. someone's garden, 2nd floor staircase in a hotel). These are places I've hobo-ed before and worked for me. #safetyfirst #hobolikeaboss
Also read: Travel Routes Across Europe: Then & Now
If you're extremely concerned about safety, you could book a bed in a backpacker hostel (mostly between $30–$60/night). In Switzerland, what I did was to book ONE night at the hostel. Because there were extra beds, without telling them, I overstayed an extra 2 days WITHOUT paying. 3 days for 1 deal. Saved me over $70. What plenty of couples I've seen do is that they both book only ONE bed and they share the bed together in the hostel, thus it's a 2 for 1 deal.
Another important way to save money on accommodation is to Travel By Night. You can sleep on the trains or plane, thus, saving your accommodation for one night. You can also sleep at the airports or train stations.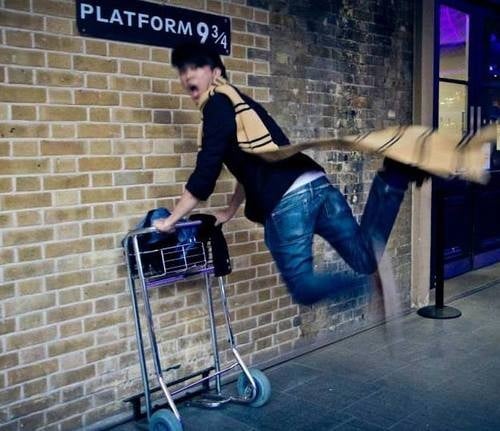 King's Cross Station, London
4. Thou shalt not live on bread alone… but on peanut butter as well
Right, so what's the next thing that kills your wallet? Food.
These parasites don't take a chunk out of your wallet at a go, rather it nibbles you dry. Little bits here and there will leave you wondering where all your money went. Be careful with these nasty critters.
Tap water is safe to drink pretty much everywhere in Western Europe so save your money and always carry a bottle of water around. Any form of alcohol is a luxury (unless you're in Eastern Europe, of course), soft drinks are unnecessary, too.
This topic is subjective for foodies. If you're traveling solely just to eat, don't bother reading this portion. I spent barely $5 A WEEK on food in Europe. Just buy a whole loaf of bread ($2) and eat it with peanut butter/ tuna. Or free condiments from Macs like Mayonnaise and ketchup. This takes a lot of discipline and self-control. Food in Europe is expensive, easily over $10 a meal. Get whatever food you need from supermarkets. Just remember, every meal spent eating bread, is $10 saved.
If you're traveling around Southeast Asia. however, it's a whole different ball game. Eat, eat, eat. Try everything. Eat where the locals eat. From my experience traveling through Cambodia, Laos, Thailand, Indonesia, Malaysia etc, the best and cheapest food always come from the shops along the road. We may not have that much in Southeast Asia, but dammit do we have good cheap food (and fantastic beaches).
To judge, simply see if the shop has any white people in it. If it does, it's likely expensive. If you see a bunch of local asian people eating there, probably means it's cheap. It sounds funny but it works.
It's the same in Singapore. When a foreigner comes and asks you where are the good food, do you tell him a restaurant? Nope. A local coffeeshop/hawker centre offers the best deals with awesome food.
I digress.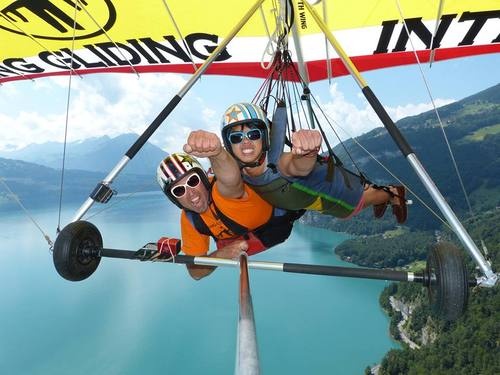 Interlarken, Switzerland
5. Thou shalt enjoy thyself
I won't tell you to save money here. Heck, I spent $350 to hang glide in Interlaken, Switzerland. I've been to Tomorrowland 2013 in Belgium! Knock yourself out. This is what you have been saving for!! Have fun with the hard-saved money you possess. Of course, spend responsibly. And try your luck with discounts.
While most people paid 40–80 pounds, I paid a mere 20 pounds to watch Les Miserables in West End, London. I bought last minute tickets which were going cheap. Managed to talk my way into getting a $40 student discount to watch The House of Dancing Water in Macau, etc.
Always check out the attraction's reviews to see if it's worth the money you spend. Then look for promotions, student discounts, etc.
Be careful of tourist traps. Very tourist-y places or attractions tend to suck your money away, so be careful how you spend too. Just like Sentosa in Singapore.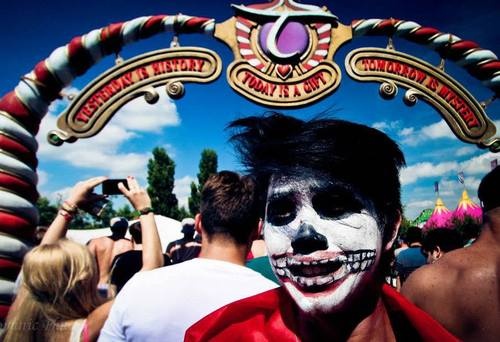 Tomorrowland 2013, Belgium
6. Thou shalt forsake paying public transport
The next little parasitic bitch we have is paying to get around a city. Each bus/train ride will cost about $3 at least. It may seem small, but think about it. $3 there, $3 back. That's $6 for one trip. Imagine if you make 3 trips a day. But here are some good news. You'd be surprised how many locals don't pay.
Also read: A Complete Guide to Getting Around Europe
1. Public Buses
Unlike Singapore, in the smaller cities in Europe, ALMOST NOBODY PAYS FOR PUBLIC BUSES. It rang true for more than half the countries I visited in Europe. Take a bus and observe how many locals even pay the $2 bus fare. It's only the tourists asking "how much is it to get to this particular place" then the tourist has to pay. Most bus drivers don't care if you pay the fare or not! Just board the bus and sit down. #likeaboss. That's all you have to do. Trust me, it works. They have inspectors for checking, and they are the extremely rare ones you've to watch out for. If one comes up, simply alight. If you're unlucky and get caught, just speak Chinese and wave your hands in an agitated manner. They'll probably let you go after a few minutes.
2. Public trains
Train fares also cost about $3 per ride. Now in Paris, for example, you can easily squeeze your way through a gantry and not pay the expensive train fares. Or because the exit is automated, you can get your friend to pay and enter, then stand at the exit where the exit door will swing open and an unlimited amount of people can just enter from the EXIT DOOR! I've seen so many French locals doing it, and I tried it all the time when I was in Paris. Even in Barcelona and many other states, it's possible to just hop over the gantry to save money. You don't have to "Tap Out" like in the case of Singapore's MRT, so the moment you get in, you dont have to worry any more.
Of course, these are what I did to save money, but they are up to your own discretion to do. You'll understand what I mean when you're there.
3. Good ol' walking
It's possible to just walk around a whole city in a day and not even take any public transport. For example, all of Rome can easily be covered in a day. I spent from 7am to 8pm in the afternoon and covered all of Rome by foot. Other places include, Paris, Macau, Vang Vieng, Barcelona, Vienna, Venice and many more etc.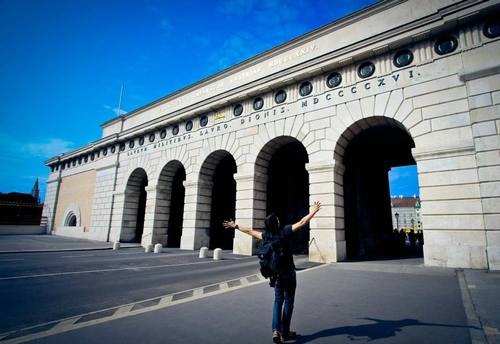 Vienna, Austria
Here is a list of other tips / tricks / advice whatnot
Travel with a close friend or alone?
It's always fun to travel in a pair. However, one strong tip I would suggest is to KNOW exactly who you are traveling with before you do it. I made the mistake of thinking I knew someone personally merely based on partying with her. Because I didn't. And I found that out on the trip. You'd see the good, bad, the really ugly side of a person when on the road. It can either make or break your trip.
Traveling about Europe on your own is great. Unless of course, you go to them romantic places like Ireland, Rome, Venice where you just feel like killing yourself being single.
Also read: Why Backpacking is the Best Way to Travel
Control yourself.
I really had to exercise crazy amounts of self-control  and discipline when it comes to spending. It's important. Ask yourself if you really need the item or not. All the shopping I did was to buy a small trinket from every country and state I visited. Some people buy postcards, others keychain's or magnets. I've even met this Australian girl who collects a piece of rock from every country as a free souvenir.
Asian Pride.
Use being Asian to your advantage. I was traveling without a passport across Germany when two German policemen stopped me on the train demanding my passport. I started speaking Chinese and they gave up after 10 minutes.
Learn some words in the country's language.
This is gold. You'd be surprised how the locals (especially the French) warm up to you when you speak, or at least attempt to speak, their language. Simple basics such as "I don't speak very good (insert language), can you speak English please?", "Where is (location)", "Thank you", "Excuse me" and maybe a couple of profanities, are enough to get you by.
Don't be afraid to break the rules.
I know we come from Singapore and it's ingrained in our submissive minds, but try and break free. Nick fruits and food if need be. Not pay for public transport. Staying extra nights in a hostel, etc. Every situation is different. I know that plenty of tips I've given are pretty unorthodox, and some of the self-righteous pharisees are shaking their fists.
Do you download music? It counts the same as stealing to me. It's just the level of risk that is different. So don't be a hypocrite and judge when you do the same with the only difference being that you have a lower chance of getting caught in the comfort of your home. I could write an entire post about this. But you get my point.
I've snuck up a train, hid in the toilet, and slept in the cargo compartment for 9 hours from Barcelona to Paris. The reservation cost $110 and I wasn't going to pay.
Save money on toilets.
It's usually $1 per entry for most places. Pay for toilets only if you really need to. Use the toilets in hotels, restaurants. Worst-case scenario, just pee for free in a secluded area.
Communication.
Don't bother wasting money buying a prepaid. If you need to use a phone, just borrow a phone from a local and use their phone to contact your friend. Most eateries in Western Europe have wifi too.
Pack light.
Straight forward enough. A small pillow does wonders.
Don't carry thick wads of cash around. Instead of changing money at money changers or banks and getting ripped off, draw money at ATMs instead. Just google it and you'll find others advising the same.
Safety and Security.
Chances of you getting mugged are really low. However, as always, be careful of pickpockets and snatch thieves. My Italian friend shared that thieves love targeting Asian people, because they know that we carry fancy cameras and laptops in our bags. Which is pretty true. What I did, (I thought it was genius) I used a PLASTIC BAG from a grocery store to store my camera/phone, instead of a camera bag. Nobody had any idea that it contained my valuables.
The trick is to NOT look like a tourist. Try dressing to fit in.
Always be on your guard, even on trains and at hostels, lock your bags and hid them where possible when you sleep or leave the room. So many stories of thieves who do come in and steal bags even when they are locked. Make your bag as shit and dirty looking as possible to deter them.
Left Luggage.
Most train stations (and airports I believe) have a baggage storage area called Left Luggage. You can deposit your luggage there for a day, doesn't cost much maybe about $10? And it gives you the freedom to walk around and explore the city. What I did in Italy was when I arrived in Rome, I deposited my bags at the Left Luggage in the train station, spent a whole day walking around, took the overnight train to La Spieza (Cinque Terre), did the same thing, deposited my bags, roamed about for a day and took the overnight train to Venice and did the exact same thing again. Pretty cost-efficient.
Make friends.
You'd probably meet like-minded travellers when you're getting around. Don't be the typical conservative Asian! Be friendly and open-minded!  You would find yourself actually making more international friends than you can keep! I've made so many friends through my trips and quite a number still keep in touch!
Racism.
I was surprised that I didn't encounter a single bit of racism in Europe. Most were really curious to see a lone Asian dude by himself. Because in Europe, Asian tourists arrive in herds and by the truckload. The most I've got was just this Scottish bunch in Inverness who called me "Jackie Chan!" which I responded with some kung fu move to their delight. They ended up buying me drinks, and I spent the night partying with them. That was a good night.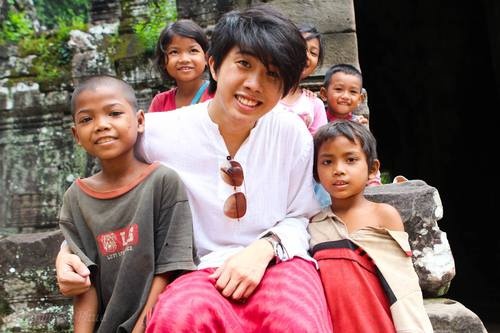 Siem Reap, Cambodia
This is just about all the advice I could give.
For those who asked for my itinerary for Europe: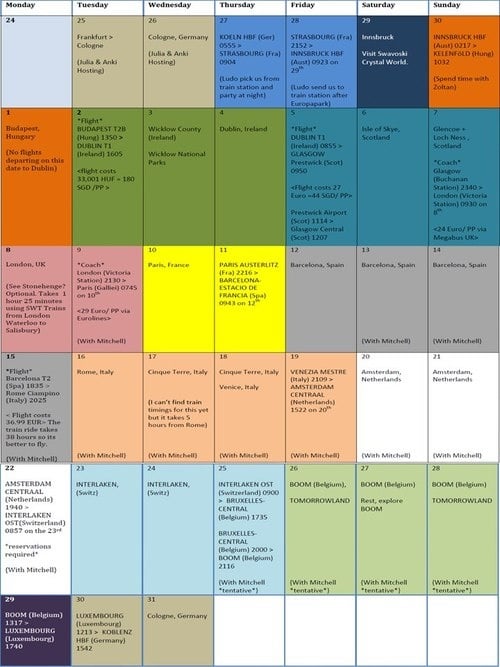 That was just a rough draft.
That's all folks. Hope all these helps!