Once a paradise for Silk Road merchants, Central Asia is a region overlooked by many. However, those who have been there will agree that it is meant for epic overland trips, especially with the beautiful mountains and unparalleled picturesque backdrops.
With a burgeoning regional flight connectivity and a shrinking red tape, Central Asia is now more accessible than ever. Since taking two weeks worth of leave might be a stretch for many, here's how you can explore this untouched and incredibly fascinating region in just one week:

Day 1: Almaty, Kazakhstan

Begin your short but thrilling adventure in Central Asia by flying into Almaty, Kazakhstan's main transportation hub. Start your adventure with a bang by exploring the new shopping malls, coffee lounges and ski resorts. If that's not your cup of tea and you're craving for a more rugged experience, packed buses and worn-out taxis – colloquially known as Marshrutkas – will not disappoint as you explore the city's outer districts.
Discover The Central State Museum of Kazakhstan

What better way to start your journey than to learn about the history of Kazakhstan at the Central State Museum? Boasting an array of art and cultural artefacts showcasing the country's rich history, this museum is a great way to understand how Kazakhstan became the nation it is today. As you enter the museum, a replica of the symbolic Golden Man, a 3rd-century warrior whose gold-clad remains were discovered some 50 years ago, welcomes you!
Feel like an Olympian at the Medeu and sample Beshbarmak

Tucked neatly in the mountain valleys on the outskirts of Almaty, the Medeu is an outdoor skating rink renowned for its breathtaking location and the highest Olympic-sized skating rink in the world! How cool is that?
Do also try this local Kazakh delicacy: beshbarmak. It is made up of finely-chopped boiled meat, mixed with noodles and onion sauce, and is usually served with shorpo (a thick, spiced soup with lamb chunks).
Shymbulak will be snow amazing!

Almaty is also home to the biggest ski resort in Central Asia, Shymbulak. Put on your skiing gear and have an amazing time at this modern ski resort. Entrance price for adults cost approximately 12,000 tenges (~S$48) and includes a gondola round trip, entrance ticket and a badge required for first timers – a pretty sweet deal indeed!
If you don't wish to rent a car, public buses 6 and 12 leave every 30 minutes in front of Hotel Kazakhstan. Otherwise, a taxi ride will be a good alternative, amounting only 2,000 tenges (~S$8) per way.
Day 2: Almaty → Dushanbe, Tajikistan



After skiing in the beautiful mountains of Shymbulak, it's time to visit a whole new world! Hop on a plane in the morning and continue your adventures in Dushanbe, capital of Tajikistan. However, plan well beforehand as there is only one flight departing daily at 11am. Carriers include Air Astana (Tuesdays and Fridays), Somon Air (Mondays, Wednesdays and Sundays) and Tajik Air (Thursdays). The flight to Dushanbe will take close to two hours.
Hissar Fortress is your introduction to Tajikistan


In the past, this magnificent token of architecture used to be a palace belonging to one of the Bukhara Emirate becks (governor). There used to be a garden and pool, with a bustling market square across the fortress. Unfortunately, not much of the original design and architecture have withstood the test of time. The monumental gate made from burned bricks and the arrow-shaped arch between them is enough to leave you speechless, and marvelling at this immense body of art!
Visit the National Museum of Antiquities of Tajikistan


Tajikistan not only excites through its architecture but also the rich history of different cultures blending together. Satisfy your curious minds and explore the many archaeological and natural discoveries curated at the National Museum of Antiquities of Tajikistan.
Don't miss out on the highlight of the museum – the Buddha in Nirvana. The statue of Buddha lying on this right side was found during the excavations of Ajina-Tepe in 1960 and is one of the largest monuments of Buddha in the world.
When the hunger pangs set in, experience eating the qurutob! This is a traditional Tajik dish, which you feast on from a communal plate with your hands. The dish is made up of dried balls of salty cheese served with a type of flatbread. Fried onions will serve as a garnish! Dig in… oh wait, don't forget to wash your hands!
Day 3: Dushanbe, Tajikistan



Get ready for your third day of adventure! Head down to the heart of the city after breakfast and marvel at the grandeur of Dushanbe's Rudaki Park. With beautiful flower gardens and majestic fountains, the park offers you glorious views of Dushanbe's iconic new buildings and monuments. For some relaxing time in the morning, rest on one of the numerous benches and observe how locals enjoy a moment of relaxation.
Dusti Square – the Central Park of Dushanbe

Visit the Dusti Square – or more commonly known as the "monument of Ismail Somoni" which is just a short walk away from the Rudaki Park. You will definitely not miss the towering 13-metre high Ismail Somoni Monument and the magnificent arch. The monument symbolises Tajik's statehood: crown and sceptre adorned with seven stars. In the evening, the alley of fountains with light and music behind the monument will accompany you for a lovely time.
As you reach the end of the fountain cascade, another landmark will leave you in awe. The glorious golden tower, erected in 2011 in honour of Tajikistan's 20th independence anniversary, is adorned with the country's coat of arms and will leave you absolutely impressed.
No visit to Tajikistan is complete without trying a Central Asian delicacy so synonymous with its culture. The plov (or pilaf) is a rice dish made with shredded yellow turnip, carrot and meat. All the ingredients are fried together in a cauldron over an open flame. The dish is eaten together in a single large plate, traditionally using only hands!
Day 4: Dushanbe → Iskanderkul, Tajikistan



To take a break from the city and soak in the beauty of Tajikistan's many natural marvels, rent a taxi or car and make your way to the incredibly scenic area of Iskanderkul for a whole day. There won't be any public transport available and cars heading to the lake will be scarce, so be sure to make travel plans prior to your trip! Settling your mode of transport in Dushanbe will be your safest and best bet.

Since a week is not enough to squeeze in as many things as you like, an overnight stay at one of the chalets near the lake in Iskanderkul will provide you with a good taste of Northern Tajikistan. Don't forget to visit a beautiful waterfall just 30 minutes hike away from the chalet grounds. Also, explore the village of Srytag and the Kaznok valley if you have some spare time, they're certainly worth visiting!
Day 5: Iskanderkul → Khujand, Tajikistan


Your next pit stop would be the charming city of Khujand, four hours away from Iskanderkul. In Khujand, explore even more history at the Somoni Park, set to amaze you with art and natural allure. The park is perched on top of a hill, giving you panoramic views of Khujand.
Moreover, the intricate mosaics in the park are absolutely gorgeous and tell the stories of olden times. It even has an ice skating rink, myriad of sculptures and beautiful mountains as a backdrop.

Historical Museum of Sughd will leave you speechless



Khujand's top sight, the Historical Museum of Sughd, is a must-go to make your Central Asian adventure more complete! The baked-earth walls of the citadel mark the site of Alexander the Great's original settlement.
However, its military history did not cease back in those days. In fact, some 300 people died in 1997 when Uzbek warlords challenged government troops at a battle in the citadel. If you're looking for souvenirs for your friends and family back home, there are some reliable souvenir shops dotted around the citadel and along the adjacent gardens of Khojandi Park.
Get lost in the colours of Panjshanbe Market
With its countless stalls, tents and shops, you'll definitely find something for yourself at this iconic market. Remember to snap many pictures here, especially with those beautiful colours and locals busy carrying out their daily errands. After a great time in Tajikistan, it's now time for your last stop in Central Asia, Tashkent!
Day 6: Khujand → Tashkent, Uzbekistan

Tashkent is Central Asia's main hub. On one hand a sprawling national capital and another, a traditional enclave for farmers carting their wares to the suffocating crowds of the bazaar. Taxis from Khujand to the Uzbek border start from 80 somonis (~S$12).
The Chorsu Bazaar will excite all your five senses
Your adventure in Uzbekistan begins in the oldest market in the country, the Chorsu Bazaar. Here, merchants call out for potential buyers to have a look at their endless array of goods – from cheap eats and fresh fruits to souvenirs – be spoilt for choice.

The Chorsu Bazaar has been running since the times of the Silk Road hundreds of years ago. While the location hasn't changed, modern buildings have replaced old buildings. Test your bargaining skills and find out if the local merchants are a match for you. This market is a window into daily Uzbek life with people going on about their everyday business, so be sure to check it out!
Relive the rule of Amir Temur, the revered "iron-willed" conqueror
Many historians describe this courageous conqueror as "iron-willed" and it is by no coincidence. His name, Temur, itself means "iron" in the Turkic language. Temur had created one of the greatest empires and made Samarkand the wealthiest and largest in the East.
Relive his rule and explore the rich history of Uzbekistan through the Amir Temur museum. Don't forget to visit the majestic monument of Temur seated on a horse with his hand raised, in the centre of Tashkent.
Try out the Tashkent non, a popular flatbread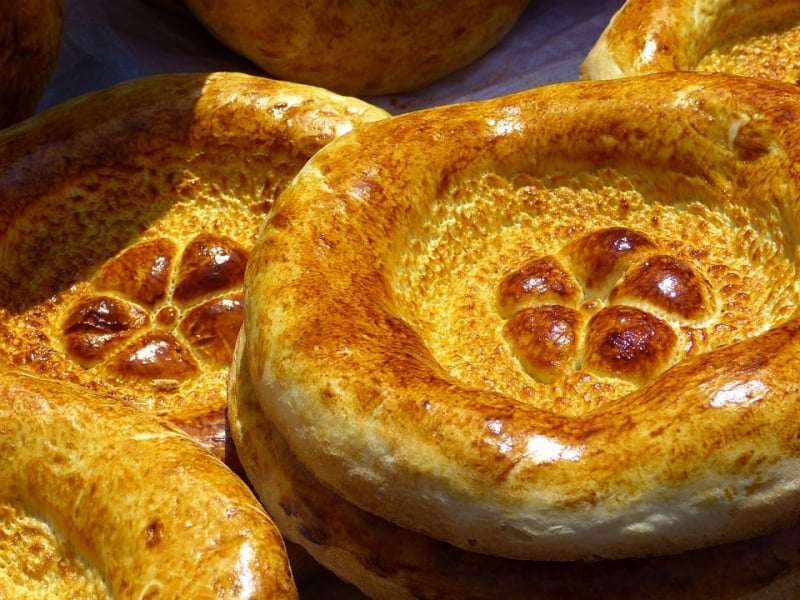 One bite of this light, airy bread and you'll be obsessed and craving for more! The Tashkent non is the typical everyday bread found anywhere in the city. Catch bread sellers wheeling old-fashioned strollers with freshly- baked nons! This is definitely a snack to remember.
Day 7: Tashkent, Uzbekistan

If the sweltering heat of Tashkent is not to your liking, there is one simple solution – head for the mountains. Just two hours northeast of Tashkent, Chimgan mountains is the best place to be for your skiing adventure. It remains a great weekend escape from the city with tranquil, cheap and a never-ending line of majestic mountains decorating the already picturesque scenery. The surroundings are also great for hiking and more thrilling activities such as mountain biking.
Paragliding at the Charvak Lake for true adrenaline junkies





From one paradise to another, the Charvak reservoir en route to Chimgan is another stopover you might want to consider. It offers a great opportunity to just chill by the brilliant blue waters. Locals can be seen wading around in the water while Russian visitors mostly paraglide or sunbathe. Embrace the daredevil in you and try paragliding over this undeniably beautiful scenery!
There you have it, one week worthy of a great adventure and unforgettable experiences. From the breathtaking Chimgan Mountains in Uzbekistan to rickety buses in Tajikistan, this will be an adventure unlike any other. Grab your passports and its time to stan hard.