I was born and raised in Tandag, Surigao del Sur, just a few hours south of the island of Siargao, best known as the Surfing Capital of the Philippines.
And yet, it wasn't until early this year that I got to visit this world-renowned surfing destination. Ironic, isn't it, but there ya go.
One factor is definitely because of its proximity. I always thought it was so near I can always visit it anytime. It's why I'd been to Europe already but never been to the other provinces near my hometown.
Another reason was because Siargao is well-known as a surfer's destination. Unfortunately, I'm a diver, not a surfer, so I never found the motivation to go there until a friend asked me to checked it out with him. I was glad I went–Siargao is beautiful, and you would definitely enjoy it whether you're a surfer or not!
Also read: Best Places to Surf in Asia
Here's what we did for 3 days in Siargao.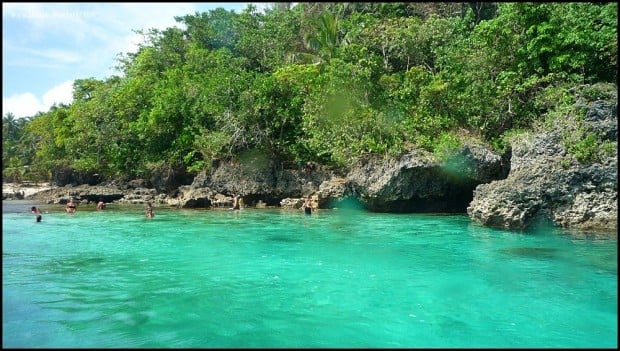 The clear waters of Magpupungko Pool.
Go on a Land Tour in Siargao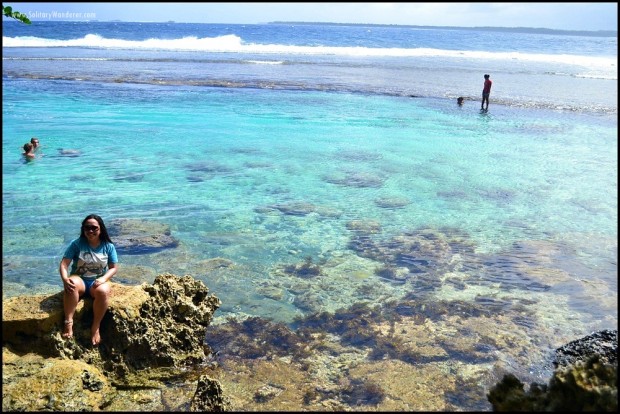 You'd love to swim here at Magpupungko Pool.
As a small island, Siargao can easily be explored in a day. Rent a motorbike and explore all by yourself, it's going to be cheaper and you're free to stop and go any time you like.
In our case, we had to hire a habal-habal since I don't have a driver's license and my friend has never been on a motorbike before. Rates are pretty standard at PHP 1,500 for a whole day's land tour.
First off on the itinerary is Magpupungko Rock Formation in Pilar, an hour or so from General Luna. The natural rock formations are impressive by themselves, but tourists mostly go there to swim in the deep, natural pool bounded by a large reef that you can walk on during low tide. The blue-green water is so clean and so clear I could easily stay there the whole day!
Entrance fee is PHP 50 ($1.12), and there are cottages for rent. If you get hungry, you can buy some food there, too.

My idea of heaven.
From Pilar, we went all the way to Sta. Monica where we checked out Taktak Falls.  There's no hiking involved; when you're on a motorbike, the parking lot is directly outside the gate.
If you want to go somewhere off-the-beaten-path for foreign tourists, this is it. When we arrived there, the place was packed, but there were no other foreigners except for my friend.
Taktak Falls.
The water's cool, and there are deep and shallow parts. Best of all, the entrance fee is only PHP 5 ($0.10).
The best thing about going on a land tour is seeing the countryside of Siargao. Lush green vegetation, locals waving at you from their houses, and views like the one below in Burgos are definitely priceless.
The viewpoint in Burgos, Siargao.
Go Island Hopping in Siargao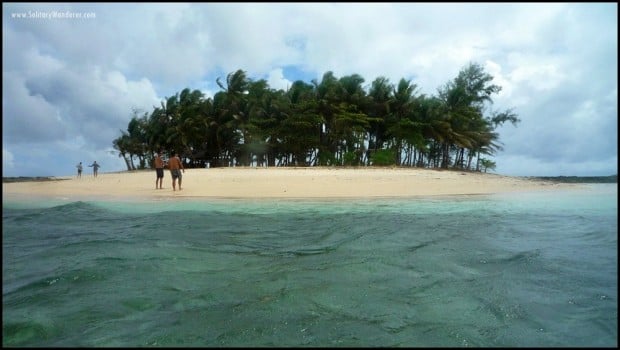 Guyam Island.
Spend another day island hopping in Siargao. From General Luna, there are 3 islets that are easily accessible: Guyam, Daku, and Naked.
Guyam Island is pretty small and full of palm trees. However, it's uninhabited. You can spend hours there and no one would bother you.
Naked Island, on the other hand, is almost just like a sandbar. As its name suggests, there's nothing there except white sand surrounded by blue-green waters. Perfect for beach bumming!
We had lunch on Daku Island which is bigger than the other two and which has a community of fisherfolk. There are beach cottages there, perfect for a siesta after a yummy lunch of fresh seafood and ripe mangoes.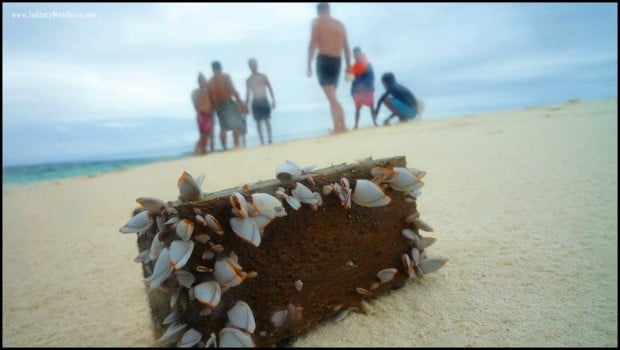 Seashells on Naked Island.
As our island hopping tour was organised by Kermit Siargao (PHP 750/person), we were with a group of surfers who wanted to ride the swell in Guiuan, a beginner's surfing spot.
While they sat around on their boards waiting for the waves, we swam around the boat, floated, and just enjoyed the cool waters of Siargao.
Also read: 20 Best Islands in the Philippines for Beach Getaways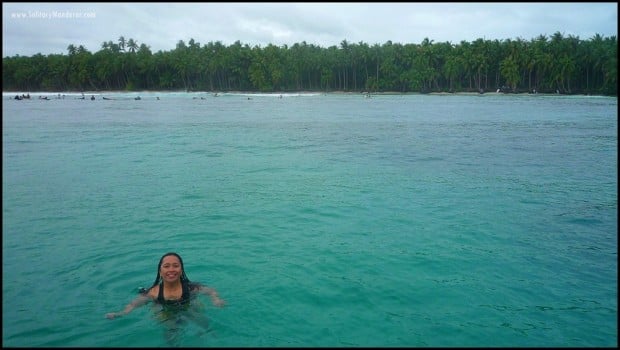 Non-surfers can just swim off Guiuan.
Food Trip and Beach Bumming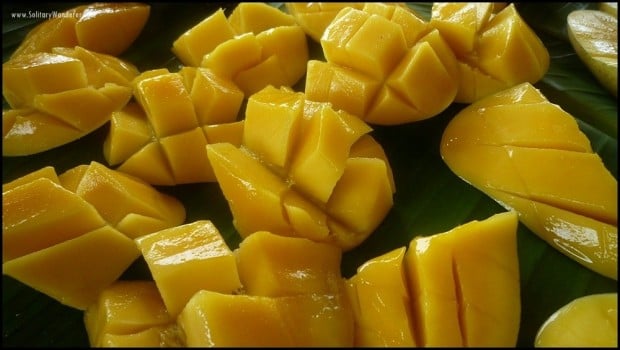 Seafood, pizza, and fruits are the best in Siargao.
Go beach bumming on your third day in Siargao. There's nothing more relaxing than going to the beach and just lying on the sand. General Luna has white sand beaches (around a 10-minute  walk from Kermit) that are mostly devoid of tourists. Lie back and enjoy the sun (just don't get burned).
Afterwards, go on a food trip. Seafood is pretty inexpensive here, and you can have the fresh catch of fishermen just coming home from a long day at sea.
If you're tired of seafood, order a margarita pizza at Kermit. It's the best pizza I've had (aside from Luca's Resto in Puerto Galera), and it's no wonder. Kermit has a real, honest to goodness Italian pizza maker. At PHP 350 an order, it's worth it. Pizza chains in Manila can't hold a candle to it.
Accommodations in Siargao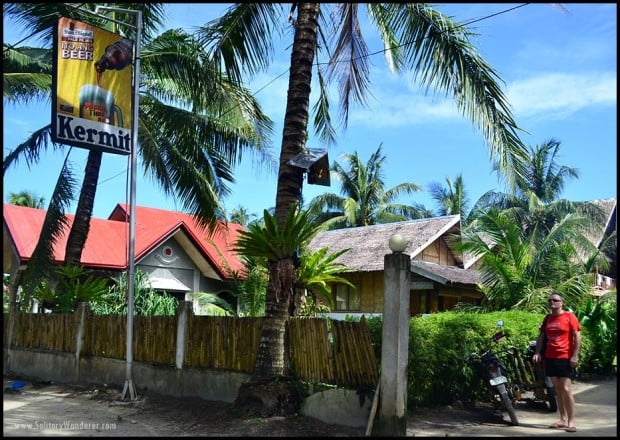 Welcome to Kermit Siargao!
I will write a full review of the place we stayed in later, but I would just like to mention that if you're staying in General Luna, you have to stay at Kermit Siargao. The clientele is international (the owners are a Swiss and Filipina couple), there are both budget and mid-priced rooms/huts available, and the food is definitely top of the line.
Kermit can organise all your activities too, from surfing (of course) and island hopping, to contacting transport for your land tours. They are a friendly bunch and they made our stay there so comfortable.
If you can spend one more day in Siargao, go on a day tour to Bucas Grande Island. We didn't have time, but we're definitely going back there. From turquoise waters and a unique cove to stingless jellies, you'd want to go there, too, once I've written about it. Wait for it!
If you enjoyed this post, please share on Facebook! Don't forget to like my Facebook page and follow my Instagram too!
Contributed by Solitary Wanderer.