What is a better way to usher in the new year than to marvel over the flourishing cherry blossoms? Better yet, you don't have to go far to find some of the best cherry blossoms! Taiwan is home to some of the most spectacular cherry blossoms. Cherry blossom festivities in Taiwan attract about 50,000 tourists every year. The season starts in January and ends in April, spread all over the country.
If you're Taiwan-bound this spring, you're in luck. We've got our 2020 Taiwan Cherry Blossoms Forecast ready – here are some of the best places to enjoy a relaxing walk as you admire these beautiful blooming flowers!
Wulai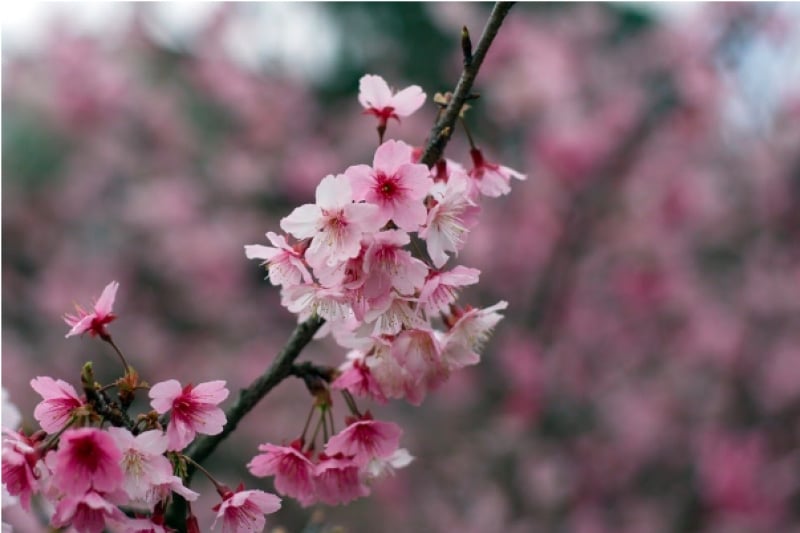 Located about 40 minutes away from central Taipei City, Wulai is home to hot springs, aboriginal culture and you guessed it, beautiful cherry blossoms that are best enjoyed from February to March yearly. Here you can also take a ride on the amazing and historic sakura-viewing Wulai Scenic train to best enjoy the sight. You can also enjoy a dazzling 90-degree waterfall which makes the blossoming sakura even more magical.
2020's Forecast Date: 22 January to 5 February
Expected Full Bloom: 28 January
Wuling Farm
Located in Taichung, Wuling Farm is home to around 35,000 to 40,000 cherry trees. One of the highlights of this farm is the unique cultivar called "Pink Lady", a hybrid of Taiwan and Japanese cherries – a species only found here! The trees here are best viewed in January and February with its peak on February 20.
2020's Forecast Date: 10 January to 27 February
Expected Full Bloom: 25 January
Wuji Tianyuan Temple
Tianyuan Temple offers one of the most brilliant displays of cherry blossoms. Located just 30 minutes bus ride from Tamsui MRT station, this temple is one of the closest to Taipei city. Standing at 60 meters, this "Temple of Heaven" pagoda is surrounded by cherry trees every spring and a variety of sakura species here. In February, you can find Taiwan cherry flowers and in March, the Yoshino cherry starts to bloom. 
2020's Cherry Blossom Forecast Dates: 10 March to 30 March
Expected Full Bloom: 14 March
Yangmingshan
Yangmingshan National Park is best known for its blooming season from February to March and is one of the most popular spots to enjoy cherry blossoms. While many visit to admire the cherry blossoms, Yangmingshan is also home to a beautiful variety of azaleas, camellias, spring blossoms, wild peonies and more! The best time to visit is from late January to late February with its best spots being Dongfang Temple and 42 Pingjing Street. 42 Pingjing Street is one of the best spots for cherry blossoms on New Years.
2020's Cherry Blossom Forecast Dates: 20 February to 20 March
Expected Full Bloom: 24 February
Tai-an Police Station
Best known as the most beautiful police station, the flowers start to bloom every February and March. With over 60 Yaezakura, or double-blossom sakura trees planted in front of the station's parking lot, the view is spectacular!
Sun Moon Lake
Located in Nantou County, Sun Moon Lake offers some of the most incredible views of cherry blossoms. Lined along the glassy lake were hundreds of Mountain Cherry trees and over 2,000 cherry blossom trees. Since 2001, every February is dedicated to the appreciation of the Sakura trees in the vicinity.
2020's Cherry Blossom Forecast Dates: 5 March to 20 March
Expected Full Bloom: 7 March
Alishan Scenic Area/Railway
Alishan Scenic Area is located within a 41,520-hectare National Scenic Area in Chiayi County, a 2.5 hours trip away from Taichung City. Here you can find a plethora of sakura which will bloom in succession, which attracts thousands of people each year. The best time to visit is from late March to early April with the last week of April being the last chance for you to catch a glimpse of the mesmerizing view. 
You can also find the iconic red train which passes through Alishan Forest Railway. Take note that because this is one of the most popular places to enjoy the blooming sakura, only 160,000 visitors are allowed to visit in a day!
2020's Cherry Blossom Forecast Dates: 1 March to 1 April
Expected Full Bloom: 15 March