Whether you prefer to call it Malacca, Melaka or Melacca (wait, what? Really bro?), the cosy little Malaysian state nestled between Johor and Negeri Sembilan in the South of the peninsula is known as a top travel destination within the country.
Situated on a strategic trade route (Straits of Malacca, anyone?) and housing an important trading port, Malacca has gone through its fair share of colonial history since the early 16th century when the Portuguese Empire invaded. Because of that, Malacca is a rich city of diverse cultures and heritage, leading to it being listed as a UNESCO World Heritage Site in 2008.  
But I'm not here to give you history lessons, I'm here to talk about something infinitely more…delicious. If there's one thing I've learned from my travels, it's this: diverse cultural roots = an endless variety of mouth-watering delicacies.
With that said, here's a list of the top 10 foods you simply must try when you visit Malacca…with pictures!
1. Chicken rice balls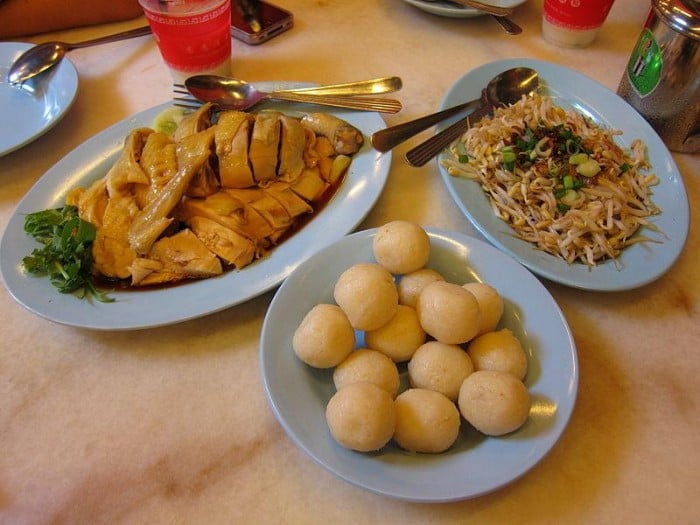 Image Credit: Yun Huang Yong
For those of us who live in Malaysia and Singapore, I'm pretty sure we're all familiar with the concept of chicken rice: rice cooked in aromatic chicken stock and served with tender roasted or steamed chicken.
So, how do you improve on such a popular traditional (Hainanese) recipe that has withstood the test of time? Well, ask the Malaccans and they'll probably say: turn the rice into cute springy balls!
Arguably THE dish in Malacca is the chicken rice ball which can be found in many areas of the city. However, the most highly recommended shop to go to for this unique meal is Chop Chung Hwa Restaurant located on the corner of Jonker Street.
*A word of warning though, although they may look cute, the rice balls are still essentially the same type of food you put in bowls. So for those on a diet, you might want to watch how many of those balls you stuff into your mouth!
2. Satay Celup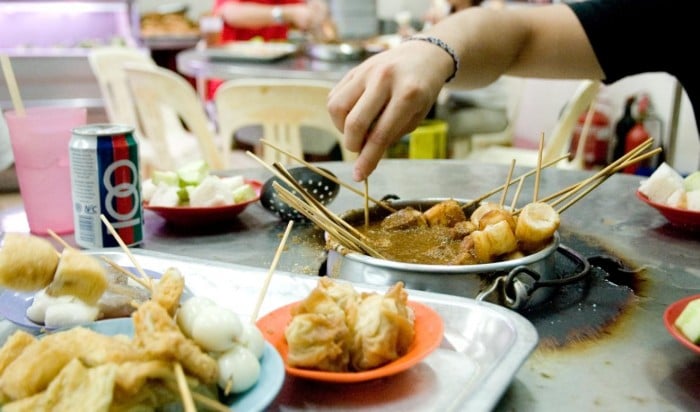 Image Credit: Jonathan Lin
It's hot, it's messy, it's sticky, it's sweaty. For those of you who thought that sounded even a tiny bit erotic…well…I'm disappointed in you because I'm talking about satay celup, one of Malacca's most popular dining experiences.
So, to clarify – unlike usual satay, you won't be digging into skewered grilled meat when you go for satay celup in Malacca. To put it simply, satay celup is like lok lok or hotpot, except the ingredients are all strung together on wooden skewers.
And instead of regular broth, you have peanut sauce. Yes, the peanut sauce which is usually served with actual satay! (hence the name). The idea is you dip the raw (sometimes semi-cooked) ingredients into the pot of boiling peanut sauce and then dig right in once it's cooked.
For the best satay celup in Malacca, you would want to try Ban Lee Siang, or Capitol Satay (be prepared for looooong queues) which is located on Lorong Bukit Cina.
3. Cendol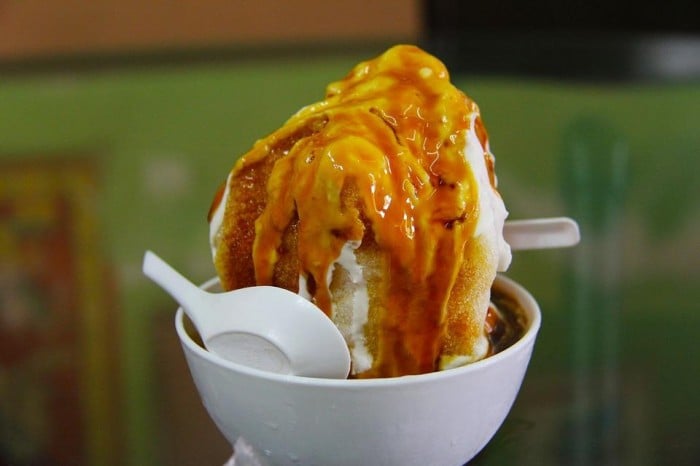 Image Credit: sharonang
Now, before we proceed, as a proud Penangite, I have to say this: We make some mean cendol here in the North. But…I suppose Malacca cendol is not too bad.
Just kidding! Malacca cendol is certainly unique in its own way and is actually quite delicious! And much of this is due to its special ingredient, the gula melaka. Gula melaka is a traditional sugar which is processed from coconut palm, ensuring a deep, rich flavour.
Combine that with coconut milk, shaved ice and green starched noodles and other ingredients like red beans, and voila! You have a dessert to die for, especially with the current heat wave gripping the country!
Although you can find many cendol vendors selling the dessert through Malacca, try Jonker 88 on Jalan Hang Jebat for the authentic deal.
4. Peranakan cuisine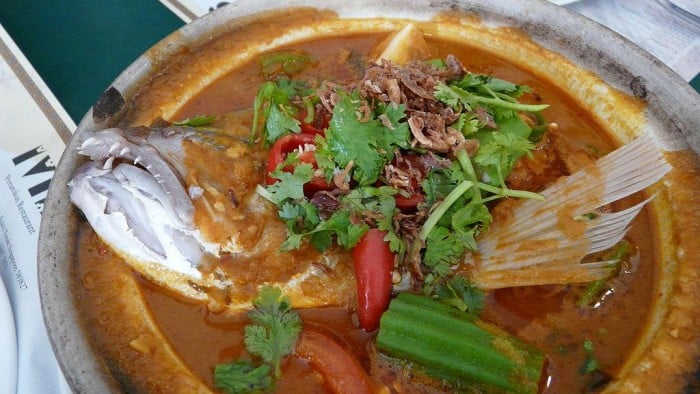 Image Credit: Chensiyuan
One of the most famous forms of cuisine in Malacca is the Peranakan (or Baba Nyonya) cuisine.
The Peranakan are descendants of Chinese immigrants who came to Malaya in the 17th century and whothen adopted the local customs and culture. Their cuisine combines Chinese dishes with traditional Malay spices and cooking methods, resulting in delicious creations such as the babi pongteh, which is pork cooked with fermented bean sauce (don't worry, there's also a variation of the dish which uses chicken for those who cannot consume pork).
Peranakan cooking focuses on an explosion of flavours brought on by local herbs and spices and can be a bit on the spicy side with a hint of sourness.
One of the best places for Peranakan cuisine in Malacca has to be Nyonya Makko! The food is delicious and the price is affordable. Just make a reservation first as sometimes the restaurant can be a little overcrowded.
5. Popiah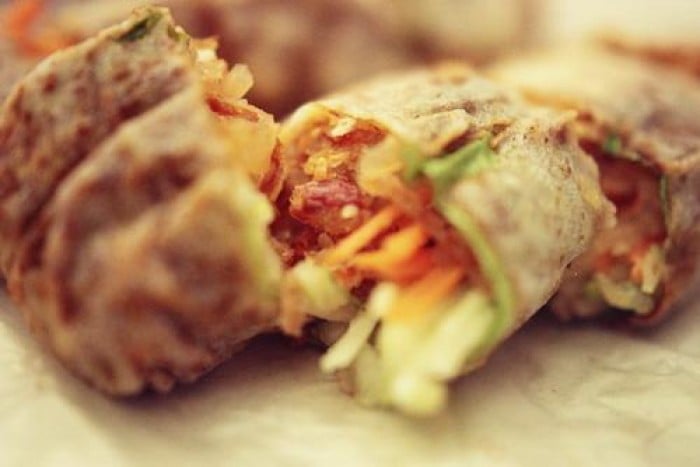 Image Credit: Alicia Lim
Although popiah is readily available in many part of South East Asia, the popiah in Malacca certainly deserves a mention here.
For those who are not familiar with this dish, it's basically a simple snack consisting of crunchy vegetables, (in some cases) some shredded meat, and crunchy crackers or crushed peanuts, all held together by a thin but firm egg-skin wrap. It is usually drizzled with a sweet and spicy sauce for maximum flavour.
What makes Malaccan popiah special is the Peranakan twist (yes, I'm sticking with a theme for now). You will find that some servings of the snack contain deep fried pork lard which adds a whole new dimension to the taste.
One such stall which serves this variation of popiah is a nameless stall which can be found at Jalan Bunga Raya. But because it's a mobile stall, it's possible that the vendor has shifted position since my last visit. But if you do find him, make sure to sink your teeth into the savoury snack!
6. Nyonya Kuih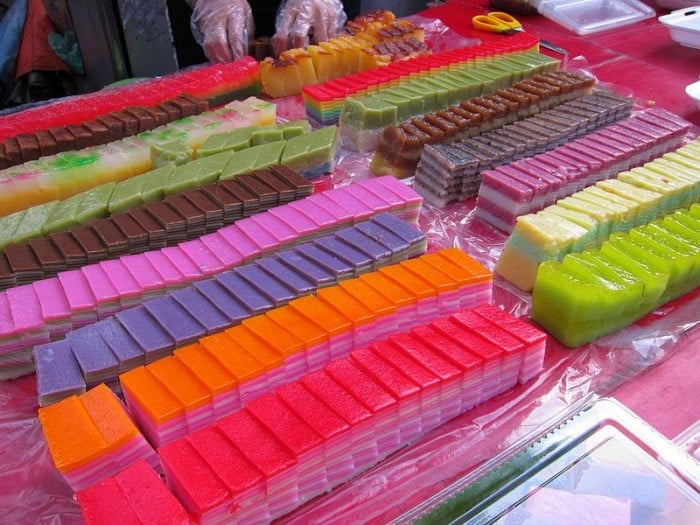 Image Credit: Yun Huang Yong
I swear, in terms of ethnic contribution to food, the Peranakan are way up there in the list. In addition to scrumptious snacks and main dishes, the peranakan are also famous for their diverse variety of kuih-muih.
From glutinous rice dumplings with coconut filling (forgot the Hokkien name, #sadlife), to colourful, sweet snacks and delicious ondeh-ondeh (sweet glutinous rice balls filled with gula melaka and showered with shaved coconut), one can be easily spoilt for choice at a nyonya kuih shop.
For some of the very best nyonya kuih in town, visit Baba Charlie Nyonya Cakes, which operates in a wooden house on Jalan Tengkera Pantai.

7. Duck noodles
Image Credit: GoMelaka
Now, before anyone gets any bright ideas for a lame joke, no, the noodles are not made of ducks, although that is an interesting culinary idea!
Malacca style duck noodle is actually a fairly simple concept. You have your choice of noodles (egg noodles are the best) topped with generous of shredded duck meat on top in addition to some aromatic herbs for added flavour. As you bite into mouthful after mouthful of springy noodles and succulent duck meat, your taste buds are sure to go into overdrive!
It's generally agreed upon that the very best duck noodles can be found at Soon Yen Duck Noodle restaurant on Jalan Tengkera where you can choose to have dry noodles (with thick gravy) or noodle soup!
8. Satay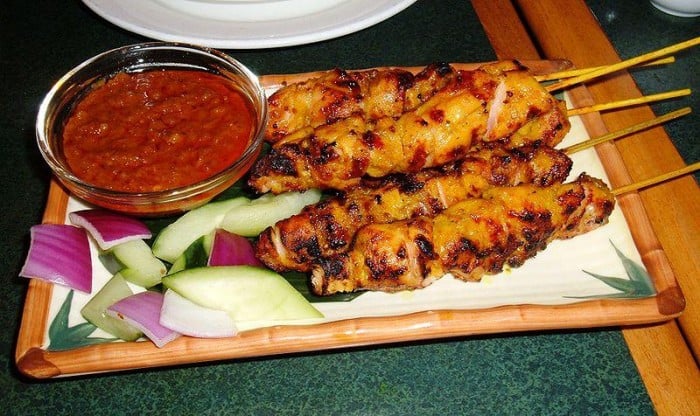 Image Credit: BrokenSphere
Of course, it's unfair if I mention satay celup and forget about the original meat sticks. I'm talking about grilled meat on wooden or bamboo skewers, you nasty!
Yes, satay is more or less THE meaty snack in Malaysia and most parts of South East Asia. It could be chicken, mutton, beef, pork, fish or even tofu. What makes satay so mouth-watering is the rich sauce which accompanies it. Satay in Melaka is cheap and extremely delicious but there is one particular satay joint in Malacca which stands out (and is probably the reason for satay being on the list, basically).
At Sun May Hiong Satay House along Jalan Kota Laksamana (try saying that with a mouthful of satay), you can find a lot of rare satay varieties such as pork liver. But the main sell of the place is its sauce. Instead of traditional peanut sauce, Sun May Hiong Satay House uses pineapples (yes, pineapples), giving their signature sauce an original and unique taste. Definitely worth a try!
9. Putu Piring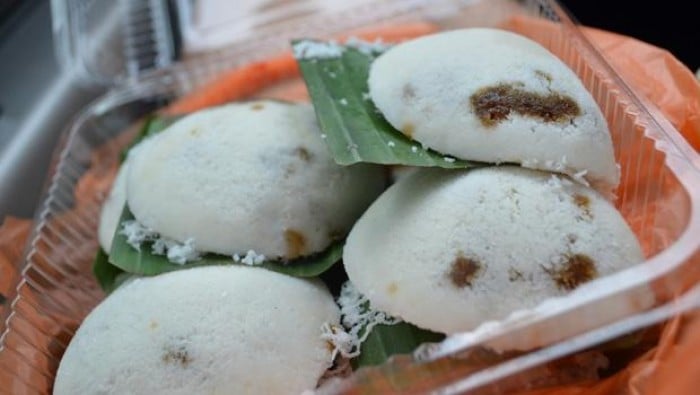 Image Credit: GoMelaka
How should I describe putu piring? Hmm…well, it's fragrant, it's soft, it's fluffy, it's a cake and it's made of rice. Yeah, that's about right.
Putu piring is a very simple dessert-like kuih in Malacca which contains (yet more) gula melaka and steamed to perfection. It's served with shredded coconut on a banana leaf. The best time to eat these fluffy delights is when they're fresh out the steamer as they'll have the perfect texture at that time.
You might not be able to find putu piring anytime you want, so be sure to check out the putu piring store in Jalan Tengkera! The store selling the kuih is a family run business and shouldn't be too hard to spot.
10. Coconut Shake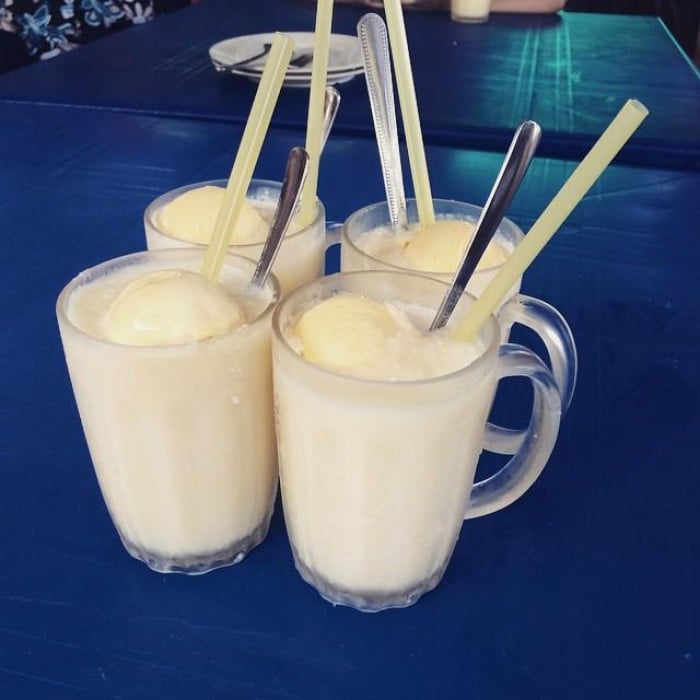 Image Credit: Walter Lim
There are two desserts which, if you don't try in Malacca, you deserve to be kicked. One of them is cendol, the other is Malacca's famous coconut shake (because Malaccans are crazy for coconuts, right?)
This great gem of a smoothie (I guess you can call it that?) is a blend of milk, coconut juice, coconut (as in the fruit) and ice. It's perfect for a hot day and to top it all off, it's served with a scoop of vanilla ice cream! It's basically a coconut milkshake float!
Whether you like or hate (what's wrong with you?) coconut, you simply must try this famous milkshake and the best place to do that is at Klebang (it's the name of the area, the stall is pretty much a roadside stall). You'll know it by the banner which says 'Klebang Original Coconut Shake'. Be prepared for long queues though as the stall is literally one of the most famous spots in Malacca.
Okay, so hands up if you actually ignored all the words and just stared at the pictures while attempting to hold back your drool. Sigh. And after all that effort put into writing too. Can't blame you though! Haha!
Anyway, these are the top 10 foods you must try when you're in Malacca! Did I leave anything out? Regardless, this list is a pretty good starting point to a culinary adventure in Malaysia's 'historical city'!
Also read: 8 Unique Things to Do in Malacca