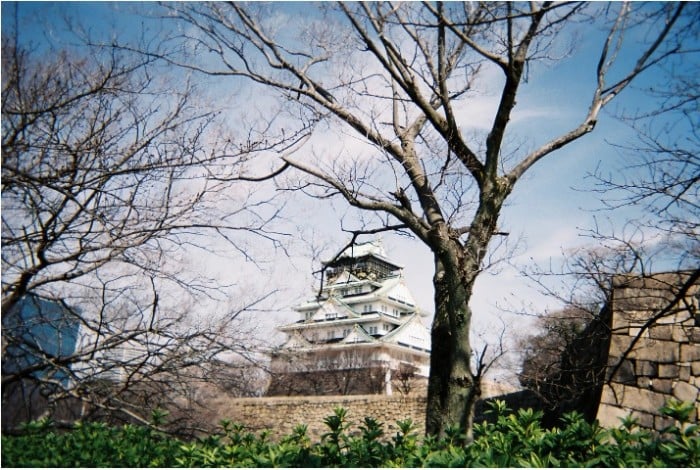 Osaka is a popular destination for foreign tourists, and it isn't difficult to comprehend why. From learning about Japan's past at the scenic Osaka Castle, shopping at Shinsaibashi, trying local delicacies at Shinsekai, to riding roller coasters at Universal Studios Japan and taking selfies with the Glico Man at Dotonbori, there is nothing short of fun in the city. On top of that, Osaka is equipped with a sprawling network of train lines as well as a range of budget hotels, making for a great base to make day trips around the Kansai region and beyond!
Also read: 8 Attractions to Visit on Your First Trip to Osaka
Clueless as to where you should start? Here is a list of 10 best side trips you could make from Osaka, covering common favourites such as Nara and Kyoto, as well as lesser known precious spots such as Mount Kōya and Kinosaki Onsen!
1. Nara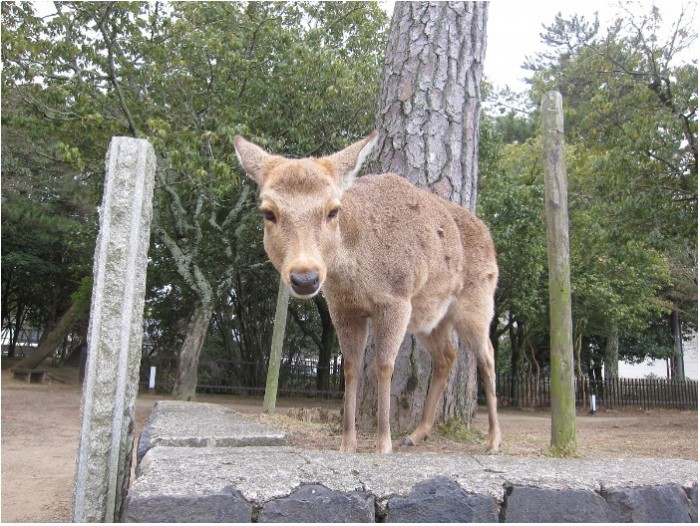 The city of Nara has come to be synonymous with deer due to a large number of these creatures wandering all around the city. They mingle unabashedly among tourists and locals nearby popular attractions such as Todaiji Temple, where Japan's largest Buddha statue is housed, and Kagusa Taisha Shrine, one of the most highly regarded Shinto shrines in the country. Spot the deer as they chill in the sun at Nara Park, within walking distance from the abovementioned sites. Always wanted to be a deer whisperer? Cosy up to a deer (or two!) for an absolutely adorable picture. To coax the deer into taking the perfect selfie, you can bribe them with a stack of deer senbei (deer food) sold at multiple stalls in the vicinity.
Getting there: JR Yamatoji Line's rapid trains run every hour between JR Osaka Station and JR Nara Station and takes 45 minutes. Alternatively, from Namba Station, you can take the Kintetsu Railway Express Line to Kintetsu Nara Station. It will take only slightly more than 30 minutes.
2. Kyoto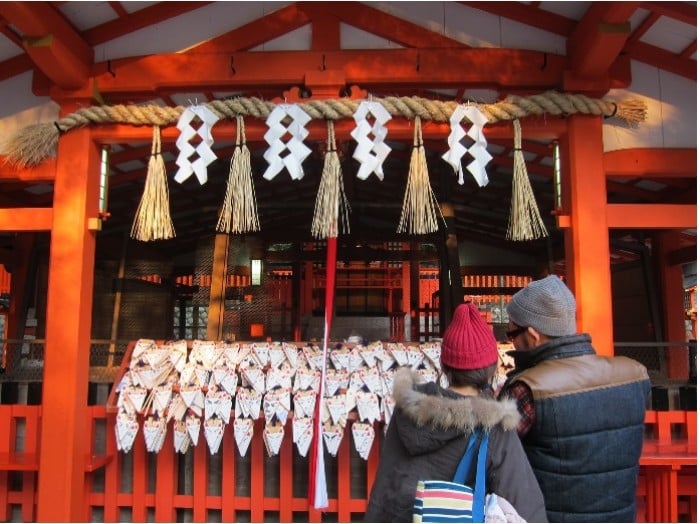 The plethora of things to do and see at one of Japan's most precious gems, Kyoto, warrant a longer stay for a thorough visit. But if time is tight, a day trip from Osaka is doable if you just concentrate on the few unmissable sites of the city. Here's a suggestion: After arriving at Kyoto Station in the morning, start your journey from the structural wonder Kiyomizudera Temple. Have lunch at the bustling Nishiki Market, then move on to Ginkakuji Temple and Kinkakuji Temple. Late afternoon, make your way to Arashiyama Bamboo Forest. Make a brief stop at Gion in the evening to catch the street donned in night lights before returning to Osaka. If you happen to have more time, don't forget the climb through the thousands of torii gates at Inari Fushimi Shrine!
Getting there: JR Kyoto Line operates between Osaka Station and Kyoto Station. On the Special Rapid Line, it will take only 30 minutes. The Rapid Line will take 40 minutes while the Local Line will take about 45 minutes. The latter train lines are often less crowded, although ticket prices are standard.
3. Kobe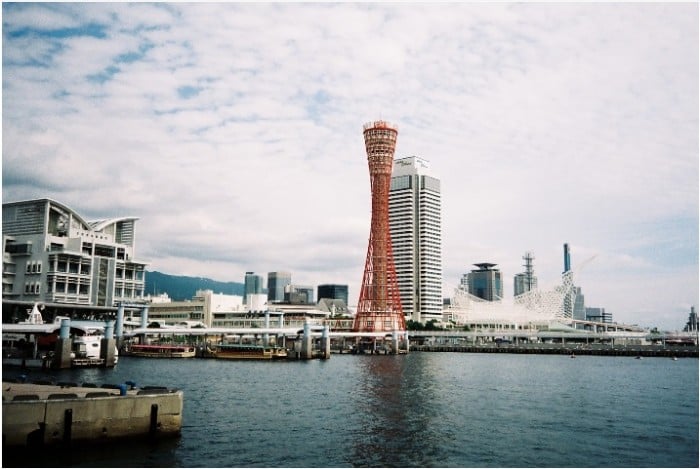 Kobe might be the slightly boring counterpart of its vibrant neighbours, but a short day trip to the port city is still worth it – especially for the breath-taking night view of the city from Mount Rokko! Arima Onsen, a popular hot spring resort, is located at the other side of the mountain. For the foodie, don't miss out on the famous Kobe beef. As for the history buff, check out the Earthquake Museum, which was built to commemorate the 1995 Hanshin Earthquake that devastated Kobe. At Meriken Park, you will see some post-earthquake debris left deliberately on the river bank as a reminder of the quake.
Getting there: Take the JR Special Rapid Service Line from Osaka station to JR Sannomiya station. The journey will only take about 20 minutes.
4. Mount Kōya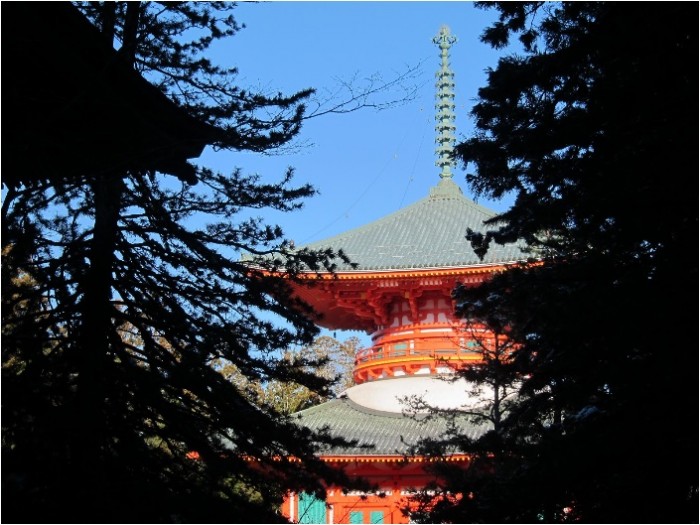 Mount Kōya is my personal favourite on this list. I have been there twice, and the second was no less awe-inspiring than the first.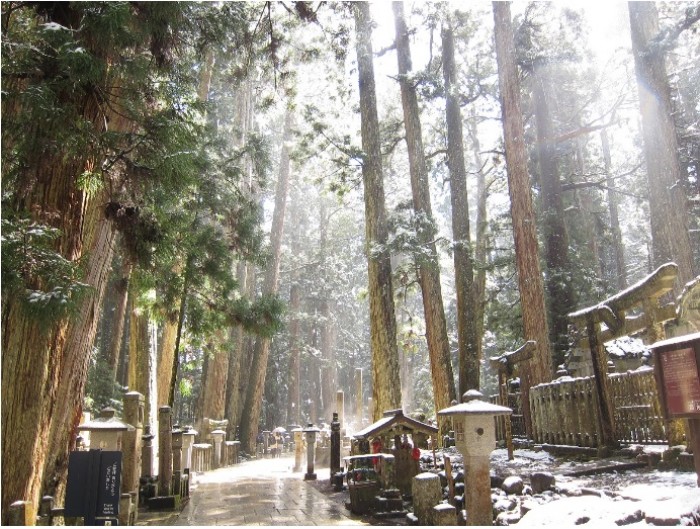 Mount Kōya is a sacred pilgrimage site for Buddhist monks since 1,200 years ago. Today, the area is designated a UNESCO World Heritage Site for its valuable cultural and historical assets. Walk through the 2km path from the entrance of Okunoin through the soaring cedar trees and old tombstones for an otherworldly atmosphere that will truly take your breath away. At the end of the trail is the mausoleum of Kukai, the Buddhist priest who founded Mount Kōya. Do not miss the impressive Danjo Garan Complex and the mildly difficult trek through Mount Benten-dake. Those with time to spare, why not experience a night of temple stay before returning to Osaka?
Getting there: Hop on the Nankai Kōya Line from either Namba Station or Osaka Station to the terminus, Gokurakubashi Station. I suggest simply taking the Express or Rapid Express train rather than the Limited Express train as the extra cost for the Limited Express train does not justify the minor difference in time taken. Note that some trains require a transfer at Hashimoto Station along the way. From Gokurakubashi Station, take the cable car up the mountain and then transfer to a bus to get into Mount Kōya's town center. The total journey takes about 2 hours.
5. Himeji Castle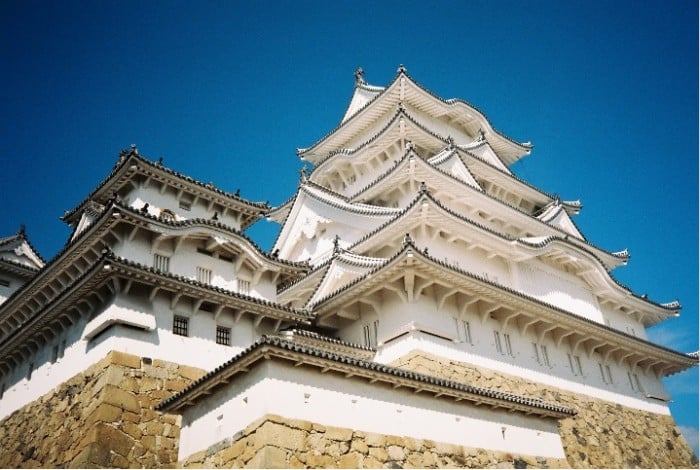 Himeji Castle is one of Japan's twelve original castles which were never damaged or destroyed by fire, war or earthquake, and is lauded as one of Japan's most important natural treasures. The castle was newly reopened in 2015 after 5.5 years of renovation works, so do expect large crowds during your visit! Walk through the castle gardens and also into the castle itself to gain insight into what living in a Japanese castle was like for the daimyos and samurais. The nearby Kokoen Garden is a tranquil Japanese garden with a tea house where you can relax and enjoy a bowl of matcha.
Getting there: JR Special Rapid trains take 1 hour for the direct trip between JR Osaka Station and JR Himeji Station.
6. Kinosaki Onsen
Image credit: Wikipedia Commons
Kinosaki Onsen is a charming onsen town, and is definitely the place to unwind after days of shopping and walking at Osaka. When evening dawns, onsen-goers can be spotted strolling around the nostalgic town center in their yukata (a casual form of Japanese kimono), and wooden clogs. Walk along the willow tree-lined river to appreciate the beauty of the old town, which was founded way back in history in the 8th century.
Getting there: The one way trip from Osaka Station to Kinosaki Station on JR Kōnotori Line (Limited Express) takes about 2.5 hours.
7. Mount Yoshino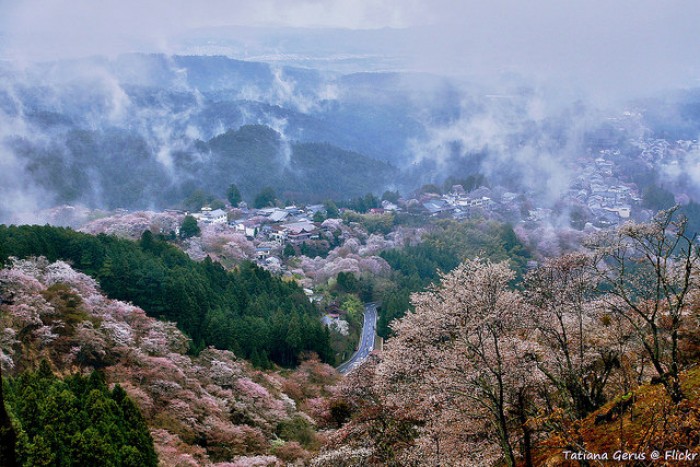 Image credit: Tatters
Nature lovers would be pleased to know that Mount Yoshino, a blissful respite from the bustle of the city, is located just a stone's throw away from Osaka. If you're looking to burn off some calories from all that sushi, Mount Yoshino is the perfect place for you! During the cherry blossom season, hikers are treated to an amazing sea of pink juxtaposed against the verdant greenery. It is said that there are more than 30,000 cherry blossom trees planted on this mountain in Nara prefecture! Wow! While you're there, do check out some of the intricate shrines and temples that dot Yoshino town, such as Yoshimizu Shrine and Kinpusenji Temple.
Getting there: The train ride between Osaka Abenobashi Station and Yoshino Station takes about 90 minutes on the Express train.
8. Iga City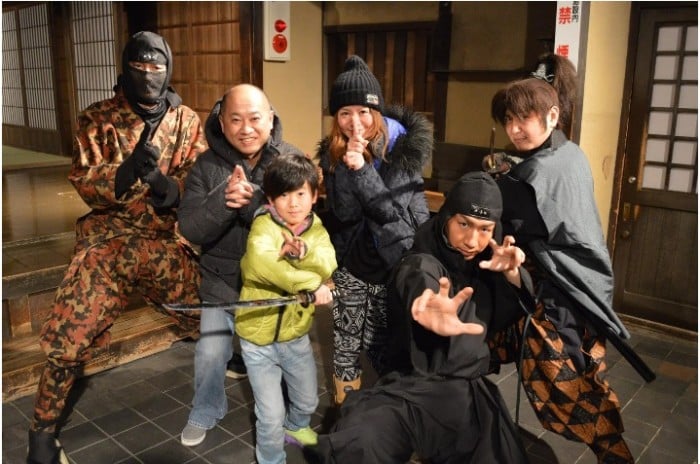 Image credit: Igaryu Ninja Museum Facebook
In the past, Iga City used to be a ninja town. Join a guided tour of the Ninja Museum of Igaryu, and discover the fascinating art of stealth! Make sure to also catch the ninja show, where cool ninja tricks are demonstrated.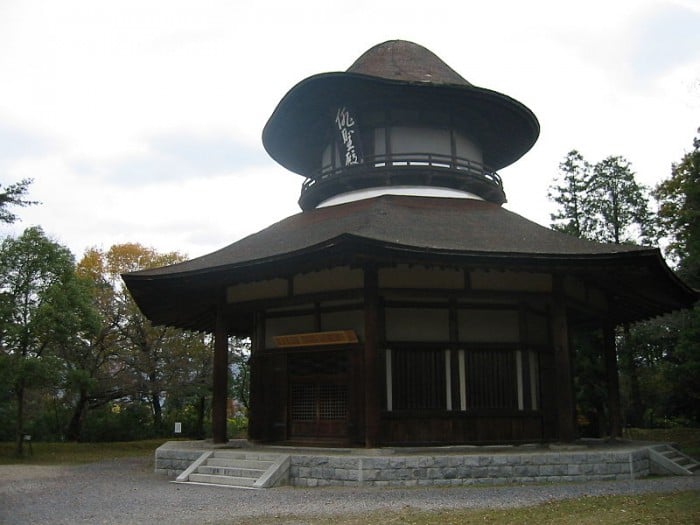 Image credit: Wikipedia Commons
Those familiar with old Japanese literature might have heard of the Japanese poet Basho Matsuo. As Iga is his birthplace, it is recommended to pay Basho Memorial Museum a visit to learn more about the revered man. You can also make a visit to the well-preserved Basho's Birth House to take a glimpse into how he lived back then. Even if you don't know the poet, it's a great opportunity to learn about what houses were like in Japan in the past! Also check out Sukodo School, where the children of samurais were taught during the late Edo period.
Getting there: The JR Yamatoji Line from central Osaka Station to Kamo Station will require 45 to 60 minutes. At Kamo Station, transfer to the JR Kansai Line and alight at Iga-Ueno Station. This will take another 35 minutes. Finally, change to the Iga Railway and travel for about 5 minutes to Ueno-shi Station.
9. Ise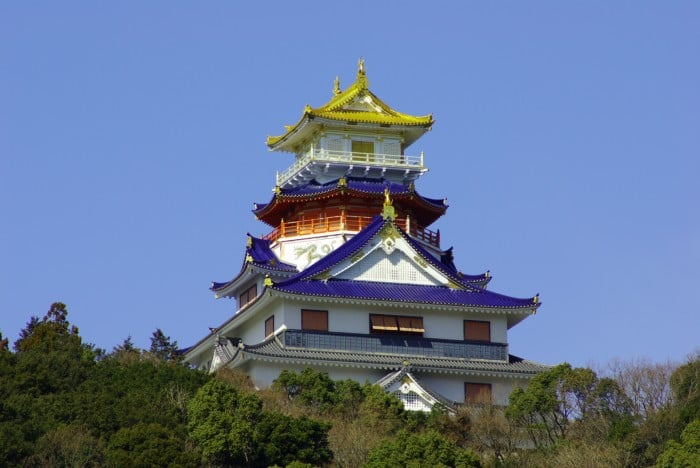 Image credit: Wikipedia Commons
Now, if you just can't get enough of learning about Japan's feudal times, there is an Edo Wonderland Theme Park in Ise! Also known as Azuchi Momoyama Bunka Mura, the theme park is built like a small castle town and replicates many of the buildings and architecture seen in the samurai-ruled town in the past, including the true-to-size Azuchi Castle. There are also various hands-on activities that you can participate in!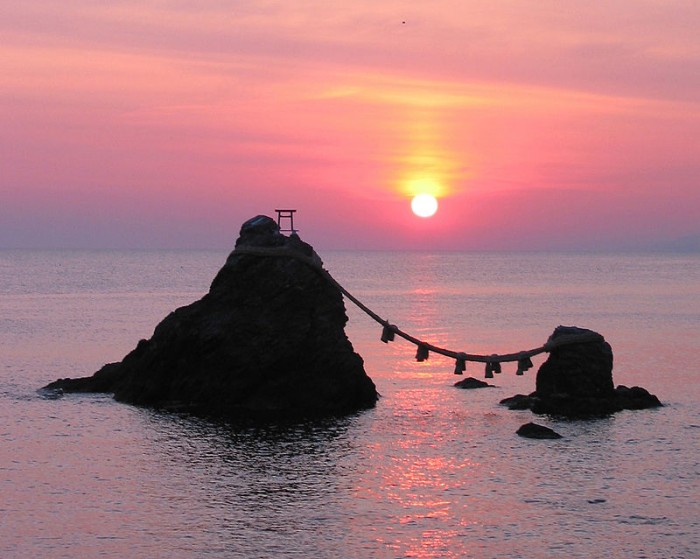 Image credit: Wikipedia Commons
Otherwise, Ise also boasts the great Ise Shrine. Visitors can explore both the Inner Shrine and the Outer Shrine, and there's a museum within the vicinity for those who are eager to learn more. Pay a quick visit to Meoto Iwa, the two sacred boulders that sit in the ocean and are wedded to each other by a shimenawa rope.
Getting there: Take the Kintetsu Railway from Namba Station or Uehonmachi Station to Ise-shi Station. The Express trains take 2.5 hours. Those who would like to get there faster can consider taking the Limited Express trains that will bring you from Osaka to Ise in under 2 hours. It costs few thousand yen more.
10. Hiroshima and Miyajima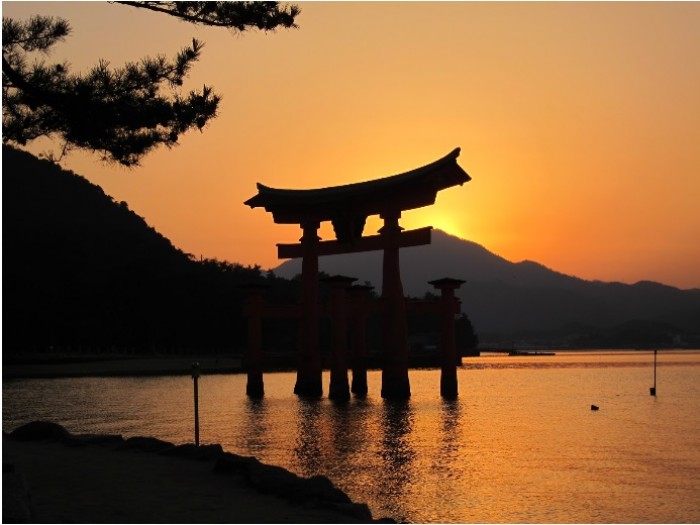 Hiroshima, as a significant post-war city, is a definite must-visit. The Peace Memorial Park is very informative and serves as a solemn reminder to all about the devastations of World War II. Walk around the A-Bomb Dome, a barely surviving building in the heart of the park. Learn more about the town's history and about the atomic bombing of August 6 and its consequences at the Peace Memorial Museum. After a poignant walk in Hiroshima's town center, take a short ferry ride to the nearby island of Miyajima. The lovely Itsukushima Shrine is a beautiful spot viewing the sunset.
Getting there: The journey from Osaka to Hiroshima will require a ride on a bullet train. Unless you are travelling on the JR Pass, budget travellers should probably consider other locations apart from Hiroshima for a day trip from Osaka. Hiroshima Station can be reached from Shin-Osaka Station on the JR Sanyo Shinkansen. Nozomi and Mizuho trains take about 80 minutes, while Sakura trains (covered by the JR Pass) require a few minutes more.
Also read: Impossible! Just SGD 1200 for 10 days in Tokyo, Osaka and Kyoto?!
Taking into account public transport services and time constraints, this list does not cover other day trip destinations from Osaka that are possible with a car. What do you think? Where else would you explore from Osaka in a day? It's time to go exploring!