Camping takes out the posh and comfort of conventional accommodations while keeping you abreast with nature. It also enables you to appreciate your surroundings, away from the noise and pollution of the city.
The Philippines showcases a lot of popular camping destinations, as well as those places that are still waiting to be discovered. If camping is the type of thrill for you, get your camping gear ready and embark on an adventure at these places in the Philippines.
Also read: 12 Best Hiking Getaways in the Philippines
1. Biak na Bato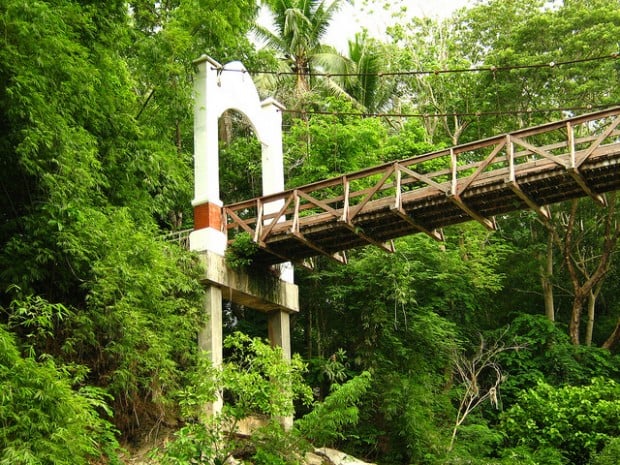 Image credit: Jack
We will start our list with one of the camping destinations that are closest to Manila. Biak na Bato is about a two- to three-hour drive from the national capital, and it only requires moderate trekking, so even newbies won't find it extremely difficult to navigate. Surrounded by several other points of interest, Biak na Bato is a good choice for an overnight camping site. Explore the cave network, the Madlum River, and even go bird and wildlife watching as endemic birds and mammals grace the area.
2. Anawangin Cove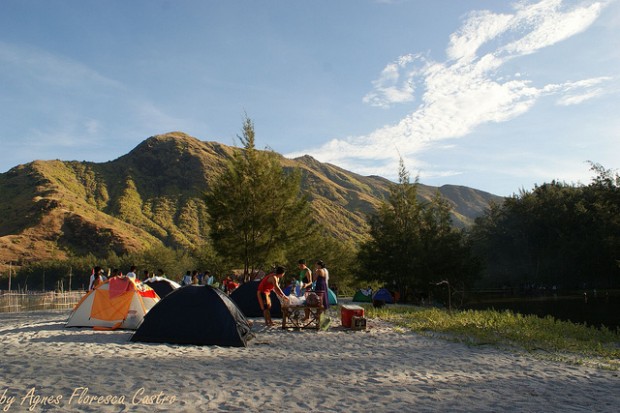 Image credit: Halu Halo
Anawangin is one of the most popular camping destinations on our list. Relatively close to Manila, it has been one of the favourite destinations of travellers who love both the beach and the mountainside. Anawangin Cove is ideal for campers who would like to have an experience of solace without straying too far from civilization. Generally, the weather here is mild, especially during the third and fourth quarters of the year. The scenery is perfect for a laidback moment by the beachfront while grilling your food with your friends.
3. Nagsasa Cove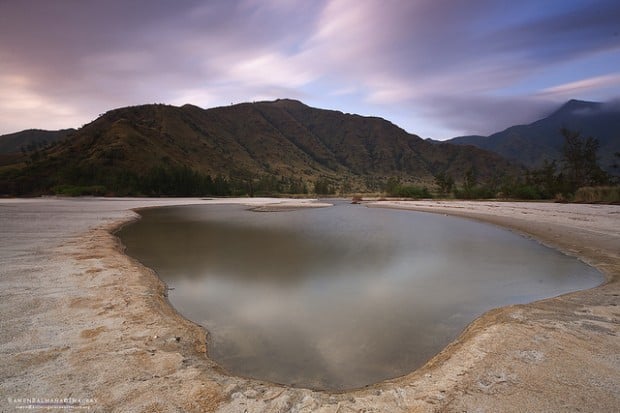 Image credit: Rawen Balmaña
Just a stone's throw away from Anawangin Cove is Nagsasa Cove, which can be your close alternative. It offers a very raw and untouched atmosphere. Like Anawangin, there is no direct source of electricity here, and it can be a real struggle getting a signal for your mobile phone. That is actually a good thing, especially if you want to have a brief escape from the technology and all the buzz that surrounds your daily routines.
4. Borawan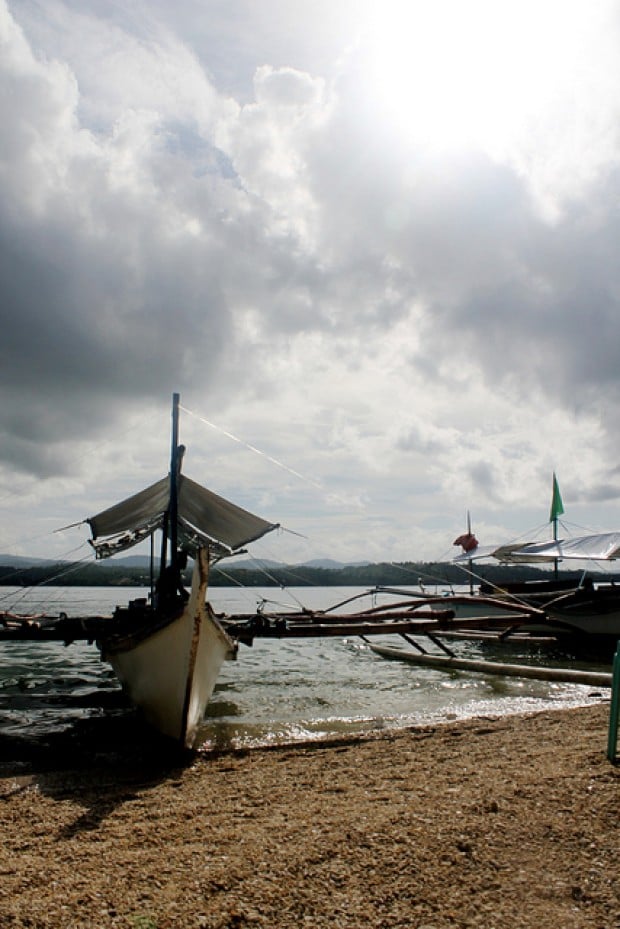 Image credit: Angelyn Lamo
Borawan Island can ring a bell for travellers because its name is a (combination) of Boracay and Palawan. Visitors of the area exclaimed that it can be a significantly less populated alternative to Boracay. It is a very relaxing destination with palm-fringed sandy shores and rock formations. However, I highly recommend that you bring your basic necessities and food if you decide to camp here because these commodities can be very expensive when bought from the stores nearby.
5. Ayoke Island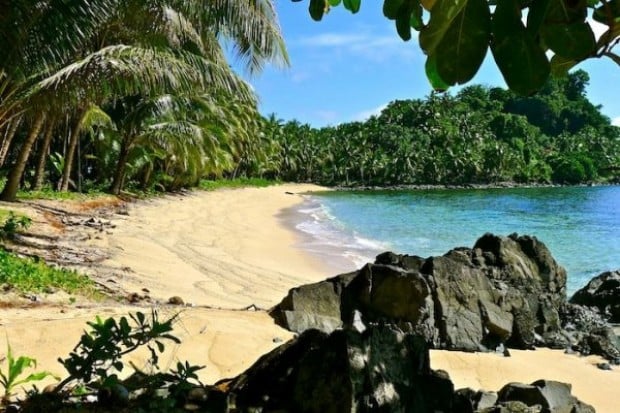 Image credit: Journeying James
Ayoke Island is such a refreshing addition to our list. Located in the province of Surigao del Sur in Mindanao, it is a destination that offers seclusion that is far from that of mainstream camping destinations. Gentle waves complement the peaceful scenery. You will be drawn by the unspoiled beauty of the place, which is very conducive to camping for a day or two. If you are the type of traveller who likes soul-searching and fun packaged into one place, then it is time to visit Ayoke Island.
6. Tagaytay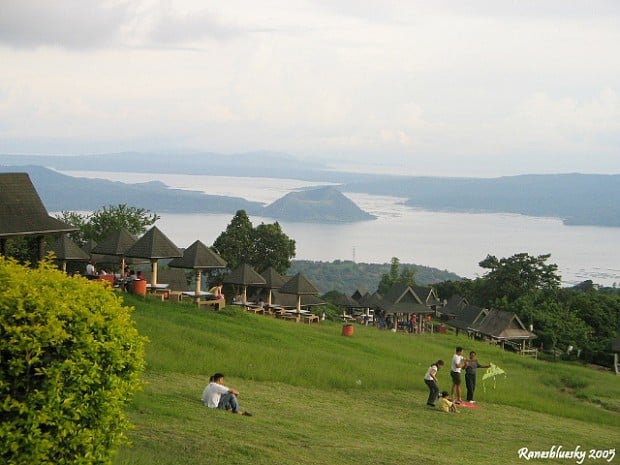 Image credit: Karen Mae Farro
Tagaytay is a very accessible camping destination south of Metro Manila. Whether you're in for a bus ride or a road trip, this great place offers a lot of convenience around it. You can enjoy city strolling and food tripping first before ending your day inside a tent for a chilly evening. Tagaytay is known for its generally favourable weather all-year long, as well as numerous camping sites available to the public. It combines convenience in terms of food choices and technology without spoiling the fun factor of camping. There are also options here that would enable you to go to the smallest active volcano in the country, the Taal Volcano, for a day tour.
7. Mt. Pinatubo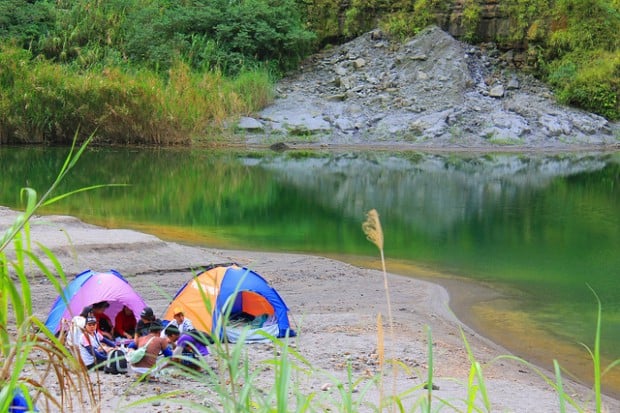 Image credit: Lailooh_9
Be prepare to be mesmerized by the turquoise water of Mt. Pinatubo that makes for a very picturesque view. No wonder campers and photography enthusiasts are drawn to this place, and they keep on coming back! Mt. Pinatubo is not very far from Manila, and it only requires moderate hiking. In fact, there are transportation options if you are not physically fit to endure hikes. Once you get there, you will be welcomed by a vast and peaceful body of water that has been revered by both local and foreign visitors. Mt. Pinatubo is one of the most preferred destinations for overnight camping, and it provides a brief detachment from the busy daily schedule that you have in your regular days.
8. Camiguin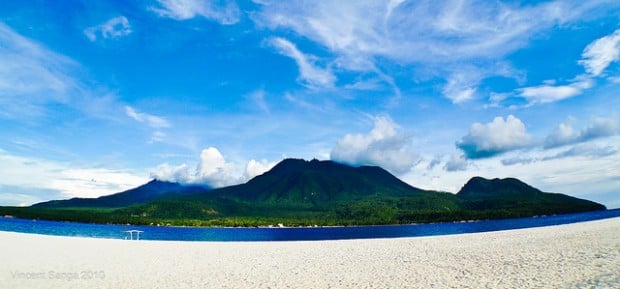 Image credit: Vincent Sanga
One of the smallest provinces in the country in terms of population, the island province of Camiguin is a small package that is bursting with camping ideas – from beachfront camping in Agohay to a trek to Mt. Hibok-Hibok. Camiguin offers a lot of interesting avenues that can enrich your travelling experience. In fact, it has been locally labelled as the 'Garden of Eden', thanks to its magnificent beaches, pristine waterfalls, and awe-inspiring active volcanoes.
9. Marinduque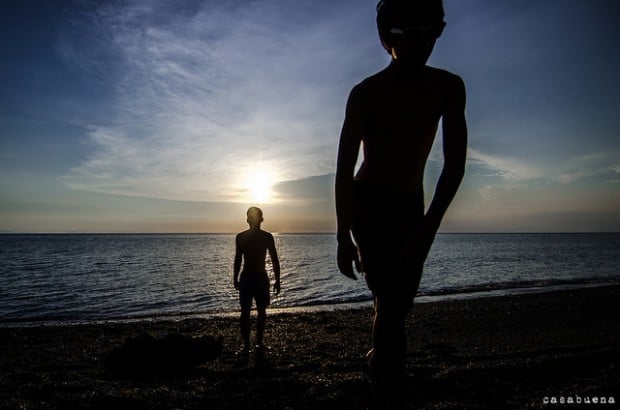 Image credit: Patrick Casabuena
Another camping destination worth the long trip is the island province of Marinduque. The province offers a lot of caves, waterfalls, beaches, and hiking options. All these, plus great camping options like the town of Buenavista where some resorts offer hot springs for a relaxing soak before finally settling down for the night. A detour to Marinduque may require some stamina (not to mention courage) if you want to try spelunking, trekking, island hopping, and lots of fun along the way.
Also read: Top 10 Mountains in Philippines with the Most Incredible Views
10. Mt. Pulag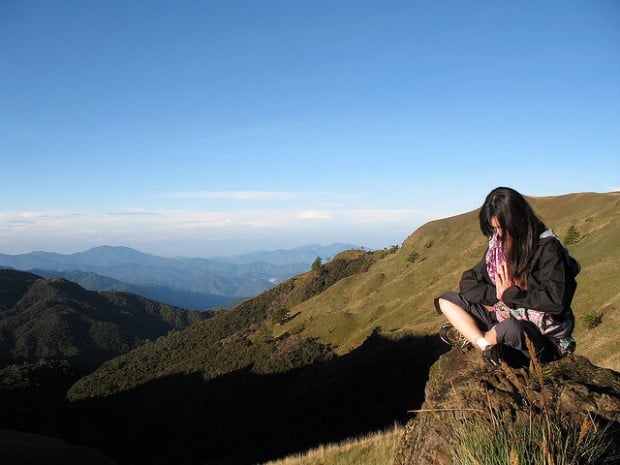 Image credit: Jenny Tañedo
Mt. Pulag closes our list of camping destinations. It is not for the casual traveller, because it requires great physical activity. Noted as the third highest peak in the Philippines and the tallest mountain in Luzon, Mt. Pulag is always included in any hiker's bucket list. The vegetation around the mountain consists of mainly moss and grass, which makes it a great camping ground because the cool breeze blends perfectly with the sunshine. Due to the nature of this destination, it would be best to check the weather bulletin for scheduled closure and hiking schedules.
Also read: Hiking in the Philippines: 15 Trails with the Most Scenic Views
If you are the type of traveller who has been doing the usual trips to other major and mainstream destinations, why not try something new and simpler by camping at any of these recommended destinations? Who knows, you might find yourself rekindling an old hobby, or you just have found one worth pursuing in the process.