There is nothing like a quick retreat to the beach with your favourite girls in the world at the best and most beautiful beach in the Philippines. But what else is there to enjoy in Boracay aside from its turquoise waters, powdery white sand beaches and beautiful sunsets? Well, we have come up with a 3-day itinerary that is just perfect for you and your girlfriends.

Are you ready to achieve all your BFF goals?
Day 1
Arrive in Kalibo, head to Caticlan
There are actually two ways to get to Boracay: through Kalibo or Caticlan Airport.
Kalibo Airport is further and requires two more hours of travel time, but it usually offers cheaper flights. Meanwhile, the Caticlan Airport is just 15 minutes away but this convenience means that airfare is expensive.
Whichever airport you decide to land in, the next step would be to head to the Caticlan Jetty Port (van or bus from Kalibo; tricycle or on foot from Caticlan), where you will board a ferry to Boracay, which is a separate island. You will be docking at either the Cagban or Tambisaan Port where you can ride a tricycle to get to your hotel.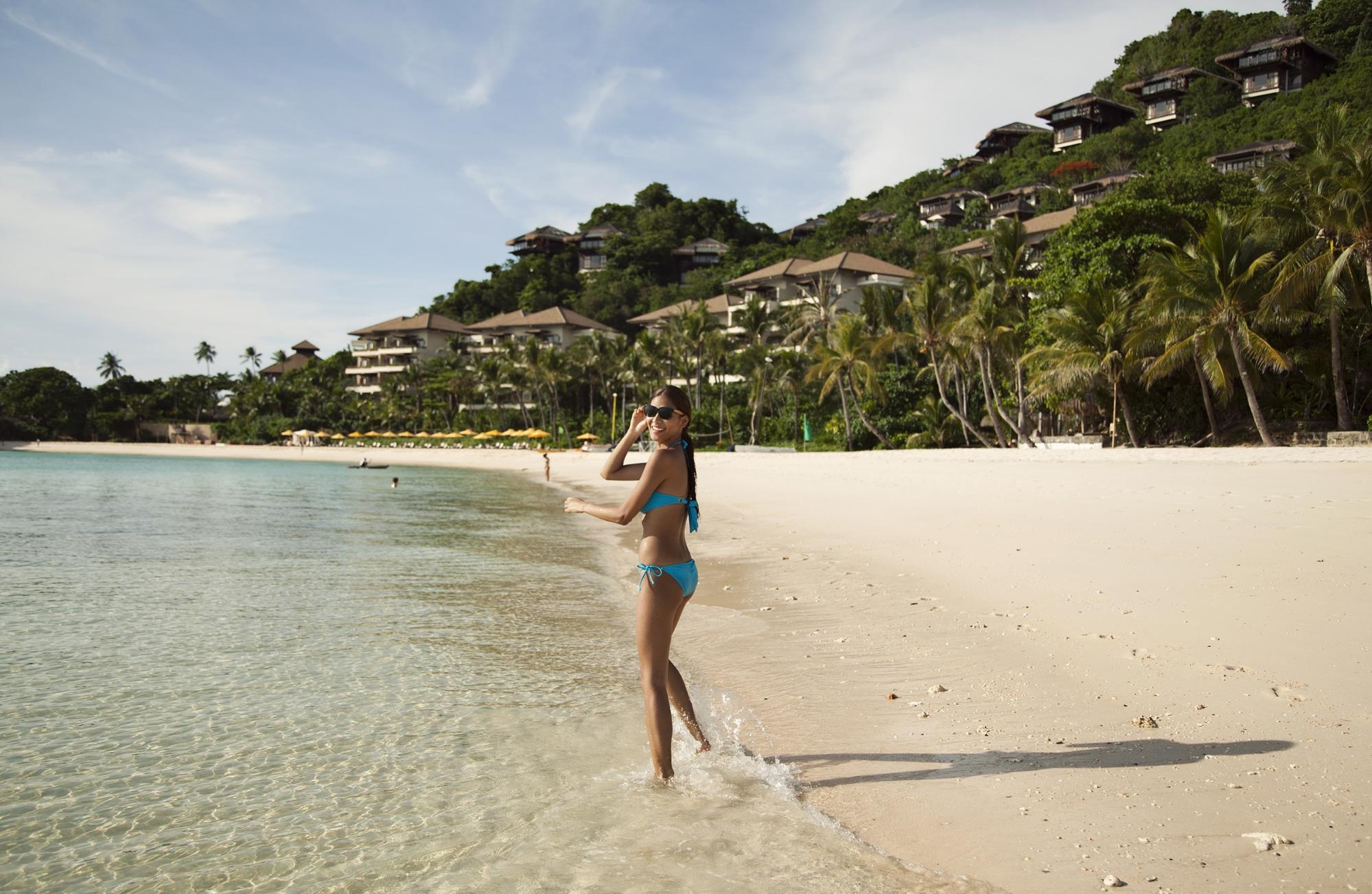 Image credit: Philippine Department of Tourism
Be sure you have packed — and double-checked — your favourite bikini plus a few maxi dresses or a sarong to complete your look. Keep it light and comfy so you can actually enjoy a leisurely stroll by the beach with your girls. Don't forget to snap pictures for your Instagram posts!
Get braids and henna tattoo to set the mood
You know what else will complete your beach ensemble? Braided hair and a henna tattoo! This is definitely not the time to be a party pooper, so make sure your mood is set right and say YES to everything your girlfriends want to try! You'll end up with a fading henna tattoo when you get back – that and your soon-to-be tanned skin will be your best vacation souvenirs!
Go sunset sailing while riding in a paraw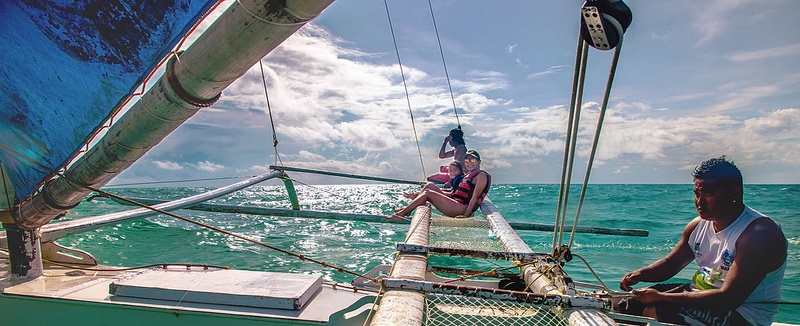 Image credit: Mark Lehmkuhler
If you want to experience Boracay's sunset in a uniquely adventurous way, add paraw sailing to your list. No pre-bookings required because White Beach is lined up with tour agencies and "boat captains" just waiting for you and your girls.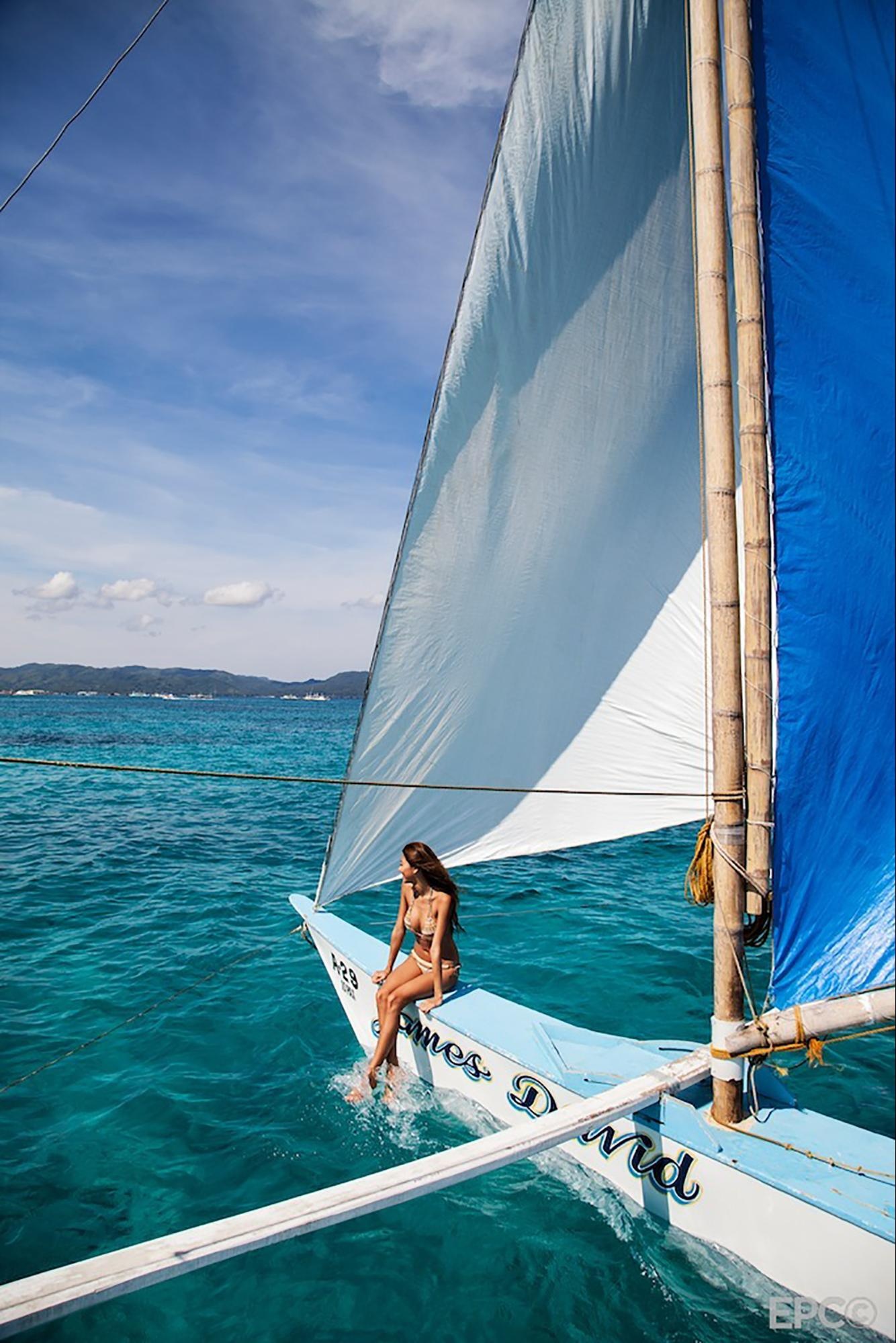 Image credit: Philippine Department of Tourism
What makes the paraw different from the regular boats is that it has a very narrow hull so that only one person can sit in it, which is usually the captain. However, its outriggers have a netting where passengers can sit down and enjoy the view. Paraws can usually sit around 4 to 6 people comfortably so you can finally cross off that BFF goal from the list. The most recommended time to go paraw sailing is around 5.30pm when the sun is about to set.
Pub crawl and have a fun night with girlfriends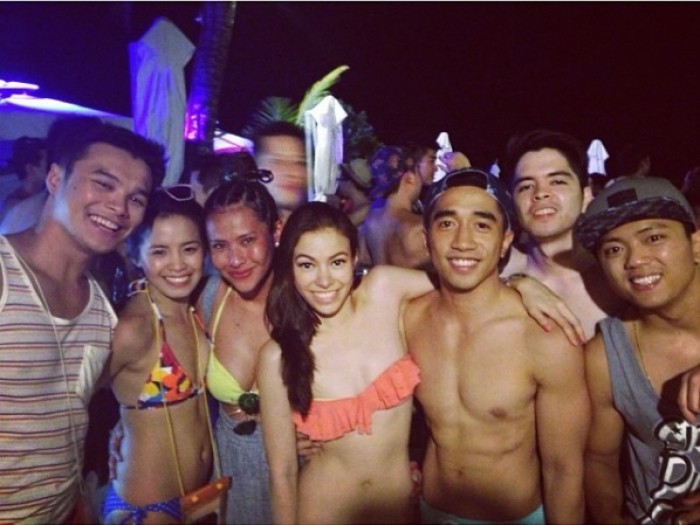 Image credit: Jacq Monteverde
A beach getaway with your squad seems incomplete without some alcohol and partying added in the mix, so the best stop after dinner? Pub crawl!
The Boracay Pub Crawl, which happens from Wednesdays to Mondays, is a bar-hopping tour around Boracay's beach that will encourage you and your friends to go, mingle and make new friends. During this event, your crew can meet about 50 (or 150) more people from all over the world to share some laughter, stories and shots! With discounts to bars and free entrances to clubs, this activity is guaranteed to give your BFFs the best night ever!
Don't forget to take a picture of you and your BFF in one of the beautiful sandcastles along the beach!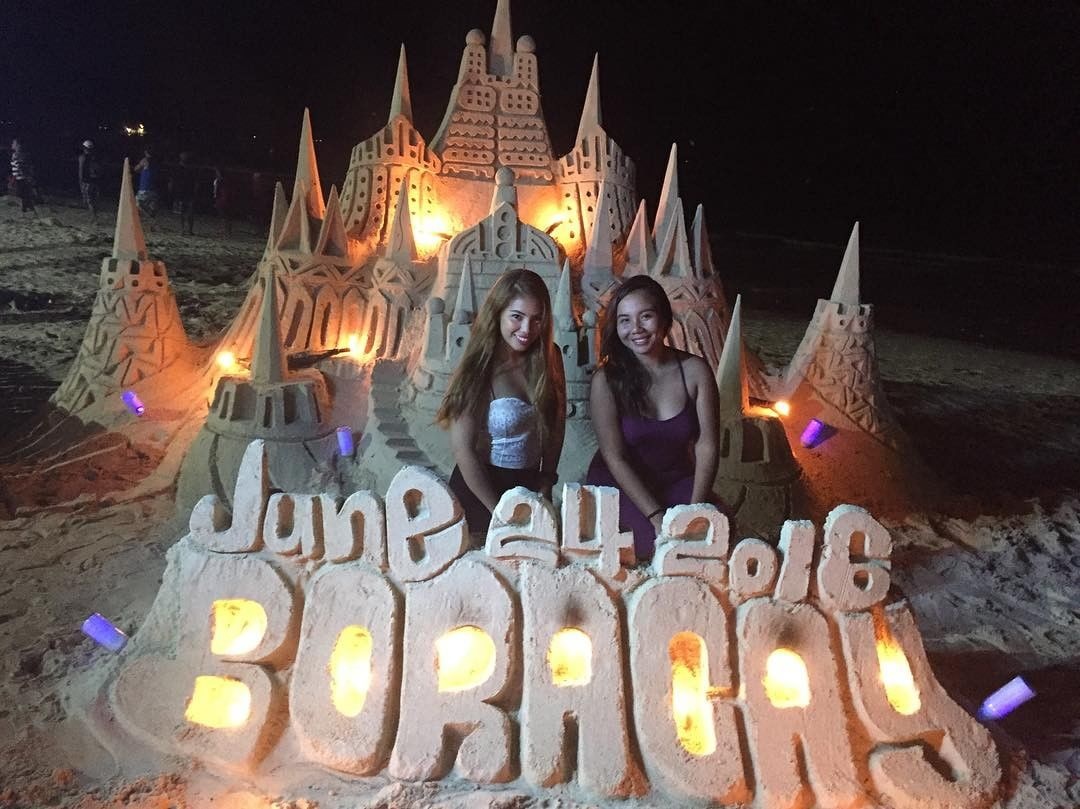 Image credit: japkimtraveldiaries
Day 2
Water activities: Island hopping, stand up paddling, snorkelling, helmet diving, glass-bottom boating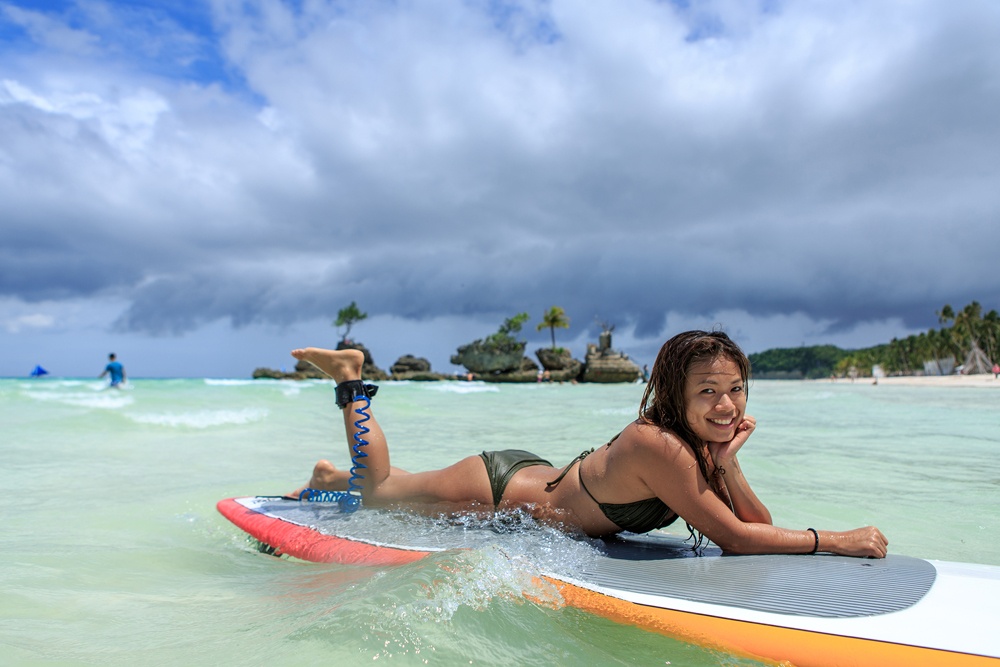 Image credit: Philippine Department of Tourism
As fun as the pub crawl might be, make sure you do not get too intoxicated or you will be nursing a hangover for the rest of the day — remember, this itinerary is packed with lots of activities for you and your girls to enjoy so conserve your energy!
What should you be doing early in the morning at the Philippines' most famous beach? Do water-related activities, of course! Island hopping tours begin at 9am and mostly include a seafood and barbeque lunch. Here you can visit nearby islands such as Magic Island, Crocodile Island and Puka Beach.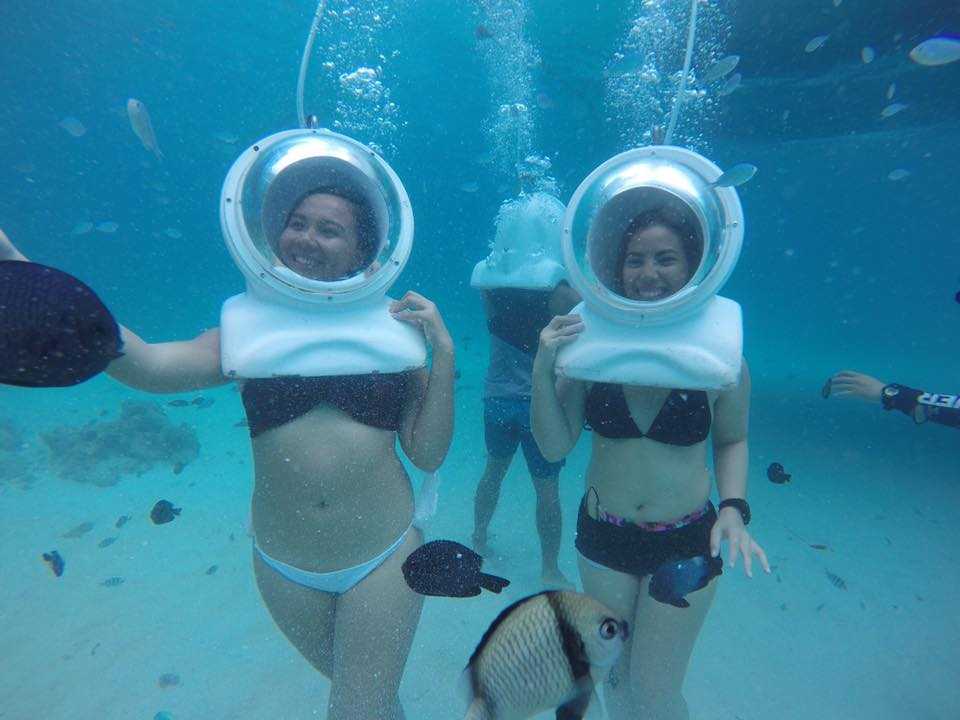 Image credit: japkimtraveldiaries
You can also go snorkeling while you are at it or even go helmet diving and have a taste of what life is like under the sea. If you would rather not swim, you can also try glass-bottom boating so you can still see the beautiful corals and schools of fish. Then again, you can just enjoy the rest of the morning trying your hand at stand-up paddling.
Also read: The Boracay Bucket List: 12 Things You Must Do On Your Trip
Mermaid swimming in the afternoon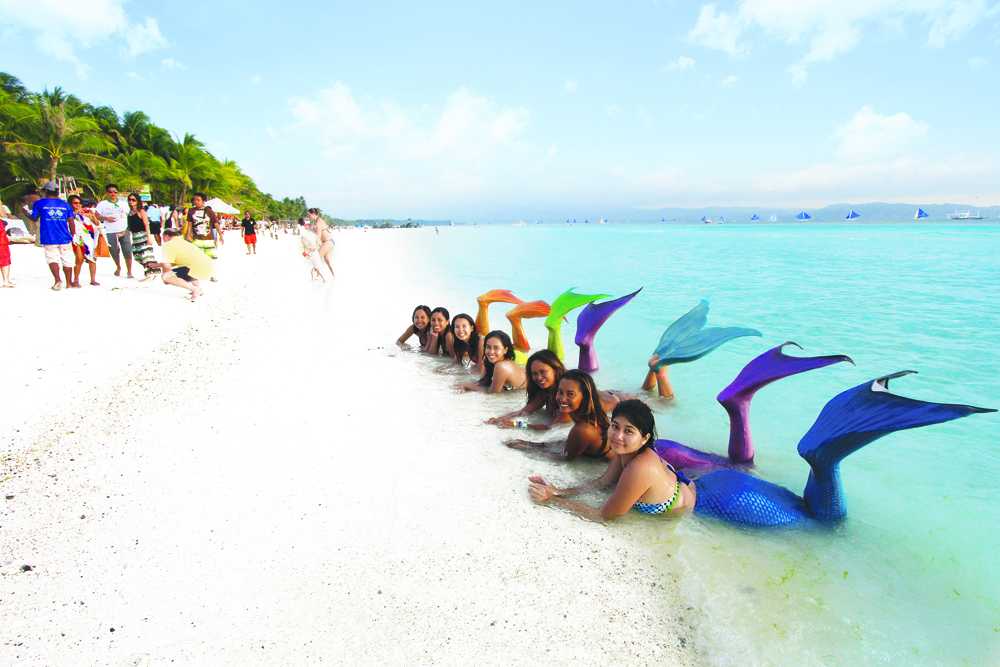 Image credit: Philippine Department of Tourism
In the world's best island (as voted in Conde Nast Traveler's Readers Choice 2016), you can become a mermaid. Put on that rainbow tail, strut your stuff underwater and swim to your heart's desire – it's every girl's dream!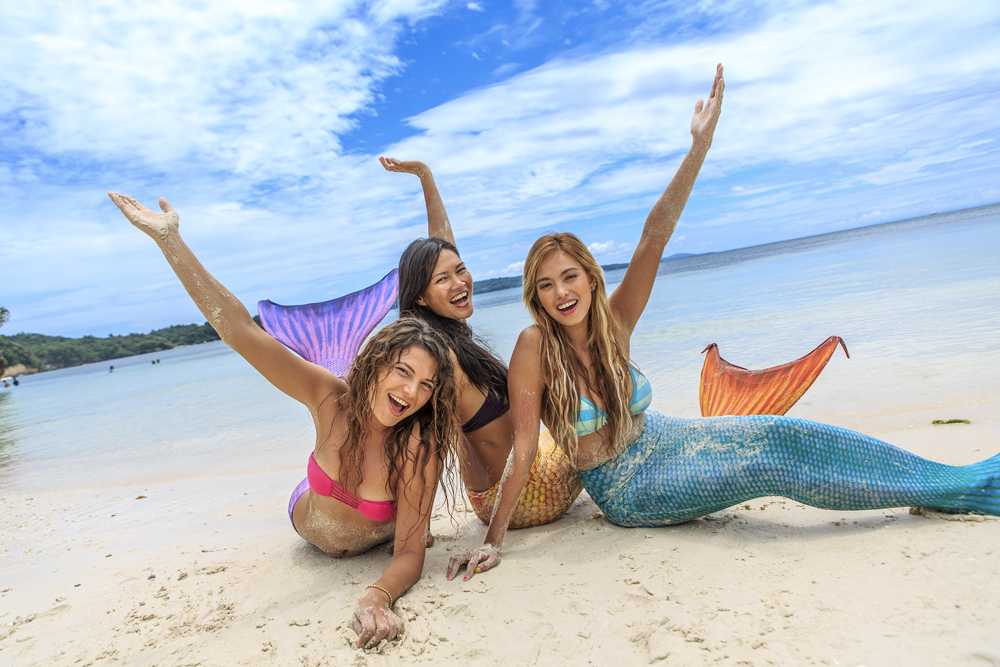 Image credit: Philippine Department of Tourism
Take lots of Insta-worthy shots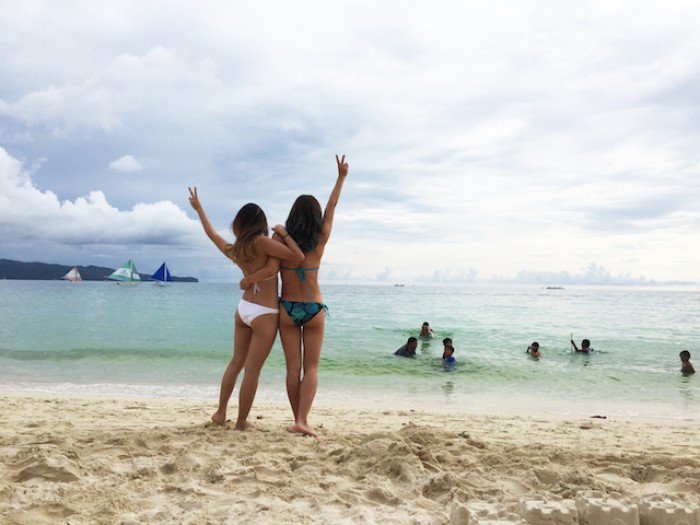 Boracay is such a photogenic place so make sure you take a lot of photos. Get your group to pose as mermaids, make hearts with your hands and mimic your favourite Instagrammer's poses. The sky's the limit! Go and get creative and show the whole world just how awesome a time you are having with your besties!
Get a massage
We're pretty sure that all that swimming and snapping photos have gotten you beat. Boracay offers massage and spa options to relax those muscles. It is the perfect way to bond with your friends! Do not fall asleep though (although the food coma may be very hard to fight) because you will still have some seafood shopping to do later.
Go to D' Talipapa and have a fill on seafood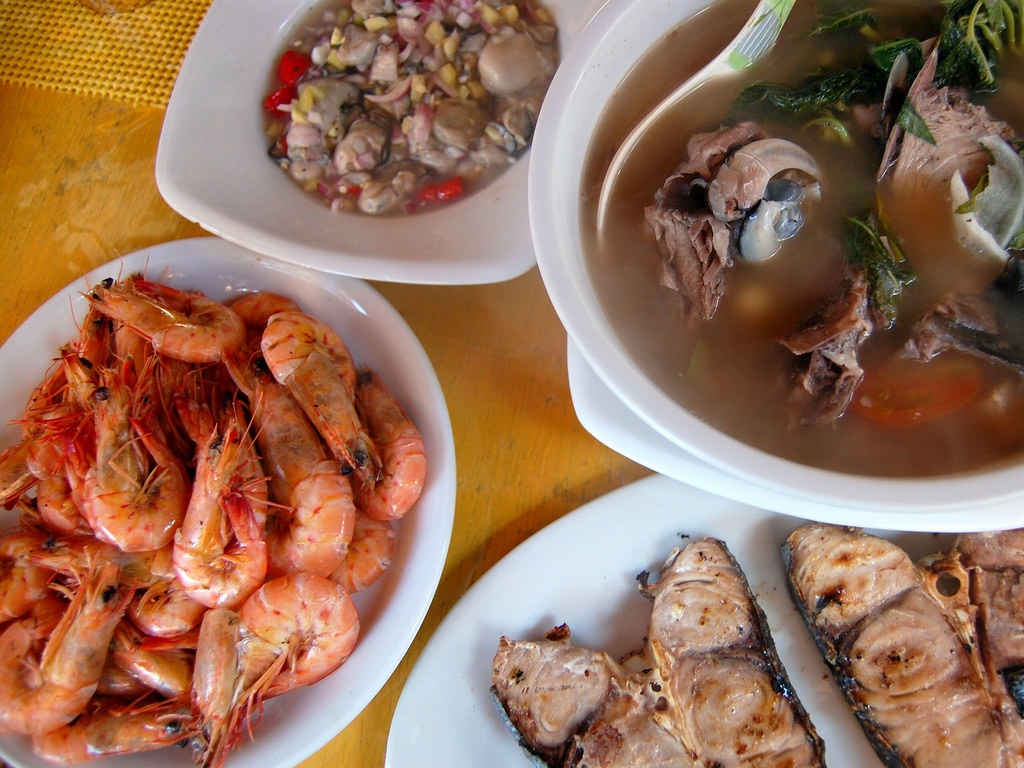 Image credit: Shubert Ciencia
Obviously, you cannot live the island life without getting your fill of seafood. The best place to get that in Boracay is at D'Talipapa. It is actually a wet market where you can pick your favourite live seafood then have them cooked at a nearby restaurant.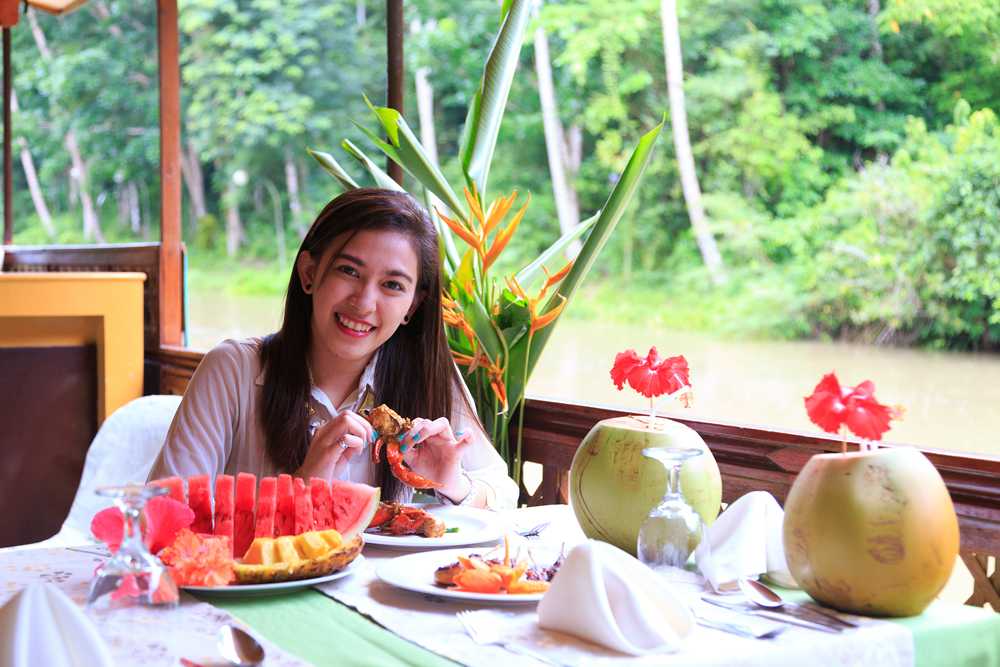 Image credit: Philippine Department of Tourism
Here, you and your girls can put your haggling skills to the test. Don't agree to the first price just yet; in fact, try and shop around to see where you can get the best bargain. It is also best to not come here in the evening as it will become very crowded. Regardless, you will still be guaranteed with the freshest and most sumptuous seafood meal at the end of your shopping.
Day 3
Do yoga at sunrise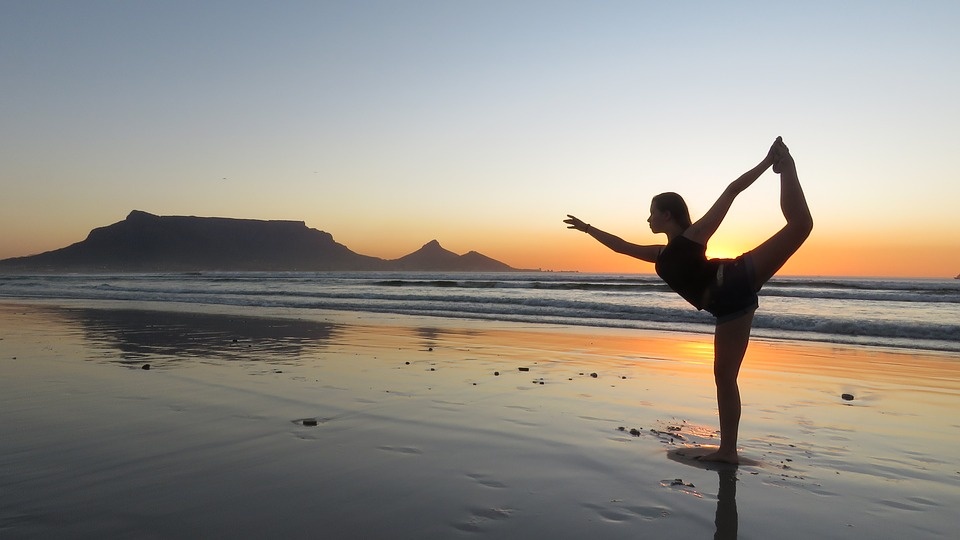 Ahhh… your last day in Boracay. It's a bittersweet feeling knowing that your short but enjoyable stay here has come to an end. Prepare your mind, body and soul by doing some yoga poses while you greet the morning sun. Don't forget to ask your girlfriends to tag along, it will be a great experience for the group!
Also read: Local Tips: Best Spots in Boracay to Catch Sunrise and Sunset
Shop at D'Mall + grab a famous Jonah's fruitshake

Image credit: Wei Ti Chiang
Disclaimer: Don't expect Boracay to have a high-end mall; it's still just a small island, after all.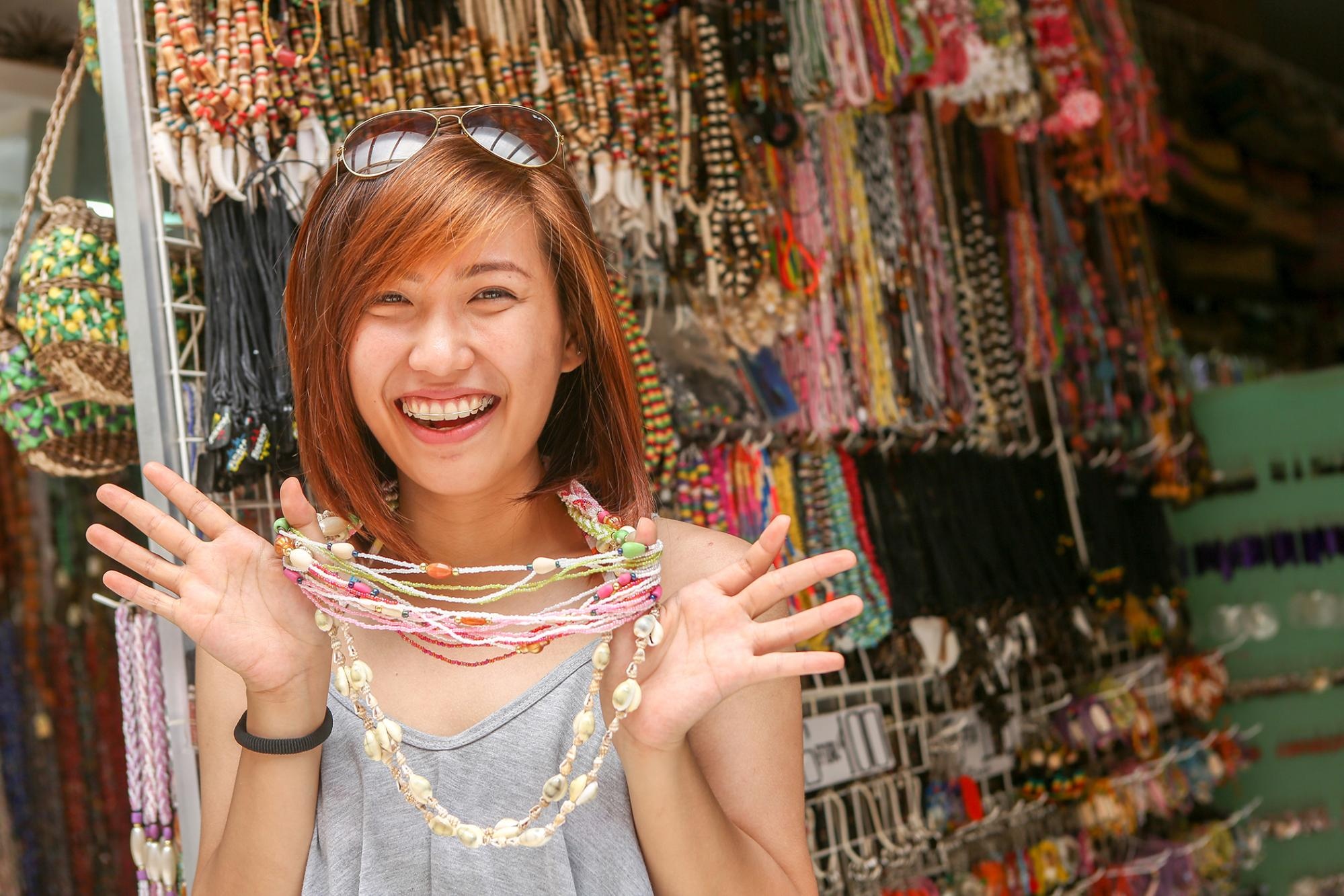 Image credit: Philippine Department of Tourism
D'Mall is the commercial and shopping centre of Boracay and is actually a strip lined up with several stores and stalls. Here, you can shop not just for your daily needs but also for souvenirs and other trinkets that you can take home. You might also want to buy small items that you can give to your besties, as a reminder of the great time you had on the island.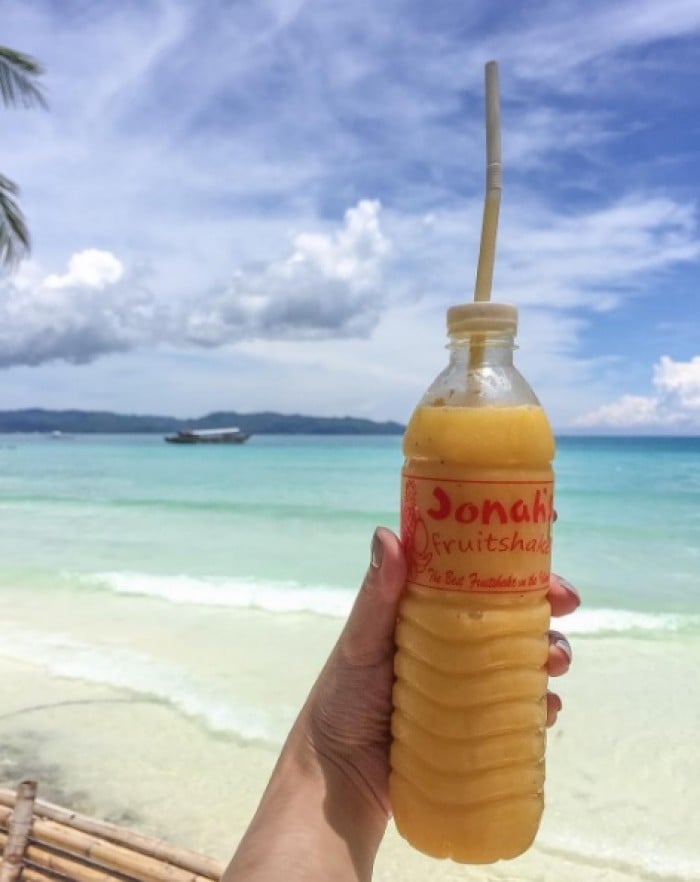 Image credit: Aubrey Dy Lee
Once you are done with your mini shopping, drop by Jonah's Fruitshake and Snack Bar, home of what is perhaps the most well-known refreshments in the island. Don't be surprised to see the place packed with both local and foreign tourists — their shakes are just heavenly!
Get ready to head home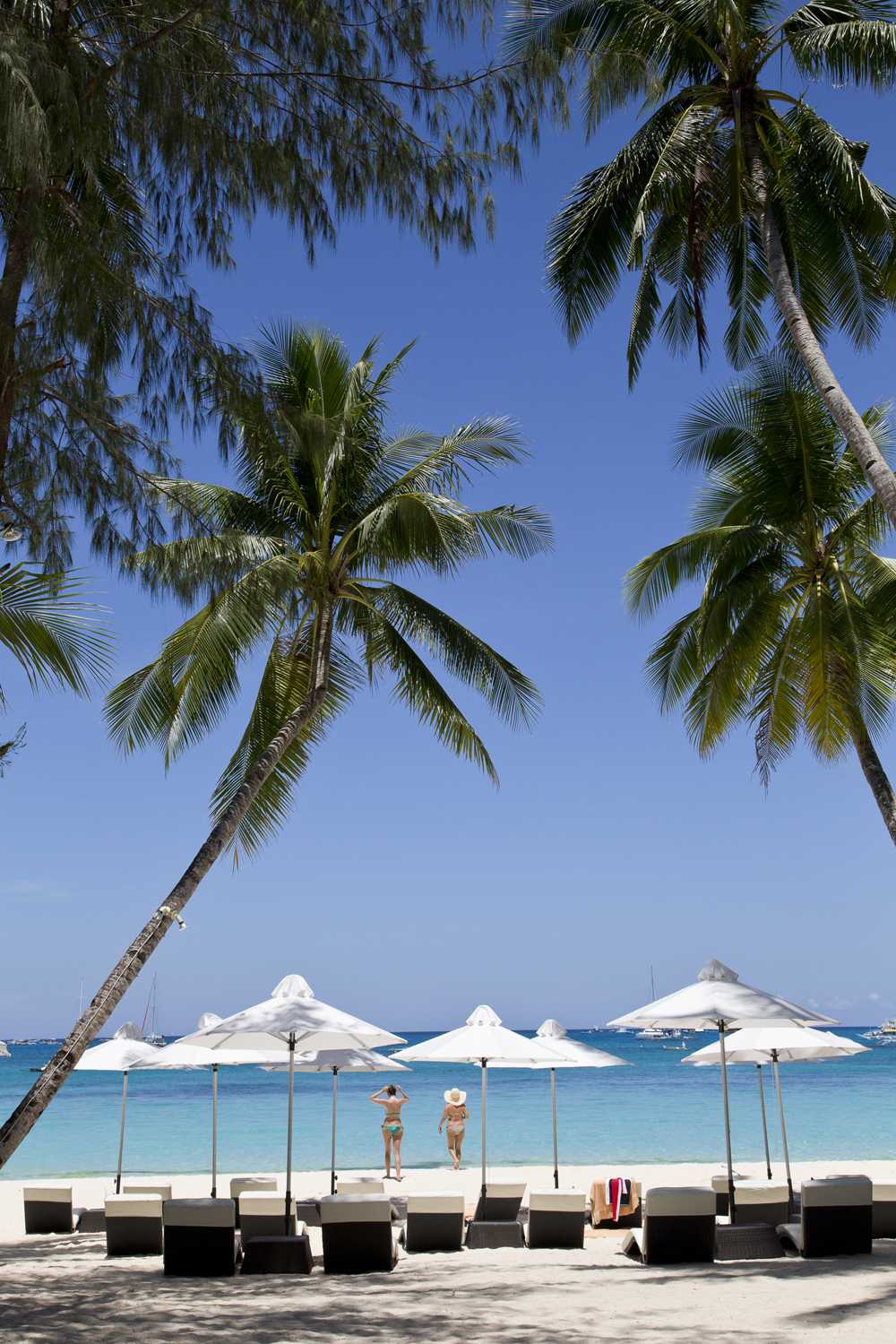 Image credit: Philippine Department of Tourism
As much as all of you would like to remain in Boracay, you just have to go. Head back to your hotel and pack your bags and bid a temporary goodbye to what is now your squad's favourite island. Perhaps you can head to Boracay again on your next vacation?
Go to Kalibo and fly back to Manila
Go back the way you came (tricycle then ferry then van or tricycle) to get to the airport. Bid goodbye to Boracay one last time. See you again soon!
Take it from us – if you and your besties are planning to go on a vacation, make it Boracay! Once you've checked Boracay off your list, make sure you complete everything on The Philippine Bestie Bucket List: 20 Experiences to Complete with Your BFF. Grab your squad and head out! #BFFgoals
---
Brought to you by UOB Travel.