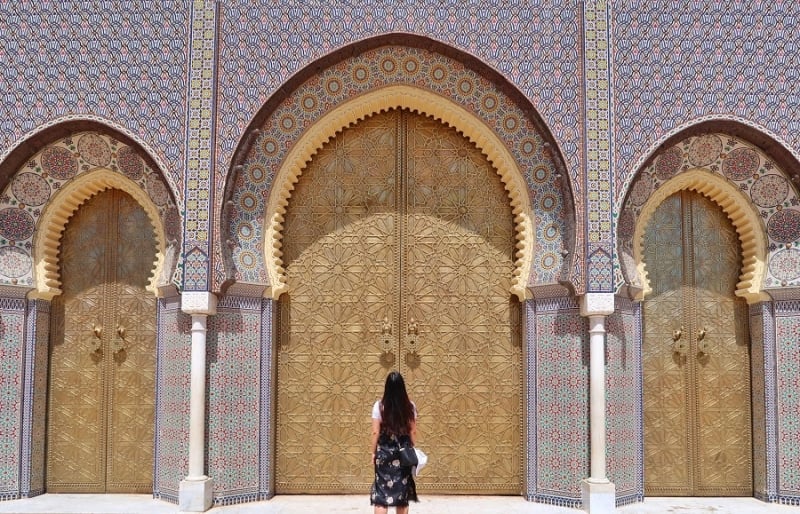 Simply mention Morocco and images of beautiful mosaic tiles, sumptuous tagines and of course, the Sahara Desert come to mind. However, there is so much more to this exotic country waiting to be discovered. I will share with you my 8 day itinerary to give you a glimpse of what Morocco has to offer, tips and tricks to getting the most out of it and mistakes I made that you definitely shouldn't!
Day 1: Arriving at Fez
Prior to our trip, we had booked a 3D2N tour with Fes Desert Trips which would take us from Fez to the Sahara desert and end at Marrakesh. This tour operator is highly recommended, it is run by our host, Yahya and his brother who were nothing but professional and did everything to make sure our stay was memorable.
Upon arriving at the airport, we noticed there were staff in orange giving out free SIM cards for tourists which allowed us 2GB for 7 days (bonus!). We were picked up promptly by our friendly host Yahya who brought us to the riad we had booked. Riads are traditional Moroccan homes that have been converted to guest houses. They typically feature an inner courtyard or garden and roof terraces that offer spectacular views of the city. Staying in a riad is a must while in Morocco and not to worry, there is a wide variety to cater to every budget!
After a short rest at our riad, we decided to head out and explore the medina. If you had booked a desert tour like us, the hosts are usually more than happy to bring you around the city for a guided tour. However, we were feeling adventurous and decided that the best way to explore Fez el Bali was to throw ourselves in and get lost in the winding alleys. This may not be the best option for everyone as it can be overwhelming when crowded so if you are someone who prefers certainty, definitely opt for the guided tours!
Start your journey at the Bab Boujeloud, the blue arched gate that separates the medina and Fes el-jedid. Our first mission was to find the famous leather tanneries. Google maps worked surprisingly well in helping us navigate through the souks although you should still keep an eye for landmarks to help you get around as the signal is not always steady. Also, the locals are very friendly and will point you in the right direction if you ask them. However, be wary of some who target tourists and offer to show you the way only to demand money at the end claiming that they have given you a tour. You will know you are near the tannery when you start to smell it. Yes, SMELL it!
Along the way, people will offer you mint leaves to mask the smell but honestly, it wasn't that bad and still tolerable, but know that you'll always have this option if you're extra sensitive! To get a view of the tanneries, many shops will offer you to go up to their roof terrace for a small fee and take a look at the leather goods they are selling afterwards.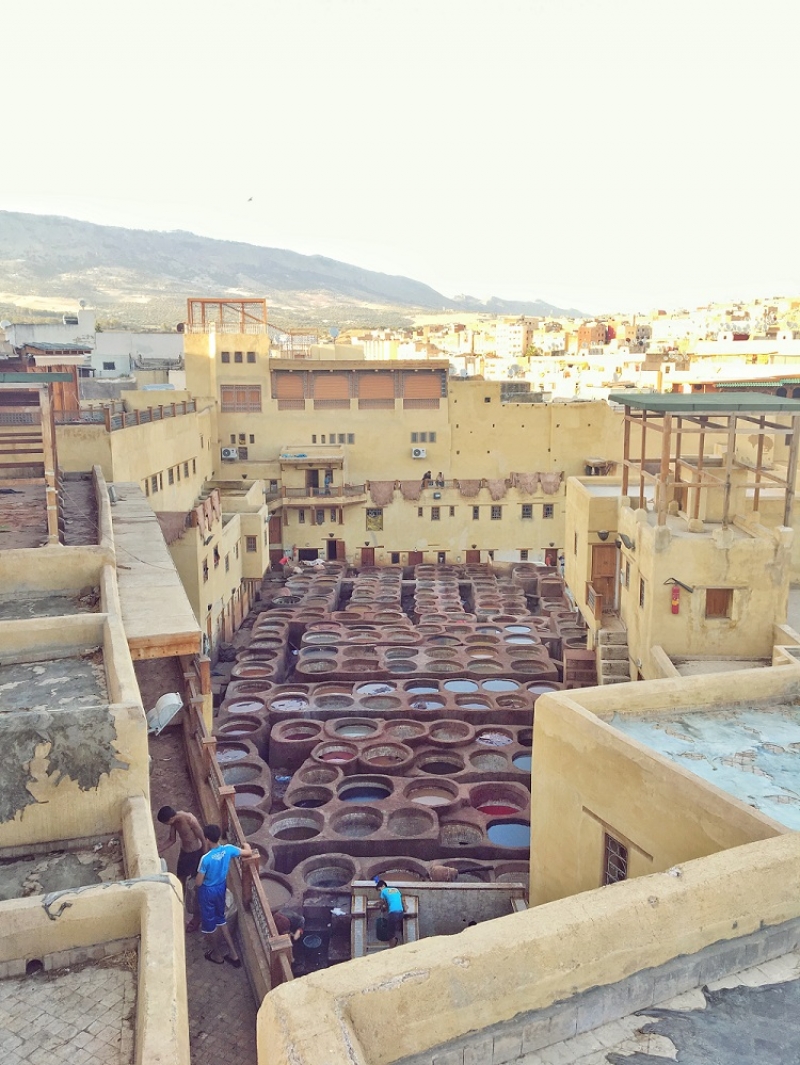 Take your time to explore the medina and maybe even do a little shopping! There are plenty of local products such as leather goods, beautiful patterned ceramic plates, rugs, teapots and many more. Don't be afraid to haggle a little, but always be respectful!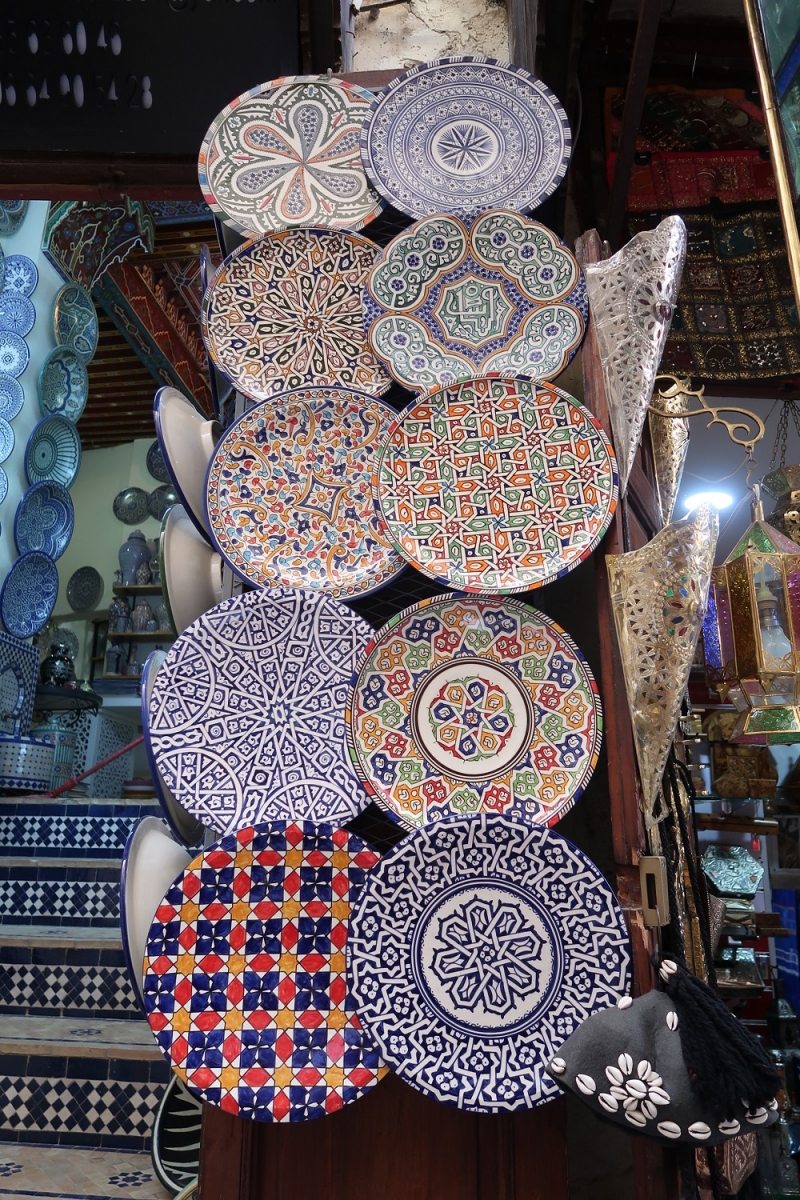 Day 2: Chefchaouen, the blue pearl
I'm sure you have seen countless pictures of this blue city touted as Morocco's very own Santorini. Getting to Chefchaouen from Fez, you can take the CTM bus which was a cheap and convenient option! During my trip I made the mistake of not purchasing the tickets in advance as at that time it could only be purchased locally. After arriving, my host Yahya told us we should have asked him for help to purchase the tickets in advance. Never underestimate Moroccan hospitality! To my knowledge, it is now possible to book the CTM bus tickets in advance through this website.
After an approximately 4-hour bus ride we finally arrived in the blue city. We were greeted by charming cobblestone paths, buildings painted in different hues of blue and streets lined by colourful pots. The laidback vibe was a welcome respite from the busy city of Fez. Take your time to wander through the streets and find countless photo opportunities!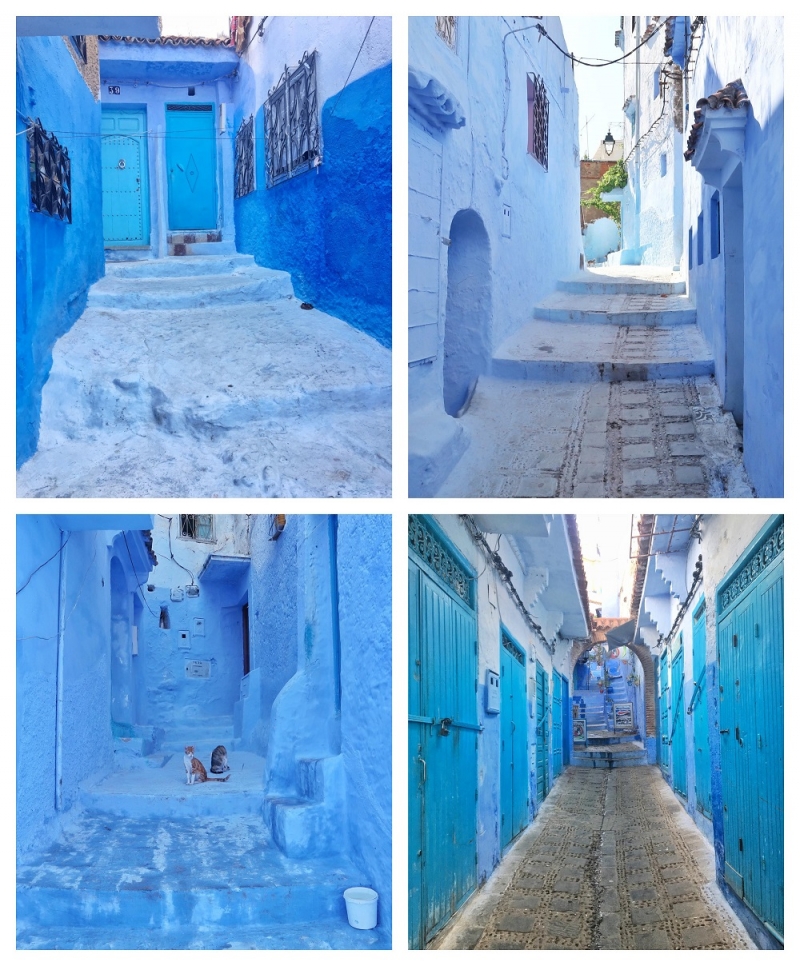 In a bid to hide from the sweltering heat, we chanced upon this lovely café run by Riad Rifandalus with a rooftop terrace that provided a lovely view of the city. While nursing our refreshing ice-cold drinks, we watched the crowds come and go from the cool terrace. They even had these cute locally made hats (pictured below) that you could try on!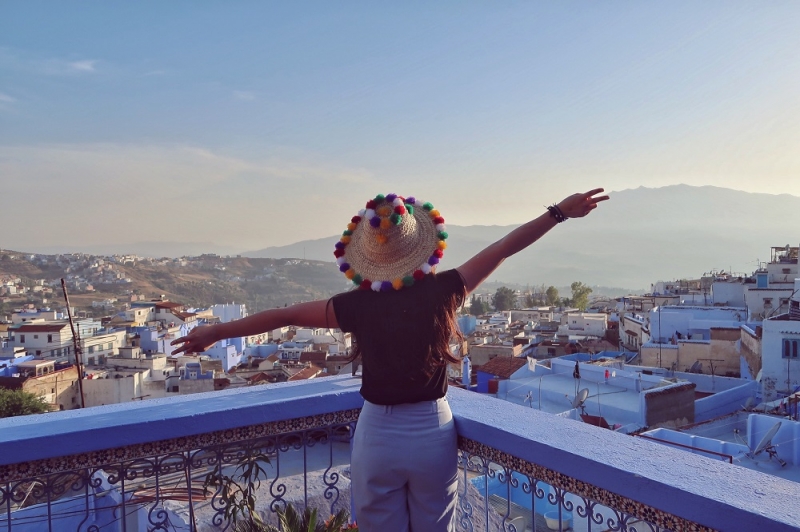 We left the café recharged and ready for our little hike to the Spanish mosque to catch the sunset. From the town square, head east toward the river and cross the bridge to get to the start of the trail. The Spanish mosque is an easy 20-30 minute trek and a popular viewpoint. Indeed, witnessing the sweeping view of the white and blue houses against the warm sunset was breathtaking and easily one of the most memorable sunsets I have seen.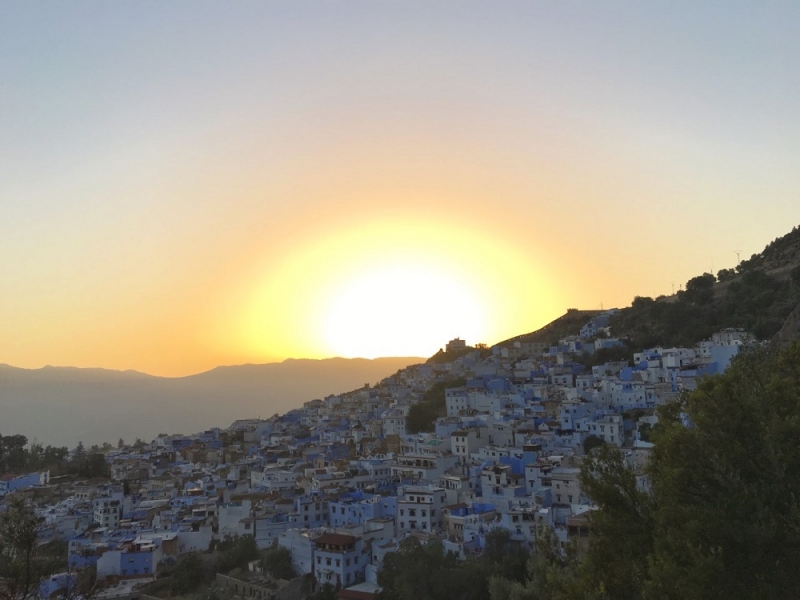 Day 3: Fez el Jdid (New Fez)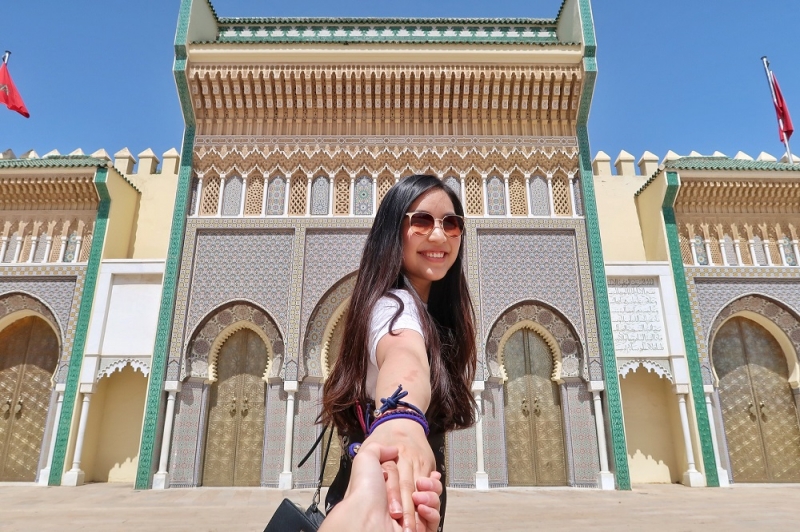 After arriving back in Fez, our tour host Yahya offered to bring us around New Fez. Our first stop was the imperial palace. It is not possible to enter the palace, however, just the magnificent golden doors at the entrance surrounded by colourful and intricate tiles were testimony enough to the grandeur that lies inside.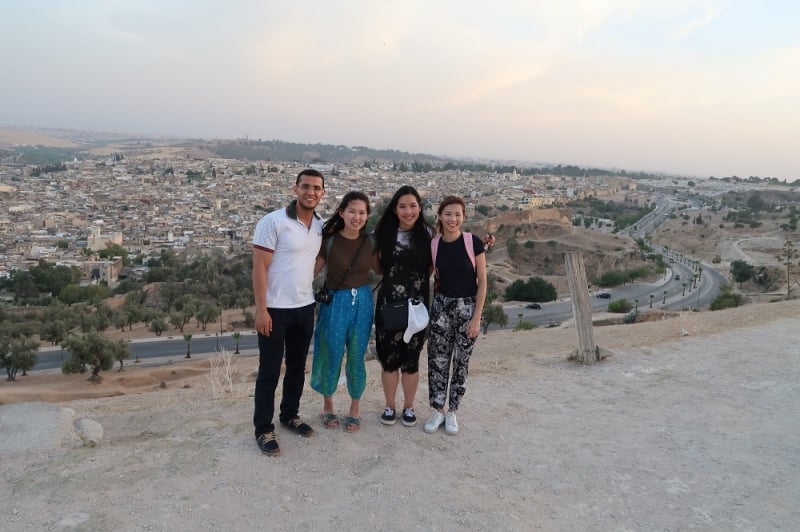 Following that, we took a short drive up to the Merinid tombs which overlook the medina of Fes. Aside from us, there were some locals sitting amongst the ruins just taking in the peaceful sunset. For dinner, Yahya drove us into the city to enjoy some kebabs. It was interesting to see the vast difference between the medina which was still largely untouched by technology and the modern, cosmopolitan New Fez.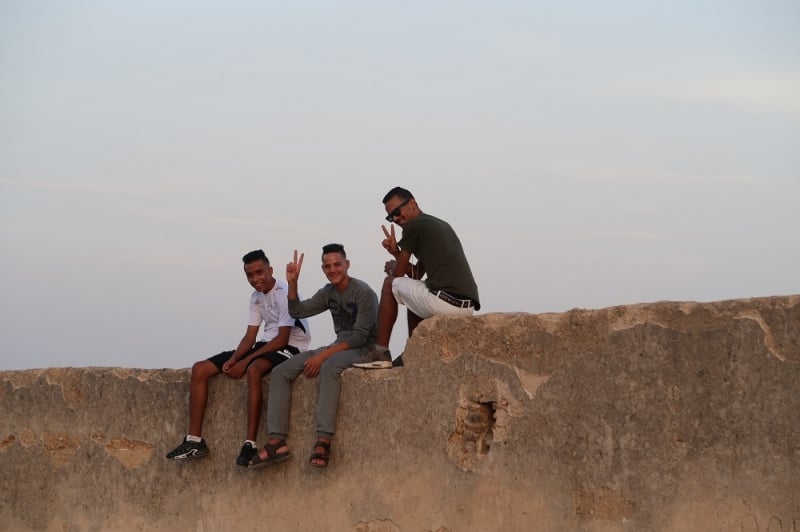 Day 4: Middle Atlas Mountains to Merzouga
Bright and early the next morning, our tour driver picked us up from our accommodation and we set off on our journey to Merzouga. We had a 9-hour journey ahead of us with a few stops in between. Prepare lots of water, snacks and a road trip playlist for this long drive!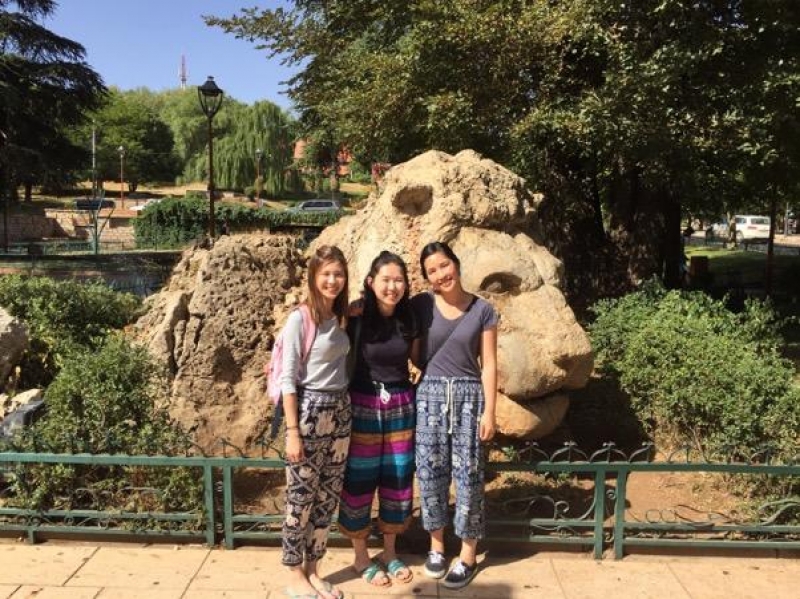 As we embarked on our journey through the Middle Atlas Mountains, we stopped at a peaceful town called Ifrane. In winter, this town is a popular destination known for its Alpine architecture and ski slopes. It is also home to the Barbary macaques that you will get to see as you drive through the cedar forest! Some locals will sell fruits and nuts that you can feed the furry apes.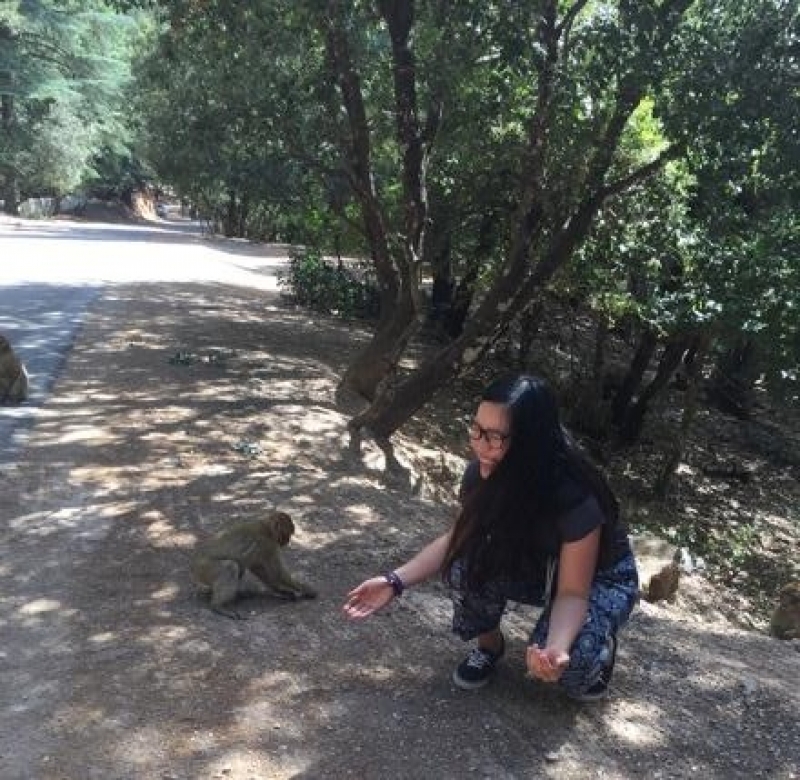 Continuing on our drive through Midelt, we were hypnotized by the everchanging landscape. Lush forests lined by mountain springs gave way to rocky hills and canyons. There were many viewpoints along the way and our local driver, Pedro was more than happy to stop anytime if we wanted to stretch or take pictures. He also loved making us do funny poses!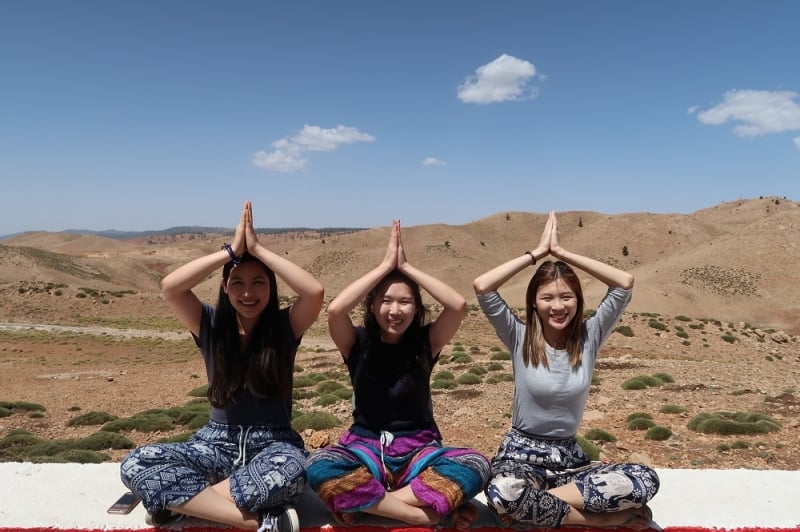 Before we knew it, we had arrived at the edge of the Sahara desert. We checked in our belongings to our room at the Kasbah hotel and packed light essentials for the camel trek. The tour offers two types of accommodation the night in the desert. We went with the standard Berber camp as we were on a budget and we thought it might offer a more authentic experience! If you can afford it, there is also a luxury tent option with better facilities and the option to do a private instead of a group excursion into the desert.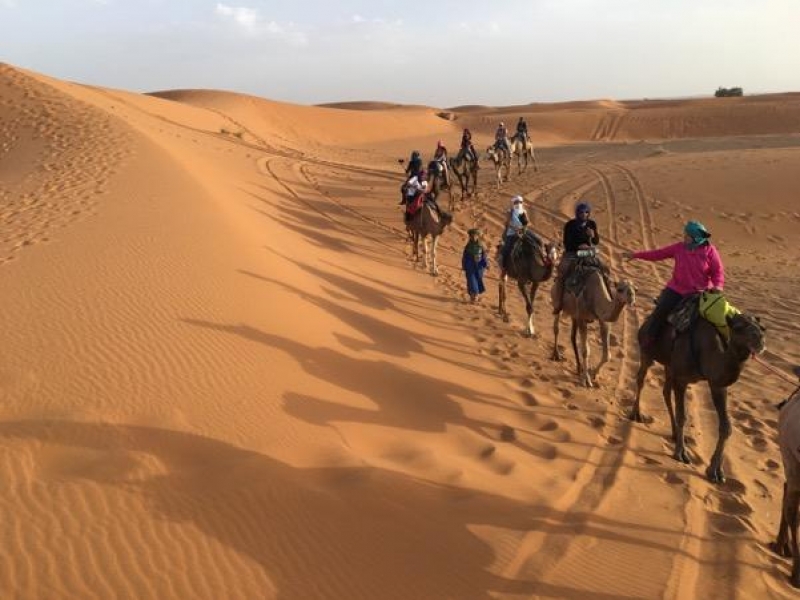 Even though we started the trek in the evening at about 4pm, the sun was still harsh, so it is recommended to load up on sunscreen and water, wear light but covered clothing, wrap a scarf around your head and shades to keep out the sand. Also, be careful if you are planning to bring your camera along as the fine sand can find its way into the crevices and damage it – I had brought my polaroid camera along, accidentally dropped it off the camel and into the sand and I have been trying to get the pesky sand out ever since.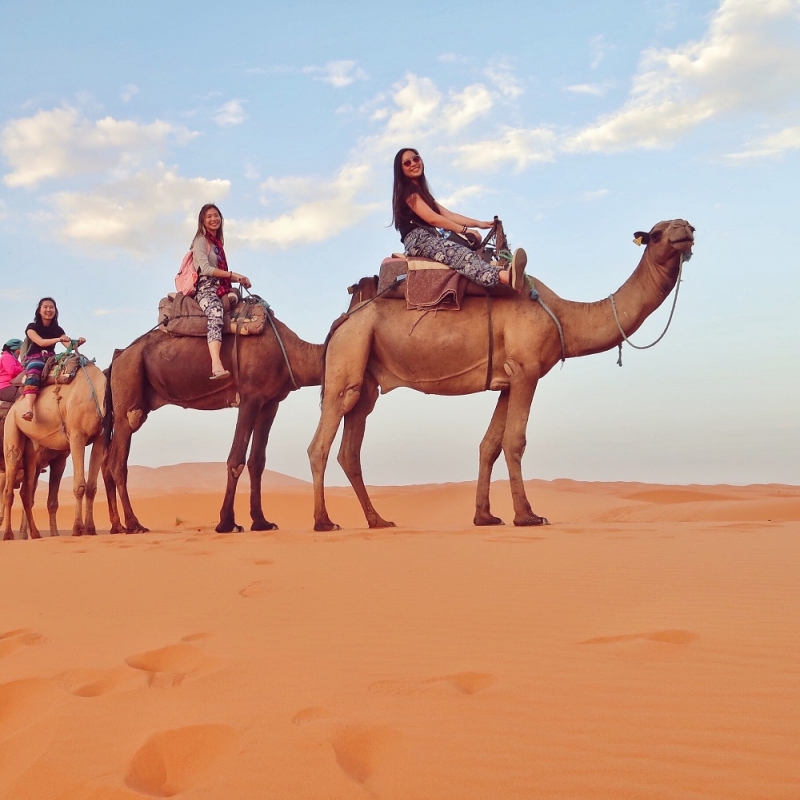 It was my first time riding a camel and I must say it was an interesting experience. It was tricky getting on and off the camels as well as to balance as we went up and down the sand dunes and one hour into the trek it got so uncomfortable that I decided to get off and walk the rest of the way to the camp! Nevertheless, it was still very fun and a unique memory.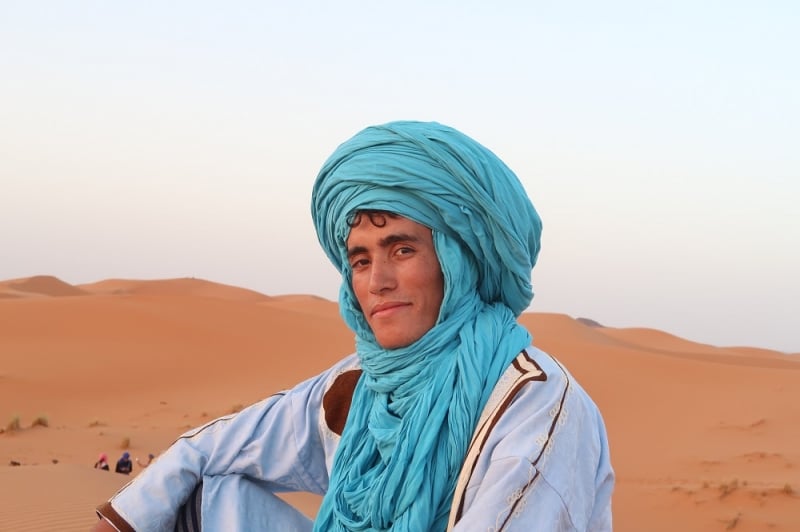 Every group is accompanied by a local guide who will lead the camel trek to the campsite. Everyone speaks at least minimal English and are very friendly, so do befriend them to learn more about their cultures and traditions. Once we arrived at the camp, we were seated around a campfire to enjoy a performance of traditional Berber music while dinner was being prepared. After the long day we were all famished, luckily the dinner was a decadent affair: humongous plates of tagines, stews and couscous were served and we happily filled our tummies.
Later that night, the guides from the campsite even offered to bring us sand-skiing and stargazing. It was pitch dark, but we managed to get the hang of it and sled down the sand dunes! As there was no light pollution at all, the view of the star speckled night sky was otherworldly and we even saw some shooting stars!
Day 5: Merzouga to Ouarzazate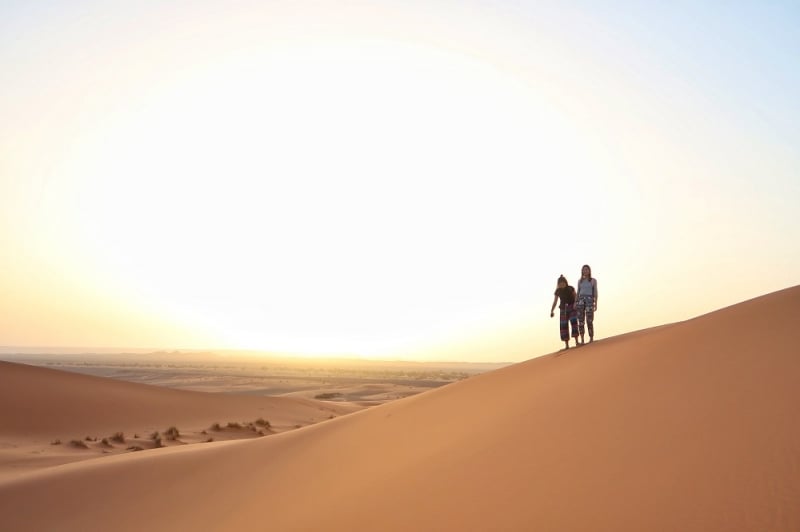 We departed from the camp early to catch the sunrise from one of the highest sand dunes on the way back to Merzouga. We watched as the sun slowly rose, casting shadows on the sand across the vast desert. There were no other sounds except for the light chatter of the other people in our group. This quiescence was incredibly calming and all in all this desert tour was definitely a highlight of our Morocco trip.
After washing up and fueling up on breakfast at the Kasbah hotel, the road trip continues! Our next destination was the Todgha Gorges. As you can see, we had a lot of fun splashing in the cool, refreshing waters of the stream that ran through the gorge after spending a whole day in the dry dessert.
Day 6: Ouarzazate to Marrakesh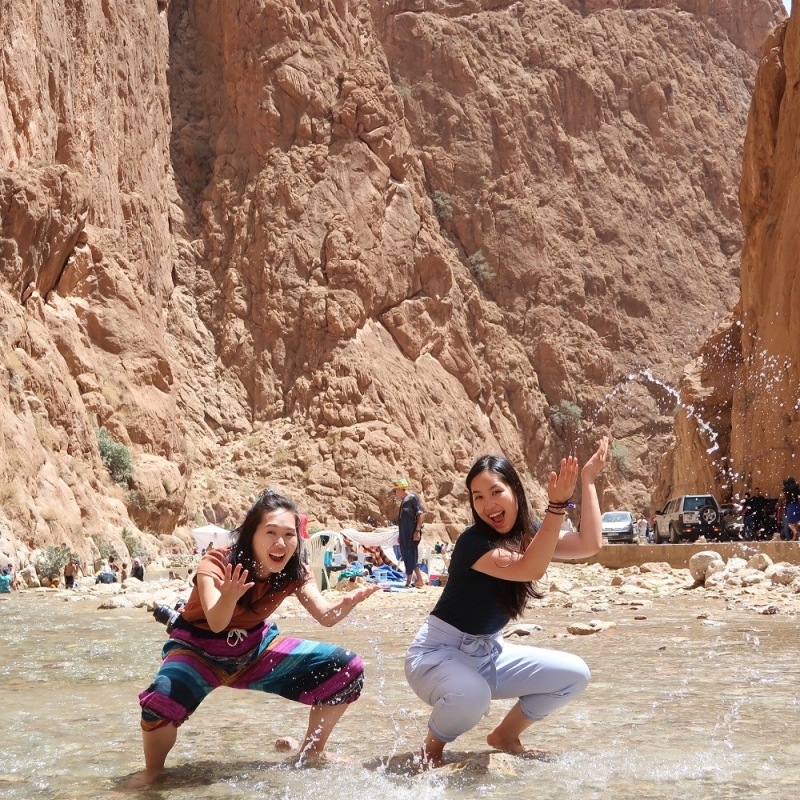 Ouarzazate is home to some Hollywood film sets and studios which were used in the making of movies such as Gladiator, The Mummy and Indiana Jones which you can stop by and do a short tour of.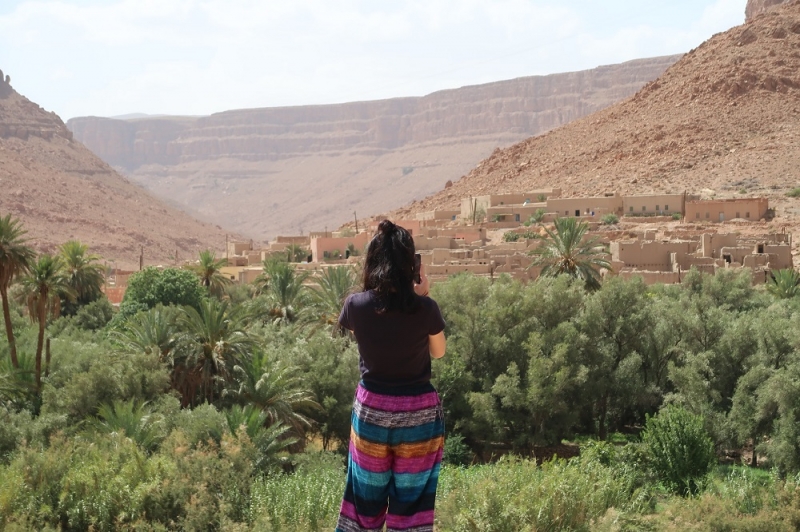 The Ait Ben Haddou Kasbah is also a well known shooting location for Game of Thrones. GOT fans may recognize it as the slave trading city of Yunkai, but whether you are a fan of GOT or not, this sleepy town is still worth exploring!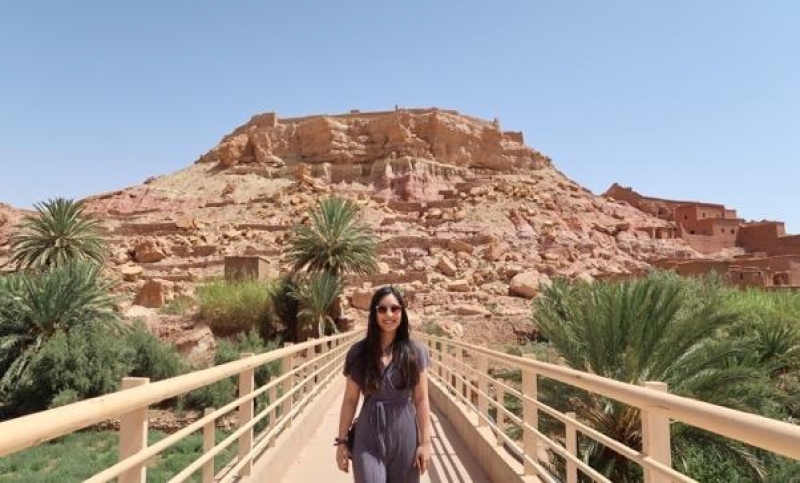 Explore the streets to take in the unique architecture and admire the local crafts, from handmade jewelry to beautiful printed cloths. There were even some farm animals such as donkeys and calves in the barns!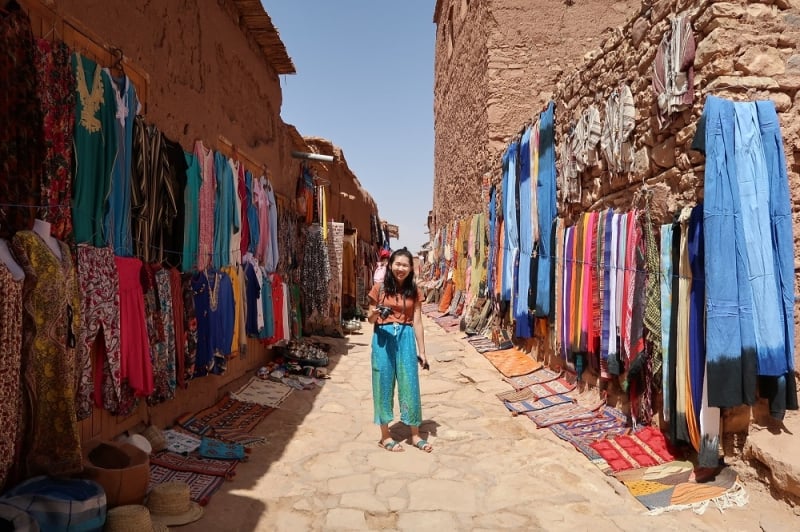 As we continued on our journey towards Marrakesh, we drove through the beautiful High Atlas Mountains stopping at the Tizi n'tichka Pass to take in the picturesque view. The drive through the mountain pass was very scenic as the path wound through vast plains surrounded by the canyon like mountains.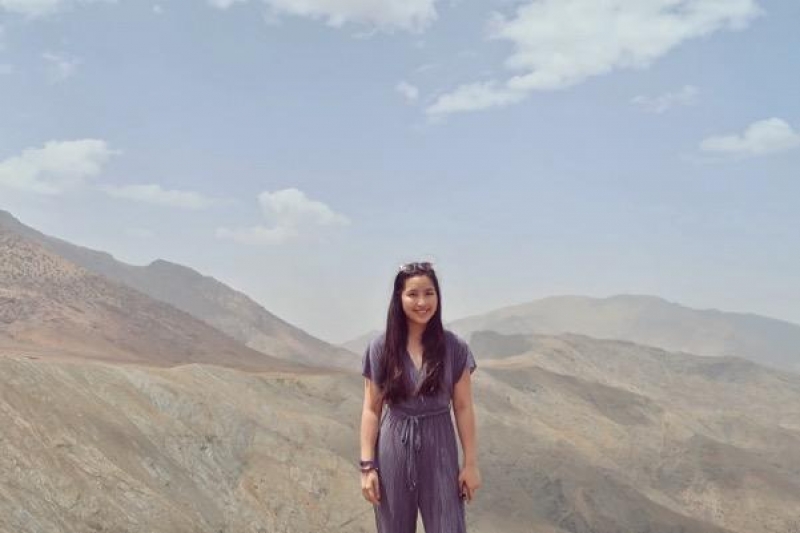 Day 7: Exploring Marrakesh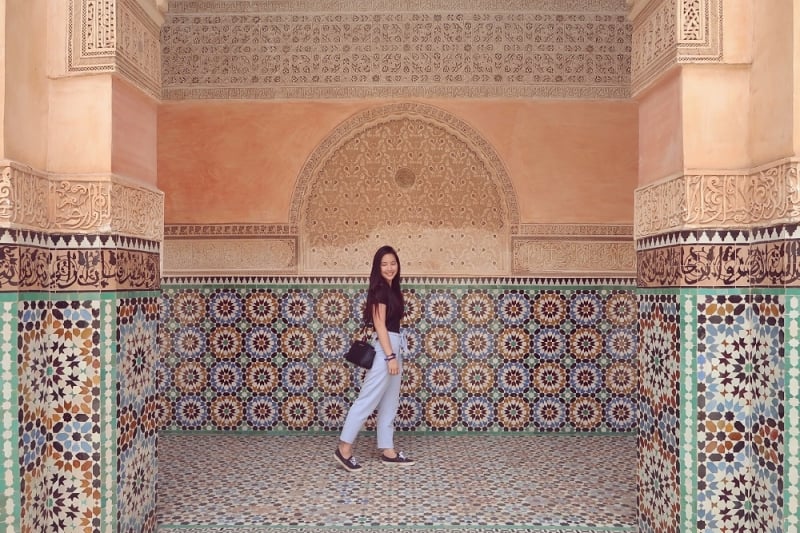 Like Fez, Marrakesh is divided into two: the walled Medina (or Old City) and the cosmopolitan new town of Guiliez. The Medina is where you will find the Ben Youssef Medersa which was once the largest Islamic school in Morocco built almost 6 centuries ago. Appreciate the geometric mosaic tilework that line the walls and the unique architecture of this historic site.
A Moroccan bathing ritual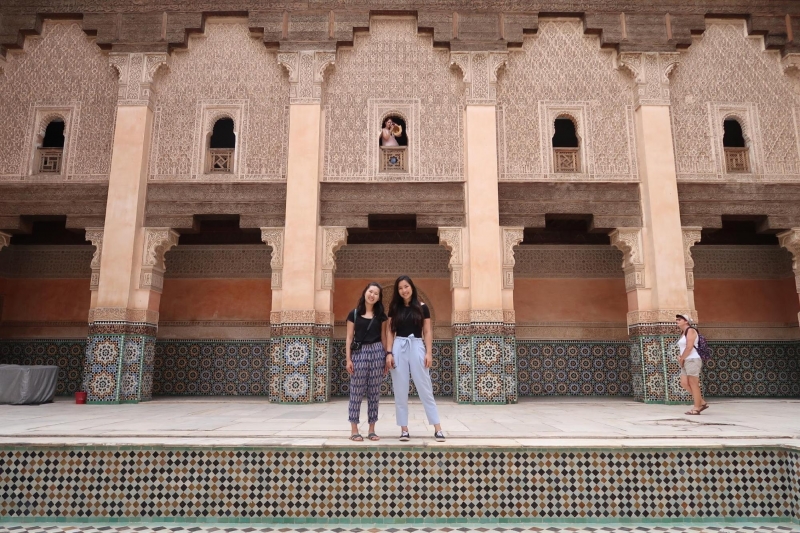 Another must visit is the Jemaa El Fna square in the heart of the medina. The square is constantly buzzing with markets, food vendors and street performances. Treat yourself to some freshly squeezed juice as you roam the square to take in the exotic sights and sounds. From snake charmers to musicians and acrobats, the bustling atmosphere of the square was an entertaining sight.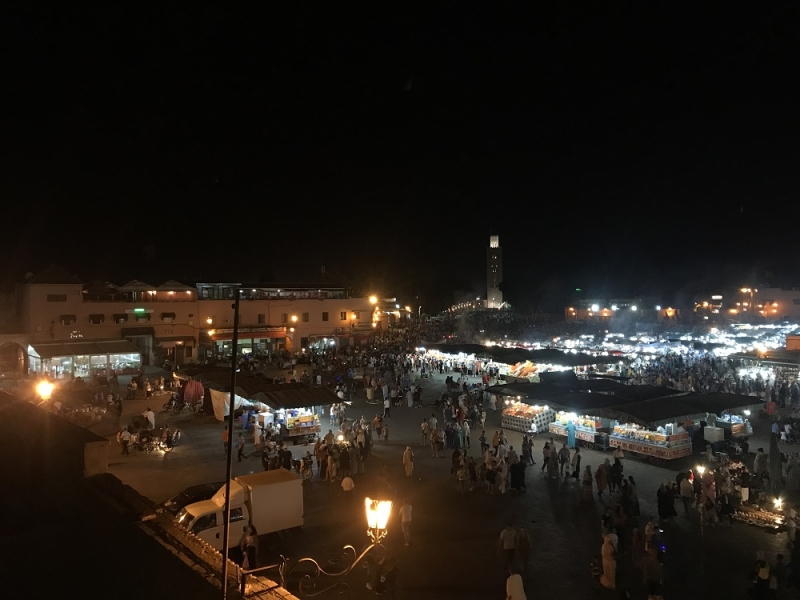 If you have time, you can also visit a hammam to experience this uniquely Moroccan bathing ritual. Though the treatment may vary depending on whether you go to a public or private hammam, it typically consists of the same elements: soaking in a pool or sitting in a steam room, rinsing off with a traditional soap then exfoliating with a kessa (srubbing mit). There is a hammam for every budget! Some of the privately owned hammam spas run by hotels can be booked online beforehand or alternatively you can ask for your riad to help you arrange a visit to the traditional public hammams.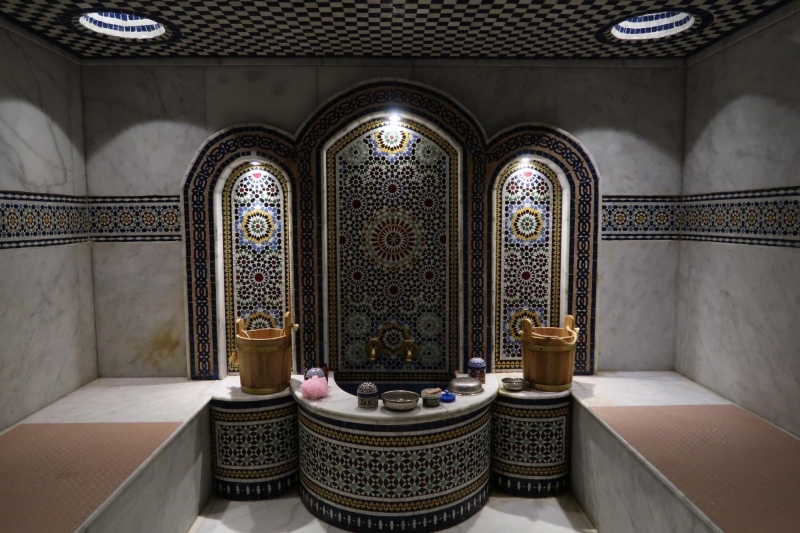 Day 8: Day trip to Essaouira
There are many day trips that you can do from Marrakesh, either by taking the public trains or buses, booking a guided tour online or even joining a tour offered by your riads/hotels. We decided to join the group tour offered by our riad which cost about 30 euros per person to get us from Marrakesh to Essaouira and back in a shared minibus with about 10 other people from different hotels. In the morning, a representative picked us up from the riad to bring us to the meeting point to board the minibus.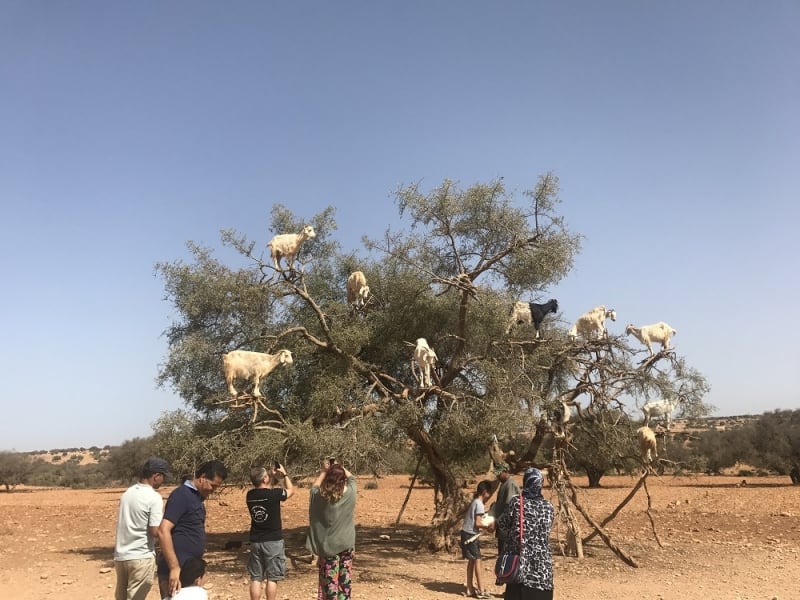 En-route to Essaouira, the bus will stop at Tamri where you can witness this peculiar sight of tree climbing goats! These goats perch themselves on the tree branches to munch on the Argan tree nuts, which the farmers later harvest from the droppings of the goats to process into Argan oil. You may take a closer look at the goats but the farmers will ask you for some tips if you take pictures.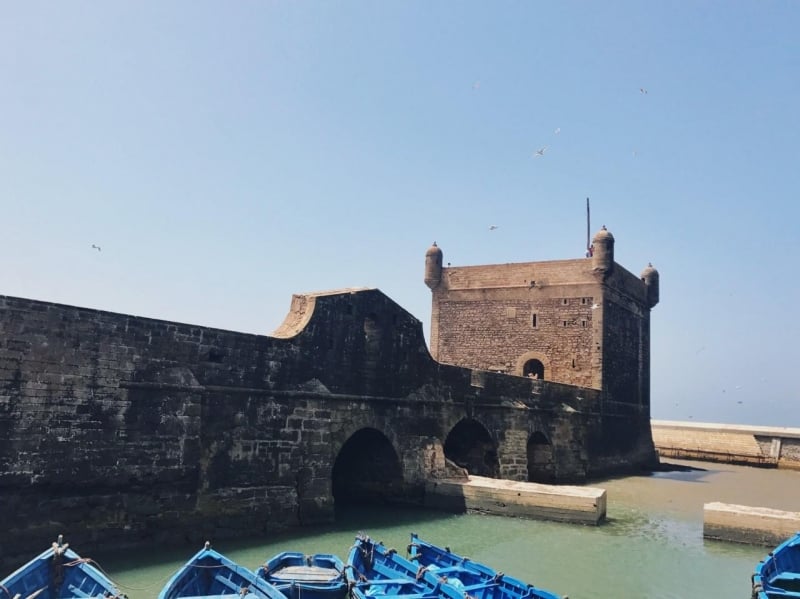 The drive to this quiet seaside town was about two hours. We were greeted by the iconic rows of blue boats that lined the quay and the cool sea breeze. We were instantly charmed by the idyllic lull and laidback atmosphere as we strolled along the beach, grateful for the change in environment from the chaotic Marrakesh. Many al fresco cafes lined the pier where you can enjoy a refreshing pot of Moroccan mint tea and watch as tourists and locals alike went about their business. Several tented areas also offered fresh seafood such as grilled fish, crab and other shellfish.
Dishonesty and kindness
We were drawn in by the boisterous and persuasive seller manning one of the seafood tents who offered us a deal of a huge crab, juicy prawns, mussels and some whole fishes for about 100 euros. It seemed like a good deal when he showed us the amount of seafood we would be getting. However, we were in for a shock when the food was served as it looked like even less than half of what we were promised. The seller insisted that this was what he had offered us and we did not want to argue and cause a scene. Some friendly locals who were seated at the next table noticed us eating in quiet disappointment and were shocked when we told them how much we had paid for the meal and even generously offered to share their food with us.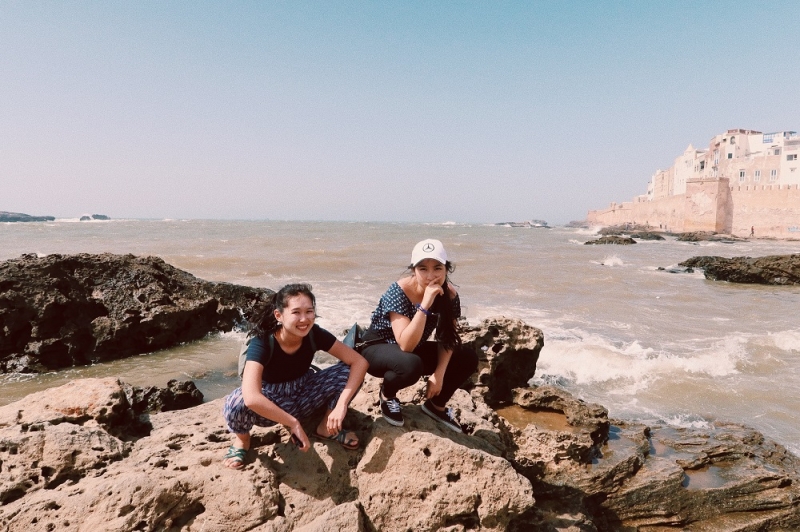 When we were planning our trip to Morocco, we were showered with warnings from family and friends about tourist trapping locals and to be extra cautious in this 'dangerous' destination. While we did encounter some of these stereotyped characters during our trip, we also met so many others who were on the extreme opposite of the spectrum. Of course, it is important to exercise caution while travelling in a foreign country, but I hope you will keep an open mind so as not to miss out on getting to know the warm, friendly and generous people of Morocco!