As travel resumes after a two-year hiatus, it's safe to say that the way we travel has changed, too. Recently, Contiki, the world's leading social travel brand, released a list of the top 11 global travel trends this year. Read on to find out what they are and see if you check any of the boxes! 
Also read: Our Post-Pandemic Wish List: What We Want Travel to Look Like in the Next Few Years
1. Bucket list trips are back!
With borders around the world finally open, 2023 is, unsurprisingly, the year that most travellers finally get to put their bucket list plans into motion. 
"The prevailing sense is that travel has been, and could again be, taken away from us," says Natasha Lawrence, Contiki's Commercial and Product Development Director. "2023 is the opportunity to make it count."
Also read: In Defence of the 'Basic' Tourist: Why You Should Just Live Your Best Travel Life
2. Sustainable travel is the new in-thing
In a positive development in the travel industry, globetrotters, especially young travellers, now have a higher awareness of travelling responsibly and thus tend to gravitate to brands that share their values and who allow them to minimise their carbon footprint while travelling. 
Another trendy travel style includes plant-based living. As Rebecca Gade Sawicki, Creator of Veggies Abroad, explains: "at least 15% of greenhouse gases are attributed to animal agriculture. Consumers are concerned about what's on their plate and its impact on the planet."
3. Young people are travelling more than others
During the past year, the average age of frequent travellers dropped slightly, with 18-34 year olds leading the way in terms of travel recovery for both international and domestic trips. 
Adam Armstrong, Contiki's CEO says: "Young people were arguably the quickest to recover. We expect this trend to continue into 2023, albeit the older demo will play a strong catchup game."
Also read: How to Build Up the Courage to Travel Solo for the First Time
4. Long trips are the preferred choice of itinerary
One particular travel trend that stood out is that long trips are making a comeback after declining in popularity pre-pandemic. Most likely, this is due to the rising cost of flight prices and cost-of-living which encourages travellers to spend more time in a single location than jetting off to many different places. 
"Our average length of trip has increased," says Natasha Lawrence. "Pre-pandemic it was around 10 days; right now for next year, it's two weeks… I think the rising cost of flights and air play into this… if you are going to take a long-haul flight, you want to spend more time in the destination at the other end."
5. Multi-country trips are making a comeback
Making a comeback alongside longer trips are multi-country trips, i.e. visiting several locations within two weeks. According to Adam Armstrong, this is due to the relaxation of border control measures, making cross-border travel much easier. 
"Now that it's easy to cross borders, multi-country trips are rock-and-rolling again."
6. Social travel is becoming more popular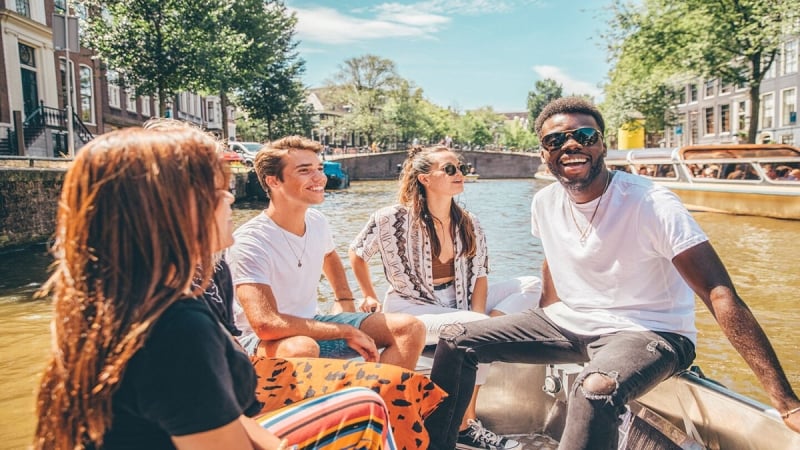 Social travel is basically travelling in a group, a trip that's punctuated with deep connections and human interaction. According to Contiki, the amount of multiple bookings increased by 10% in comparison to solo bookings, highlighting an elevated hunger for social interaction. 
Another example of this is a surge in bookings for six-bed hostel dorms. Natasha Lawrence says: "For 2023, this travel style looks to be back as people want to spend their time in social and community-driven spaces."
7. Travel inspired by music and TV
With the world spending the better part of two years at home fueling their wanderlust with music and film, it's no surprise that many travellers now flock to destinations because of the media they consume regularly. 
The 'musical pilgrimage' trend has had positive consequences for destinations such as Israel which, according to TikTok superstar Brooke Alexx, has one of the "most underrated music scenes in the world."
8. Local experiences
Given the rise of sustainability and a hunger for human connection among young travellers, it's hardly surprising that culturally immersive local experiences have also continued to rise in popularity.
"The increase in encouraging news about inclusivity and cultural connections on social media is a testament to this," according to Natasha Lawrence. "This could lead to some truly remarkable travel experiences."
9. Planning ahead
Planning your travels well ahead of time is another travel trend to look forward to in 2023, mostly because of the rising costs of travel. The good news is that more people tend to view travel as crucial for their welfare, so they'll continue to explore the world. The difference is that travellers are now more careful with their spending and always looking to get the best deal.
We can expect to see travellers planning their trips in advance, and subsequently a reduction in spontaneous bookings.
Budget accommodations are also set to become more popular. As Lauren Gonzales, Principal at L&L Hospitalities, says, "We saw this a lot during the recession following 2008. A lot of travellers who might have otherwise considered more expensive hotel options expanded their searches to different types of accommodations."
10. Travel affected by remote working
As remote working arrangements become increasingly popular in the post-pandemic world, expect this new-found flexibility at work to also be reflected in the travel industry. 
As Rax Seun, Founder of NomadsUnveiled, states: "The combination of travel and remote work will continue to proliferate in the travel space. There will be more businesses (or modifications in businesses) catering towards this group, such as co-living spaces, hostels/hotels with better coworking facilities, and experience retreats that combine business and travel experiences."
Also read: 22 Countries With Digital Nomad Visas for Long-Term Workcations
11. Virtual travel
With the Metaverse whetting an already growing appetite for immersive virtual experiences, virtual travel is tipped to play a much bigger role in tourism in 2023 and beyond.
In a survey conducted by booking.com, 57% of Singapore-based travellers revealed that they would be more likely to travel to a new place if they experienced it virtually beforehand.
And there you have it, the top 11 travel trends in 2023! Do any of the above trends speak to your travel style? 
---
Information extracted from a press release by Contiki.