Nothing triggers a flood of childhood memories like hearing the crunch of a potato chip or the rustle of someone opening a bag of crackers. In the Philippines, our favourite Filipino snacks conjure so many of our favourite moments growing up. Not to mention the powerful nostalgia of when life was simple and uncomplicated. So, broaden your horizons, foreign friends, because we're about to enter Filipino snack nation — the salty, the sweet, and the irresistibly sinful. 
Are these our guilty pleasures? To that, we say: There's no such thing! 
Popular Filipino junk foods for snacking
1. Leslie's Cheesier Clover Chips
What it is: For an introduction to popular Filipino snacks, you won't find a  better place to start than Clover Chips! Bursting with an intensely cheesy flavour, these potato chips are shaped like shells. Other flavours of Clover Chips include Ham and Cheese, Barbecue, and Chili and Cheese. 
Make sure to shake the bag to really distribute the cheesy powder all around the chips. One of the most satisfying experiences is getting to lick the cheese off your fingers afterwards! 
2. Marty's Cracklin' Vegetarian Chicharon
What it is: For when you don't want to feel bad about gobbling up an entire bag of chicharon (deep-fried pork rinds), Marty's Cracklin' Vegetarian Chicharon gives you the same incredibly satisfying crisp and crunch, but less of the sinful fat and sodium. It comes in flavours such as Salt and Vinegar, Plain Salted, and Chicken Inasal. 
3. Golden Sweet Corn
What it is: Few things can make Filipinos feel more nostalgic for their childhood than Golden Sweet Corn. These crunchy, bright golden balls of corn hit just the right spot between salty and sweet. 
4. Chiz Curls
What it is: These are golden, puffy, and curled corn chips packed with a delicious cheddar cheese flavour. Believe it or not, Chiz Curls have been a go-to childhood snack for many Filipinos since the 1970s! 
5. Vcut Spicy BBQ Potato Chips
What it is: Once you open that bright orange bag of Vcut's potato chips, the instant barbecue aroma is just so difficult to resist. Despite what the packaging says, these chips only have a mild level of spiciness, so you don't necessarily need to be a lover of spicy food to enjoy them. 
6. Piattos
What it is: Any Pinoy merienda list that doesn't include Piattos is committing a dangerous crime. Light and crispy, these life-affirming chips in triangular form are fantastic for any occasion — house parties, road trips, or just casually catching up with friends. Besides the cheesy original, some of its popular flavours include Nacho Pizza, Roast Beef, and Roadhouse Barbecue. 
8. Cheese Ring
What it is: More bite-sized snacks that are overloaded with cheese! Honestly, we're low-key disappointed that Ariana Grande wasn't actually singing about these cheese rings in "7 rings." 
8. Tomi Sweet Corn Chips
What it is: Let's take a break from cheesy chips, shall we? Tomi Sweet Corn Chips is an old-school snack that reminds Filipinos of happy childhood days. Each bite is packed with a sweet and yummy corn flavour that can bring a smile to anyone's face. We only wish that the bag was bigger! 
9. Boy Bawang Cornick Garlic
What it is: Apparently, Boy Bawang comes in different flavours now, like Chili Cheese, Barbecue, Lechon Manok, and Adobo. But as many Filipinos will tell you, nothing comes close to beating the original garlic, which translates to "bawang" in Filipino. Go for garlic or go home! 
10. Snacku
What it is: Surprisingly, Snacku is not the weaboo's pronunciation of the word "snack." (Or it could be. We don't want to go down that road.) These are stick-like rice crackers sprinkled in vegetable powder, resulting in a bright green colour. Do we care that Snacku isn't made of real vegetables and isn't actually as healthy as its packaging leads us to believe? Nope! 
Also read: Philippine Souvenirs: 21 Trendy Gifts and Tokens to Take Home With You [UPDATED 2020]
Sweet Filipino treats that will brighten your day
11. JellYace
What it is: Assorted fruit-flavoured jellies that come in tiny plastic cups. If you don't know the pleasure of peeling back the wrapper of the cup and accidentally getting the fruit juice squirted into your eyes, what kind of life are you living? 
12. Frutos
What it is: Super addicting chewy candies that have different fruity flavours, sealed in twisty wrapper. The classic flavours of Frutos are grape, orange, lemon, and strawberry. 
13. Flat Tops and Curly Tops
What it is: Since they're both milk chocolates, their packaging may look similar. But here's where the difference lies. Curly Tops have a slightly grooved shape with a richer taste and a smoother mouthfeel, while Flat Tops are more on the sweet side. When they're partying in our mouths though, it's genuinely hard to tell. 
14. King ChocNut Milk Chocolate
What it is: Milk chocolate candy with a roasted peanut flavour, a childhood staple for many Filipinos. King ChocNut is delicate and crumbly, melting in your mouth with a sweetness that combines nicely with the cocoa. 
Traditional Filipino snacks and classic merienda 
15. Pan de sal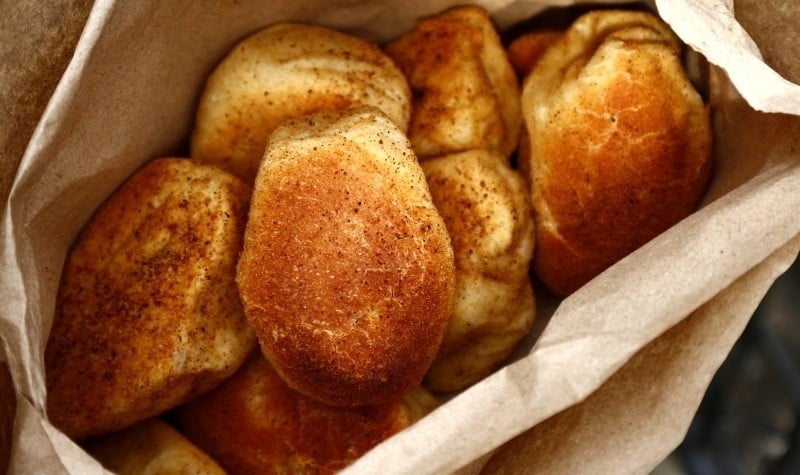 What it is: Translating to "salt bread" in Spanish, pan de sal is a classic Filipino bread roll made from flour, eggs, yeast, salt, and sugar. The bread is dusted in breadcrumbs on top, while staying soft and chewy inside. Popular fillings for pan de sal include cheese, butter, ube, coco jam, and liver spread. But for many Filipinos, the best way to enjoy pan de sal is to dip it into their morning coffee. 
16. Bibingkang malagkit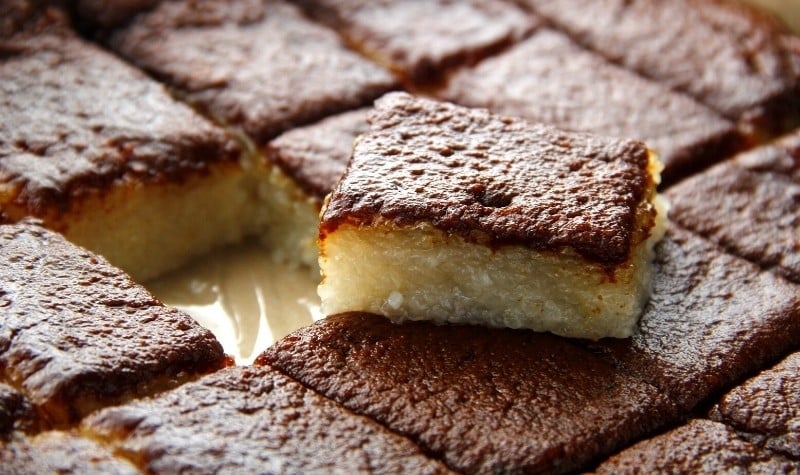 What it is: Bibingkang malagkit is one of the most delicious examples of kakanin, which refers to Filipino delicacies that combine glutinous rice and coconut milk. Here, the sweet rice of bibingka is covered in a coconut caramel sauce, giving it a decadent flavour. It's not to be confused with bibingkang galapong, the golden charcoal-baked rice cake that Filipinos like to eat during holidays. 
17. Suman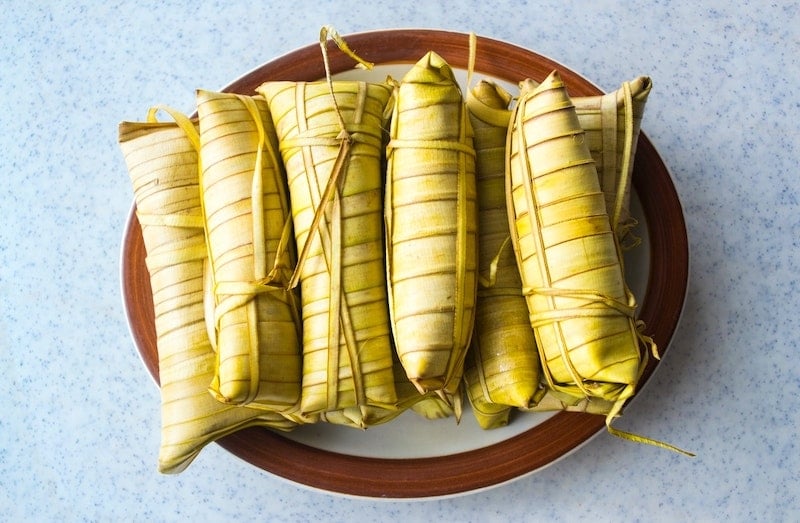 What it is: Sticky glutinous rice cooked in coconut milk, then wrapped securely in banana leaves and steamed. Many provinces in the Philippines have their own unique way of preparing and enjoying suman. Do as the locals do, and drizzle your suman with white sugar or slather the sticky rice in latik sauce — a sweet and thick sauce from coconut milk. 
18. Biko
What it is: A popular Filipino delicacy made with sticky rice, coconut milk, and brown sugar. Toasted coconut bits sprinkled on the surface make this a creamy, highly addictive treat for any time of the day. 
19. Kutsinta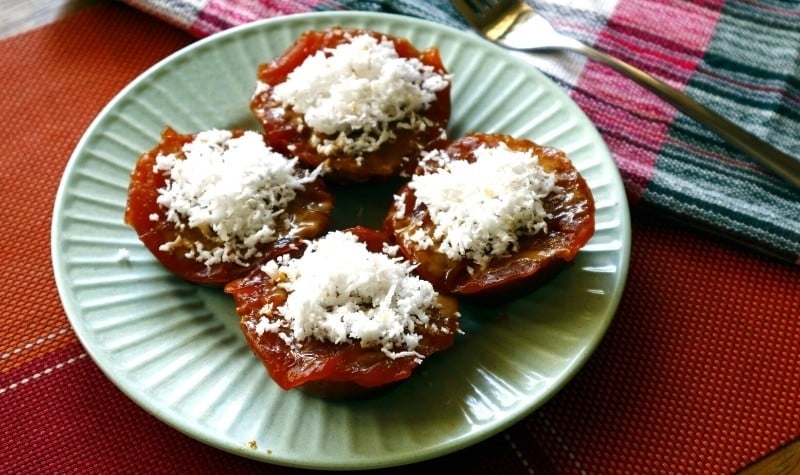 What it is: A steamed rice cake that is frequently enjoyed with grated coconut on top. It has a chewy, almost jelly-like texture. Since it's one of the healthy Filipino snacks out there, you can eat several of these without feeling too guilty. 
20. Puto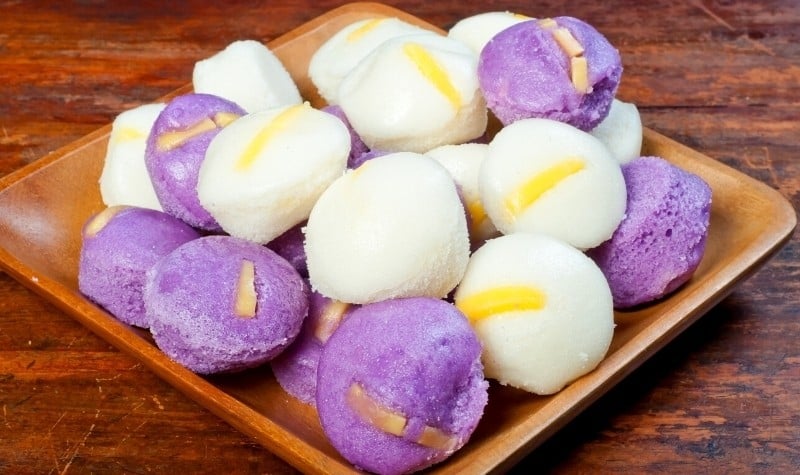 What it is: Just like kutsinta, this is a steamed rice cake that is extremely popular in the Philippines! Soft and fluffy, the classic white puto is traditionally made from rice flour. But it has a lot of varieties all over the country and can be served in many flavours, such as cheese or ube. Moreover, its light and subtle taste makes it a great dish to have alongside savoury meals at the dinner table. 
BONUS: Lucky Me! Pancit Canton
What it is: No list of Pinoy snacks would be complete without the instant gratification that a pack of Lucky Me! Pancit Canton gives us! These fuss-free, extremely addictive stir-fried noodles capture the savoury flavours of pancit. A plate of this can send any Pinoy straight back into their happy childhood memories. Popular flavours of Lucky Me! Pancit Canton include Original, Kalamansi, Sweet & Spicy, and Extra Hot Chili. 
Also read: A Taste of the Philippines: Top 10 Food Destinations for Travellers
These are just some of the best Filipino snacks that we remember stuffing our faces with when we were younger. If you're anything like us, you were probably halfway through this list before walking to the kitchen and whipping up a treat for yourself, too! 
To the Pinoys out there, how was this trip down memory lane? Did we miss out on anything? Let us know!