Marrakech, or the Red City, is home to many distinctive markets. Indeed, many people come to the old imperial city with the intention of going on a shopping bonanza!
Most of Marrakech's markets, known locally as souks, are open all throughout the week, from early in the morning until the evening. Some stalls, particularly those around the exciting hub of Djemaa el Fna, stay open until much later.
Here's everything you need to know for a great experience in Marrakech's fabulous souks.
What you can find in the souks
The souks of Marrakech have a wide away of products, with many locally-made items, traditional gifts, and everyday Moroccan essentials spread throughout the streets.
There are numerous kitchenware stalls in the souks, catering both to locals and tourists who want to try their hand at Moroccan cooking back at home. Tagine pots are available in different sizes and colours, along with tangia pots, which are local to Marrakech, large soup tureens, bowls, dip pots, trays, decorative glassware, and teapots. Of course, if you're going to cook Moroccan fare you also need ingredients—the souks have fragrant spices in all colours of the rainbow, olives, olive oil, fresh produce, and dried goods.
Clothing wise, you'll find an array of Western fashions, with garments imported from France and Italy especially popular. Pashminas and shawls can make light-weight and pretty gifts. Local clothing, like kaftans and djbellas, sit alongside Islamic garments, such as abayas, head scarves, and men's prayer caps.
Leather goods are also common, made by artisans using leather from the nearby tanneries. From shoes and belts to bags, belts, and footstools, there's no shortage of leather in Marrakech's markets. You'll see traditional Moroccan shoes, known locally as balgha, in an array of colours and sizes.
Traditional rugs are draped over walls, beautiful lamps hang overhead, and colourful shisha pipes stand on the floor and on tables. From kids' beads and cheap costume jewellery to ornate silver bangles and brooches, accessories and adornments are plentiful.
Knick-knacks, trinkets, and souvenirs sit next to traditional musical instruments like drums, flutes, and whistles. Plush camels, metal camels, and wooden camels are everywhere. And, all these items barely scratch the surface of the huge assortment of things you can buy in Marrakech's frenetic souks!   
Tips for enjoying the souks of Marrakech
The sprawling markets with their maze-like alleyways, chaotic crowds, cacophony, and diverse sights, sounds, and smells that compete for attention can be rather overwhelming and an assault on the senses. There are some handy hints for making the most of your souk experience.  
Know the layout
Have a rough idea of the layout of the souks before you enter. A map and a phone with GPS can also help immensely. Keep in mind that the souks are inside the old medina, which is surrounded by a high wall and many gates. If you end up completely lost, keep walking in a straight line in any direction and you will eventually come to the medina's wall. If you're still not sure of your whereabouts or find yourself far from where you want to be, there are many taxis and calleches (horse-drawn carts) that can take you around the walls to a familiar spot.   
Look for landmarks
Getting your bearings in the souks can be somewhat difficult, largely because of the high walls, the seemingly endless tangle of streets and stalls that all start to look similar, and sections that are covered. There are several historic places of interest throughout the souks, along with museums, squares, fountains, mosques, and other landmarks. Use these distinguishing features to find your way around. Many people use the soaring minaret of Koutoubia Mosque as a point of reference.
Stick together
If possible, try and explore the souks with a buddy. If you're travelling solo, it's usually easy to meet other independent travellers in hostels and riads. Even if you just stick together for your first foray into the souks it can help you to feel a lot more confident with someone by your side. It doesn't mean you won't get lost (getting slightly lost is, after all, part of the fun!), but it does mean that you're less likely to panic. Two heads are better than one, they say! The souks aren't dangerous, per se, but lone explorers, particularly females, can find that they are more persistently targeted by sellers and touts. Having a wingman or wingwoman really can make your experience a lot more pleasurable.
Walk with authority
Whether alone or with a pal, walk with purpose and try to look like you feel at ease and know where you're going. This is generally quite easy when you're surrounded by stalls; most people amble along quite slowly, taking in the sights and browsing the wares. If you find yourself in quieter and unfamiliar territory, though, don't show visible panic. It also helps to avoid whipping out a map and flagging yourself as being lost. A top tip is to duck into a small café and sit calmly with a drink if you want to check your map.   
Use a guide
Even if you're exploring Marrakech in a small group, it can be useful to take a local guide around the markets. Not only can they stop you feeling muddled with directions, but they can also point out favourite local spots to eat, attractions, and other gems that you may otherwise have missed. Guides can be immensely useful when it comes to translation matters and they're also a great source of interesting local information. Do keep in mind, though, that many guides will earn a commission from any sales when accompanying you to stores and stalls. So maybe save the shopping spree until you're more acquainted with the souks and feel confident to go at it alone. Be sure to always use a local licensed guide too.
Ask for directions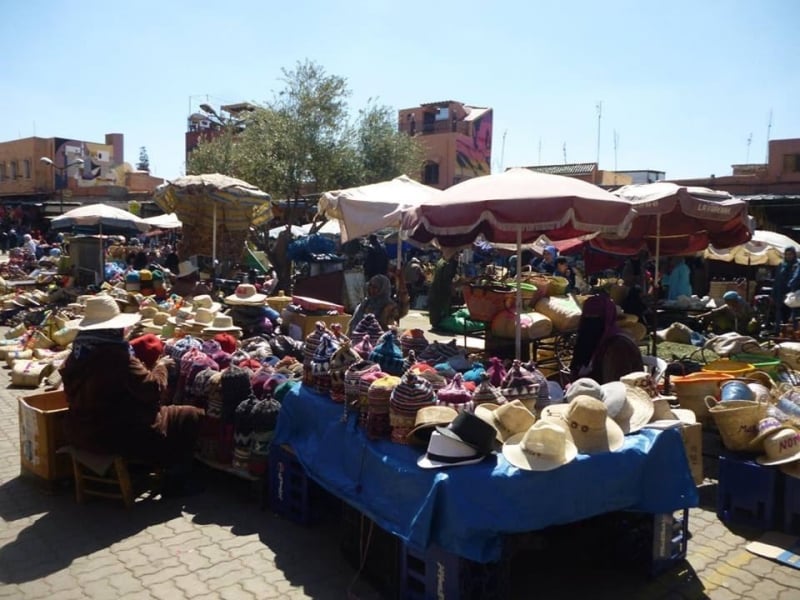 There may be times when you need to ask a local for directions. After all, they know their city better than tourists! If you can speak French, you may stand more chance of overcoming language barriers (even better if you can speak Arabic or the local Darija dialect!). There are some tricks to asking for help, though. Firstly, choose wisely. A common con (more on scams below) is when a "friendly" local offers to show you the way. Instead of just telling you where to go, they will lead you there, sometimes passing some of their friends' shops to try and get a sale. When you do make it to where you want to be, it's quite typical for them to ask for payment. What you thought was a helpful and friendly gesture can end up being quite costly. If you refuse to pay, the situation can get heated.
It is better to try and ask a police officer or another official. Failing that, ask a family with young children or a lone female. Of course, not all men in Marrakech are out to trick you, but statistically, a female is less likely to try and trick you in this way than a man, regardless of your own gender. Another option is to ask somebody who cannot offer to show you the way, for example, a shopkeeper.   
Watch for traffic
The streets through the souks are usually cramped and narrow, leaving little room to manoeuver. Yet you may be surprised at the vehicles that can squash through small spaces, often at a fair speed. Be prepared to jump out of the way for scooters and bicycles. Donkeys are often used to transport goods—you don't want to be ploughed into by a beast of burden pulling a heavy cart! People often push heavy carts through the streets too, and it's a lot easier for you to change your walking course than it is for them to swerve or stop.   
Make wise clothing choices
It's highly likely, no matter what you wear, that you won't be able to fully blend in and pass as a local. While foreigners and folks from out of town will invariably attract more attention than a Marrakshi, you can avoid some of the unwanted attention by putting some thought into your attire. Covering up is generally better, though you don't need to dash out and buy an abaya or djebella. Women should cover at least their shoulders, if not their arms in full, wear long pants, skirts, or dresses, and avoid low necklines and see-through fabrics. Men shouldn't walk around topless.
A top tip is to wear sunglasses while walking around the souks. This helps you to avoid making eye contact with people who may otherwise try to strike up a conversation or attempt to persuade you to buy something.   
Learn to haggle
Haggling is common throughout Morocco and in major tourist destinations, such as Marrakech, prices are often grossly inflated. Never accept the initial price given. Try and avoid opening negations too—let the seller state how much they want rather than being pushed into saying how much you'll pay. It helps to have an idea of how much something should cost before starting to negotiate and to know how much you personally are prepared to pay. Don't haggle if you don't intend to buy something. If a seller eventually agrees to your price, you really can't then back out of the sale or try and get a cheaper price. However, if you genuinely can't settle on a price that both parties are happy with, it's okay to politely decline and walk away.
There's no hard and fast rule as to how much you should pay for something, but do keep in mind that most vendors more than double their opening price. As a guide, counter with something like 20 percent of the initial asking price and work your way upwards, as the seller hopefully works their way down, to meet somewhere in the middle. Do keep in mind, though, that the seller still needs to earn a living and don't become so entrenched over a small sum that to you would make little difference. Keep things friendly and light-hearted too—there's no point losing your cool!
Watch out for common scams
Many "fake guides" lurk throughout Marrakech's souks and medina, looking to score a quick buck by leading tourists around. While some can actually be very friendly and informative, play it safe and stick to using licensed guides. Tourist police often check credentials to try and protect tourists from such scams.
As with almost any busy area, pickpockets and bag snatchers operate in Marrakech's souks. Keep your wallet or purse in a secure place and opt for a cross-body bag or bum bag rather than a shoulder bag. If you carry a backpack, wear it on your front so you can keep an eye on the zip. Don't put bags down on the floor or tables when negotiating deals or taking a rest in a restaurant or café.
It's quite common for carpet sellers to try and convince people that they are looking at a genuine antique rug when the truth is very different. Do your homework, or take a professional along if you really do want the real deal. As with any antiques, if you don't know a genuine from a fake, you're very likely to be conned. The same applies to gemstones and precious metals.
Be wary of henna tattoo artists, particularly around Djemaa el Fna. If a lady approaches you and starts applying henna, pull away—what you think is a basic and free demonstration will cause a heated debate. The woman will demand payment, often for an outrageous sum, and create a scene if you refuse to pay.   
Take a break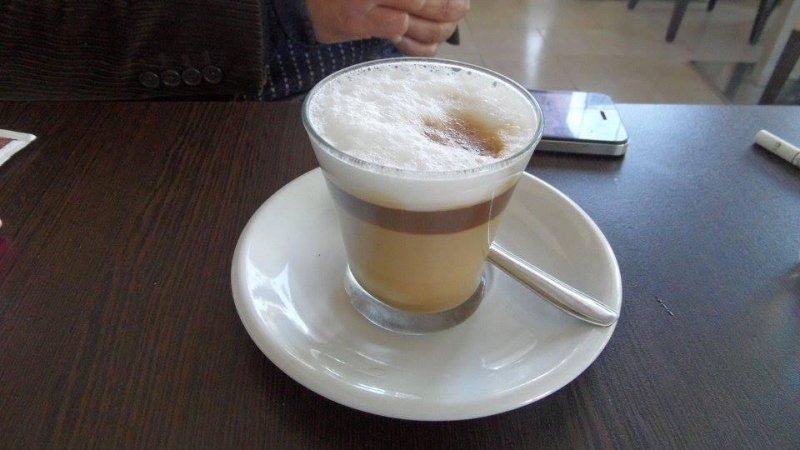 If the crowds, catcalling, stares, touts, and persistent sellers all become a bit too much, head to a café to compose your thoughts and enjoy a few minutes of peace. You'll never be far from a coffee shop in Marrakech! Take a break and you'll soon be ready to re-enter the fray.
Have a great time shopping in Morocco's Red City!