Bali, nicknamed the Island of Gods, has quickly become a thriving island destination in Southeast Asia (thanks to Eat, Pray, Love)! This pulsating heart of the Indonesian archipelago is sought-after by many for its diverse cafe scene, vibrant parties and its status as a tropical paradise.
Peppered with scenic landscapes, ancient monuments, idyllic beaches and more, this picturesque island is the perfect destination for a family getaway too! With so many things to do and places to visit, you're definitely spoilt for choice. If you just can't seem to find the time to plan your vacation, or want to escape the hassle of spending endless hours researching, we have just the thing for you. Here's a 4D3N Bali itinerary for your next family getaway. You're welcome!
Pro-tip: Hiring a private car and a driver for your trip would serve as a better mode of transport when travelling around the north of Bali with your family. Plus, your driver could even double up as your tour guide and also enlighten you with interesting insights or bring you to hidden gems only the locals know about.
Just imagine – going on a road trip through Bali whilst exploring the island's cultural and natural wonders! It's a family treat that you'll never forget!
Day 1: South Kuta > Seminyak
Embark on your Balinese journey starting from the island's most chill district, South Kuta!
The Cashew Tree
Begin your day by rewarding your stomach with delicious fare at The Cashew Tree. This chic warung plates up local Indonesian and international dishes, such as Mexican burritos and Moroccan couscous. You can also expect to find healthy vegetarian/vegan dishes, acai bowls and smoothies that will tantalise everybody's taste buds.
Kids will have an absolutely delightful time running around on the sprawling lawn, or be captivated by the kids pavillion. Decked out with toys, games, colouring books and more, they might never want to leave at all. Eat healthily and heartily here with the family for an awesome breakfast!
Address: Jl. Pantai Bingin No.9, Pecatu, Kuta Sel., Kabupaten Badung, Bali 80361, Indonesia
Suluban Beach
Your first recreational stop in Bali: Suluban Beach a.k.a. Blue Point Beach! Suluban, meaning 'to duck under' in Balinese, reflects what visitors have to do in order to get to the unique coast. Hidden by limestone cliffs, you would need to take a steep flight of stairs and crouch under the caves to reach this hidden shore.
But all that hassle is worth it when the beach greets you with a jaw-dropping view of the vast Indian Ocean! Get ready to immerse yourselves in the magnificent scenery while enjoying a refreshing dip in the blue ocean. The children can frolic around on the soft white sand while building sandcastles and having a whale of a time. The caves by the beach are worth exploring, too!
Address: Jalan Pantai Suluban, Pecatu, Bali, Indonesia
Jimbaran Bay Seafood
After spending a good portion of your afternoon relaxing by the beach, make a beeline for Jimbaran Bay Seafood Club! This long stretch of beachfront cafes and restaurants is a classic stopover in Bali to experience an indulgent seafood fanfare.
Be sure to arrive earlier in the evening to grab front-row seats and witness Bali's glorious sunset! Marvel at resplendent hues in the sky while dining on the fresh catch of the day for dinner! These eateries come replete with an array of fresh seafood, from lobsters to barracudas! Sunset dining at Jimbaran Bay Seafood Club is definitely an incredible experience you'll remember for years to come.
Address: Jl. Pantai Kedonganan, Jimbaran, Kuta Sel., Kabupaten Badung, Bali 80361, Indonesia
Seminyak Night Shopping
After your incredibly satisfying seafood dinner, head down to the island's trendy neighbourhood, Seminyak for some indulgent shopping! Although the area is popular for being the party town of Bali, Seminyak's shopping scene packs a punch as well. Wander down the shopping streets of Jalan Laksamana, Jalan Raya Seminyak and Seminyak Square to uncover interesting Balinese knick-knacks and fashionable local designer boutiques!
Where to stay in Seminyak:
As Seminyak is one of the most popular spots in Bali, the neighbourhood is bombarded with hundreds of hotels and villas. It can be overwhelming to make your choice, especially since pinning down the ideal accommodation is vital for an enjoyable family trip!
But throw those worries away when you choose to stay in this homely boutique villa in Seminyak. This large villa is perfect for families as it comes furnished with a veranda accompanied by a kitchen, a backyard complete with a private pool and 3 bedrooms to accommodate 8 people. Getting to iconic nearby locations wouldn't be a hassle at all, as major attractions are merely minutes away.
Seminyak's main lane of shops and warungs is only 2 minutes away from the villa, whereas Seminyak beach is a mere 15 minute walk away! Grab your daily necessities at the nearby Bintang grocery store located just three-minutes away. You can't resist this cosy yet convenient villa in Seminyak, especially when it only costs you SGD25 per person per night ONLY! What an incredible steal.
BOOK YOUR STAY WITH HOMEAWAY NOW!
Day 2: Seminyak > Sukawati > Ubud
Bali Hidden Canyon Tour
Start off your second day with some adventure in Sukawati! Bring out your Indiana Jones alter ego as you step into the world of Bali's secret canyons! Book a morning session with Bali Hidden Canyon Tour and get picked up from your accommodation to explore the Beji Guwang Hidden Canyon.
Wade through the knee-deep water as you feast your eyes on the canyon's "wall art" caused by natural erosion! The two-hour trek will not just bring you through the canyon, but also allow you to witness the beauty of the canyon's cascading waterfall! So don't forget to pack your swimwear for a refreshing dip. The tour package includes lunch after the trek as well. For the more adventurous families, you can even opt to go white-water rafting for a much-needed adrenaline rush too!
Address: Jalan Raya Hanoman No 1 Ubud – Bali, Indonesia
Mepantigan Bali
No trip to Bali is complete without a culturally immersive experience! So, what better way to discover the cultural heritage of the Balinese than with Mepantigan Bali? Mepantigan is a traditional game of wrestle in Bali. Located in the outskirts of Batubulan village, Mepantigan Bali offers a safe and family-friendly avenue for everyone to try their hand at the art form.
The experience starts with participants donning on the traditional sarong adorned with colours of the Hindu god, Tri Murti. After the rules are explained, a demonstration of the game by the locals takes place. The participants can then try out the game whilst rolling around in the mud! Apart from the wrestling game, you can also experience other Balinese games, such as Mud Tug of War, frog catching and more. The kids would definitely love this experience to get down and dirty in mud!
Address: Jl. Pasekan Pondok Batu Alam No.30 Banjar Tubuh, Batubulan, Sukawati, Kabupaten Gianyar, Bali 80582, Indonesia
Night Safari @ Bali Safari and Marine Park
As the day comes to an end, prepare for an exciting wildlife experience as your ranger feeds wild tigers standing above you! That's right, Bali Safari and Marine Park's Night Safari journey switches the roles of the caged and uncaged. Hop aboard the cage tram and ride into the dark forest teeming with a variety of wild animals. You may also get the opportunity to feed gentle animals such as the giraffes and elephants as well!
Complement this exhilarating ride with an exotic performance – Afrika! Rhythm of Fire. Enjoy the spectacular fire dances and colourful performances that will make you feel as if you've been transported to exotic Africa! End your day at the Bali Safari and Marine Park with a delectable barbeque dinner at the park's Nkuchiro Bar & Grill.
Address: Jl. Bypass Prof. Dr. Ida Bagus Mantra Km. 19,8, Serongga, Kec. Gianyar, Kabupaten Gianyar, Bali 80551, Indonesia
Where to stay in Ubud
Finding an accommodation near Sukawati is not a problem. But locating an ideal place fit for a family is few and far between. With this tropical garden villa in Ubud, however, you can put all your worries to rest. Located only a ten-minute walk away from Ubud's city centre, this gorgeous villa boasts a convenient location.
Complete with four bedrooms and two kitchens with a huge dining area, this villa is furnished and fully equipped to house eight guests! You can also chill at the private pool surrounded by lush tropical greenery. The villa even comes with two housekeeping staff to cater to all your needs. Plus, you get to revel in this luxurious abode from just SGD21 per person per night – there's no reason to resist!
BOOK YOUR STAY WITH HOMEAWAY NOW!
Day 3: Ubud
Campuhan Ridge Walk
Kick off your third day in Bali by witnessing the glorious sunrise at Campuhan Ridge Walk, Ubud. Experience the stunning daybreak while walking along the pathway, flanked by lush greenery, enchanting vistas of the hinterland and small Balinese villages dotting the paddy fields below! If the children would like something more active to expend their energy on, opt for a bike ride instead. Witnessing Ubud's iconic landscape bathed in golden hues of the morning sun is a truly mesmerising scene you'll never forget.
Address: Kelusa, Payangan, Jl. Raya Campuhan, Sayan, Ubud, Kabupaten Gianyar, Bali 80571, Indonesia
Ubud Palace

Following an impressive start to the day with Mother Nature, it's time to meet the icon of Ubud – the Ubud Palace. Setting foot into this palace will bring you back in time to Bali's days of yore. Wander around the grounds of the palace and explore its charming gardens. The palatial structures are adorned with intricate stone carvings, and are well-preserved works of traditional Balinese architecture. Built for Ubud's royal family in the 1800s, it still functions as a residence for the royal family today. The front section of the Palace is open to the public and is definitely worth a quick look!
Address: Jl. Raya Ubud No.8, Ubud, Kabupaten Gianyar, Bali 80571, Indonesia
As you explore Ubud in the afternoon, drop by Warung Ijo for lunch. Don't underestimate the eatery based on its fluorescent lighting and outdated interior! From crispy duck to local mee goreng, this local favourite is replete with an extensive menu offering authentic delicacies that will leave you wanting more. For good food at affordable rates, Warung Ijo is the place to go!
Address: Jl. Raya Ubud No.8, Ubud, Kabupaten Gianyar, Bali 80571, Indonesia
Ubud Art Market
After a cultural experience at Ubud Palace, indulge in a shopping spree at Ubud's Art Market just across the street! Filled with traditional Balinese handicrafts, vibrant garments, eye-catching jewellery, and more – this eclectic market will entice every family member! Make sure you arm yourself with good haggling skills to snag awesome deals.
Address: Jalan Raya Ubud No.35, Ubud, Kabupaten Gianyar, Bali 80571, Indonesia
Kanto Lampo Waterfalls
When travelling around Ubud, the Kanto Lampo waterfalls is a must-visit. Despite being under the radar, this waterfall never fails to impress its visitors with its turquoise colour and refreshingly cool temperature. Pack your swimsuits and bring the kids here for a splashing good time on a hot afternoon in Ubud!
Address: Beng, Gianyar Sub-District, Gianyar, Bali, Indonesia
While you're on your way back to your accommodation for the night, pop into Naughty Nuri's Warung Ubud for dinner. Established by an American expat and his Javanese chef-wife in 1995, Naughty Nuri's Warung has risen to become an icon of Bali's culinary scene! Serving up authentic Balinese fare, including their famous tantalising BBQ pork ribs, Naughty Nuri's Warung is a must-go for a gastronomical experience! After a long day of exploring Ubud, a hearty meal at this cosy eatery would be the perfect way to end your day.
Address: Jl. Raya Sanggingan No.88X, Kedewatan, Ubud, Kabupaten Gianyar, Bali 80571, Indonesia
Where to stay in Ubud:
If you're looking for an even more unique and luxurious accommodation, a 30-minute drive from Ubud's city centre will get your family to this stunning private villa retreat. The massive floor-to-ceiling glass windows not only allow natural sunlight to filter into the rooms, they also provide a stunning panoramic view of the surroundings!
This retreat accommodates eight guests, with two large bedrooms and ensuite bathrooms. Complete with high ceilings, a spacious living room, outdoor dining area and most of all – an infinity pool overlooking lush greenery, this accommodation is the perfect place for a family who loves pure, unparalleled comfort in the midst of nature! You'll never want to leave this idyllic abode at all. From just SGD42 per person per night, it's absolutely irresistible.
BOOK YOUR STAY WITH HOMEAWAY NOW!
Day 4: Ubud > Tegalalang > Kuta
Tegalalang Rice Terrace
It's your last day on the island! Before heading back to the hustle and bustle of the city, revel in the serenity of Tegalalang Rice Terraces as the sun slowly peeks over the hills! Take a stroll along the steps of the terraced landscapes and immerse yourselves in the simple charms of the sprawling rice fields! Whip out your cameras and snap as many photos as you can. If you're looking for souvenirs to take away from Tegalalang, support the local economy by purchasing small trinkets from old farmers in the area.
Address: Jalan Tegallalang, Tegallalang, Kabupaten Gianyar, Bali 80561, Indonesia
Alas Harum Agro Tourism
Following the mesmerising sunrise at Tegalalang Rice Terraces, make a pitstop at Alas Harum Agro Tourism for your caffeine fix before heading to Kuta. This coffee house doesn't just serve any ordinary coffee, it specialises in Kopi Luwak! For the uninitiated, coffee beans used in making Kopi Luwak are harvested from the faeces of the Asian Palm Civet. After having an interesting cuppa, look out for the iconic Bali swing for some Instagram-worthy shots. Get your heart racing as you swing over the vast landscapes below your feet!
Address: Tegallalang, Gianyar, Bali 80561, Indonesia
Beachwalk Shopping Center
After a two-hour drive from Alas Harum Agro Tourism, head over to Beachwalk Shopping Centre for some last-minute shopping! This elaborate complex packs in a selection of boutique shops and branded outlets, such as GAP and Armani Jeans. Parents, you can leave your kids at the Miniapolis Bali section in the shopping centre, where your kids can be their boisterous selves and play with new friends!
Address: Jalan Pantai Kuta, Kuta, Kabupaten Badung, Bali 80361, Indonesia
And that marks the end of your fun-filled family vacation in Bali! With a balanced dose of nature, activities, and shopping all jam-packed into one trip, you'll be in for a vacation to remember.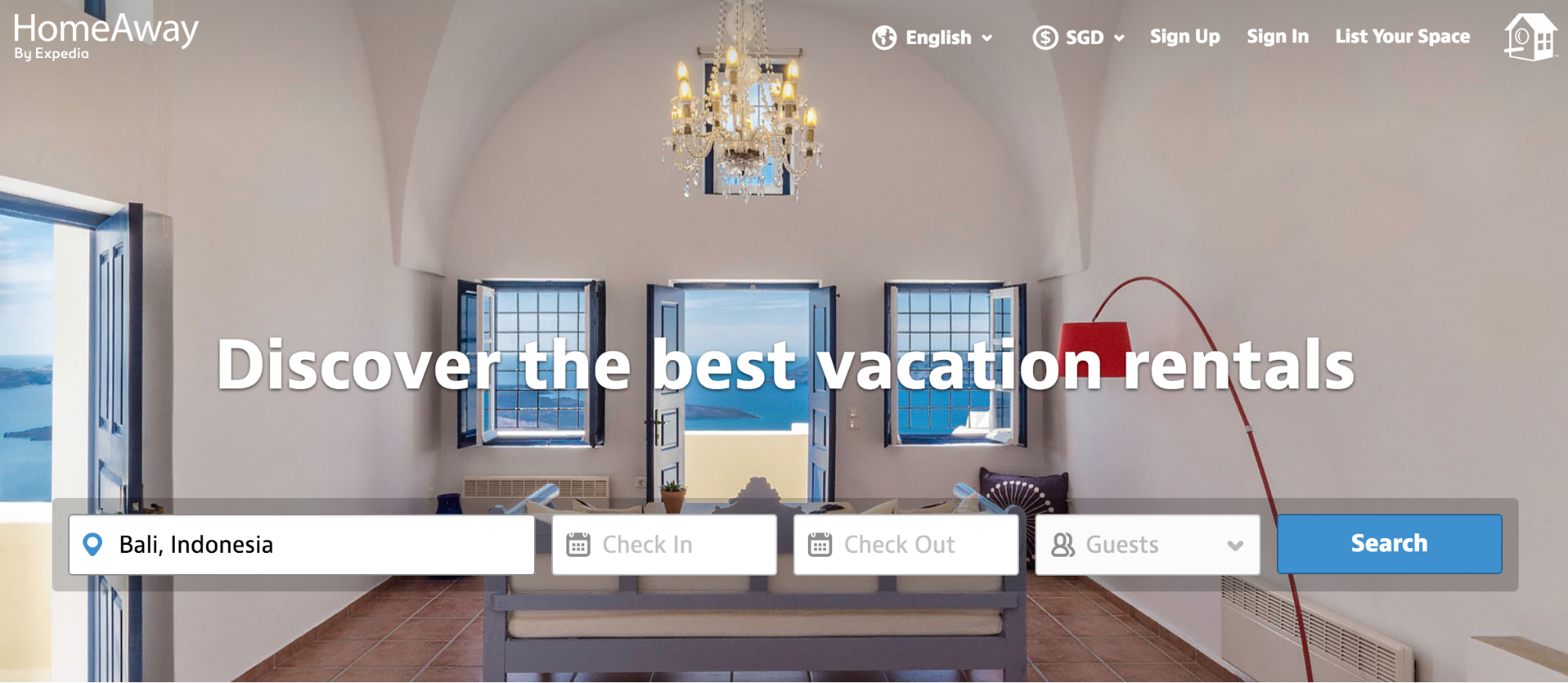 Instead of the usual hotels, why not try staying in a HomeAway vacation rental in Bali? For the same amount (or even less) than what you'll pay for multiple hotel rooms, a HomeAway vacation rental will give you the most precious thing of all: the space to bond as a family. You won't have to separate into individual hotel rooms at the end of the day; with HomeAway, delight in having a communal area where you can sit around as a family and spend quality time together. After all, isn't that what vacations are all about?
What's more, most properties that you rent on HomeAway usually come with a fully functional kitchen, a washer/dryer and other appliances you usually find in your own home to make travelling a total breeze for families – especially if you have younger children with you! The vacation rentals in Bali, especially, even boast private infinity pools! That's something you'll never be able to enjoy if you choose to stay at a hotel. 
Besides, staying in one of these vacation rentals is also a good way to immerse yourself in the local way of life! Many of these accommodations are located right in the heart of local neighbourhoods, and hosts can often provide you with great tips on local attractions and foods you must try.
There's truly no better way to feel at home – even if you're thousands of miles away.
BOOK YOUR STAY WITH HOMEAWAY NOW!
---
Brought to you by Homeaway.