Sweden, the Scandinavian country situated in northern Europe, is often known for its delicious meatballs, pop group ABBA and flat-pack furniture from IKEA. Last year, I was fortunate enough to spend six months in Sweden for my undergraduate student exchange programme. I am ashamed to admit that I did not know much about Sweden prior to my exchange, but I soon grew to love and appreciate the beautiful country for what it is. So here are 10 reasons why I fell (and why you might fall) in love with this stunning country:   
1. The cold yet wonderful winter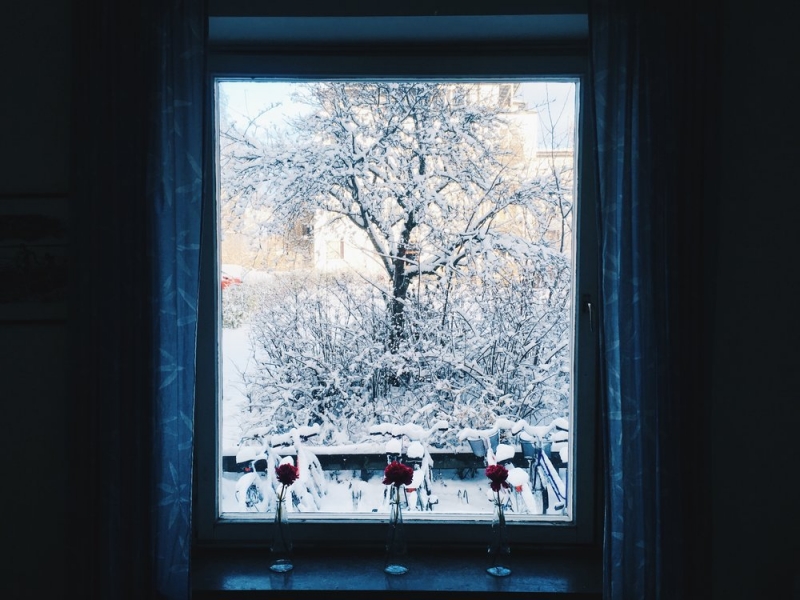 What comes to mind when we talk about Sweden? The cold, of course!
Sweden has one of the darkest, coldest and longest winters. I'm not going to lie, winter in Sweden can be pretty unbearable when you only get three hours of sunlight or can't stop slipping on icy pavements. Despite that, the joy of witnessing a winter wonderland is much, much greater!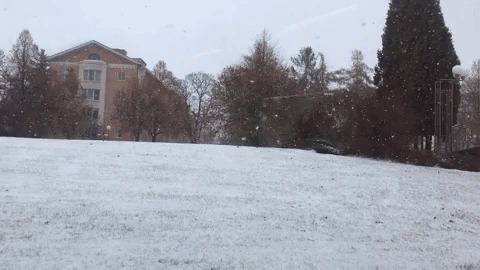 As someone who grew up in Singapore (which only has one season – summer), being able to wake up to a world covered by a blanket of pure white snow is simply a dream come true. There is really no better place to make snow angels, build snowmen and have epic snowball fights!
2. Quirky and delicious food
Contrary to popular belief, Sweden is not just about meatballs and mashed potatoes. It is also home to (drum roll please) banana curry pizzas! Say whaaat?
The banana curry pizzas are rather similar to Hawaiian pizzas, but with additional banana slices and curry powder sprinkled on top. As bizarre as it might sound, I actually thought the pizzas tasted great! This particular flavour is a Swedish favourite, so you can definitely find it in most of the local pizza stores.
Another food dish that astonished me was the smörgåstårta (sandwich cake), a Swedish staple at parties, celebrations and brunches. Despite its name, the smörgåstårta isn't really a cake. It's basically just sandwiches layered in the form of a cake! These sandwich cakes are often filled with salmon or tuna and topped with cucumbers, cherry tomatoes as well as eggs.
3. Kickass festivals
It's no surprise that Sweden, the birthplace of popular music acts like ABBA, Avicii and Zara Larsson, has some of the coolest music festivals in Europe. Way Out West Festival in Gothenburg, for one, is a popular three-day music festival in Sweden! It is where famous artists from Sweden and all over the world converge and perform songs from a variety of genres, ranging from pop to electronic.
4. Fika culture
Fika, meaning "to have coffee", is one of the most distinctive and important concepts in Sweden. The essence of it is to basically slow down and take a break, often by having a cup of coffee (or tea) and a baked treat. Many Swedes also take the opportunity to chat and catch up with friends, co-workers or loved ones. Fika is much more than a normal coffee break – it's a lifestyle and a culture.
The idea of fika is so deeply ingrained in the Swedish culture that most people have fika several times a day! After spending six months in Sweden, fika has definitely become my favourite past time. After all, nothing beats having a toasty kanelbullar (cinnamon roll) and a warm cup of chai latte on a weekday afternoon.
5. Breathtaking nature
Evidently, Sweden doesn't play around when it comes to nature. From clear sparkling lakes and azure blue skies to massive forests and towering mountains, the land of Sweden is filled with endless natural sights and gems. Trust me, the Swedish wilderness is so postcard-perfect that you'll find yourself gasping in amazement every other moment.
Breathtaking nature is everywhere in Sweden, but you should definitely head up north to Kiruna for vast snowy lands and the Northern Lights (!!!). For sea, cliffs and beaches, the island of Gotland is definitely a must-visit!
6. Magnificent architecture  
As one of the oldest kingdoms in the world, Sweden is home to some of the most gorgeous ancient buildings and churches. If you're into exquisite old architecture like I am, you're bound to have an amazing time appreciating the famous skyline of Stockholm city and marvelling at stunning church architecture in Sweden.
7. Beautiful old towns
I love exploring old towns wherever I go, and Sweden certainly has no lack of medieval city centres! The most famous old town is, of course, the Stockholm Gamla Stan (Old Town). Dating from the 13th century, this preserved old town is packed with charming cafés, interesting museums and brilliant art galleries. As you wander along the cobbled streets and narrow alleyways, you'll feel as if you've been transported back in time!  
8. Adorable street signs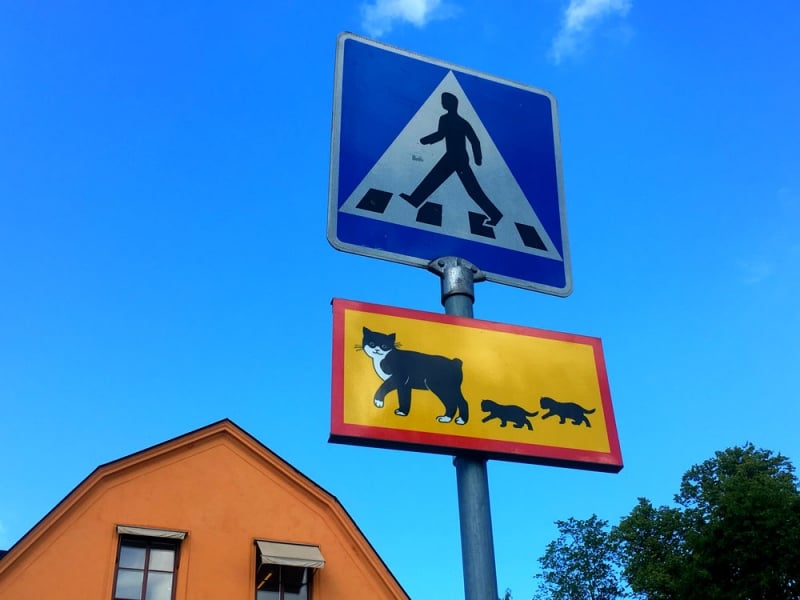 Need I say more? I've no idea what's going on (is this even legal?), but all I can is… give me MORE! 
9. Cashless transactions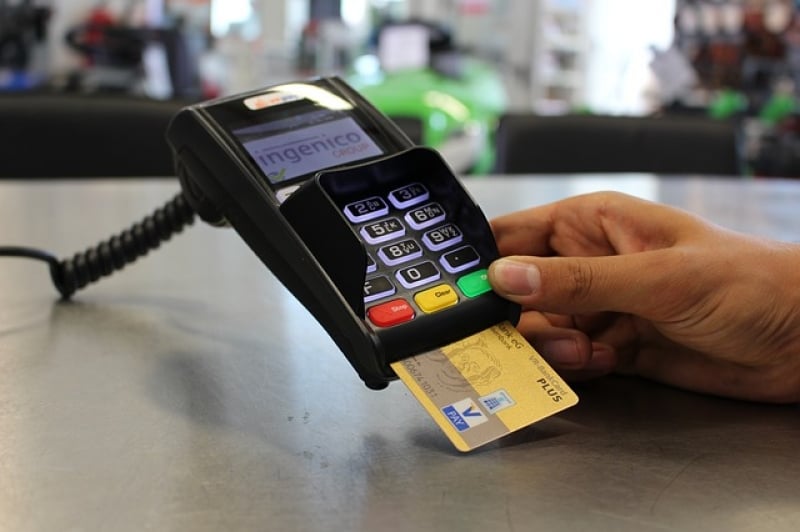 Going cashless is a really huge thing in Sweden. The country is moving rapidly towards becoming a cashless society and 80% of all transactions in Sweden are made by cards! This makes life so much more convenient because there is no need to deal with scattered coins and loose change. From grocery bills to bus tickets, digital payment is available for almost every single kind of transaction!
10. Swedish language
Last but not least, the Swedish language! I took a basic Swedish course in my exchange university and I had a lot of fun learning some simple Swedish words and phrases. Learning Swedish is also a good way to learn more about the Swedish culture!
One of my favourite Swedish words is "lagom", which vaguely translates to "just the right amount" or "not too much, not too little" in English (there is no exact equivalent in English). This word perfectly embodies the Swedish lifestyle and spirit of leading a balanced life. To the Swedes, everything in life should be lagom.
There are many more reasons why I love Sweden, such as its efforts in environmental sustainability, its positive attitude towards gender equality and, of course, the lovely Swedes… I could go on forever, but then we'd be here all day. If you ask me, everyone should visit Sweden at least once in their lifetime to get a glimpse of this amazing country.
I, for one, would definitely love to visit Sweden again. Vi ska ses igen, Sverige! (We shall meet again, Sweden!)