With the 2019 Rugby World Cup in full swing, there's no doubt that rugby fever has gripped the Land of the Rising Sun, with rugby fans flocking from all corners of the globe to get in on oval-ball action. 
Japan, however, is more known for its izakayas than beer halls, which can be a challenge for rugby-mad tourists hoping to catch their team in action. Which is why we've taken it upon ourselves to bring you nine of the best bars across the country where you're guaranteed to get in on the rugby action during the next month.
Tokyo
1. Legends Sports Bar – Roppongi
Legends is somewhat of an institution as far as Japanese sports bars go, renowned for showing a raft of foreign sports such as the English Premier League, NFL and xxx. The menu offers up distinctly American fare – think moreish buffalo wings slathered in sauce, hearty pizzas and juicy burgers. It generally gets full here, so be sure to arrive early to secure your seat!
Address: https://goo.gl/maps/WFoYuRpXqk9PcGQU6
Website: http://legendsports.jp/ 
2. Los Cabos Shinjuku
A Mexican sports bar might not be the first place that comes to mind when thinking of venues to watch the Rugby World Cup, but trust us when we say that this Los Cabos will keep you entertained for 80 minutes, and beyond. As the largest jaunt of its type in Shinjuku, you can wash down some tantalising Mexican cuisine with a wide selection of beers, cocktails or tequilas, depending on your mood. The numerous HD screens and colossal projectors will ensure that you don't miss any penalty, turnover or try.
Address: https://goo.gl/maps/122bTRYa1Py
Website: https://www.spocafe.jp/shop/10091 
3. THE FooTNiK – Ebisu
The Footnik's reputation as a football fan's haven is one that precedes it, with the well-known Tokyo hideout celebrating its 18th birthday in October. From September to November, however, you can be assured that they'll be devoting just as much time to rugby as football. American and British craft brews are par for the course here, along with classic British pub fare like fish and chips, bangers and mash, and the timeless English pie. The Footnik does allow you to pre-book seats so that you don't have to worry about standing for a full 80 minutes, although this service does come with a fee.
Website: http://www.footnik.net/
Address: https://goo.gl/maps/S3MZXX8UcXXE2dnw9 
Yokohama
4. Rugby Diner 7 Oaths
You know you're in for a good time when the owner of a sports bar himself is a former rugby player. Pub owner, Takeshi Kato, takes pride in the rugby memorabilia that adorns his establishment, with a decent selection of beverages from New Zealand and Australia on offer. Rugby runs in Kato's veins, having a rugby coach for a father and playing as a forward throughout his youth. This family-run venue is sure to be a hit with fans who find themselves in the port city of Yokohama but can't make it to the Yokohama Stadium.
Address: https://goo.gl/maps/k8ntZNU2NYN8Ret8A
Website: https://www.7-oaths.com/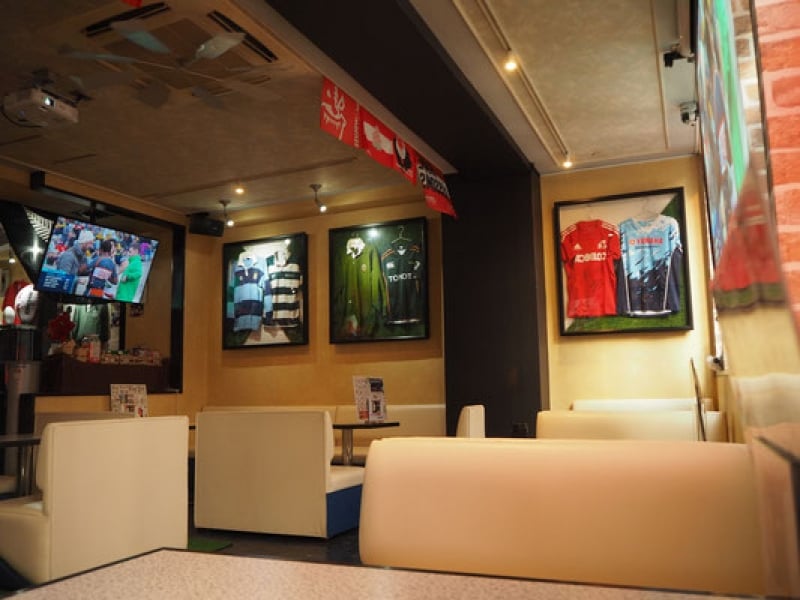 5. Benoa
Benoa is Yokohama's premier sports bar, a venue that spares no expense in making your rugby-watching experience an unforgettable one. You'll be blown away by the five 150-inch throughout the bar, while drinks connosieurs can choose from 42 different tequilas and more than 100 whiskey variants. If you're having trouble deciding what to order then chat to one of the well-versed staff for their recommendations – you won't be disappointed.
Website: https://www.benoa.jp/yokohama/party/enkai/
Address: https://g.page/datsuandopatybenoa?share 
Osaka
6. Stadium Cafe
Stadium Cafe is perfectly located in Osaka, no more than 200 metres from Namba Station. It's also pretty wallet-friendly (in a country that generally isn't) with drinks options starting from a pretty reasonable ¥400. The venue boasts seating for 100 patrons and with the numerous TV screens you won't miss a second.
Website: http://www.sta-cafe.com/
Address: https://goo.gl/maps/Pr5JuvzMzYPNonkB7 
7. Fiji Bar
No other bar does Pacific Island hospitality quite like Fiji Bar, a pub in the bustling district of Souemon-cho. If you want to immortalise your time at this homely hangout then feel free to ask for a snapshot, which will then go on the wall along with the other thousands of guests who've come through their doors. In terms of fare, expect authentic Fijian and Japanese offerings, along with a suitable selection of beers. The owner, Yogi, is known for his skills behind the grill and the friendly staff keep patrons coming back for more.
Details: https://www.facebook.com/rugbybarosaka/
Address: https://goo.gl/maps/vtBTTMTYUrEwMr7N9 
Sapporo
8. Brian Brew
Nestled in the heart of Hokkaido's capital city, Sapporo, is Brian Brew. This Irish pub in the Susukino district is a firm favourite amongst rugby-loving locals and promises to be a hotbed of sporting action over the next few weeks. The story behind this sports bar all started when the founder and former rugby player, Ryusuke Hasegawa, got a taste of pub culture while overseas. In true Irish fashion the staples here are Guinness and Kilkenny, with the shepherd's pie coming highly recommended too. For travellers making their way to the northern reaches of Japan this autumn, Brian Brew is the perfect chance to imbibe the quintessential pub experience!
Website: http://www.brian-brew.com/bb/
Address: https://goo.gl/maps/oifkc9Bx3UAwAnfo8 
Fukuoka
9. Two Dogs
Rugby lovers in the south of the country need not worry about missing out on any of the RWC 2019 games, as the legendary Two Dogs Sports Bar promises to show all the live action during the course of the tournament. Given that sports bars are nowhere near as plentiful in Fukuoka as they are in, say, Tokyo or Osaka, this makes Two Dogs something of a hidden gem. Located in Oyafuko-dori street, Two Dogs is as homely as it gets for sports lovers, with an abundance of American bar meals to keep you satiated throughout your rugby-watching. Craft beers aren't in short supply either, making this bar a sure-fire winner for anyone wanting to experience the Rugby World Cup spirit.
Details: http://bit.ly/2Mi5og8
Address: https://goo.gl/maps/k3PRrjpPdU3UcybK9 
With our comprehensive list of sports bars across Japan, there's no reason for you to be stuck high and dry without your favourite brew during the 2019 Rugby World Cup. Be sure to get to one of these pubs and watch your nation battle it out for rugby glory!