The Philippines' most popular P-pop group has done it. SB19 makes history as the first record-breaking Filipino act to top a Billboard chart. Their song Bazinga has maintained its no. 1 spot on the Billboard Hot Trending Songs chart for seven weeks, breaking the six-week record of Butter by BTS.
Also read: Asian Acts SB19, MINZY, and LiSA Spotted in US Secretary of State's Spotify Playlist!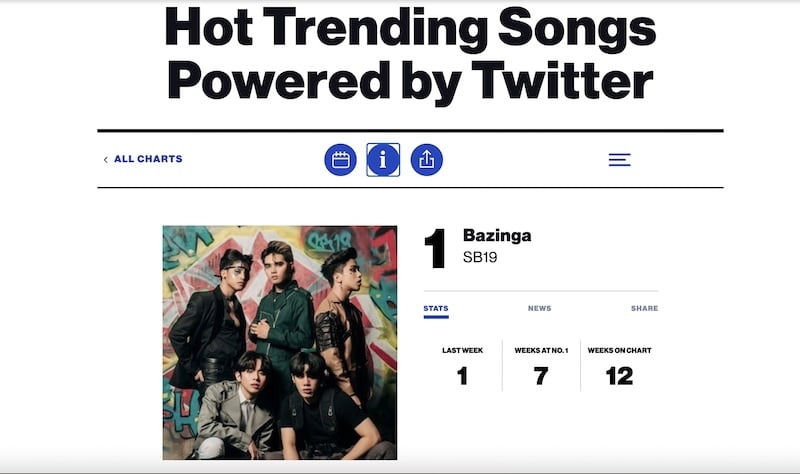 Bazinga is SB19's diss track to their haters and naysayers, a fitting song to chart for a rapidly growing boy group in the Philippines. Despite their expanding fan base called A'tin, SB19 still deals with occasional mockery amidst their ambition to make Filipinos take the P-pop industry seriously. However, the tide finally began to turn when even Filipino K-pop stans expressed their pride when they saw the group's most recent performance at the ASEAN-Korea Music Round Festival on 9 Jan 2022. SB19 performed five songs during the festival: What?, Tilaluha, MAPA, Bazinga, and Go Up.
How SB19's Bazinga set a new Billboard record
This week, SB19 has all the more reason to celebrate as they have earned the title of "record-breaking," with the longest-running no. 1 spot on the Billboard HTS chart, a weekly recap of the most discussed songs on Twitter globally. It's all thanks to the efforts of A'tin, who have consistently talked about Bazinga on Twitter, until it broke its six-week tie with Butter. 
Indeed, it seemed like SB19's Filipino fans broke Twitter with the amount of tweets coming in for the tracking week of 15 to 22 Jan 2022. Last Friday, the Billboard HTS chart actually froze when Bazinga was only at 8.4 million tweets, second to Butter. But after Billboard made the final tally, Bazinga came out the victor with a whopping 9.3 million tweets for the week. This, of course, was achieved with a little help from SB19's growing international fan bases. 
If anything, A'tin proves how crucial dedicated fan bases are to promoting pop groups aspiring to enter the global music scene. And now, through the efforts of SB19's very own fan base, the Philippines can boast about its first homegrown talents that have topped the charts. This makes the Philippines the first-ever Southeast Asian country to break and set a record in a Billboard chart. 
SB19's record sales is still a far cry from that of BTS, but they're definitely the music act being promoted the hardest on social media thanks to their passionate fans. Breakthroughs come in many forms; this milestone and recognition in the Billboard HTS chart will surely help take SB19 one step closer to international acclaim. Along with this achievement, SB19 recently celebrated its 100 million streams on Spotify. 
SB19 is a five-member P-pop group composed of Pablo, Stell, Josh, Ken, and Justin. To know more about them, check out our article discussing the basics about the boys!
---
Featured image credit: SB19 | Official Facebook Page