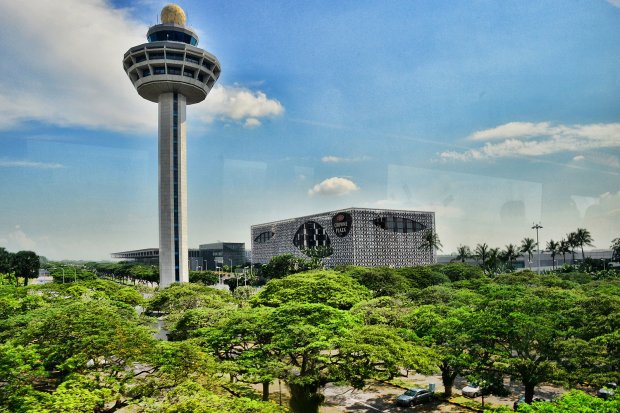 Image credit: Yut Shing
Yes, we know you've been inundated with posts celebrating Singapore's 50th birthday (yay! #SG50). Bear with us for one more, because we want to show our love for the iconic Changi Airport. Not only has it won a multitude of international awards for its outstanding design and general excellence, but more importantly, it holds a very special place in the heart of all Singaporeans.
1. The Slide @ T3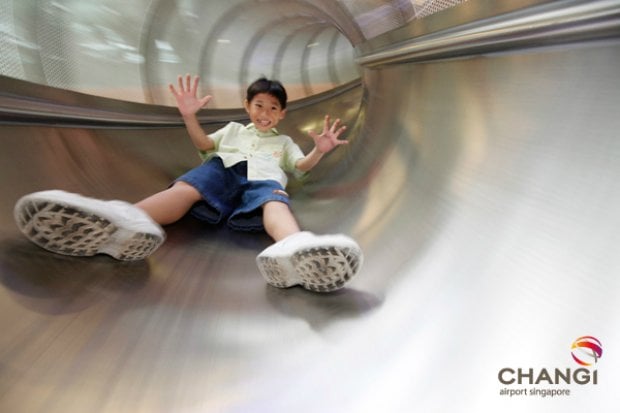 Image credit: CAG
The world's tallest slide in an airport, The Slide @ T3 is no joke. 4 storeys tall, hurtle through the slide at over 20km/h and get your buzz on!
2. Swimming pool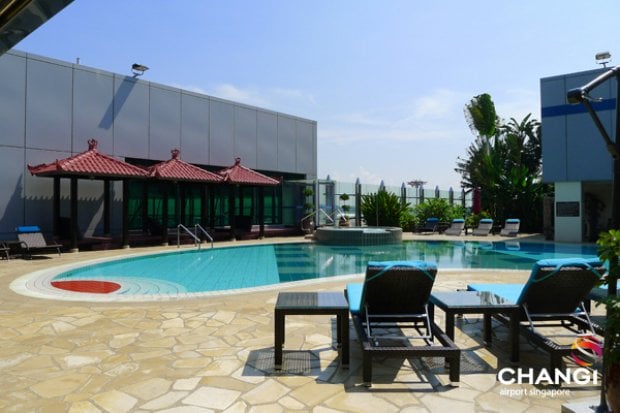 Image credit: CAG
If you're looking for a place to relax, the roof-top swimming pool is a good bet. Get in a couple of laps before you lounge back and soak in the sun rays with a complimentary drink in hand.
3. Butterfly garden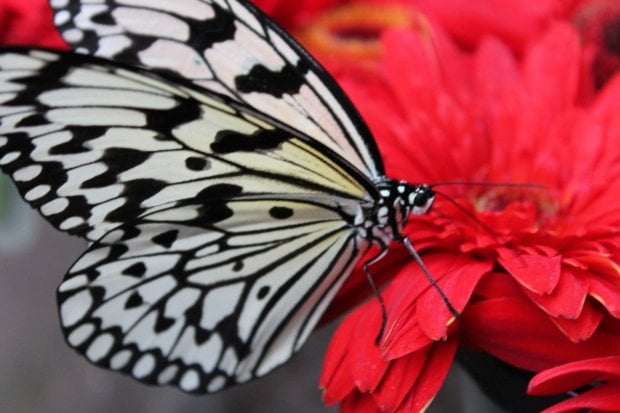 Image credit: Kevin
The world's only airport with a butterfly garden, you don't want to miss out this one. You'll be in store for a mixture of stunning colours you'd never think was possible!
4. Proposal at Changi Airport
Love is literally in the air (pun intended).
How can you not love Changi after this?
5. Free foot massage (machine)
We Singaporeans love our things free. We Singaporeans also love our massages. Free foot massages sound like a pretty darn good deal to us. Please wear socks.
6. Foot reflexology
If you're not comfortable with a machine squishing your feet around, how about a human! Sad to say, this option isn't free.
7. Sunflower garden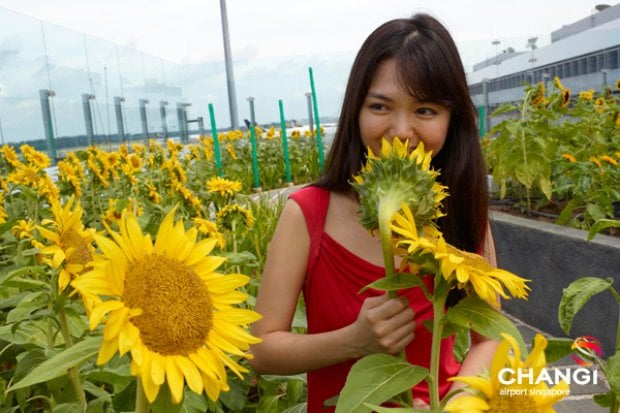 Image credit: CAG
Sunflowers brighten up everyone's day! Get those endorphins into your system and have a great day ahead!
8. Viewing gallery
When you were young, didn't you wish you could fly? We did too. Be mesmerised as you watch plane after plane soar into the big open sky.
9. Video games @ entertainment deck
Time to settle that bet once and for all. With plenty of consoles and games on offer, hours will fly by before you even know it. Try not to miss your flight!
10. Free movie screenings @ T3 movie theatre
Latest blockbusters? Check. Free of charge? Check. Sign me up now!
11. Free TV screenings
We all grew up on TV, whether it was coming back home from school and catching up on shows, waking up on the weekends to our favourite cartoons etc. Changi Airport gives us a timely nostalgic reminder of those times, before the days of on-demand video and the internet.
12. OSIM massage chairs
Everybody needs a little love. Let this throne worthy of royalty pamper you with some serious kneading and pounding.
13. Comfy bean bags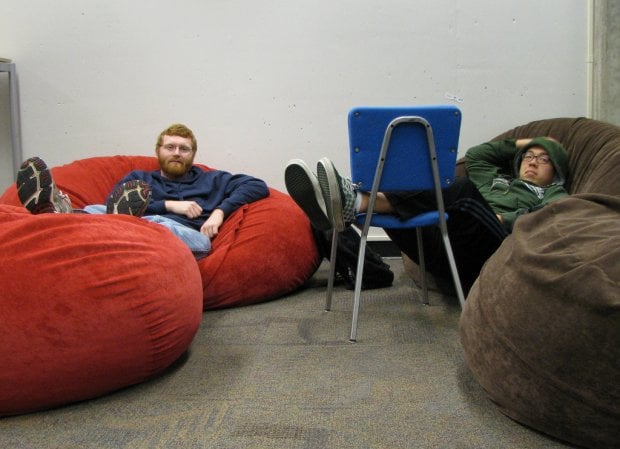 Image credit: Kennedy
Beanbags are arguably the most comfortable thing invented by mankind ever. Seriously, after you slump onto one of these babies, neither will you be able to physically get up, nor will you want to.
14. Kinetic rain display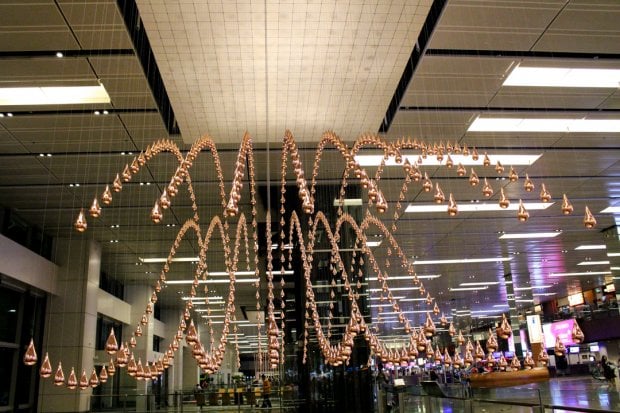 Image credit: Des
This artistic installation is one of the most unique features we've ever seen. Seriously, don't look at it for too long. You might get hypnotised.
15. Woodblock rubbings
Fancy yourself a hidden Picasso?
16. GST free shopping
"Nothing can be said to be certain, except death and taxes." Wait a minute, you sure? What about the GST free shopping at Changi?
17. Fish spa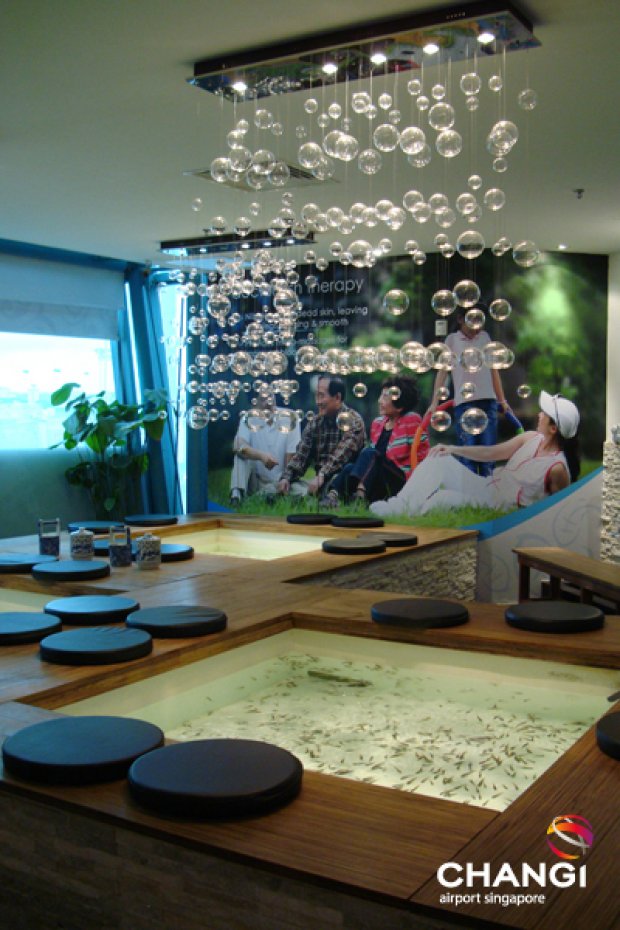 Image credit: CAG
Thousands of tiny little fish nipping at the dead skin of your feet feels a lot more relaxing than it sounds.
18. Snooze lounge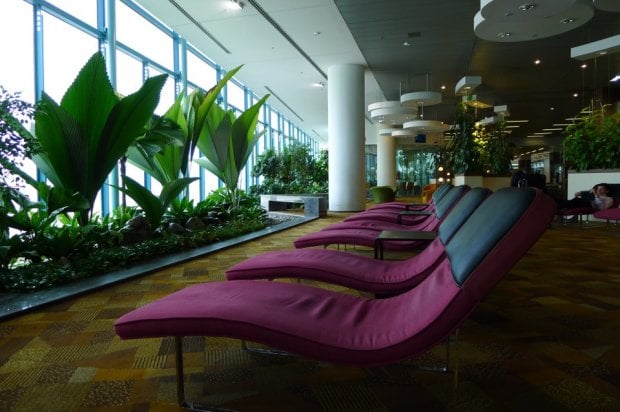 Image credit: CAG
Catch forty winks on any of these sleep-inducing relaxers about the airport. Don't they look so inviting!
19. Free Singapore tour
If you have a layover in Singapore longer than 4 hours, you can sign up for the Free Singapore tour which gives you a quick tour of our sunny little island!
20. Enchanted Garden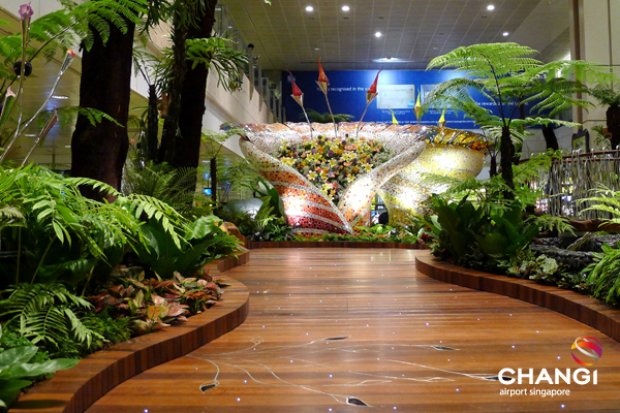 Image credit: CAG
As you walk through the "Enchanted Garden", motion sensors trigger nature sounds and blooming flowers, bringing the garden truly to life.
21. Xperience Zone
We usually have little choice but to cater our schedules around flight times as they are so infrequent. Don't worry about missing out on that big soccer match though, as the Xperience Zone has you covered with massive TV screens and a truly immersive viewing experience.
22. MTV zone
Music soothes the soul, and the best way to enjoy it is on a 50 inch screen in front of you while the high quality sound is directly piped to your seat. You'll soon wish you had the same setup at home.
23. Social Tree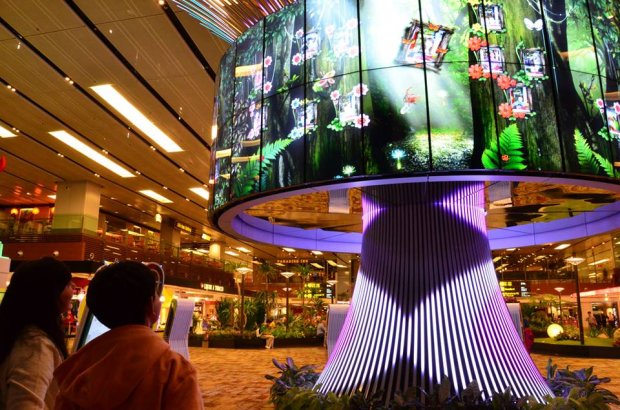 A brand new innovation, the Social Tree taps on the gradual shift of our physical lives to the digital realm. Pictures and videos can be shared as memories of travel experiences, sort of like a public, digital time capsule.
24. Clean toilets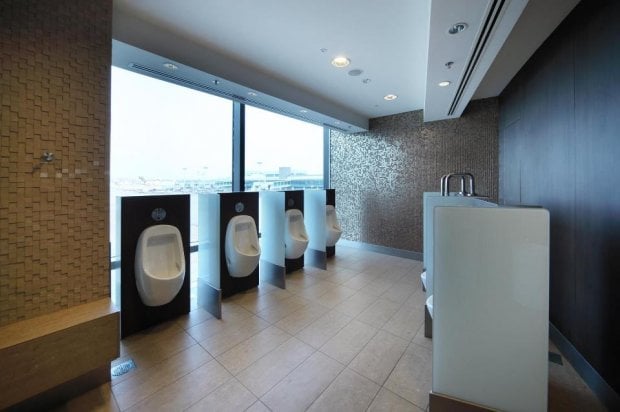 Image credit: CAG
This might not sound like much but trust us, after you've been to some of the countries out there, you'll thank your lucky stars Singapore is so well-equipped. Also, pee with a view!
25. Travellators everywhere!
Again one of the things we take for granted. Huge new airports also mean tremendous walking distances, sometimes over a kilometre separates the gate from customs! Thank god for the invention of travellators.
26. Free Wi-Fi
With Wi-Fi comes great power. Okay we exaggerate, but free Wi-Fi is definitely one of the first things that comes to any traveller's mind. Changi Airport has you covered here.
27. Free Internet stations
If your personal device fails you for any reason, don't panic. You're not completely shut-off from the digital world. Remember those big, chunky contraptions called computers? Yup, Changi Airport has plenty of them hooked up to the Internet for your convenience. Except they're not chunky anymore, they're pretty damn sleek too.
28. Free mobile phone charging
With the amount of time we spend on our phones nowadays, battery life becomes more and more valuable. Free mobile charging for almost any phone model is a simple yet valuable benefit that every traveller will definitely appreciate.
29. Koi pond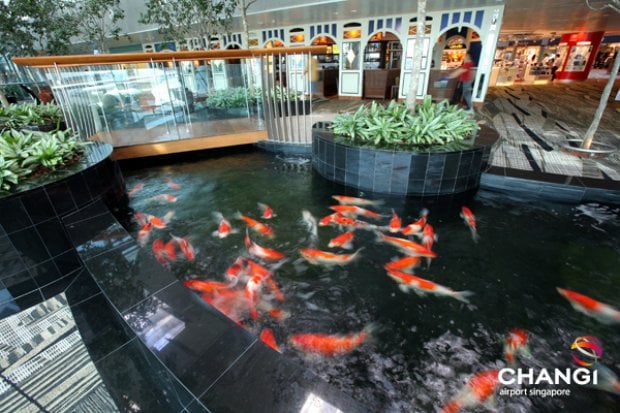 Image credit: CAG
Have you ever taken the time to observe the intricate patterns on the back of Koi fish? It's one of the major reason why they are so easy on the eyes, and why they fetch so much value. Toss a coin in and make a wish the next time you're there! It might just come true.
30. Orchid garden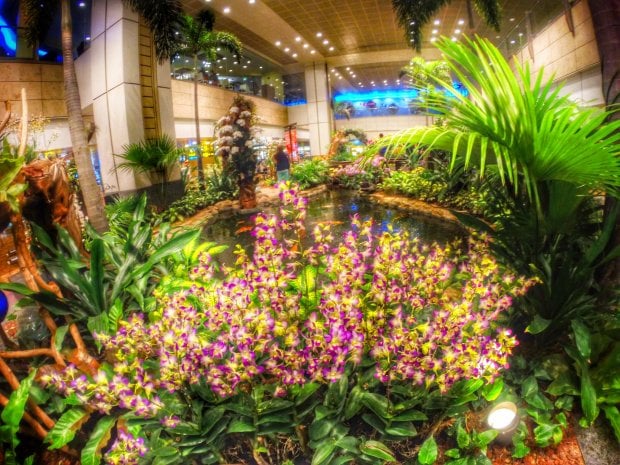 Image credit: Ken
Singapore is really taking this garden city thing to the next level.
31. Food!
Singapore is a foodie's paradise, with its embarrassment of riches in local cuisine. If you don't have time to head out of the airport, you'll find a credible imitation of what to expect at the Singapore Food Street in Changi.
Also read: 16 Must-Try Foods in Singapore
32. Cactus garden
Thought that the only place that you would find cacti is in the desert? Think again!
33. Canopy playground (kids)
Let the kids run about and enjoy themselves while you get a much needed respite during your travels.
34. Changi aviation gallery
Learn more about the history of aviation in Singapore with interactive displays that will engage both young and old.
35. Rainforest by SATS
Need to recover from the gruelling hours spent fidgeting on the uncomfortable plane seats? Pamper yourself and get rejuvenated, get a good power nap on a proper bed and a refreshing shower before you go on you way again.
36. The Haven : Pay-per-use lounge
If you have not racked up enough frequent flier miles to gain entry into one of the airline lounges, you might want to consider The Haven, which is pay-per-use. Great value for money especially if you have a long layover ahead of you!
37. Art installations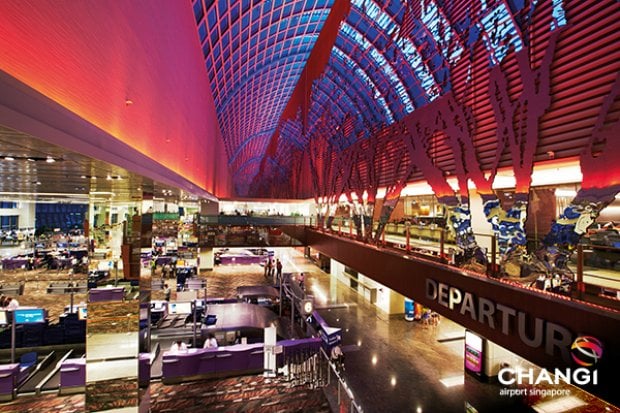 Image credit: CAG
Changi frequently updates its galleries and open spaces with seasonal art installations or humongous displays, so do keep your eyes peeled! Well to be honest they are usually pretty hard to miss, so just look around and you're bound to bump into it sooner or later.
38. Religious facilities
Changi has also thoughtfully included prayer rooms in all 3 terminals to make it easy for you to continue on with your daily routine without missing a beat.
39. Transit hotels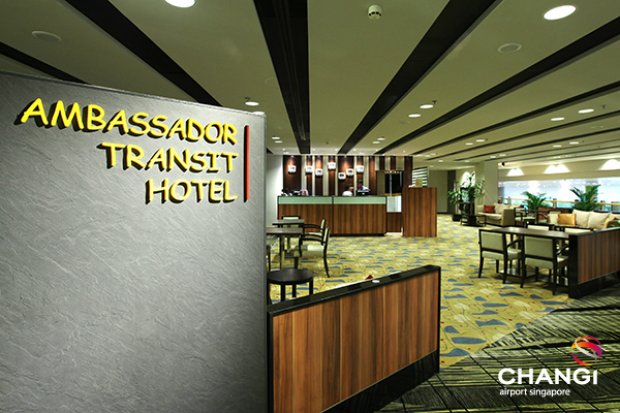 Image credit: CAG
Every traveller will have had to deal with sub-standard transit hotels at least once in their lives. Well this is certainly not going to be an issue at Changi, the Crowne Plaza was recently voted as the world's best airport hotel!
40. Tiger Champions Bar
Thirsty? Quench your thirst at the Tiger Champions Bar and keep up to date with the latest sporting events and news.
41. Free Skytrain rides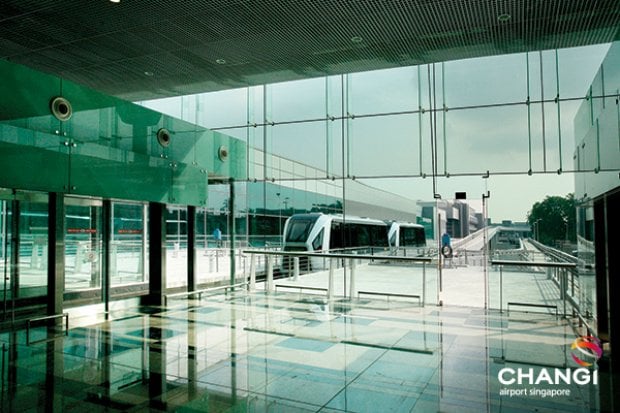 Image credit: CAG
Every airport at the world has its own way of transporting passengers from one terminal to another, but somehow we like our own little Skytrains the best.
42. Availability of automated clearance
Wish that you could get back all the hours spent standing in line waiting for customs to clear? The automated clearance machines mean that you no longer have to make a sprint to when you disembark from the plane.
43. Shower facilities
Travelling can really be a drag, especially with the red-eye flights and ungodly connection hours. Use the shower facilities at Changi to freshen up and ensure that you won't miss your next flight!
44. All the awards it has won thus far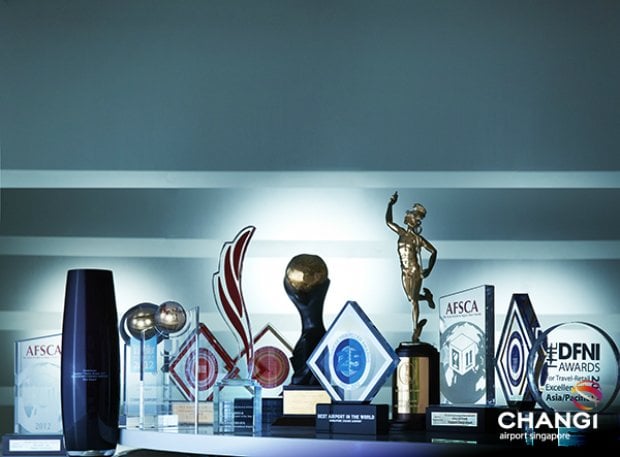 Image credit: CAG
Voted the World's Best Airport for a 3rd consecutive year in 2015, Changi Airport certainly has no shortage of credentials. For a tiny island, our airport certainly punches way above its weight.
45. Service standards / efficiency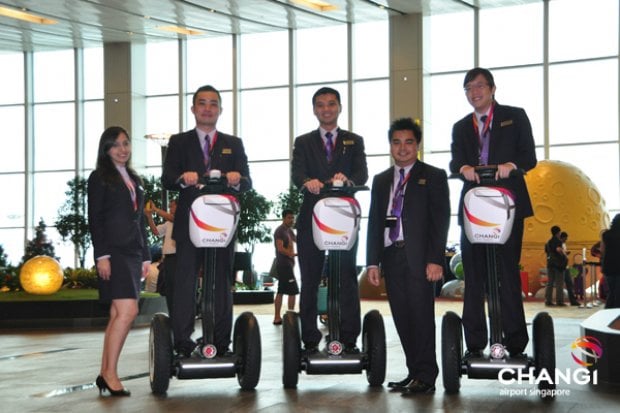 Image credit: CAG
Singapore prides itself on being an effective and efficient city with the highest of service standards, and nowhere is this more evident than in our airport. At any one time you'll notice several Changi staff discreetly patrolling most public areas, on the lookout for any traveller who might need a helping hand or some directions.
46. Gym
Lack the time to keep in shape due to all the travelling you're doing? Don't worry, Changi has a gym for you to maintain your workout routine! Got to maintain all those gains!
47. Manicure and pedicure
We all want to look our best at all times. We also know that it is near impossible to do so while hustling about on your travels. But this manicure and pedicure salon will help you try to for sure!
48. Study spaces
Every self-respecting "east-sider" would have had at least one study session in Changi with a group of friends, doesn't it bring back to good ol' memories of school all over again?
49. Big open spaces
A little background on this one: growing up in the crowded city-state of Singapore, space is a rare and valuable commodity. Children love running about, yet often have little to no space to do so in their homes. Solution? Go to the airport!
50. Iconic control tower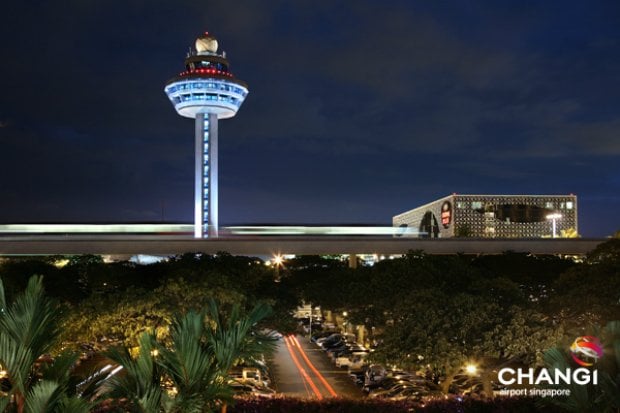 Image credit: CAG
That iconic control tower. You know the one. The one that has been photographed more times than the actual airport itself (this may or may not be true, don't sue us). It's what keeps the airport humming smoothly and allows us passengers a peace of mind. Salute to all the air traffic controllers who work tirelessly to allow us this luxury! 🙂
Why do you love Changi Airport? Let us know in the comments section below!
Also read: 10 Reasons Why Singaporean Travellers Should Be Thankful To Mr Lee Kuan Yew