Autumn is probably the best season yet.
Apart from the weather hitting that perfect sweet spot of being cool, but not too cold, the season also brings about some of the most beautiful changes to nature. Leaves start to dry out and get dyed remarkable shades of colours, and the entire natural landscape has suddenly been painted in various warm hues.
We have probably all envisioned the perfect, rustic autumn experience of admiring the foliage and jumping into heaps of fallen leaves. While Europe seems like the ideal autumn destination, perhaps we don't need to look too far for this experience. In fact, there are many places in Asia that have been blessed with autumn. Here are some of the best spots for you to discover and appreciate the autumn foliage like no other!
Naturally, you'll have to source for accommodation when you're away on holiday. We definitely recommend that you plan and book your hotel ahead of time. You can check out the HotelsCombined app. It compares prices from all the top travel sites to get you the best deal in one search. With all these savings, you can afford to indulge and spend more at your destination! Here, we have provided some suggestions for places that you can stay at after admiring these autumn views. Do take note that the prices provided are estimates, and will vary according to your time of travel.
JAPAN
1. Komyoji Temple, Kyoto
Head off the beaten path and explore Komyo-ji Temple in Kyoto, a quaint and relatively low-key tourist attraction that has started to gain prominence as an autumn leaf scenic spot. Referred to as the Maple Temple, the precinct is filled with hundreds of stunning maple trees that welcome the season with intense colours. Spend your time learning about traditional Buddhist culture and immerse yourself in the heartwarming autumn ambience.
Accommodation suggestions:
2. Nara Park, Nara
Nara Park is a hot favourite tourist destination throughout the year, but it is exceptionally stunning in the autumn. With all the trees starting to change hues, the park is transformed into a colourful playground for both visitors and the adorable Nara deer that reside there. Seeing these treasured animals frolic in their natural environment will enhance the beauty of the park and your autumn experience. You can even get close to and feed the deer, but be sure to treat them with care and respect.  
Accommodation suggestions:
3. Kurobe Gorge, Tomaya Prefecture
For a more dynamic way to enjoy the autumn foliage, hop on the Kurobe Gorge Railway and whizz past the scenic Kurobe Gorge and River. This is the deepest V-shaped gorge in the whole of Japan, and the railway is the best way to explore this natural wonder. Kick back and relax as you take in the vibrant colours of the surroundings, and don't forget to snap a shot of this picturesque view!
Accommodation suggestions:
4. Metasequoia Namiki Avenue, Shiga
Doesn't this look like a scene right out of a movie? The Metasequoia Namiki Avenue has been hailed as one of Japan's most popular roadside tree views, and it is not hard to see why. This 2.4km straight road is flanked by approximately 500 Metasequoia trees, arranged neatly next to one another. The tree branches extend and form a stunning canopy over the road, creating a dreamy atmosphere. Take a leisurely drive down the avenue and admire the warm colours of autumn, and even catch the leaves falling right before your eyes.
Accommodation suggestions:
KOREA
5. Asan Gingko Tree Road, Seoul
Japan is not the only country with amazing roadside tree views – In Korea, the Asan Gingko Tree Road boasts of an array of sturdy trees that turn a captivating shade of golden-yellow in the autumn. As the season progresses, the walkway will be completely blanketed by these crisp leaves; perfect for you to jump around in!
Accommodation suggestions:
6. Deoksugung Doldam-gil, Seoul
The Deoksugung Doldam-gil, or Deoksugung Palace Stone-wall Road, is the perfect amalgamation of urbanization and nature. Spanning 900 metres in length, the road provides a link between the hustle of city life and the serenity of the environment. The vicinity is dotted with trees that turn flamboyant shades of vermillion, amber and golden yellow, which liven up the entire district. If you are looking for a piece of nature without heading too far out of the city, this is the place to be.
Accommodation suggestions:
7. Naejangsan National Park, Jeolla-do
Enjoy a zen day at Naejangsan National Park, which has been touted as the best place in Korea for viewing the autumn foliage. Home to Naejangsan Mountain, various waterfalls and lakes, the park is replete with natural elements that collectively contribute to a calm and soothing atmosphere. Find a private spot in the park and spend all day soaking up the magical autumn views – there's no question that you'll leave feeling content and peaceful.
Accommodation suggestions:
8. Nami Island, Chuncheon
Of course, we cannot talk about autumn without giving a shout out to Nami Island. Every turn of the season brings about a new look for this offshore hideout, and autumn may just bring about the most enchanting change yet! Expect the entire island to burst with colour and life, and walk amongst trees of the most magnificent shades of orange and yellow. Even if you have visited Nami Island before, going again in autumn will feel like an entirely new experience.
Accommodation suggestions:
CHINA
9. Jiuzhaigou, Sichuan
When people think of China, their mind tends to veer towards the bustling cities of Beijing and Shanghai. They definitely don't think of countrysides areas like Jiuzhaigou, which is a nature reserve and national park. In autumn, mountain ranges and forests come alive with fiery reds and yellows and complement the turquoise river perfectly. Experience untouched nature at its very best, and be mesmerised by these vivid colours.
Accommodation suggestions:
10. Great Wall of China, Beijing
The Great Wall of China is probably the most prominent symbol of China, and for good reason. Spanning thousands of kilometres, the wall was constructed at different periods of time, with the earliest starting from 7th century BC. Apart from being a historical monument, this concrete beauty is actually a prime location to enjoy the autumn foliage. The hike up might be tiring, but you will be handsomely rewarded with the sublime views of the mountains and forests in their best light.
Accommodation suggestions:
11. Fragrant Hills Park, Beijing
For a glimpse of the most arresting autumn foliage, you have to head down to Fragrant Hills Park in Beijing. This humble park enjoys international acclaim for having the best views of maple leaves as they turn crimson for autumn, and attracts thousands of tourists every year.
To maximize your experience, opt to take the cable car and enjoy a bird's eye view of this gorgeous place.
Accommodation suggestions:
TAIWAN
12. Wuling Farm, Taichung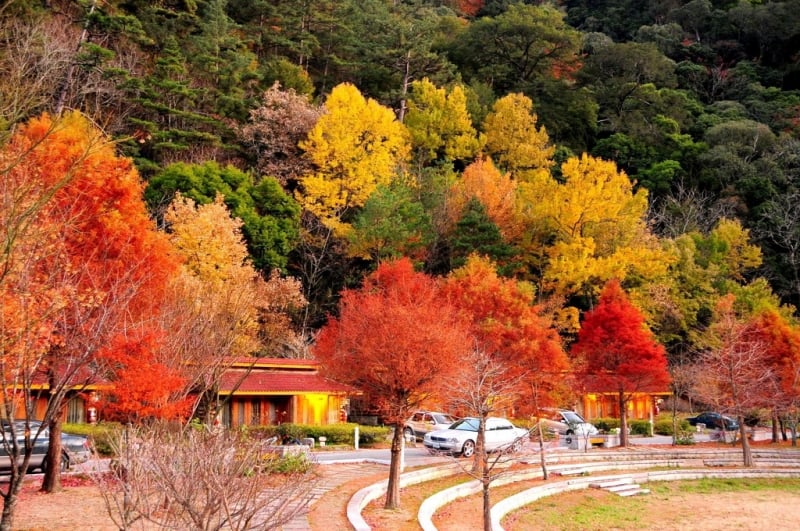 Strategically located in the Alpine Valley, Wuling Farm in Taichung is surrounded by different mountains and enjoys a temperate climate. Consequently, these conditions are ideal for establishing the perfect autumn landscape – the trees adopt a variety of colours and altogether, paint the mountainscape with striking shades. Since this is a farm, there are also many fruit trees that will start to ripen at this time, and you may even be able to savour some of the fresh apples and peaches that are ready for plucking!
Accommodation suggestions:
13. Fushoushan Farm, Taichung
Catch autumn in its fullest glory at Fushoushan Farm, another mountainous area in Taichung. Be enthralled by the magnificent hues of the foliage, and stroll through the scenic farm area.  Don't miss out on the 'Three Kings of Fushoushan', which refer to the three fruit trees (Pear, Peach, Apple) in front of the Farm Office – each tree bears a variety of fruit types, which ripen during autumn and give rise to an assortment of colours and sizes on individual trees.
Accommodation suggestions:
VIETNAM
14. Hoan Kiem Lake, Hanoi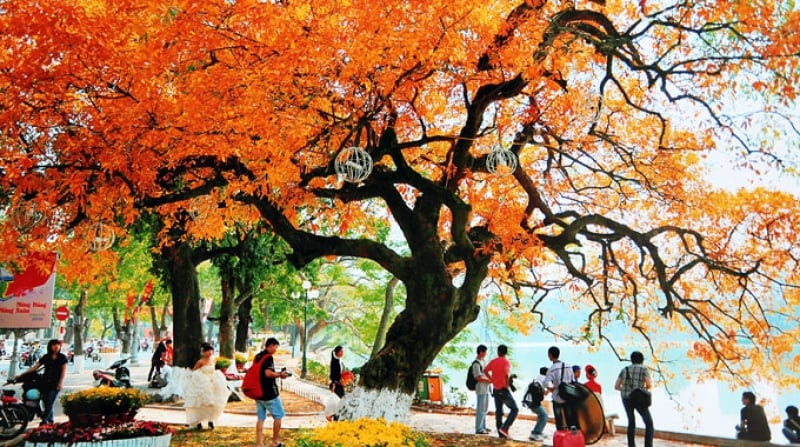 The Hoan Kiem Lake in Hanoi is nothing short of perfection in the autumn – with the cool climate, gentle sunlight and clear waters, the lake is a hotspot for people to gather and enjoy a relaxing time with nature. In addition, the well known Barrington Acutangula tree is an imposing figure over the landscape and is dyed brilliant shades of red and yellow. Many people flock here just to see this romantic scene in autumn, and you should not miss out on it either!
Accommodation suggestions:
15. Mu Cang Chai, Yên Bái
Challenge your understanding of autumn at Mu Cang Chai, a rice terrace in Northwest Vietnam. Instead of the usual crimson shades and falling leaves, autumn here boasts of vitality and life. Since the season corresponds to the period of most bountiful harvest, crops are also at their very peak condition. These rice terraces turn different hues of green and golden yellow, and the landscape exudes a charm that cannot be replicated anywhere else in the world. This view is exceptionally captivating during sunset, where the warm rays of the sun help to further illuminate the beauty of the rice terrace.
Accommodation suggestions:
According to HotelsCombined, the top 5 Asian destinations that people visit during autumn (September to November) are Malaysia, Singapore, Japan, Thailand and Indonesia. Surprisingly, not many of these countries experience autumn as they do not have a temperate climate. To maximize this special time of the year, more people should definitely consider heading to the abovementioned places to enjoy the season to the fullest!