Are you into old-school architecture, rich historical sites and delicious food? Put Penang on your must-visit list! This relaxed city is Malaysia's melting pot of colonial British, oriental and local culture. The colourful tropical island is the place to go for a fascinating fusion of everything from art, architecture and street food! To experience the best of this island, follow this 3-day itinerary for all the fabulous things to do in Penang.
Day 1: Explore Penang's rich heritage at George Town
Ride a trishaw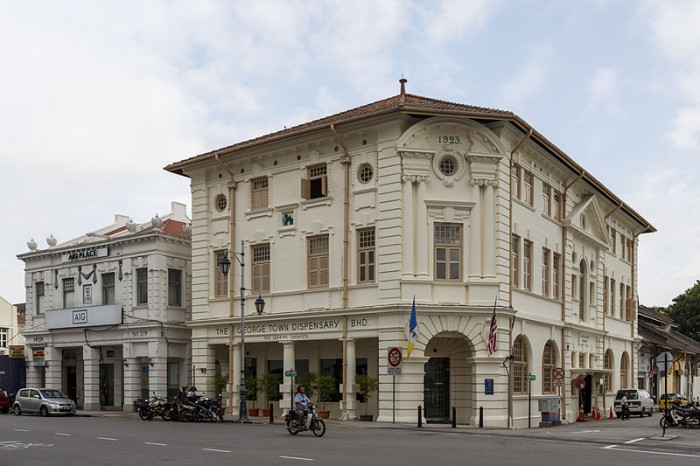 Image credit: © CEphoto, Uwe Aranas
Welcome to this UNESCO Heritage Site! George Town historic area is Penang's capital city and is known for their British colonial buildings, stunning mosques and colourful Chinese shophouses. Ask a trishaw "uncle" for a retro tour of the town in their old school vehicles. You can't get more "vintage" than this!
Pretend you are Peranakan at the Pinang Peranakan Mansion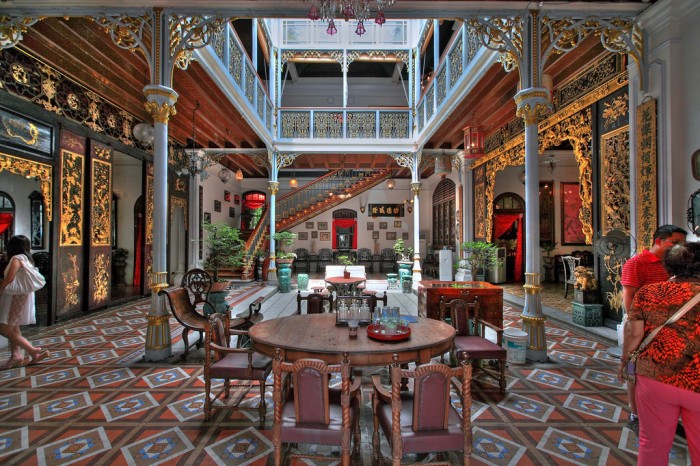 Image credit: -Damian-
Take a peek into the old way of life and culture of Babas from a century ago! The Pinang Peranakan Mansion is the typical home of rich Babas. Babas, also known as Peranakans and Nyonyas, were a community of Chinese who adopted lifestyles of local Malays and colonial British. The mansion-turned-museum showcases the wealthy lifestyles back then mixed with quirky old customs and traditions.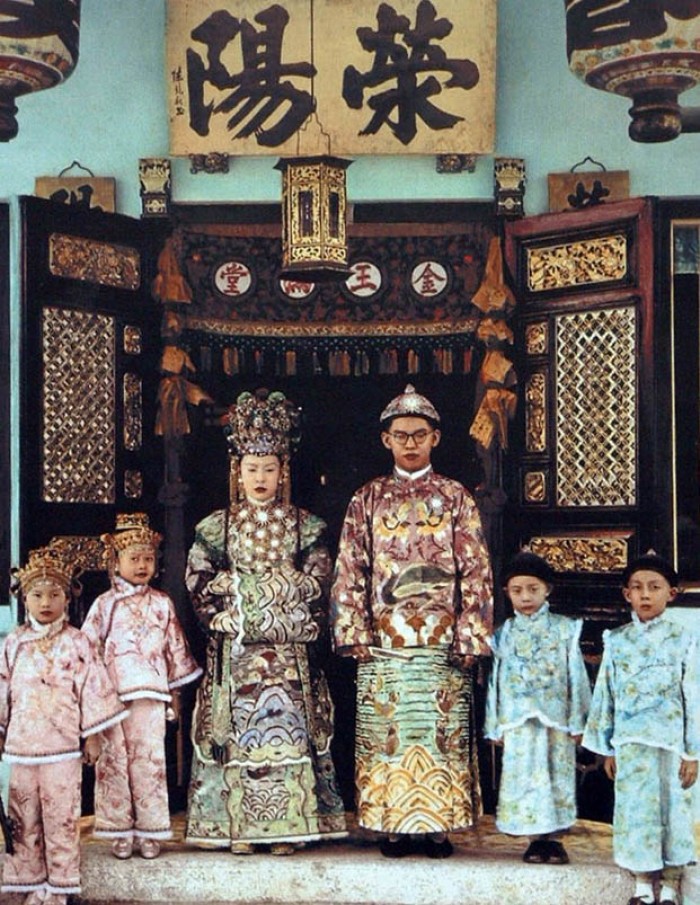 Image credit: Lukacs
Wedding portrait of a traditional Peranakan couple
The mansion is an eclectic mix of a large Baba home mixed with wood-carved Chinese panels, English flooring and ironwork from Scotland. It houses over 1,000 antiques and was built in the 1800s; it is now magnificently restored and well-maintained.
Take a free guided tour! The tour guides are knowledgeable and very, very nice! They will walk you through charming stories of how people used to carry out their daily life. Relive those golden days and make sure to bring your camera — every corner is perfect for shots!
We recommend you spend 1.5 to 2 hours here; you will want to wonder and marvel.
Tips: Make sure you make prior arrangements for a tour as they may run out of guides during peak season. There will be a room in the tour that has a mirror – this is where you can get the best shot! Ask your guide to show you which steps you can stand on to snap the perfect OOTD of yourself in the mirror surrounded by the room's artefacts.  
Where: 29, Church St, Georgetown, 10200 George Town, Penang, Malaysia
Opening Hours: Monday to Sunday at 9:30am to 5pm.
Admission cost: RM20
Learn about Islam at Kapitan Keling Mosque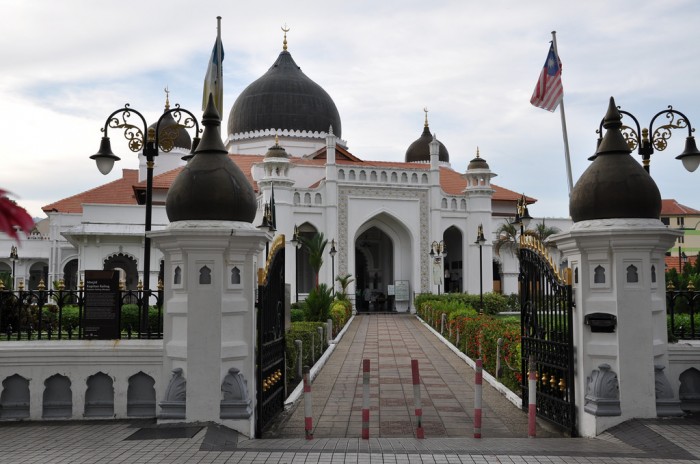 Image credit: shankar s.
The Kapitan Keling mosque is one of the biggest and stateliest mosques in Penang. It was built in the early 1800s by Indian Muslims traders from the British East India company. "Keling" is a Malay term for Indians, and "Kapitan" refers to the head of the Indian community. You will be immersed in the tranquillity of the halls and gardens and witness how Muslims worship.
Make sure to take the free guided tour! It is 30 minutes long and the guide explains about the history of the mosque, mosque practice and a background on the Islamic faith.
Tips: A robe (for ladies) or pants (for men) will be provided for free if your wardrobe is deemed inappropriate. Make sure you check the sign at the entrance for the mosque's rules before entering!
Where: 14, Jalan Buckingham, George Town, 10200 George Town, Pulau Pinang, Malaysia
Opening Hours:
Monday to Thursday and Saturdays to Sundays at 11:30am to 1pm and 2pm to 6pm
Fridays at 2:30pm to 6pm
Marvel at the super-elaborate Khoo Kongsi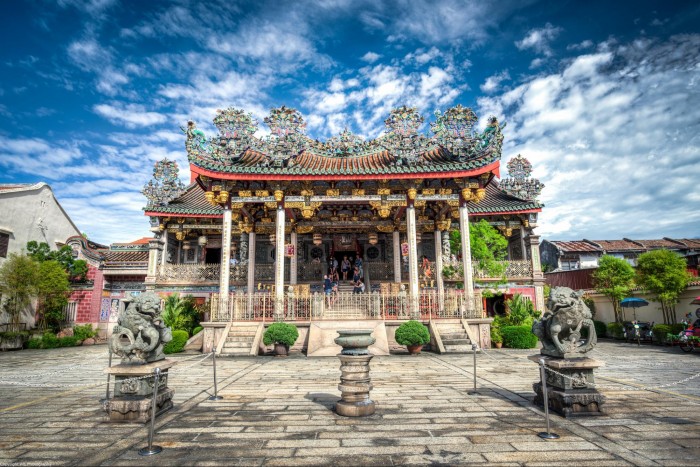 Image credit: WIL
Now that you've visited Peranakan buildings, colonial streets, and a local mosque, head over to the next cultural point – a highly elaborate Chinese clan house. This century-old house used to be a mini clan VILLAGE. It was owned by (yet again) very wealthy Straits Chinese traders called the Khoo Kongsi. Their dominant presence lasts to this day with the ornate and splendorous "village".
Visit their old theatre where Chinese operas are still put on during the Hungry Ghost Festival on the 7th lunar month. They have also retained their association building and rowhouses where clan members lived. There is an RM10 entrance fee, but every penny is worth it for the luxurious sights.
Tips: Keep a lookout for the entrance because it is very easy to miss. Google Maps may be misleading; you will find it on Canon Lane, a side street.
Address: 18, Cannon Square, George Town, 10450 George Town, Pulau Pinang, Malaysia
Opening Hours: Open daily: 9am to 5pm
Visit (or stay in) Cheong Fatt Tze's Blue Mansion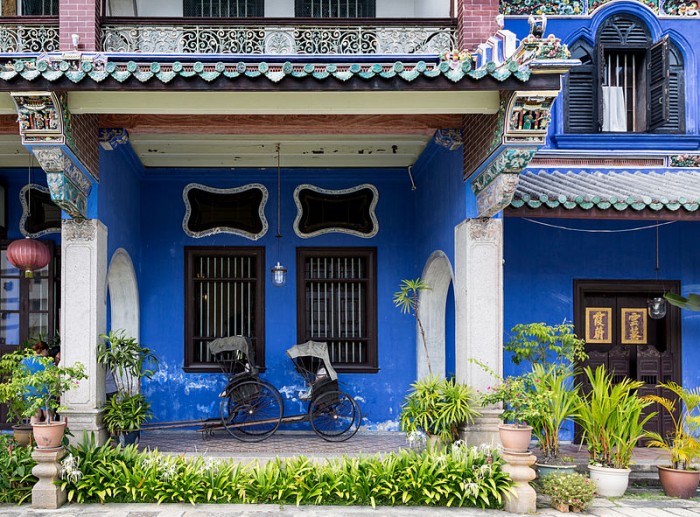 Image credit: © CEphoto, Uwe Aranas
The cobalt-blue estate is a stunning refurbished heritage site. The Blue Mansion is a boutique hotel that is also a recipient of the UNESCO Conservation & Heritage award. You can still visit this beauty even if you aren't staying here. It was constructed in the late 1800s and belonged to Cheong Fatt Tze, who was a Consul-General in Singapore and economic advisor to the Empress Dowager in China.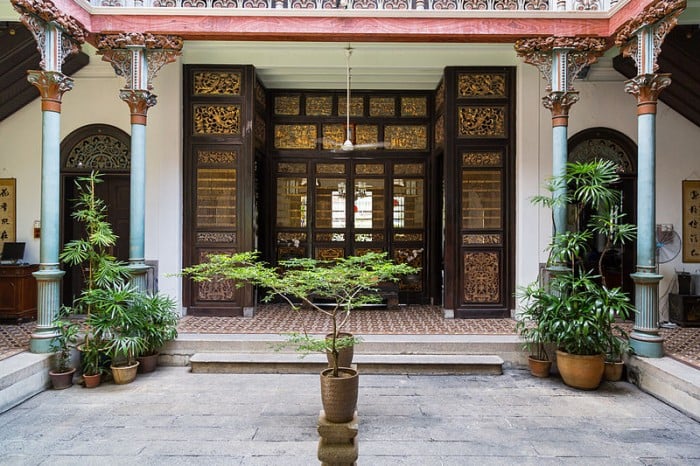 Image credit: © CEphoto, Uwe Aranas
They also provide a free 45-minute guided tour, which will provide you fascinating little insights like how the hotel was restored and you get a peek into Cheong Fatt Tze's life story. Things like this really help a place come to life!
We also recommend for you to spend an hour or two to properly explore the intricacies of the mansion.
Tips: There are three English guides per day. Make sure you catch the guide to get the full story behind the estate.
Where: 14, Leith Street, 10200, Penang, Malaysia
Day 2: Delve into Penang's city offerings, beyond historical sites
Hunt down cool graffiti
Image credit: Azreey
Play George Town's version of "Where's Waldo" and see if you can spot their quirky, disguised graffiti. Improvise and take a cute OOTD shot with these props.
Taste Penang's MUST-TRY food!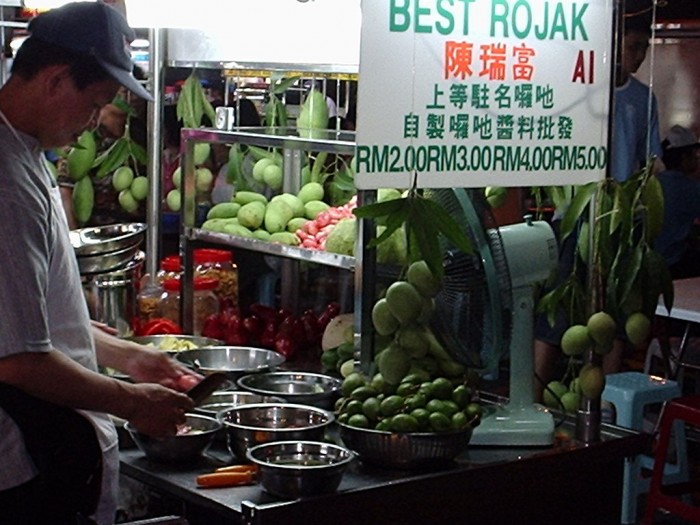 Image credit: Htgoon
Even if you're well-acquainted with Asian food, Penang is an entirely different beast. Keep an eye out in George Town for New Lane Hawker Centre or Gurney Drive Hawker Centre. These plain-looking shops can serve some unexpected surprises! You can choose an endless selection of local delights. For noodle dishes, try Char Kway Teow, Penang's famous Assam laksa, or Mee Goreng. If you feel like a rice dish, have Nasi Kandar which has thick and delicious curry. For a snack, consider Penang's unique bite-sized rojak. To end off, order Chendol, which is a bowl of coconut-y shaved ice topped with red beans and jelly.
Catch the sunset with the Penang Hill Railway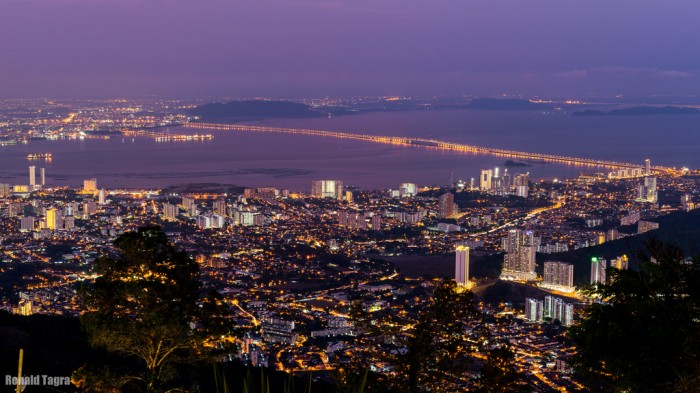 Image credit: Ronald Tagra
View of Penang city lights from top of Penang Hill
Nature lovers, here's your chance! Escape the heat with a hike up Penang Hill. Right next to George Town, Penang Hill (821m) offers a stunning view of Penang during sunset. It's also 5 degrees cooler than below, allowing you some respite from the heat. The coolest part isn't the hill though; it's how you get there.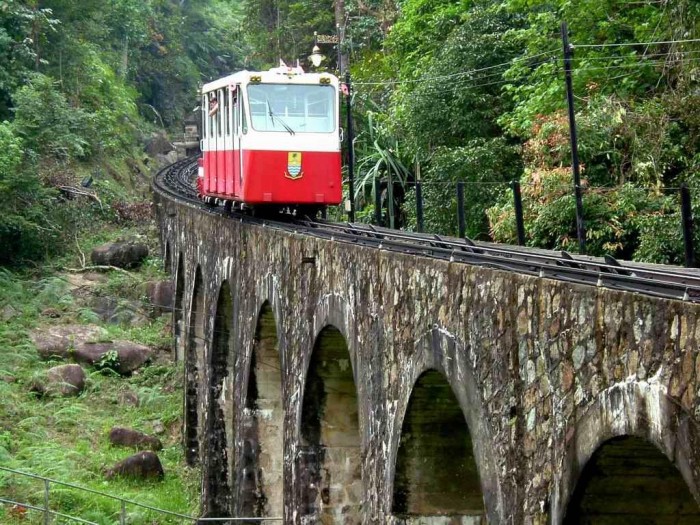 Image credit: Ac101
You can choose to go up by foot or take a funicular railway train. These trains cost just RM4 and leave every 20 minutes. After you purchase your ticket at the counter, you can visit their gallery which features old photographs and antiques from Penang Hill's past.
Penang Hill also has temples, well-maintained gardens and a botanical garden nearby that you can pop in for a look. Make sure you go in the late afternoon to experience the hill in daylight and also at night when you can view the city lights of Penang.
Tips: Keep a lookout for small trails where you can see quaint cottages. Also, the railway wait can take up to 30 minutes and even longer on weekends or public holidays. You can choose to take a cab for RM25 from George Town or catch bus 204 from Weld Quay, Komtar or Lebuh Chulia to Air Itam.
Day 3: Discover Penang's nature offerings
Option 1: Visit an Agricultural Village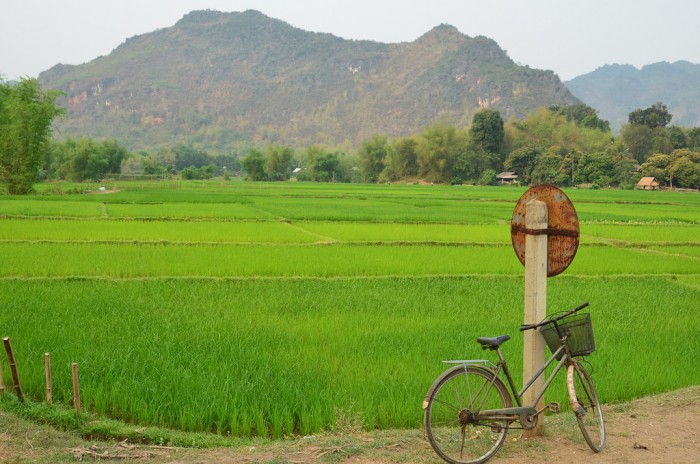 Image credit: Global Water Forum
Balik Pulau is an agricultural village sitting at the fringe of Penang. Embrace Penang's countryside with a leisurely cycling tour, which is the best way to enjoy the sights within this large area. Ride past paddy fields, mangroves and visit a fishing village and traditional kampungs (villages). It's a whole other world to George Town and this is where you can soak in the relaxed vibes of old, local Malaysia.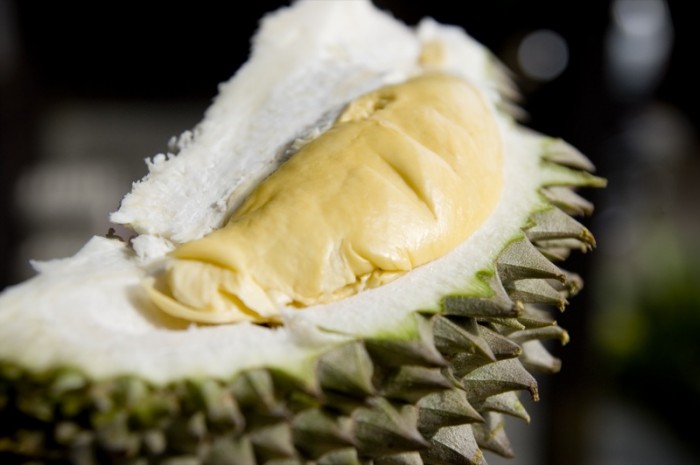 Image credit: KeWynn Lee
Make sure to visit their fruit farms! You can try some of the most delicious durians and chestnuts here.
The bike tours cost RM30 (or RM60 if you want to return with them as well). The tour takes over two hours for the first tour and over four and a half hours if you want to do the return tour.
Cycling tour timings:
Monday, Wednesday & Friday, 7.30am & 4.30pm
Saturday & Sunday, 7.30am
Tips: Bring plenty of water and sunscreen for your day out in the sun! Wear comfortable clothing and sunglasses. Also bring insect repellent, a change of clothes (you're gonna get wet if you take a dip!) and binoculars if you like bird watching.
Eat Kim Seng's laksa
Image credit: Jonathan Lin
Before you leave Balik Pulau, you have to try the best laksa in Penang. If you think Penang laksa is good, wait till you try this!
Kim Seng Kopitiam offers Siam laksa, Assam laksa and a few other local dishes such as Pasembur and Penang fried kway teow. Their laksa broth is rich, sweet-sour and they are generous with fish meat. This rice noodle dish is topped with pineapple, cucumber, mint leaves and shrimp paste. Wash down the meal with their wildly-raved fresh white nutmeg juice.
Address: 18, Jalan Sungai Air Putih, Bandar Baru Air Putih, 11000 Balik Pulau, Pulau Pinang, Malaysia
Opening hours: 11am to 5pm (closed Tuesdays and Wednesdays)
Option 2: Sunbathe at Batu Ferringhi!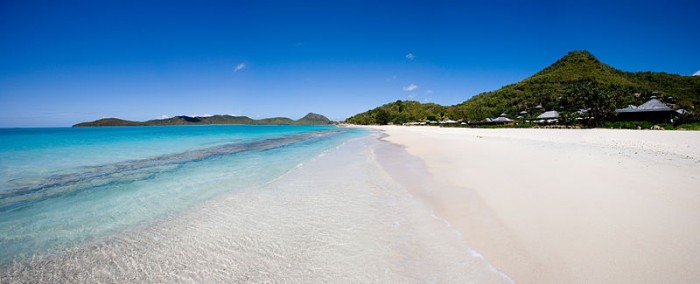 Image credit: Fraser Hart
If you're not into cycling around the countryside, take advantage of Penang's pristine beaches by having a lazy beach day at Batu Ferringhi instead. After all, you're on a tropical island! Take a 40-minute drive or 1-hour bus ride down to catch the waves.
Your day is not over after the sun goes down. Visit the legendary Batu Ferringhi Night Market for a mouthwatering selection of good food! It's also a great place to buy CHEAP, bargainable souvenirs for your family and friends (so you can conserve shopping money for other things). There are also pubs and nightclubs in the area if you'd like to spend your last day in Penang drinking or partying.
Have fun at the relaxed old-school vibe island of pearls. Remember to bring your camera, eat to your fill and just chill!