There's a reason why the Louvre in Paris is the most visited museum in the world. Yes, it beats other museums in terms of size alone. But also, its impressive baroque-style architecture is home to centuries-old pieces of art you wouldn't find outside the French capital. What if we told you that you can experience them without flying to France, and more importantly, for free?
This is possible with the Louvre online database. In March 2021, the museum administration announced that it had put its entire collection on a digital platform. That's more than 482,000 works of art for everyone to see minus the queuing, walking, and crowding. It's like visiting the iconic museum but safely from your home.
Also read: Visiting the Louvre and its Famous Artworks with Beyoncé and Jay-Z
Explore the Louvre online
The Louvre is accessible via collections.louvre.fr. The page is part of the museum's new and improved website that aims to provide a more user-friendly and immersive experience for digital museum visitors.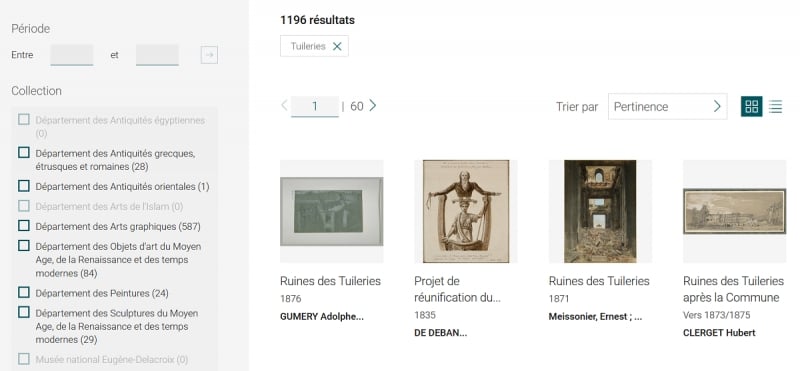 "The Louvre is dusting off its treasures, even the least-known," Jean-Luc Martinez, the President-Director of the Musée du Louvre, said in a press release. "For the first time, anyone can access the entire collection of works from a computer or smartphone for free, whether they are on display in the museum, on loan, even long-term, or in storage."
In the Louvre online collection, you can see works from the Louvre and the Musée National Eugène-Delacroix. There are also sculptures from the Tuileries and Carrousel gardens, as well as works from the Musées Nationaux Récupération or National Museums Recovery. These were recovered after World War II and left in the Louvre's possessions until they can be returned to their owners.
The Louvre online collection page is available in both English and French. The best way to find a work of art is to use its several search tools, namely:
Full-text search engine
Advanced search form
Features that filter search results
Themed albums
Interactive map
Also read: 10 Locations in France That Inspired Important Paintings
The filter search option lets you find entries according to the date of creation, collection the work belongs to, where the work is located, and category of work, artist, or maker. Meanwhile, the interactive map is highly recommended for visitors who want further flexibility by allowing them to explore the museum "room by room".
If you want more information about a certain piece of art, you can download its accompanying text directly from the Louvre's website, which will be regularly updated by the museum's administrators. While the Louvre online is accessible via a computer and even tablet, its features are best enjoyed through a smartphone as the museum made sure to cater to the growing market of mobile device users.
"The Louvre's stunning cultural heritage is all now just a click away!" added Martinez. "I am sure that this digital content is going to further inspire people to come to the Louvre to discover the collections in person."
---
Featured image credit: Mathias P.R. Reding | Unsplash