Who doesn't love a good old promotion every now and then? Well, you're in the right place! Book your activities through Klook and save, save, save with these promo codes: 
1. <TZKLOOK5>
Get S$5 off any Klook activities – regardless of country
If you're new to Klook, use the promo code "TZKLOOK5" to enjoy S$5 off any Klook activities. Whether you're looking to marvel at spectacular city views all around Asia or experience the magic of Japan's autumn season, Klook has plenty of activities for you to take your pick!
2. <TZKLOOK15>
Get RM15 off any Klook activities – for Malaysians only
If you're a new Klook user from Malaysia, and would like to book any of Klook's package tours or activities for your next vacation, use the promo code <TZKLOOK15> to enjoy RM15 OFF! If you're headed to Japan, getting your JR Rail Pass is just so convenient online via Klook. Or browse through their offerings for Taiwan, Tokyo, Seoul, and more!
3. <KLOOKAWAY>
Get 7% off any Klook activities – regardless of country
Enjoy an extra 7% OFF all activities you book on Klook, when you use the promo code <KLOOKAWAY>!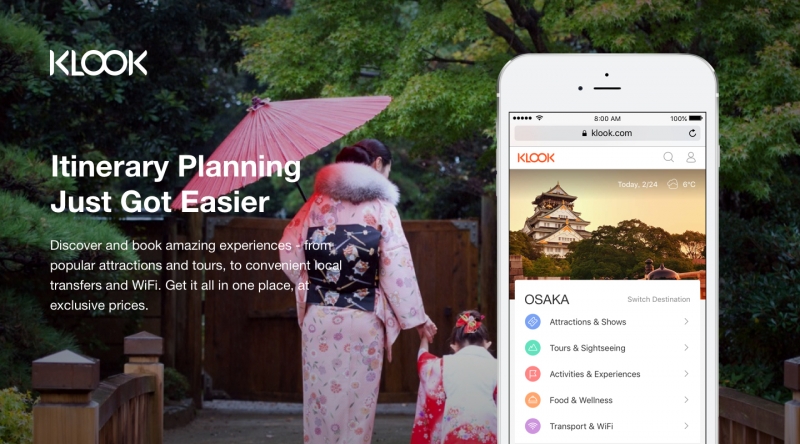 More about Klook:
Klook offers in-destination travel services booking via their online platform, where the top attractions and travel assistance have been specially hand-picked and curated just for you. With over 600,000 user reviews, you can be sure that you're only choosing from experiences of the best quality. All that's left now is for you to explore and enjoy your trip hassle-free!
No matter where you go, Klook has got you covered. With best prices guaranteed and an easy booking process , you'll be all ready to take off in no time. Plus, travel with ease as a digital confirmation of your activities will be sen straight to your email!
Arm yourself with these promo codes and the world is all yours to explore.