So I'm back from Iceland. The decision to include Iceland in the trip stemmed from a deal I found organised by Icelandair that included return flights, 4 nights at the Hilton Reykjavik Nordica and a full day Golden Circle day tour with a visit to a geothermal spa for £349 (approx. SGD718) per person! Even taking into consideration the fact that early May is considered the low-season for tourism in Iceland (almost no chance of catching the northern lights), it was a pretty good deal! And of course, I've seen too many pictures and heard too many wonderful things about this place to ignore that niggling wanderlust.
Also read: 13 Important Things To Know Before Visiting Iceland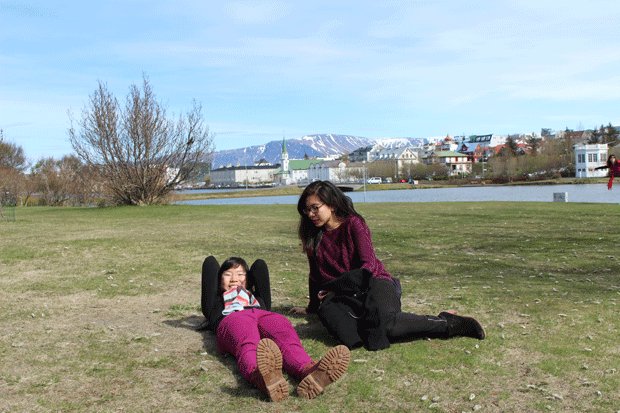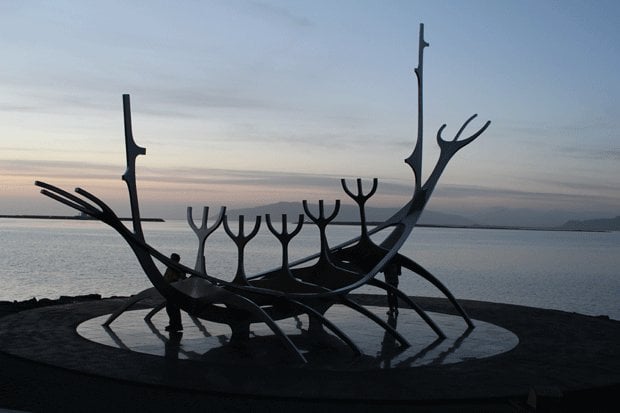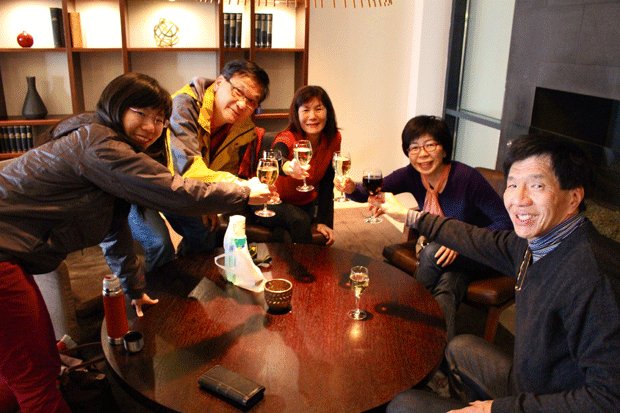 Enjoying a welcome drink in the really warm, homely lounge (also included in the package) after a long day of sight-seeing!
One of the major cons though, is that certain areas further east, such as the Svinafellsjokull glacier and the Jokusarlon glacier lagoon, were not open for tours. They only open during summer (mid-june). Some highland roads also remained closed for the time we were there. However, for 4 days in Iceland, we had plenty to do. In the end, travelling in May turned out pretty well for us. Think lower prices, less crowd which translates to less people photo-bombing your pictures, enough warmth, less rain and long days that were filled with awesome scenery and activity!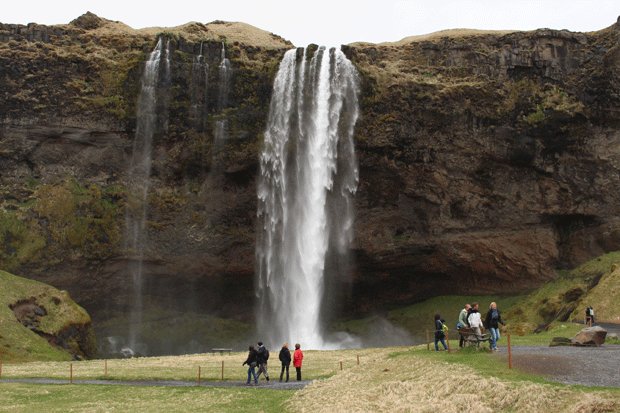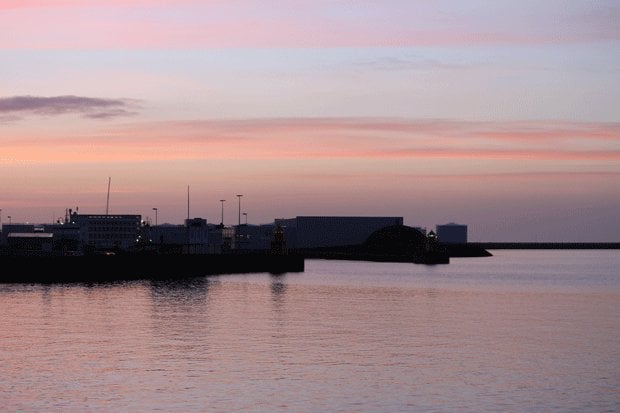 We decided to spare the dad from long hours of driving and post-driving fatigue and did day tours from Reykjavik instead. Not our usual stint, as family holidays are almost always self-drive free and easy trips but for a first, it left a pretty good impression. We booked two day tours with Reykjavik Excursions and had fuss-free and comprehensive, yet rather leisurely days out on the tour bus with WIFI that actually works. The bus picked us up from the hotel at 7:30am and dropped us back at 6pm (Icelanders are painfully punctual), making a good full use of the day out sight-seeing, yet leaving enough time for us to unwind in the never setting sun.
Also read: 15 Spectacular Landscapes In The World to Visit
I've included my itinerary here for anyone to have a look and consider if anyone is in need of some ideas for an upcoming trip to Iceland! Oh but if I were to return to Iceland, I would totally do a self drive just to do something different, stay in different towns out of the capital and roam the country leisurely for like 20 days. I can only dream.
Anyway, here are some of the highlights of the trip:
Our first day in Iceland wasn't really a day per se. We arrived at Keflavik International Airport and found our way rather easily to the bus terminal where we would catch the flybus to the city. "Inhale! It's Icelandic Air!" My little sister instructed. I obeyed (as if I had a choice) and was greeted by a crisp, clean drag of air. It was indeed Icelandic air.
The bus ride to Reykjavik took approximately 50 minutes and I spent most of it staring at the vast landscape that stretched out far and wide, decorated by outcrops and volcanic moss. Layers of beauty stacked upon layers, each acquainted with the other's magnificence.
We arrived at the Hilton Reykjavik Nordica hotel late in the afternoon and before we knew it, it was dinner time. We were ravenous from all that travelling and were in the mood to enjoy a long leisurely dinner so I took the chance to suggest The Fishmarket. Having asked a few friends for food and travel advice for Iceland, The Fishmarket Restaurant (Adalstraeti 12, Reykjavik) stood out as a common restaurant recommendation amongst them and I was curious to know why. The hotel made our reservations and soon we were on our way. It was the perfect start to Iceland.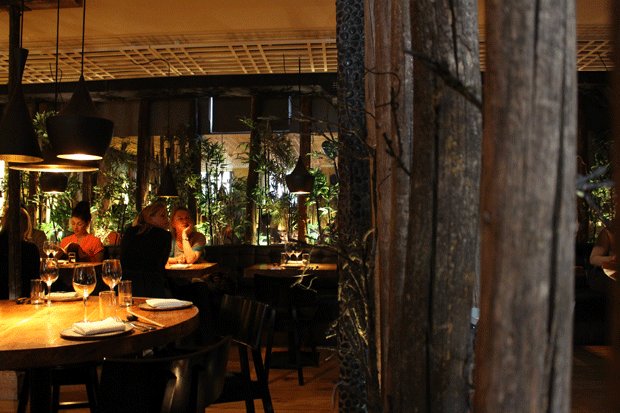 Food in Iceland isn't cheap, and The Fishmarket is no exception. Perhaps it even lies on the slightly pricier side (I'm guessing). A main course costs ISK5000-8000 while the tasting menu cost ISK9900 per person (SGD100+). We budgeted SGD200 for food per person for the entire trip (we were prepared to eat sandwiches but somehow found ourselves at the restaurant), and the tasting menu would set us back by SGD100+. After much consideration, and a bit of convincing by the waiter, we went for the tasting menu. Go figure. My uncle said "YOLO" and as it turned out, we had no regrets.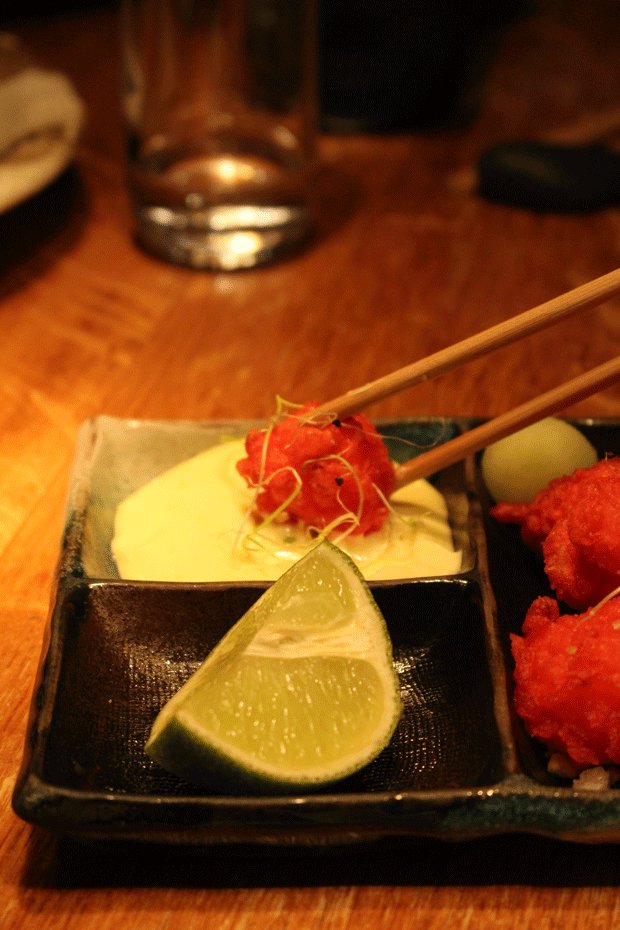 Rock Shrimp Tempura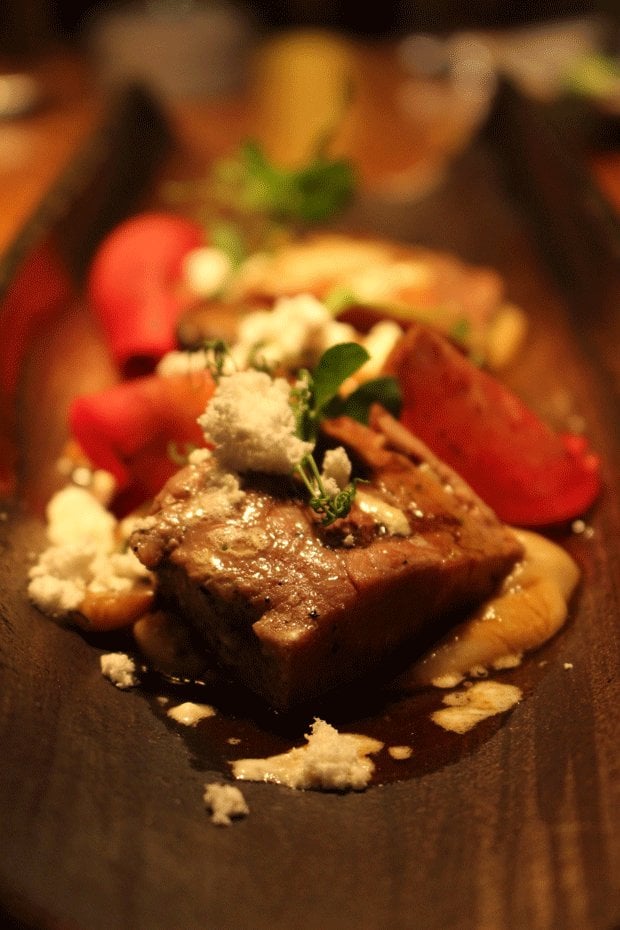 Grilled fillet of Icelandic lamb
The tasting menu was a great way to get a taste of Iceland. The food was not purely traditional icelandic cooking but each dish was designed to showcase a local ingredient, which were freakin' fantastic. There are touches of Japanese and French influences in the cooking, which kept things exciting, but did not drown out the freshness and quality of the local Icelandic seafood and meats. We got to eat a variety of 9 courses including minke whale, Icelandic lamb, cod, salmon, the freshest sushi ever etc., served communal style. It was a lot of food, a lot of very good food.
The best dish of the night was the lightly salted Cod. It sounds simple, and the picture may not be the most flattering of shots, but it was an absolute winner! Served up with potato puree, a celeriac salad and cranberries, it was an amalgamation of incredible flavours and freshness, yet the subtle sweetness of the flesh wasn't lost in all of that. Pure genius! There was a moment of silence before a unanimous "ooooh" sounded at the table, each of us caught up in the incredibility of this plate of fish.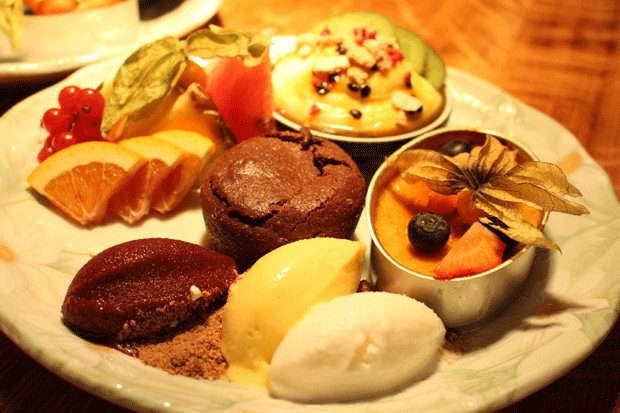 We ended on a refreshingly sweet note, all tropical and fruity, although I've got to admit that dessert is probably not their strongest suit. It was enjoyable nonetheless and we got to taste their local milk product – skyr (tastes a little like yoghurt).
We spent our first actual day in Reykjavik doing a walking tour of the city. During summer months, this would be free but we paid $55 for the 6 of us, which was fair, considering it was somewhat a private tour. These walking tours are organized by university students and they last for approximately 2hours, focusing heavily on Iceland's history, the significance of certain places in town and the story of the people.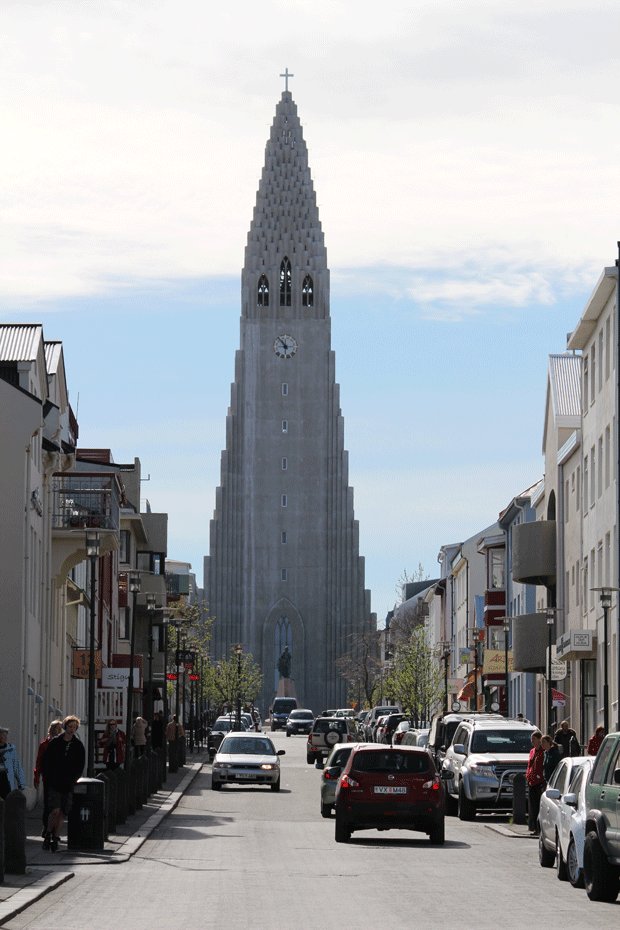 Iceland is such a fascinating country with 320,000 people on all that land. 2/3 of that population live in Reykjavik and most of them are related to one another by blood. Our guide told us that before hooking up with a girl/guy at a party, they have to do a rough check of the family tree to ensure that they aren't too closely related. Awkward Turtle. It is also a country with no military force and the prime minister's office just sits in the middle of the city unguarded, with a huge lawn in front where everyone walks across pretty casually.
Also read: 'I Heart Reykjavik' Tours Reveal Iceland's True Beauty
There's this really laid back, chilled-out vibe in the city that is unknown to most cities. Everyone just gets on with whatever they are doing, minding their own business, walking their dogs, having their cuppas. It's a pretty nice life, if you didn't think about how their banking system collapsed in 2011.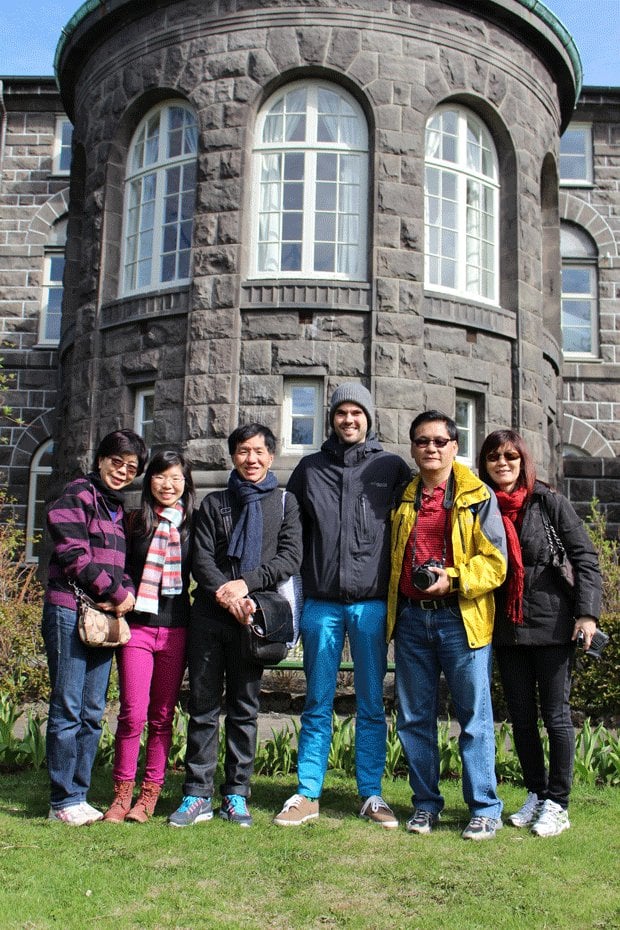 A picture with our guide at the end of the tour in the backyard of the Danish parliament house.
We ended the tour near the pond in the middle of the city and hung out with the ducks and geese for a bit before heading for the very famous hotdog stand near the harbour to refuel.
Baejarins Beztu Pylsur is sort of a local institution for great Icelandic hotdogs and a long line of locals and tourists greeted us when we finally found the stand. It is located in a really random carpark next to a construction site, facing the harbour. Locals know this place well so we found our way there by asking around.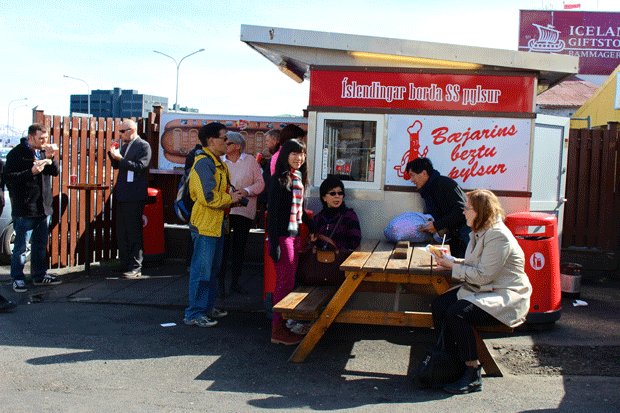 Nothing says street food like eating in-front of tractors.
These hotdogs may look like ordinary store bought ones but taste it and you'll realize how sneakily addictive and very tasty they are. One is definitely not enough and thankfully at only £2-3 (approx. SGD4-6) per hotdog, we could afford to get more than one in each of our bellies. Get the "everything-on" combination and get all that delicious sauce, cronions (fried onions) and fresh onions in that hotdog bun and never see hotdog buns ever the same again.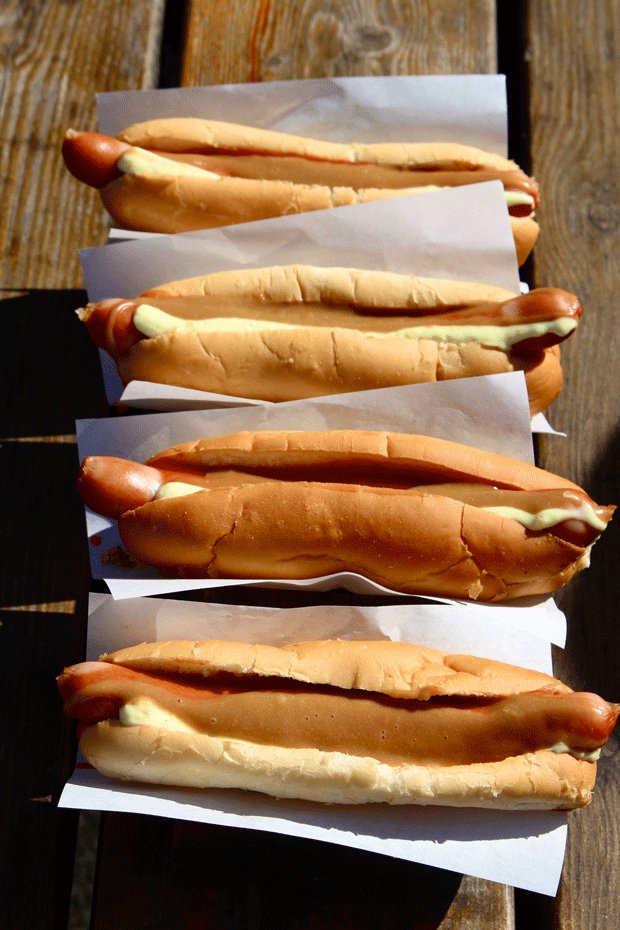 We wandered around a little more after that and found our way to the botanic gardens with some beer supply, cheese crackers and biscuits for an impromptu picnic. We were expecting more to see at the botanic gardens but it was still rather barren as it was still cold and the flowers had not bloomed.
Our day ended spectacularly with a 360deg view of Reykjavik on the viewing deck of Perlan, a landmark in the city that used to be a hot water storage tank. Now it houses a revolving restaurant, some souvenir and gourmet shops in the building, as well as viewing deck that gives you an unrivalled view of the capital of Iceland below. We battled strong winds, frozen hands and crazy hair for a couple of pictures. Ok I kid, a million pictures.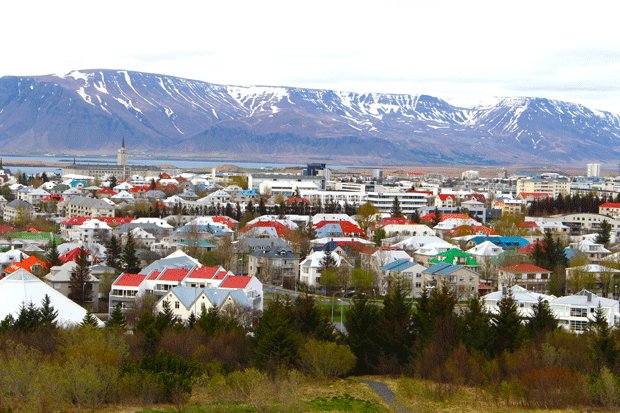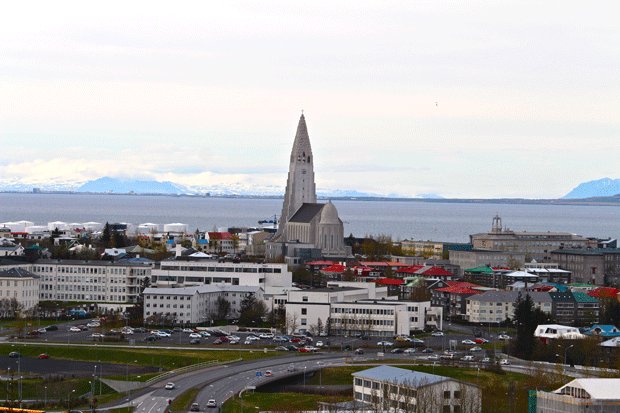 View of the famous Hallgrímskirkja church from the viewing deck of Perlan.
Our third day in Iceland was spent touring the venerable Golden Circle, covering the Gullfoss waterfall, the Haukadalur geothermally active valley with erupting Strokkur, Fontana natural spa and the Thingvellir National Park. This route offers amazing glimpses of Iceland's iconic landscape and post-card worthy scenic offerings, albeit a tad cliché (partly because everyone does this while they are there). Our tour with Reykjavik Excursions was included with the package aforementioned, otherwise, it costs around ISK12900 (approx. SGD137) per person. We also stopped to see a few Icelandic horses along the way. Some creatures of beauty they are!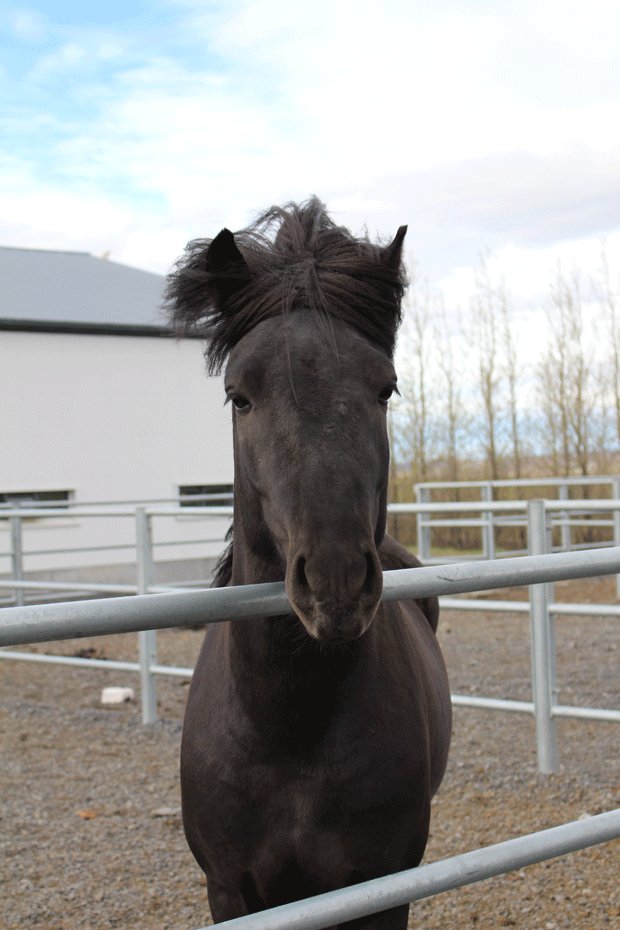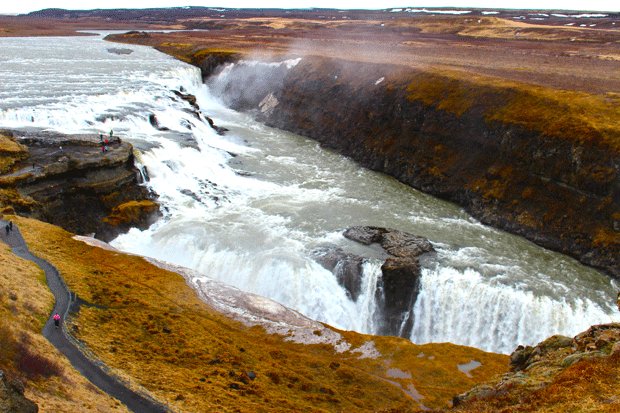 I must admit, I was a little disappointed with the view of the waterfall initially, due to its murky shade. I was expecting blue waters, a cloudless sky and a rainbow or two, but it was unfortunately heavily overcast when we got to the waterfall, resulting in a pretty brown/dull looking Gullfoss. However, walking through the valley with the thunderous gush of water in the back of my ears, watching the water chase itself down the edge of the rock, shrouding itself in its own mist and mystery, burying itself deep beneath the shades of brown of the valley, I was filled with a new sense of awe. It was hard to pretend it wasn't beautiful just because it wasn't the version I expected to catch. It's awesome either way, and I believe that's the beauty of this place.
Also read: Enthralling Waters of Godafoss Waterfall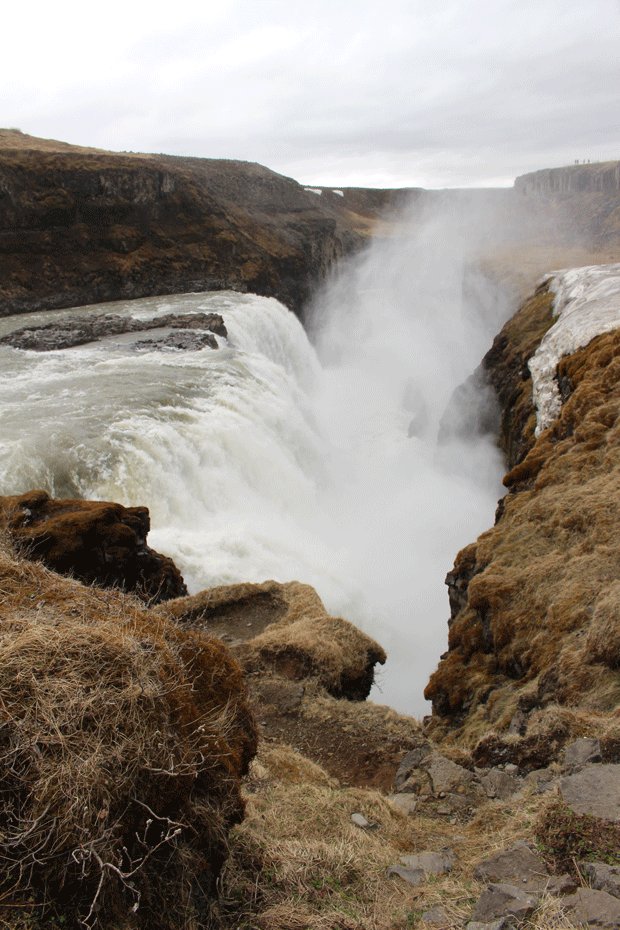 We also stopped to see the geothermally active valley of Haukadar, where the geysers Geysir and Strokkur can be found. Ok, Geysir is practically dead (for now) but Strokkur was having a party of its own every 6-8 minutes.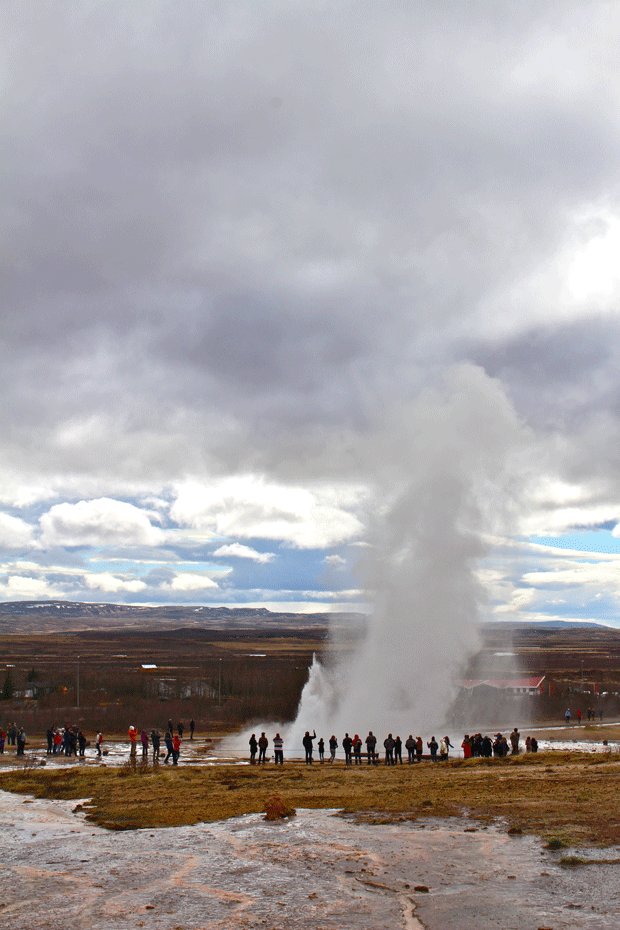 Our guide explained why Strokkur "erupts" every few minutes and although I found it absolutely fascinating at that point, I can't remember much of what he said. Something about fissures in the earth and water building up with no place to go. That's the best I can do. Geog 101 for you 🙂 The area smells of sulphur but it's pretty bearable and it gets really pretty the higher up the gentle incline of the valley you go.
I stood up there for a good couple of minutes taking in the vastness of the land, watching Strokkur blow up over and over, and marvelled at God's handiwork in quiet contemplation. Mum stood there and took 10 consecutive videos of Strokkur blowing up over and over again.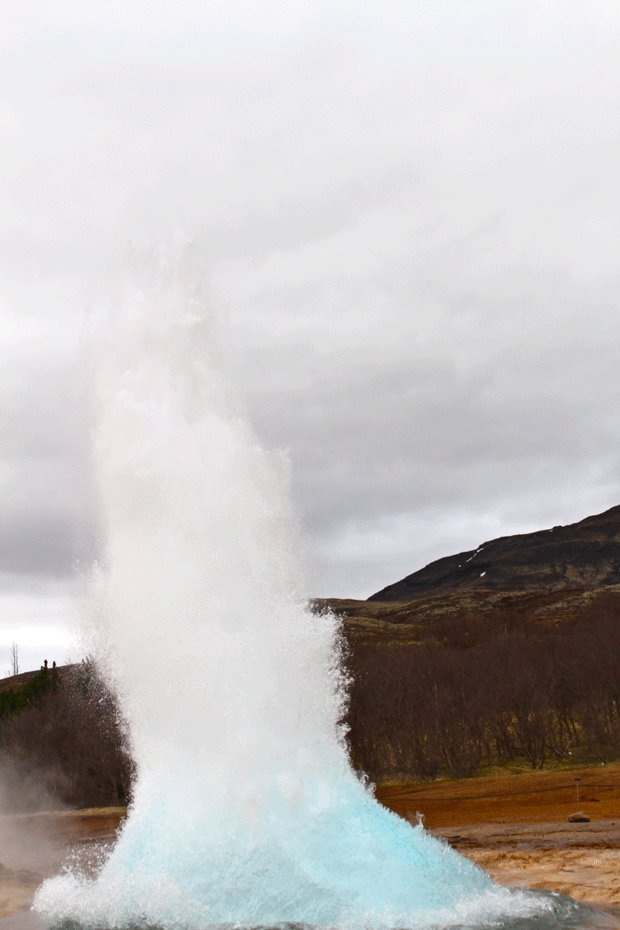 I guess she was that fascinated.
Later in the afternoon, we made a stop at Laugarvatn Fontana, a geothermal spa built on a natural hot spring, by a black sand beach with a pretty awesome view.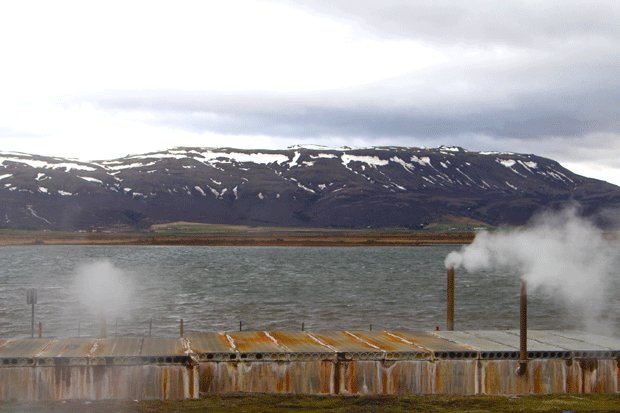 We were also shown how Icelanders bake their rye bread traditionally – in the hot sand at the beach, using heat from the natural hot springs running under and our guide dug out a pot of freshly baked rye bread from the sand (put in 24 h before, takes that long) for us to taste. I'm a sucker for these traditional food stuff and boy, was I excited. Now I need some of that sand and a bit of Iceland here in Singapore.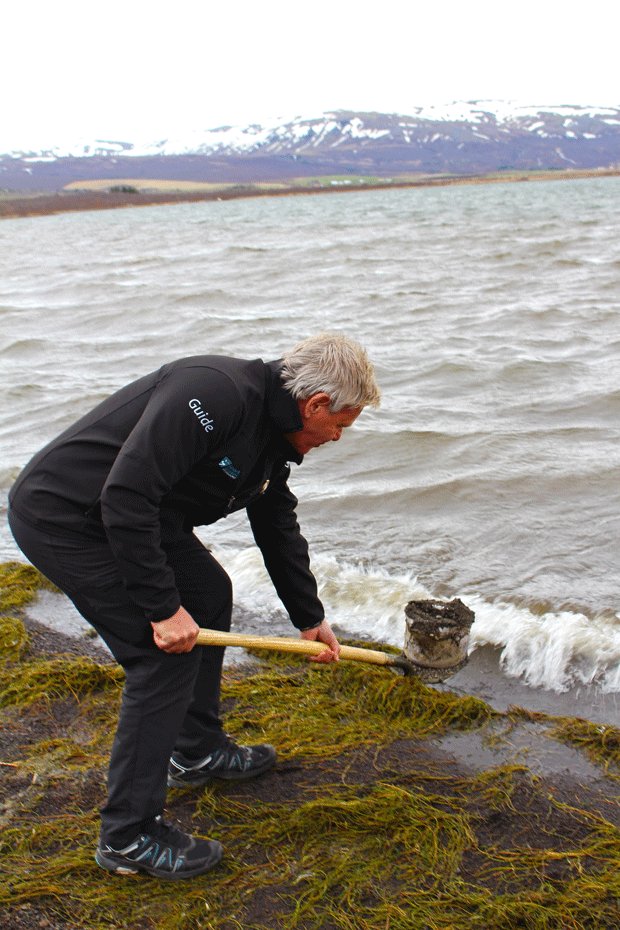 Washing the sand off the pot carrying our very special bread!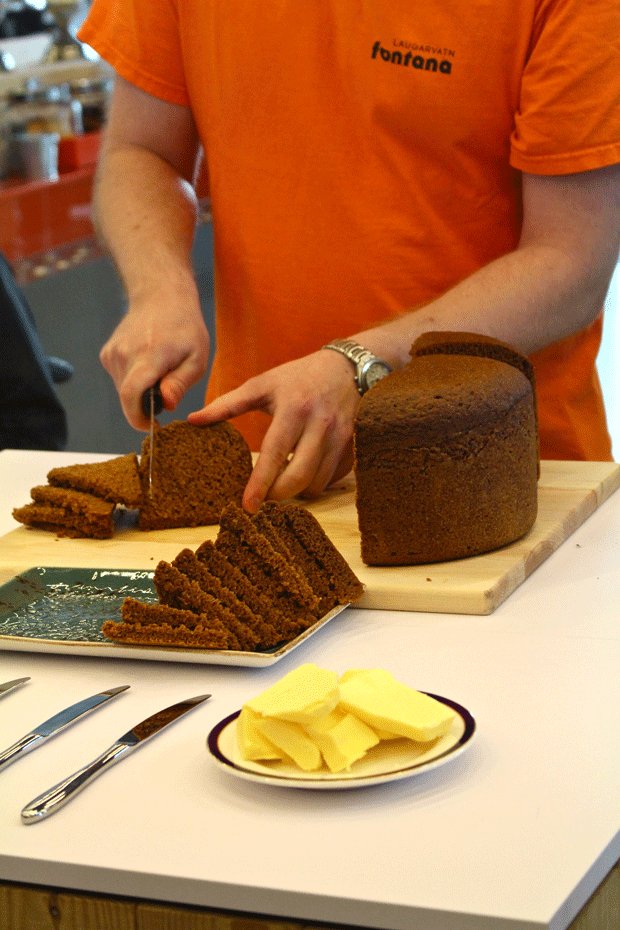 We were eventually brought inside where the rye bread was cut up and served with cold, luscious Icelandic butter! The bread had more of a cake-y texture, dense and moist, slightly sweet, very earthy and when eaten with copious amounts of butter, absolutely divine.
Also read: 10 Amazing Bakeries Around the World Every Foodie Must Visit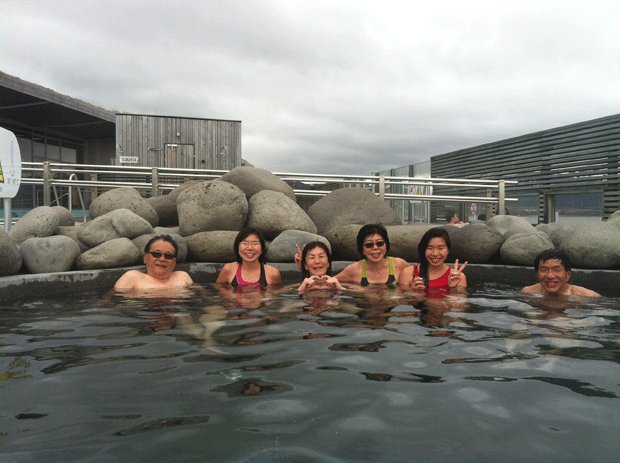 Anyway, after scoffing our faces with bread and butter, we headed for the spa. We had a solid 2 hours at the spa, soaking ourselves in the natural hot springs, chatting to strangers from all over the world as we lazed around, dodging into natural steam baths and saunas, and even jumping into a freezing lake (I barely lasted 30 secs, a Canadian boy sat in there for 5 minutes, but then again, he's Canadian). I was very reluctant to leave after the two hours were up but I guess all good things come to an end for better things to come! I helped myself to more rye and butter on the way out, hoping a little bit of Fontana would last just that little bit longer… on my taste buds.
Also read: Blue Lagoon – Nature's Spa With the Healing Power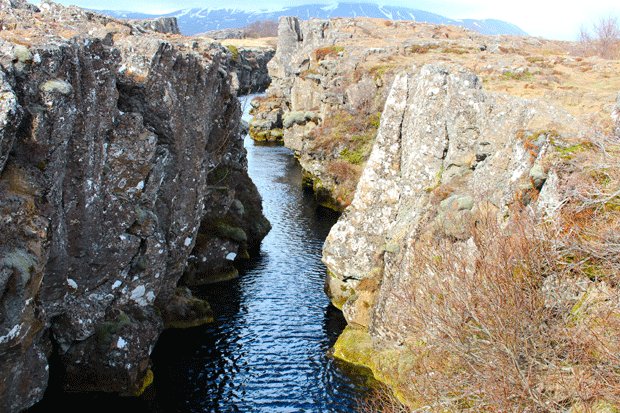 Thingvellir National Park, the final destination of the day was simply out of this world. It is places like these that make you wonder if Game of Thrones and the likes of these drama serials are really fictitious or perhaps somewhere out there, a kingdom reigns, oblivious to modern development. The place really picked at my imagination and I am no longer bewildered by the fact that Icelanders believe in gnomes and elves. It's not hard to imagine really, if you stand in the midst of it and soak it all in!
Also read: 15 Stunning Places to Swim at Before You Die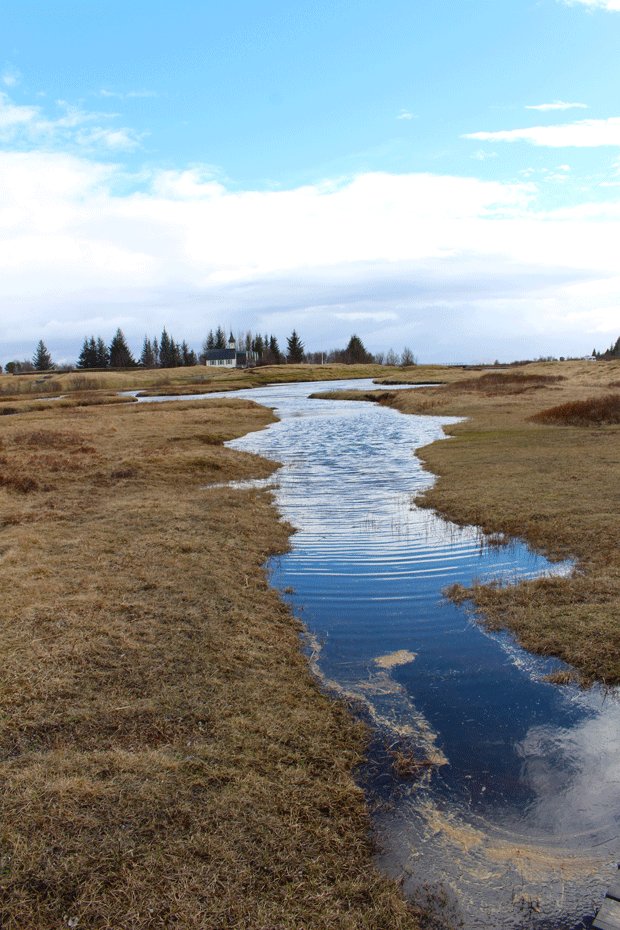 The vastness of the land, incredible rock formations, the majestic split between the European and the American plates, crystal clear waters caught my breath (and stole it away for a good amount of time). Our guide led us through a trail, telling us tales of old, myths of elves and gnomes that hid in the rocks and other interesting geog facts (which I clearly have not retained very well). This was also the site of the first ancient parliament in the world and played a big part in the lives of the Icelandic people in the past. If only the political scene is anywhere as beautiful as this these days.
Also read: Thingvallavatn Lake Lets You Swim Between Two Continents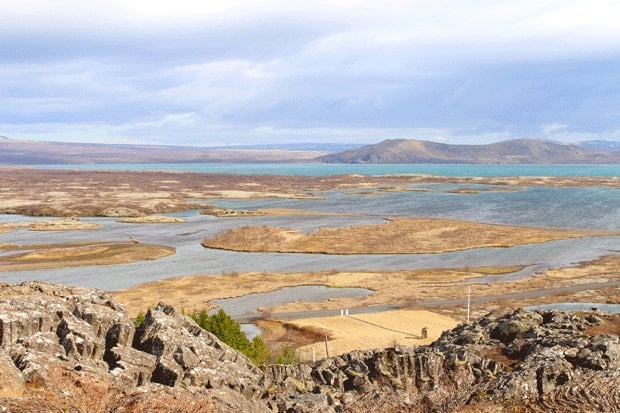 I could stare at this all day but it was getting late and we had to go. Thank God for cameras.
Day 4, also our final day in Iceland was the major highlight of the trip that almost didn't happen. It was a moment of de javu. 5 years ago, we were meant to go glacier hiking in New Zealand but it rained the 2 days we were there and thus we had to cancel it. My sister and I were pretty gutted. This time, it looked like it was about to pour as well. Dark clouds were gathering in the distance as we approached the glacier, but we prayed and prayed for good weather. The clouds held their rain up till the moment we returned our crampons, and then it started to show.
Also read: Ice Cave: The Newest and Bluest Natural Wonder of the World
Anyway, we booked a tour to hike the Sólheimajökull glacier tongue with Reykjavik excursions (Take a Walk on the Ice Side). It was a 3 hour easy hike suitable for any fitness level (as long as you have a reasonable amount of fitness). Mum, however, has a pretty non-existent fitness level and it was quite tough for her at some points but she made it unscathed in the end! I on the other hand ran into some ice and face-planted into the glacier, scraping my fingers very badly in a valiant attempt to protect the camera. Anyway, I still enjoyed myself with a profusely bleeding hand and hid them pretty well from the camera so all's good. Note to self (and anybody else going glacier hiking): Do not run with crampons, even if they seem like fun at first. Sooner or later you're going to get caught on ice. Those spikes are nasty.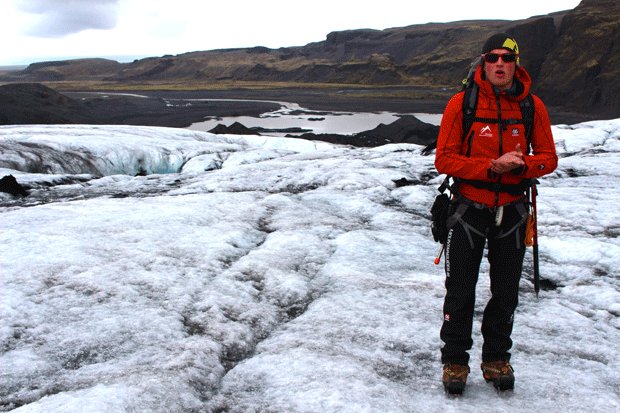 We had two guides with us during the hike and they led us through crevices, through walls of ice, and taught us about the glaciers. The Sólheimajökull glacier has a blackish undertone as it is a subvolcanic glacier and volcanic ash built up over millions of years gives it its distinctive features. The landscape was simply fascinating and I got excited by the simple fact that the ice I'm walking on is a couple of thousand years old. I'm such a child. Anyway, it was an amazing experience exploring this whole new world, shrouded in blue, white and ash. I'll let the pictures explain.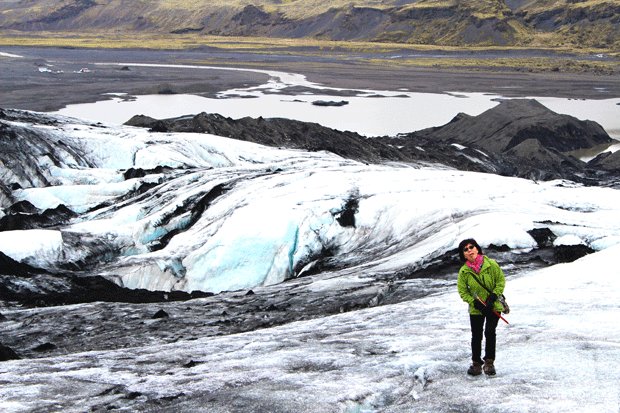 Mummy persevering on the climb up!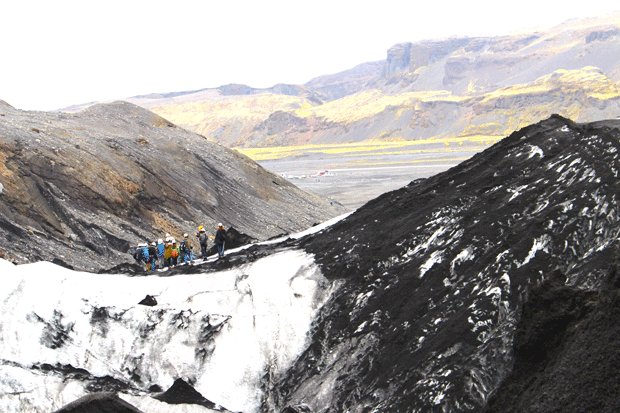 Three hours flew by in a blink of an eye and before we knew it, we were on the descent. This place is beautiful and it's sad to note that the glaciers are shrinking by a couple of metres every year and it's all out of our control :/ I guess everything in creation has it's time and season, but it's hard to imagine what the world would be like without these amazing displays of beauty.
On return trip, we stopped by two spectacular waterfalls on the south coast: Skógafoss and Seljalandsfoss. It was amazing standing before the majestic waterfall watching it plummet to an unknown depth, slightly hypnotic even. With the thunderous roar of the waterfall in my ears, it was ironically silent, and I liked it that way.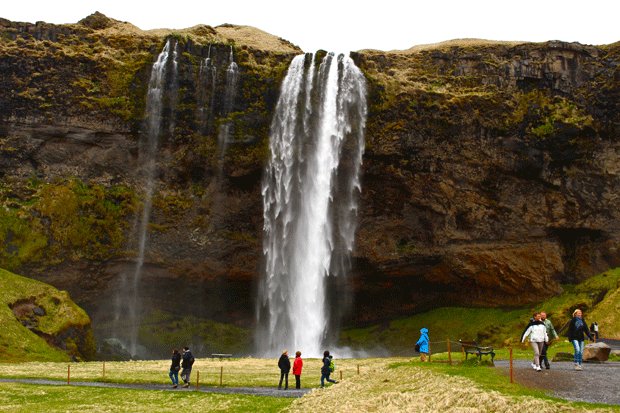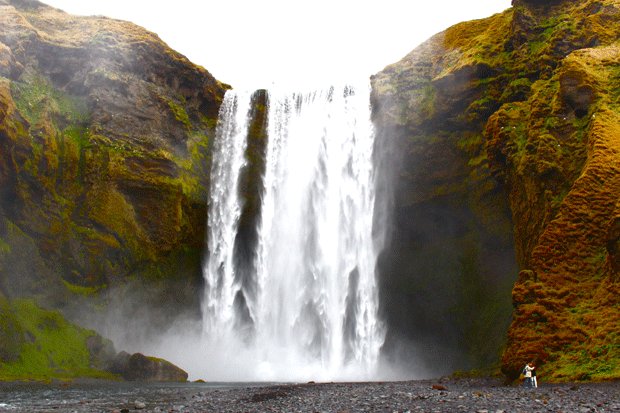 The Seljalandsfoss waterfall even had a little trail for us to walk behind the waterfall. Pretty cool, except that we got drenched by doing so.
We had a really casual, relaxed dinner at the wonderful KEX hostel's gastropub Saemunder (Skúlagata 28, 101 Reykjavík, Iceland) and were blown away by the quality of the food and the surprisingly reasonable price.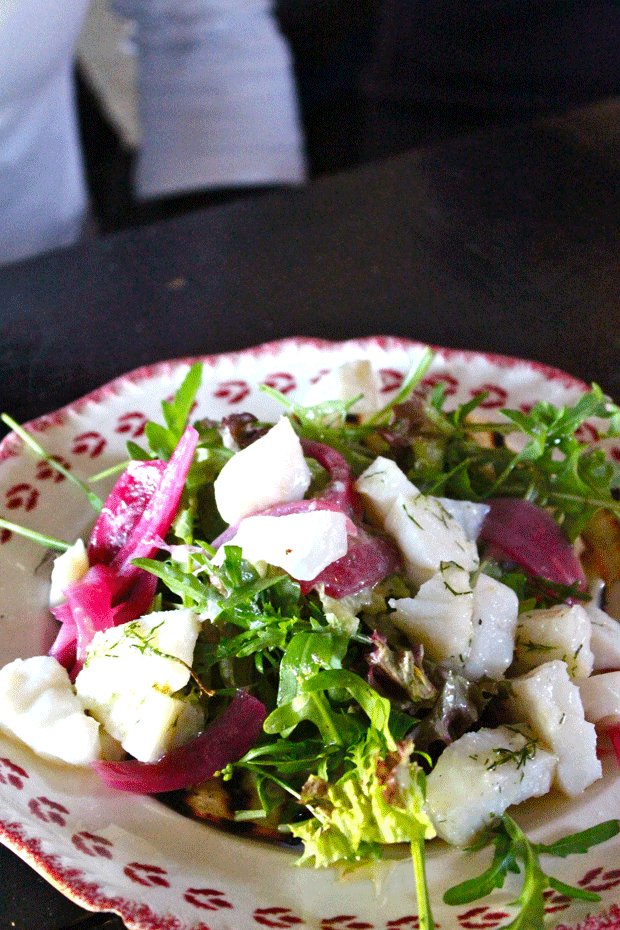 Home-made brown bread and butter on free flow, amazing smoked cod, perfectly grilled salmon, a generous heap of lamb shank, a succulent burger grilled to a perfect medium rare… the list goes on. Except for the salmon that was under seasoned perfectly cooked, everything else was spot on.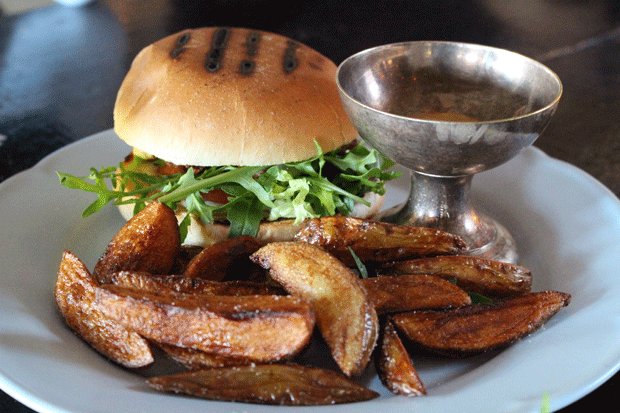 The ambience was lovely too, very quaint, a little preppy yet unassumingly casual. The hostel is very easy to miss, with only a small wooden doorway and a little sign on the top that says KEX hostel along a quiet row of buildings, but this place is quite a gem and I'm so glad we found it eventually. Okay, so we were led there personally by a local young dude after walking around in search of it for like 20 minutes, but it's kinda the same thing.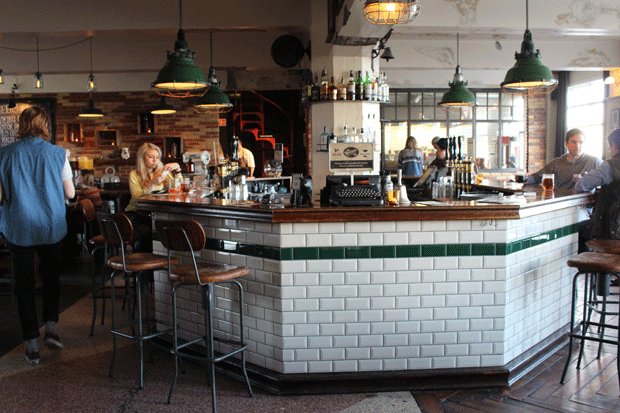 We got there in the end, and ended our short stay in Iceland with a hearty warm meal, slightly sore legs from all the walking, buckets of laughter and memories to last a life-time. Good reasons to return I believe 😉
Contributed by GREEDY TWO SHOES.