Contributed by Deft Nomad
Hitchhiking is an adventurous thing to do when you travel and it allows you to meet interesting people along the way. On the flipside, hitching a ride also exposes you to preying eyes, making yourself vulnerable to those with bad intentions. However, there are few places and countries where hitchhiking tends to be a norm and is technically safe to practice. For example, countries like Australia and New Zealand are known to be among the best for hitchhikers. In these countries, hitchhiking is safe, easy and there are rarely any horrible incidents ever reported.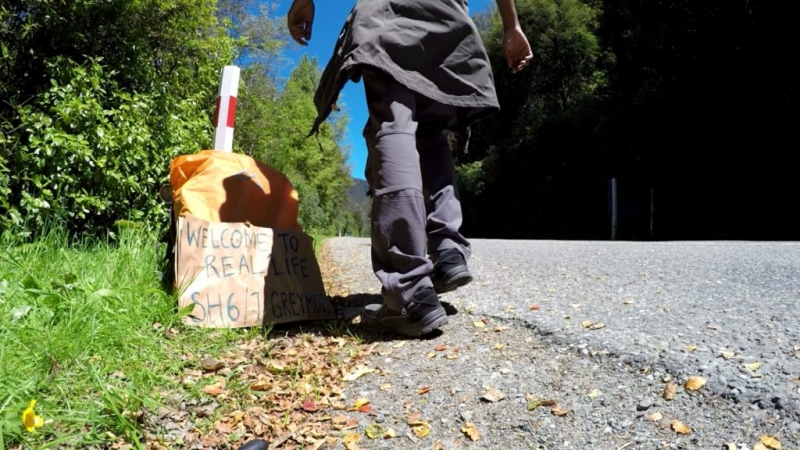 Before visiting New Zealand, the hitchhiking culture was something absolutely new to me. As it turned out, hitchhiking is way more fun than I imagined!
Now back to my story.
How it all started
It was at 8am on a Tuesday in 2016 when I left Blenheim, a small town near the East Coast, and walked along the main highway SH6 carrying my Osprey backpack. I had a crazy plan to hitch a ride from the East Coast all the way to the West Coast of the South Island.
The road looks really deserted with only a few cars and the occasional truck passing by. I already knew it's going to be a hard day to hitch a ride.
I walked almost 3km, heading towards the Blenheim Airport, and along the way, I tried to flag whenever I saw cars passing by. Unfortunately, nobody seemed to be interested or willing to offer the ride.
A bumpy ride on a fuel truck
It was almost half an hour later when I realised that I had walked pretty far and was almost at Blenheim Airport. I stopped to make a placard and wrote something funny – "MAN VS TRAFFIC". Some of the drivers slowed down and they come up with a big grin after reading my placard. Well, that worked to get their attention!
The heat from the sun gradually built up and I started to sweat, but that did not discourage me from walking further and attempting to hitch a ride.
It was at the junction of the road about half a kilometre near the airport when a guy driving a diesel truck pulled over to the side after seeing the placard which I held high above my head. At first, I didn't realise that he actually stopped to offer me a ride; I stood where I was and waited for a while.
Then it struck me – why would any truck driver pull over suddenly when he can cruise down the highway like a boss?
Just my luck it's on a diesel truck!
The driver was an awesome guy and we had great chat about the country and about how travelling was like for him years back.
I almost felt like I was on a tour bus – the seat was so high and I had a great view over the bush from both sides of the lane; the soaring mountains, stunning lakes, and lush farmlands – all I could see in between.
Parting our ways halfway down the road
It took two hours all the way to Murchison, where we had to part ways. He's driving the truck to Dunedin so he dropped me near the junction of the highway to SH69.
Walking past a bridge over a milky blue river somewhere near Murchison, I had to find another hitch to get to the West Coast.
The rest of the journey with a French guy
It was all quiet as I walked along the road. I stopped a few metres from the bridge and tried to flag cars that passed by.
Out of nowhere, a French guy walked past me and he turned out to be in the same boat as me! He was planning to hitch all the way to the West Coast.
Things got interesting. We teamed up and waved in a funny way to flag passing vehicles, with high hopes that the luck was on our sides. After about half an hour, a generous Asian girl driving a campervan pulled over to the side of the road and offered us a ride.
It took us an hour along a narrow road, uphill and downhill, before we reached Westport, the place where I was headed.
Thoughts on hitchhiking in New Zealand
Hitching a ride is not for everyone. Some fears did cross my mind — from getting robbed, killed, raped or whatever horrible things you might have seen in the movies. At the back of my head, I knew that if something went wrong, I had no one to blame except for myself.
However, I also knew that New Zealand is pretty safe and the hitchhiking culture is well-established.
Trust me, once you've had the experience, it's really rewarding — not because you are saving money, but because it is an entirely a good way to explore some places through a local's perspective.
Also read: Meet the Girl Who Hitchhiked from Sweden to Malaysia with RM800 (S$260) in Her Pocket
Hitchhiking in New Zealand sounds fun, doesn't it? Yes, it is and you should probably do this at least once when you travel in New Zealand. Honestly, you will be amazed how humble some people are, plus there is a good chance you will be making friends for a lifetime.
As you plan your first hitchhiking adventure, do read the few pieces of advice I would like share.