If you're going to Europe anytime soon, I'm sure most of your friends who had have mentioned FlixBus to you. For those of you who haven't heard of it, FlixBus is one of the biggest bus companies in Europe that offers significant coverage in the region at affordable prices.  
I was first introduced to FlixBus during my university semester exchange in France. Being one of those typical broke exchange students, I relied heavily on FlixBus as a cheap way to explore the continent. In fact, I went on 44 FlixBus trips including connections (yes, I counted). From short one-hour commute from Grenoble to Lyon, to 14-hour long intercity journies from Paris to Hamburg, the wheels of FlixBus took me there.  
I boarded the buses without any expectations having only heard of FlixBus in France. However, when I got back home in Singapore, I was quite surprised to find that there is a generally negativite feedback about FlixBus. With as low as a 1.5-star rating online, do they really deserve such a low appraisal? Here is my review!
The Good
Value for money
As compared to flights and trains, FlixBus is definitely the cheapest way to traverse across Europe. With tickets costing from as low as €5 (~S$7.70), FlixBus was a total godsend! FlixBus also has many routes all over Europe. Whether I'm heading down to the Southern end or exploring Eastern Europe, I could easily find a FlixBus trip to take me there.
There are also several bus timings to choose from per journey. For example, there are about eight daily bus departures from Grenoble to Paris. Since my exchange university's timetable (irritatingly) differs from week to week, I could still catch a convenient bus time slot on Friday to head out for a weekend trip.
Despite the price, I was surprised that some of the typical millennials' needs are provided on board, such as Wi-Fi and charging outlets. With the cheap price, of course I didn't expect everything to work all the time. I could only use the Wi-Fi for a limited period and some charging outlets were faulty. But overall, the amenities came in useful when I needed it most, such as when I had to finish an assignment on the go.
Easy booking process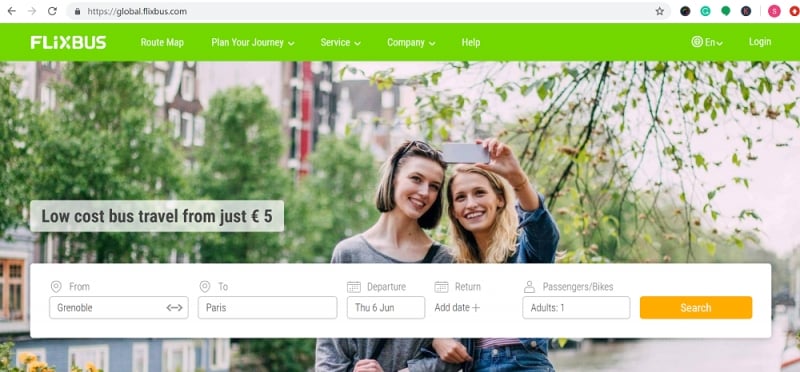 FlixBus' booking process is 100% fool-proof. Their website is so easy to navigate that I can make my ticket purchase in 2 minutes. I simply had to enter my pick-up and drop-off points and my departure and return dates. Next was choosing my preferred timing, followed by payment and I'm done!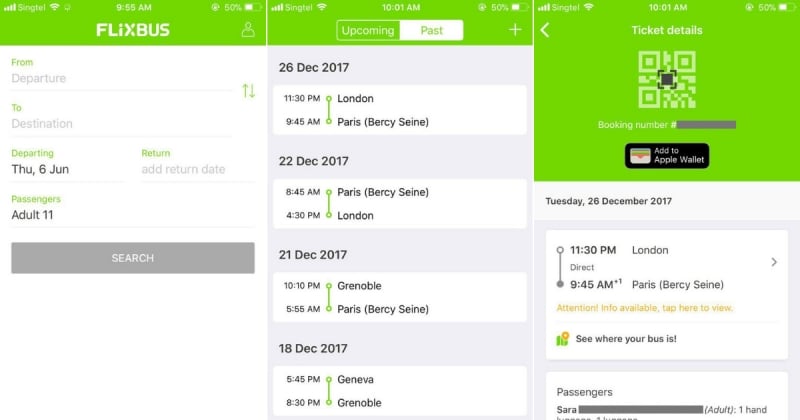 Their app is also just as easy to use. My online bookings can be synced to the app so I didn't have to print any tickets. I simply had to show the QR code for the driver to scan. The eco warrior in me is very happy indeed. The app also allowed me to stay updated with the status of my trip such as when there's a delay.
Satisfactory customer service
Most bus drivers that I encountered were really kind to me. Once, in Milan, a friend and I thought we were going to be late for our bus, so we ran from the train station with our large backpackers' bag (we felt like we were on an episode of Amazing Race). When we reached the bus, we were breathing heavily and apologising to the driver while searching for our FlixBus app on our phone. The bus driver chuckled and asked us to relax. He also cracked a couple of jokes as he scanned our QR codes. We were worried for nothing!
On other situations, I also had to call FlixBus' customer service a few times to change a booking (since changes can't be done online with discounted tickets). Sometimes it takes a while for me to get connected to a FlixBus representative, but the people on the other side were generally nice and polite.
Here's what others had to say about why they liked FlixBus:
"It's cheap! I usually opt for overnight buses as it saves me a night on accommodation." – Amanda, who went on 20 FlixBus trips
"My experience with FlixBus was that it was pretty affordable. Generally, seats were quite comfortable and had a good amount of leg space, at least for me. Also, it was pretty convenient to trace the arrival of the bus with the app." – Talia, went on 6 FlixBus trips
"The positive is that Flixbus is always on time or pretty punctual, and the check-in process is quite smooth because you just need to show a QR code from your app." – Eunice, who went on 5 FlixBus trips
The Bad
Questionable stops
Although most FlixBus stops are at bus stations, some stops are pretty questionable. For example, their La Spezia stop in Italy is simply by the side of a road. These kind of stops are not well indicated; I had to keep my eyes peeled for a small lime-green FlixBus sticker on bus poles to find the right stop. But most of the times, there will be a bunch of people waiting around for their buses as well, so it doesn't hurt to double check with them.
Questionable characters
Being one of the cheapest modes of transportation across Europe, people of all demographics travel with FlixBus. Don't get me wrong, I actually loved that I didn't know what to expect when boarding a FlixBus. From getting cute reactions from babies to having small talks with my seatmates, every FlixBus trip is different.
However, there will also be some shady characters on board. Once, a group of armed police officers stormed up the FlixBus I was on and arrested a man a few seats away from me. My friend also told me that she was almost robbed on board. Although such things do happen, they're pretty rare.
Despite this, I have to say that I never once felt unsafe on a FlixBus. Of course, you must always stay vigilant on your travels but with for bad apple, I believe that there are hundreds of good ones.
Here's what others had to say about why they didn't like FlixBus:
"Once, my overnight FlixBus from Milan to Grenoble was cancelled due to bad weather as there was heavy snow causing the roads to be blocked. I was only aware of the cancellation when the bus came and the driver informed us and that FlixBus will contact us. However, no information or instructions were given on when was the next bus. Later, there was a message from FlixBus saying that they will pay for our accommodations (within a certain amount) and that we had to call them to reserve the next bus. After the trip, I emailed them to make a claim for my accommodation. But there was no reply for weeks and I decided not to pursue it." – Felicia, who went on 25 FlixBus trips
"It was shit because the toilet is literally shit. Free wifi though but the toilet was really bad." – JQ, who went on 6 FlixBus trips
"On the bus from Berlin to Warsaw, the toilet was terrible. Other aspects were generally okay; good legroom, free seating and okay wifi." – JQ, who went on 4 FlixBus trips
Tips
If you're going on your first FlixBus trip or want to have a better FlixBus experience, here are some tips you got to jot down:
Always

get your passport ready

, especially if you're on an intercountry trip. On one trip, people in front of me didn't get their passport ready and while they were bending down to get the passports out from their backpacks, I shined the QR code (with my phone screen at maximum brightness) to the bus driver's face and waved my passport at him. Needless to say, I got on the bus first.

Bus drivers will typically ask you to put your luggage in the hold first before scanning your QR code. Once the bus hold opens, chaos usually ensues as people want to board the bus first. If you're travelling with others,

assign one person to put in the luggage

while the others queue to get their QR scanned and reserve seats. If you're travelling solo, say a prayer, throw your bag in the hold and then rush to join the queue.

If your bus is a double-decker bus, boarding is from the back door

. One time, people formed a snaking queue at the front door of a double-decker bus, while we (knowing better) we were the only ones at the back. As soon as the others saw that we got in, everybody rushed to the back door.

Buy the

InterFlix package

if you're going on multiple long trips and always search online for discounts

Always

sit nearer to the front

for safety and better aircon as the back of the bus is warm from the engine!

You can download the

Flixbus app

on your phone and save your tickets for a hassle-free check-in process! There are also location marks on the app so you can check whether you've reached your stop (because sometimes stops do not have proper signages to tell you where you've reached

Make sure you do not reach late unless you're lucky enough to get a bus that is delayed because

they don't wait for latecomers

and you might need to find the bus stop

"

Leave at least an hour buffer time between your bus and your next transport

because sometimes the bus gets delayed, resulting in you missing your next mode of transportation. I missed a train due to delays and the ticket came up to 100++ euros" – Eunice, who went on 5 FlixBus trips

"Go early to get the good seats and

take the earlier bus

if possible to skip the jam or peak periods" – JQ, who went on 6 FlixBus trips
So does FlixBus deserves a 1.5-star rating online? Absolutely not. Given the cheap price, I think their bus conditions and service are pretty good. Their online booking system and accompanying app are also very well designed and are actually useful.
After 44 FlixBus trips, I would give them a rating of 4 stars! So the next time you're going on a European adventure, consider taking FlixBus to travel across the continent.
Also read: How to Get to Neuschwanstein Castle From Munich: A Comprehensive Guide