I paid a visit to Legoland during the Labour Day weekend. I went there expecting a big crowd but it was surprisingly okay and we even managed to go on a few rides and slides more than once!
The plan was to spend the first day at the water park and the second day at the theme park. Both parks are open from 10am to 7pm daily. I bought the tickets (one adult and one kid) for both parks 7 days in advance. You can read more about the ticket prices and where to stay here.
Also read: Legoland, Johor Bahru: Most Exciting Place on the Planet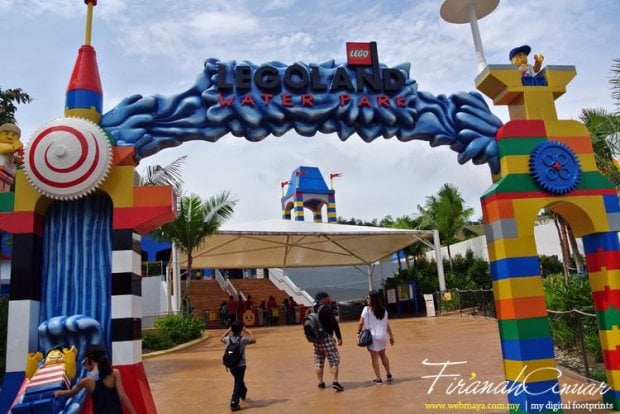 Tips for the water park:
You can bring your own water, snacks or packed food, but make sure you keep them in your bag. (They didn't check our bags upon entry on the day we went.)
Keep your tickets in case you want to go out from the park and go in again. They do not give out wristbands like other water parks.
Lockers are provided if you don't want to drag your bags along everywhere. They cost RM20 (approx. SGD8) a day for a smaller locker and RM40 (approx. SGD16) a day for a bigger one. You rent the locker for the whole day, and you can open and close it as many times as you want. They do not use the conventional locks for the lockers – you will be using your thumbprint or setting your own pin to unlock it. So no need to worry about misplacing keys as the lockers do not come with keys.
Forgot to bring a towel? Rent one for RM20 (approx. SGD8) per day, but they will take another RM20 (approx. SGD8) as deposit that they will return back to you.
Sunscreen, sunscreen, sunscreen. Protect your skin. It can be super hot and there will not be much shade to sit under.
Leave your floaties at home
You don't have to bring floaties for your kids, unless you are bringing an infant or baby, because they provide life jackets or swim vests for toddlers and adults for free. They have plenty of it so you don't have to worry if they will have enough for all visitors. They even have the big round floaties that adults can sit on and glide across the water canal. Babies must wear swimming diapers which are also available there.
Also read: A Trip to Little Big Club, Puteri Harbour Family Theme Park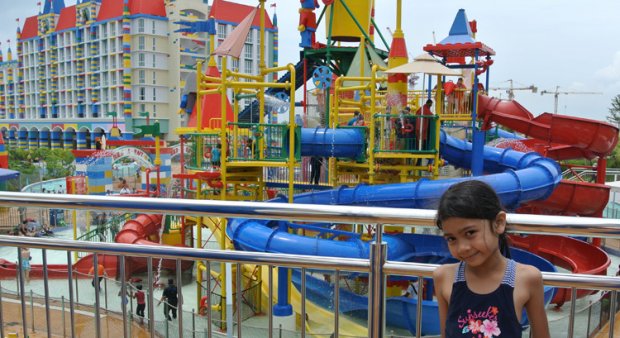 Food and drinks
Buy the set meals as it's much cheaper (by 'theme park standards' – food in theme parks are a tad bit overpriced anyway, so there is no choice). I bought one adult meal and one kids' set meal for RM40 (approx. SGD16). Add in another RM10 (approx. SGD4) when you buy the kids' meal and you get this cool Lego meal box. This box is priced at RM19.90 (approx. SGD7.8) in the Lego Shop.
For a total of RM50 (approx. SGD20), you get one adult meal set with drinks (get the beef burger set – the burger is actually quite thick and yummy, something like Burger King) and one kids' meal set with the Lego meal box. All set meals contain western food such as burgers, nuggets, hotdogs, waffles, ice-cream, pop-corn etc. There are not many choices here in the water park as compared with the theme park.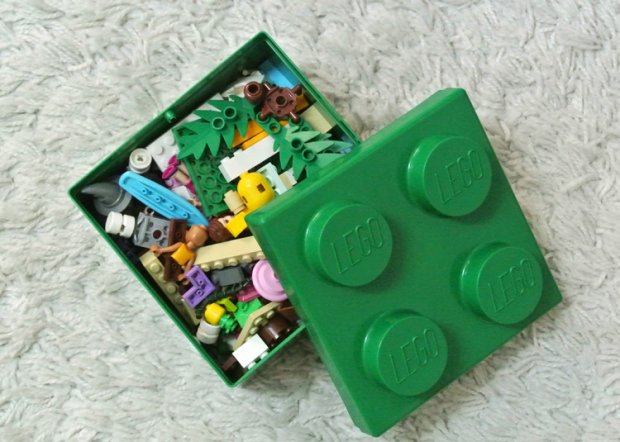 The Lego box that comes with the kids' meal for RM10 (approx. SGD4). They can be used to store Lego of course!
What to wear
The water park has ample rides for the whole family and there's even a play area just for the little kids or toddlers. If you don't wear swimsuits, they might not allow you to go down the water slides as they fear you will get stuck midway. If you plan to get through the slides, make sure you wear appropriate attire made of swimsuit material and not a cotton t-shirt. For those with hijabs, you can wear the muslimah swimwear or opt for a football jersey top, as the material is smooth enough to let you slide down easily.
Also read: This is A Vacation For the Entire Family!
Private cabanas / tents
If you come with a family of four or more, they have private cabanas by the pool that you can rent daily. It's like your own private tent. Inside the cabana, there are a few lazy chairs that you can sleep on, a mini-fridge (trust me you will need this), a mini-safe to keep your precious belongings, and one big fan in the middle. The adults can laze around here while waiting for their kids splashing around the park. The price is RM300 (approx. SGD118) per day, or RM150 (approx. SGD59) for half a day. If you don't need a private space for your family, just opt to sit around at the lazy chairs provided at the open spaces, free of charge of course.
Basically, once you are in the water park, the only thing you need to spend is on food or cabanas. The rest are free (hence the ticket price). Go on the water rides as many times as you want, just make sure you're in the right queue.
Most importantly, don't forget to set a meeting point with your kids, in case they get lost or carried away since it's difficult to find them once they are excitedly going up and down the water slides and tunnels in the playground.
Have fun splashing!
Also read: 10 Family Friendly Destinations to Bring Your Kids to
Don't miss Legoland when you plan on taking your family to Malaysia.
Contributed by WebMaya.