Hong Kong: this food city and shopping mecca has everything from luxury shopping districts to hole-in-the-wall boutiques; sleek, glossy bars and restaurants to humble street food stalls.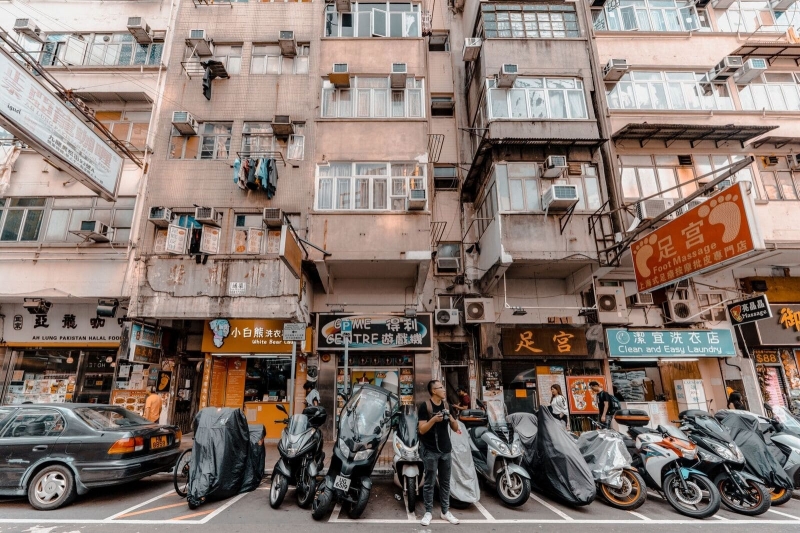 The secret to soaking up the best of this pulsing metropolis? Staying in the right neighbourhood, of course. But if you're still deciding between the glossy and upscale façade of Wan Chai, the rough-around-the-edges Tsim Sha Tsui, or even the underrated hidden gem that is Tsuen Wan, fret not. We've got you sorted.
Planning a trip to Hong Kong?

Book your next trip to Hong Kong with DBS/POSB Cards on Trip.com, and enjoy the following irresistible deals:

Flights

S$50 off* Cathay Pacific Airways with min. spending of S$400 using the promo code  <TRIP50CX>

Hotel

New Customers: 8% off hotel bookings using the promo code <DBS8TRIP>

Existing Customers: 7% off hotel bookings (via Trip.com app only) using the promo code <DBS7TRIP> and 6% off hotel bookings (via website) using the promo code <DBS6TRIP>


* Book before 30 Nov 2018 for travel period up till 30 June 2019. Click here for full T&Cs.
Here are the 5 best areas to stay in Hong Kong if you love your holiday food and shopping – with some irresistible accommodation deals in the mix!
Where to Stay in Hong Kong Island
1. Central
Great for luxury boutiques and upscale dining options
Hong Kong's bustling financial district transforms from business hub by day to chic nightlife spot by night. A delightful mix of old-meets-new, you'll find skyscrapers nestled beside traditional shophouses. If big-name designer brands are what you're after, Central is perfectly posited for you to get your hands on all things luxury.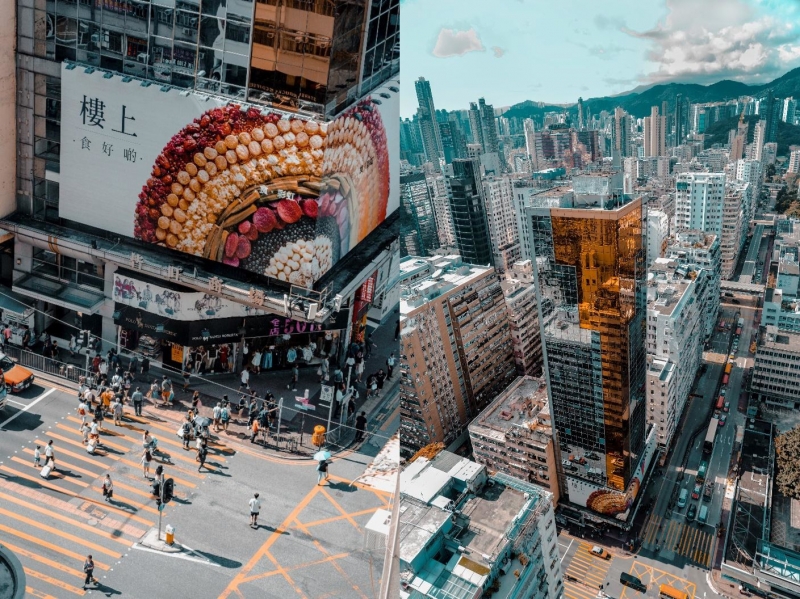 2. Wan Chai And Causeway Bay
Great for affordable to luxury brands and chic rooftop dining options
Widely regarded as the shopping mecca in Hong Kong, you'll find everything from luxury designer brands to affordable streetwear labels, jewellery and cosmetics, toys and even electronics. When the shops wear you out, a spot of dinner or rooftop drinks at its sky-high restaurants and bars will do the trick.
Where to stay:
Hotel Pennington by Rhombus
Located right in the centre of Causeway Bay and just a 4-minute walk away from Causeway Bay MTR Station, Hotel Pennington is right in the heart of both luxury and high-street shopping districts like Times Square, Lee Gardens, SOGO, and Hysan Place, and is surrounded by a plethora of gourmet food options.
If you need to seek respite after all the shopping, make a date at any of its innumerable restaurants in the area – like the famed The Coffee Academics Flagship café-and-bar, which brews a pretty kickass cuppa coffee.
From S$179/night. Find out more here.
Address: 13-15 Pennington Street, Causeway Bay, Hong Kong
City Garden Hotel
Just 2 metro stops away from Causeway Bay, City Garden Hotel has an award-winning restaurant, outdoor heated pool, and is also close in proximity to major attractions like Times Square Hong Kong, Harbour City and Lan Kwai Fong.
Only a five-minute walk from Fortress Hill MTR Station, the hotel also provides complimentary shuttle bus services to key shopping and business hotspots like Taikoo Palace and Cityplaza. If you're feeling peckish, be spoilt for choice with all the scrumptious food options close by.
From S$147/night. Find out more here.
Address: 9 City Garden Road, North Point, Hong Kong
Kowloon
1. Tsim Sha Tsui
Great for trendy bars, hole-in-the-wall restaurants, and a mix of high-street, luxury and alternative retail options
On the opposite shore of the Victoria Harbour is the eclectic district that is Tsim Sha Tsui in Kowloon. Here, you'll be greeted with a distinctly different experience of the city, quite unlike the glossy façade of the Promenade.
While you'll also find mega malls, sleek restaurants and bars, Tsim Sha Tsui exudes a cultural depth thanks to its brilliant museums, unassuming hole-in-the-wall restaurants and some seriously cool bars.
Besides the luxury shopping mecca that is Harbour City (i.e. Hong Kong's largest mall), its crop of trendy new micro malls on the side streets off Granville Road are also worth a visit. Swing by Rise Shopping Arcade, which brims with Japanese and Korean fashion, or K11 Art Mall's selection of wallet-friendly boutiques.
Where to stay:
The Royal Garden Hotel
Located along Mody Road, this 5-star hotel is cosmopolitan luxury at its finest. The fact that it's just a few minutes' walk from Tsim Sha Tsui MTR Station and the scenic Victoria Harbour waterfront is just a bonus.
Take your pick from any of its eight dining establishments which include the rooftop Mediterranean-style Sky Club, 1 Michelin-starred Dong Lai Shun restaurant, award-winning Sabatini Ristorante Italiano and Shikigiku Japanese Restaurant, as well as J's Bar. The hotel is also only a stone's throw away from Knutsford Terrace, Tsim Sha Tsui's famous terraced street of bars, pubs and restaurants.  
From S$191/night. Find out more here.
Address: 69 Mody Road, Tsim Sha Tsui, Hong Kong
Holiday Inn Golden Mile
A rooftop pool, great hotel restaurants, complimentary smartphones upon check-in, and only a few minutes' walk from high street and luxury shopping malls: these are just some of the perks you'll get to enjoy at the Holiday Inn Golden Mile.
Situated in Kowloon's city centre with Tsim Sha Tsui MTR Station at its doorstep, the hotel is close to luxury brands like Rolex, Cartier, Gucci, Tiffany & Co, Louis Vuitton and more. Each of their spacious rooms are furnished in muted, pastel shades – which makes for a great escape from all the buzz of the city.

From S$221/night. Find out more here.
Address: 50 Nathan Road, Tsim Sha Tsui, Hong Kong
B P International
Located just a 3-minute walk from Jordan MTR station, most of the rooms at B P International lets you enjoy views of Victoria Harbour or Kowloon Park. Whether you're hunting down designer goods at the neighbouring Mira Place or scouring for hidden gems and local bites at nearby markets like Jade Market and Temple Street, rest assured your appetite will be satiated.
From S$113/night. Find out more here.
Address: 8 Austin Road, Tsim Sha Tsui, Hong Kong
Hotel Panorama by Rhombus
Truly living up to its name, Hotel Panorama by Rhombus offers spectacular panoramic views of the Victoria Harbour from its sky garden. The floor-to-ceiling windows in all its rooms also means you'll get to enjoy a visual treat of the harbour – right from the comforts of your suite.
Conveniently located just 2 minutes away from the Tsim Sha Tsui MTR Station, Hotel Panorama by Rhombus is a stone's throw away from K11 Shopping Mall, iSquare, Harbour City and Ocean Centre. The best bit? Its prime location also makes scoping for delicious local and traditional eats so easy.
From S$161/night. Find out more here.
Address: 8A Hart Ave, Tsim Sha Tsui, Hong Kong
2. Yau Ma Tei And Mongkok
For traditional Hong Kong food and lively street markets
Also located in Kowloon, you'll find the city's best street markets here, jostling next to a delightful jumble of herbalists, stalls dishing out piping hot dim sum, mahjong shops and even feng shui tellers. For all things quirky, atmospheric and distinctly Chinese, the bustling neighbourhoods of Yau Ma Tei and Mongkok are your best bet.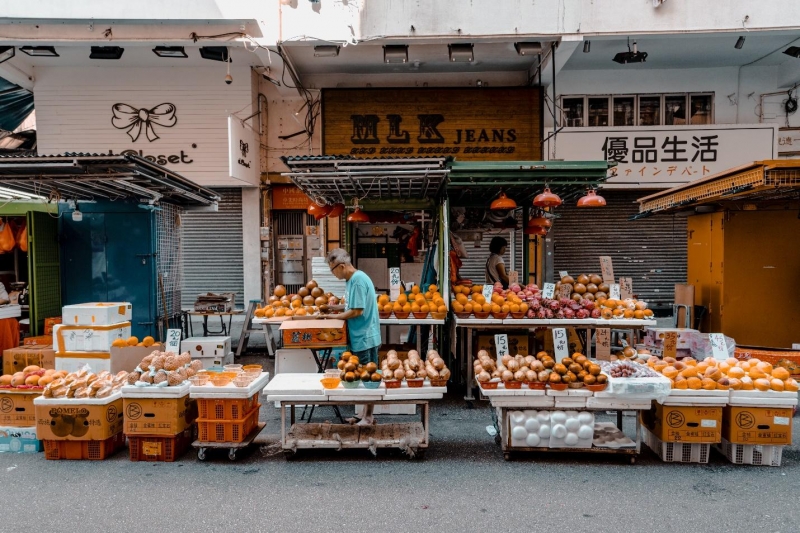 Where to stay:
Metro Winner Hotel
Staying at the Metro Winner Hotel lands you right in the heart of Yau Ma Tei's lively street markets and mouth-watering street food. Only two minutes away from the Yau Ma Tei MTR Station, the hotel is right across from popular markets like the Temple Street Night Market, Jade Market, Ladies Street and Wholesale Fruit Market.
Popular shopping destinations like the Langham Place Mall and Harbour City are also in the neighbourhood. With its spacious and well-furnished rooms, strategic location, and easy access to plenty of food and shopping – what's not to love?
From S$103/night. Find out more here.
Address: 5/F, Metro Winner Center, 476 Nathan Road, Yau Ma Tei, Hong Kong
The City View
This 4-star eco-friendly hotel is just a minute's walk from the Yau Ma Tei MTR station. The Ladies' Market and Fruit Market are also in the vicinity, as well as a seemingly infinite stretch of delicious Michelin-recommended street food!
The hotel and room interiors are refreshingly airy and minimalist in design, furnished with plenty of greenery, energy-saving fixtures, and biodegradable materials. In the evenings, hop onto a hotel cab and head to the electric districts of SoHo and Lan Kwai Fong for a truly cosmopolitan Hong Kong experience.
From S$132/night. Find out more here.
Address: 23 Waterloo Road, Yau Ma Tei, Hong Kong
New Territories
1. Tsuen Wan
For delicious local food, underrated finds and plenty of shopping
Home to arguably some of the best local Hong Kong-style restaurants (and fun fact: one of the largest cat cafes in the city), the underrated neighbourhood of Tsuen Wan is often eclipsed by its more touristy counterparts. But boy, this is a side of Hong Kong to keep on your radar.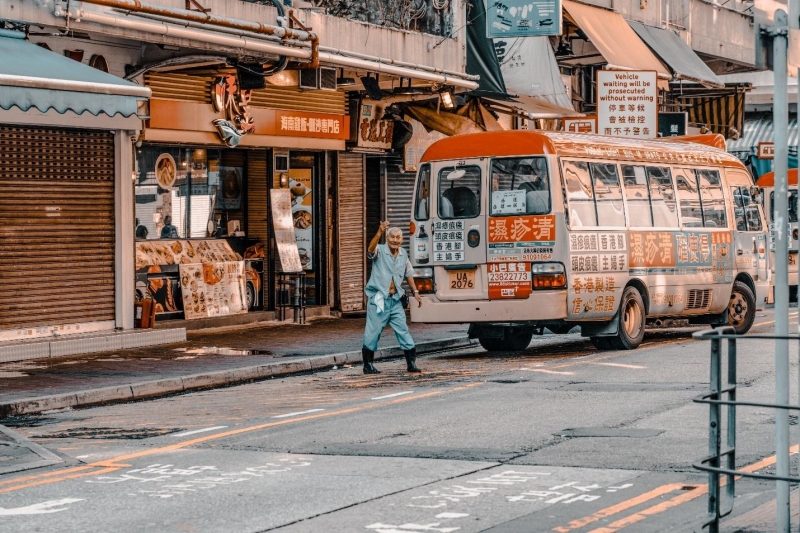 A few noteworthy restaurants include Cheng's Store, an eccentric tea spot that brews lattes infused with Iron Buddha leaves and 'yin yeung' with Blue Mountain; and Yue Kee Roasted Goose, which dishes out stunning plates of caramel-skinned roasted goose. For a spot of retail therapy, drop by Luk Yeung Galleria, Tsuen Wan's largest shopping mall.
Where to stay:
Royal View Hotel
Located by the waterfront between Ting Kau and Lido Beach, the Royal View Hotel is a pretty sweet spot with spacious, large windowed rooms that offer views of the South China Sea. The luxury hotel has shuttle services to ferry its guests between Tsuen Wan and Tsim Sha Tsui daily, so be sure to board them and sink your teeth into everything that Hong Kong has to offer.
From S$77/night. Find out more here.
Address: 353 Castle Peak Road, Ting Kau, Tsuen Wan, Hong Kong
Silka Tsuen Wan Hong Kong
If you love a designer bargain (who doesn't?), hear us out. Silka Tsuen Wan is only a 10-minute drive to the newly-opened designer brand outlet Florentia Village.
The hotel features a terrace which boasts of views of the city and get this: you'll receive a complimentary smartphone with unlimited internet access and local and international calling. It also offers complimentary shuttle bus services to a variety of locations, so getting around the city will not be an issue. Now, that's service.
From S$102/night. Find out more here.
Address: 119 Wo Yi Hop Road, Kwai Chung, Kowloon, Hong Kong
Dorsett Tsuen Wan
If proximity to the airport is what you're looking for, Dorsett Tsuen Wan certainly makes for a choice option. Offering complimentary shuttle services to Airport Express Tsing Yi station, as well as to and from Kwai Fong MTR and Tsim Sha Tsui, rest assured that getting around the city will be a seamless experience. The hotel itself is also a short distance from Florentia Village and Panda Place, and a 30-minute drive from Hong Kong Disneyland.
There are also babysitting services available if you're travelling with your little ones! Be sure to recharge at its spa centre as a reward from a day's worth of trawling the city for good food and bargain finds.
From S$96/night. Find out more here.
Address: 28 Kin Chuen Street, Kwai Chung, Kowloon, Hong Kong
Harbour Plaza Resort City
With over 1,102 rooms and suites, Harbour Plaza Resort City is the largest resort in the northwest of Hong Kong's New Territories. Located just a minute away from Ginza MTR Station, the hotel boasts incredible views of the mountains, and easy access to shopping malls like Tuen Mun Town Plaza and Yuen Long Old Market by subway.
From S$79/night. Find out more here.
Address: 18 Tin Yan Road, Tin Shui Wai, New Territories, Hong Kong
---
Brought to you by DBS.