We're sure that everybody can relate to having a steaming cup of noodles in the middle of the night.
When hunger strikes at odd hours or when we're just too busy to whip something up in the kitchen, most Asians reach for some good ol' cup noodles. Offered in a variety of flavours, a cup of instant noodles is a snack that can surely pack a punch! If you're a big fan of this tasty treat, why not go deep and immerse yourself in all things cup noodles?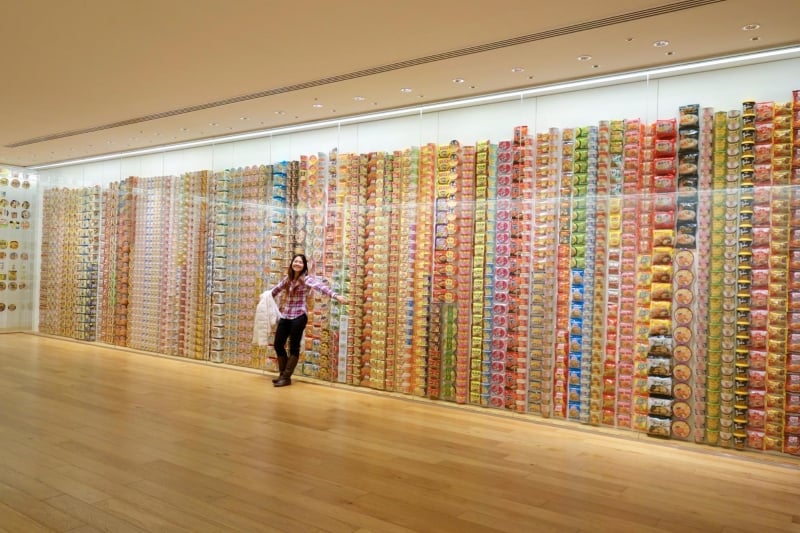 And it seems like the cup noodle gods have smiled upon us, giving us a space to do exactly that. Japan has an entire museum dedicated to cup noodles, and we're not exaggerating when we say there's an entire wall filled with the soupy snack.
Known as the Momofuku Ando Cup Noodles Museum, the popular tourist spot offers visitors a chance to learn all about the origins of the snack. There's plenty to do at the museum as well, including hands-on activities such as making your own packet of Chicken Ramen from scratch! Here's a peek inside.
My CUPNOODLES Factory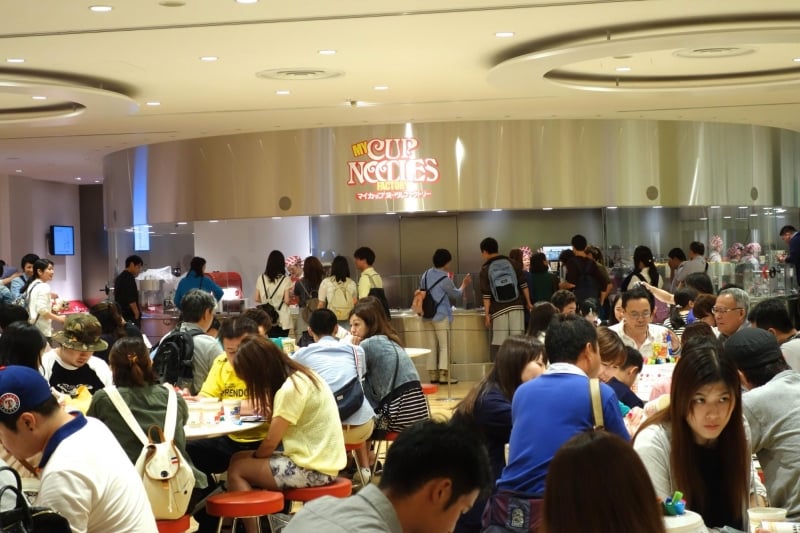 Have you always wanted to customise your own cup noodles? Here's your chance!

Head to the tables of the My CupNoodles Factory and use the markers to design your own cup. Feel free to let your imagination go wild! Even after consuming the noodles, these cups will make for great souvenirs of the trip.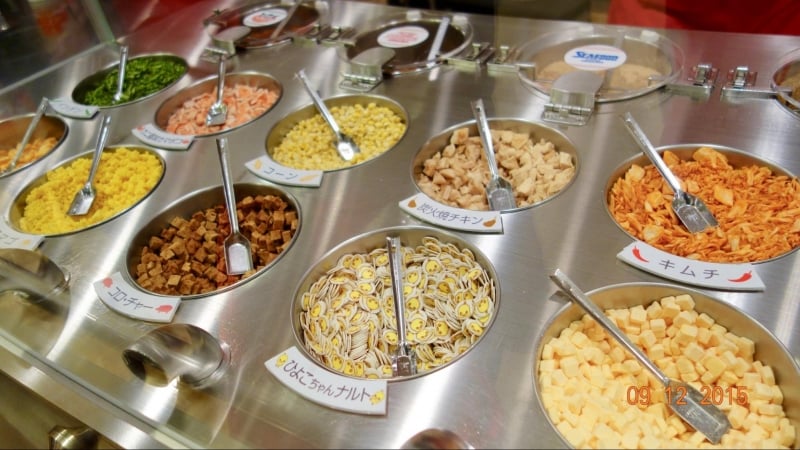 Once you're done with your design, you can proceed to the counter to choose your toppings. You can select up to four varieties! You'll also be tasked to choose a soup base, where you can take your pick from flavours such as curry and chilli tomato.

Once you're done with your mix, the staff will help seal your cup noodles. You can even assist with the finishing touches by turning the sealing wheel, allowing you to feel involved in every step of the process.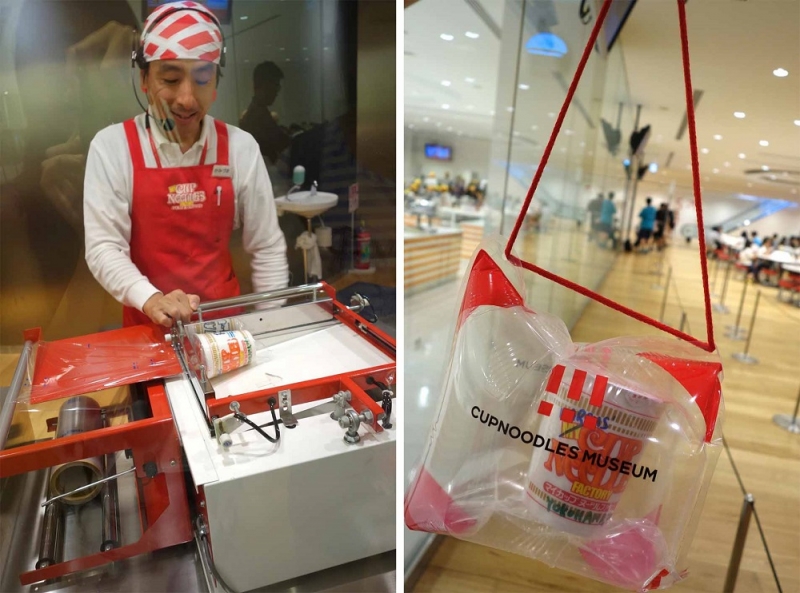 The cup noodles will be placed in a vacuum pack of sorts for easy transportation and viola! You have your very own customised cup noodles to bring home — or to consume back at your accommodations if you simply cannot wait to dig in.
Tip: Don't go without a reservation. It's advised to book your time slot on their website beforehand as the experience is extremely popular.
Cupnoodles Museum Yokohama 3F
Opening hours: 10am-6pm (no entry after 5pm)
Cost: ¥300 (SGD4) per cup
Chicken Ramen Factory
Tap into your inner MasterChef by booking a slot at the Chicken Ramen Factory, where you'll get to cook up your very own serving of ramen from scratch.

You'll be given a time slot, as well as a matching apron and bandana set. It's mandatory to put these on for hygiene purposes! You'll also be able to bring the bandana home as a nifty keepsake. The outfit makes for cute snapshots, too — perfect for posting on IG stories!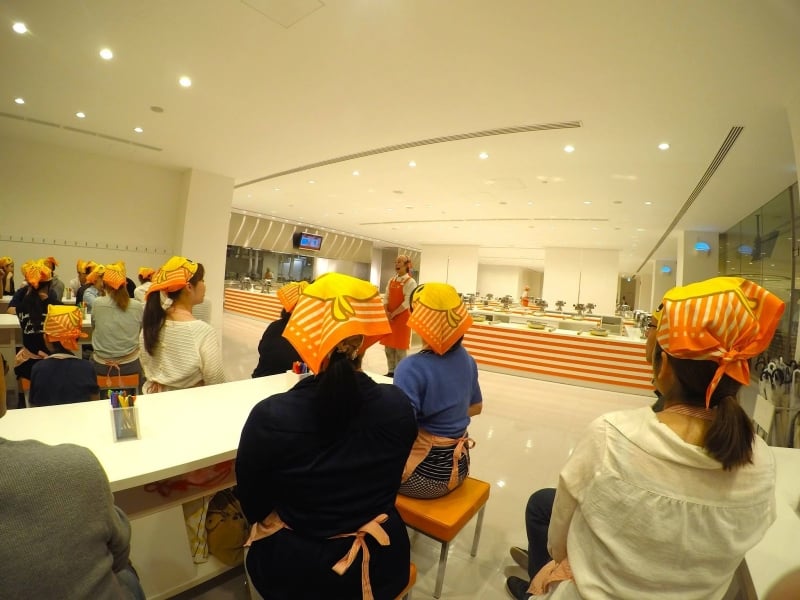 You'll be given a thorough briefing before the session starts. Do note that the session is only conducted in Japanese; however, English instruction manuals are available upon request.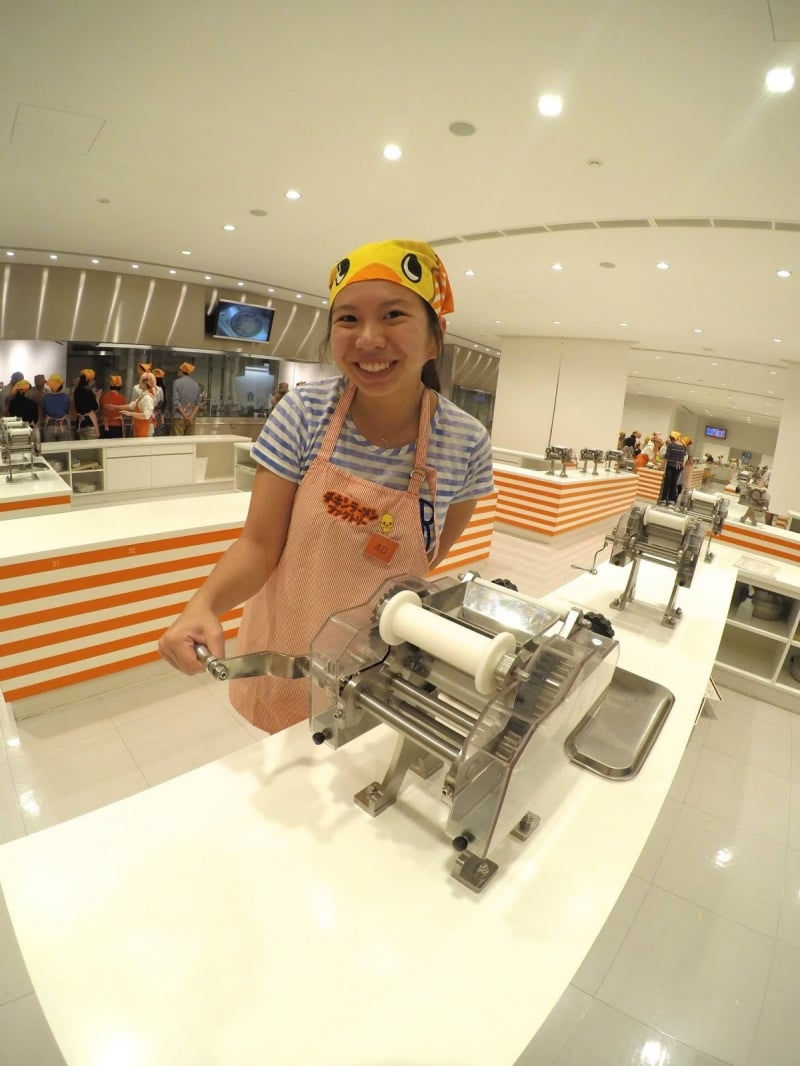 You'll get to make your own Chicken Ramen from scratch, starting with kneading and spreading the flour, adding eggs, and steaming the mixture. You'll even roll the noodles out yourself with a roller machine. At the end of the process, the staff will help to flash-fry your noodles in a vat of boiling oil.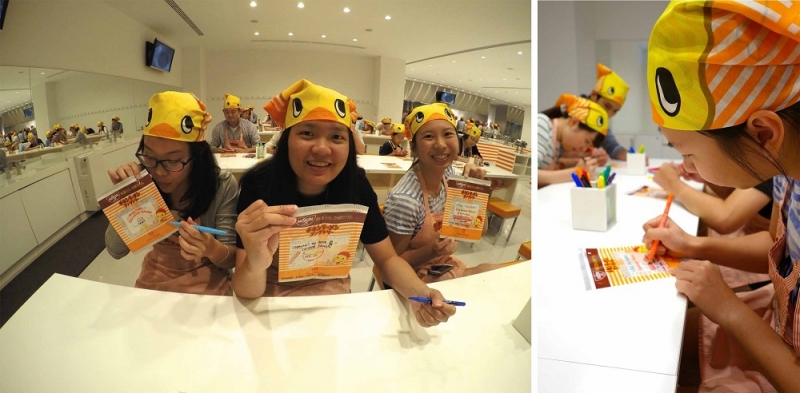 Whilst waiting for the noodles to cool, you can start designing your own ramen packet with coloured markers available at the table.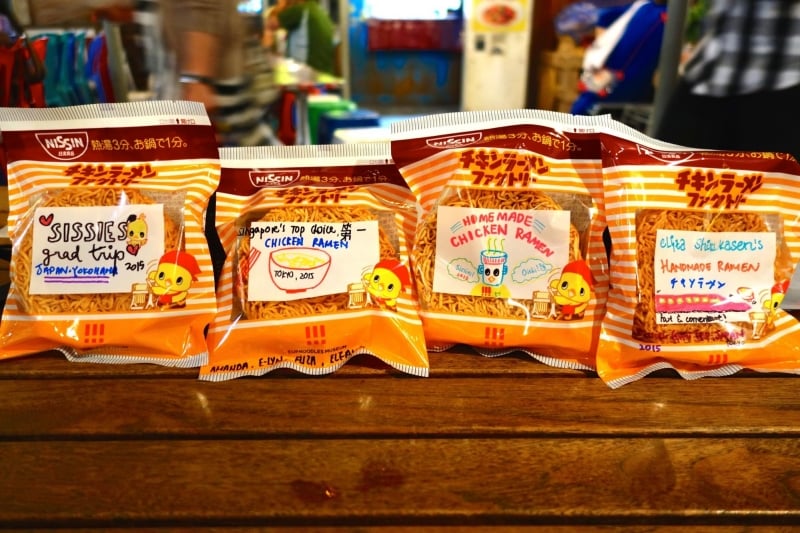 At the end of the session, you'll be able to bring home your own handcrafted ramen! It's obligatory to make reservations for your session and you can do so on their website with a few simple clicks.
Cupnoodles Museum Yokohama 3F
Opening hours: 10.15am-5.45pm (90-minute time slots with a maximum of 48 pax per session)
Time slots: 10.15am / 11am / 11.45am / 1.15pm / 2pm / 2.45pm / 3.30pm / 4.15pm
Cost: ¥500 (SGD6) per session
Instant Noodles History Cube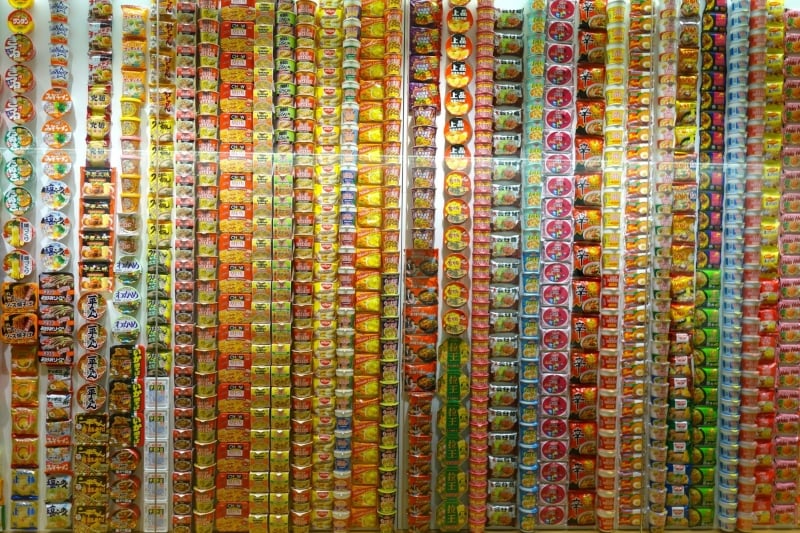 Step into the Instant Noodles History Cube to learn how this global phenomenon came to be. Believe it or not, there are a whopping 3,000 packets on display!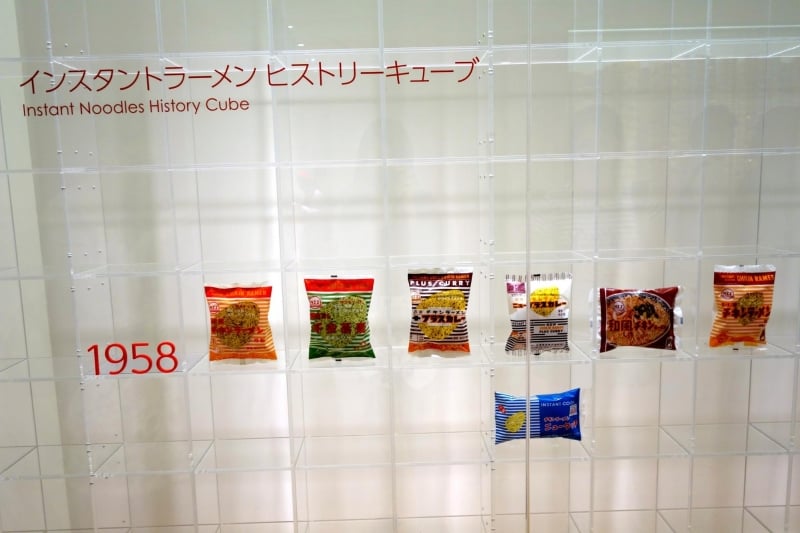 It's said that about 100 billion servings of instant noodles are consumed globally per year. Imagine that! And this all originated from Momofuku Ando, the individual who invented Chicken Ramen back in 1958.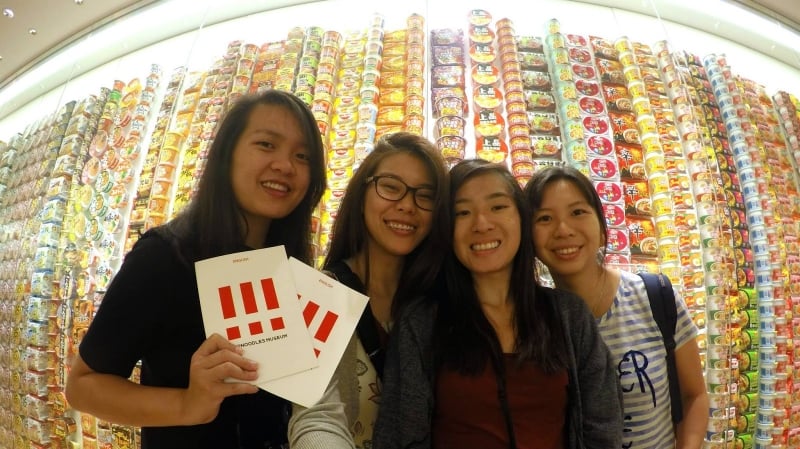 Marvel at how the packaging designs have changed over the years. The museum claims that nearly 800 new instant noodle products are launched in Japan alone annually. The History Cube contains all of the old and new product offerings, allowing you to literally walk through the memory lane of instant noodles.
Warning: It's best not to visit on an empty stomach!
Cupnoodles Museum Yokohama 2F
Opening hours: 10am-6pm
The Momofuku Ando Story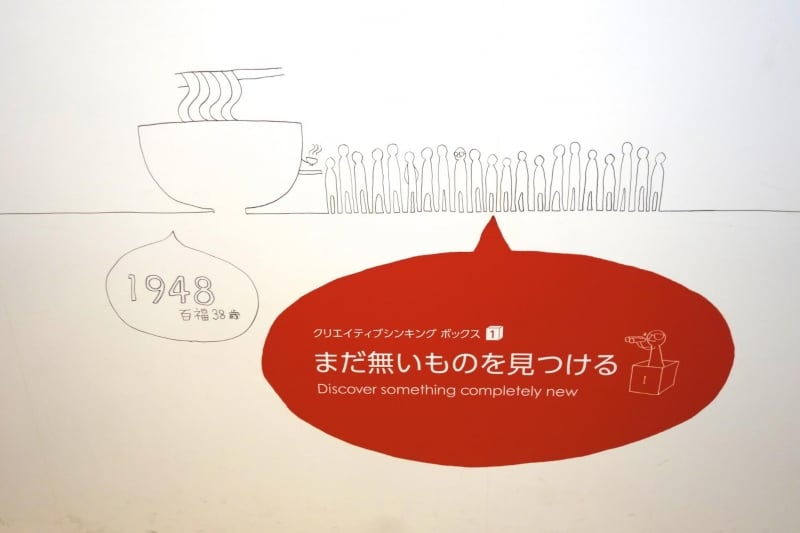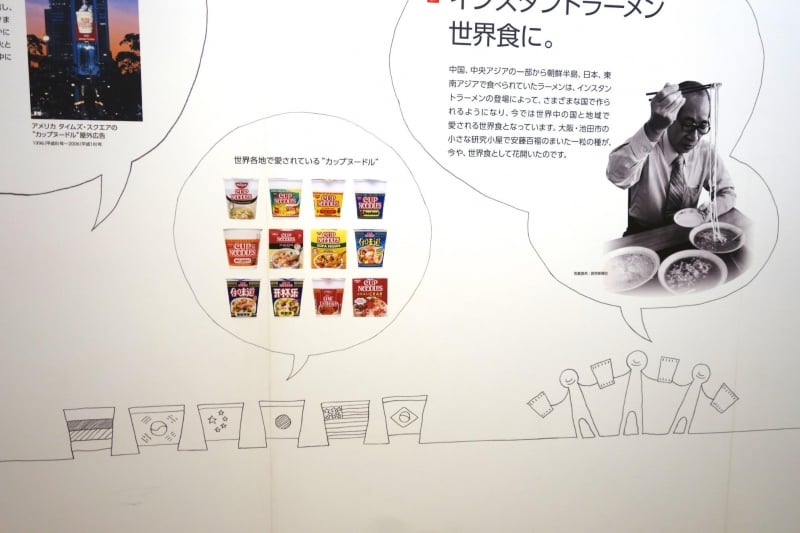 Learn more about the individual that started it all through this educational display that comes with quirky illustrations and comprehensive information boards. There is a Momofuku Theater that screens a short film about the inspiring individual, too. You'll also get to see a realistic recreation of the Work Shed where Momofuku Ando invented the world's first instant noodles.
Cupnoodles Museum Yokohama 2F
Opening hours: 10am-6pm
CUPNOODLES Park
If you have little kids in tow, they're going to love the CUPNOODLES Park. This interactive park allows children to become the noodles themselves, travelling through the entire manufacturing process.
Children are able to view the entire manufacturing process — from production to shipping — all from the noodles' point of view. They'll be able to dive into a seasoning pool filled with balls, frolic through a virtual fryer, and zoom down a slide surrounded by packages. What a novel idea, huh?
Tip: Do book your slot on their website ahead of time. The place can get pretty packed.
Cupnoodles Museum Yokohama 4F
Opening hours: 10.30am-5.30pm (30-minute sessions)
Cost: ¥300 (SGD4) per child
Noodles Bazaar
Before you go, refuel at the Noodles Bazaar, which is home to a wide variety of noodles. The shops and seating areas were even made to look like an Asian night market! The servings come in half-sized bowls, allowing you the stomach space to try a few different flavours.
Cupnoodles Museum Yokohama 4F
Opening hours: 11am-6pm (last order at 5.30pm)
Cost: ¥300 (SGD4) per serving
How to get to Momofuku Ando Cup Noodles Museum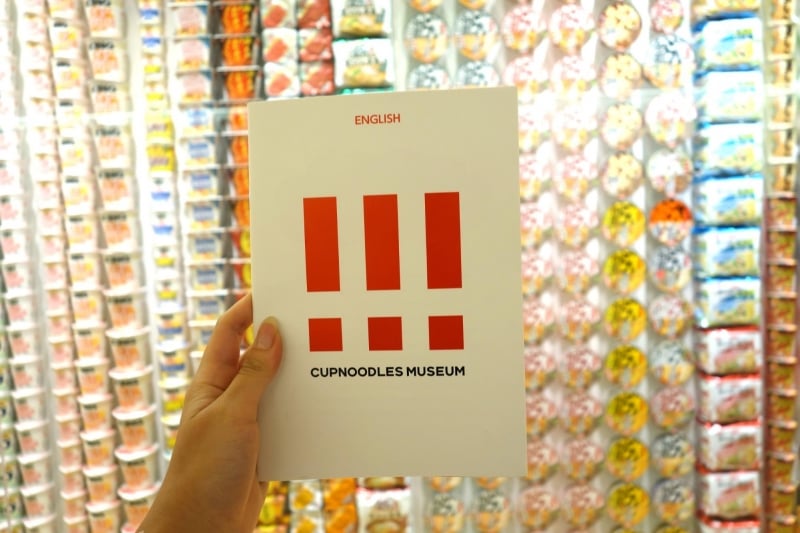 The museum is located in Yokohama, which is a 30-minute train ride from Tokyo via the JR Tokaido or Yokosuka line. The museum can be reached within a short 10-minute walk from the station.

You'll also pass by Cosmo World, an old-school theme park on the way to the museum. Why not make a day trip out of it and visit both at the same time? It'll be a day that everybody — regardless of age — can enjoy!
Momofuku Ando Cup Noodles Museum
Address: 2-3-4 Shinko, Naka-ku, Yokohama 231-001 Japan
Opening hours: 10am-6pm (last admission at 5pm)
Also read: One-Week Japan Itineraries that Fully Maximise the Japan Rail Pass