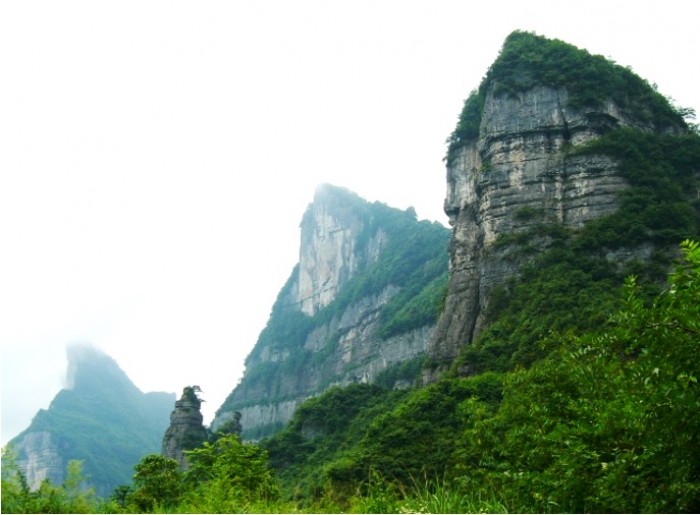 Image credit: Wenchi Jin
Situated in the upper reach of the Yangtze River in the Nanchuan District of Chongqing, Jinfo Mountain is the highest peak of the Dalou Mountains. Known to locals as Jinfo Shan, or Golden Buddha Mountain in Mandarin, it boasts a rich variety of wildlife and vegetation that is hard to find anywhere else in the world.

Also read: 12 Totally Underrated Places of China That Will Blow You Away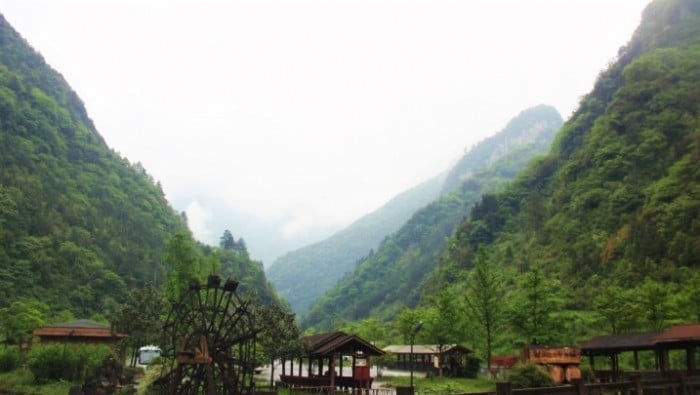 Featuring 36 endangered species of animals, including the Francois' leaf monkey and the spotted leopard, as well as 52 rare plants, Jinfo Mountain was listed as a World Heritage Site in 2014. It is also well known for its amazing views and scenic spots around the cliffs.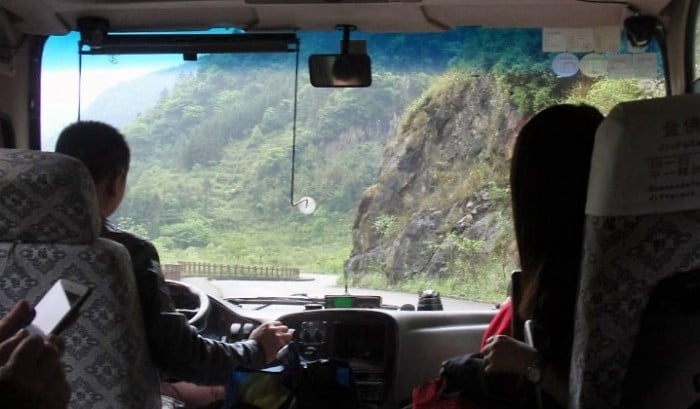 Our journey began with a 10-minute bus ride towards the top. The road was rocky and narrow at times, which can be quite unnerving for those easily scared. There were also narrow turns that the driver had to navigate carefully around and honk in case of oncoming traffic. It must be interesting to think on how the driver does this on a daily basis!
The bus trip ends at a cable car station, which brought us further above to the heights of Jinfo Shan. The tour guide mentioned that previously, the cable cars were originally made as a glass box, to offer visitors a 360 degree view around the compartment. The flooring was eventually covered up with steel after many complained that they were too afraid to enjoy the ride. Whatever the case, this was definitely not a trip for those with a fear of heights!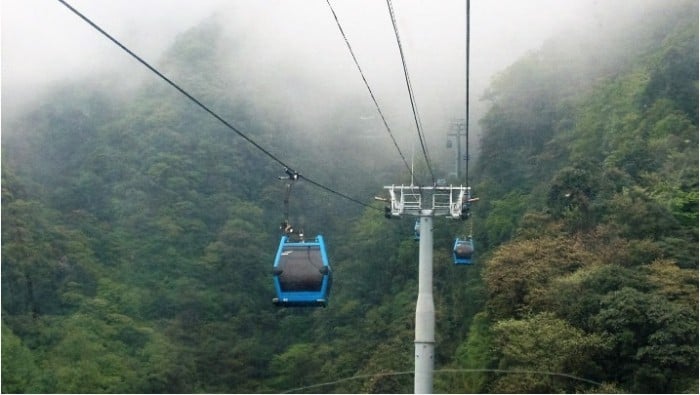 Inside the cable car, we were captivated by the environmental beauty that covered the landscape of Jinfo Mountain. Lush greenery spread across miles around rocky terrain, while tiny waterfalls that poured down to the ground below gave us a higher sense of appreciation towards Mother Nature.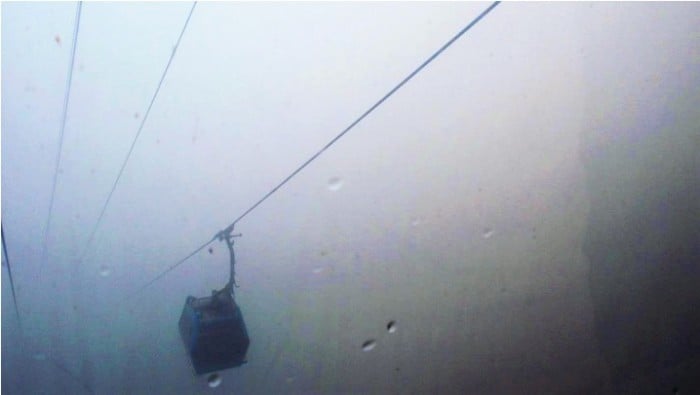 As we neared the end, our cable car entered the clouds surrounding the mountain. It was quite a surreal experience as we could not see anything within two feet in our compartment. The only things that breached the impenetrable mist were the metal wires or other cable cars passing by us.
Thankfully, we passed the clouds and exited safely from our cable car. As we left the station, we caught our first view of the majestic mountainside of Jinfo Shan. For someone who has very little experience in hiking mountains, it was quite an intimidating sight for me to be looking at such a long trail. Thankfully, I came well prepared with proper shoes and gear!
Fortunately, our tour guide booked a shuttle bus to bring us to iconic places. That meant less walking and more taking in the sights! Unlike the narrow roads we were on before, the roads on the mountainside were more spacious, smoother and left me feeling a little safer.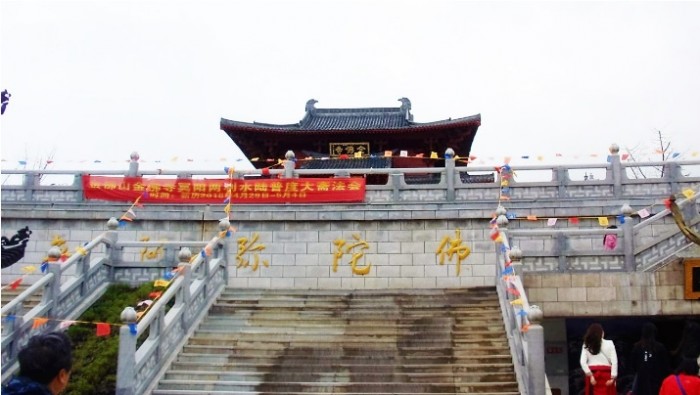 Our first stop was the Golden Buddha Temple, which you probably suspect, houses a giant Buddha statue made of gold that the mountain is named after. We were invited to have lunch at their highly recommended vegetarian restaurant below the temple.
Also read: Top 20 Tourist Attractions in China You Must Visit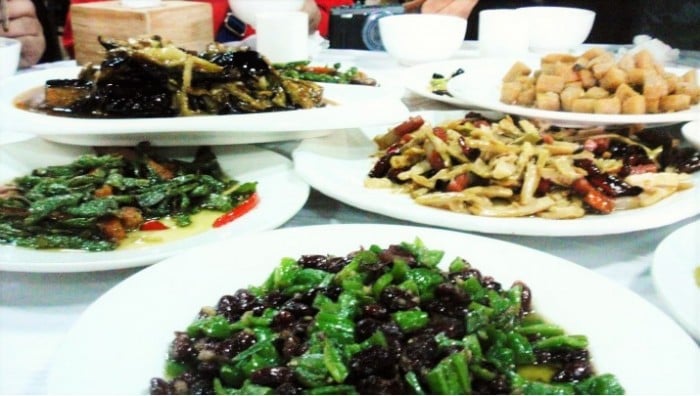 I was quite worried at first; because I was not exactly comfortable with the idea of having no meat in my diet. But my concerns quickly evaporated once they brought in the dishes. A wide variety of vegetarian meat alternatives were served to our hungry tour group, which tasted exactly like the real thing! From vegan fish, chicken and beef, we filled ourselves for the climb ahead.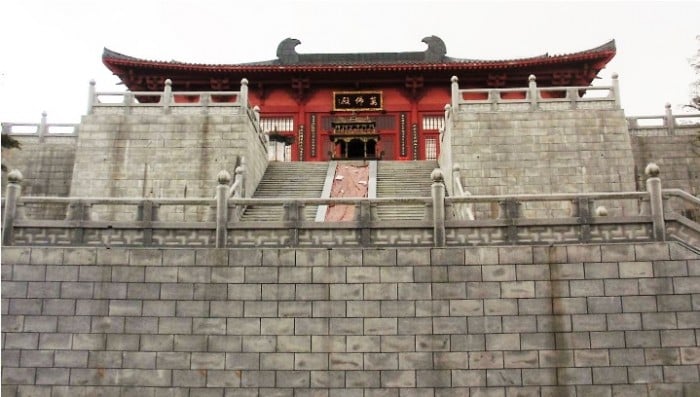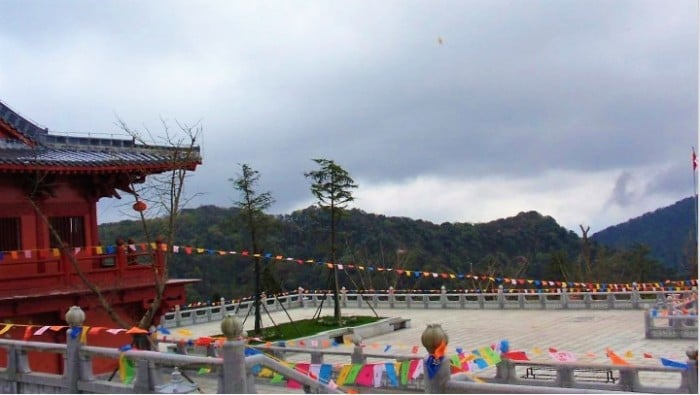 We were allowed to venture into the temple itself, but photos were not allowed at sensitive prayer areas. Nevertheless, the monks allowed us to take the surrounding structures. Hopefully these pictures give you an insight on how these devout followers of the Buddhist faith spend their time on Jinfo Mountain.
Boarding back on our shuttle bus, we travelled further north for quite some time until stopping at the entrance of a stone forest.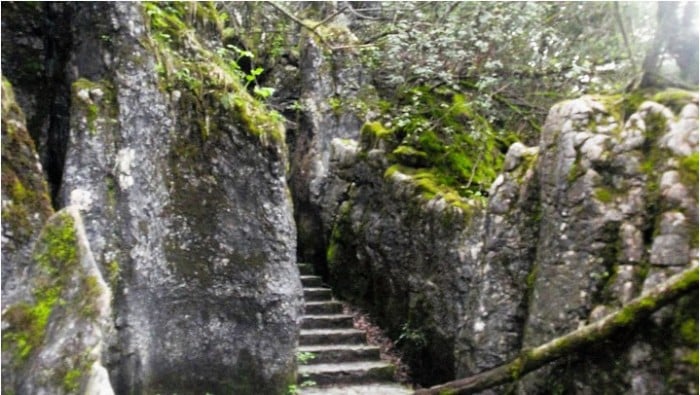 Here, we walked through massive stone walls covered with thick moss and vegetation. The stone forest, previously underwater millions of years ago, was the result of tectonic movement pushing the terrain from the ocean and evolving under the climate. It was quite a humbling experience, to be surrounded by things that have been here on Earth way longer than any of us.
Also read: Marvel at the Strange Beauty of Tianzi Mountains in China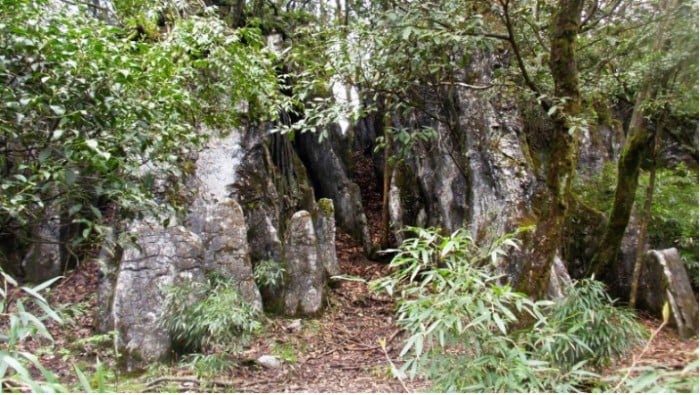 After trekking through the stone forest for a while, we encountered a steep staircase down to a huge, dark crevice. Some of our tour group were intimidated at the sight, and the steepness of the stairs, but we gradually descended into the blackness below.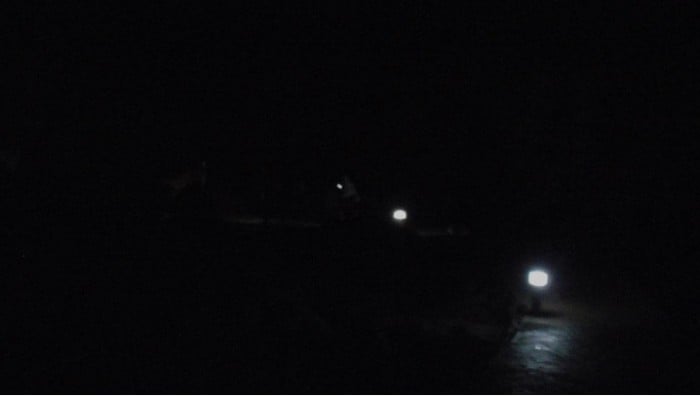 When I mean blackness, I mean total pitch dark. We probably could not see anything inside the cave, if it were not for the guiding lights on the path. As I was bringing up the rear of the tour group, I kept looking back with my torchlight with an uneasy feeling of being watched!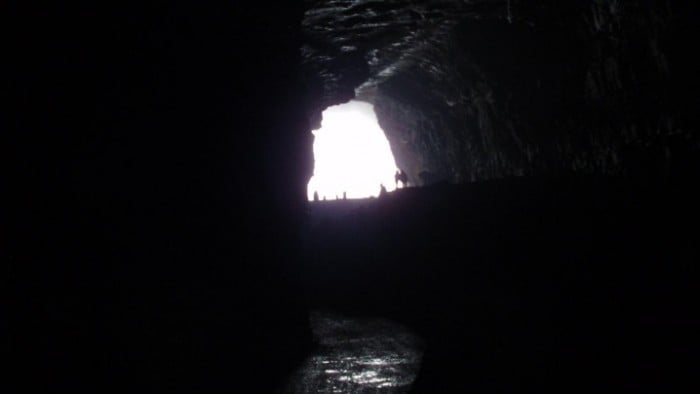 Thankfully, an opening was visible after 15 minutes' worth of walking. It was very comforting to see bright light spill in after being in the dark for a while! I hastened towards the exit after taking a few quick camera shots.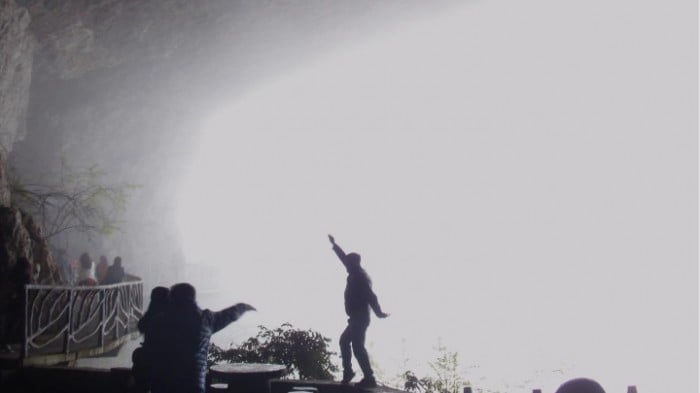 What greeted me at the exit was an amazing view from a cliff opening of the mountain. Aptly named "Spirit View Hole", the entire view was encompassed by misty clouds that obscured sight after a few feet. That did not dampen the tour group, however, as they began taking shadowed candid shots with the brightly lit backdrop!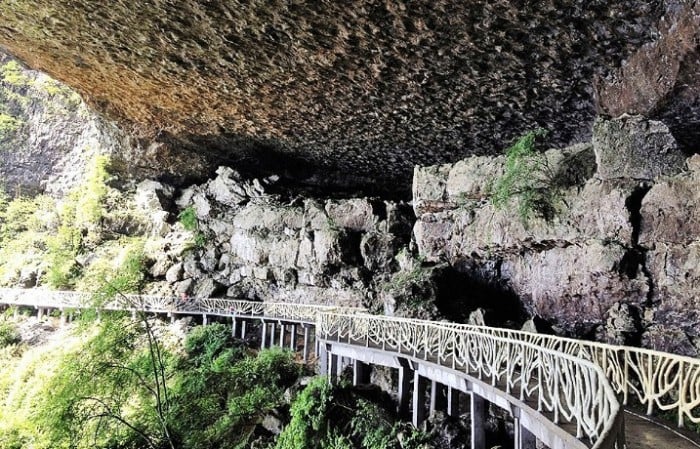 After a few group photos, the tour group went on to walk the cliff plank trail. This is how it looked like without the mist. With a narrow wooden path and a wide view from the side, it was a unique experience to be walking on that trail! It felt like I was in a fantasy movie, walking on a pathway to untold and undiscovered places.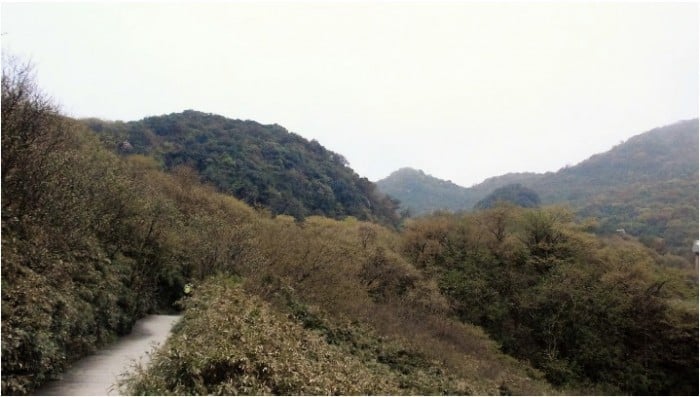 The route back was just as beautiful as the other scenic spots we visited. There was something about the lush greenery, coupled with the cool mountain air that brought out a calming, positive feeling inside of me. It is something that is almost impossible to find back in Singapore.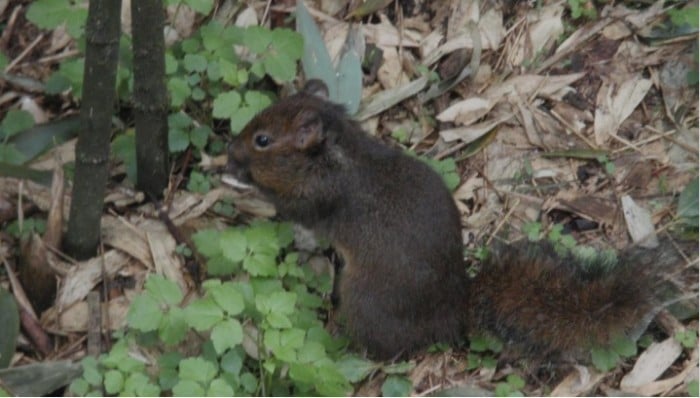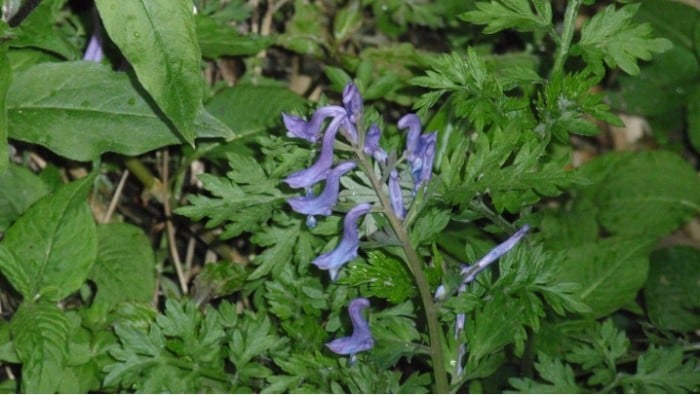 I was also able to grab a few decent close-up shots of the native wildlife and fauna despite the pace of the tour group! I was hoping to catch a sight of the leaf monkey at least, but the tour guide mentioned that they could only be found deep in the forests, rarely venturing out from their territory. Hard luck, I suppose.
After journeying through the route for half an hour, we finally reached the cable car station and took one back down from Jinfo Mountain. A bus was waiting for us below, to take us back to our hotel to rest our tired feet from today's exertions. 
Also read: Why You Should Consider a Hiking Holiday For Your Next Adventure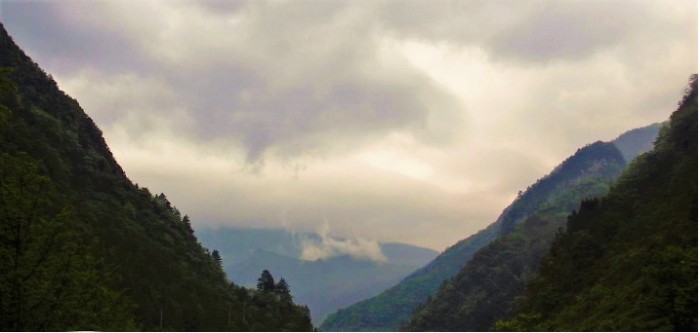 Overall, the trip on Jinfo Mountain was definitely something to remember, especially seeing that it was my first time trekking through rough, wild mountainside terrain! Although it was a pity that we could not exactly reach the peak of the mountain, the places we visited were more than enough to leave me enthralled by the natural beauty surrounding it. Nature lovers and mountain climbers alike would enjoy exploring the wonders and attractions that the mountain has to offer!
I would highly recommend trying out their vegetarian cuisine as well, even for those who hate vegetables with a passion. I am fairly confident that you might reconsider your stance after a few bites.
Can't wait to head on over to Mount Jinfo yourself? Then why not consider the 5D4N Wulong Double World's Natural Heritage Luxury Tour with TravelStar! With not only this adventure on its itinerary, get ready to be blown away by the wonder that is the Three Natural Bridges, a series of au naturel limestone bridges that will make your jaw drop. Also enjoy soaking yourself in a hot spring, having a cable car ride to enjoy Yangtze's night view, as well as experiencing the Chongqing, Wulong Tujia style, and Tianxing big bowl cuisines!
Many thanks to West Air of Chongqing, as well as TravelStar Pte Ltd for this opportunity!
---
Brought to you by