It's the time of the year again for reunions. With the exceptionally long Chinese New Year weekend this year, there's more time for more reunion dinners or lunches with friends and families!
Instead of confronting the crowds in the city, why not have a satisfying Chinese New Year meal this year at Changi Airport?
The dining scene at one of the best airports in the world has evolved greatly from the days where fast food joints were the primary food options. Today, our world-renowned Changi Airport is a dining destination in its own right with more than 80 F&B establishments across the three terminals. Dining options have been specially curated to ensure a wide variety of choices to suit all palettes, making it so much easier to have a good meal before or after your flight.
Come Chinese New Year, indulge in gourmet menus from a range of best-loved oriental favourites such as Crystal Jade, Paradise Inn, Seafood Paradise, Paradise Dynasty, and Dian Xiao Er.
Also read: Final Food Stop for Foodies at Changi Airport
Crystal Jade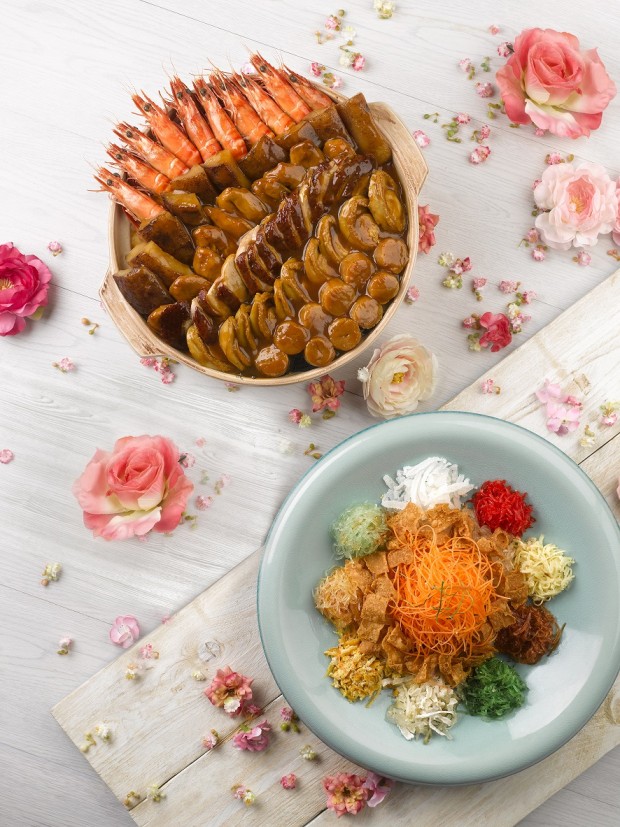 Crystal Jade ushers in the Year of the Monkey with five exquisite set menus, starting from $328 for 4 pax to $1,088 for 10 pax. Expect best-loved delicacies such as braised Shark's Fin with Crab Meat and Bamboo Pith; premium abalones with pork knuckle, dried oysters and black moss; sautéed scallops with coral mussels and XO sauce and roasted duck among its many affordable reunion dinner sets. Crystal Jade will also be offering a prosperous array of special ala-carte CNY special dishes such as sautéed prawn with sea whelk and dried shrimp paste, Thai-style pork knuckles and fried glutinous rice with preserved meat.
Crystal Jade
Level 3, Terminal 2 (Public area)
Opening hours: 10.30am to 11.00pm daily
Paradise Group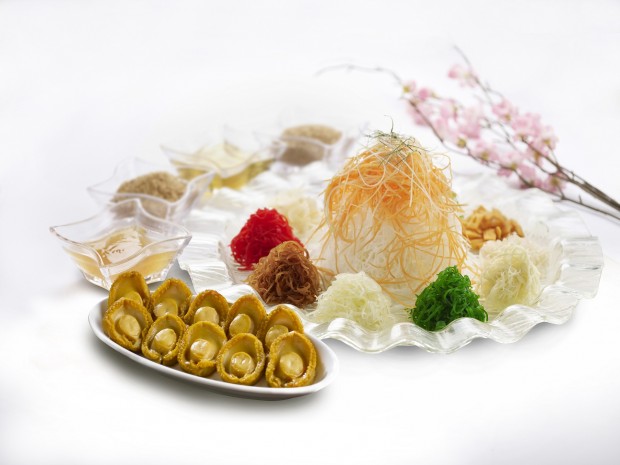 Look no further than Changi Airport for the three Paradise Group restaurants – Paradise Inn (T1), Seafood Paradise (T2) and Paradise Dynasty (T3). The chain known for marrying tradition with innovation offers gourmet menus of exceptional value starting at $238 to $298 for 3 to 4 pax. Be sure to check out modern interpretations of oriental classics such as the Prosperity abalone Yu Sheng; Paradise trio combination of crisp-fried duck roll with pork floss; crisp-fried prawn roll; mixed fresh fruits with shredded sea whelk and herbal salt-baked kampong chicken. The Paradise Group's signature crisp-fried lunar new year's cake with mandarin orange is featured in all its CNY menus. This is definitely a great treat for the sweet tooth!
Paradise Inn
Level 3, Terminal 1 (Public area)
Opening hours: 10.30am to 11.00pm daily
Paradise Dynasty
Level 3, Terminal 3 (Public area)
Opening hours: 10.30am to 11.00pm daily
Seafood Paradise
Level 3, Terminal 2 (Public area)
Opening hours: 10.30am to 11.00pm daily
Dian Xiao Er


Dian Xiao Er's rustic and raw ambience designed to evoke the spirit of a traditional Chinese inn symbolises a pit-stop for travellers to rest and replenish their energy fully before setting off to continue their hectic journeys again. Isn't that such a poetic idea befitting the theme of CNY reunion?

The restaurant offers three unique CNY set menus this year – its Everlasting Blissful Set, Abundant Prosperity Set and Abundant Fortune Set ranging from $128 for 3 pax to $738 for 10 pax. All sets start off with the traditional salmon Yu Sheng and Dian Xiao Er's Signature herbal roast duck amongst an array of other sumptuous selections such as fish maw or shark's fin soup, golden spiced crayfish, nestum fish slices and even coffee spare ribs!
Dian Xiao Er
Level 3, Terminal 3 (Public area)
Opening hours: 10.30am to 11.00pm daily
Apart from culinary delights, enjoy the myriad of dining and retail promotions at Changi Airport.
Located at B2 of Terminal 3, there will be a CNY Bazaar with eight booths selling Chinese New Year goodies, décor and gold coins. Visit the bazaar towards the end to score great deals! The bazaar is open from 8 Jan to 6 Feb 2016 from 10.00am to 10.00pm.
Do book early to avoid disappointment as we are hearing that these spots are filling up especially quick this year! All the promotions above run till Feb 22.