Active volcanoes are a whole other beast in the realm of hiking. Characterised by rising steam, lava craters and an ever-changing landscape, active volcanoes make for spellbinding hikes. Experience the wrath and beauty of mother nature by hiking these active volcanoes found around Asia.
1. Ijen volcano, Indonesia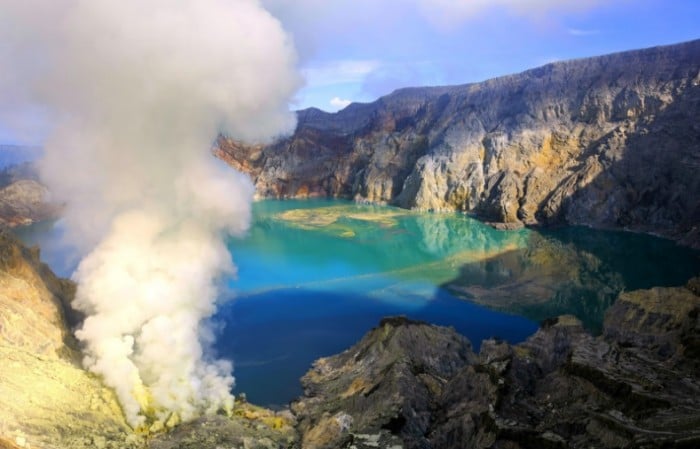 Image credit: CEphoto, Uwe Aranas
Let's kickstart this list with a fascinating volcano in Indonesia. Ijen volcano, located on the Pacific Ring of Fire and part of the Ijen volcano complex, is home to a gorgeous turquoise crater lake. We know it looks temptingly refreshing, but do not take a dip, not even a finger-dip! It's an acidic, sulphur-rich lake.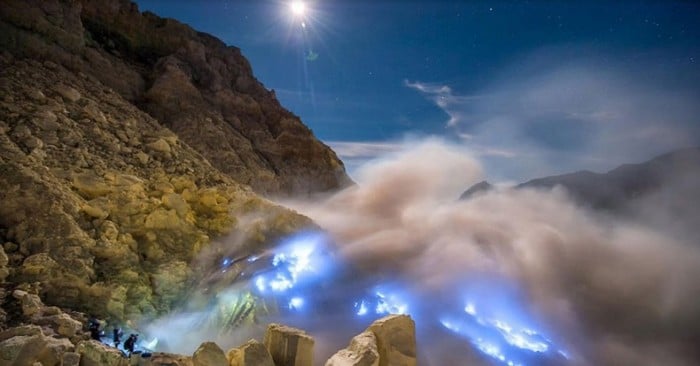 Image credit: Alucino Pepinillos
While the crater lake is already a sight to behold, the blue flames of Ijen, which can only be viewed at night, is an unparalleled incredible phenomenon. Often misreported as blue lava, the fire is set ablaze by sulphuric gas at temperatures as high as 600 degrees celsius. Hikers have to wear gas masks to brave the noxious fumes for a glimpse of this mesmerising sight.
Also read: 5 Mountains in Indonesia with the Most Spectacular Views
2. Mount Merapi, Indonesia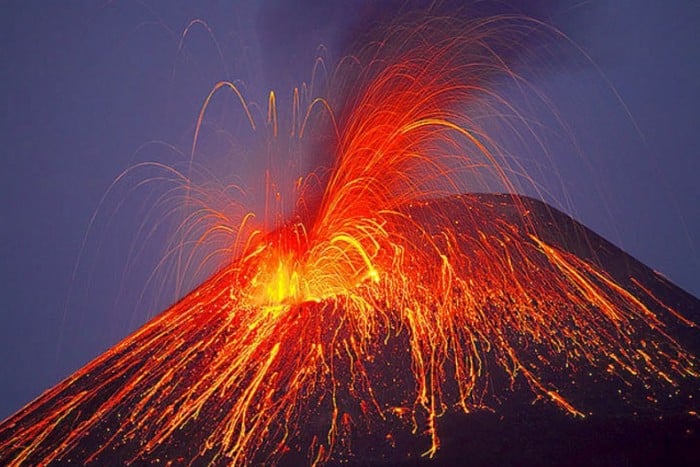 Image credit: Walter Lim
Along the same volcano complex is Mount Merapi, the most active volcano in Indonesia hence its name which means "Mountain of Fire". If you decide to bite the bullet and take on this mountain, you will be rewarded with stunning views of the surrounding Mount Sindoro, Sumbing, Lawu and Merbabu.
The climb to the summit will require hikers to begin their ascent in the middle of the night, to avoid the sweltering afternoon heat while returning back down. Hikers are also expected to be adequately fit as the four-hour climb will be physically demanding from start to finish, with slopes that rarely go below 45 degrees and treacherously unstable rocks. Make sure to get plenty of rest and preparation before attempting this journey!
3. Mayon Volcano, Luzon, Philippines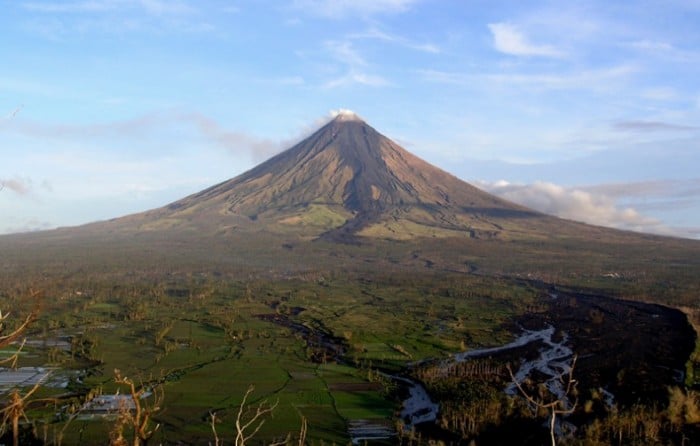 Image credit: Tomas Tam
Some people say that facial symmetry is a measure of beauty, and people with symmetrical faces are most beautiful  That explains why Mayon Volcano was named after a legendary princess named "Beautiful Lady". It's considered the world's most perfectly-formed volcano, with symmetrical slopes leading up to the summit. Getting close to the smoke billowing at the narrow peak is incredibly satisfying.
Interested hikers can sign up for various routes around the volcano, depending on their level of fitness. Visitors looking for a sneak peek of Mayon Volcano without too much effort can skirt around the foot of the mountain in relaxing treks, whereas more experienced climbers should opt to push on further up to enjoy the breathtaking views of the city of Legazpi and the Pacific ocean.
Do be warned, however, that Mayon Volcano is still known to unexpectedly spew out rocks and ash at times. The latest incident in 2013 claimed five lives from a tour group as they were making their ascent, despite the volcano not showing any signs of activity the day before.
4. Sakurajima, Kyushu, Japan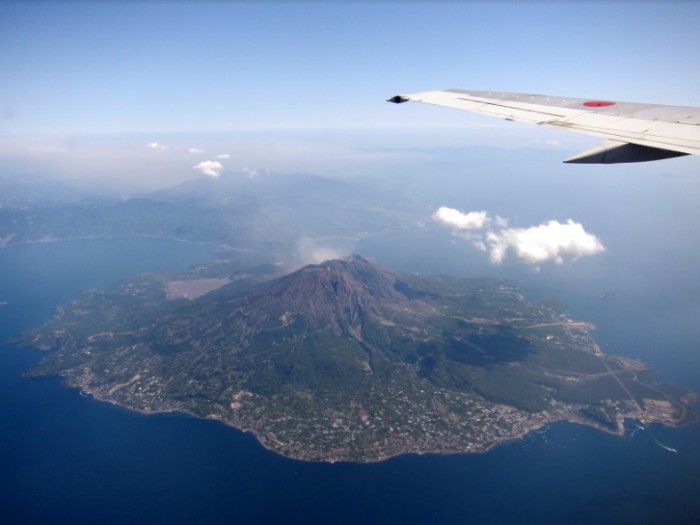 Sakurajima, which means "Cherry Blossom Island", used to be an island but is now connected to Osumi Peninsula after an eruption. This volatile volcano with a pretty name still spews large quantities of volcanic ash into the air. The volcano is constantly smouldering and mini-eruptions occur daily. Check with authorities if it is safe to hike to the peak; if it's too dangerous, you can still hike along some lovely trails at the base and soak in onsens!
At the moment, the closest visitors can approach the active crater is at the Yunohira Observation Point, which stands 2.5km away from the craters and 350 metres high above sea level. Here, hikers can enjoy the eruptions from a safe distance and walk a short way back to the ferry terminal after their adventures around the island!
5. Guishan Island, Taiwan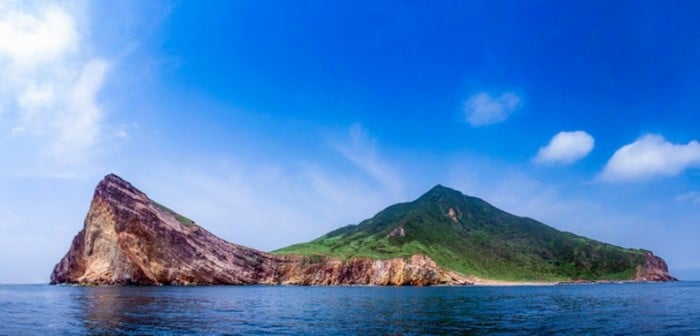 Image credit: Tony Tseng
Guishan Island, also known as Turtle Island, earned its name for its uncanny resemblance to a large turtle. Active volcanic activity has created a hot spring under the island in the sea, which is rumoured to cause the tail of the island to "swing". Supposedly, depending on the weather, the island may look different – as if it had moved.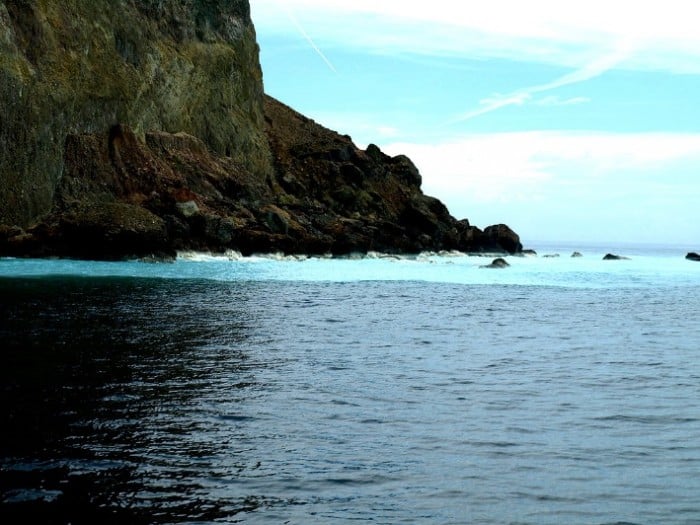 Image credit: 蒼穹綠野任遨遊
Sulphuric deposits and underwater fumaroles have resulted in startling water discolouration around the island. Getting on this island is no easy feat; the government only allows up to 350 visitors per day.
To book a spot, visitors will need to join a tour or apply online on a government site at least 3—20 days in advance. Unfortunately, the site is only available in the local language so you'll need to brush up on your Chinese or find a friend for help! Last minute bookings with the ferry company may vary in success, but if all else fails, there are other tours that bring you along the outskirts of the island for some dolphin and whale-watching.
6. Mount Rinjani, Lombok, Indonesia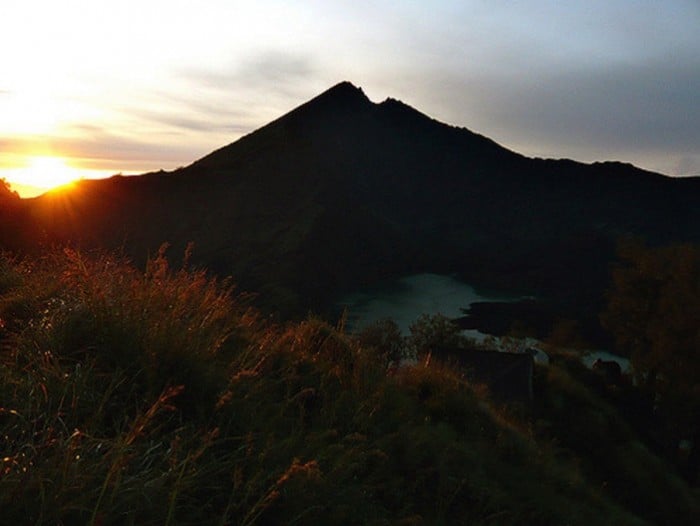 Image credit: Tanti Ruwani
Mount Rinjani soars to a height of 3726 metres above the sea level and it last erupted in September 2016. The climb to the top is no easy feat and hikers require a certified guide. Getting to the top is entirely worth it, though, as the view above a carpet of clouds is breathtaking.

Image credit: Thorsten Peters
If you're not keen on summiting this mountain, consider hiking to the famous crescent-shaped crater lake named Segara Anak, which means "Child of the Sea", instead. Eruptions within the crater formed a small new cone called Gunung Baru, which means "New Mountain", at the west end of the lake. There is a natural hot spring within the crater too!
7. Mount Aso, Japan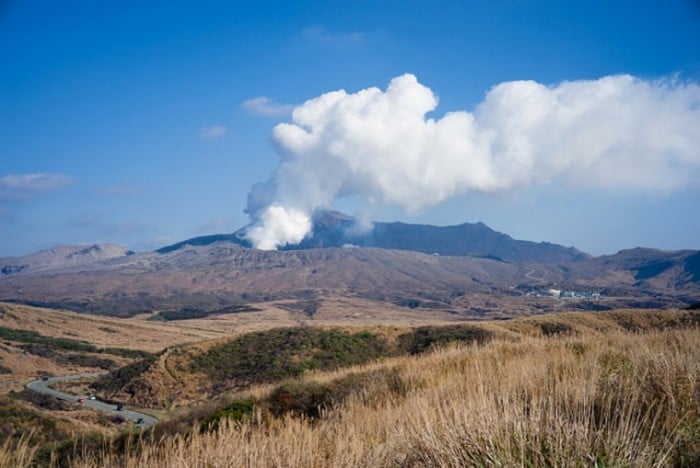 Image credit: Wong Kenny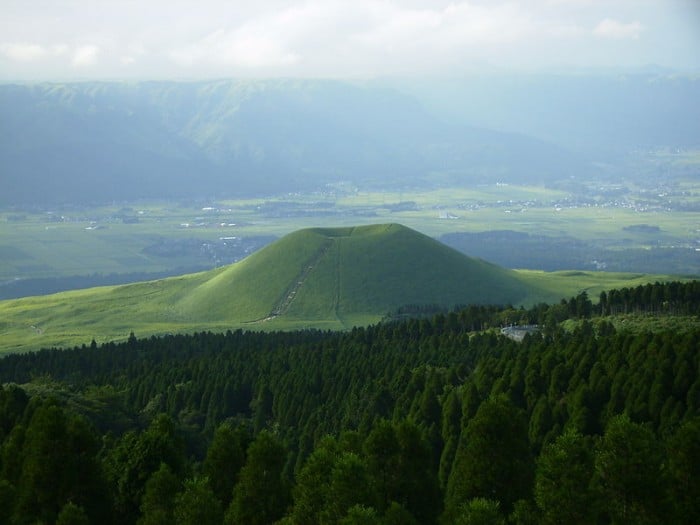 Image credit: Vickerman625
Welcome Japan's largest active volcano, Mount Aso. This volcano, located on the island of Kyushu, has the world's largest caldera – so big that it even has a little hill called Komezuka within it. The biggest draw is a steaming cyan crater lake in one of its five peaks. Mount Aso is one of the best active volcanoes for travellers to visit, as it is well-developed and home to many comfortable hot spring resorts.
8. Mount Kelimutu, Indonesia
Image credit: Rosino – [1] & Neil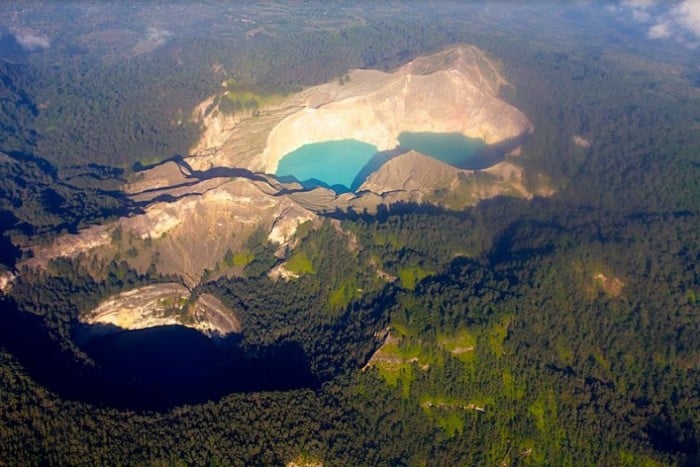 Image credit: Michael Day
You simply have to witness the startling tri-coloured lakes at the summit of Mount Kelimutu – It's seriously earth porn! Volcanic substances cause the colour-changing lakes to shift from blue to green to black…and sometimes even red. Make your way to Flores Island and brave the arduous climb to capture this once-in-a-lifetime view.
9. Mount Fuji, Japan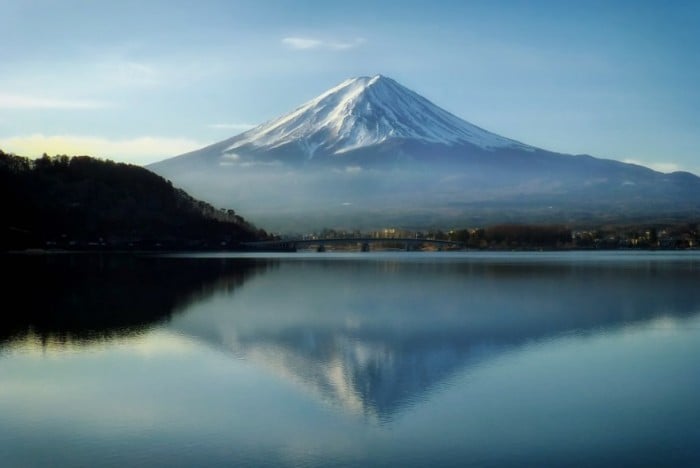 Mount Fuji needs no introduction. This international icon of Japan has been worshipped as a sacred mountain and has inspired countless artists and people throughout centuries. It's famed for being almost perfectly shaped. Make this hike when the trails are open from July to August and don't forget to visit the hot springs in the area.
10. Mount Bromo, Java, Indonesia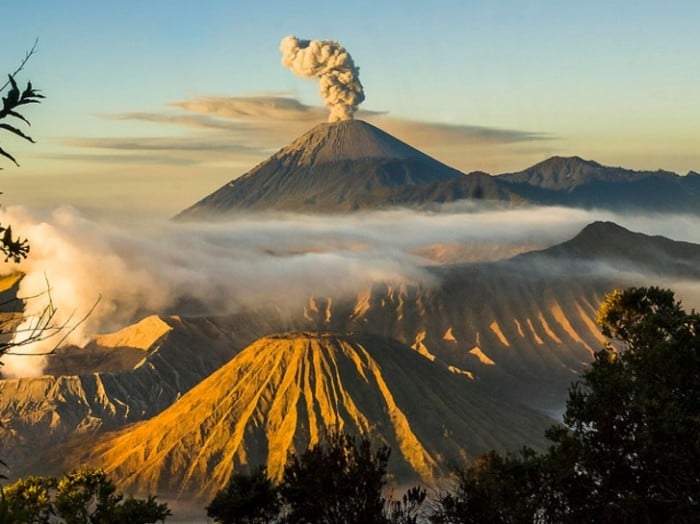 Image credit: celebrityabc
The majestic giant known as Mount Bromo is the most hiked mountain in Indonesia. Its last eruption was in 2011, and white sulphurous smoke still billows out of its crater everyday. The sunrise from the peak is spectacular and it also has many vantage points for great photographs. Surrounded by a sea of sand, these otherworldly peaks take the cake.
Climbers can first hike up to Mount Penanjakan, the highest viewpoint and easiest accessible around the area, for a fabulous view of the area. The beautiful sunrise over Mount Bromo is a great reward to those who pull themselves out of their bed early for the trek! While climbing Mount Bromo, visitors can opt for a jeep or horseback ride if they don't feel like legging it to the crater. Surgical masks will also be handed out by tour guides when you're nearing the summit. Although silly in appearance, the masks are essential when the ash gets thicker at the peak!
11. Mount Pinatubo, Philippines
Set your eyes on gorgeous Mount Pinatubo, one of the most popular volcanos in the Philippines located on the island of Central Luzon. Possessing both evidence of destruction and beauty, the hike to the summit of Mount Pinatubo is carved out with lahar canyons, rocky trails and lush forests.
The dark side of this beauty was witnessed in 1991 during the second largest volcanic eruption of the 20th-century. The violent eruption, Pinatubo's first in almost 600 years, killed 722 and caused massive infrastructural damage. The ash and dust emitted by the volcano had also caused global temperatures to drop significantly.
Today, the volcano is a popular hiking spot amongst locals and tourists. Located only three hours away from Manila, tours can be arranged for travellers to safely hike to the summit. Sought for its breathtaking beauty, hikers who make it to the caldera get to enjoy hypnotising views of the turquoise crater lake surrounded by the peaks of Pinatubo's crater!
12. Mount Kusatsu-Shirane, Japan

Towering over the town of Kusatsu in Japan's Gunma prefecture stands the magnificent Mount Kusatsu-Shirane. During the blooming season, hikers can enjoy the beautiful view of seasonal flowers while climbing the volcano. When winter comes along, experience skiing downhill at nearby ski resorts instead! At the volcano's summit lies its crowning jewel — the emerald green Yugama crater lake!

Since the recent eruption of Mount Kusatsu-Shirane in January 2018, the volcano alert has been raised to level 3. Fearing avalanches and tumbling rocks from the peak, the volcano is not to be scaled at the moment. If you are planning to hike up this grand beauty any time soon, do look out for alerts and notices from the Japanese Meteorological Agency on when this volcano would be deemed safe to climb again.
Also read: 10 Mountains in Southeast Asia with the Most Incredible Views
Take hiking to a whole other level with these 12 active volcanoes in Asia. From flaming lava to calming blue crater lakes, these dazzling sights will be burned into your memories. Talk about a mind-blowing experience!