Do you want to know why Filipinos always end up spending a lot when they travel? They buy way too many souvenirs for people back home. The local term Filipinos have for this is pasalubong, which means, "something for welcoming me back". Relatives, close friends, not-so-close friends, workmates or classmates — yep, they'll all get something when a Filipino comes home from a trip abroad.
Also read: 10 Bizarre Filipino Foods to Try – If You Dare
The act of handing out "presents" from your travels is usually seen as a sweet gesture. It shows the people you care about that they've been remembered while you were away. So why not take a page out of the Filipino book and do the same when you visit the Philippines? I mean, you probably have relatives missing you and officemates covering for you while you're away, right? I'm sure they'll all appreciate the thoughtful gesture. But just a piece of advice: Don't get them generic magnets or keychains. Those are boring and impersonal! I suggest buying local delicacies instead — stuff they can actually consume and can't easily purchase home.
Here are my suggestions for yummy treats from the Philippines that are well-loved by locals and tourists alike:
1. Chocolate peanut bars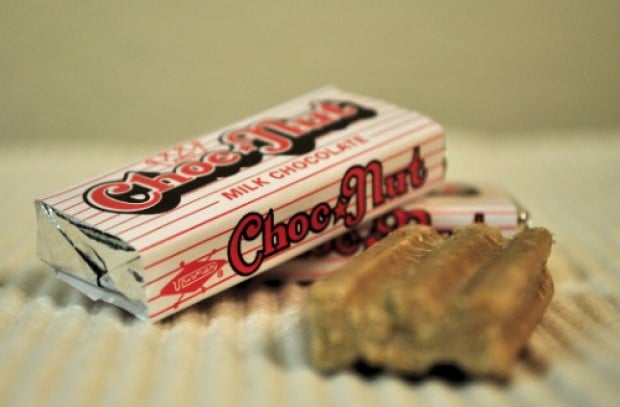 Image credit: 365 Great Pinoy Stuff
Looking for a snack to bring home to kids? Put down those M&M's and grab some Choc-Nuts instead!  These powdery peanut and milk chocolate bite-sized bars have had a local following for years. How come? Well, they have a unique addicting taste, are extremely affordable and can be found in every supermarket in the country. Buy a couple of packs for the little ones because trust me, once they try one, they'll surely be reaching for more.
2. Beer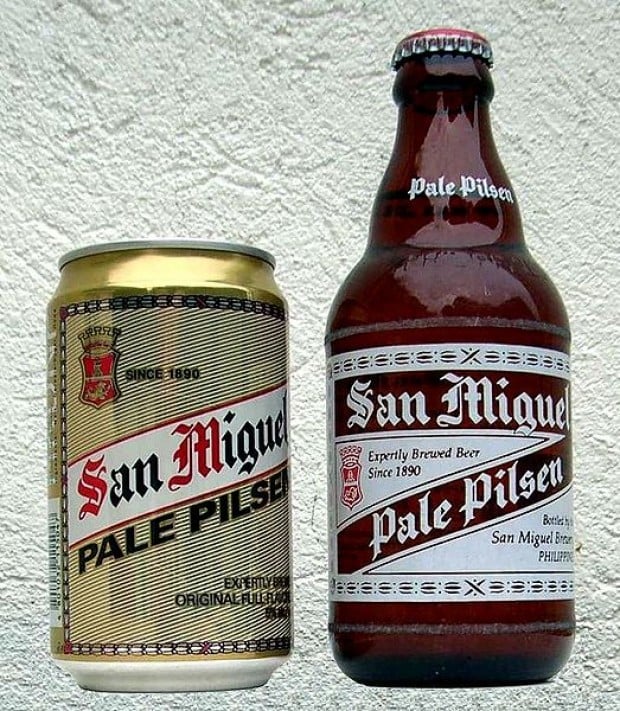 Image credit: San Miguel
San Miguel is the best-selling beer brand in the Philippines. Its Pale Pilsen has been around for 125 years and is considered the go-to beer of local drinkers. Hoard a few bottles (or cans) and bring them home to your friends. Just make sure you check the duty-free alcohol import limit of your country before doing so to ensure you won't pay exorbitant taxes when you return home.
3. Ube halaya (Purple yam jam)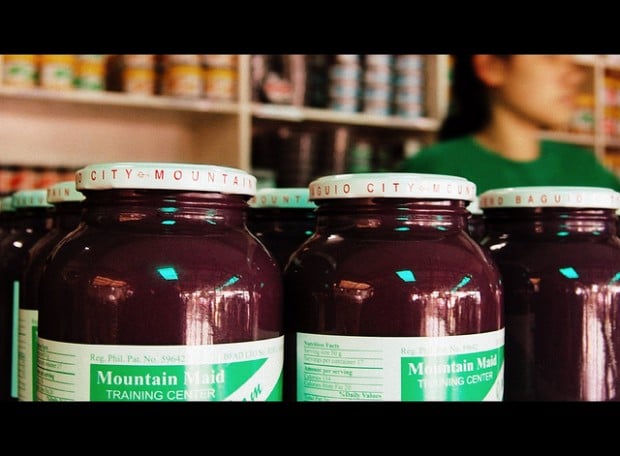 Image credit: Shubert Ciencia
Ube halaya is a popular dessert in the Philippines that is made by mixing mashed purple yam with condensed and evaporated milk. Hands down, the best jam is produced by the entrepreneur-nuns of the Good Shepherd Convents in Baguio and Tagaytay. These nuns have been creating this jam since the 70's and have perfected its smooth and creamy consistency. So whilst on a road trip, don't forget to drop by the convent to grab a jar — or two!
4. Pastillas de leche (Soft milk candies)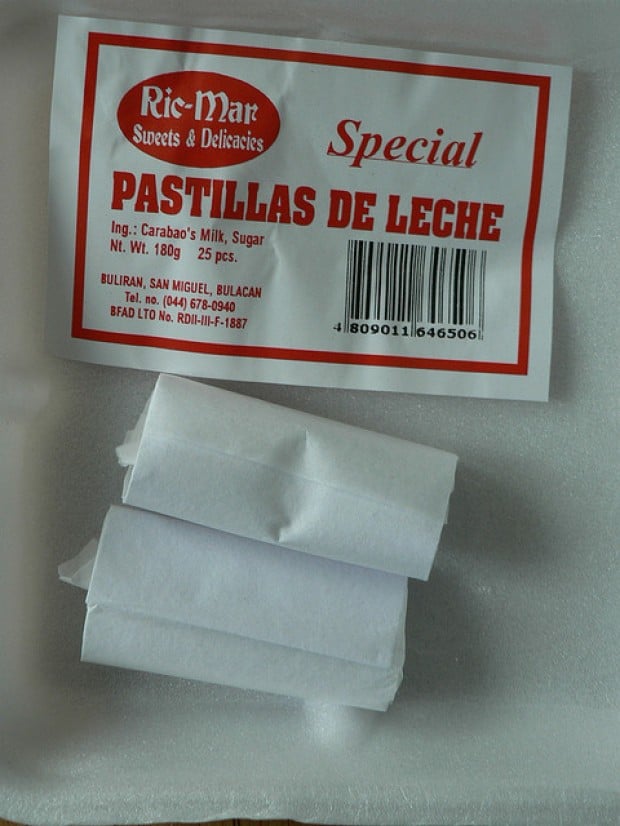 Image credit: Christina B Castro
Don't be fooled by the plain white wrapper. This soft candy tastes more appealing than it looks. Although made from simple ingredients such as fresh carabao milk, butter and white sugar, this Filipino favourite is definitely yummy! It's one of those melt-in-your-mouth treats that'll have you wanting more. Packs of pastillas de leche are relatively easy to find but if you want authentic-tasting ones for your friends back home, check if they're from Bulacan, which is said to be where these sweet goodies originated from.
5. Ensaymada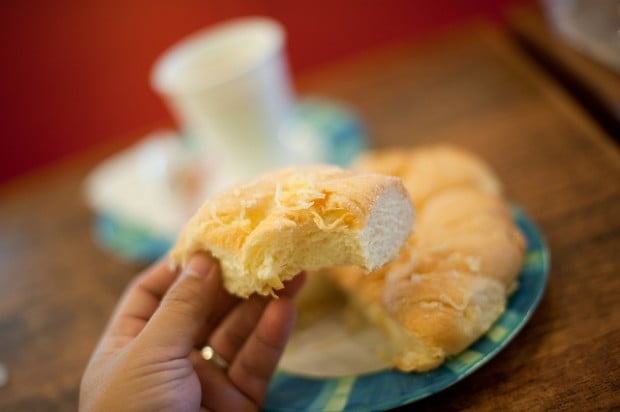 Image credit: dbgg1979
Since the Philippines was a Spanish colony for more than 300 years, many of the country's dishes and snacks were adopted from Spain and then given a local twist. Ensaymada is one of those. Topped with sugar and grated cheese and commonly served with hot chocolate, this soft bread is just right for merienda (light morning or afternoon snack)! If you want to bring some home, buy them on the day of your flight so they'll be freshly baked.
6. Polvoron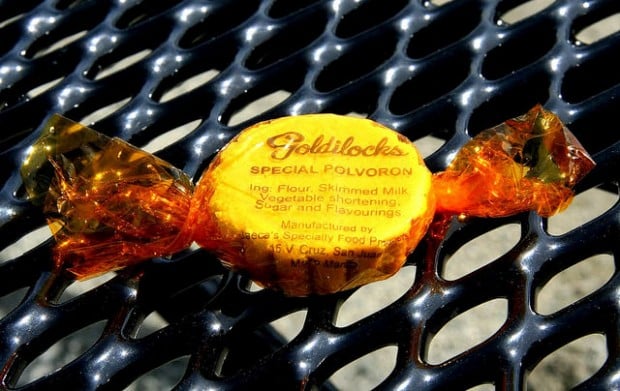 Image credit: Travis Wise
Polvoron is a crunchy and crumbly fun-to-eat snack that comes in different flavours. Head over to Goldilocks and buy a few in distinctly Filipino flavours such as pinipig and cashew.
7. Chicharon (Pork rinds)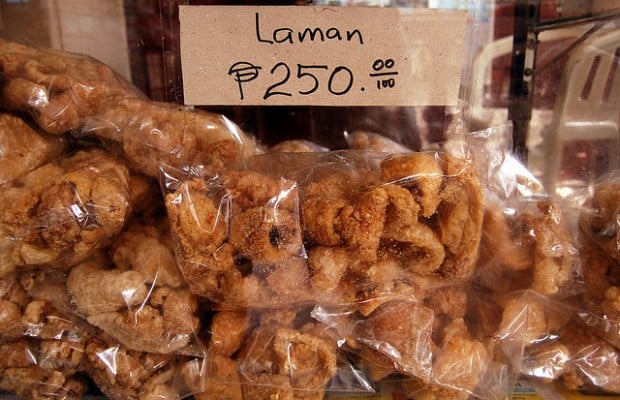 Image credit: Shubert Ciencia
Chicharon is a popular deep-fried pulutan (finger food) in the Philippines because it tastes oh-so-good when paired with alcoholic drinks. Thus, it also makes for a great pasalubong for your drinking buddies! Okay, so it's not the healthiest gift in the world. But everyone should indulge in yummy calorie-laden eats once in a while, right?
Also read: 25 Popular Street Food & Snacks to Try in The Philippines
8. Champorado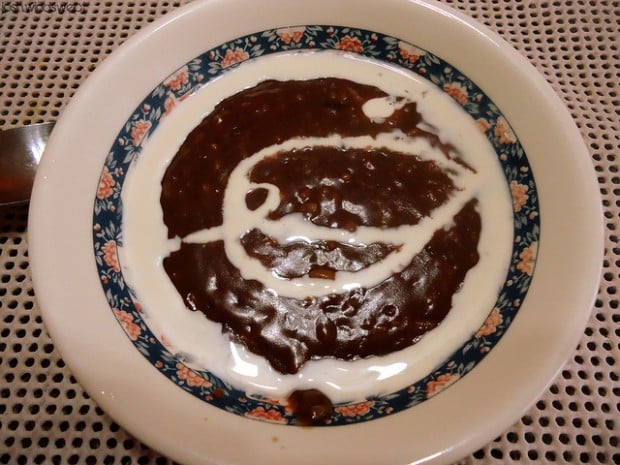 Image credit: josh james
I'll completely understand if you think you'll miss starting your day with a steaming bowl of champorado when you leave the Philippines. This chocolate rice porridge is a breakfast favourite of many locals too. But don't worry! There's such a thing as instant champorado so you can definitely take this comfort food classic home with you and share it with your loved ones.
9. Dried mangoes
Image credit: Max
If all else fails or if you're on a rush, grab packs of this quintessential Filipino pasalubong because you can never go wrong with dried mangoes. Although widely recognised as a specialty of Cebu, this chewy snack can now be found everywhere in the country – supermarkets, convenience stores, airports, among others. If you're lucky, you might even find Belgian chocolate-covered variants, which will be perfect for your self-confessed chocoholic friends. I know what you're thinking, "Mango and chocolate? Seriously?!" Trust me, they'll love it! It's a killer combo!
Any other Filipino delicacies to add to this list?