Psst, travellers! Weary of being amongst the throngs of tourists that flock to popular travel destinations every season? Itching for a vacation that gives you an all-in-one experience – the adrenaline rush, steep culture, and vast landscapes studded with romance by the sea? If you haven't been to Davao, take your chance.
Located in Southwest Mindanao, Davao is one of the fastest growing cities in the Philippines. It boasts of its "royalties" – its "king" referring to the Philippine eagle, as well as other national treasures like the durian, waling-waling (a rare orchid species), and Mount Apo (the tallest mountain in the Philippines).
I had the opportunity to visit Davao under the Traveller Influencers Programme with seven other lovely individuals courtesy of Cebu Pacific Air earlier this August, and I can't wait to share with you the fun-packed five-day itinerary that had us dragging our feet to leave the beautiful city at the end of our trip. Without further ado, this is how we all explored Davao City:
Day 1: Singapore → Davao, Philippines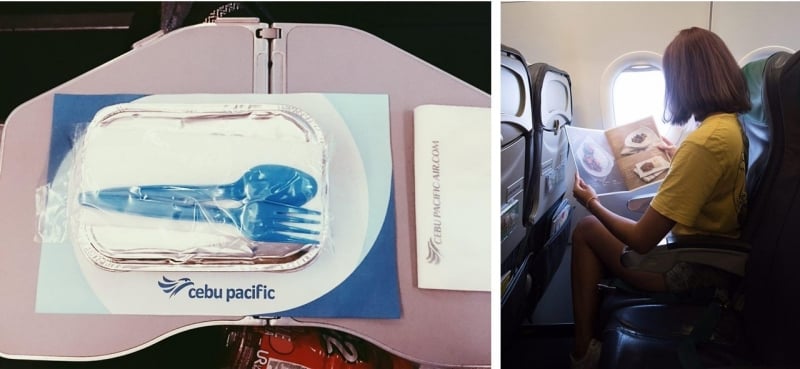 Our journey to Davao began in the evening when we boarded a Cebu Air Pacific flight. Even though the four-hour flying time is relatively short, we were still treated to a comfortable flight with spacious legroom available in our bulkhead seats. We were also served a filling dinner of beef kare kare, a traditional Filipino stew that is complemented with a thick savoury peanut sauce.
Touching down in Davao at around 2am, we found our dedicated tour guides patiently waiting for us at the arrival hall. A bumpy 30-minute ride from the airport brought us to Seda Abreeza, where we could crash and spend the night.
A chic hotel, Seda Abreeza makes a great first stop for weary travellers to get some well-deserved rest and have their first taste of Davao's culinary offerings. It's located in close proximity to a 7-Eleven and the Abreeza Mall where you can give your wallet some exercise!
Day 2: Feathered friends, chocolate and hilltop views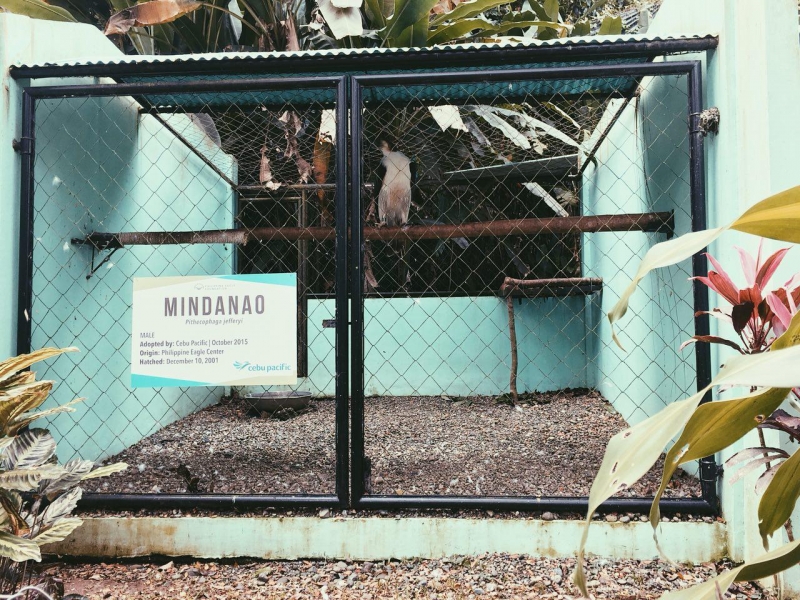 Rise and shine! After a sumptuous breakfast buffet at our hotel, we kicked off our Davao adventures with a trip to the Philippine Eagle Centre, a conservation breeding facility for the critically endangered Philippine eagle. Apart from Philippine eagles, there are also a number of other bird species, mammals and reptiles residing here, most of them endemic to the country and considered rare. The foundation also offers the opportunity for its wildlife-loving visitors to donate or even sponsor the care of an eagle.
The walk around the foundation under the shade of the generous foliage was relaxing. On top of witnessing some fascinating creatures, we were educated on the realities and problems of endangered wildlife. We saw birds in small enclosures and took heart in knowing that it is a temporary situation for most of the inhabitants and that the handles provide these animals a markedly better chance of survival and recovery compared to being left in the wild.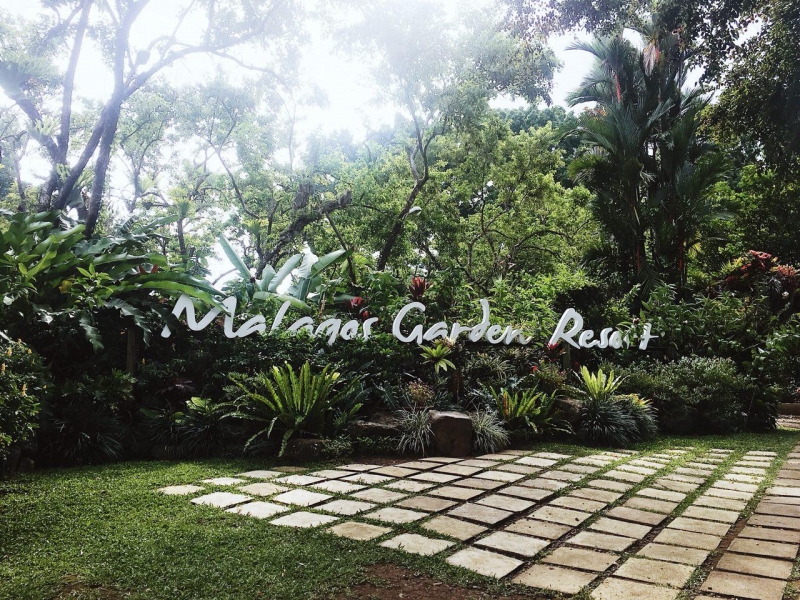 Our next stop was the Malagos Garden Resort, one of the most popular nature parks and resorts within Davao city. With close-up wildlife encounters, nature, adrenaline-pumping activities (think bike ziplines, treetop rope challenges, life-sized board games and more) for both kids and adults and even a chocolate-making laboratory, Malagos Garden Resort is a great day-trip destination for families. Should you wish to stay longer to explore the many entertainment options, there are idyllic accommodation choices too.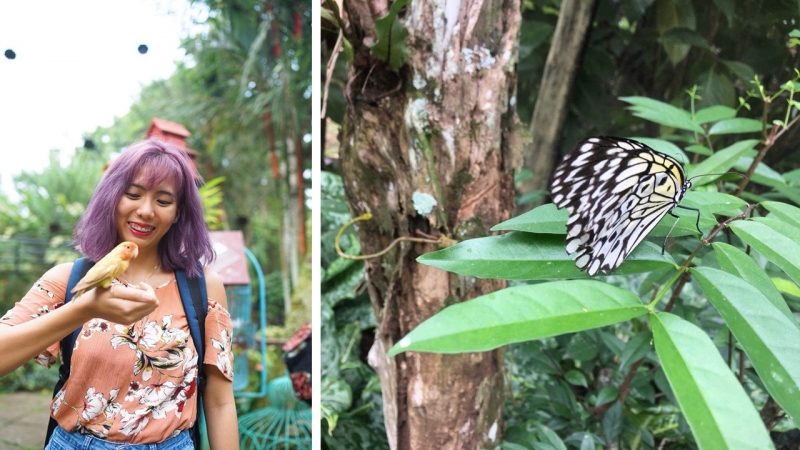 Upon arrival, we made a beeline for the Bird Feeding Dome, where for only 10 pesos, we got to have these multicoloured creatures flock to us and land on our hands, arms and even settle atop our heads while jostling for space in order to get a peck or two of the prized bird feed we poured onto our palms. We also made a visit to the butterfly sanctuary, a quaint little observatory garden where you could find these gentle insects resting atop a petal or fluttering around. You can also observe their interesting life cycles through various live displays.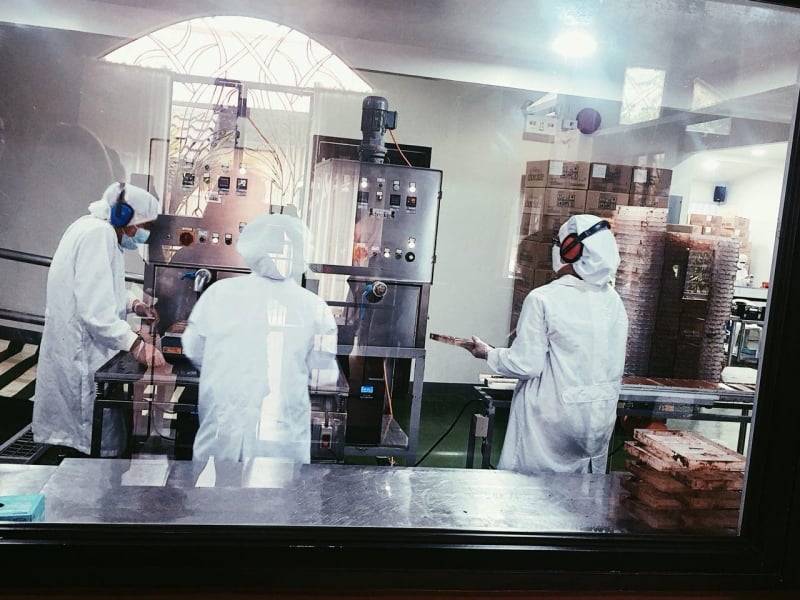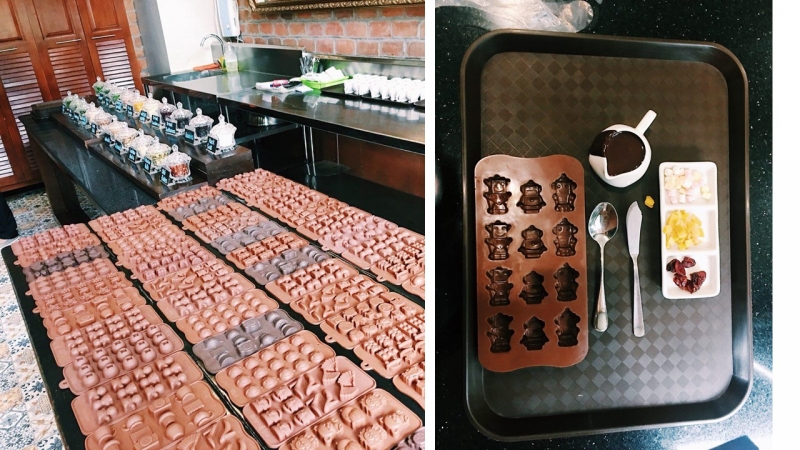 All that walking around eventually had us looking for a place to rest our legs, so the air-conditioned chocolate museum was a welcome sight. After learning fascinating information about the process of growing and processing chocolate, we headed to the Malagos Chocolate Laboratory where we could create and personalise a box of chocolates to take home!
I had a lot of fun choosing the design of my molding trays and chocolate toppings (marshmallow, dried mango and dried cranberries), and putting everything together. While the experience was messy, at least for klutzy-me, it was a simple and enjoyable activity that gave me something to take home and share with my loved ones.
Evening fell, and Ray, our cheerful tour guide, wasted no time in whisking us away to Taklobo, a restaurant located at the top of Shrine Hills, for lip-smacking pork knuckles and more kare kare (amongst other dishes, of course!) for us to feast on. The live musicians who serenaded us with renditions of Ed Sheeran against the backdrop of the city's stunning skyline made our first night out in Davao memorable.
If you're looking to warm up before heading back to your hotel, Karlo's Gourmet and Coffee, which is just across the restaurant, offers a wide selection of drinks and desserts, including a Durian Hot Chocolate which I snapped up immediately! As odd as the drink sounds, my order tasted more like molten durian puff than anything gag-inducing or peculiar.
Day 3: Whitewater rafting and seaside dinners

If you've been waiting for your dose of adrenaline rush, this is it. We checked out of Seda Abreeza in the morning to depart for Davao River, where we were going to get a taste of whitewater rafting in Davao. After signing our waivers, we geared up with our helmets and life vests and we were subsequently ferried to the banks of Davao river where we received an orientation on how to properly don our gear, raft and drift.

The moment our guide pushed the raft into the water, we were off! Along the river course that took us two to three hours, we had fun hitting the rapids and its "washing machine" highlights (which are really just major rapids of the river). We even had a little friendly competition with other rafters to get to the finish line with as few people falling out of the raft as possible.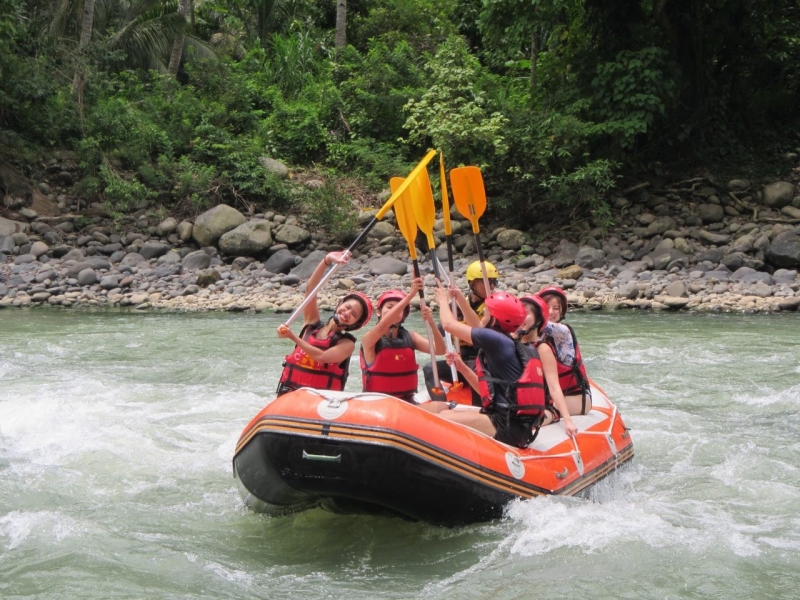 If you're an inexperienced rafter, falling out of the raft might seem like a daunting experience but fret not because you will be in good hands. On top of that, after rowing with the sun rays beating down on your back, the cooling waters might actually become quite inviting. Just tune into what your guide is saying and follow the safety procedures when it happens; making a splash is pretty much inevitable once you hit the rougher rapids. It might not look like it, but the rapids can be really shallow..
Towards the end of our rafting trip, my initial fears had completely dissipated and I was actually wishing for more rapids. Sadly, the beginner's route we embarked on couldn't give me what I wanted.

Following all the fun and excitement, we took a ride to the Pearl Farm Marina in Lanang Davao Beach Club where we managed to get a change of clothes and freshen up in time for a 45-minute ferry ride to our home for the next few days: the Pearl Farm Beach Resort.

The city attractions might be gorgeous, but the sights around Davao's only five-star resort, set on Samal Island, were dazzling. We were greeted by pristine beaches, gentle waves and the welcoming rays as the view of Pearl Farm's signature houses on stilts came into view. I had the pleasure of staying in the Mandaya House, which boasts an expansive space well-furnished with pieces that showed off the artistic cultural distinctions of Mindanao's tribes, a pocket garden, and a private balcony out front to just stretch out on and enjoy the chilly breeze.
A word of caution: this resort provides a true back-to-nature experience beyond having a backdrop of lush greenery. My friends and I had our fair share of encounters with the wildlife of Samal Island (think geckos, mice and house spiders) in our rooms, but that's just something to expect while lounging out on a resort island. Not to worry though; the faint of heart can easily call upon the resort's friendly housekeeping to help you take your little housemates outside!

Set in a breathtaking location, this resort is perfect for a romantic getaway with tender candlelight dinners by the beach. We were summoned to the seaside just as the sun began to set, and were treated to dinner underneath an idyllic tent fringed with palm leaves which added tropical vibes to the picturesque setup. Throughout the three hours of wining and dining, soulful renditions of international artists (think Ed Sheeran, Jay Chou, The Eagles and even Justin Bieber's Despacito) kept us company, filling in the gaps in conversation and just creating an overall relaxing atmosphere.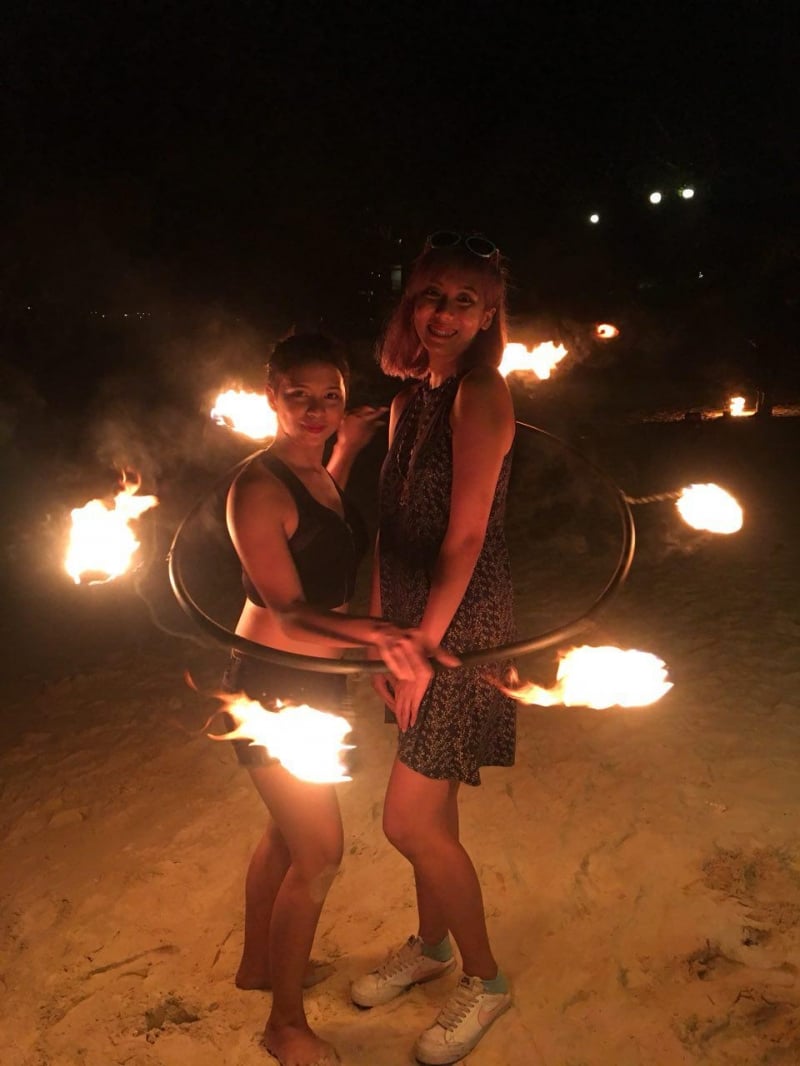 And how could we forget the grand finale which left us slack-jawed and wide-eyed – the thrilling performances put up by the island's very own fire dancers? Accompanied by energetic tribal beats, the performers never missed a beat as they tossed, twirled, danced and immersed themselves in the heat of their fiery contraptions, earning countless oohs and aahs from their audience.
Day 4: Bats, waterfall soaks and snorkelling in the company of giant clams

Now familiar with the luxurious offerings of Samal Island, it was time to venture further to discover its hidden gems. Our first stop after breakfast was the Monfort Bat Sanctuary, recognised by the Guinness Book of World Records for being home to a fruit-eating bat population of 2.5 million – the largest single colony of this kind. I was in awe of how systematically these highly sociable and intelligent creatures organized themselves in the five chambers of their home, with designated areas for pregnant mothers, young bats, male bats and senior bats to reside in as they moved through different phases of their life.
Be warned that the smell of bat droppings can get quite pungent depending on the wind direction; it sent some of us running across the grass to get away from it! Since no cleaning on the part of the sanctuary's caretakers can be done (the feces serve as a way to mark the bats' territory), it's better if visitors come aware and ready.

Fancy a dip? Take the plunge like we did at Hagimit Falls! The steep descent to the falls via a long stretch of stairs took a toll on our thigh muscles, so the refreshing chill of the water following our plunge made for a welcome sensation. Feel free to spend an afternoon being right at home with the helpful local guides; they will be more than willing to guide you to the best photo spots and take you on a tour inside one of the caves hidden behind the waterfalls! And if you're feeling peckish or prefer to explore more budget accommodations on Samal Islands, the waterfalls are right next to pretty cottages and open-air grills for rent.
to the entrance, you could choose to snorkel around the surrounding waters of Pearl Farm Resort. Unless you've brought your own gear, you will be handed basic snorkelling equipment from the staff after making your bookings, and off you go into the waters. We had a leisurely afternoon kicking lazily across the waters in search of giant clams, sea cucumbers, sea urchins and the colourful reefs sprawled across the ocean floors.
Day 5: Tribal Village, durians and bones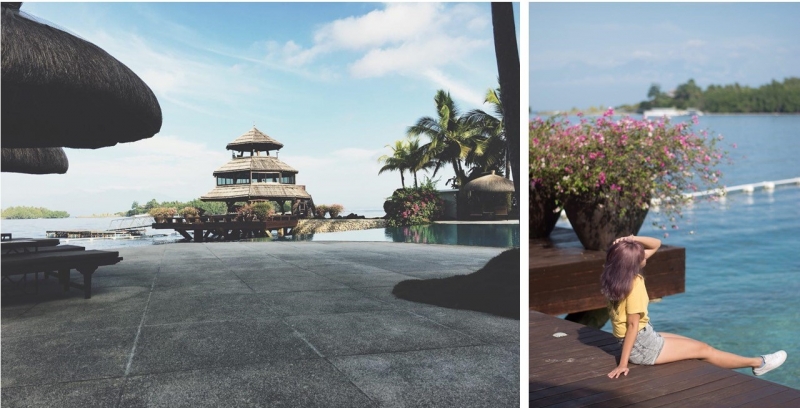 Alas, it was time for us to bid goodbye to the beautiful Samal Island. We had a couple of hours before our flight back to Singapore, so our guide brought us to Magsaysay Park, where preparations for the upcoming Kadayawan Festival (a celebration of life, thanksgiving for the gifts of nature, the wealth of culture, good harvests and the serenity of living) was in full swing.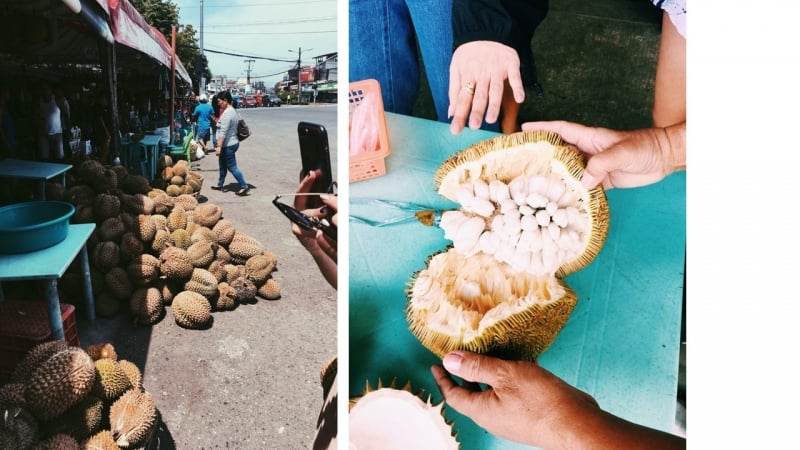 Before we entered the park, we were brought to the fruit stands just outside the entrance to have our taste of one of the national treasures of Davao – the durian. While we didn't manage to get a full tasting of all 11 known varieties of durian, we had the opportunity to sample the juicy flesh of three, namely Puyat, D101 and Kob. Puyat, the Philippines' main commercial durian variety, carries a strong sweet flavour while D101 has a more lightly coloured, but equally creamy flesh. For bitter durian fans, Kob White is the deal for you. Its extremely fatty flesh carries a multidimensional bitterness that had me going for servings after servings.
We also taste-tested the local mangosteens and this intriguing fruit called the Marang, a cousin of the jackfruit and a native fruit to Mindanao. It has a peculiar smell akin to that of durians but less pungent, but the white pulpy arils were a sweet, creamy treat that slid down my throat.

Onward into the park! After spending so much time with modern amenities and enjoying life to the fullest on Samal Island, the sights and sounds of the local tribes gathered in the park were an invigorating change. Outside of the festival, the local tribes usually live as nomads in the mountains away from modern civilisation. Only recently have they been gathered by the government to take part in this annual festival.
We were treated to the traditional courtship dance of the Klata tribe, the opportunity of trying on their traditional outfits and admiring the cultural architecture of their houses. We would have loved to stay on to catch the festival rehearsals of such a big event, but time was not on our side. To hopeful Davao visitors, make sure to mark out the main locations of the Kadayawan celebrations if you happen to visit in August and head on down to be one with the cultural events!

Our final stop was D'Bone Collector Museum, where we got up close and personal with animals from all around the world, including the depths of oceans and the wide savannas. Animal and environmental enthusiasts would have an exceptional field day during the 20-minute tour of the museum. Our informative guide constantly fed us with interesting facts about each animal (did you know that turtle shells actually have blood vessels?) and educated us on the saddening consequences of what water pollution did to marine life.
While sombre on that note, the endless skeletal specimens on display had us pressed up to the glass and snapping away in order to preserve the memories of such rare sights.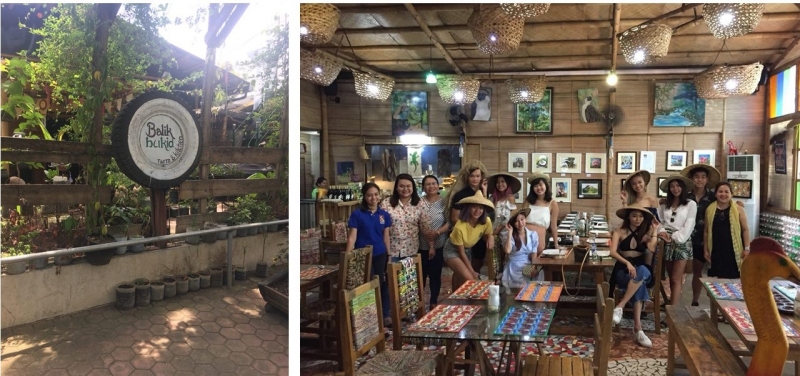 Our last meal in Davao was at the beautiful Balik Bukid restaurant, where environmentally-friendly features (think up-cycled chip bags as placemats and bottle-label chairs) were tastefully infused with authentic traditional aesthetic. Unfortunately, we had to skip the Davao Crocodile Park in order to make it in time for our flight – something that we were extremely disappointed about. Nonetheless, this attraction makes for another reason for us to visit this wonderful city again!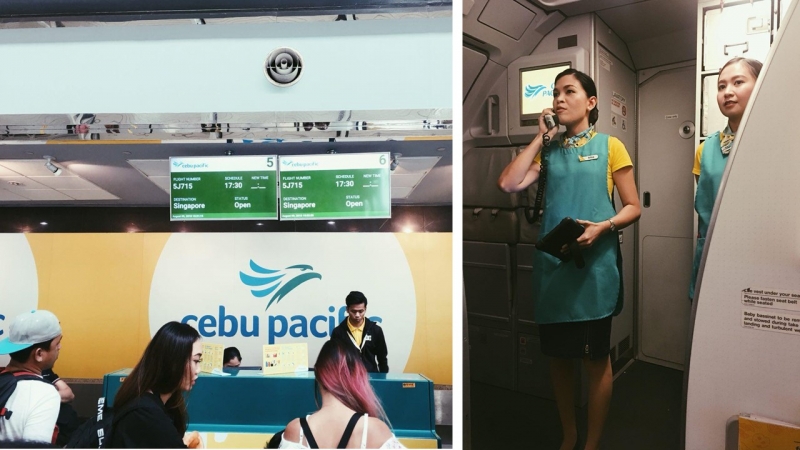 So there you have it – a diverse, adrenaline-driven cultural adventure itinerary around the Durian Capital of the Philippines! This fun-loving country is more than just the powdery sands of Boracay and the never-ending energy of Manila; hidden gems like Davao City have so much to offer and more! If you're considering to hit up road less travelled, then consider a visit to Davao. We guarantee you won't be disappointed!
---
Special thanks to Cebu Pacific Air for sponsoring this unforgettable trip!