Ah, Penang, the Pearl of the Orient. Unless you've been living (or travelling!) under a rock for the past few years, chances are you've heard of this magnificent city in Malaysia. In fact, in recent times, it's been ranked by many travel reviews as one of the very best travel destinations not just in the country or the region, but in the whole world!
From mouth-watering street food to artistic murals which don the streets, here are 22 things to do on your first trip to Penang. Or second. Or third. Actually, it doesn't matter how many times you've visited Penang, these activities always seem to captivate the traveller's mind every time.
Also read: A 2018/19 Insider's Guide to Penang's Newest Hipster Hangouts, Food and Cafes
1. Take a walk along Penang's Harmony Street
Penang's Street of Harmony is found along Jalan Masjid Kapitan Keling and is by far one of the places which best reflect the multi-cultural uniqueness of Malaysia as a country. The street is filled with multiple places of worship catering to different faiths and it's not uncommon to see devotees pouring in and out on a weekend or religious holiday. Some of the buildings include the Masjid Kapitan Keling (duh!), Kuan Yin Temple, St. George's Church, the Sri Mahamariamman Temple and many more. The famous Khoo Kongsi building is also located here.
Where to find the Street of Harmony: Jalan Masjid Kapitan Keling, 10300, Penang
2. Stay at a heritage building or museum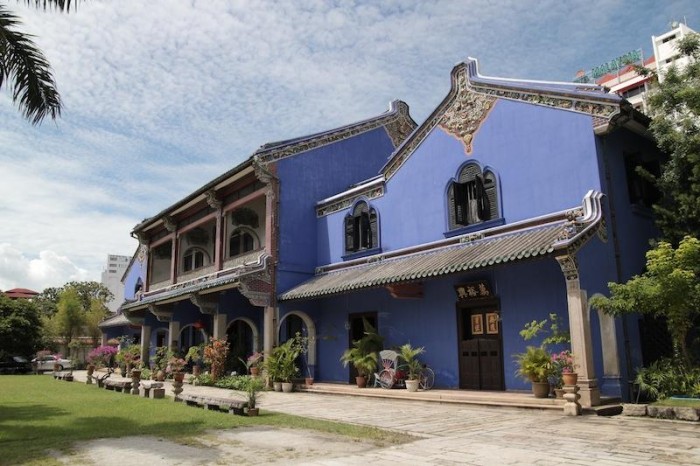 Image Credit: Mahen Bala
When visiting a place as steeped in history and heritage as Penang, it's safe to assume that not all buildings were built in the past 20, 30 years. This includes some restaurants and hotels. Known as refurbished heritage sites, visitors are allowed to spend the night in these buildings much like any other hotel or hostel. Some places, like the Blue Mansion, even has a museum within the vicinity! Other possible options include the Seven Terraces, a Perankan-themed boutique hotel refurbished from 19th century Anglo-Chinese terrace houses. These places carry a deep link to Penang's history and certainly projects a different ambience compared to the Hard Rocks and the BayViews.
Where to find the Blue Mansion: 14, Leith Street, 10200, Penang, Malaysia
Where to find the Seven Terraces: Lorong Stewart, 10300, Penang, Malaysia
Also read: Penang Isn't Just All Food! Here are 10 Hotels & Resorts Under $200 Per Night For Your Next Weekend Getaway
3. Play Hide & Seek With The Street Murals of Penang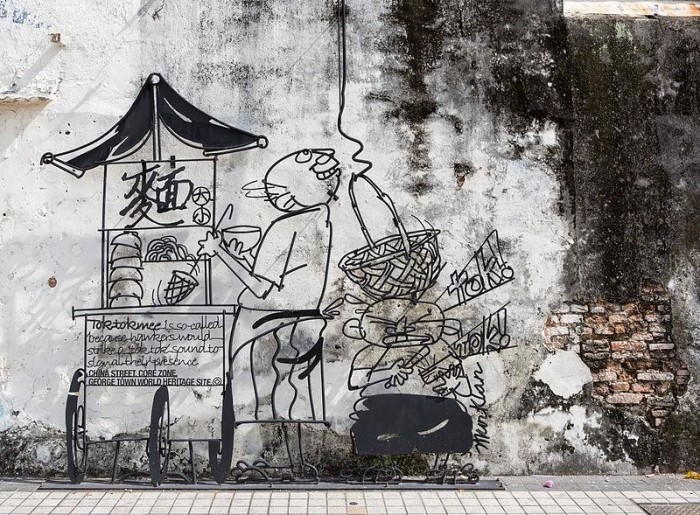 Image credit: CEphoto; Uwe Aranas
I think it was around late 2009 or early 2010 when my friends started posting pictures of themselves standing next to creative murals along the streets of Penang. It wasn't long before tracking down these works of art became the next 'it' thing in Penang tourism, even for locals! The streets of George Town are literally filled with these interesting pieces and is one of the main reasons why there are so many more bicycles on the street on the island now than say, 10 years ago. Due to the sheer number of art murals in the city, hunting for them all is a legit day-long activity and most likely (and for your sake of convenience), it would be ideal to rent a bike (some hotels have rental services specifically because of this).
And just in case you DO want to visit them all, here's a map of the locations where you can find them. Good luck.
Also read: Penang Food Guide: Best Places to Eat as Recommended by a Local
4. Embark on a culinary marathon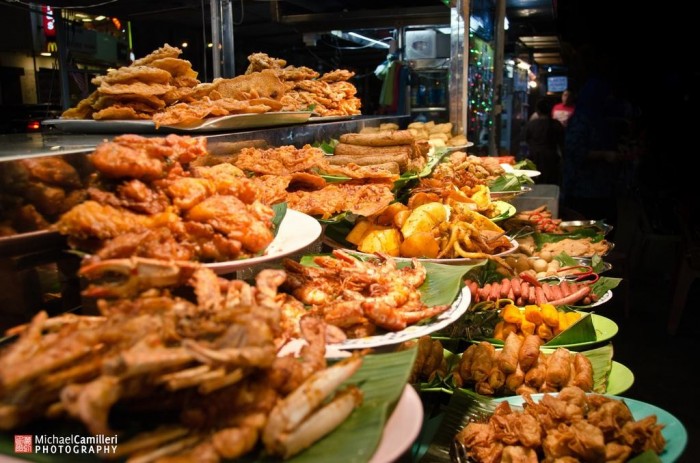 Image credit: Michael Camilleri
Having covered Penang's street art, I think it's only fair (and probably required by law) to start talking about Penang Street FOOD. Penang is consistently ranked as one of the best food paradises in the world and it would take a brave soul to argue against that. From hawker food staples like Char Koay Teow to delicious broths like Penang Laksa, and even to scrumptious after meal delights like Rojak, Penang has it all. So much so that 'Penang' has become a sort of brand in Malaysia's culinary field. I swear, while studying in Kuala Lumpur, I've had my fair share of 'Penang Famous This And That' which I've never actually seen in Penang before! Hah! But certainly, if you don't go on a food hunt in Penang, your palette might just hate you forever. There are many food courts and hawker centres across the entire island, but a good place to start would be along Gurney Drive. Be warned as it could get really crowded on certain days and seats would be at a premium.
Where to find Gurney Drive Hawker Centre: 172, Solok Gurney 1, George Town, Jelutong, Pulau Pinang, Malaysia
5. Go Café/Bar Hopping across the island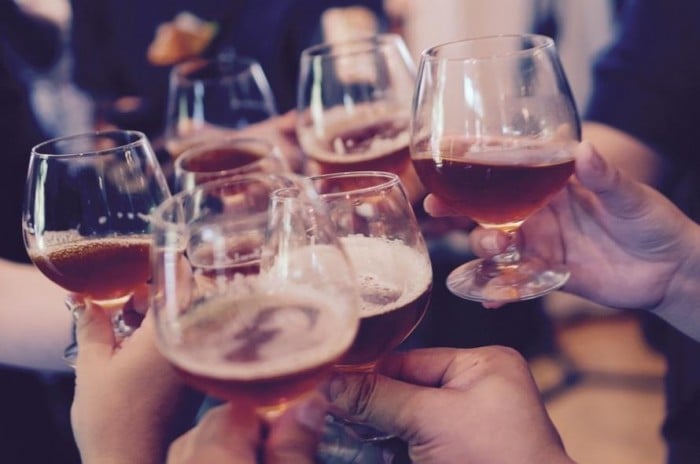 Image credit: unsplash.com
As a bustling port island city, Penang has no shortage of cozy concept cafes, classy bars and party-like-there's-no-tomorrow clubs throughout the island. One of the best things to in Penang on your first visit is to go on a day-long café and bar hop. Some cafés which I personally recommend are the Mug Shot Café (great yoghurt and sandwiches AND you get to take a mug shot!) and Tavern in The Park (takes the word 'class' to a whole new level). If you're looking for a fun night out with drinks (do it responsibly though), then head on over to Straits Quay which is something like Singapore's Clarke Quay, I suppose. It's got a wide selection of chain pubs and independent bars with a killer night view. It's also got a seafront retail marina! What more can you ask for?
Where to find Straits Quay: Jalan Seri Tanjung Pinang 10470 Tanjong Tokong, Penang Malaysia, Malaysia
6. Throng the Little Penang Street Market for bargains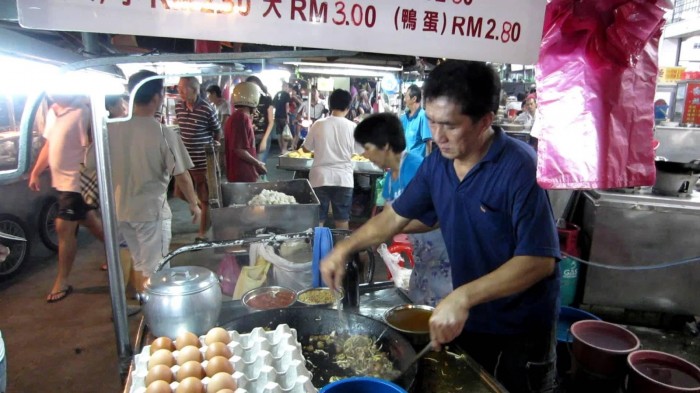 Image credit: Screen cap from Youtube user Matt Chia
As it is with many top tourist destinations in Asia, street markets are a thriving business in Penang. The Little Penang Street Market, however, is one of those fairy tale stories of how a little community project that was started in 2006 somehow manage to grow into a staple of Penang street market lore. Every last Sunday of the month, the Little Penang Street Market brings to the streets beautiful hand-crafted souvenirs and (was there any surprise about this?) food, along with lively street performances and sometimes even book readings. It's usually a brilliant atmosphere perpetuated by friendly vendors. The street market opens from 9a.m. and buzzes until about 5p.m.
Where to find the Little Penang Street Market: Upper Road, 2, Jalan Penang, 10300, Penang
Also read: Non-Stop Eating on the Penang Food Trail
7. Hop on a trishaw for a breezy tour of George Town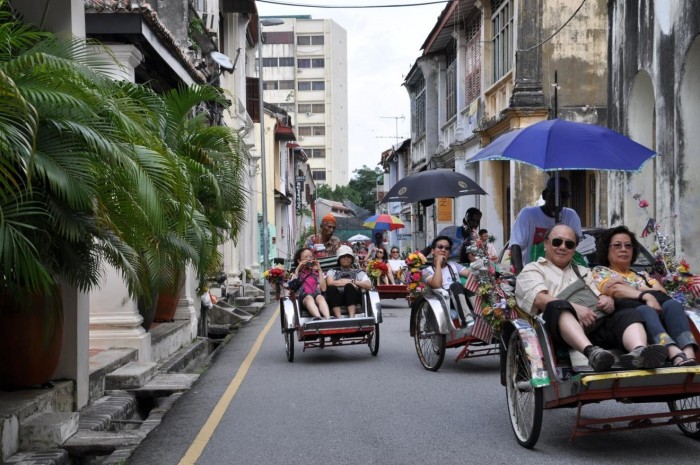 Image credit: Shankar S.
Well, in Penang, apart from cars and buses, there are bicycles and…trishaws. Though it's gotten a little bit tougher to find these three-wheeled vehicles compared to the past, you can still find a number of trishaw peddlers around the George Town area and some near the pier of the SuperStar Libra cruise ship. It's a nice and traditional way to get from point A to B in the city or simply for a breezy tour around Georgetown. (Psst, it's a great way to beat the crazy traffic in Penang). Though prices may vary between drivers, the general hourly rate should not exceed RM30.
Where to find trishaws in George Town: In George Town. Dude, they're technically three-wheeled chariots with bright umbrellas, just look around and you're bound to find one.
8. Pay a visit to the Kek Lok Si Temple at night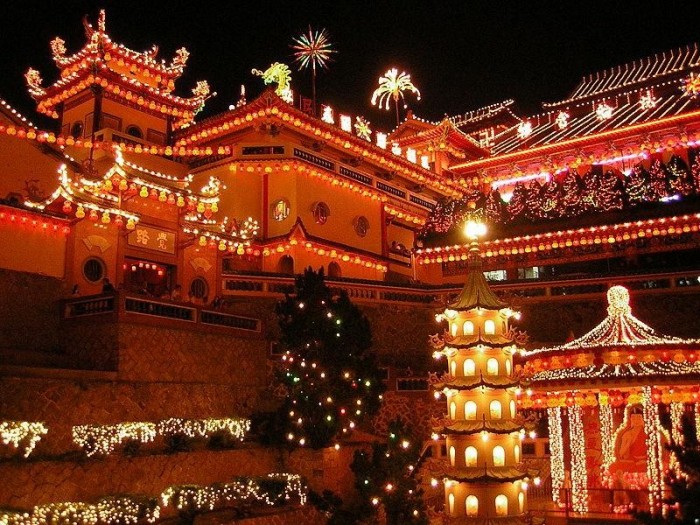 Image credit: Flying Pharmacist
The Kek Lok Si temple is one of the finest and largest temple complexes within the region. Adorned with many sculptures and carvings, and even more images of Buddha, the temple is an essential aspect of Buddhism and Chinese cultural rituals in Penang. The temple's architecture, with its many pagodas and archways, is even more enchanting during the Chinese New Year and Wesak Day celebrations as the temple will be covered in dazzling lights. It is also during those times when the temple is most crowded, usually by worshippers but also tourists who wish to soak in the serene atmosphere.
Where to find Kek Lok Si: Kek Lok Si Temple ,11500 Ayer Itam, Penang
9. Get your feet moving and visit the waterfall hilltop temple
Image credit: Tripadvisor
Moving now from a temple dedicated to Buddhism to one dedicated to Hinduism, the Arulmigu Balathandayuthapani Temple is one of the island's oldest Hindu temples. It is built in dedication to the deity Murugan and to get to the top, you would have had to climb…wait for it…500 steps. Make it and you'll be rewarded by a spectacular 180-degree view of the area near Gurney and Mount Erskine. While most people associate Thaipusam with the Batu Caves, the waterfall hilltop temple in Penang is the main attraction and star of the festival within the island state.
Where to find the Arulmigu Balathandayuthapani Temple: Jalan Air Terjun, 10300, Penang
10. Visit one of the world's largest reclining Buddha statues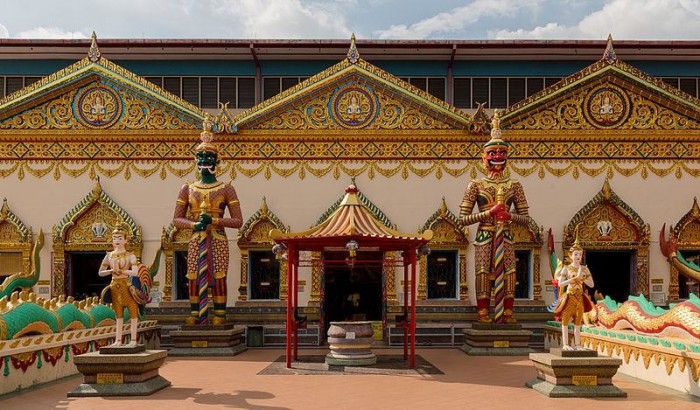 Image credit: CEphoto; Uwe Aranas
In case you weren't keeping track, we've gone from a Chinese Buddhist temple, to a Hindu temple, and now we've arrived at the Siamese Wat Chayamangkalaram Buddhist temple. The temple was commissioned in 1845 by Queen Victoria and it houses a 180 feet, gold-plated reclining Buddha statue, one of the (if not THE) largest in the world. The temple is located on Jalan Burma and it is just a stone's throw away from Bangkok Lane (because, obviously) and is truly a remarkable sight to behold.
Where to find Wat Chayamangkalaram: 24, Lorong Burma, 10300, Penang
11. Pay a visssssit to the Snake Temple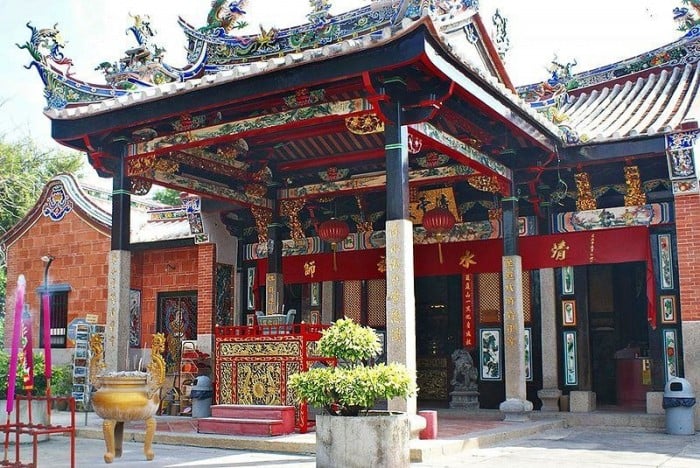 Image credit: Khalzuri Yazid
I promise you, this is the final temple on the list. What? Penang has deep cultural roots, of course there were bound to be more than the odd temple or two. Anyway, the snake temple was featured at one point on The Amazing Race and it is essentially a Buddhist temple. The temple is filled with snakes (no prizes for he or she who guesses why it's called Snake Temple) and even though they are venomous vipers, they have had their venom extracted and for the most part, they just laze around peacefully, apparently lulled into a sense of nirvana by the smell of incense in the temple. But just in case of the odd jumpy one, visitors are still advised to not pick up the snakes for a selfie. Just don't.
Where to find the Snake Temple: Jalan Tokong Ular, 11600, Penang
12. Catch the spooks at the Penang Ghost Museum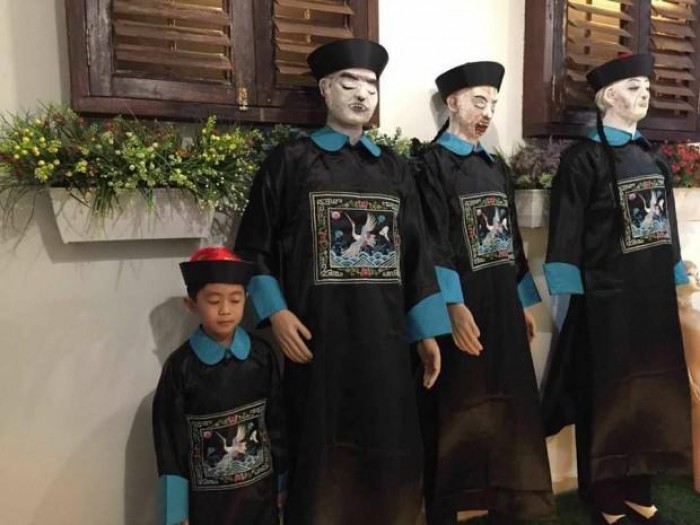 Image credit: Ghost Museum Penang
Yep, you read that right. A museum about ghosts. Of course, understandably, you might not be looking to be scared silly on your first ever trip to Penang, but rest assured, not all sections in the Penang Ghost Museum would give you nightmares…I think. That being said, it is indeed a one of a kind attraction found only in Penang.  Visitors can take pictures with the 'exhibits' which also include detailed explanations of the various ghosts and the legends associated with them. The exhibits cover a range of ghost a creatures from various cultural and religious folklore and it's just a truly memorable experience. While the exhibits are mostly made of wax or synthetic cotton, I wouldn't touch the exhibits themselves per se…you just never know…BOO!
Where to find the Ghost Museum: 57, Lebuh Melayu, 10100, Penang
13. Whacky Fun @ Made In Penang: The Interactive Museum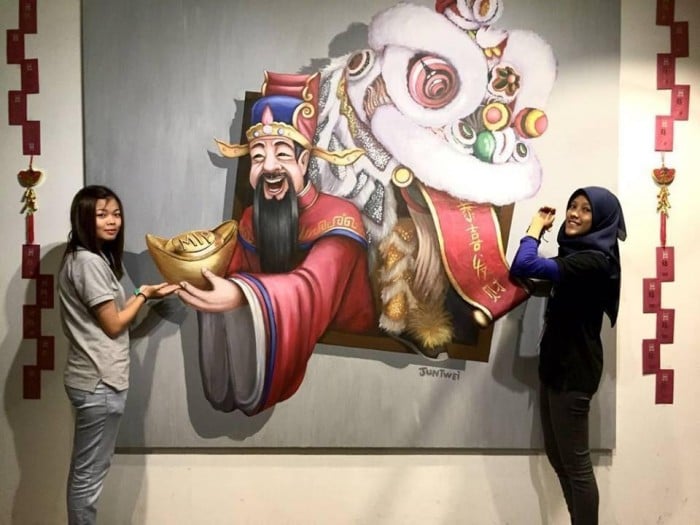 Image credit: Made In Penang
From scary to whacky, it's the Penang Interactive Museum! Although 3D museums are the norm in many places, what makes Made In Penang special is the deep Penangite vibe of the 'exhibits'. The motto of the museum is to 'rediscover Penang' so many of the exhibits convey just that. Fancy being fed a giant shrimp from a gigantic bowl of char koay teow? Or perhaps you'd like to try your hand at making teh tarik? Maybe you might even fancy a cup of coffee with the (wax figure of) Chief Minister of Penang? Regardless of what you fancy, the Penang Interactive Museum certainly is a fun place for the family and friends and no doubt, you will leave a satisfied patron.
Where to find Made In Penang: No 3, Pengkalan Weld, 10100, Penang
Also read: 12 Destinations in Malaysia for Your Next Weekend Getaway
14. Get a blast from the past at the Pinang Peranakan Museum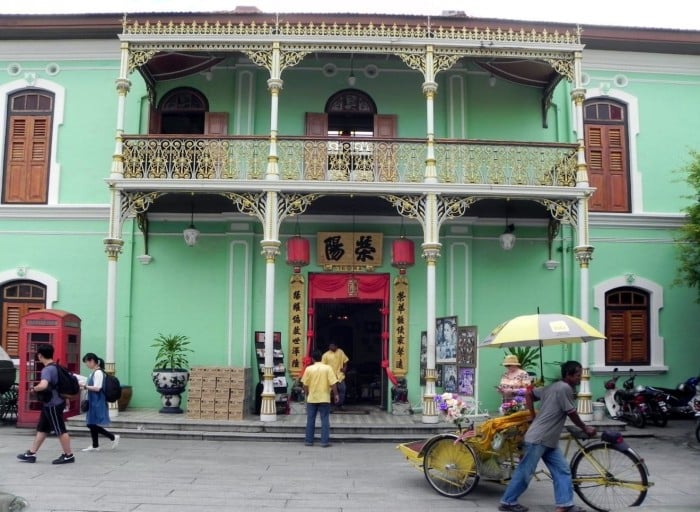 Image credit: Hajotthu
The Pinang Peranakan Museum is housed in a refurbished peranakan mansion from the 1900s. The museum houses exhibits which showcase the many tools and lifestyles of the Baba and Nyonya, prominent communities in Penang, Malacca and Singapore in the past. It is a truly magical experience and many visitors exclaim that they feel as if they were siphoned back into the past when they step through the threshold of the mansion. The museum has even been featured multiple times in the Amazing Race and the Amazing Race Asia. It is also the filming location of the 2008 Singaporean drama, The Little Nyonya.
Where to find the Pinang Peranakan Museum: 29, Church Street, 10200, Penang
15. Flock to the Penang Bird Park for a fun-filled time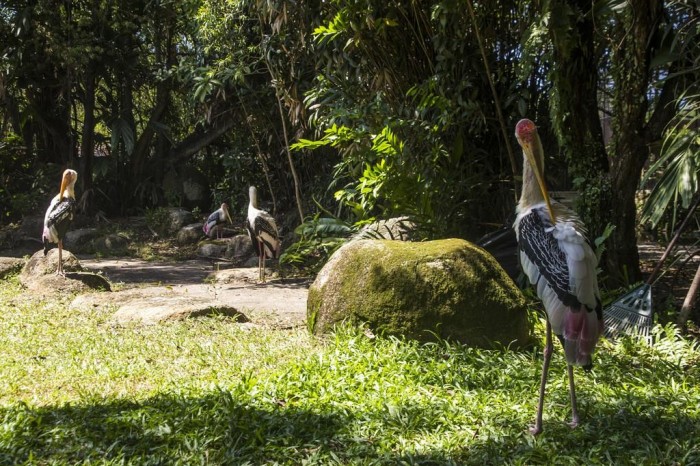 Image credit: cat_collector
This place is special and not just because it's the only attraction on this list which is not found on the island. Yes, in case you forgot, the state of Penang is not just confined to an island. The Penang Bird Park in Seberang Perai is the largest bird park in the country and the first of its kind. Featuring a huge aviary and geodome which mimics the natural habitat of the birds, the Penang Bird Park houses over 300 species of birds, over half of which are native to Malaysia. Kids will definitely enjoy this day out but if bird watching isn't your thing, the park also has a handful of selection of other animals such as turtles, deers and pythons.
Where to find the Penang Bird Park: Taman Burung Seberang Jaya, Jalan Todak, Seberang Perai, 13700, Perai, Penang
16. Take a nice stroll at the Penang Botanical Gardens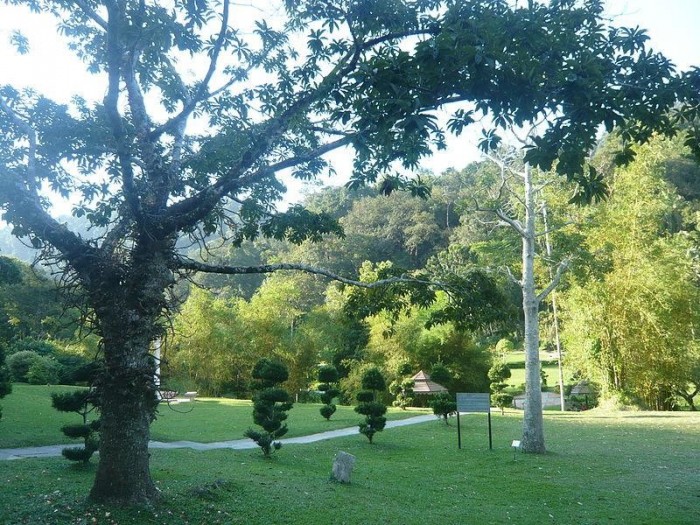 Image credit: Dr. htgoon
The Penang Botanical Gardens may not be what it used to be a couple of decades ago, but it is still a beautiful public park to have a nice stroll on a breezy afternoon. The gardens were originally established in the 1880s from an old quarry site. It contains lush green tropical forests and is generally a place of tranquility of peace. The Penang Botanic Gardens department regularly initiate programmes to help educate visitors about the park's deep cultural history and the on the rich diversity of the collection of flora and fauna in the park. And if that wasn't enough, there's a waterfall in the park which you can visit by making arrangements with the Penang Water Authority (while the park is public, the waterfall and reservoir are private property)
Where to find the Penang Botanical Gardens: Jalan Kebun Bunga, 10350, Penang
17. Escape the city at…well, ESCAPE Theme Park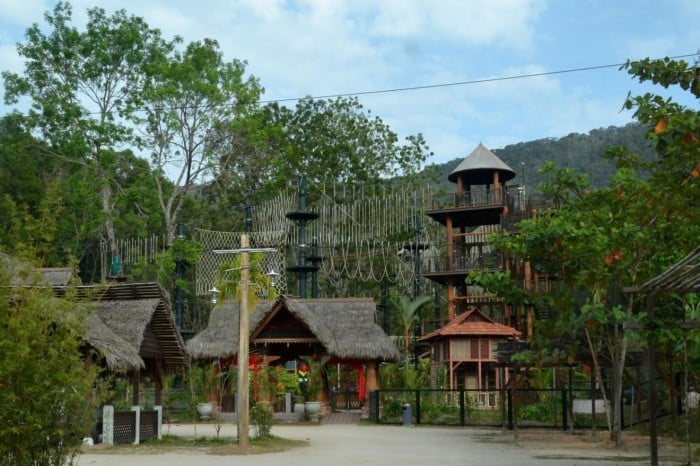 Image credit: cmglee
Probably one of the newest outdoor tourist attractions in Penang, ESCAPE Theme Park first opened its doors in 2012 and is still relatively an unearthed gem, even among Penagites. The theme park is near the Penang Butterfly Farm (also worth a visit) and is surrounded by lush greenery and trees. This family-friendly outdoor adventure park offers many exciting activities  including tower climbing, free falling, balance beam walking and many more. To make it easier and to encourage visitors to visit the exciting theme park, those who arrive at ESCAPE by taking the public buses (Rapid Penang 101 & 102) can redeem their bus fares the theme park entrance!
Where to find ESCAPE: 828, Jalan Teluk Bahang, 11050, Penang
18. Trek to your heart's content at Penang National Park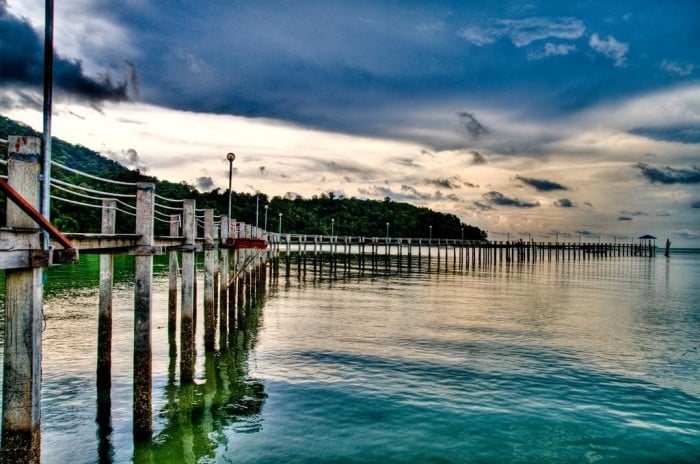 Image credit: Syed Abdul Khaliq
Penang National Park is…by every way of the word, the smallest national park in the world. That being said, its 2.5 hectare area contains a rich diversity of habitats. You can find beautiful lakes, wetlands, mangrove plantations, coral reefs and even turtle nesting beaches at the Penang National Park. And, if you're up to the challenge, there are multiple challenging trekking routes around the park that are sure to put your mettle to the test. Survive and you'll be rewarded with many breathtaking views of the park. You can also access some pristine beaches from the park by boat!
Where to find Penang National Park: Jalan Hassan Abbas, 11050, Penang
19. Take a train ride (or hike!) up Penang Hill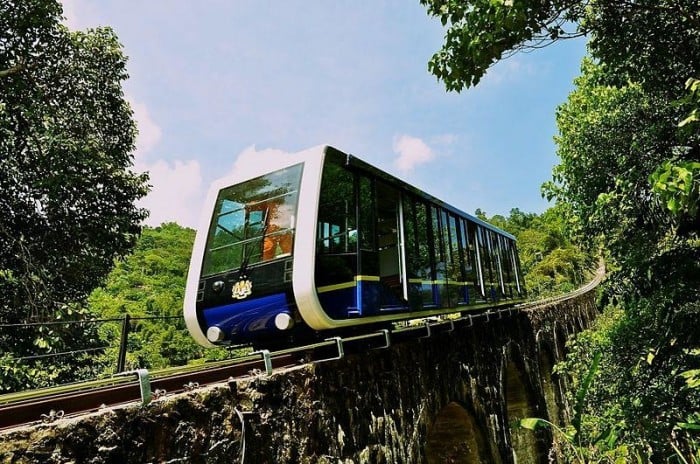 Image credit: Ginson Lim
Also known as Bukit Bendera in Malay, Penang Hill is one of the top attractions in Penang and one of the coolest (the temperature is literally cooler at the top of the hill). One of the main attractions of Bukit Bendera is the funicular train ride to the top of the hill. It only takes 5 minutes but if you're one who fancies the embrace of nature, you may also choose to hike up the hill. Either way, you'll be surrounded by lush greenery and minty fresh air. The top of the hill is home to a few restaurants, a souvenir shop, a temple, a bird sanctuary and a mosque. Personally, I recommend foregoing the restaurants there. It's not that they're not good enough, it's just that the top of Penang Hill has many ideal spots for picnics, so if you have the time, definitely go for that.
Where to find Bukit Bendera a.k.a Penang Hill: Jalan Stesen Bukit Bendera, 11500, Penang
Also read: Road Trip to Penang
20. Complete your day by relaxing and unwinding at Batu Ferringhi Beach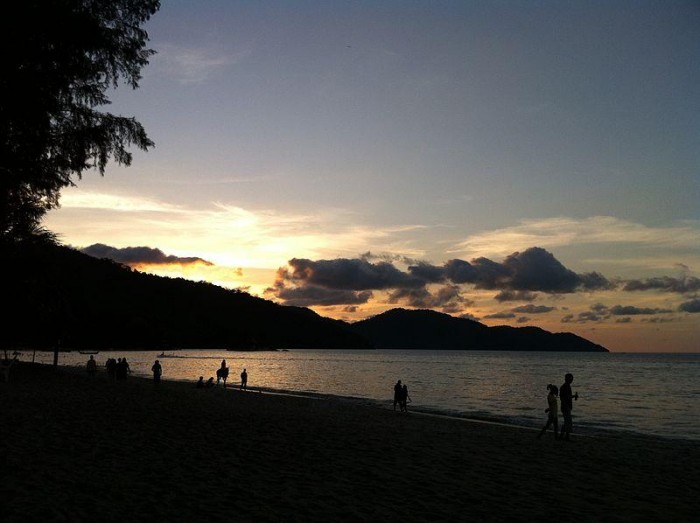 Image credit: Eduap
It would be a real travel sin on my part if I were to write an article about Penang and not once mention any of the numerous beaches on the island. But of course, but hard-pressed to make a pick, pick the best one. And in Penang, it would have to be Batu Ferringhi beach. There's a reason why so many top-class resorts have decided to open shop in and around the area. It's pristine sandy beaches and array of water activities keep visitors coming back for me. And hey, if you're not one to hop about in the sun, you too will surely be able to appreciate the idea of lazing around on a beach with an ice cold cocktail in hand. Believe me when I say that watching the sun set over the horizon at Batu Ferringhi beach is just one of those things you never knew you'd like until you've experienced it firsthand. And then, it becomes one of those memories which never seem to go away.
Where to find Batu Ferringhi: Jalan Batu Ferringhi, 11100, Penang
21. Experience being a Crazy Rich Asian at the Cheong Fatt Tze Mansion
If you've caught the film, then you'll remember the epic mahjong showdown between Michelle Yeoh and Constance Wu – yes, that scene was shot at the Cheong Fatt Tze Mansion aka The Blue Mansion! The building built in the 1880s by a wealthy Chinese merchant, and features a blend of extravagant East meets West design. Now a boutique hotel, you can choose to live it up by spending a night or two here, or take part in its daily guided tours.
Where to find Cheong Fatt Tze Mansion: 14, Lebuh Leith, George Town, 10200 George Town, Pulau Pinang
22. Check out interactive museums
For a place of its size, Penang is home to a surprising number of interactive museums! Off the top of our minds, we can easily count more than 8 places to visit, including the Wonderfood Museum, where there are replicas of over 100 types of local street food. It's mind-boggling to see how realistic these replica dishes are, and definitely fun to pose with.
The Upside Down Museum is also popular among families – put on your best balancing act to get the best photos of yourself hanging off things!
Truth be told, I'm pretty sure I missed out more than just a couple of things on the list. There are just too many things to see, do and enjoy on Penang Island. In fact, I have to admit, I've not done a few of those things myself yet and I live in this beautiful city. There's no way to say it more clearly than this: The reviews are on point. Visit Penang once, and you just might never want to leave again.