Some days you just feel like living the high life. Sadly, commoners like ourselves can only dream about riding jet planes or collecting vintage cars. What's more realistic? Having a fancy high tea! If you want to feel like a million bucks, check out these 10 high teas in Singapore fit for royalty!
Also read: 15 Muslim-Friendly Tea Rooms in London To Have an Amazing Afternoon Tea
1. Anti:dote at Fairmont Hotel for Your Luxurious Instagram Shot
This is probably THE MOST INSTAGRAMMED high afternoon tea set in town. For you chic and dapper ladies and gentlemen, the modern and swanky interior of Anti:dote makes you feel right at home. Picture dazzling light installations, plush velvet sofas, and clean geometrical décor.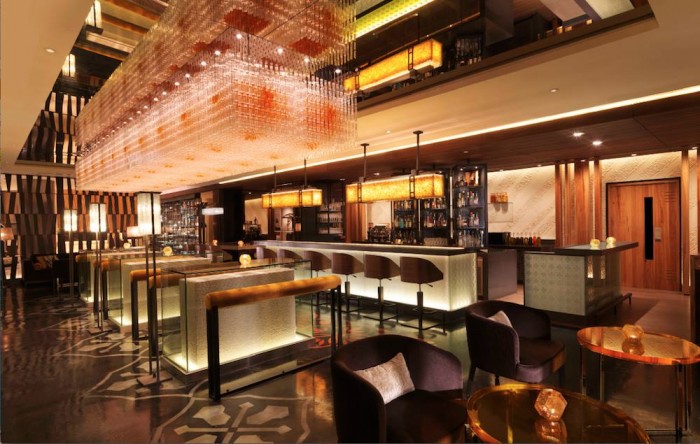 On the menu, you can choose between two afternoon tea sets: Anti:dote Tea Set or the Oriental Tea Set. The Anti:dote Tea Set comes with black truffle scrambled eggs while the Oriental Tea Set gives you a selection of steamed or fried Hong Kong dim sum. Both sets are accompanied by coffee or TWG teas. If you decide to go all out on the atas scale, top up $15 and get treated to champagne!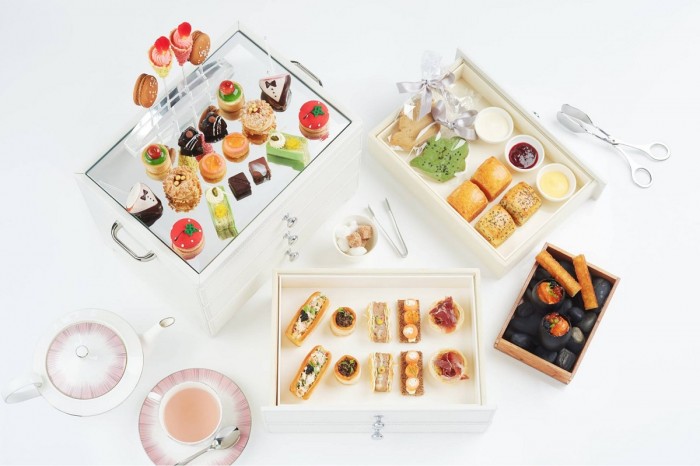 Images credit: Anti:dote
Your Anti:dote tea experience begins with the arrival of a white leather-clad jewellery drawer chest. At first, it seems like a cute tea toy set straight from most girls' childhood. Until you open each drawer, that is, to unveil over 10 beautifully crafted sandwiches, pastries, cakes, and scones. Every drawer reveals more and more delights for you to feast on. This is obviously what sets Anti:dote's tea set apart from the typical presentation of buffet spreads or cake tiered stands.
And don't get me started on the divine taste! Here, the savoury and the sweet pair perfectly together. My Earl Grey tea complimented especially well with the butter cookies, mini cheesecakes, and luscious lobster rolls. And if you want to prolong your culinary exploration, continue your fun with cocktails at the bar that starts the party early at 5pm!
Price: $15++ per child, from $48++ per adult
Dress Code: Smart Casual
Tea Hours: Monday to Thursday (3pm-5pm), Friday to Sunday (12pm-2pm, 3pm-5pm)
Tel: +65 6431 5315
Address: 80 Bras Basah Road, Level 1, Fairmont Raffles City, Singapore 189560
Nearest MRT station: City Hall
2. Arteastiq for Your Inner Chic French Artist
From its name, you can immediately tell that this restaurant is all about art and tea. Considered one of the most idyllic and artistic restaurants in Singapore, Arteastiq Boutique Tea House knows all about the "art of teasing". There is a subtle tease and sexiness to this place with its snazzy monochrome furniture, glamorous chandeliers, French jazz, and an art jam studio.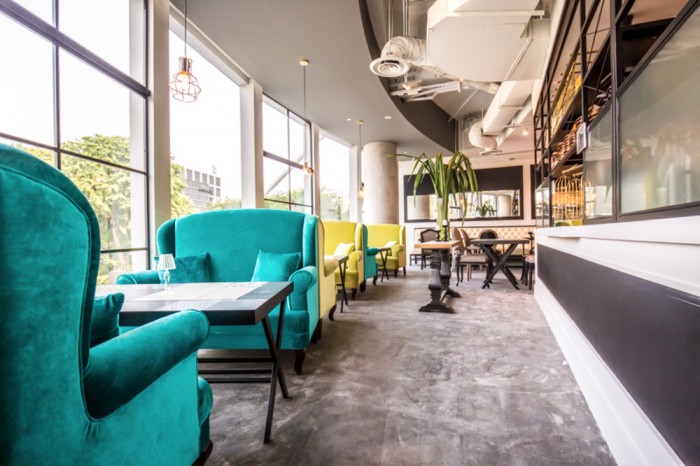 Image credit: Asia 361
Their latest "Afternoon Special" promotion includes two specialty teas and a two-tier stand of light sweets and savories. Choose from an artisan gourmet spread of smoked salmon, pan-seared foie gras, matcha cheesecake, chocolate truffles, and much more! Sip away in style on their refreshing iced fruit teas – I especially recommend the Lychee Tea and Pomelo Tea – while getting your hands dirty in their in-house painting studio. For an additional cost of $28 onwards, you are equipped with a canvas and paint to help you unleash your creativity. Don't worry – you can take home your Van Gogh masterpiece afterwards!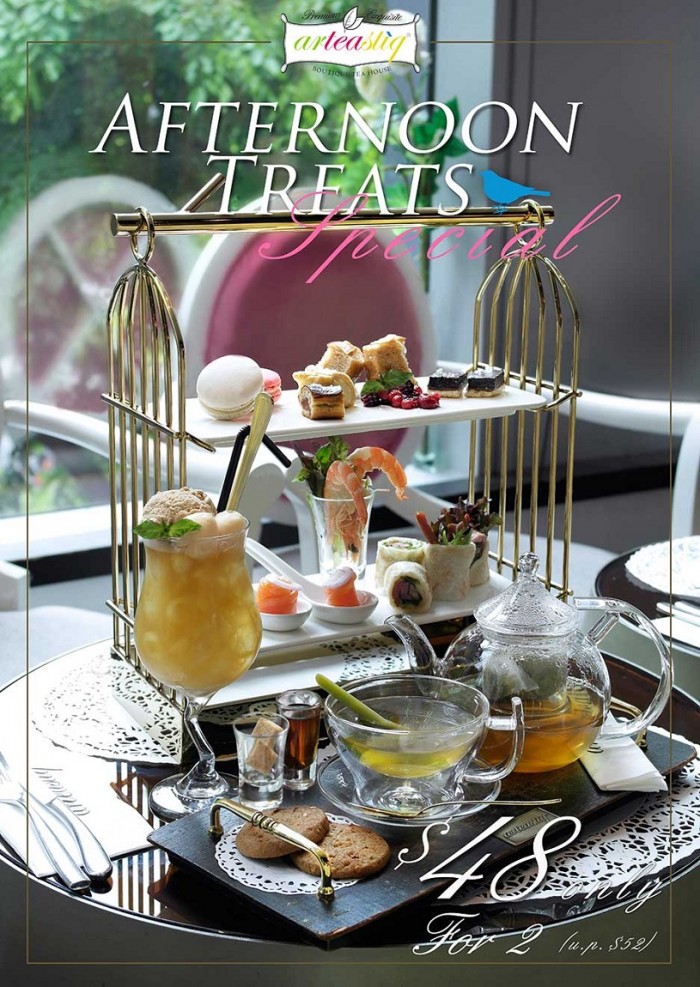 Image credit: Arteastiq
Food and drinks aside, it is all about the concept of social interaction in Arteastiq. I couldn't help but feel like a French artist gathering with other creatives in a Parisian salon! It's a truly exquisite experience to have with your high tea. Plus another perk? There is no specific "tea time" as you can come and destress anytime from day to night!
Price: $48++ for two persons
Dress Code: Casual
Tea Hours: Monday to Friday (11am-11pm), Saturday to Sunday (10am-11pm)
Tel: +65 6235 8705
Address: Mandarin branch (333A Orchard Road, #04-14/15, Mandarin Gallery, Singapore 238897), Plaza Singapura branch (#03-70/72 Plaza Singapura, 68 Orchard Road, Singapore 238839)
Nearest MRT station: Somerset, Dhoby Ghaut
3. Brasserie Les Saveurs at St. Regis for Your Timeless "Royal-tea" Affair
You will feel like royalty here as you indulge in fine French gastronomy surrounded by elegant floor-to-ceiling windows, a tropical garden and sparkling blue pool. And if that's not enough, there are the exquisite hand-cut crystal chandeliers, beautifully arranged floral decorations, and live piano music. Simply put, this is a place that exudes timeless elegance and ultimate refinement. It is the perfect decadent setting for your royal high tea affair.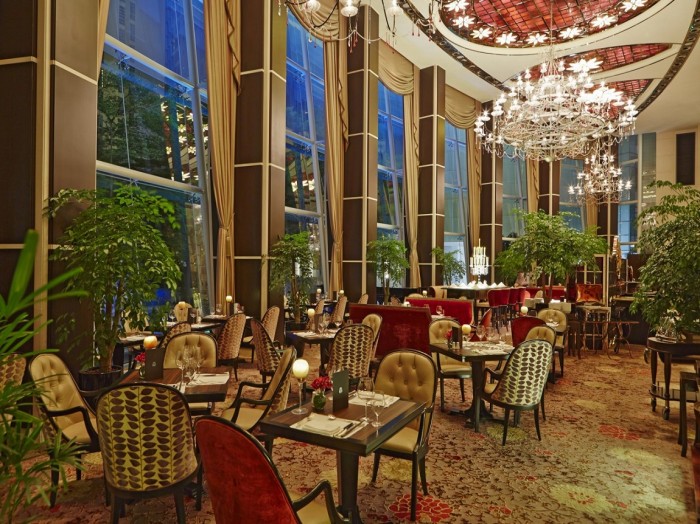 Here, you can relish in both the savory and sweet, the local and the western. A lavish spread of freshly-baked scones, and other tantalising desserts and pastries greet you as you enter the restaurant. Think Chocolate Éclairs and Duck Foie Gras Profiteroles. Classic finger sandwiches are laid out before you in a three-tiered silver stand. And of course, there is a great selection of TWG Black, Red, Green, and White teas with other tea blends; it took me so long to choose what to indulge in!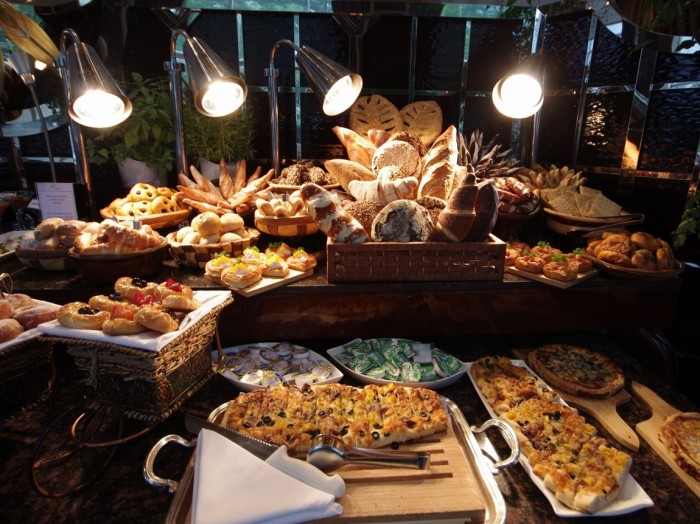 Images credit: Brasserie Les Saveurs
Brasserie Les Saveurs is especially recommended for you scone-lovers out there as it offers a variety of scones to indulge in with at least 10 different jams and conserves available! For even more fun, you can walk around the tea buffet spread and order at the crèpe and waffle making stations. Clearly, I suggest you come here with an empty stomach to get your money's worth!
Price: Weekday ($49++ per person), Weekend ($53++ per person)
Dress Code: Smart Casual
Tea Hours: Monday to Saturday (3pm-5pm), Sunday (4pm-6pm)
Tel: +65 6506 6860
Address: The St. Regis Singapore, Lobby Level, 29 Tanglin Road, Singapore 247911
Nearest MRT station: Orchard
4. Clifford Pier at Fullerton Bay Hotel for Your Rich Taste of Heritage
Go back to old school with Clifford Pier's nostalgic high tea experience! Rather than the typical Western-style sandwiches and sweet treats, the items on the menu are upgraded with local twists. Imagine sandwiches paired with Bak Kwa and hae bee hiam (spicy dried prawns) jam, Chilli Crab Mantou, and Kong Bak Pau (braised pork belly buns). And guess what? The Chilli Crab Mantou and Kong Bak Pau are refillable! Go forth and eat away!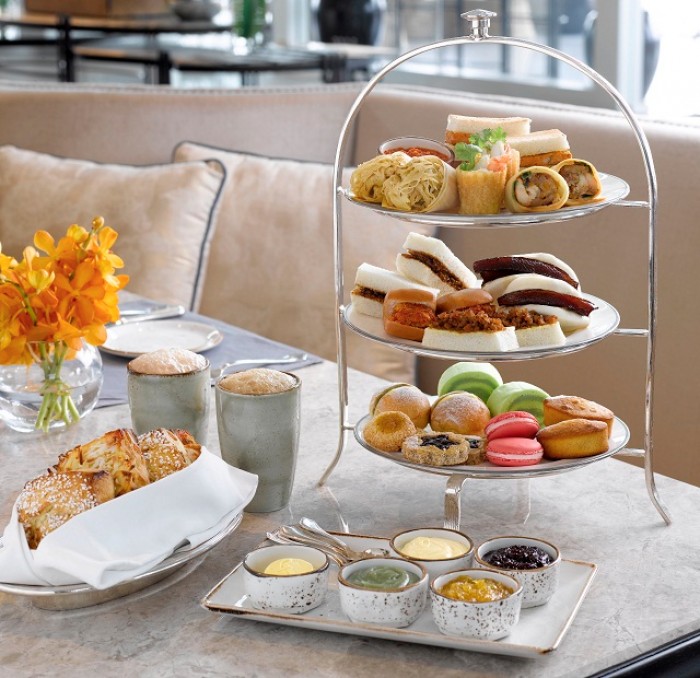 Image credit: Her World Plus
For your sweet tooth, you can expect scones with pineapple, roselle, and kaya jams. But I was especially surprised by their Bandung Macarons; it has a unique taste and was not as overly sweet as I expected. And of course, they all go well with the kopi, teh tarik and bandung offered besides the usual TWG teas. If your sweet tooth isn't satisfied enough, you should go for their Milo Godzilla – the premium version of the Milo Dinosaur!
Again, I suggest you to come here with an empty stomach. Besides the tea set menu, you can help yourself to even more food at their buffet station! Noodles, laksa, sushi, and deep-fried foods besides your tea set? This is some atas Singaporean hawker center right here!
Price: $38++ per adult, $19++ per child
Dress Code: Casual
Tea Hours: Monday to Friday (3:30pm-5pm), Saturday to Sunday (3pm-5pm)
Tel: +65 6333 8388
Address: 80 Collyer Quay, The Fullerton Bay Hotel, Singapore 049326
Nearest MRT station: Raffles Place
Also read: 17 Nostalgic Street Snacks in Singapore that Bring Tears to Our Eyes
5. Fresh Fruits Lab (FFL) for Your Quirky Experimental Side
So maybe the mainstream standard three-tiered stand of delights or a full buffet spread is not your thing. Well, as you can tell by its name, FFL is the place to experiment new and whacky ways of doing things, like having high tea.
The entire space is filled with quirky and colorful art decorations; I felt like I was back in science class but this time in some kind of a hippie laboratory. Imagine test tubes filled with your cold-pressed fruit juice, gazpacho placed on erlenmeyer flask, and tiramisu perched on a tripod accompanied by a syringe filled with toffee sauce.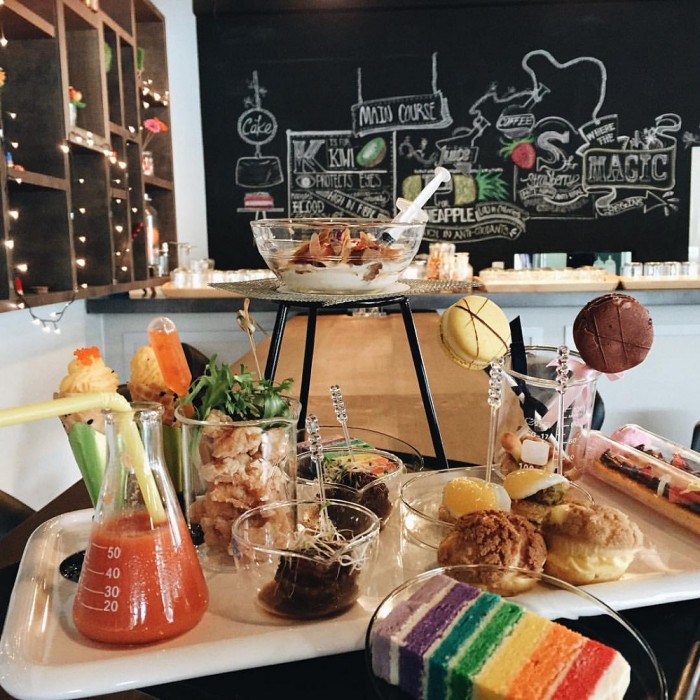 Image credits: Fresh Fruit Labs
And for you fruit lovers out there, FFL is the place to be since its trademark is its incorporation of fruity element in all its dishes. To get your sweet fruity fix, I recommend their Lychee Cake; it had this soft, bouncy texture that made me feel like I was eating lychee marshmallow! And those delicious rainbow cakes you've seen flooding your Instagram feed? Most of them are probably FFL's homemade light and fluffy citrus-flavored Rainbow Cake, considered to be one of Singapore's best rainbow cakes!  
Price: $38 for two persons
Dress Code: Casual
Tea Hours: Tuesday to Friday (3pm-5pm)
Tel: +65 6677 6741
Address: 351 Changi Road, Lor Marzuki, Singapore 419818
Nearest MRT station: Kembangan
6. House at Dempsey for Your Vintage Romantic Date Spot
Want to feel like Marie Antoinette eating cake amidst a laid-back, picturesque garden setting? Then House at Dempsey is your next stop for a charming, old-school high tea experience!
Popular amongst groups of girlfriends and couples, this romantic date spot is like a zany Alice in the Wonderland Mad Hatter Tea Party. Over 20 different hors d'oeuvres and canapes are laid out on mismatched vintage dining plates. Customize your experience by choosing where to start from the three stations: Savory, Sweet, and Sandwiches.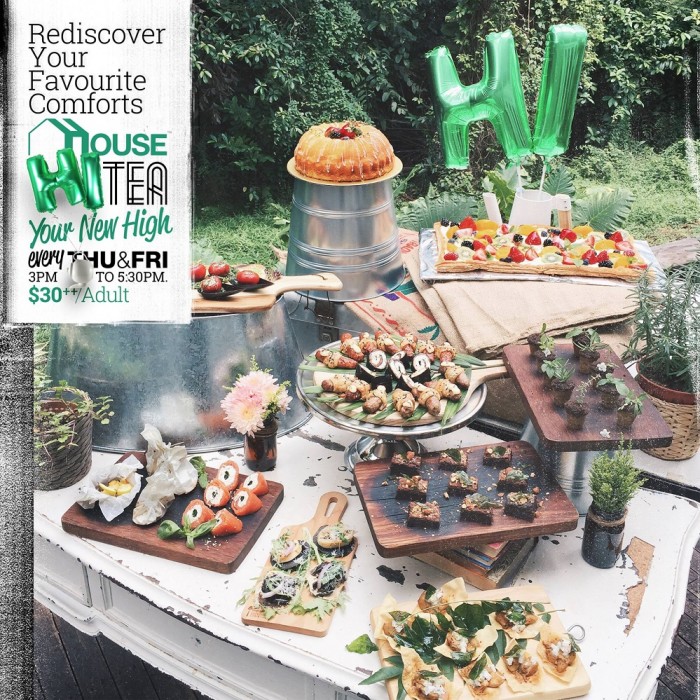 Image credits: House at Dempsey
In the "Savory" station, you can expect a range of bite-sized treats and skinny pizzas filled with fresh herbs and vegetables or squid ink and mushrooms. Ever heard of salmon cream cheese rolls drizzled with basil-infused truffle honey? Well, now you can try this rare treat right here!
Then make your way to the "Sandwich" station where you can choose your own fillings and have your customized sandwich grilled in a toasty oven. Your options include roast beef, chicken, and grilled vegetables. There are also salad options with the must-try highlight being the Phad Thai Salad that pairs nicely with another rare item on a high tea menu – Sweet Potato Leaf Fried Rice!
And your tea experience is not complete without the "Sweet" desserts station. Here, you are treated to interesting dishes that are consistent with House's fresh herb theme! Can you imagine an Avocado Chocolate Cake, Double Chocolate Chilli Cupcake, or a Curry Leaf Almond Brownie? Well, I can tell you that they are impossibly moist with a surprising zing from the herbs, but you must try them out for yourself!
Price: $30++ per person
Dress Code: Casual
Tea Hours: Thursday and Friday (3pm-5:30pm)
Tel: +65 6475 7787
Address: 8D Dempsey Road, Singapore 249672
Nearest MRT station: Farrer Road
7. Lobby Lounge at The Westin for Your Seafood and Champagne Heaven
At the Lobby Lounge, you are literally in heaven on the 32nd floor of Westin looking over Marina and the South China Sea. The 2-storey tall ceilings make you feel even more like you are in a grand oasis! All the classics of a high tea interior are here: light brown leather and purple sofas, mahogany wood, chandeliers, and live piano music.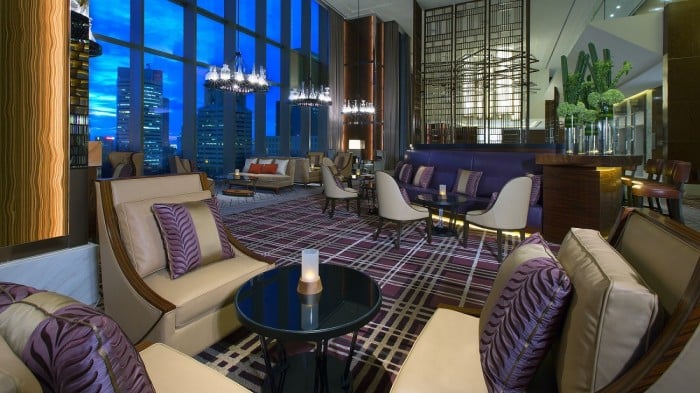 But forget your typical afternoon tea menu of fresh scones, finger sandwiches, and TWG teas! Here in the Lobby Lounge, you get to have the heavenly Seafood & Champagne Afternoon Tea set. This means a whole poached Canadian lobster and freshly shucked oysters. The lobster meat was tender enough for a good bite while the oysters were deliciously slippery. Not satisfied yet? Expect a three-tier platter of savory treats like soft shell crab, lobster rolls, and salmon tartare.
Images credit: The Westin Singapore
Still wanting more? Complete it all with your two glasses of Veuve Clicquot Champagne and an arrangement of desserts including Key Lime Tarts, Chocolate Ganache Cake, and fresh strawberries coated with chocolate and pistachio chocolate! High tea in Westin's Lobby Lounge is indeed a sinful taste of heaven.
Price: $85++ for two persons (inclusive of two glasses of champagne; top up $45 for a bottle of champagne)
Dress Code: Smart Casual
Tea Hours: Monday to Friday (2:30pm-5pm), Saturday (2pm to 4pm), Sunday (4:30pm-6pm)
Tel: +65 6922 6988
Address: The Westin Singapore, Level 32, 12 Marina View, Asia Square Tower 2, Singapore 018961
Nearest MRT station: Downtown
8. Pollen for Your Quaint English Garden Party
Tired of the same old hotel-style high tea afternoon? Pollen is just the place to take you out of the four walls and into the lush greenery of nature. Located in the Flower Dome at Gardens by the Bay, this unique Michelin-starred spot makes you feel like an English aristocrat sipping tea while reading Jane Austen in the garden.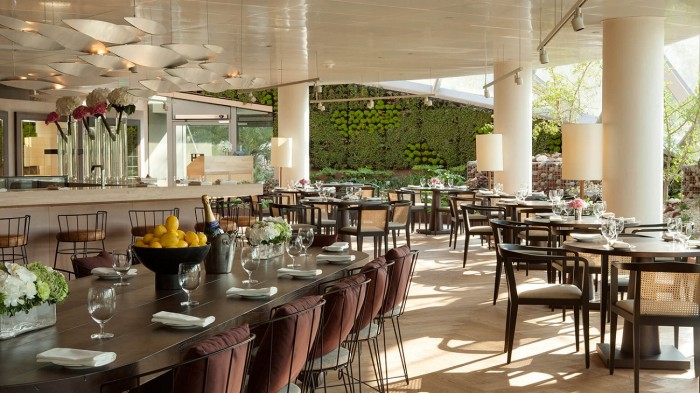 Have an intimate chat session with your friends and family over a luscious mix of bruschetta, parma ham, pâté sandwiches, macarons, and scones over your exquisite tea or coffee set. I especially liked the banana tea cake with salted caramel chantilly. It had the right balance of sweetness that paired well with my Red Roses tea. For Pollen's savoury items, there is a Mediterranean influence that enhances the relaxed natural vibe of this place. Make sure to walk off the calories from your indulgence with your complimentary access to the Flower Dome and return buggy transfers!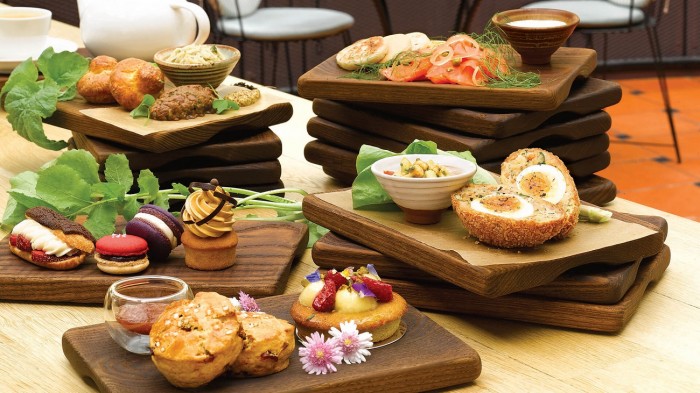 Images credit: Pollen
Price: S38++ per person, $50++ per person (with a glass of Codorniu Cava)
Dress Code: Casual
Tea Hours: Daily (3pm-5pm)
Tel: +65 6604 9988
Address: Flower Dome, Gardens By The Bay, 18 Marina Gardens Drive #01-09, Singapore 018953
Nearest MRT station: Bayfront
9. Woo Bar at W Singapore for Your High Society Life
Sentosa Cove is undoubtedly where your high life begins! Let your afternoon time crawl by in high fashion with the chill beachy ambiance of W Hotel's famous pool and palm trees.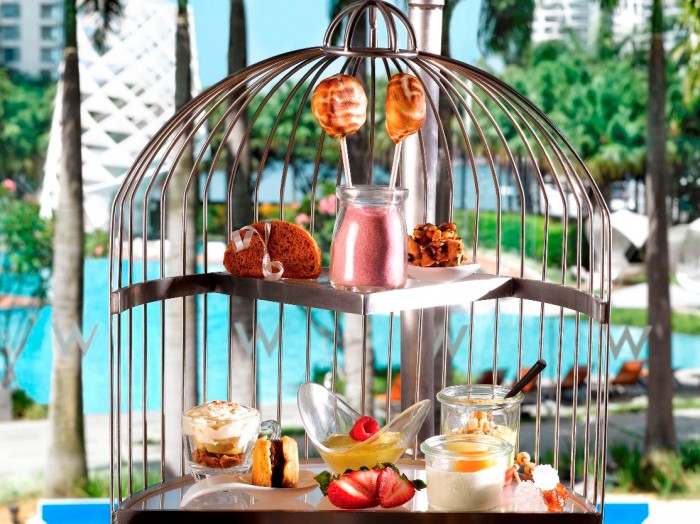 The star of Woo Bar's high tea arrives in the form of a three-tiered bird cage – the intriguing tea set presentation that sets this place apart from the rest. To inspire your tastebuds, you are treated to a luxurious balance of salty and sweet; think Chocolate Foie Gras Ganache tart with Port Wine and Gold Leaf. That is some high level gastronomy right there!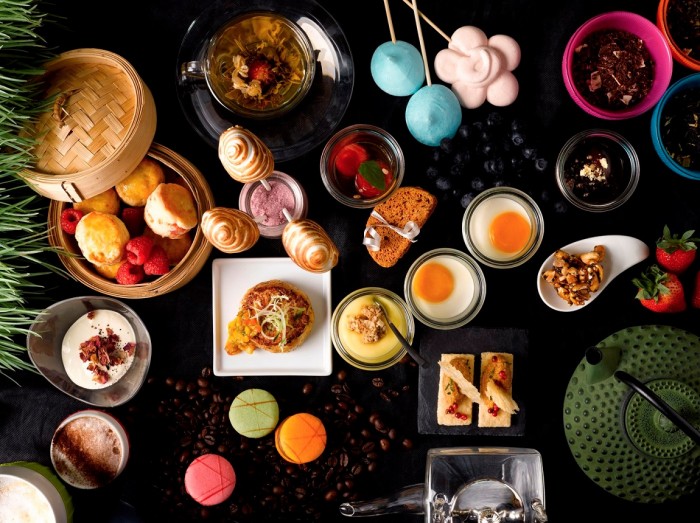 Images credit: Woo Bar
Or maybe you are bit less adventurous? Well, you won't go wrong with their Almond Whoopie Cookie Sandwich and Fresh Berry Trifle Shot! But my favorite was the unique Crones that they have. It is basically the child of Croissant and Scone! I loved the crispy and flaky croissant-like texture of the scone, which went especially well with the passion fruit butter among their other variety of jams and creams. This is indeed the right place to dine on irresistible artisanal gourmet and feel like a member of the high society!
Price: $65++ per cage, serves two (weekdays), $75++ per cage, serves two (weekends)
Dress Code: Casual
Tea Hours: Daily (3pm-5pm)
Tel: +65 6808 7258
Address: 21 Ocean Way, The W Hotel, Singapore 098374
Nearest MRT station: Harbourfront 
10. 10 Scotts at Grand Hyatt for Your Culinary Tour Around The World
Simply said, 10 Scotts is your one stop global epicurean journey overlooking a cascading 5 metres indoor waterfall. Your high tea goodies arrive to you on an elegant two-tier glass tray; the menu changes periodically but it usually consists of a staple selection of tarts, quiche, sandwiches, and 10 Scotts' classics like the scrumptious crab cakes with remoulade sauce. There are also freshly-made samosas, seafood popiah, and scones paired with homemade raspberry jam, cream, and kaya.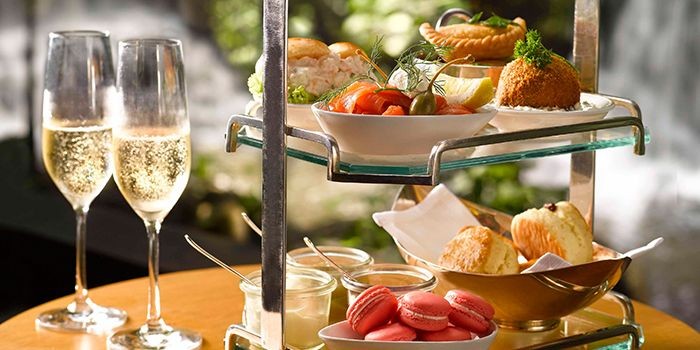 Image credit: 10 Scotts
And you don't just end here. The highlight of 10 Scotts' high tea experience is definitely the buffet line of hot dishes that change every week. You can expect a variety of soups, sides, and tapas as well as dim sum, sushi, eight different artisan cheeses, and premium cold cuts!
And yes, there's even more. You can also make your way to the self-serve freezer and indulge in a range of salads, cold dishes, and homemade ice cream as well as a display of over six different freshly-made desserts! I was quite impressed at the creative of their two dessert highlights: the anti-griddle fried egg (which was really vanilla ice cream presented as the egg white with mango passion puree as the yolk) and a cute flower pot dessert (that was actually decadent edible flowers, oreo crumbs, and chocolate brownies as the soil on top of generous scoops of salted caramel ice-cream).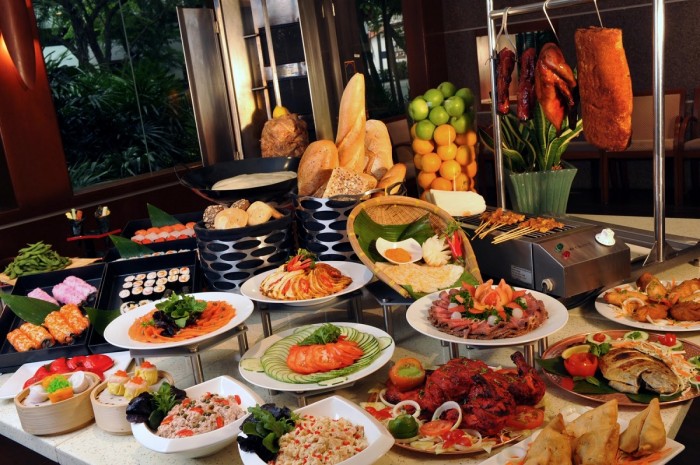 Image credit: Camemberu
There's no question why 10 Scotts is your one-stop global culinary experience; the list of food and drinks just goes on. And the greatest perk of all? Everything served to you is refillable! For an even unforgettable experience, get your free flow of Perriet-Jouet Champagne with a top up of $30!
Price: from $43++ per person (weekday), from $53++ per person (weekend)
Dress Code: Smart Casual
Tea Hours: Daily (12pm-2:30pm, 3pm-5pm)
Tel: +65 6732 1234
Address: 10 Scotts Road, Singapore 228211
Nearest MRT station: Orchard
Also read: 10 Street Snacks in Asia That Take Extraordinary Skills to Prepare
From an English garden tea party to a high class buffet with champagne, these high teas in Singapore cater to every bit of your atas cravings! So forget your future jet plane and vintage car collections for now. Until the day you make it big, these high tea places are just the perfect way for you (and your tummy) to hack the high life!